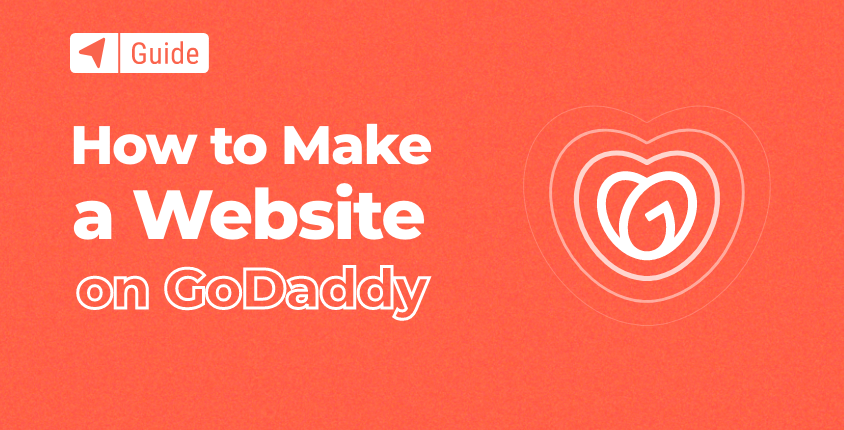 If you have started learning about the website building process, you have probably already heard the name GoDaddy.
This tech giant offers pretty much everything from selling domains and hosting to offering site builder software and marketing services. GoDaddy is the world's largest web services platform with millions of customers. You can read more about it in our in-depth GoDaddy review.
If you're already a user of their other services, it's worth trying out their website builder service too. New users can test out the website builder solution for free and if you like it you can continue to use it.
In this guide, I'll show you the step-by-step process of how to make a website using GoDaddy services.
Building a Free Website on GoDaddy in 7 Easy Steps
Although the website builder is very user-friendly, don't sweat if you need some help getting started. Just follow our guide, and you will have your first website built easily and quickly.
Step #1: Create an account to get started
If you already have an account created on godaddy.com, it is not necessary to create a new one. Existing customers simply have to log in before choosing a category and getting started with the website editor.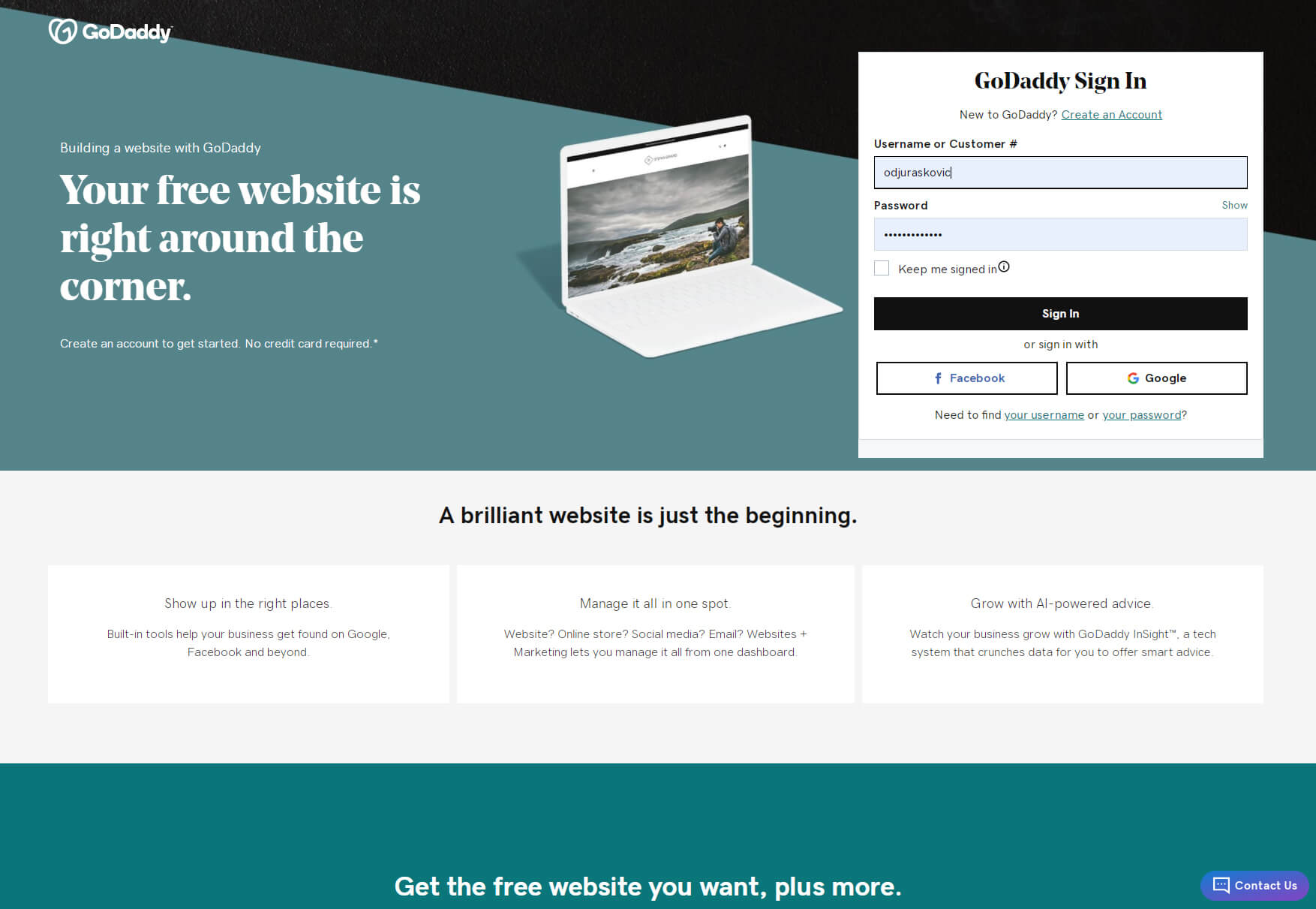 However, if you are a new user, you can create a new account in a few seconds. The fastest way to do so is to log in to your existing Google or Facebook account. GoDaddy will then pull all of the information required and create the account for you.
For those of you that do not have one of these accounts or simply do not want to use them with GoDaddy, it is easy to enter your email address, username, and password to get started. There is a free one-month trial available, and you do not have to enter any credit card details to start making your free website.
Go to GoDaddy.
Enter your email address, desired username, and password.
Choose to accept or decline to receive personalized offers.
Click on the "Create Account" button to get started.
Step #2: Choose a category of your website
After creating an account or logging in with an existing one, you can start building your first site. The first step is to select a category.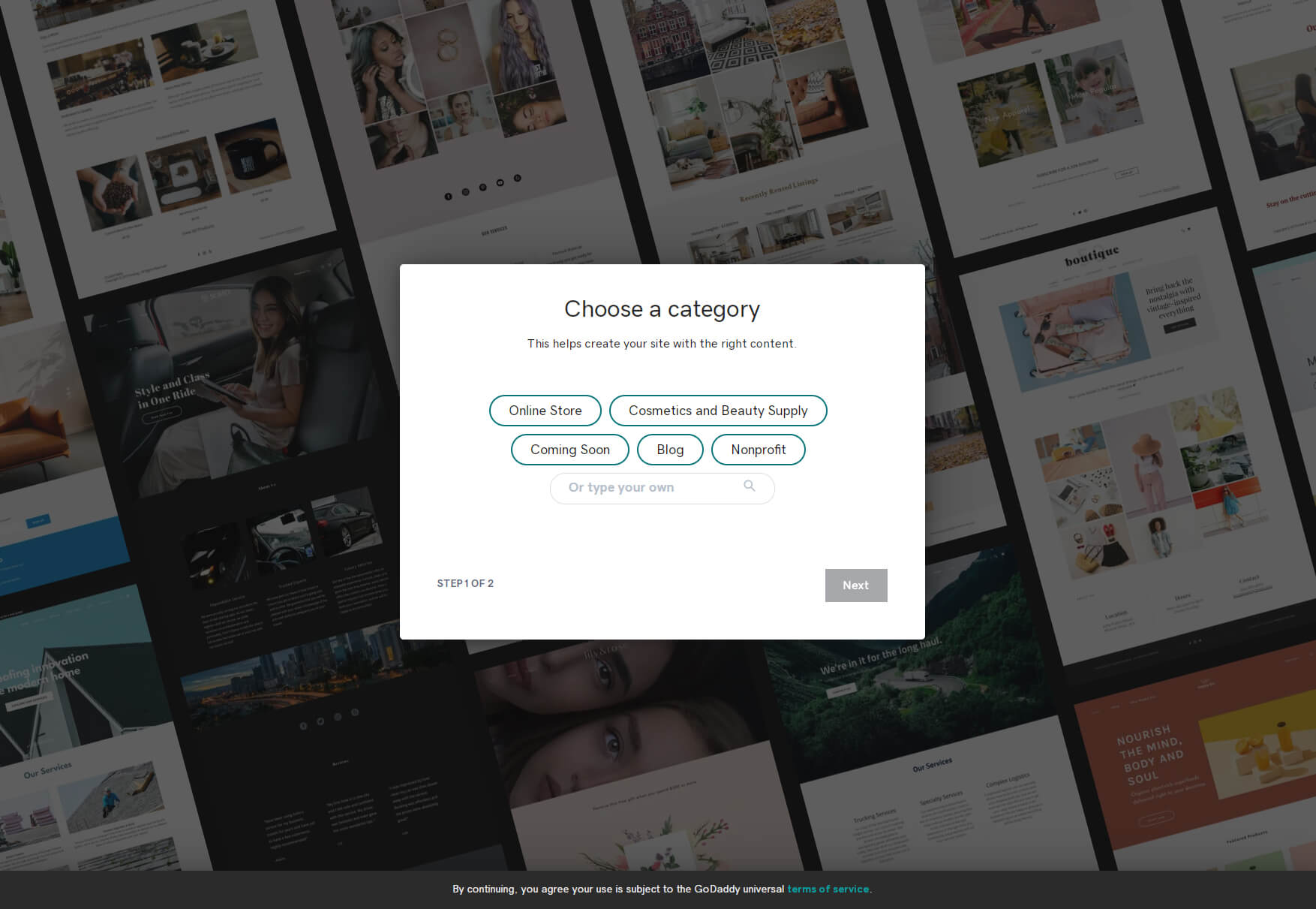 A selection of categories will be provided, but if you can't see the right one for your website, simply enter your category in the field located below. While it might not feel essential to select a category at this point, you should know that GoDaddy uses this information to create an optional sample site that could give you the opportunity for a more leisurely start.
Step #3: Pick a name for your website
Obviously, the name of a website is a crucial step. Enter down anything you want, but do not worry if you still haven't made a firm decision as it is always possible to change the name of your GoDaddy site from the settings in the future.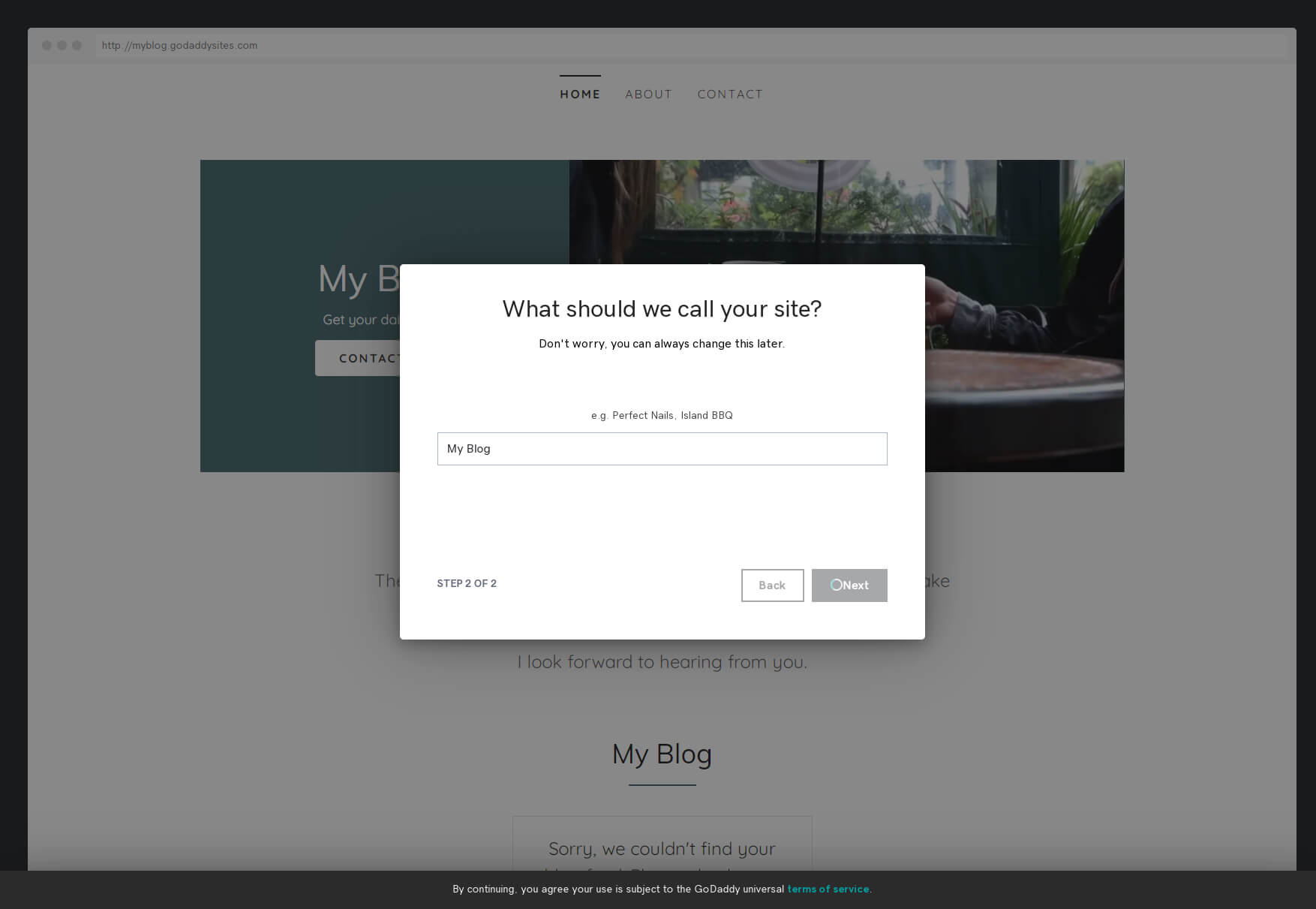 Step #4: Start editing and customizing your site
After clicking the "Next" button, please wait for a few seconds for GoDaddy to build your website. The results will vary based on your category selection. And this is where the fun part begins – customizing your site and making things personal.
Choose a theme
Choosing a theme should be your first step in customizing your site. By clicking on the "Theme" tab located in the top-right corner of the GoDaddy website editor, you will have access to several options. You will also notice that the editor zoomed out your site's view on the left-hand side of the screen so that you can see how any changes affect the entire layout.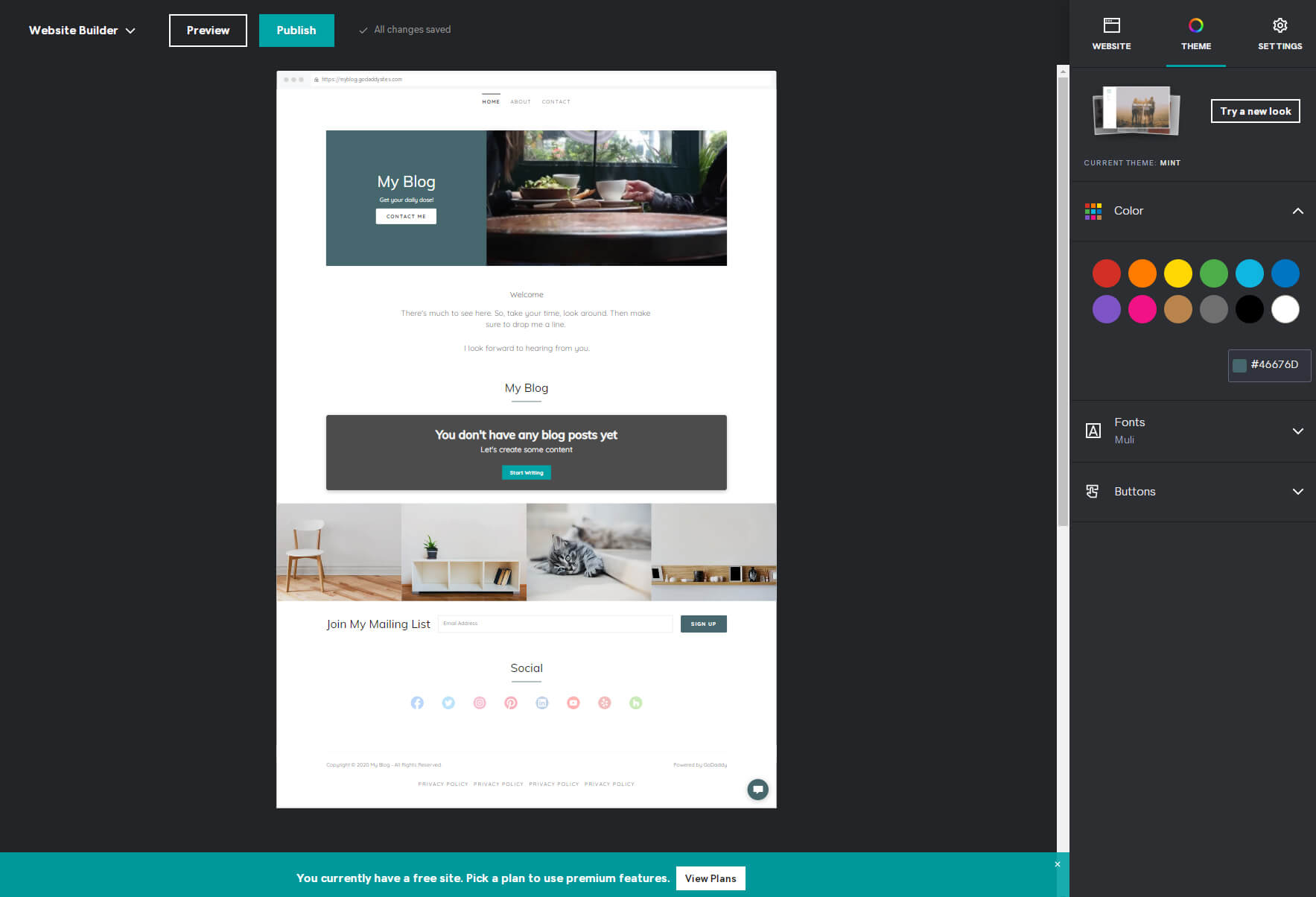 The first thing you will see in the options is the current theme that you are using. This is the one GoDaddy selected based on your category. If you do not like this theme or simply want to see what else is available, click on the "Try a new look" button. There were just over twenty themes available when I tested the editor.
The great thing about this is that the editor automatically loads your current content into all of the other examples when you select them so that you can instantly get the vibe of a potential theme.
However, don't be afraid to click on a thumbnail you like, which will bring you back to the editor. Preview your site, and if you still do not like it, you can always go back and select a different theme and continue working on your site without losing any content.
Choose the color of theme
The next step is to choose the color of your theme. This color will affect a few elements of your site, making it the primary site color. Select one of the predefined colors or use a custom one by writing a hexadecimal code. Unfortunately, GoDaddy doesn't offer a color picker, so you will have to find your perfect color using a 3rd party color-picker tool and copy the code here.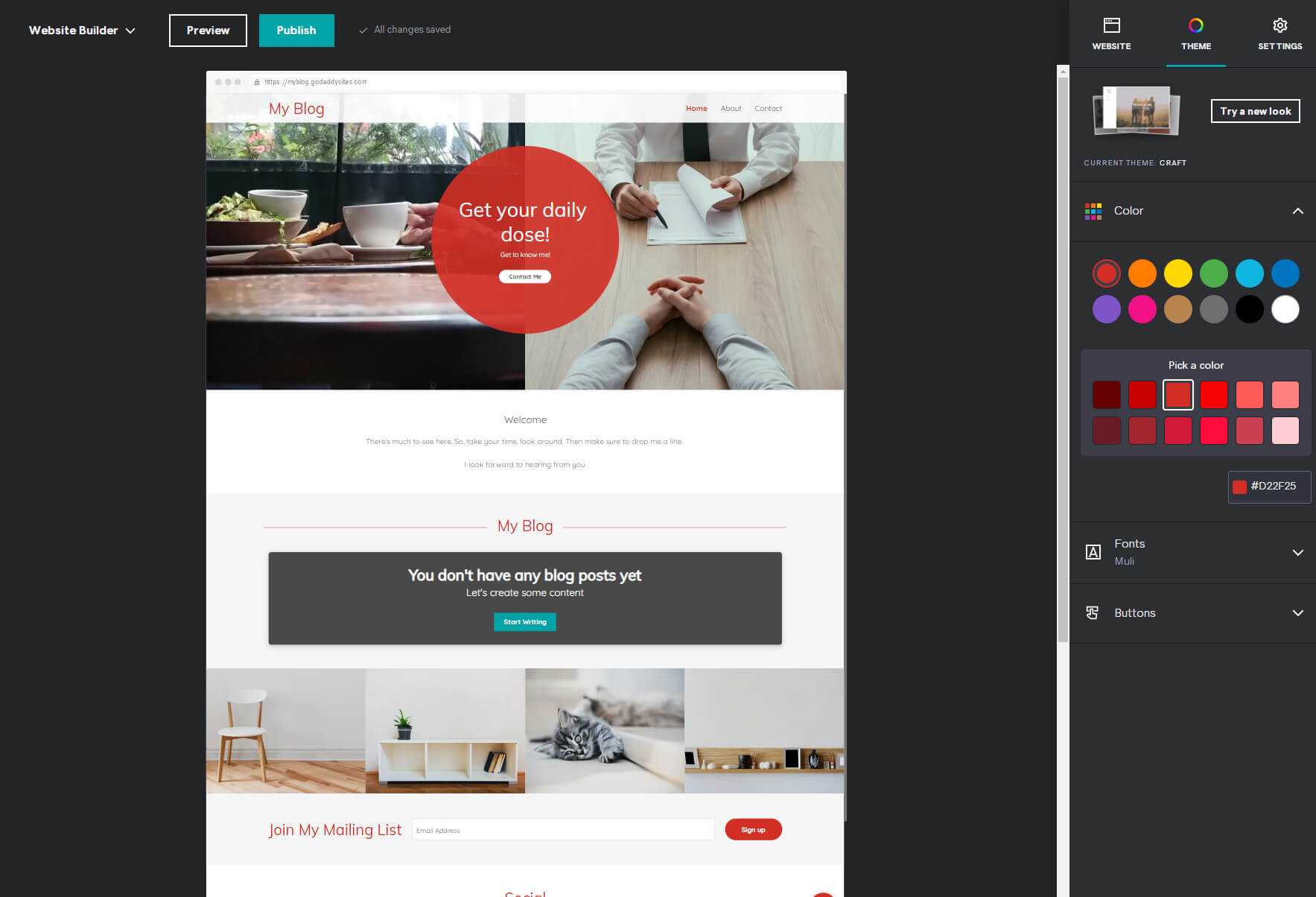 Choose the font and design buttons
To change the fonts on your site, click on the Fonts options below. If you're not sure how fonts work or how to pair them correctly, simply choose one of the combinations presented by GoDaddy. There are only a few dozen choices, but I am sure you will find one that you like. For those more creative types, click on the "advanced" label, and select separate primary and secondary fonts to personalize your site even further.
The last thing to customize here is the buttons. Select the options, and choose the designs of your primary and secondary buttons. By default, the buttons will use the theme color you selected earlier, but if you want to avoid that, toggle the "Use theme color" switch, and they will turn white.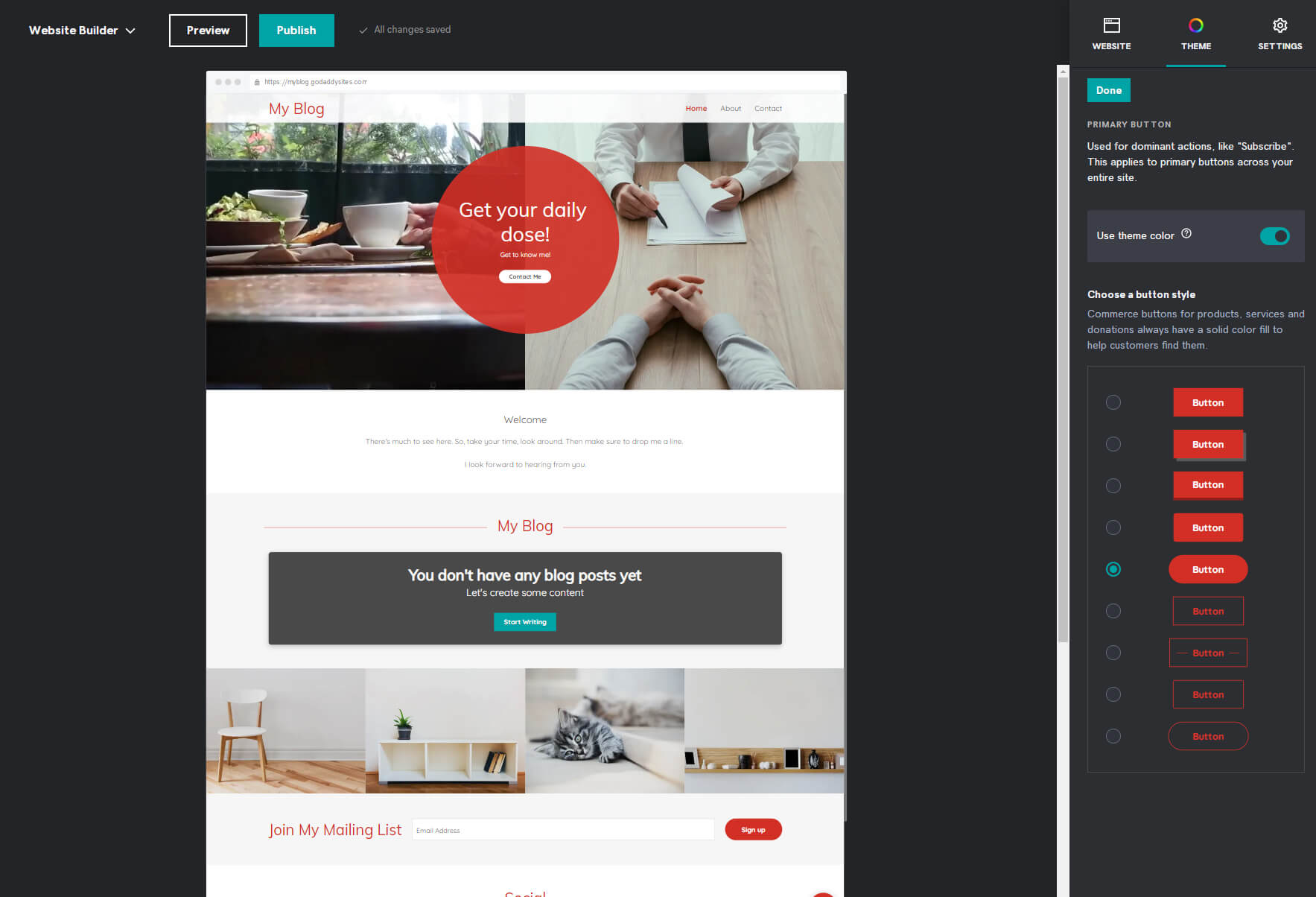 Once you're done customizing the theme, it is time to start making the site more personal. And there is no better way to do that than to add images and text.
Add images and texts
From the editor's top-right corner, choose the "Website" tab to bring your site back into focus. Move down your site and select elements that contain images and text.
If you select the header section, you will find the "Update" button. Click on it, and the editor will show you the current image on the right side of the screen. Here you can choose to display a background image or video, upload a new photo, and zoom in or out of it until it looks just the way you imagined.
When you click on an element that contains text, the editor will load it on the screen's right-hand side. Here you can change titles, descriptions and write anything you want. Feel free to browse the other options, and change the layout, accent colors, and alignments.
Add pages and sections
The website you currently have in front of you is just the sample page the GoDaddy builder created for you. You can always remove a section you do not like or need by selecting the three dots in the selected element's top-right corner. And when you decide to add more content, you can easily add pages and sections.
Select the "Website" tab from the right-hand side menu.
To add a page, click the "Add page" link.
Select "New page."
Add a title.
Decide if you want to show this page in navigation, footer, or make it private.
Click on the "Create Page button."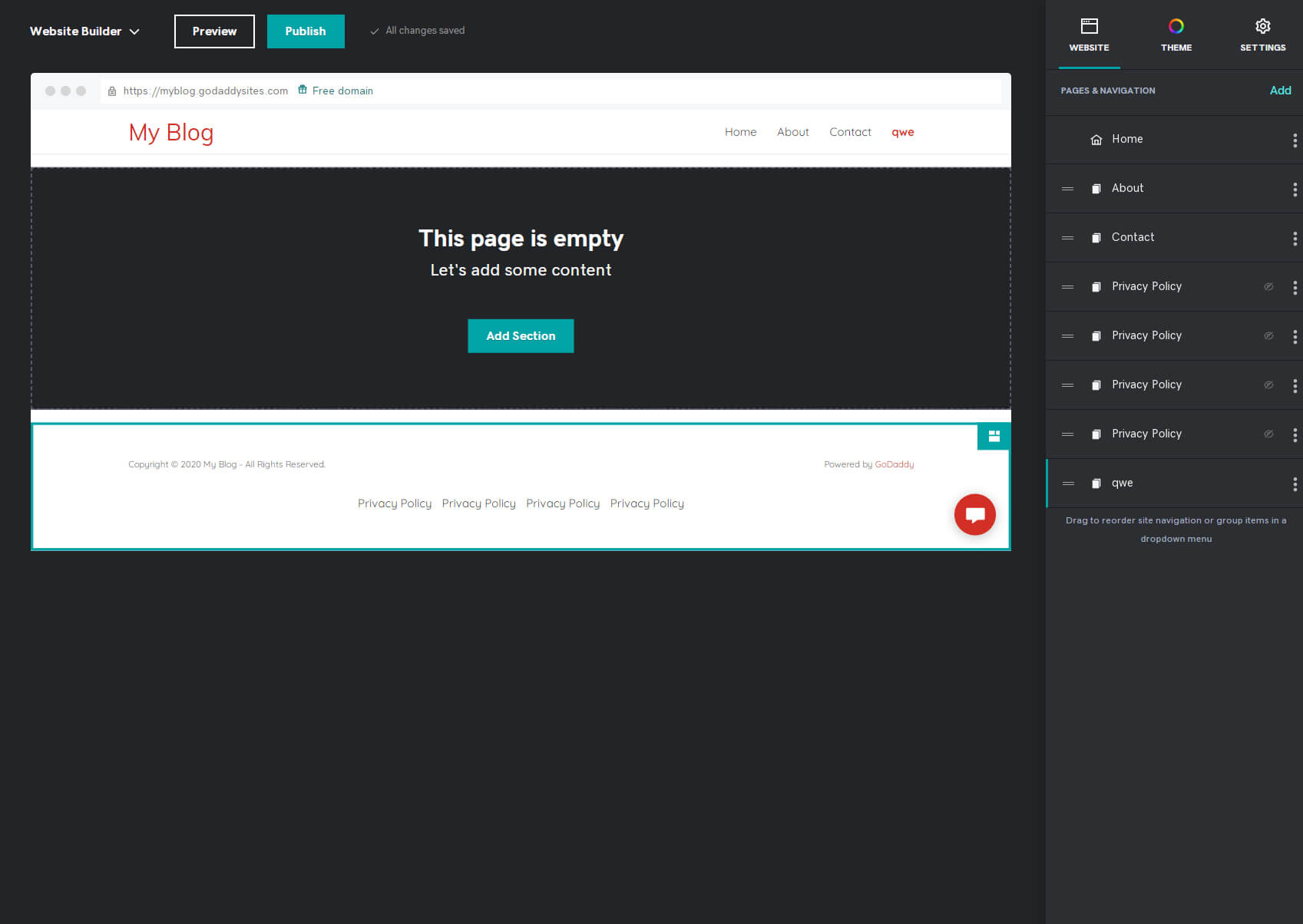 After a second or two, you will be able to see the new page loaded into the editor. It will be empty, but you can start adding new sections and content to it.
To create a new section, click on the "Add Section" button.
Choose a section you want to add, like content, photo gallery, video, etc.
Select the layout of the module you like the best.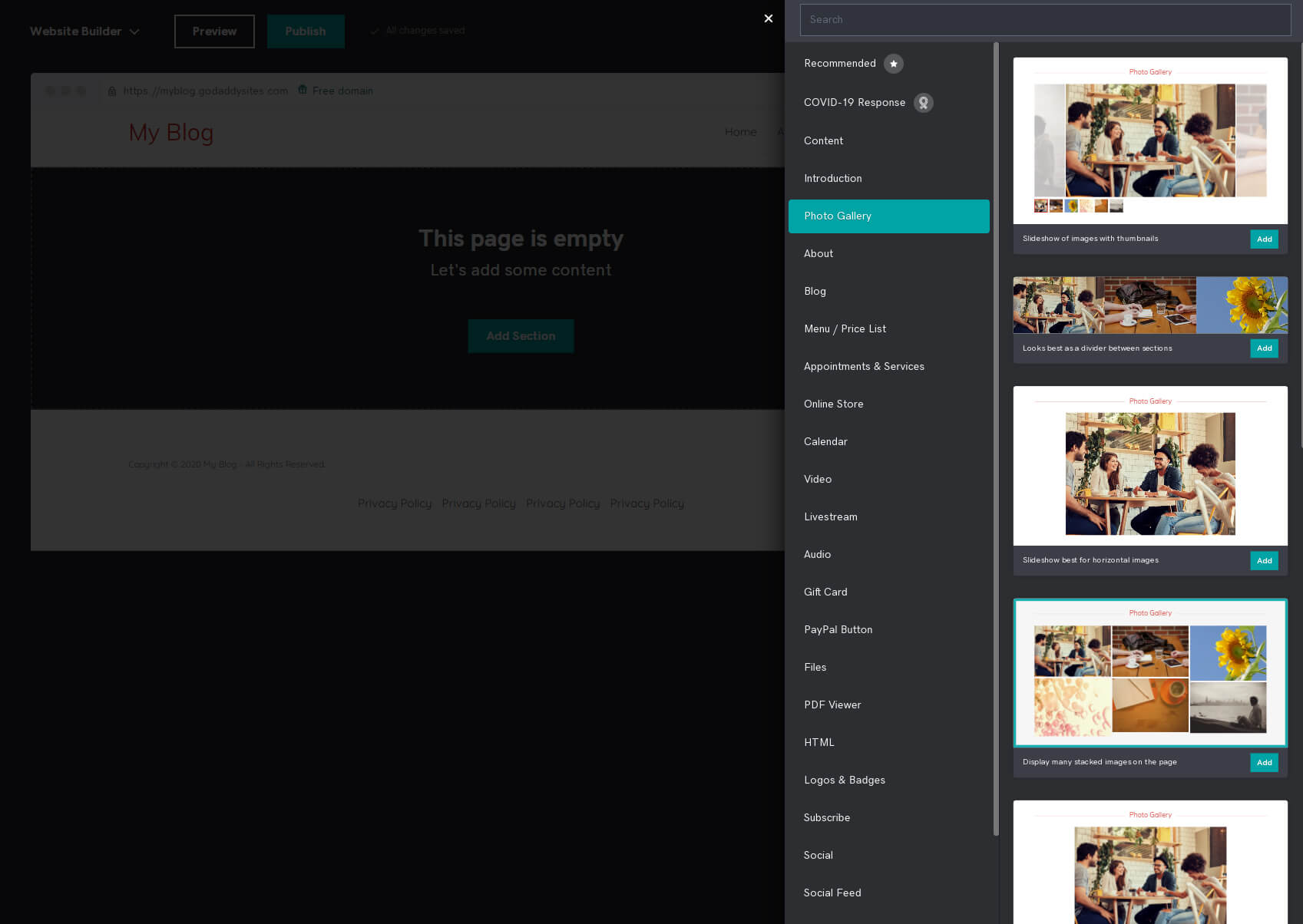 After this, the new section will be added to your page, and you can continue editing it by clicking on the elements and changing the content.
Review settings
Your website's design is important, but it can't work well without having the right settings to control everything. To change your site's settings, click on the "Settings" tab from your editor's right-hand side menu.
Basic information – change personal info such as the site name, business category, email, your physical address, and phone number.
Social media links – add links to your Facebook, Twitter, Instagram, and several other popular social media sites.
Favicon – upload a custom icon to make your site look more professional. It's recommended to upload a square image that is 180px by 180px in size.
Search Engine Optimization – write a few keywords that describe your site. Here, you can write the headline and description of each page on your site.
Site History – reset your website if necessary or create a backup. You can see automatic backups that the editor creates when you change a theme or make more critical changes.
Cookie Banner – modify the banner that informs people about the usage of cookies on your site
Google Analytics – if you have a Google Analytics account, this is the place to connect it to your GoDaddy website so that you can track how and when your customers are browsing the site.
Facebook Pixel – if you want to track your site via Facebook Pixel to know more about your audience, this is the place to connect it to your website.
Pinterest Meta tag – if you're using Pinterest, you can add your meta tag here.
Google AdSense – to make money with Google AdSense, you need to add your AdSense script into this field.
Website add-ons
Besides the regular sections you can add, GoDaddy allows you to add and control a few more things on your site.
Blog – this add-on controls your entire blog. This is the place where you can create a new post, manage comments, subscriptions, and everything else dedicated to the blog.
Messaging – let visitors contact you directly from the site. If enabled, visitors will see a form they can use to send you a message. This is also the place to customize a welcome and thank you message that will be sent to people who contact you, as well as several other related options.
Popup – create a popup window that will be shown to visitors. Add an image to it, modify content, and add action buttons.
Step #5: Optimize your website for SEO
By this point, you should have a customized site that looks good and contains images & content that make it personal. However, before going public with it, you should still make a few changes that will make your site Google-friendly.
Open the "Settings" tab from the top-right corner of your site.
Choose "Search Engine Optimization."
Select a page to modify.
Write a headline & description.
By describing each page on your site, you're making it better optimized for Google and other search engines. This gives you a higher chance of people finding your content through search engines, so make sure to describe everything well.
When adding images, you can also write their descriptions and make them better for SEO.
Step #6: Preview and publish your website
At any point, while customizing your site, you can see what it looks like. If you click on the "Preview" button from the top menu, you will see what your website looks like on a desktop as well as on mobile devices.
This will help you to make further changes if necessary and know what visitors will see when they go to your domain name.
Once you completely customize the site, you can publish it and make it available to the public by clicking on the "Publish" button.
Step #7: Upgrade to connect a custom domain
When starting out, your site will always be available at yoursitename.godaddy.com. There's nothing wrong about this, but you will probably want a custom domain that will make your site look better and more professional.
Go back to the Dashboard by selecting it from the top-left corner menu.
Click on the "View Plans" link shown on top.
Choose a plan you prefer and click "Add to cart."
Complete the purchase.
FAQs
Conclusion
If you're looking for a simple website editor that will allow you to create a simple website, GoDaddy is definitely the right choice. Although it does not have all of the bells and whistles like some competitors do, creating a site with them is fast and simple.
I hope this guide helped you to create your first GoDaddy website and that you are now more comfortable while exploring all of the features. If you have published your site, don't forget to add a link in the comments below, and show us what you have made!