50 Best Freelance Jobs Websites to Find Work and Make Money in 2023
FirstSiteGuide is supported by our readers. When you purchase via links on our site we may earn a commission.
Read More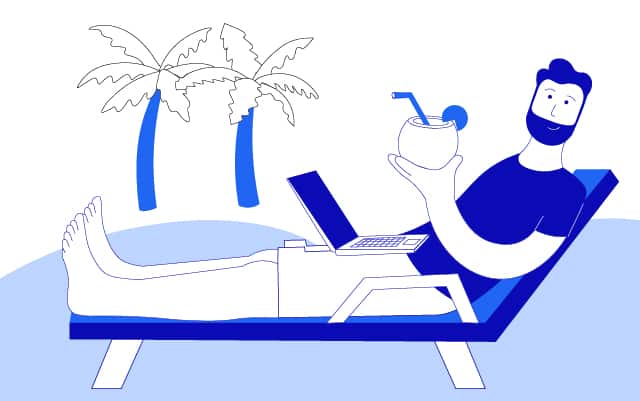 If you are looking for online freelance jobs to make quick money online and to avoid the dreaded daily commute to work, you have come to the right place! Freelancing can help you form long-lasting relationships with clients who can even hire you for the long term for continuous steady work. As a freelancer, you can capitalize on your interests and take up projects that you like.
To flourish as a freelancer and make a decent living, you need to make the right connections, build a portfolio, and get your name out there. There are plenty of freelancing jobs out there as long as you know where to look. Research shows that 59% of companies in the United States have a flexible workforce, according to Forbes.
But how can one find these online freelancer jobs and ensure your financial survival in these times? The answer: on freelance websites! But first, you need to know what freelancing is and the kind of projects you can score on freelance sites.
EDITORS' CHOICE
Things to know before starting as a freelancer
What is freelancing?
Freelancing is when a self-employed person provides services to several clients at a time. It promotes a digital nomad lifestyle as freelancers work from the comforts of their homes. They get to set their work hours, track their projects, and bill their clients according to the set price rates.
Freelancers find work through the best freelancing sites or directly, without the use of any third-party resources. The freelancer earns money on a per-job or hourly basis.
What are freelance websites and how do they operate?
Freelancing websites are marketplaces for freelance gigs where the businesses and freelancers connect and benefit mutually. These freelance job search sites allow employers to post job listings for which freelancers place bids or requests. They are encouraged to build their profiles on these freelancing websites to showcase their portfolio, skills, and reputation. They can earn money by securing and completing suitable projects posted on these platforms every day.
Some of these freelance platforms offer free subscriptions while others charge a commission or membership fee.
These websites are integrated with secure payment options to make sure there are no obstacles for both parties.
Things to keep in mind before starting as a freelancer
Getting started as a freelancer can be easy since all you have to do is sign up on a freelancing website and start bidding for projects. Then you'll have to set the pricing for your services – this is how you showcase your value to the world, so make sure that you do it correctly.
We have assembled a one-of-a-kind, comprehensive guide on the best freelance websites to help you get started. This is where we introduce you to some of the best freelance platforms in the business, tell you their key features, and discuss their prices among other characteristics. This should help you kick start your freelance career from the right platform according to your respective niche and preference.
Following are all the best freelance sites to choose from:
General freelance job search sites

These freelancing websites feature a wide variety of freelancer jobs in the domains of writing, designing, web development, marketing, sales, photography, and many more.
So if you are on the lookout for multiple different freelance online jobs that broadens your horizon, this is the most comprehensive list for you.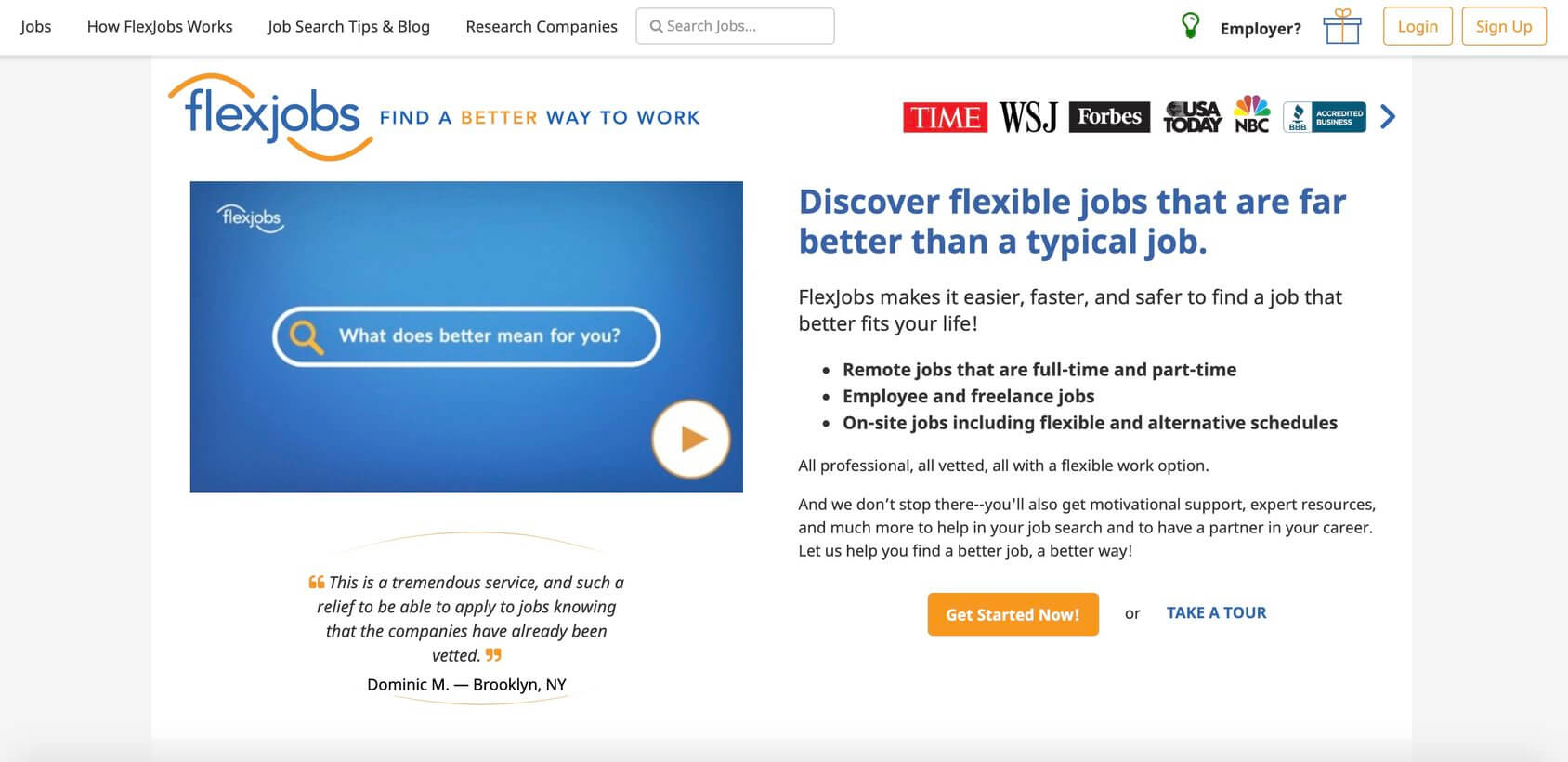 It is a platform that not only offers freelancing jobs for beginners but is also a hub to other flexible jobs. With over 50 job categories, the remote careers range from entry-level positions to executive-level high-paying jobs from all over the world. It also promises to provide scam-free and flexible work leads for remote career-oriented freelancers. FlexJobs Corporation's job board currently hosts more than 20,000 remote and freelance job postings, which are vetted for legitimacy.
Key features:
Listings displayed in a well-designed manner
Availability of most employers' company descriptions
Builds a freelance client base
Price:
FlexJobs charges $14.95 for a month, $29.95 for three months, and $49.95 for a year
Visit FlexJobs for additional information >>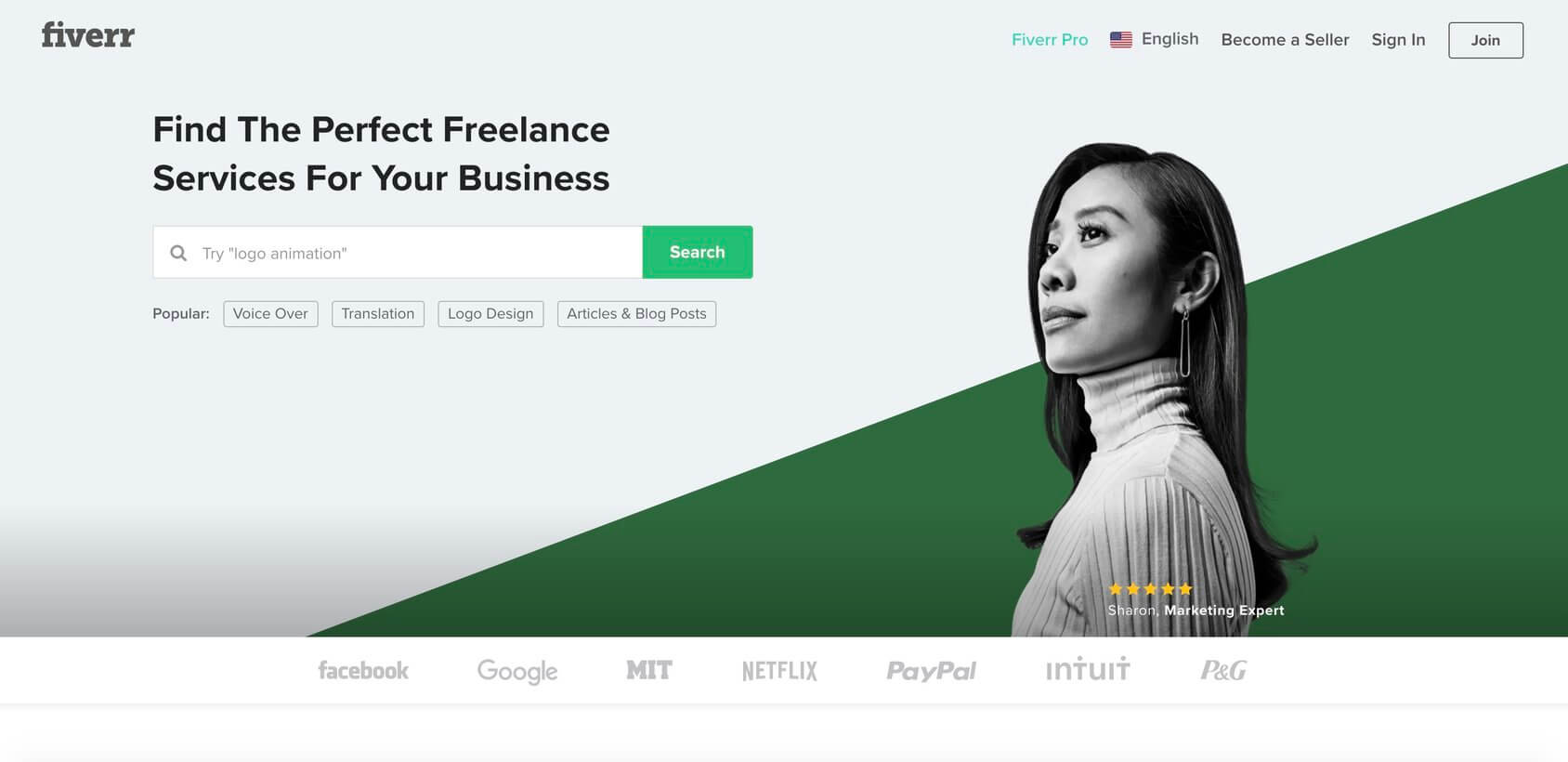 It is probably the best freelance website to start your career as a freelancer. With jobs starting at $5 per project, the platform offers small projects that you can complete and build your portfolio for potential clients. The freelance opportunities online on Fiverr can help you build a portfolio for a niche and move on to more significant projects.
Key features:
Offers free courses to expand your skillset
Sends paying customers
Don't have to bid for clients
Price:
Fiverr charges freelancers between $5.00 and $995.00 per job, depending on the project
Visit Fiverr for additional information >>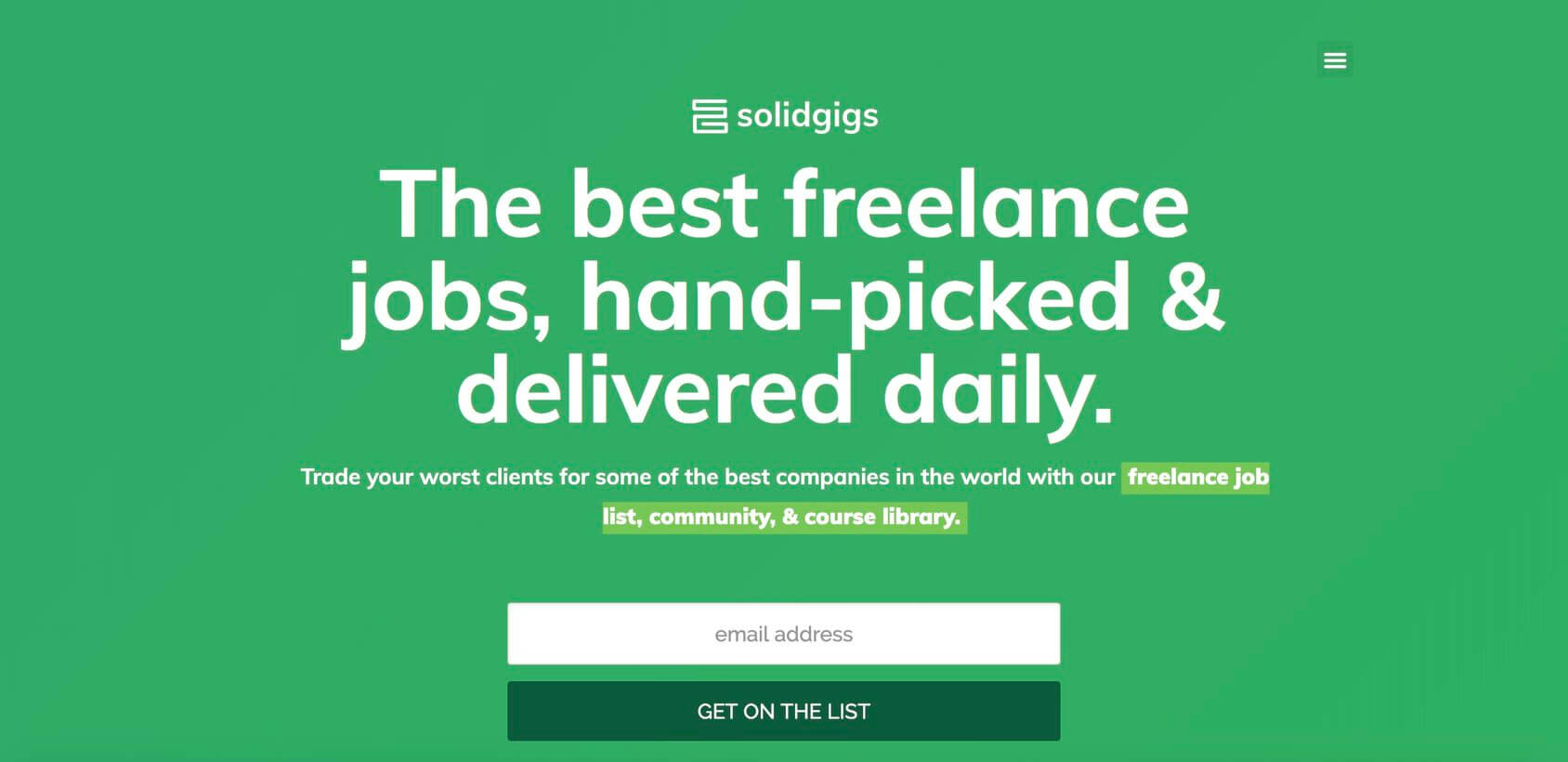 It is a very resourceful platform for freelancing and remote work with an easy search bar. It saves time – by going through freelance job postings and picking the most relevant – based on your expertise. So if you are a busy individual, SolidGigs might become your go-to website for freelance work.
Key features:
Online resource library of courses, interviews, templates
Sends 2% of the best freelance gigs available
Price:
$19/month
Visit SolidGigs for additional information >>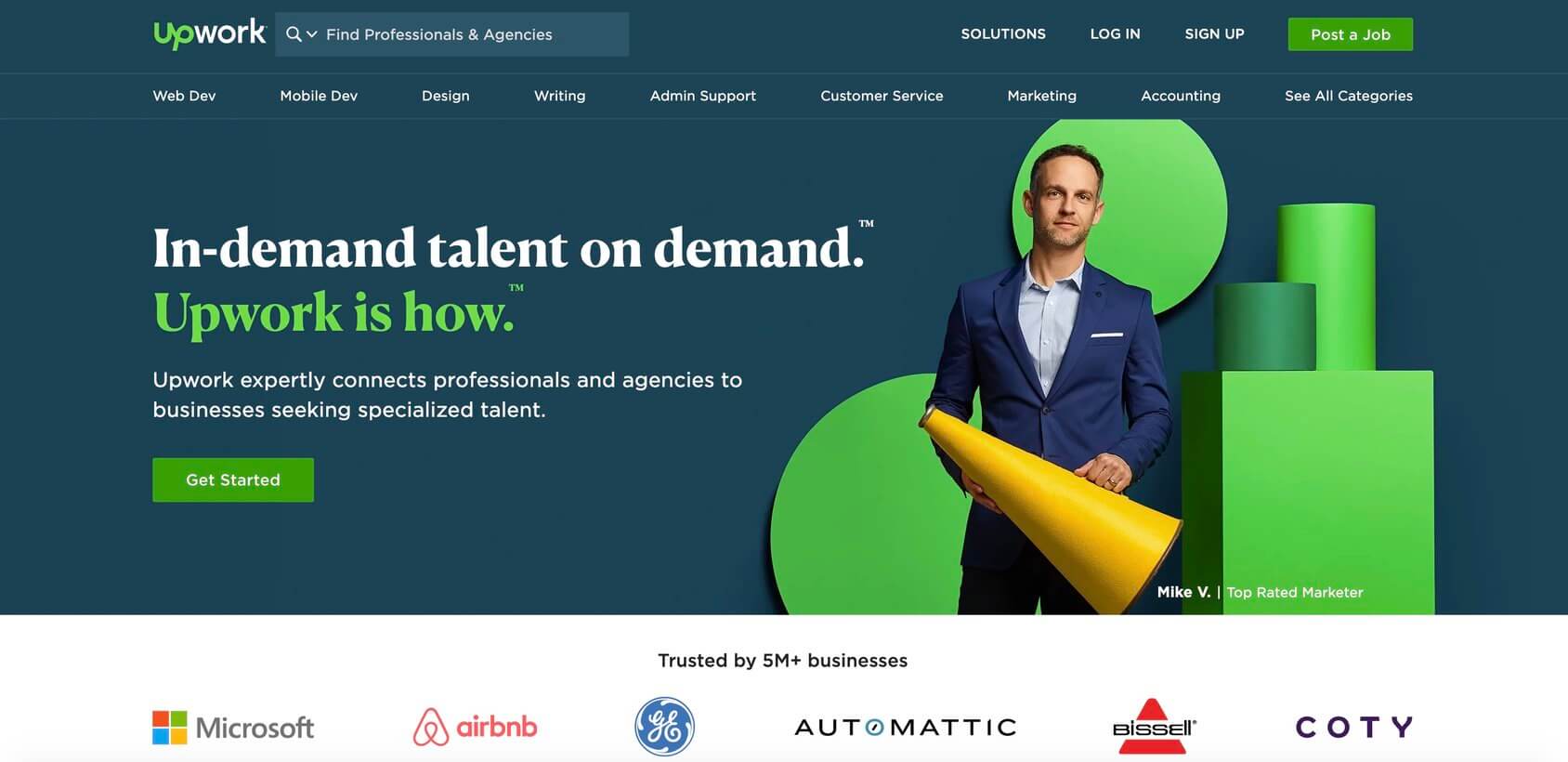 Upwork was formed as a result of a merger among two leading platforms for freelance work online: oDesk and Elance. It offers freelance opportunities in a wide variety of niches — for all kinds of freelance workers online.
To attract projects, freelancers have to build their work portfolio, profile, ratings, and bidding prices. Upwork will then find the right match for you through its powerful search engines leveraged with various filters. It has something for everybody, ranging from short or long-term projects to basic or expert-level jobs.
Key features:
Efficient Search
Safe Payments
Accurate Billing
Price:
Upwork charges 20% for the first $500 earned through a client, 10% for lifetime billings between $500 and $10,000, and 5% for lifetime billings for projects worth over $10,000
Visit Upwork for additional information >>
It is the most competitive platform that promises to hire the top 3% of freelancers from all over the world. The freelancers have to pass through a screening test and once you pass the test, it provides assurance on the best projects from awesome clients. Notable companies such as Zendesk and Airbnb hire freelancers from this freelance job site, which shows that the competition on this platform is very high but fair compensation is also awarded.
Once you become a part of Toptal's community, you will make some very important connections that will assign you some profitable projects.
Key features:
Fast placement process
Two-week free trial policy
Price:
Starting price of $60
Visit Toptal for additional information >>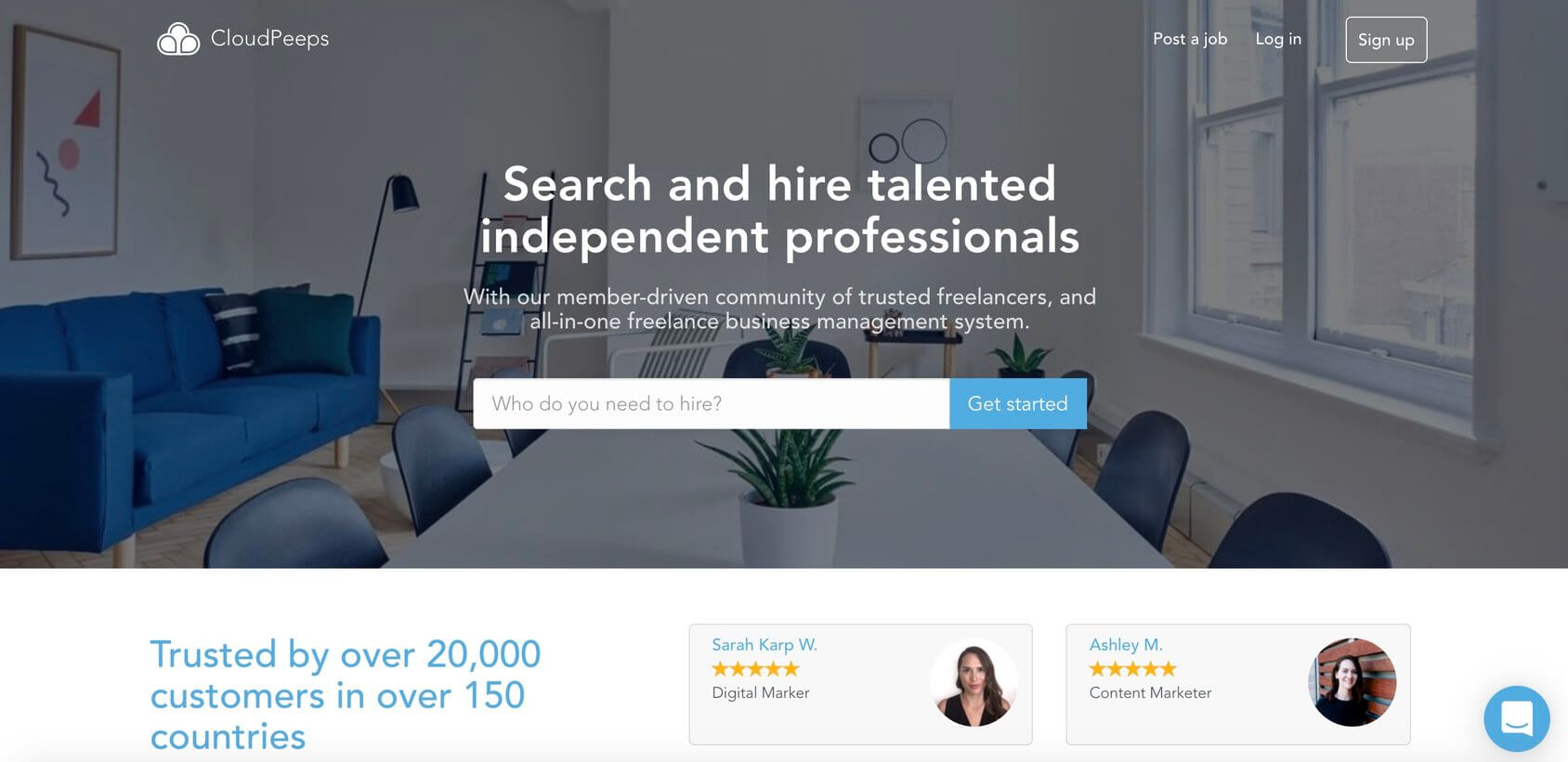 It is an all-in-one platform that connects the online freelancing community with the marketplace and encourages both to conduct business. Members can set their rates and freelance online jobs by category, type of work, or through the salary range. If you have an impressive portfolio and you want to gain more experience, then CloudPeeps is the best platform for you.
Due to their exclusivity, it might be hard to join, but once you register yourself, it is quite easy to secure freelancing opportunities.
Key features:
Prompt payment
Faultless processes
Remote work-friendly
Price:
CloudPeeps Standard for $9/month, while CloudPeeps Plus for $29/month
Visit CloudPeeps for additional information >>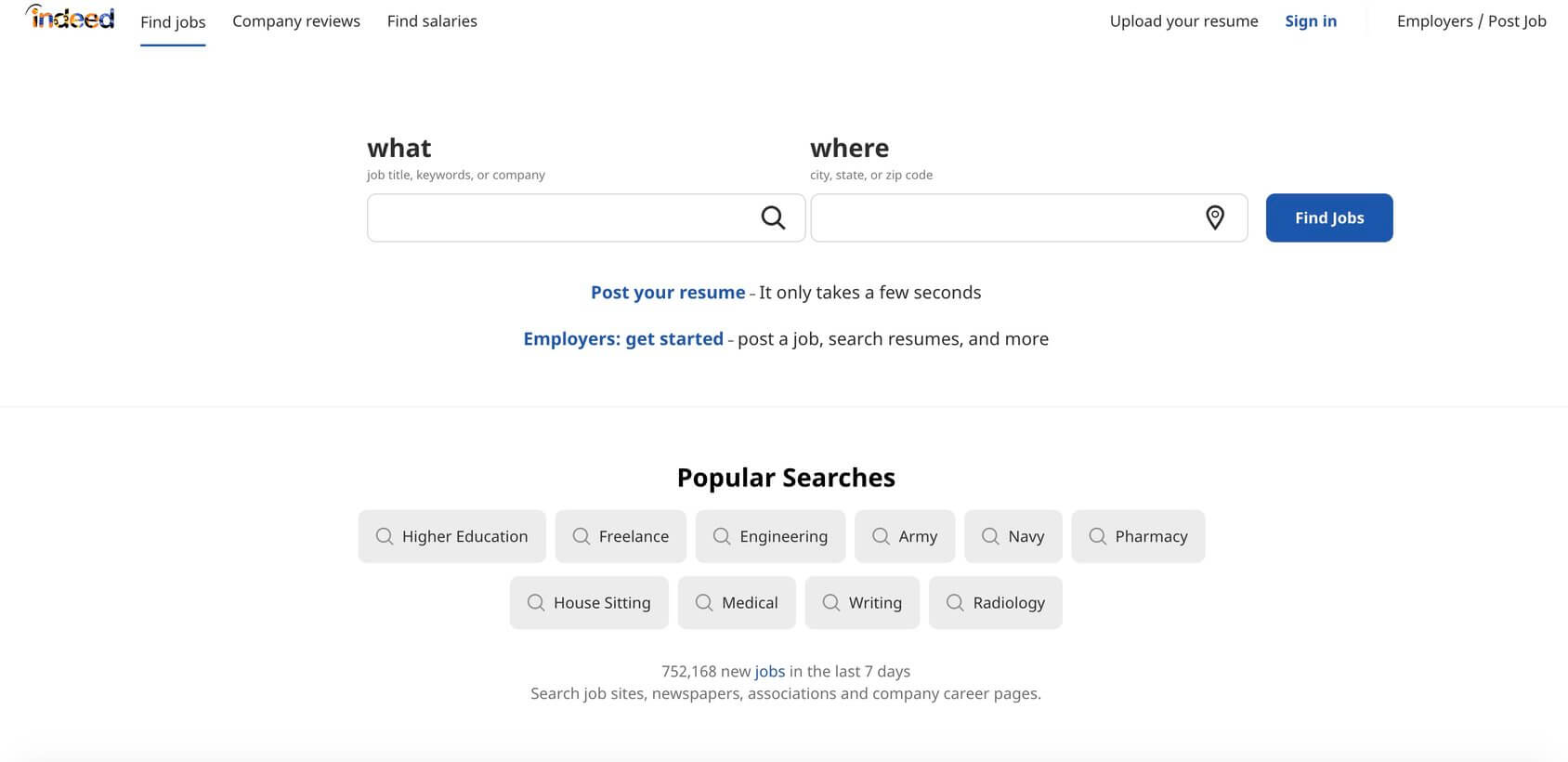 It is the number one job website in the world, which entertains over 250 million visitors every month. It prioritizes remote job workers and freelancers by giving them free access to job searches, allows them to post resumes and conduct research on companies.
The website is very easy to use and you can find many remote job listings on the platform. With such a high popularity of this platform, any freelancer or remote job worker is bound to find something according to their skill set.
Key features:
Built-in online resume builder
Large scale hiring
Job alert emails
Price:
$5/day for sponsored job posts
Visit Indeed for additional information >>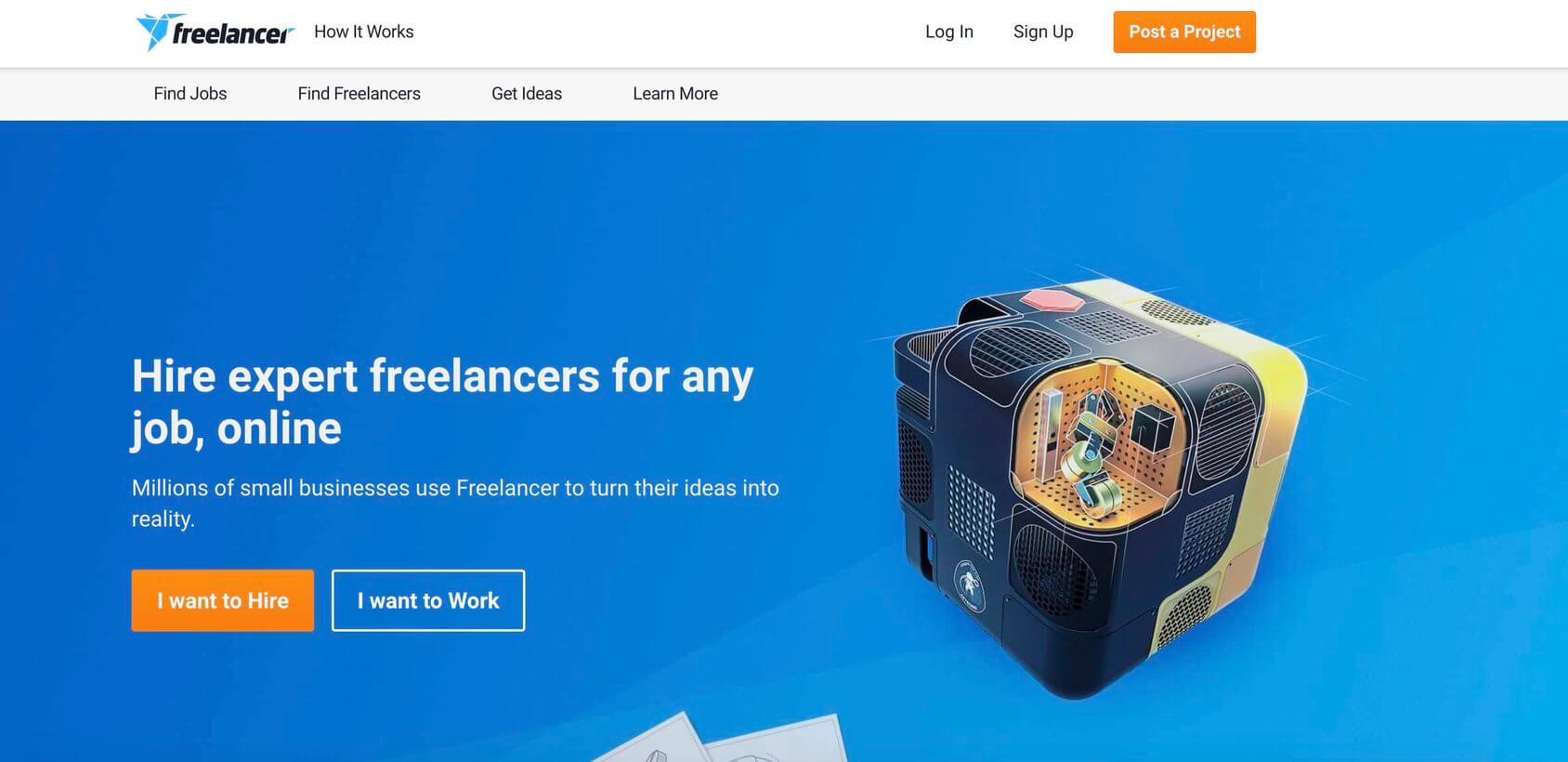 It is the largest online freelance jobs marketplace with over 32 million registered users — which means many companies use the website to outsource their work. It offers a variety of freelance jobs, including software and application development, writing, digital marketing services, etc.
All you need to do is make a profile and start placing bids on the jobs you want!
Key features:
Countless projects on one platform
Cheapest commission rates
Price:
10% for fixed hourly projects, 20% for services and 15% project fee
Visit Freelancer for additional information >>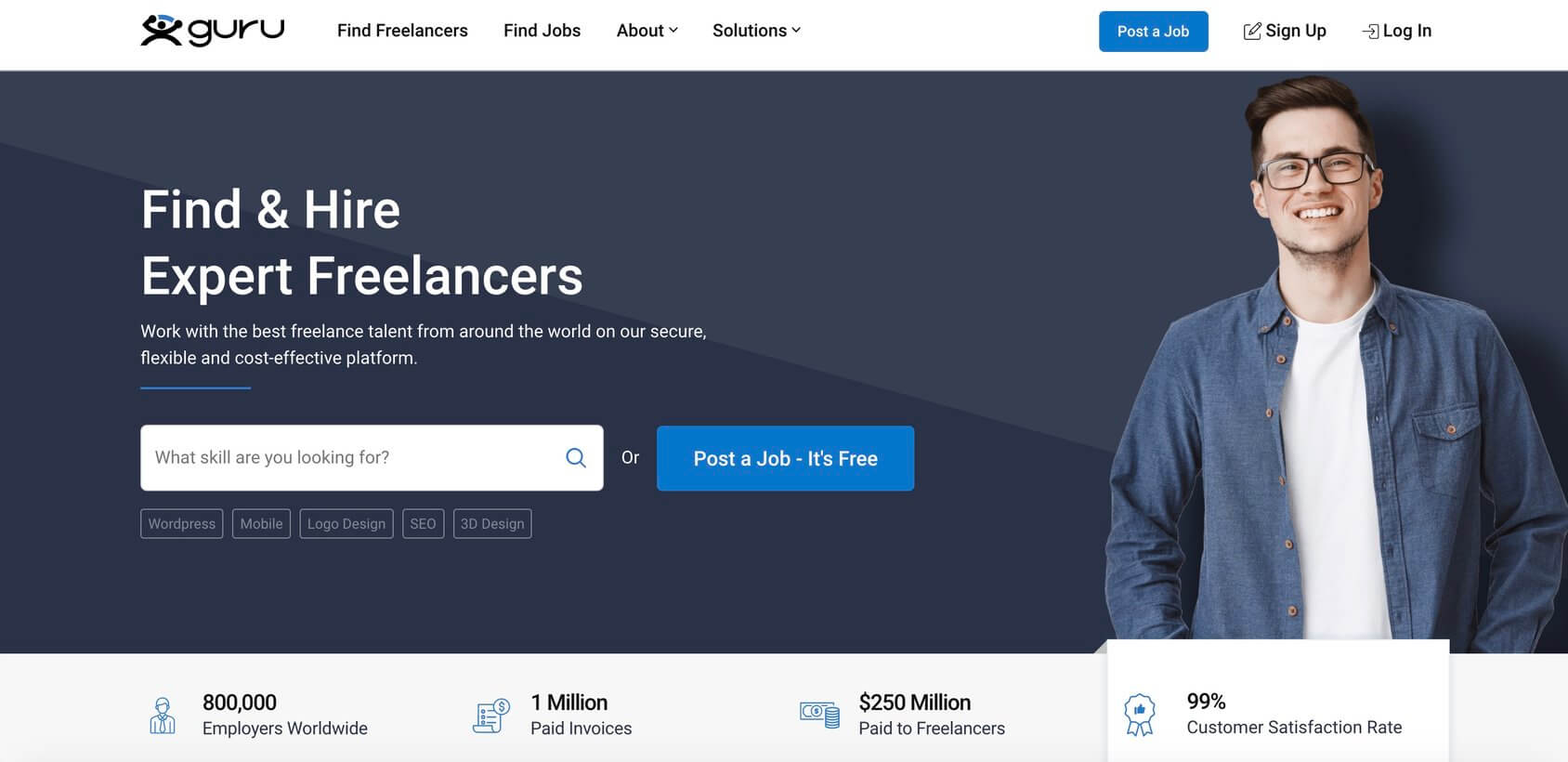 Guru helps you make a profile that perfectly represents your experience and skills — to improve your chances of being contacted by an employer. They have a massive amount of freelance job postings that are updated every day from different industries.
It is the most straightforward freelancing website out there with an interactive interface that allows freelancers to skim through the jobs without any hassle.
Key features:
Supports transactions through multiple payment methods
Extensive range of job categories
Streamlined project process
Price:
$29.95
Visit Guru for additional information >>
Twine specializes in the creative and digital sectors, from web development to animation. They have a global community of over 350,000 freelancers, who can pick from a high volume of varied and exciting jobs on a weekly basis. Freelancers are paired to clients via an in-depth matching system of over 10 different criteria. This ensures both parties receive the best possible experience and the fairest possible price.
Key features:
Creative and digital work available
Vetting system
Secure payment system
Price:
Twine Pro costs $7.49 per month.
Visit Twine for additional information >>
Freelance writing jobs

Starting freelance writing from scratch can be a very daunting task, especially if you don't know where to start. The internet is a major freelance writing marketplace, but separating a legit job opportunity from a click-bait scam can be tough.
Therefore, to help you land some quality freelance writing gigs online, we have created a comprehensive list of the best freelancing writing websites.
It is one of the best freelance writing sites because of the amount of writing jobs available to editors, writers, and content creators. They provide a mixture of freelance and remote job opportunities.
Moreover, Contena helps freelancers to find jobs according to their niche by narrowing down the results to include the most profitable writing categories. You can bag freelance writing jobs on technology, education, wellness, finance, beauty, and many other industries.
Key features:
Effective training courses
Mediation services
Customer Support
Price:
$500/year for Gold Membership and $800/year for Platinum Membership
Visit Contena for additional information >>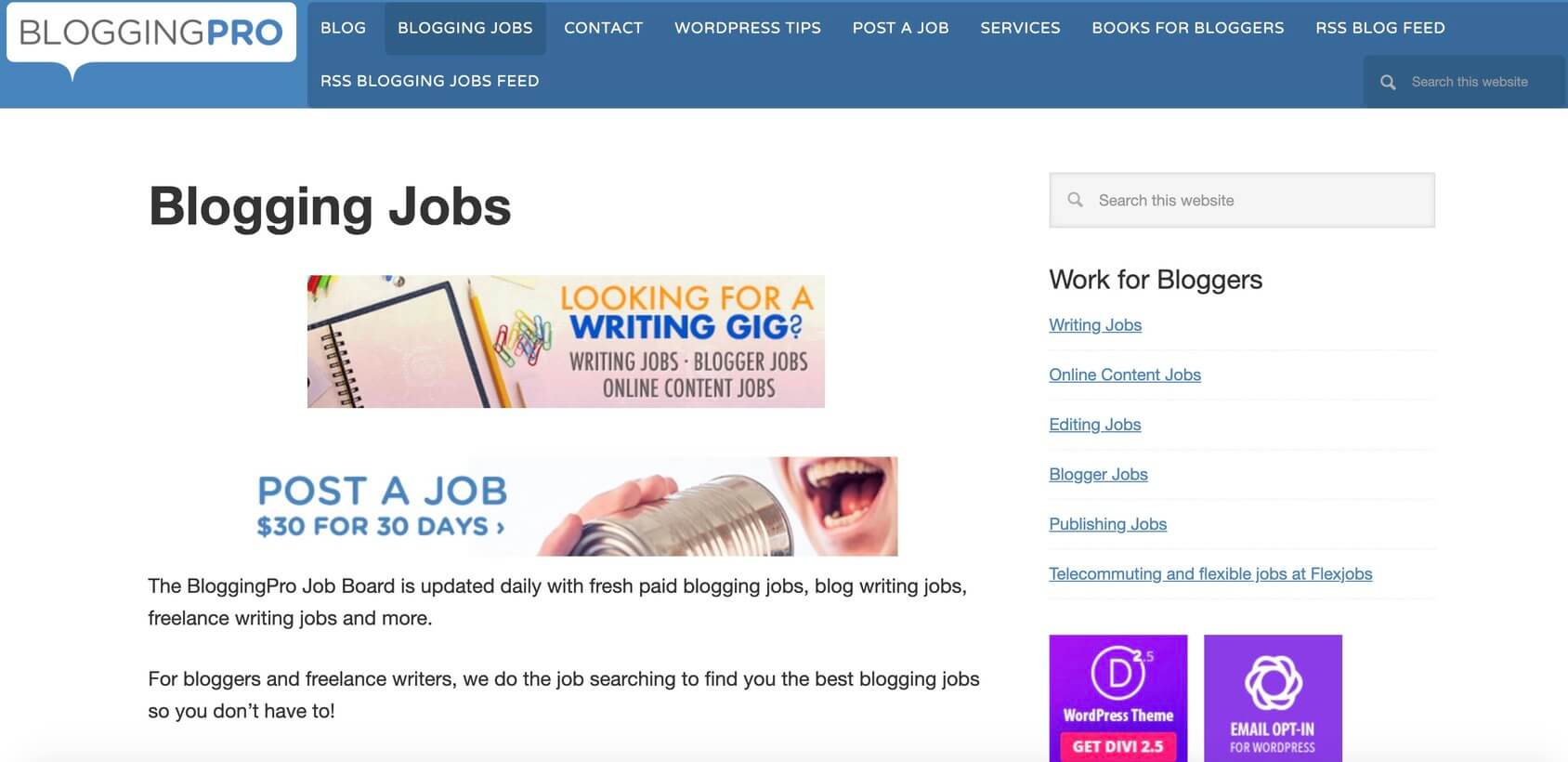 This freelance writing website provides remote job opportunities too on various categories, such as blogging, content writing, journalism, proofreading or technical writing. They collect all the best online writing jobs and make them easy to search for freelancers.
Hence, if you want to earn money from home using your writing skills, have some samples ready at hand when you apply for jobs through Blogging Pro.
Key features:
Provide tips to help you grow your blog
Plenty of remote writing job
Price:
$30 for 30 days
Visit Blogging Pro for additional information >>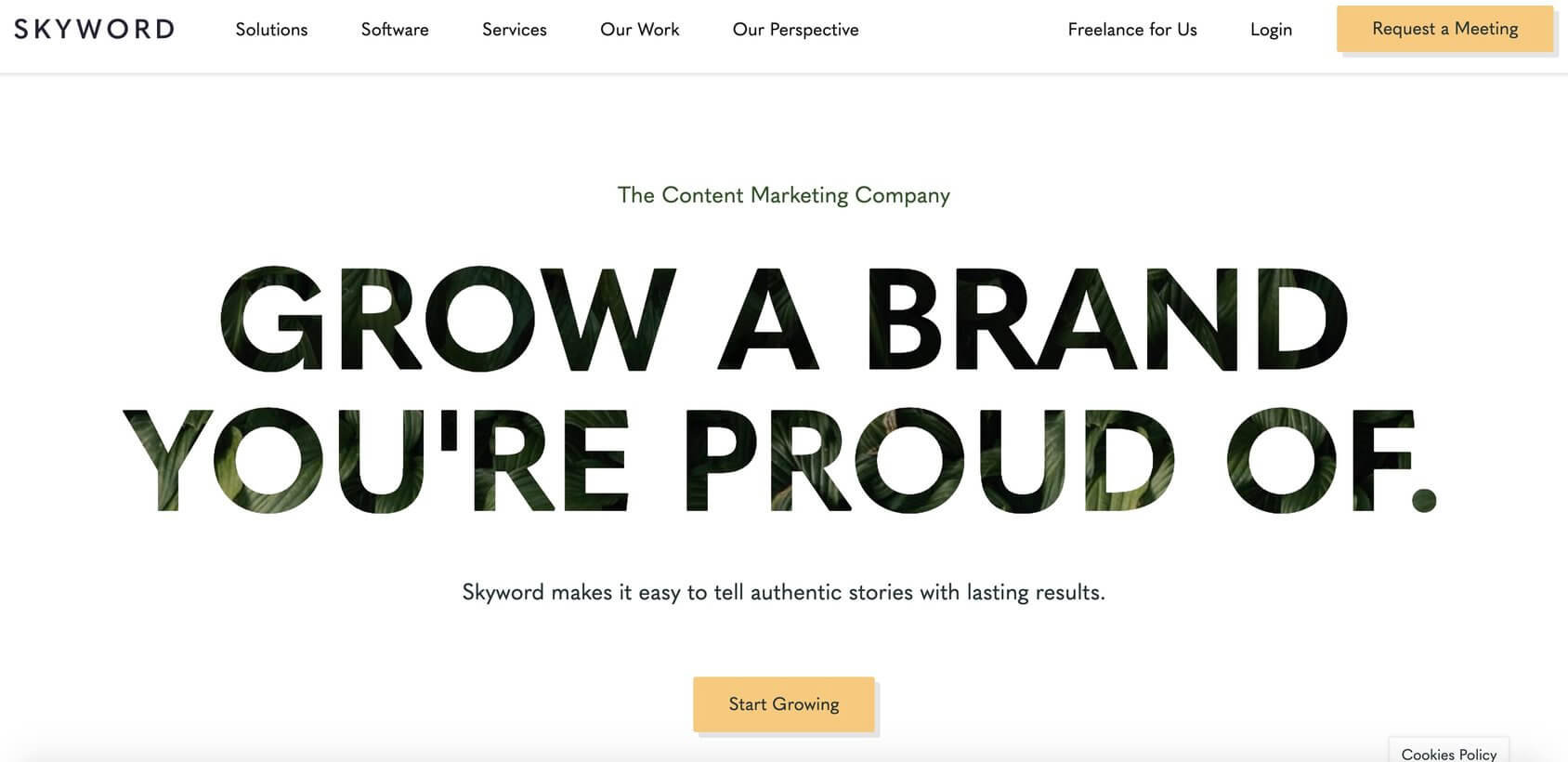 It is a major content marketing platform known for providing consistent freelance writing opportunities. Clients use this platform to connect, post their content on the website and manage relationships with the freelancers they outsource their work to.
The people behind Skyword skim through the posted jobs and match the client's needs with a writer. The writer is then invited to work on the client's project and they are even allowed to work on multiple projects in time. The freelance job board of Skyword is not just confined to US or English-only companies as it supports more than 13 languages and clients from over 27 countries.
Key features:
Freelancers can connect with noticeable clients
Variety of writing jobs
Price rates better than other freelance writing websites
Price:
Not provided by the website
Visit Skyword for additional information >>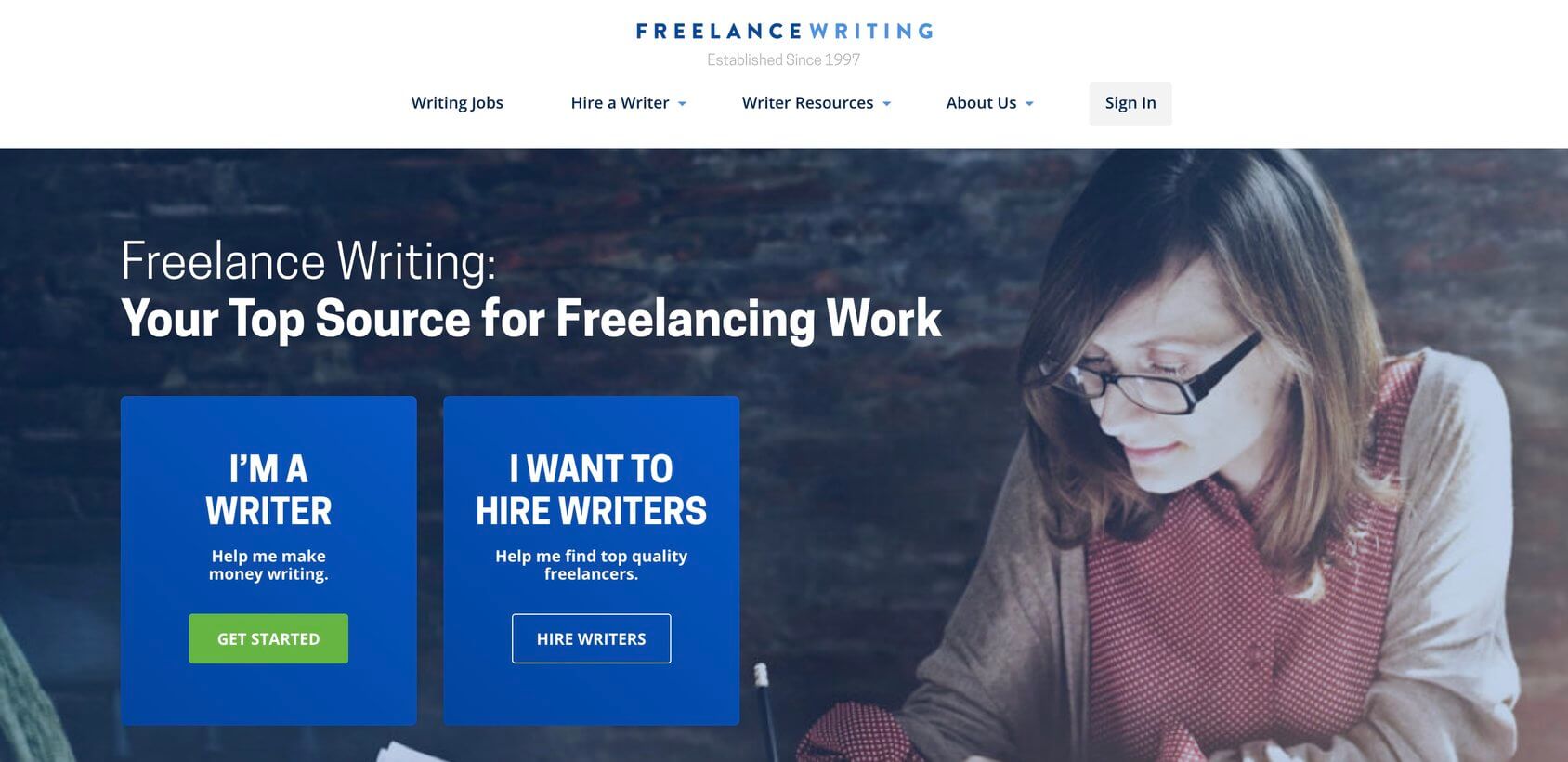 It is the biggest platform for freelance writing jobs that consists of the largest number of writing gigs—even more than Indeed or Craigslist. Through this freelance site, you will get the opportunity to work with some of the biggest names in the market place such as Netflix, Facebook, and Adobe.
Other than job postings, it gives freelancers a chance to take part in writing contests and earn rewards.
Key features:
Appropriate for writers of all experience levels
Easy search filters
Competitive pay rates
Price:
Free
Visit Freelance Writing for additional information >>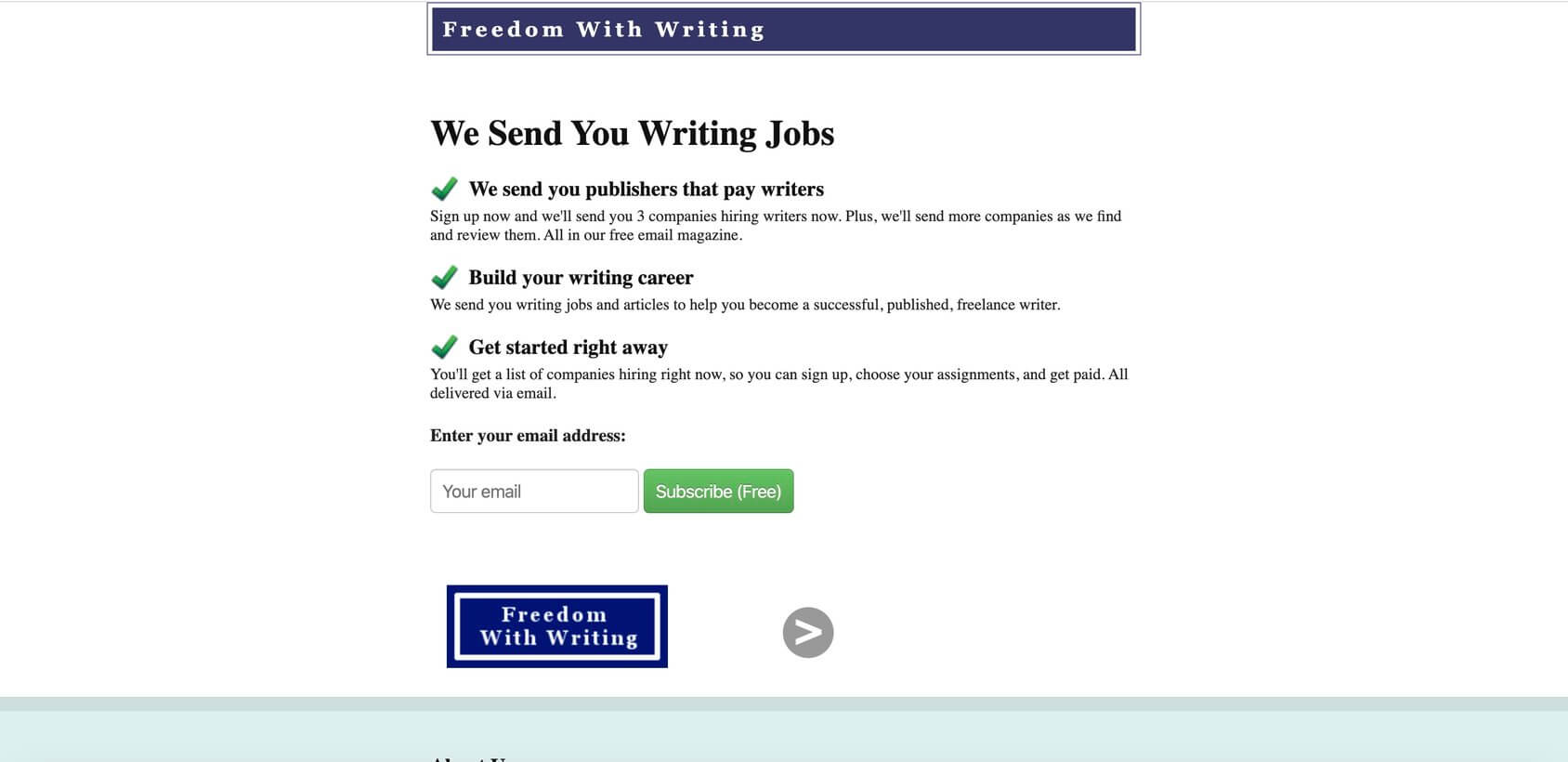 With a good pitch, you are sure to win projects that pay really well through this platform. It offers a selected number of freelance writing opportunities that are sent through an email regularly. You will find a lot of content jobs on journalism, essays, blogs, and fiction writing on this platform.
Key features:
Free subscription
Job variety
Price:
Free
Visit Freedom With Writing for additional information >>
It is a freelance writing platform that provides reliable clients – without the need to have to interact – with them. This writing website ensures that the freelancer can focus on the job at hand, and doesn't have to worry about handling or managing clients.
To get into PubLoft, you need to fill out a form and pass some tests, after which you will be able to gain access to a high number of notable clients who will pay you justly according to your efforts.
Key features:
Hassle-free writing gigs with no client interaction
Bi-weekly payments
Price:
Starting from $150/post
Visit PubLoft for additional information >>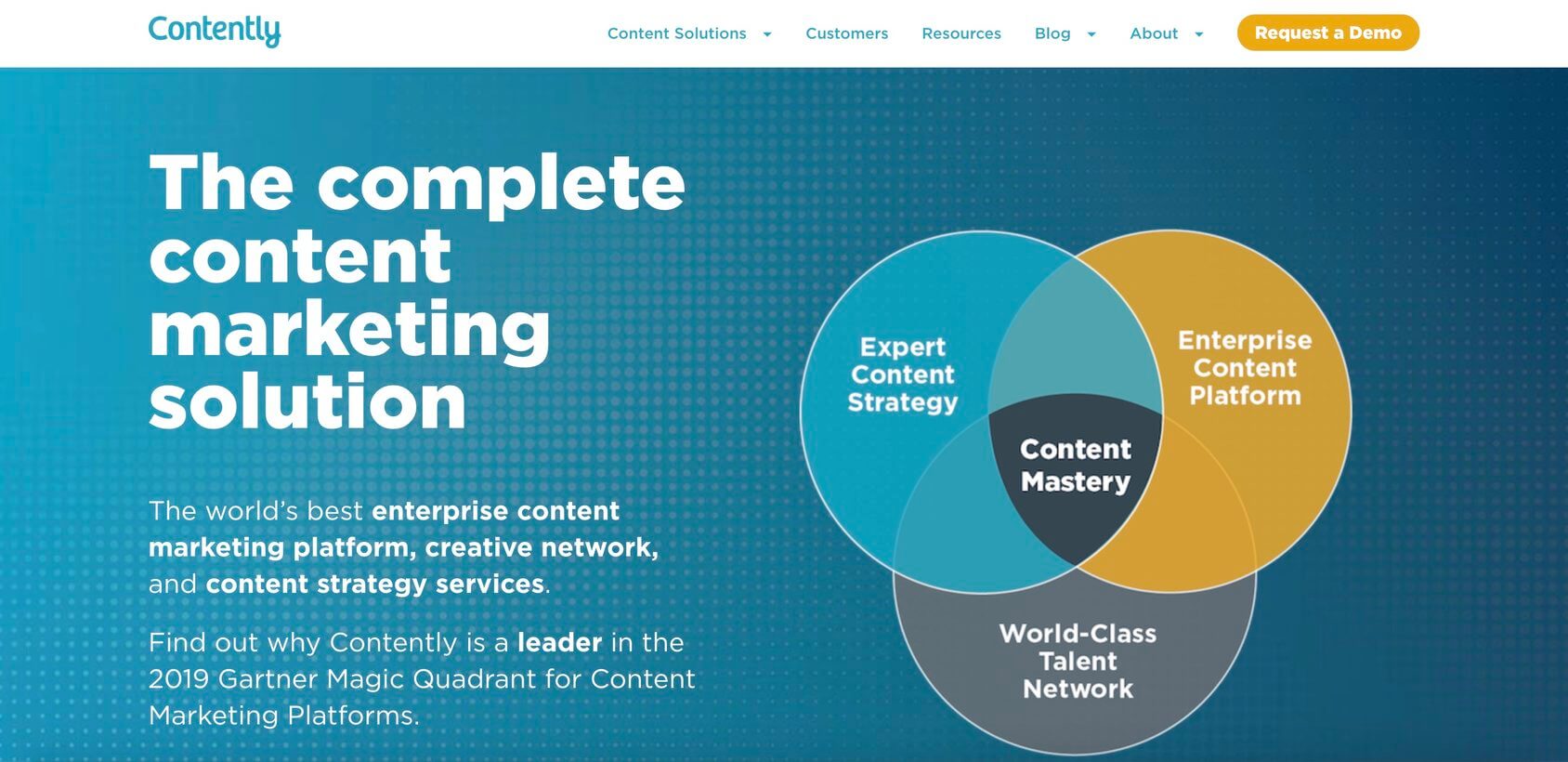 It is the biggest content-marketing platform that works with big companies like Google, Walmart, Marriott, and many more. Contently helps freelancers score content jobs and improve their portfolios. It is a high-end agency that connects you directly with clients for freelance writing opportunities.
You are just required to build and post a striking platform that will be selected by the account management team for future work.
Key features:
Price:
$50,000 to $200,000 per quarter
Visit Contently for additional information >>
Freelance graphic design jobs

If you are blessed with the talent to pursue a freelancing career as a graphic designer – but cannot figure out where to start – you have come to the right place.
There are tons of freelance job sites that provide freelance designing jobs, but not all of them are suitable for different types of freelancers. We have compiled a list of freelance graphic design websites and their unique features here.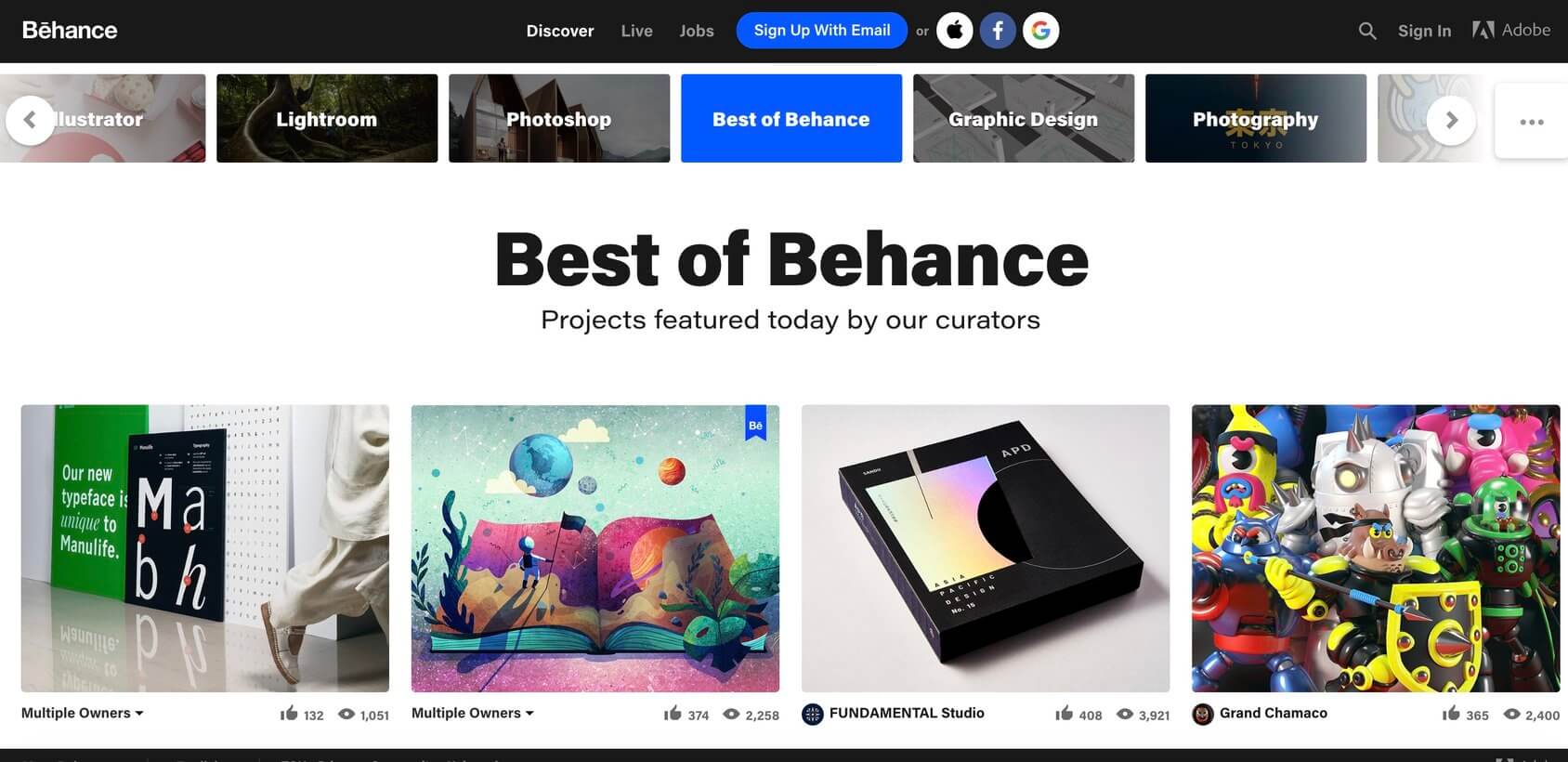 It is the world's largest creative network for design jobs, which provides a platform for graphic designers to showcase their talents. It is not strictly a freelancing job site but allows the designers to share their work — to be seen by potential clients. You can swipe through the image portfolios that are posted by creative designers and message the designer whose work you like best.
As a freelancer, you can also post your portfolio directly to the website's job board, which gives you access to a large number of creative designers.
Key features:
Projects visible to a large audience
Save your favorite designer's work
Customization services
Price:
$399/month for one job posting
Visit Behance for additional information >>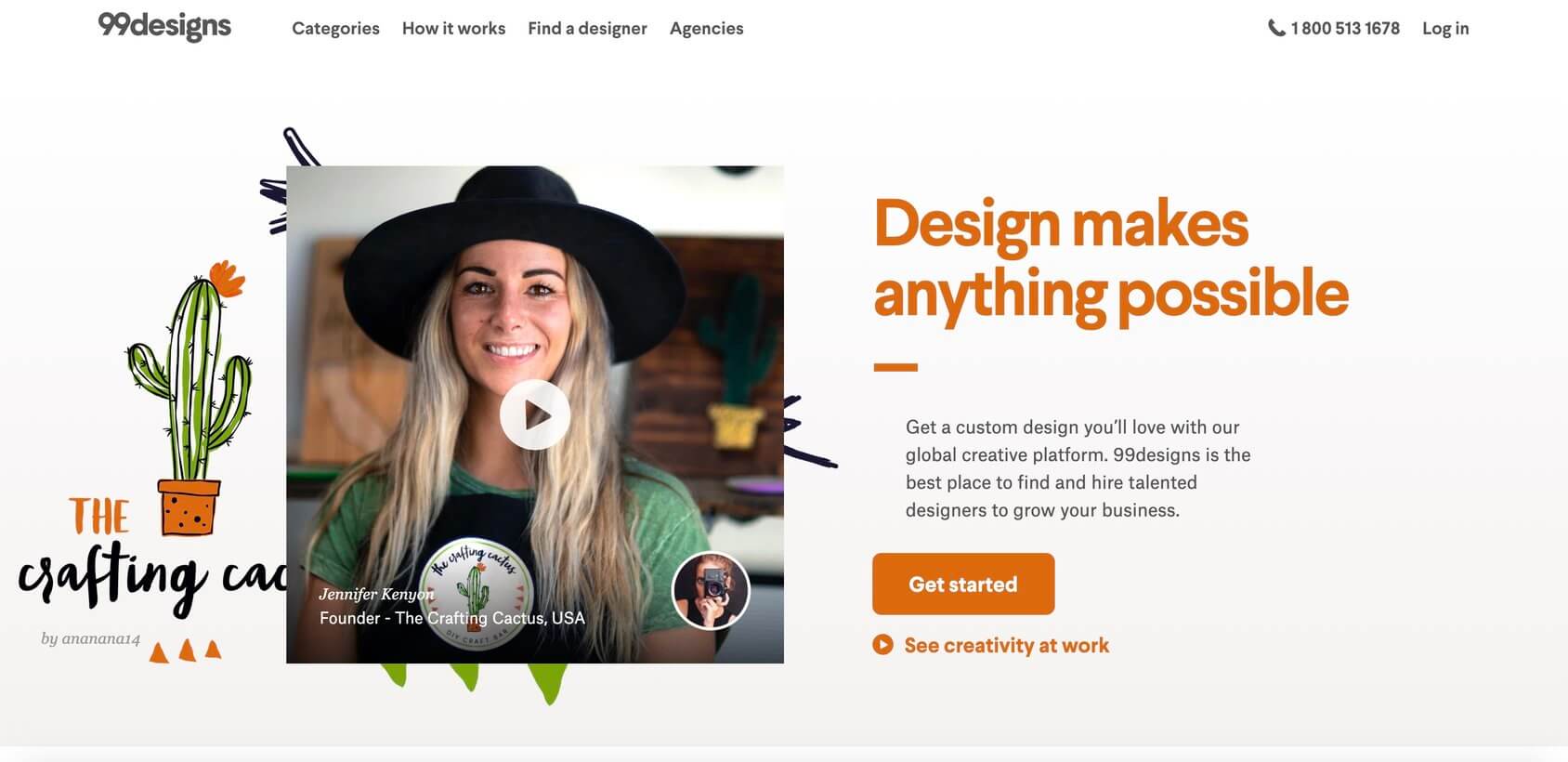 This platform is the best freelance site for graphic designers to showcase and sell their skills. As the name suggests, 99 designs is for freelancers who can help clients with over 90 different design types such as business cards, landing pages, or websites, etc.
It works in a different way than most other freelance design websites, as the clients publish a contest and the designers have to submit their work that is later selected by clients.
Key features:
Free design consultation from the customer support team
A smooth experience for both parties
Price:
Packages start from $399
Visit 99 Designs for additional information >>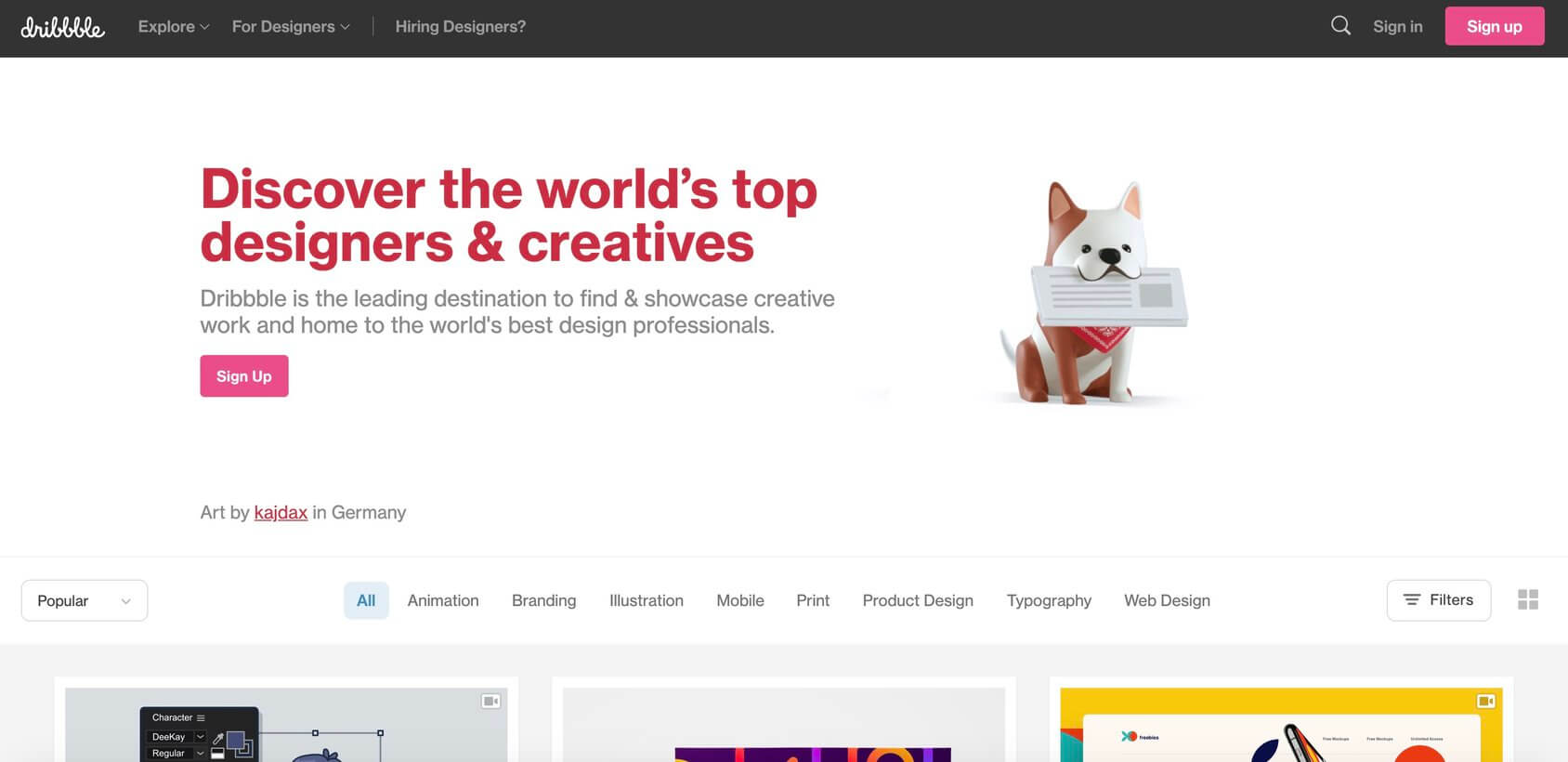 It is the world's leading platform for freelance designers and offers remote work opportunities and freelance web design jobs. The biggest benefit of this platform is that it allows other designers and potential clients to give you feedback on your work.
You can find some really high-quality work on this website from high-profile clients, including companies such as Buffer, Zendesk, and Tinder. Apart from just hunting for freelance jobs online for beginners, you also get the opportunity to develop your portfolio and add sample works for potential clients to see.
Key features:
Huge community to engage with
Stunning and easy to use platform design
Get feedback from designers
Price:
Dribbble Pro is $12 per month
Visit Dribbble for additional information >>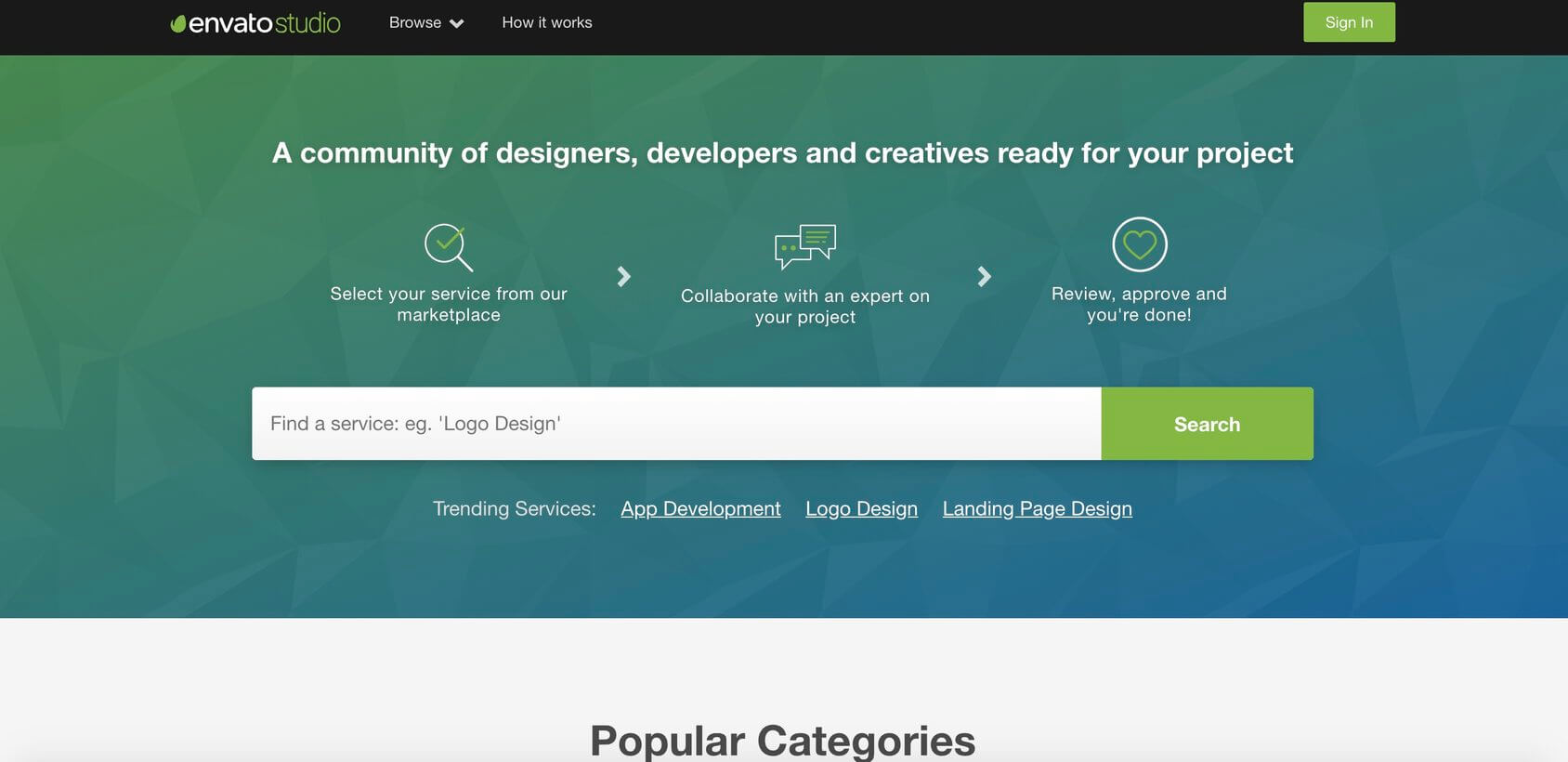 It is a freelance design website that is popular for logo designs and WordPress theme customizations. It is a huge platform for designers, who are handpicked by businesses. Envato Studio is an easy-to-use website where freelancers can find good opportunities and receive handsome payments.
Key features:
User-friendly platform
Good payout
Smooth communication between freelancers and clients
Price:
Starting from $5
Visit Envato Studio for additional information >>
It is an online designing marketplace that offers multiple graphic designing services. The website has a smaller customer base than 99 designs. Either the business owners hold designing contests to allow the freelance designers to submit their work and then select them or they contact a designer they prefer.
This freelance designer site provides a unique platform where freelancers can display their talents, make contacts and build portfolios.
Key features:
Excellent customer service
Short turnaround time
Expert designers
Price:
$99 – $1100
Visit Design Crowd for additional information >>
It is an online freelance marketplace where you can find custom logo design, website design, illustration, and industrial design projects. Freelancers showcase their designing capabilities by taking part in contests organized by business professionals. You can also find individual projects on the platform if you are not up for competitions.
Key features:
Easy to sign up
Free registration
Price:
$399 for the silver package and so on
Visit Crowdspring for additional information >>
Freelance marketing jobs

If you are a social media fanatic or love to create engaging content but want to do freelance work from home —freelance marketing jobs are for you.
More companies now prefer to hire people for remote work through freelance job search sites. All you need is a PC and Internet access.
The freelance marketing platform is for SEO enthusiasts, software engineers, and creative individuals who want to try their luck in the freelance world. The freelancer places a bid for a task and if it gets selected the project is secured by the freelancer.
To protect freelancers from fake clients, the website charges an upfront payment for tasks. This minimizes the risk of any disputes between the client and the freelancer.
Key features:
Professional clients to work with
Set your own rates
Price:
3.5% to 5% commission fee
Visit People Per Hour for additional information >>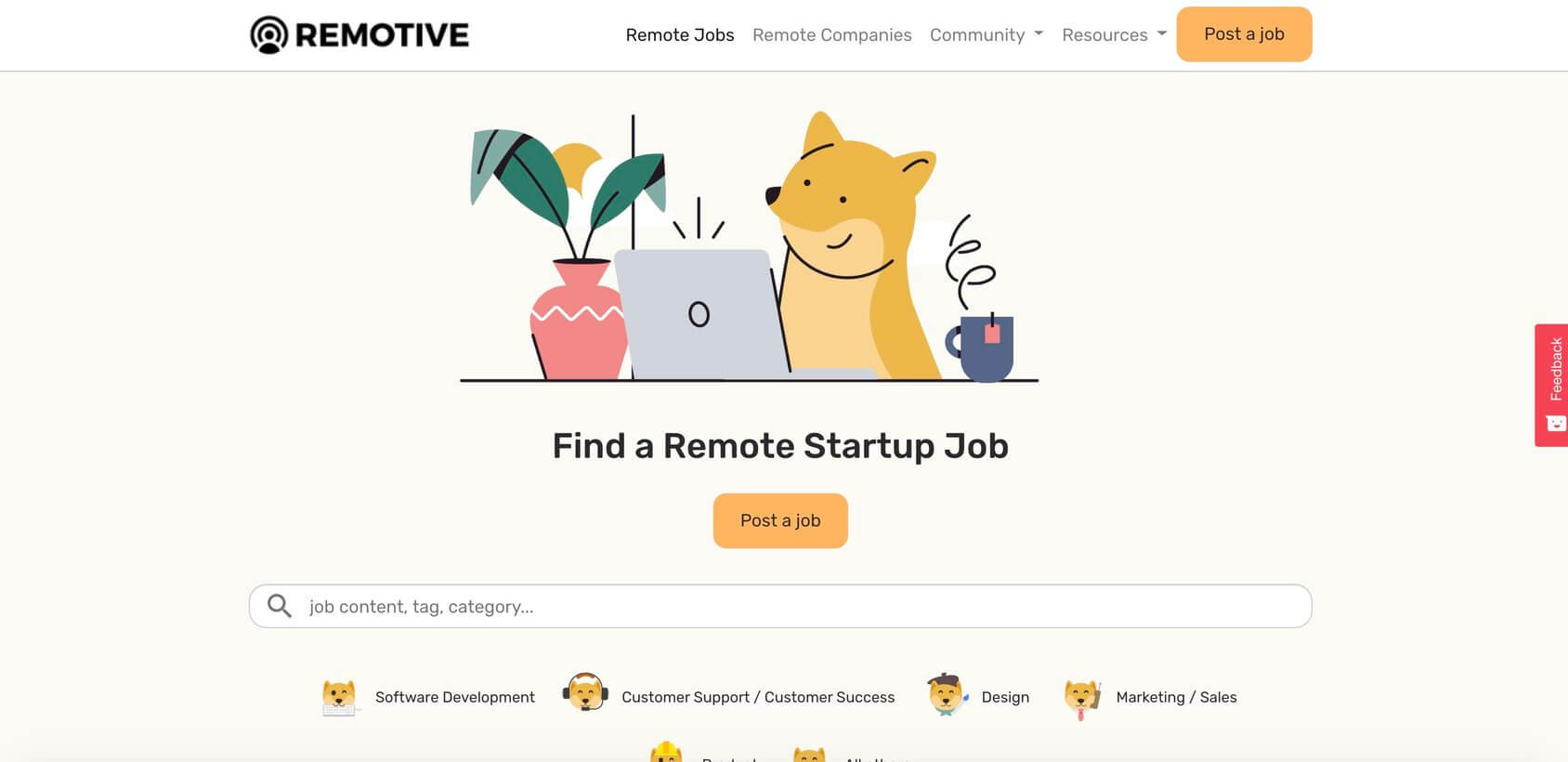 It is a bi-monthly newsletter for remote workers as well as individuals who are seeking marketing freelance work online. In addition to jobs, it provides tips on how to get hired for remote jobs and live a digital nomad lifestyle.
The job listings are categorized and help you find the specific job you are looking for with the company's social media details and contact information.
Key features:
User-friendly interface
Effective guidance on remote work
Price:
Free
Visit Remotive for additional information >>
It is an award-winning freelancer website that is known to provide high-paying jobs to marketing freelancers. Aquent, however, prefers to hire freelancers with over two years of experience. But fresh graduates are also welcome to explore unlimited jobs on the platform.
Key features:
Guides the freelancer on setting a price range
Personalized service
Talent rewards
Price:
30% conversion fee for each freelancer
Visit Aquent for additional information >>
Freelance developer jobs

Freelancing for developers can be a dream opportunity — if they are tired of the 9 – 5 grind. They can freely choose the jobs they are interested in with flexible hours that best suit them.
But the problem occurs when they don't know where to find work. To help you figure out what's best for you we have compiled a list of the best freelance developer websites.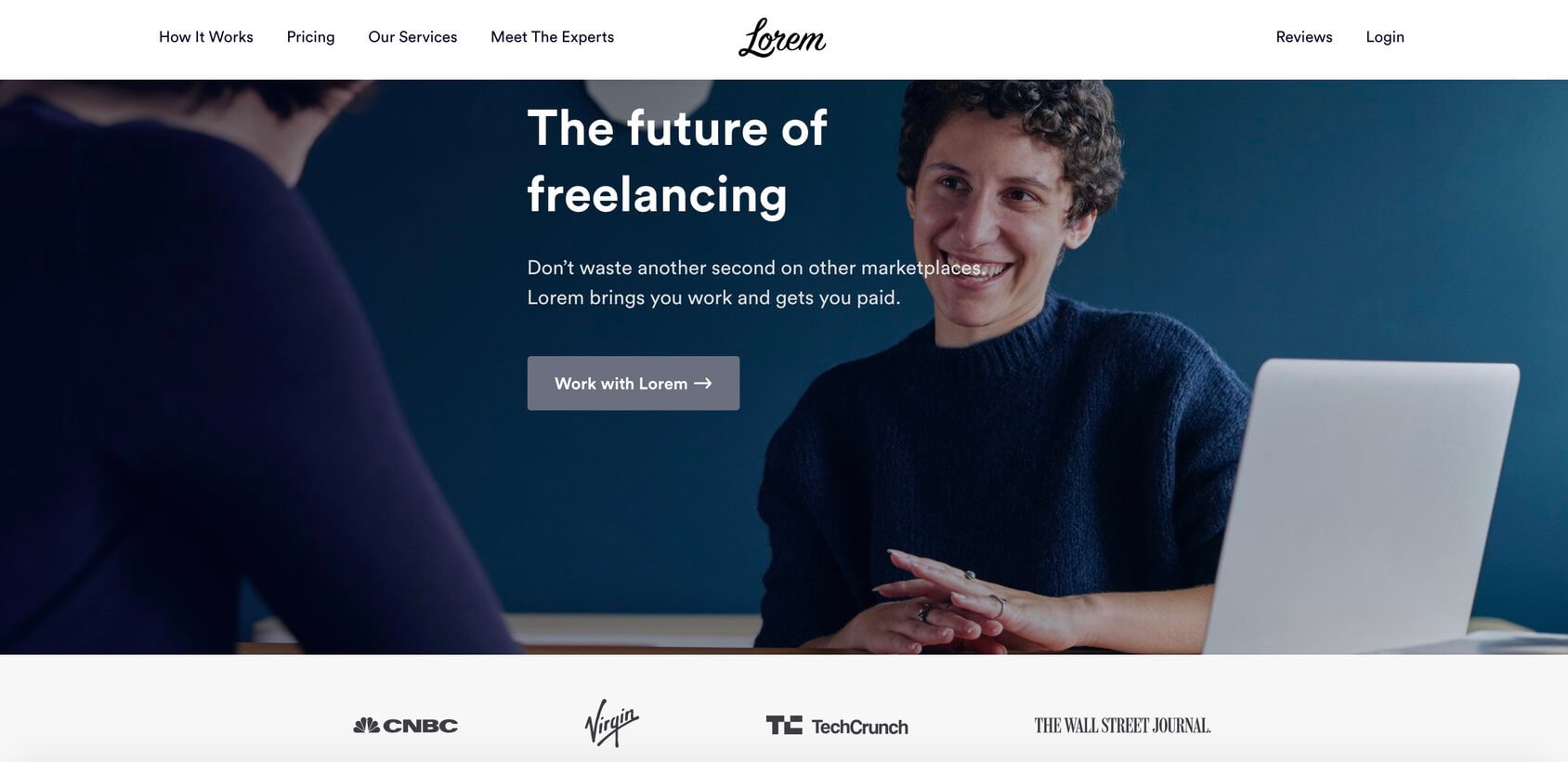 It houses a network of skilled web developers and designers with notable reviews on Facebook, ProductHunt, and Reviews.io. It is rising as one of the biggest platforms for freelance website developers that can also help you build a Shopify store or a new WordPress website.
The main attraction of the freelance developer website is that there is no monthly fee to enlist for freelance jobs and the gigs pay handsomely. All freelance web developers are vetted by the website before they can work on the platform.
Key features:
Quick communication
Quality professional experience
Exceptional customer support
Price:
No monthly fee, payments start from $25 to $250
Visit Lorem for additional information >>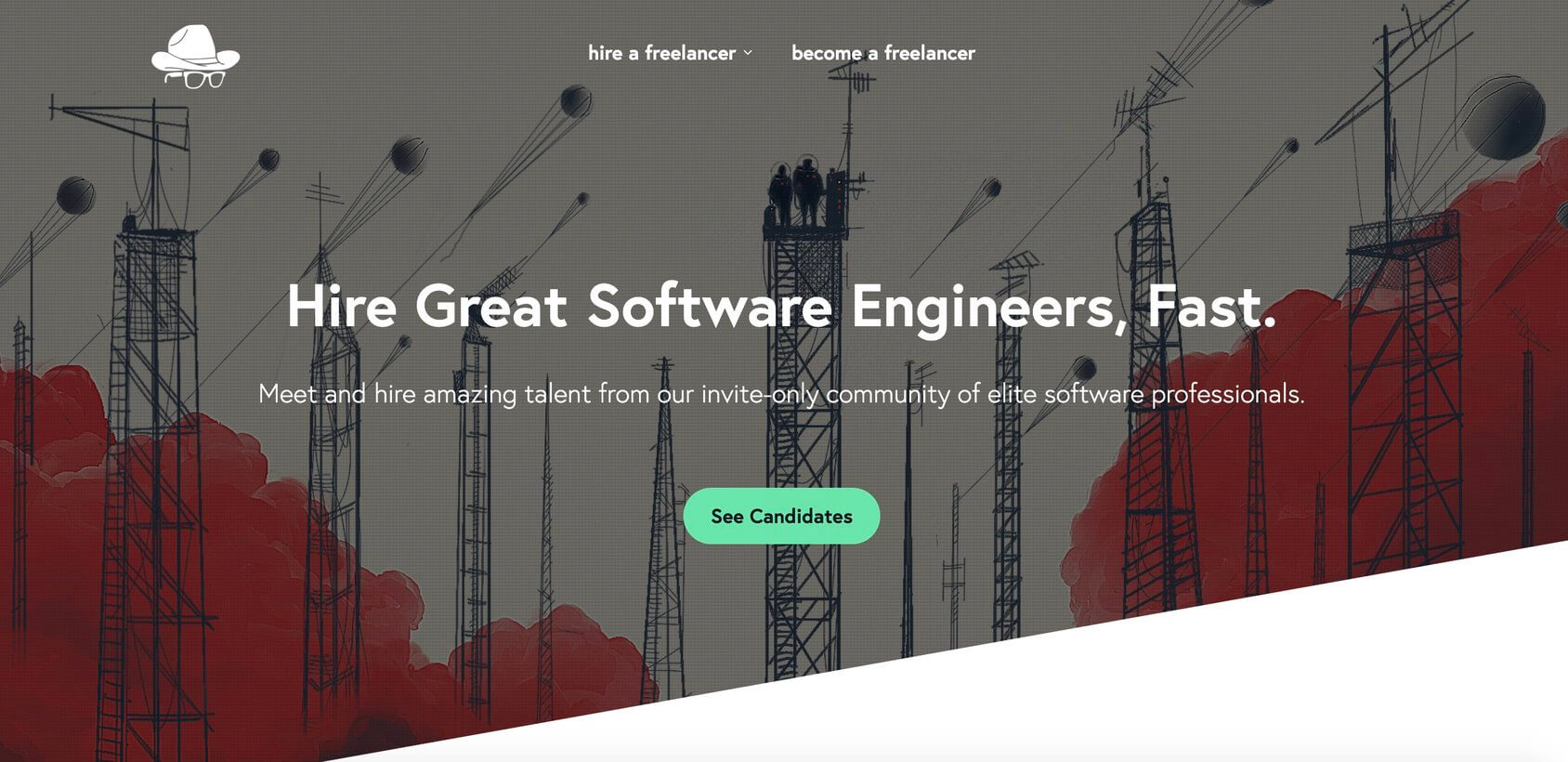 It is a freelance job site designed especially for freelance web developers. The web developers at Gun.io work with industry giants such as Tesla, Cisco, and many more.
The freelance developer website vets both the company that hires people who work from home and the remote workers who place a bid for that job. The vetting is done on the basis of technical expertise, and the experience level of a person. The freelancers who fit the criteria are verified and can work with clients on a one-to-one basis then.
Key features:
Has the most sought-after talents listed on the website
Guides the freelancer up to the completion of a project
Ensures businesses get value for what they pay
Price:
$75 to $150/hour
Visit Gun.io for additional information >>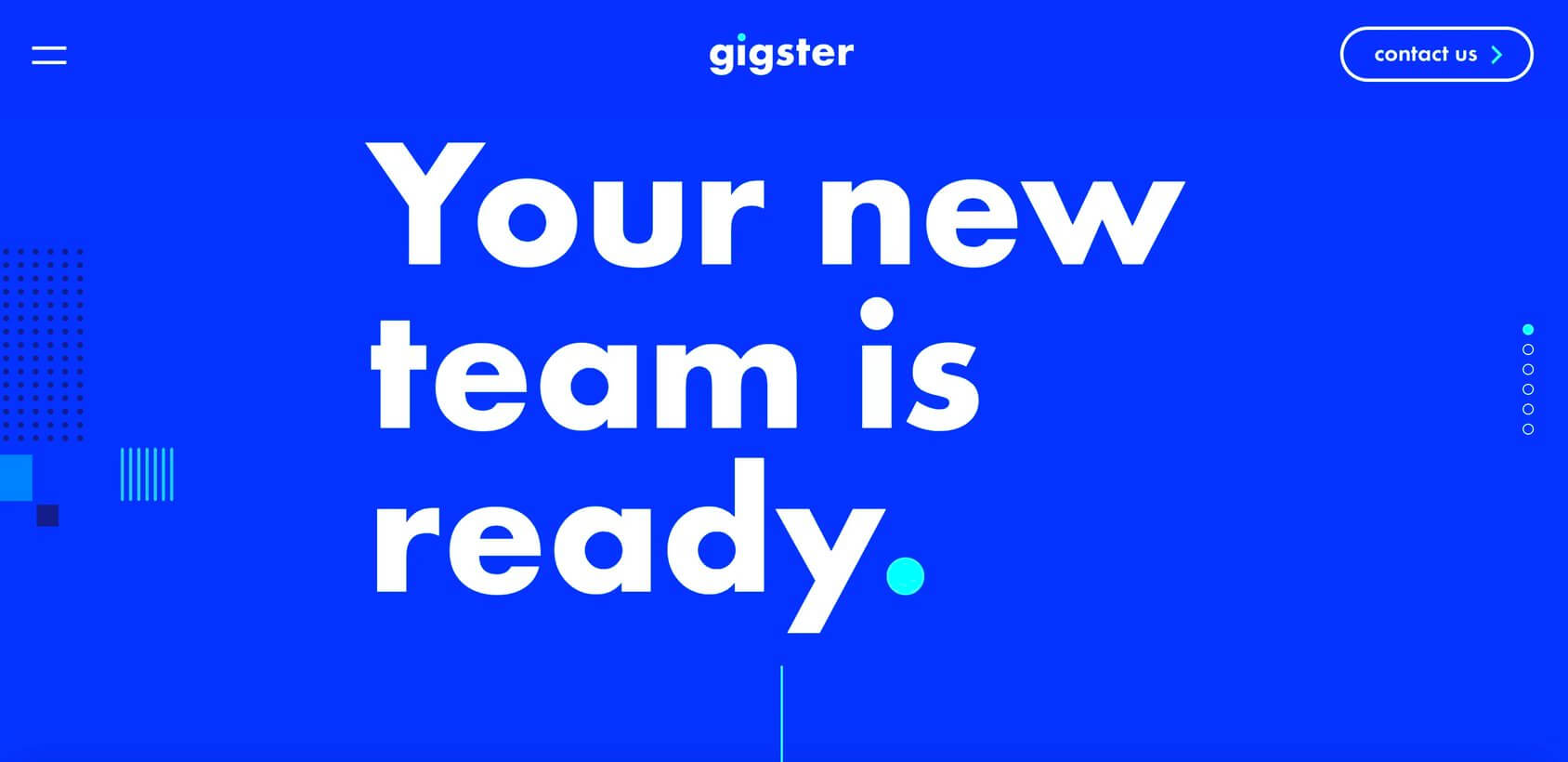 It is a freelance developer website based in Silicon Valley where selected custom apps are designed and developed. Many tech companies resource their work through the platform to streamline their operations.
Gigster is for individuals with knowledge and experience in the field. They hire such freelancers through a screening process, where they use AI to match freelancers with projects.
Key features:
Top-notch developers
Fast project process
Reports the clients on progress
Price:
Apps for different prices can cost around $52,000
Visit Gigster for additional information >>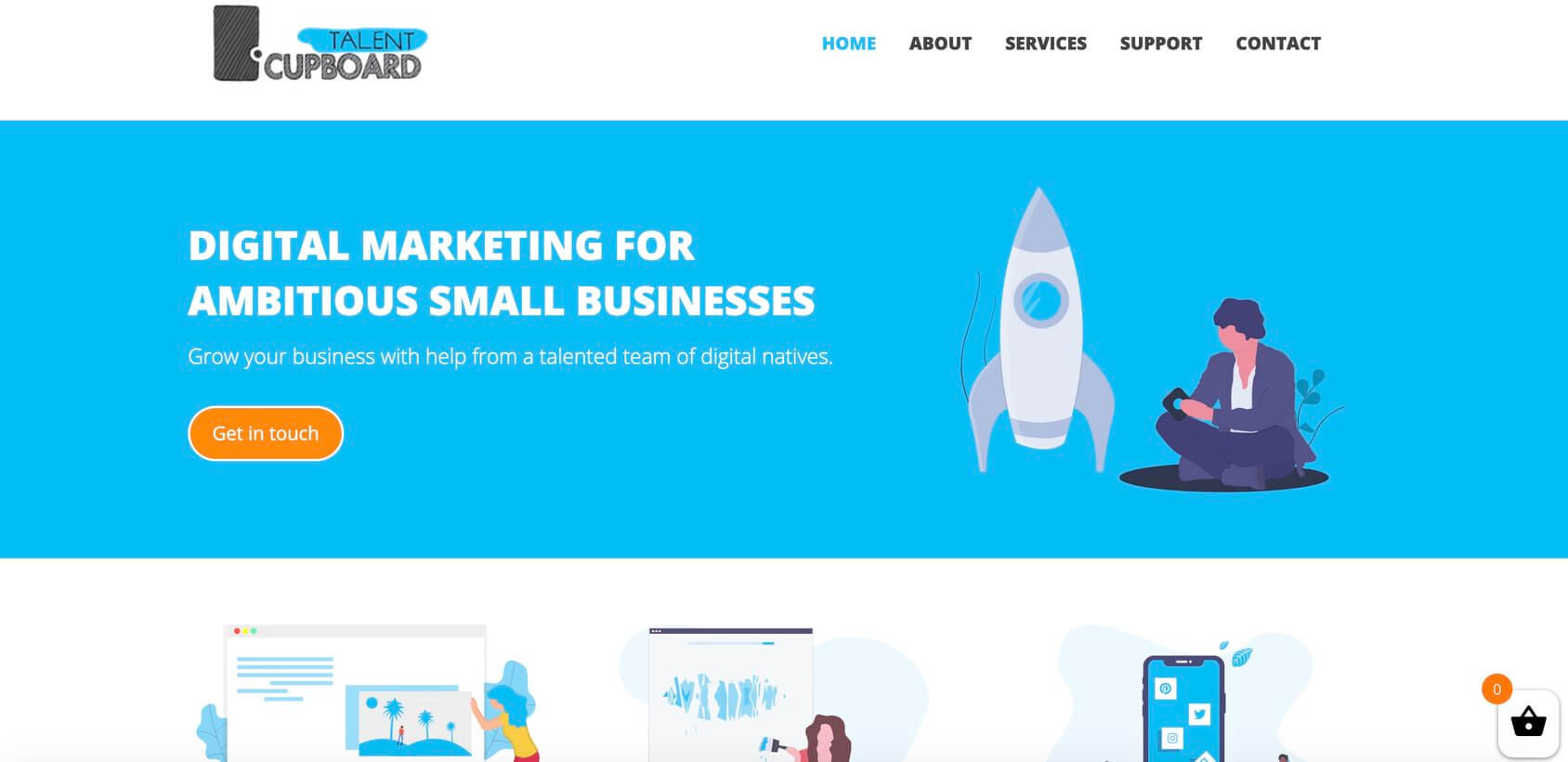 The freelance developer website allows freelancers to work for high-profile clients and offers them quality freelance jobs online. The freelancer has to create a profile and maintain a portfolio that shows their experience level, area of expertise, and skills.
There are a number of jobs available on this freelance job site where the clients review the freelancer's profile. The websites designed through the platform have all the essentials of a modern website—and help businesses convert visitors into customers.
Key features:
Builds your digital resume
Any freelancer can apply
Price:
Free for freelance job seekers
Visit Talent Cupboard for additional information >>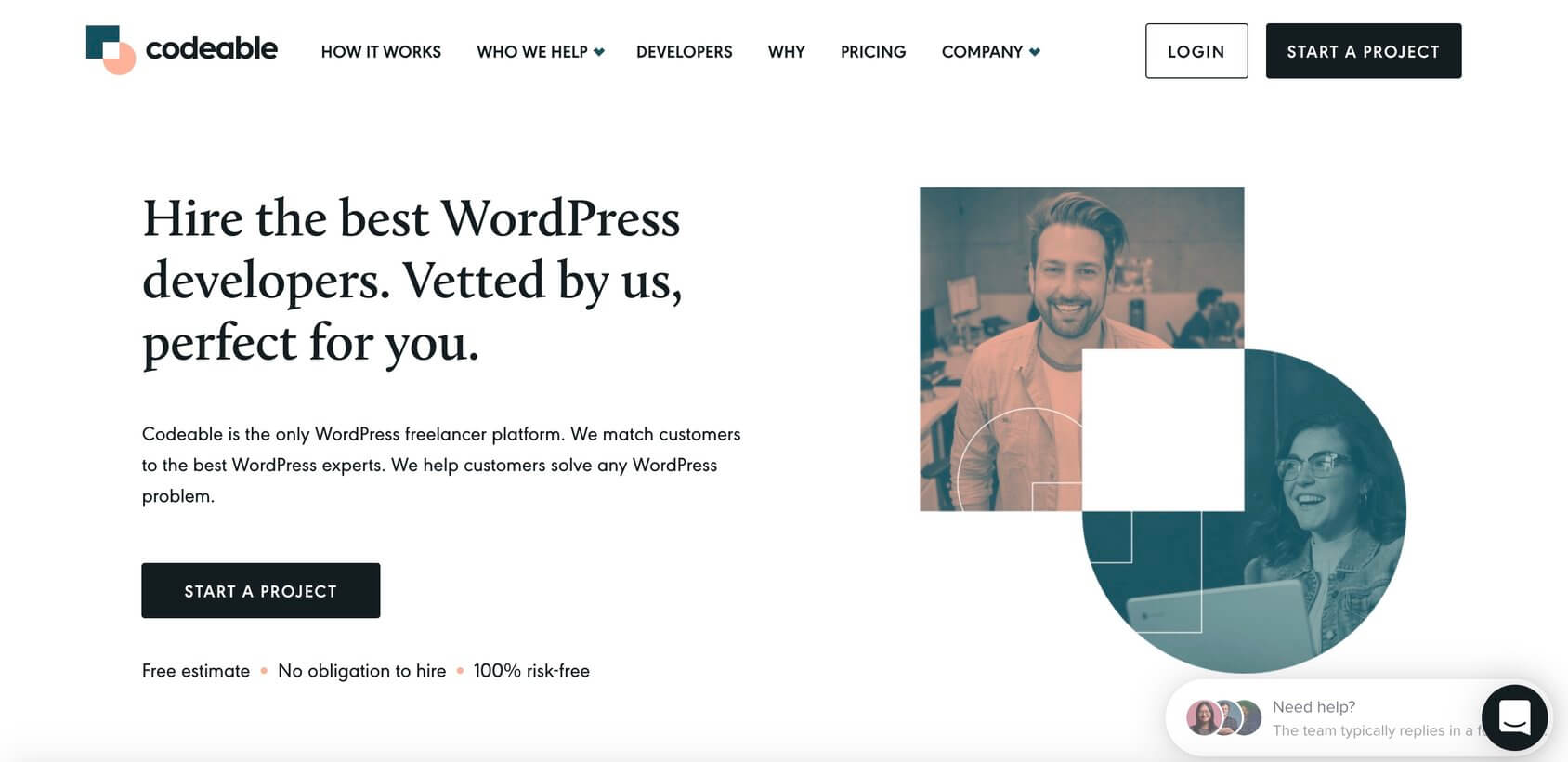 It is one of the best freelance developer websites that is especially dedicated to WordPress developers around the world. The clients do not need to vet the freelancers, instead, the website's algorithm does the job for them. As a freelancer, all you need to do is create an attractive profile, bid on projects and deliver quality website designs. You can set a competitive price and get more projects.
Key features:
Exclusive WordPress developer platform
No bidding for work
Price:
$70 – $120/hour
Visit Codeable for additional information >>
Freelance photographer jobs

The majority of photographers prefer freelance jobs from home or on a contractual basis. Although they do not receive regular paychecks, it is just too rewarding to make a living through photography.
If you want to enter the realm of freelance photography and you have already bought all the gear, spent hours shooting, and finally created an impressive portfolio — but you cannot find gigs to start?
We are here to help you find freelance photography jobs online available on a number of the best online job sites.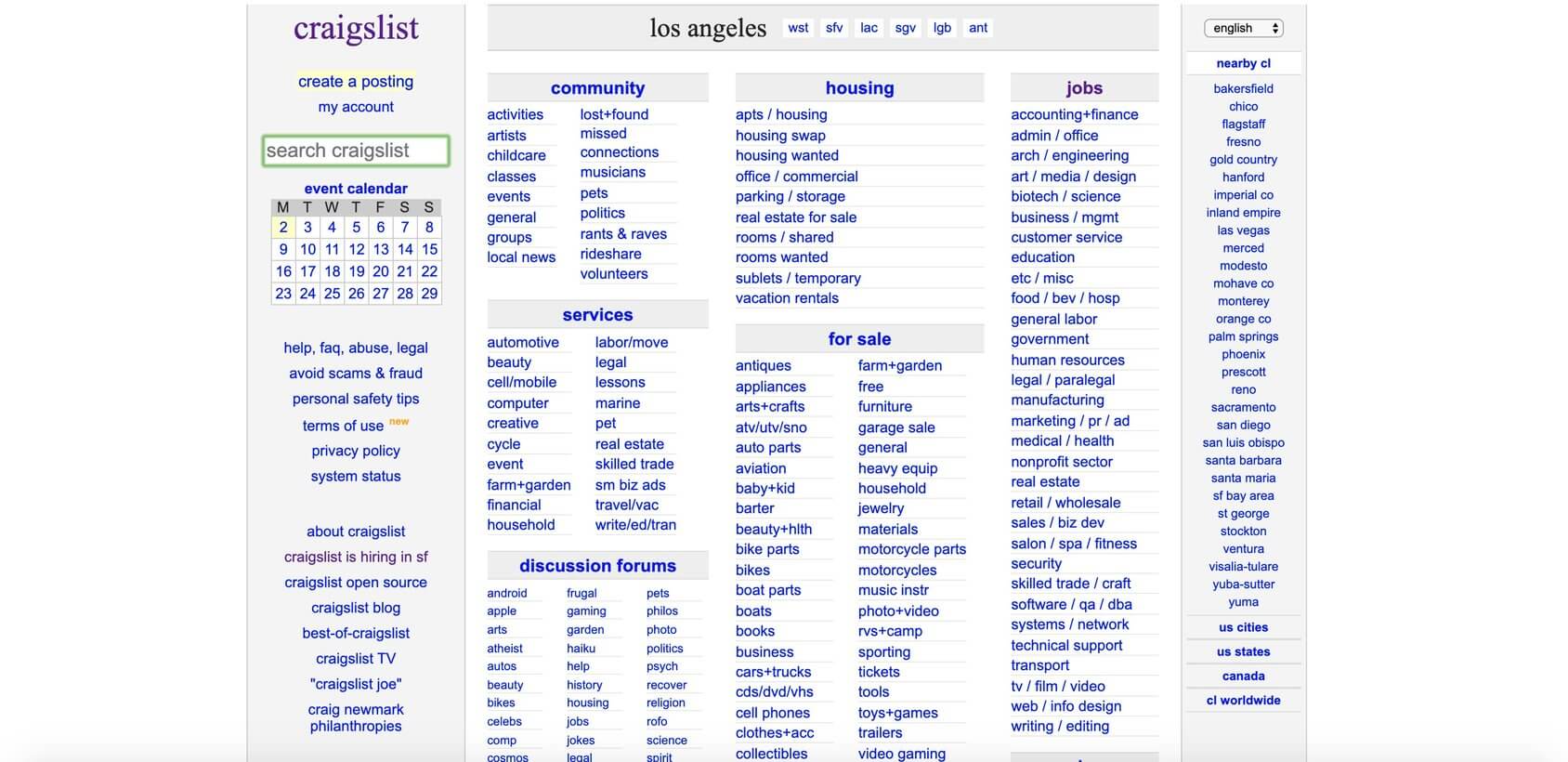 Craigslist provides freelance gigs as well as remote work for photographers who want to build their portfolio in a fun way. You can find national freelance job postings for long term or temporary work, which can be accessed through the website's photography job board.
It is absolutely free for everyone but you have to verify the job postings that you select. Other than that, you can find plenty of remote jobs and earn money regularly.
Key features:
Perfect for beginner freelancers
Personalized experience
Price:
Free for job seekers
Visit Craigslist for additional information >>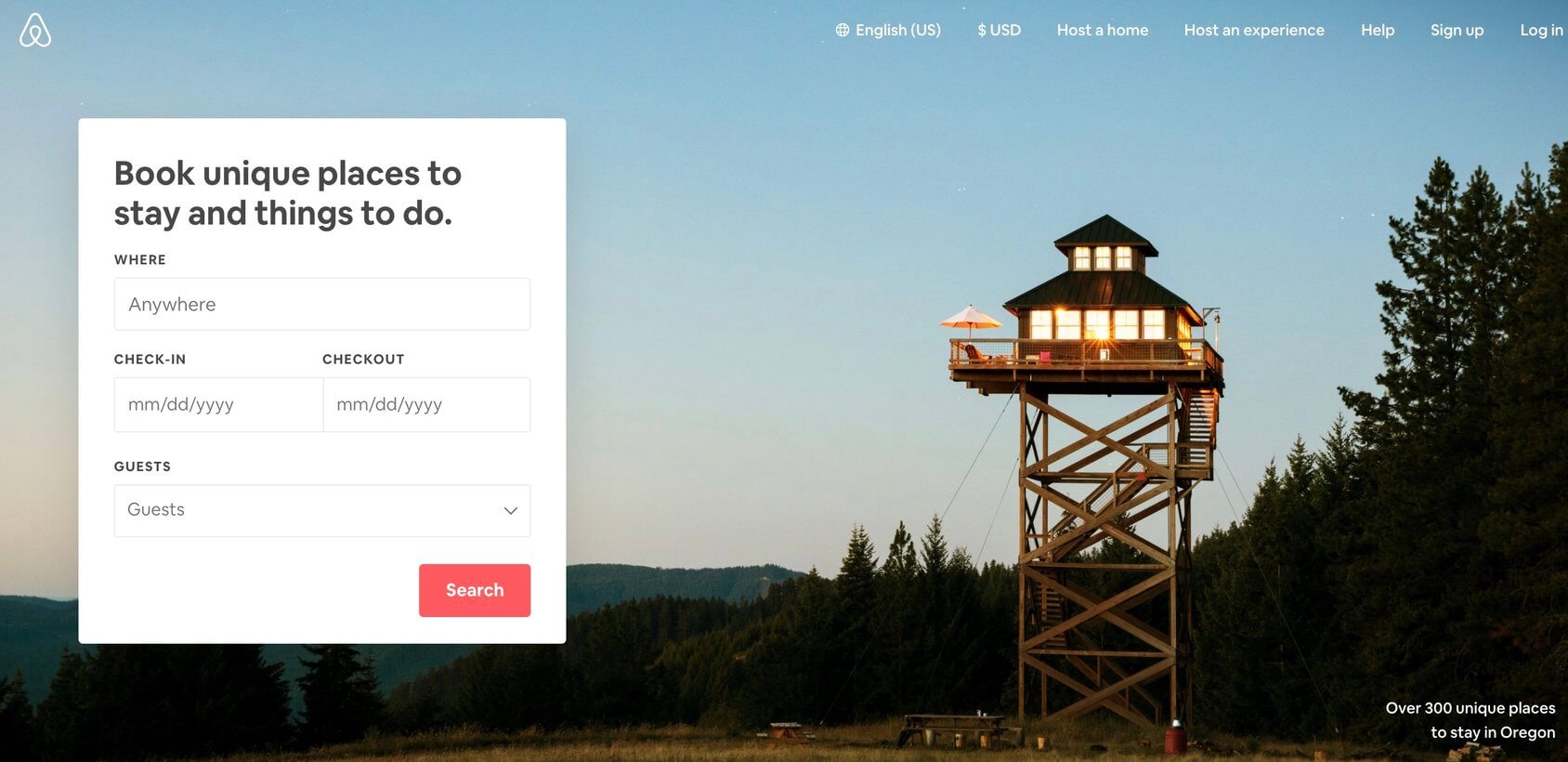 The website hires freelance photographers on a contractual basis, which mainly requires real estate photography for their locations. They are extremely particular about the quality of images that they post on the website. To apply, you need should have a strong portfolio for your work to be considered.
Airbnb also expects high-quality image processing from the freelancer—so a photographer should have all the needed skills.
Key features:
Handsome payments
Chance to meet people and see nice places
Price:
$95 – $125 per listing
Visit Airbnb for additional information >>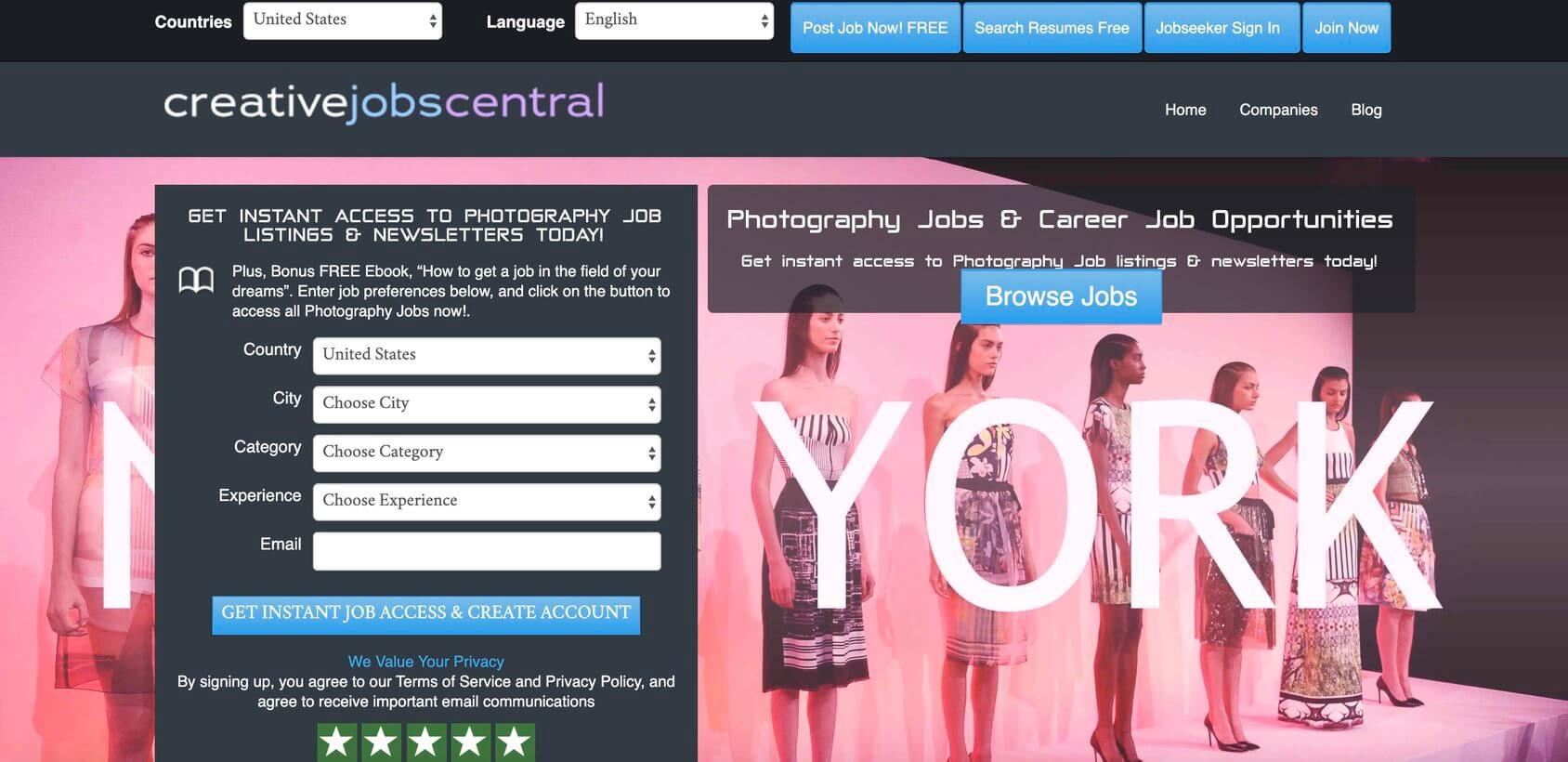 Through the photography job boards on the website, freelancers can target some of the best clients. It works as a bridge between employers and freelance job seekers where they can enjoy unlimited job postings with 24/7 customer service.
Furthermore, it promises freelance jobs in your field and does not hire inexperienced individuals, which makes it easier for skilled professionals to secure more projects.
Key features:
Free to join
Jobs available in your area
Price:
Free
Visit Photography Jobs Central for additional information >>
This freelance job search site has been praised in hundreds of publications such as The New York Times and The Wall Street Journal. It mostly comprises jobs from the media industry and offers career advice and media resources.
The platform provides a good opportunity for all freelance photographers to kickstart their careers. It hosts major media companies such as ESPN, National Geographic, CNN, and many more on its platform.
Key features:
Resume database access
Offers all types of media jobs
Price:
$100 for a single job posting
Visit Journalism Jobs for additional information >>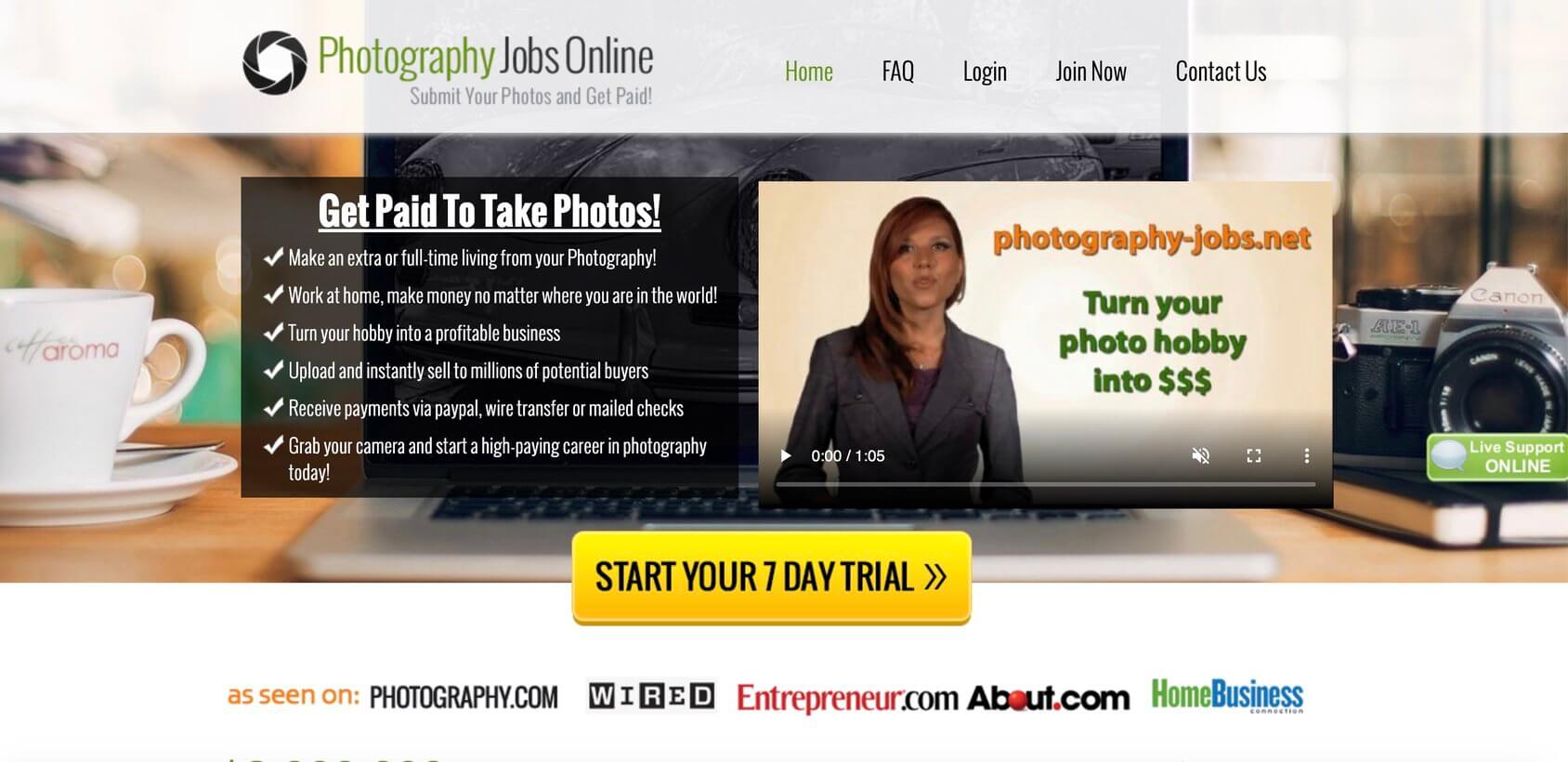 It is a little different from other freelance websites since it allows you to post your photos instead of bidding for a job. It operates as a portfolio builder rather than a freelance job board, for which you have to pay a monthly fee.
Instead of selecting freelance projects, you need to be able to take pictures you are most comfortable and passionate about.
Key features:
Gives you an idea of the photography marketplace
You can use your photo logs
Price:
$27 per month
Visit Photography Jobs Online for additional information >>
Freelance virtual assistant jobs

If you want to work as a virtual assistant from the comforts of home you can help people with data-entry tasks, social media management, or customer service. All you need are exceptional organization and communication skills to start working.
Here is a complete list of the best freelance websites that can help you to find good gigs as a virtual assistant.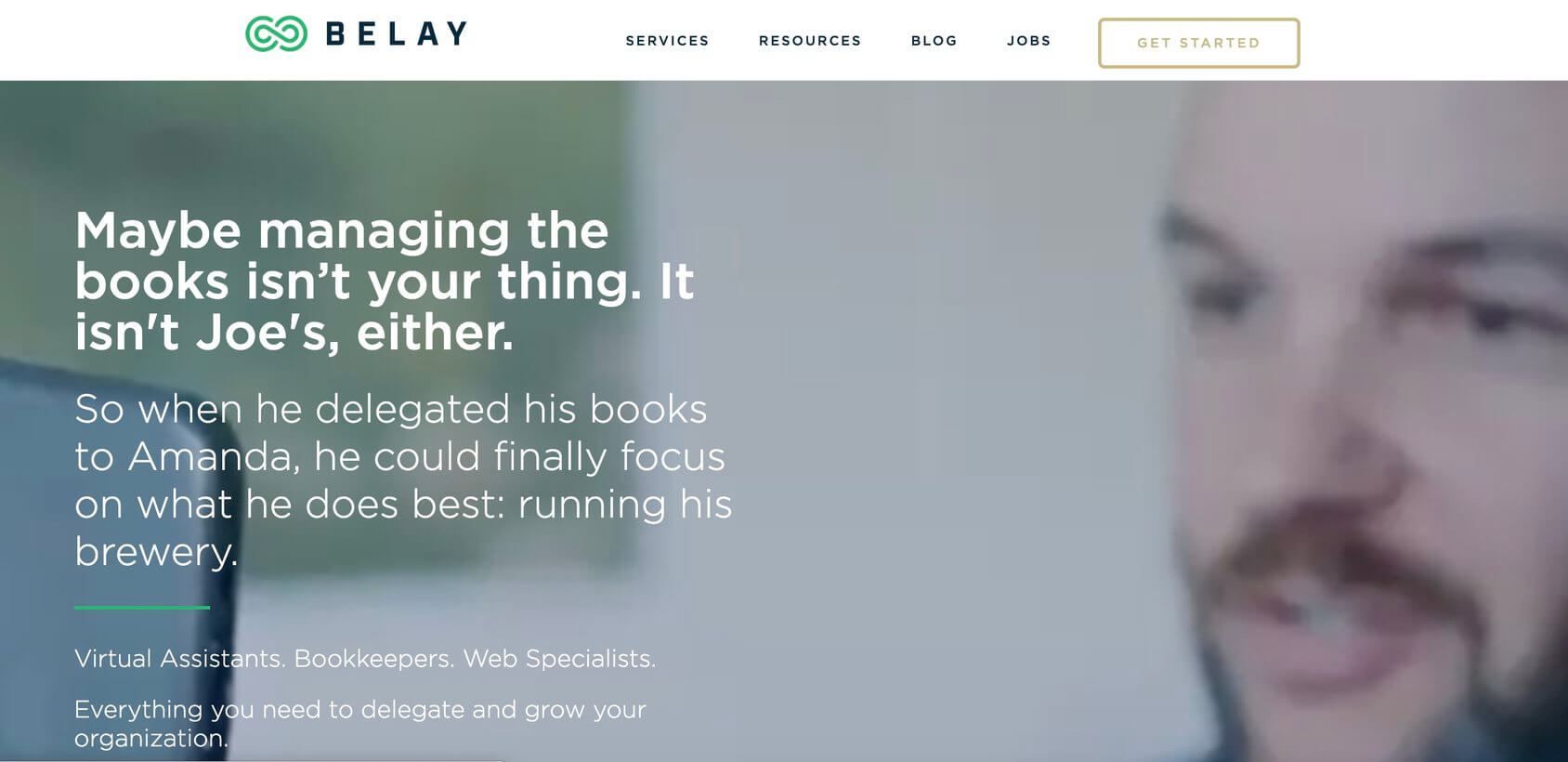 This is a solely remote work-based website that hires a virtual assistant for various clients' tasks which include executive assistant positions, web specialists and bookkeepers.
The remote jobs can be accessed through the website as well as on Indeed and Glassdoor. Applicants have to go through a recruiting process that includes multiple interviews and the whole process takes around four to five weeks.
Key features:
Good company culture
Freelance opportunities based on your expertise
Price:
$25/hour
Visit Belay for additional information >>
It is a remote job site that allows you to work full time, but also hires freelancers for various projects. The website hires virtual assistants and assigns them to their esteemed clients for specific tasks. This allows the clients to choose quality assistants and scale their business with the added help.
It includes various categories of virtual assistant work such as data entry, marketing, business support, and website maintenance.
Key features:
Efficient accessibility
Potential for high profit
Price:
Starting from $398/month
Visit Zirtual for additional information >>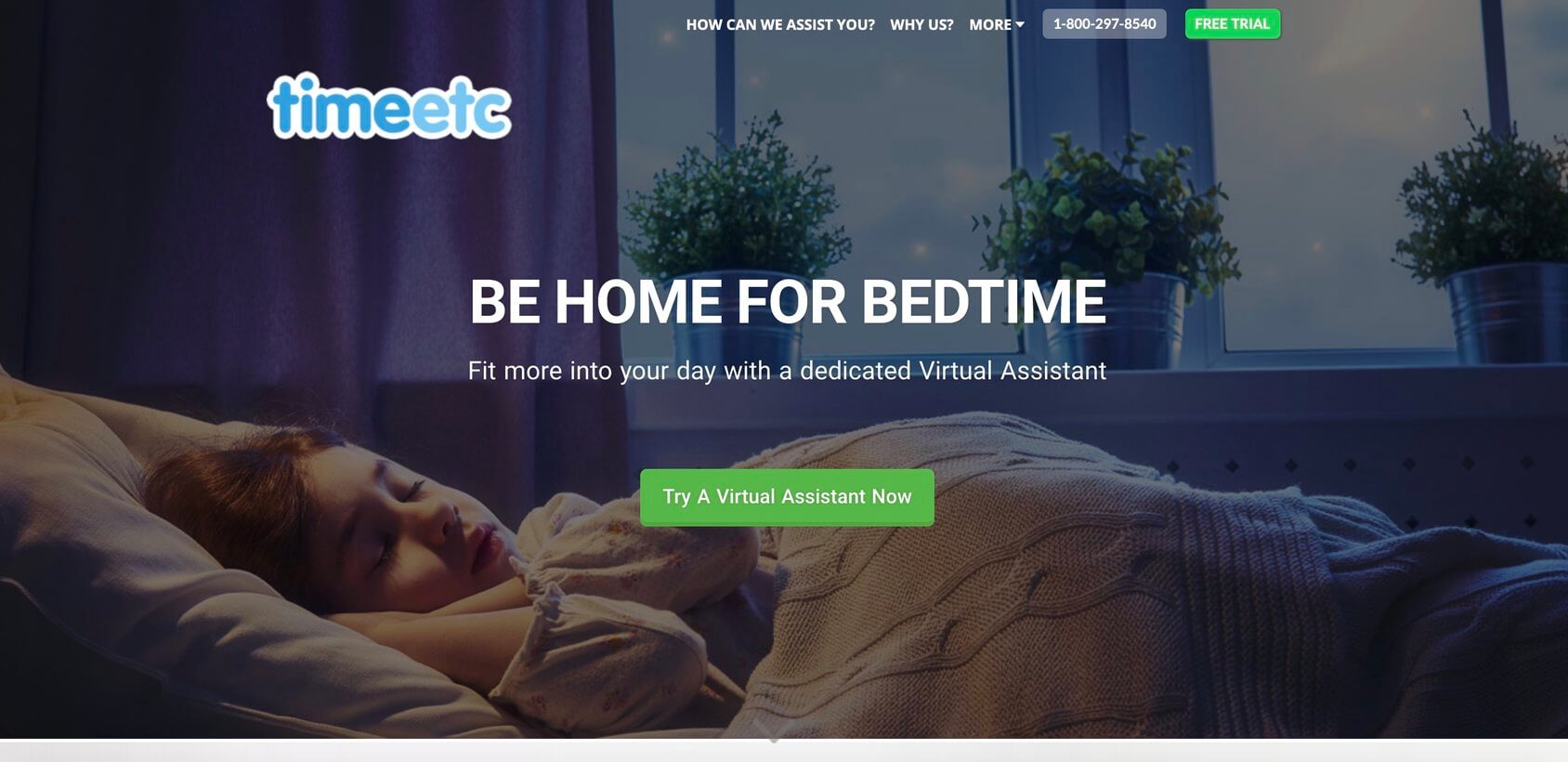 Time etc. has been in the industry for over 10 years now, which proves their credibility. The website has also been featured on Forbes, Telegraph, and The Guardian. It provides plenty of online freelance jobs to virtual assistants who go through a tough selection process.
The freelancers get to work with a team of experts from Time Etc's community under a dedicated account manager.
Key features:
Free trial
Access to hundreds of notable clients
Price:
Starting from $25/hour
Visit Time Etc. for additional information >>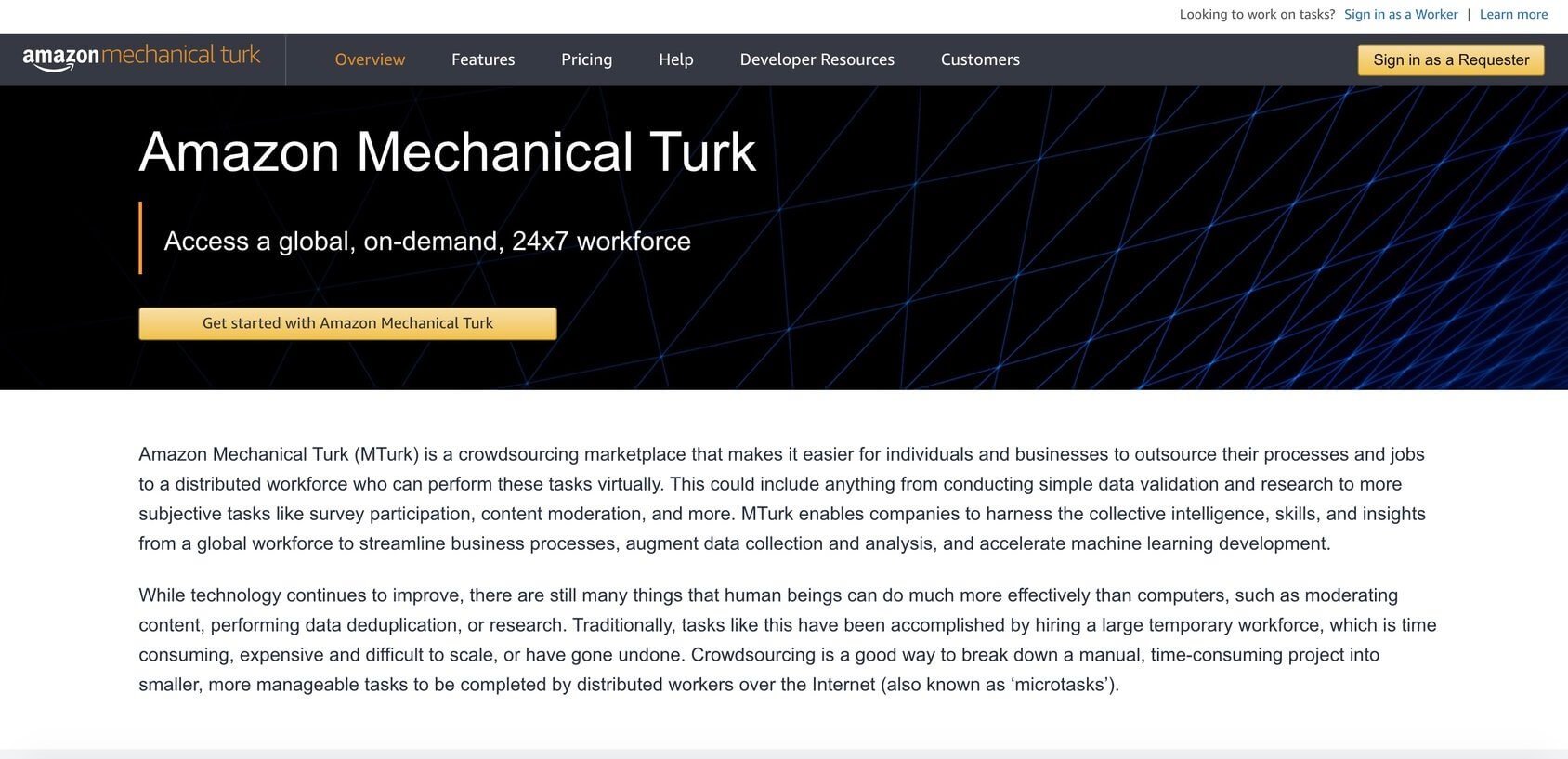 It is one of the best freelance websites to find virtual assistant jobs quickly. Some of the popular virtual assistant jobs include creating content, organizing lists, collecting data, and getting feedback from the business's clients.
Key features:
Variety of tasks available
Third-party support forums
Price:
A 20% commission on all freelance services
Visit Amazon Mechanical Turk for additional information >>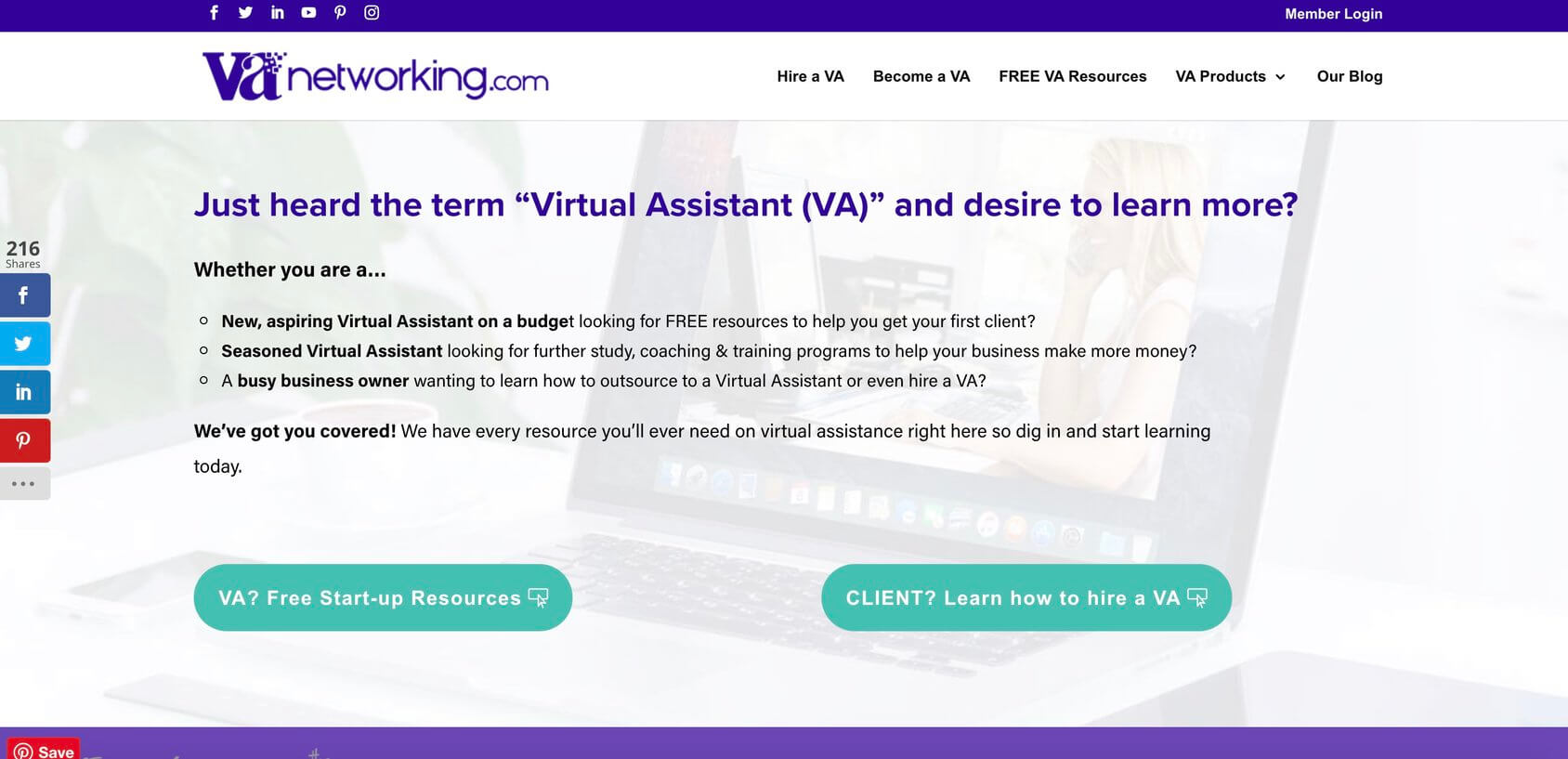 It is a virtual assistant freelance job board that also works as a social-networking tool for them. You don't need to bid on the website, instead, you are paired with an interested client according to your skills and expertise. More than half of the posts on the website are for virtual assistant jobs.
The platform also provides guidance to freelancers looking for work. It is a good website if you are looking for freelance work from home.
Key features:
Free membership
Connect with industry experts
Price:
$35/hour
Visit VA Networking for additional information >>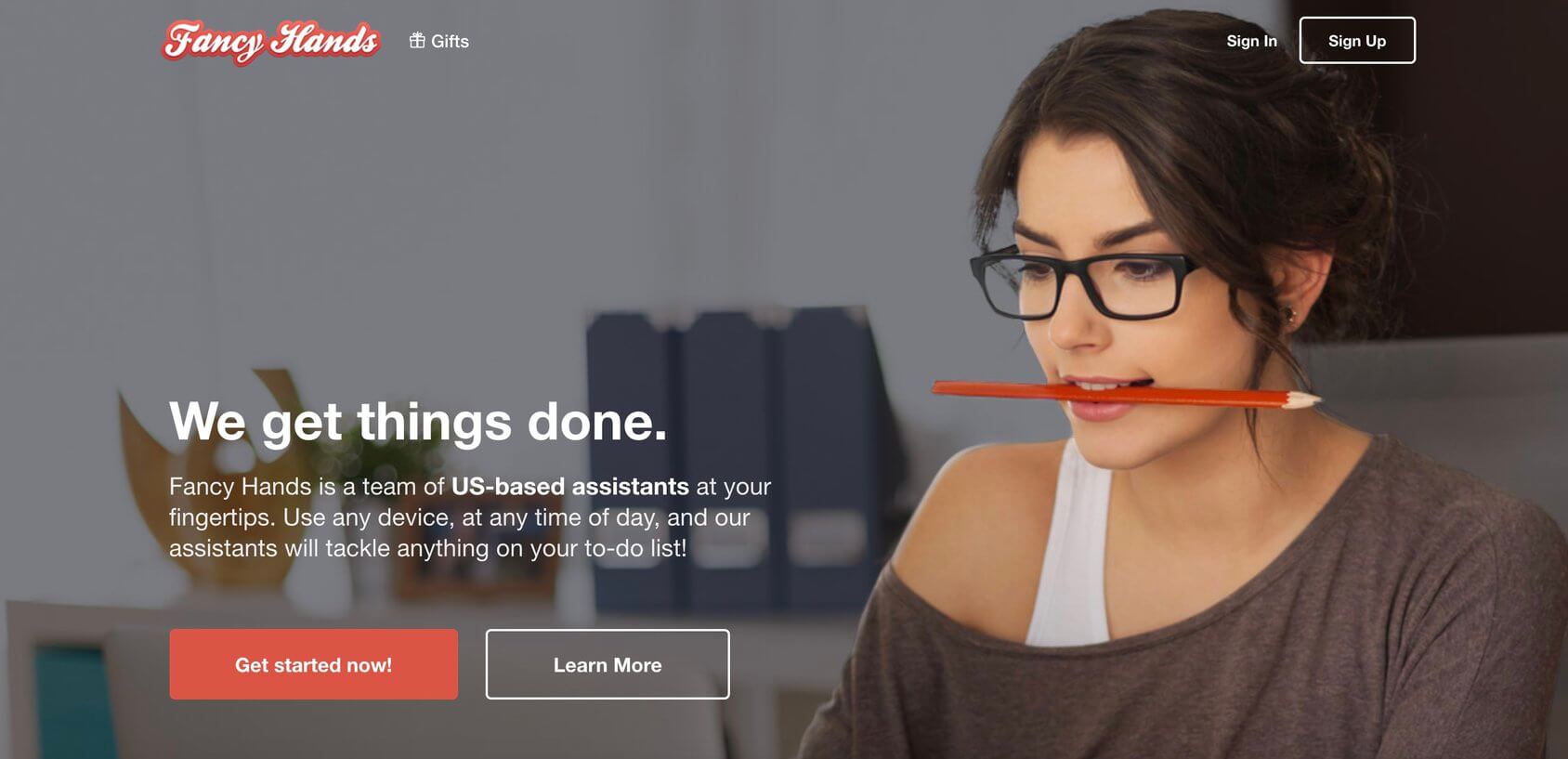 This freelance website hires virtual assistants for a variety of day-to-day business tasks, such as making calls, appointments, and data entry, etc. To get into the community you must have a fast Internet connection and should be well versed with the different software.
The biggest benefit of the website is that it even offers managerial positions for a virtual assistant with handsome payouts.
Key features:
Flexible work timings
Variety of jobs available
Price:
$29.99 for 5 requests a month
Visit Fancy Hands for additional information >>
Freelance video editor jobs

A video editor can be a very rewarding career especially when you get to work from home. Freelancers enjoy the job more with flexible hours and the freedom to choose the project they want to work on.
Whether you are an experienced video editor or if you are just getting started, you need to check out these video freelance websites.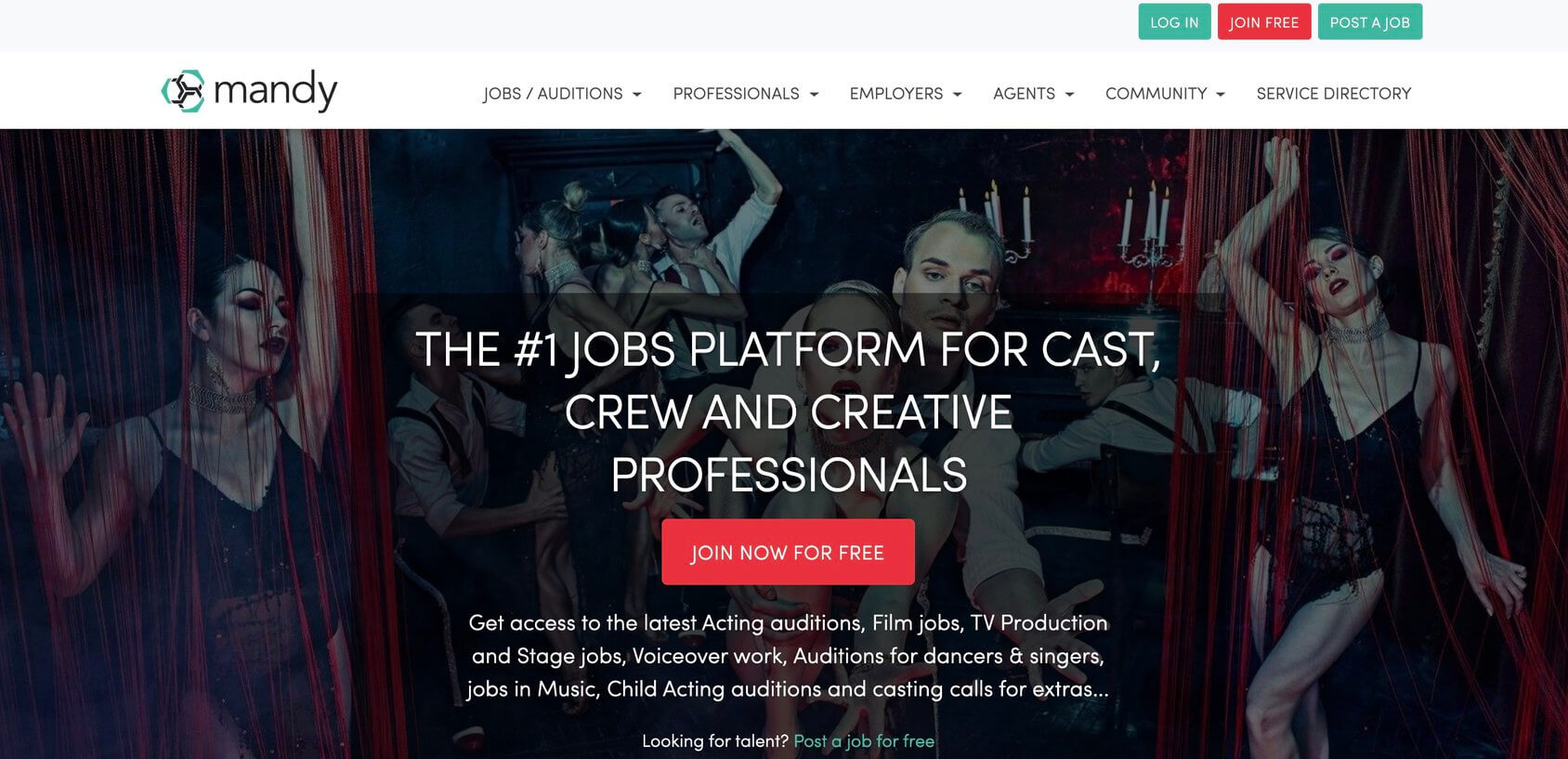 The freelance jobs website is a very well-known platform for video production and editing services. While it sounds perfect, the competition is very high and hosts thousands of other video and film professionals — so you should have a good portfolio to bag freelancing opportunities.
Key features:
Free trial
Availability of professional jobs
Price:
Subscription fee starts at $19.39 per month
Visit Mandy for additional information >>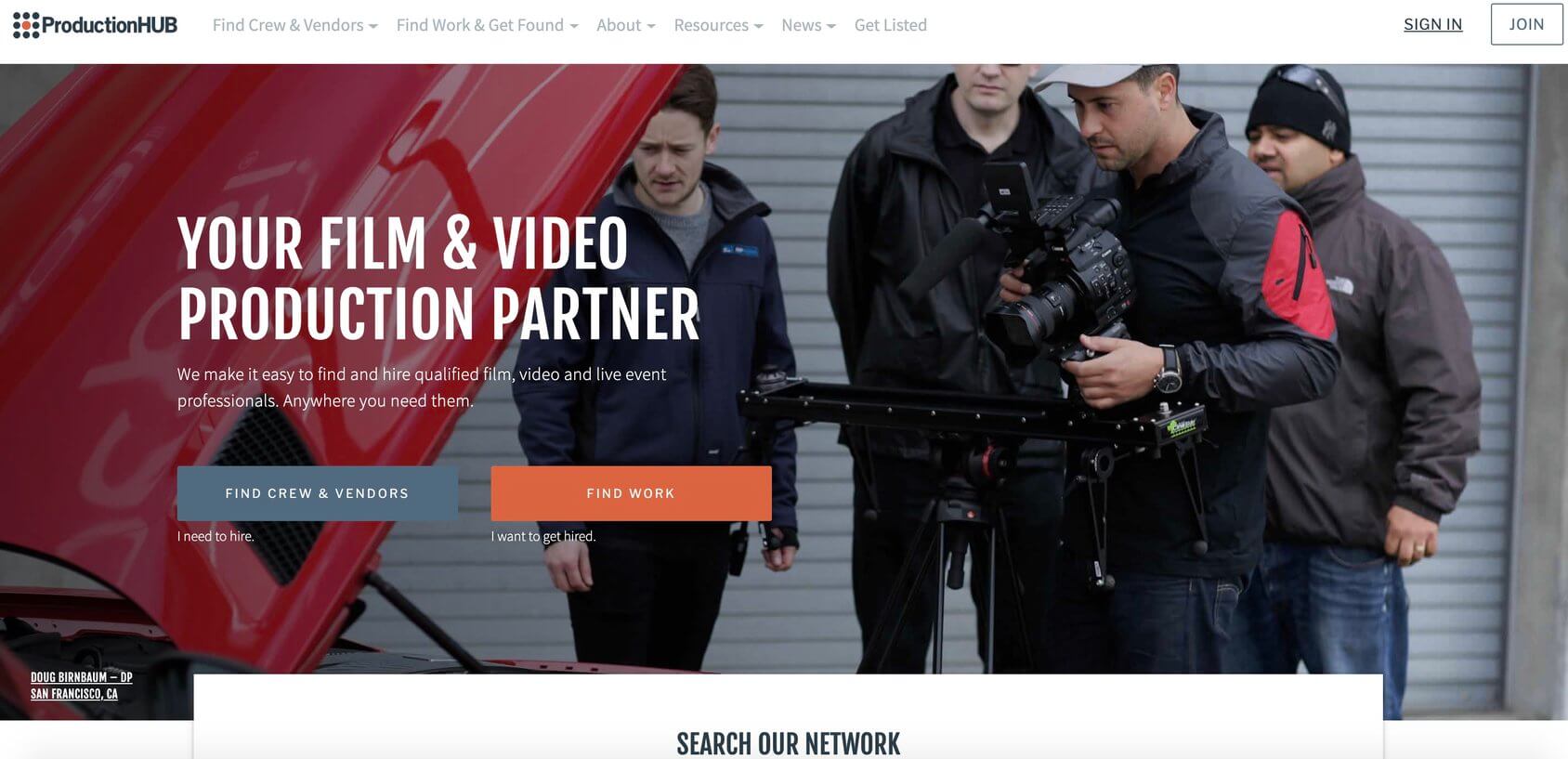 It is the leading freelance and remote website for video production. It has become quite famous as many skilled professionals have secured jobs at major television networks and studios through the platform. It is a good website for both production companies and for remote freelancers to kick start their careers with part-time or full-time jobs.
Key features:
An extensive database of clients
Plenty of internship opportunities
Price:
Membership starts from $4.99/month
Visit Production Hub for additional information >>
It is a freelance and remote job site that has the best available jobs in filmmaking, animation, and visual effects. Some of the jobs include a generalist, motion graphics designer, and visual effects specialist.
Key features:
Work along with famous animators, designers, and art directors
Ideal for people with varying skill level and experience
Price:
$129 for standard posting for 30 days
Visit Motionographer for additional information >>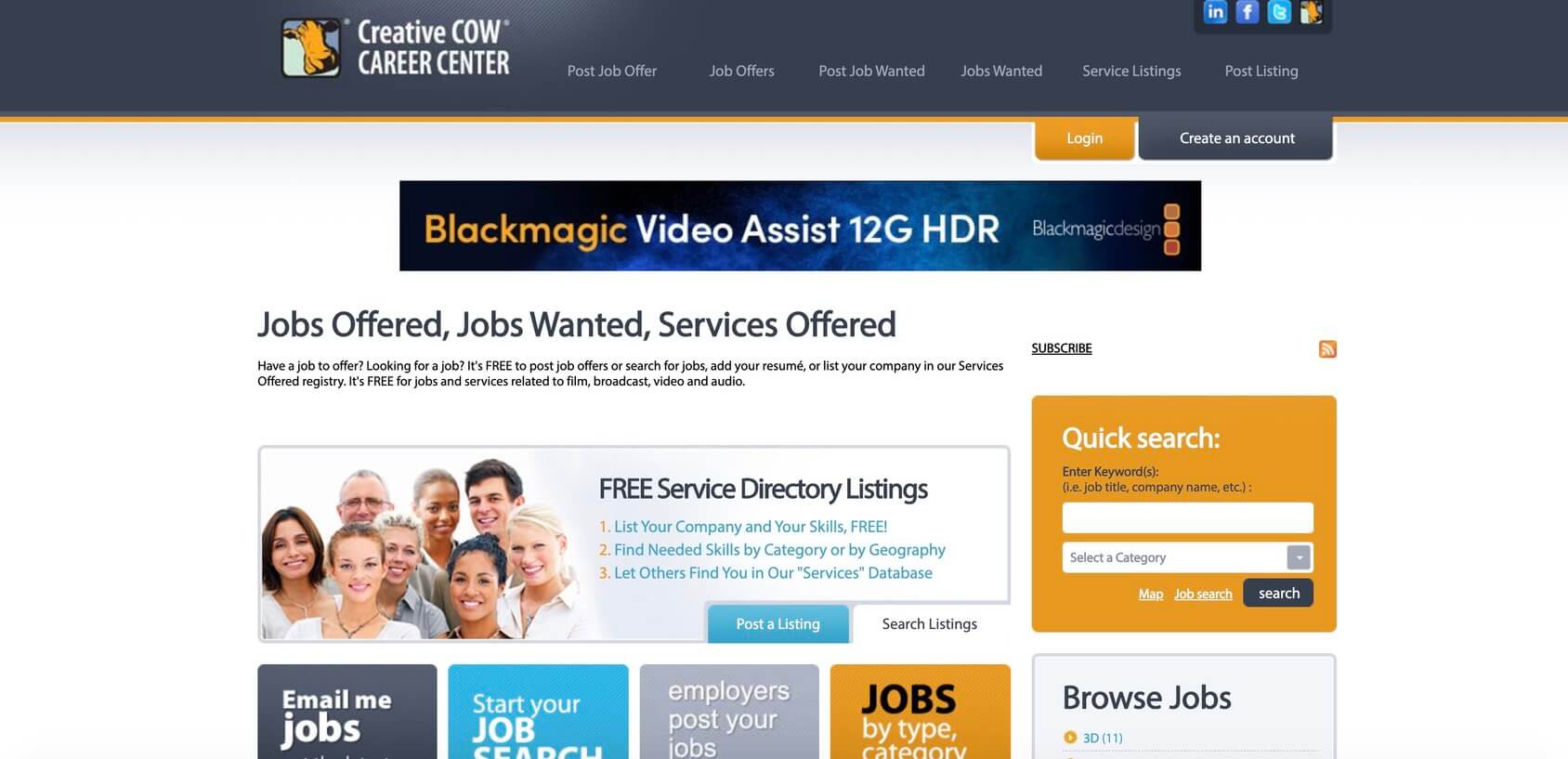 It is a forum that has guidance and tips on software troubleshooting and education. The community of the website includes expert editors who help freelancers gain more skills. To find freelance work on the website you just need to post a video reel to your profile and apply for available video-editing jobs.
Key features:
Guides on the use of complex software
Mentorship from experienced video editors
Price:
Varies for different skill level
Visit Creative Cow for additional information >>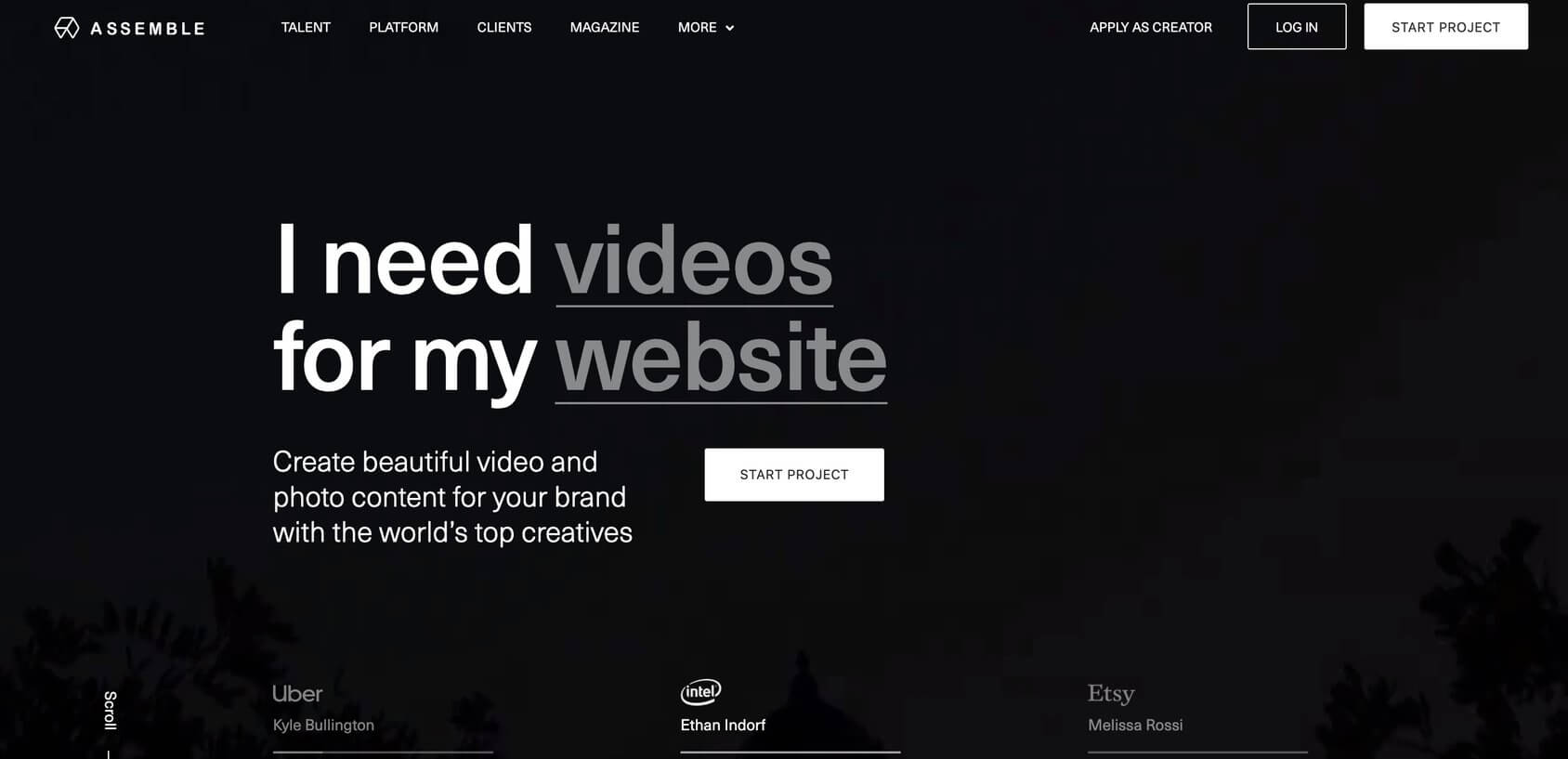 It is an organized and systematic platform that allows highly creative individuals to work with notable brands and connect with the most ingenious talent. Their talent pool comprises directors, copywriters, photographers, and video editors, etc.
In order to become a part of their creative network, freelancers have to go through a screening process and pass the standards set by them. You have to submit a free and if shortlisted and selected, one can become a part of the website's community.
Key features:
Connect with notable individuals from the industry
Work on projects you are passionate about
Price:
Varies from project to project
Visit Assemble.tv for additional information >>
Freelance sales jobs

Freelance sales job websites present you with a unique opportunity to get freelance gigs that are otherwise hard to land. They hire the top talent for coveted projects and can help expedite your career. All you need to do is build a sales portfolio and register on the top freelance sales sites that are listed below.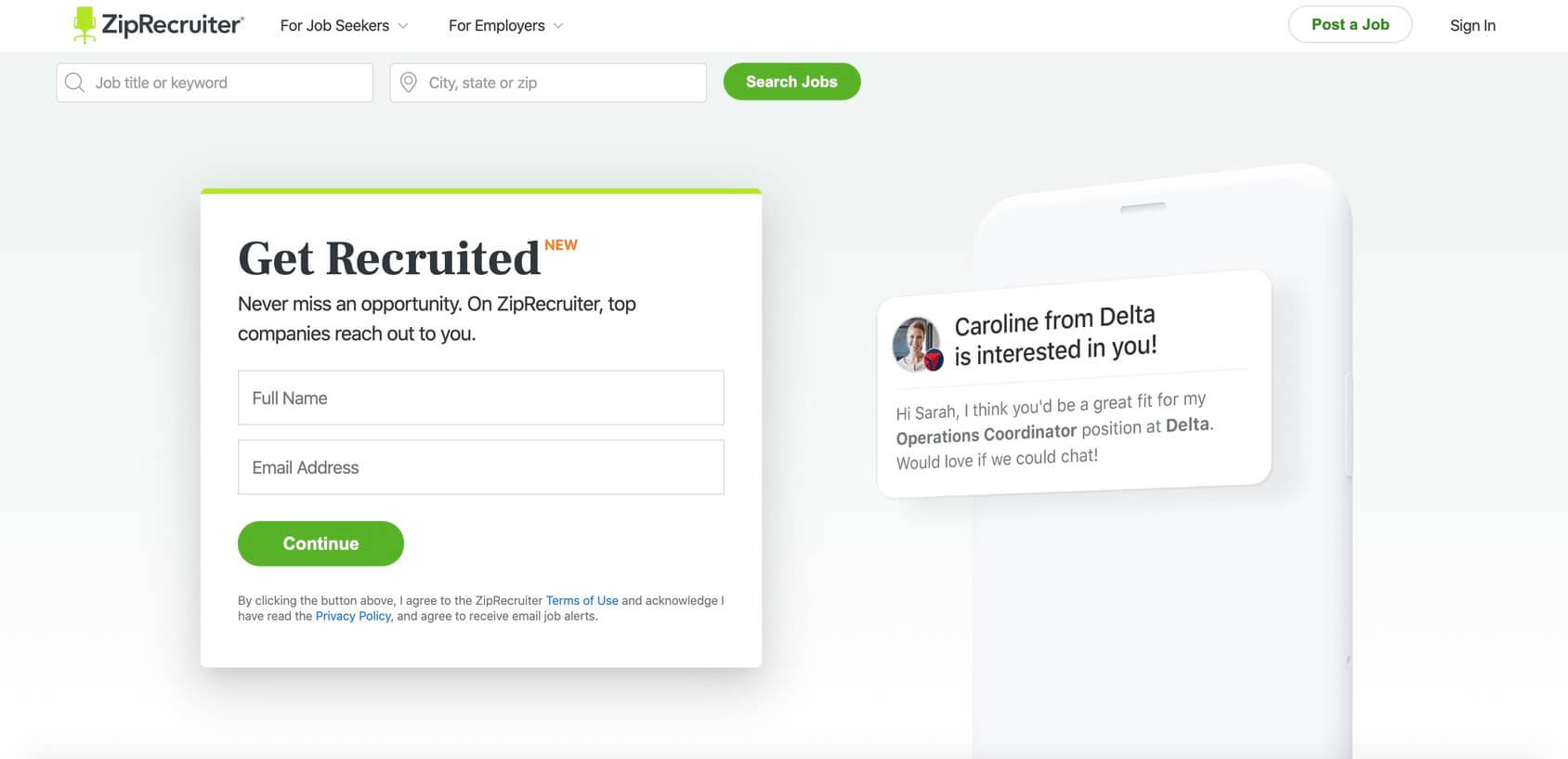 This is the top recruitment website that finds people with the right experience and matches them with the most compatible job. Many industry giants use the platform to hire freelance talent. The freelancers have to apply for a job by filling out a profile form, after which they are allowed to view the freelance job listings and apply for whatever they find interesting.
Key features:
Easy to use interface
New job notifications
Newsletters
Price:
Free four-day trial after which monthly subscription charges apply
Visit Zip Recruiter for additional information >>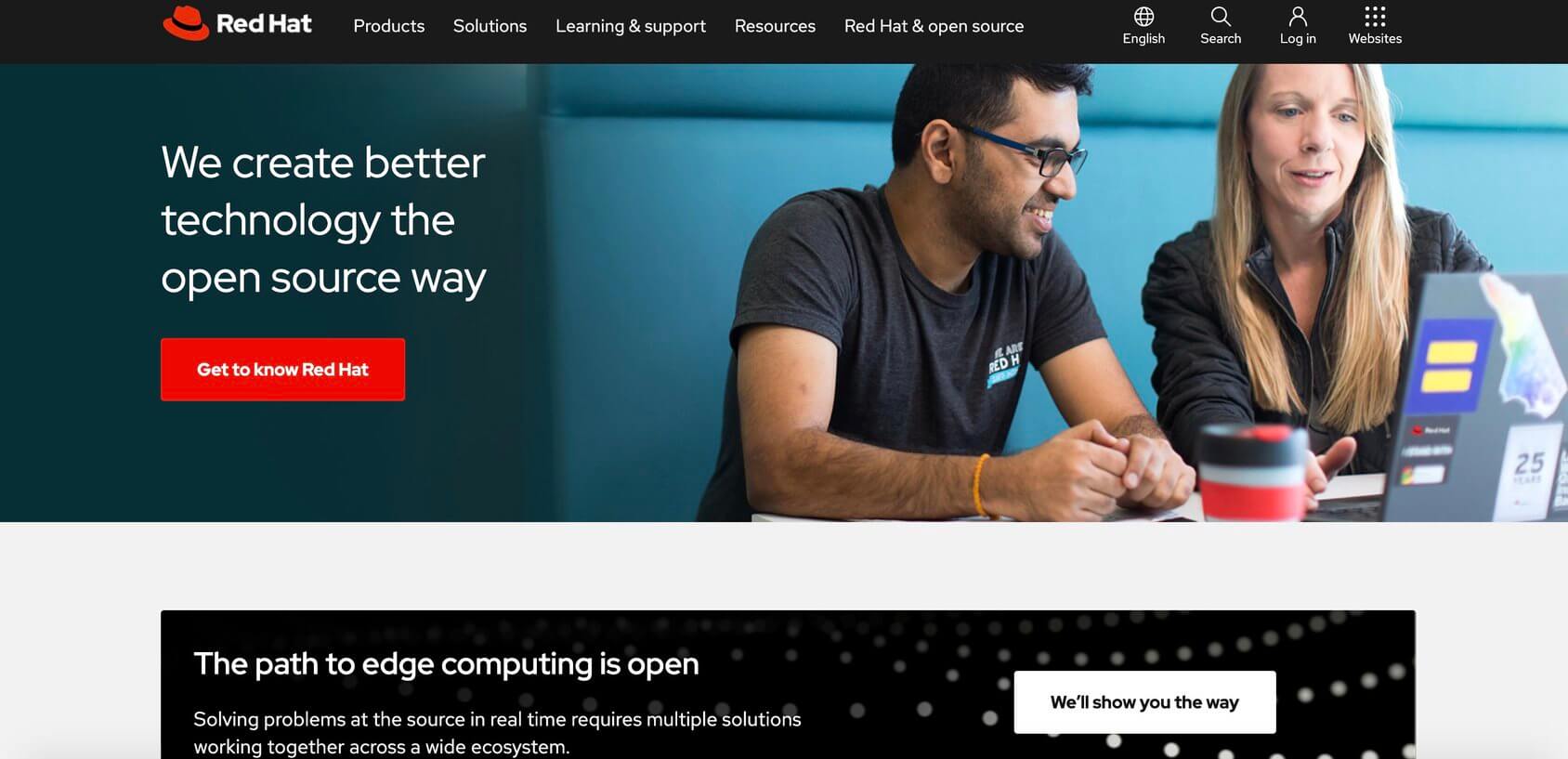 Another recruitment website that hires freelancers and also offers some of the best remote jobs — to help clients find ideal candidates for work, mainly for the sales department. If you think you possess the required skills set and experience to work as a sales representative for some notable company — Red Hat is the right platform for you.
Key features:
Career advancement opportunities
Collaborative and flexible environment
Price:
Varies according to the monthly subscription package you choose
Visit Red Hat for additional information >>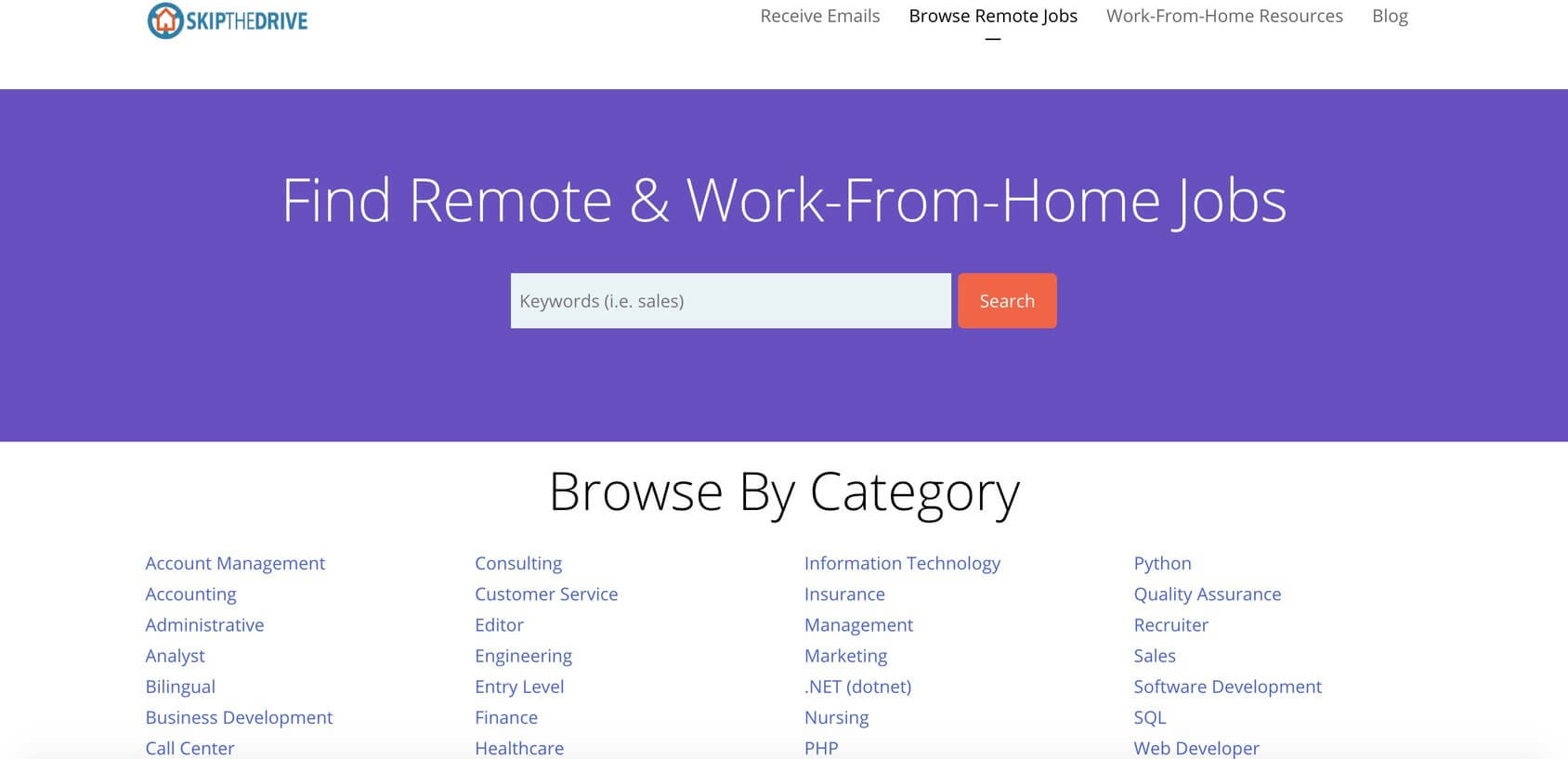 A job website that offers some of the best remote jobs and freelance gigs in sales. The platform makes the search for work very easy through its advanced vetting system. The remote jobs are categorized and can be accessed by date, relevance, or location filters.
The website also has remote jobs from other recruitment websites, which makes it easy for applicants to choose from all available options.
Key features:
Simplifies the process of finding the best remote jobs
Requires no registration
Price:
Job listings are priced at $79 while subscription is free
Visit Skip The Drive for additional information >>
Freelance customer support jobs
If you are a natural problem solver and good with people, but you hate driving to work every day then you can start your freelance career as a customer support representative.
To embark on a new career, here are some freelancer websites that provide jobs in the domain of customer support.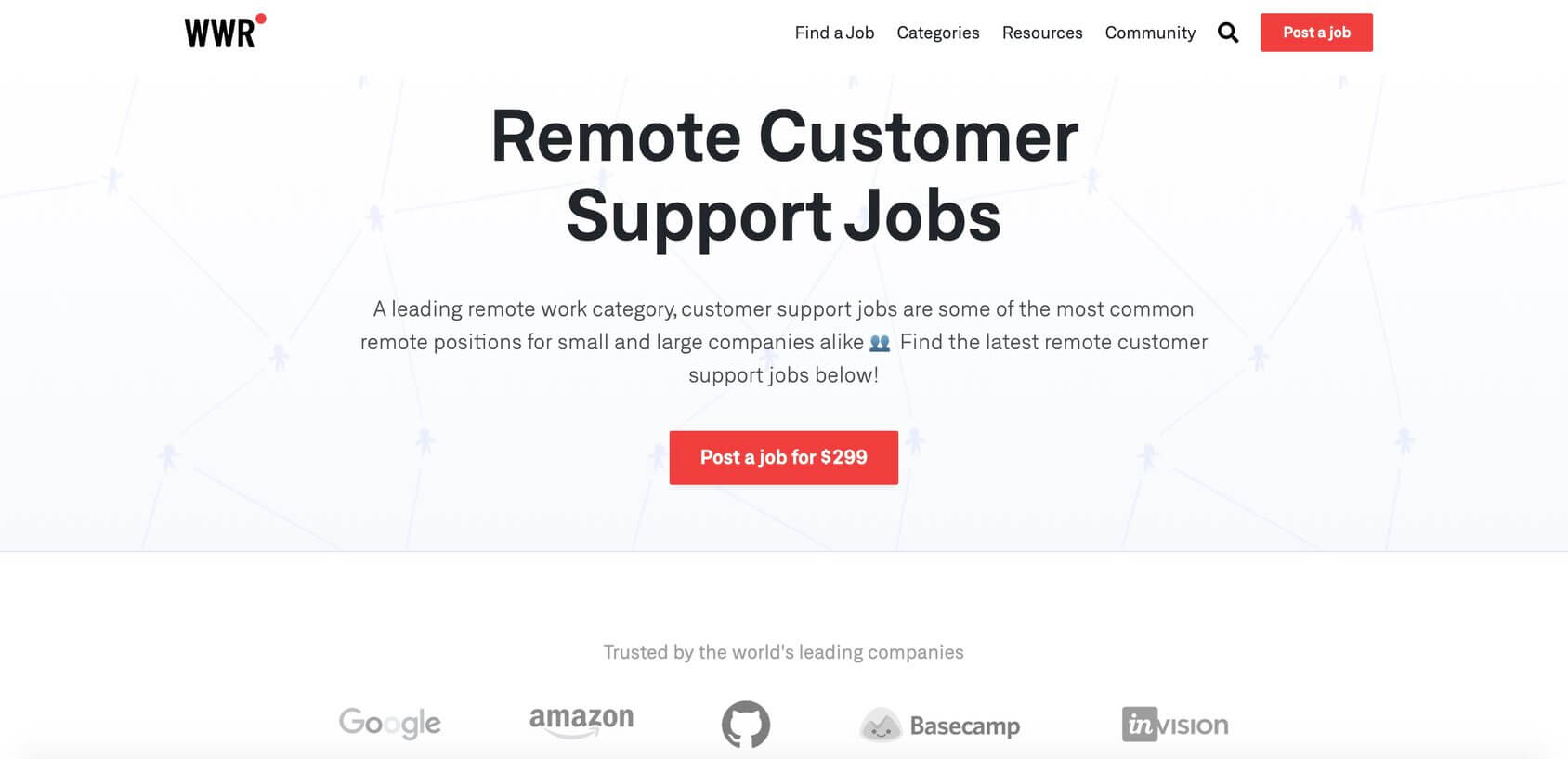 It is a remote job site that posts jobs that do not require your presence. It is one of the first remote job boards that still stands today as the most visited platform for remote jobs.
Key features:
Variety of available jobs
Simple to navigate
Price:
$299 per job listing for 30 days
Visit We Work Remotely for additional information >>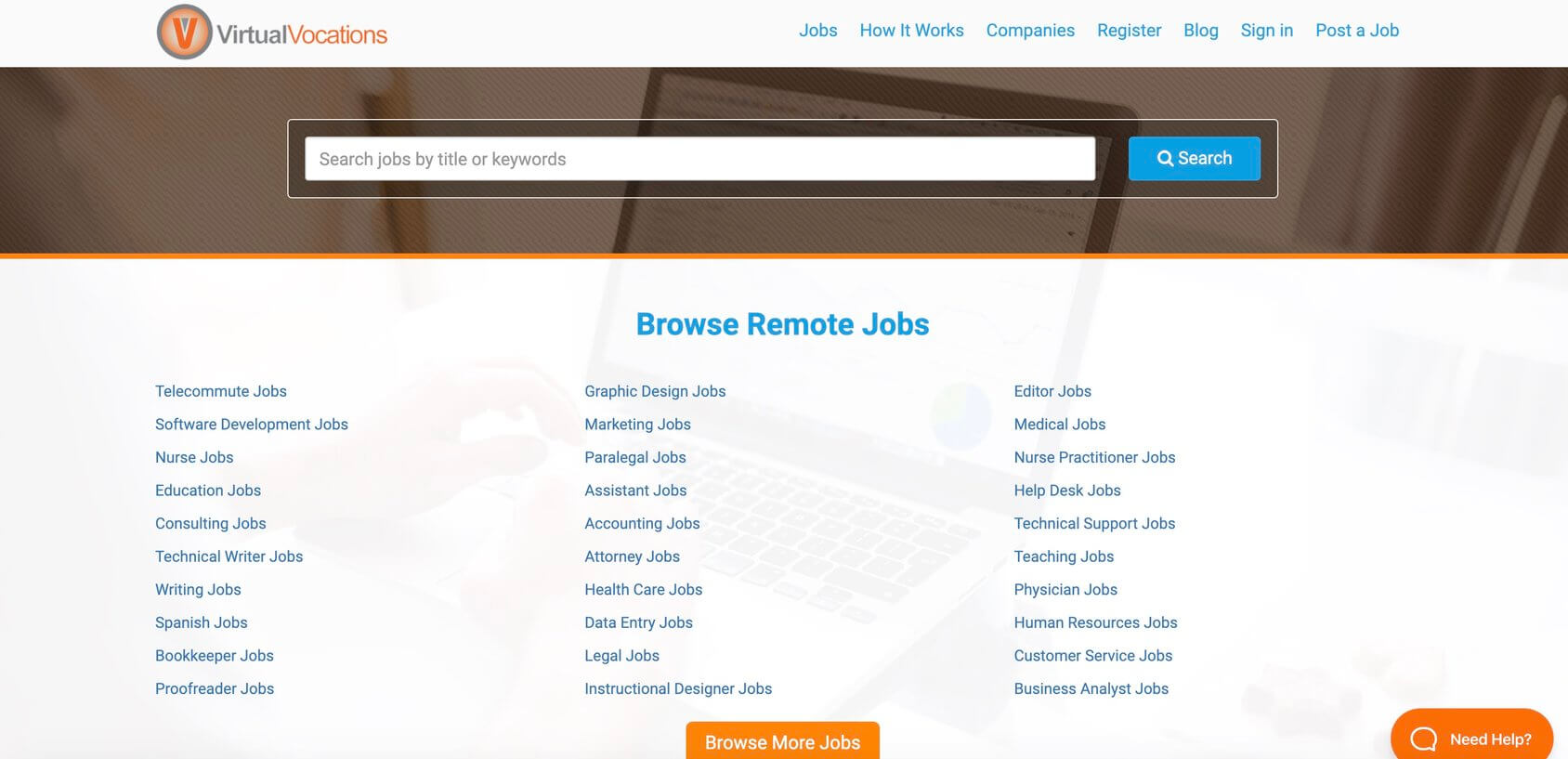 The remote job website provides the best job board for remote work with more than 10,000 corporate listings that are appropriate for telecommuters. If you register on Virtual Vocations, the telecommuting job site will send you emails when jobs align with your expertise.
Key features:
Good job filters
Jobs for all experience levels
Price:
A $15.99 monthly subscription charge for users
Visit Virtual Vocations for additional information >>
Conclusion
Being a freelancer or a remote worker means you can choose the job that best fits your needs. Freelance jobs allow you to maintain a flexible schedule so you can make money and take care of your responsibilities at the same time.
This guide is packed with information on some of the best freelancer sites that can help you land your next freelance job. It all starts with some introspection to discover your strengths — and decide if freelancing or a remote job is your calling!
We suggest you choose freelance job search sites that cater to your needs and allow you to do something you are passionate about. Good luck!