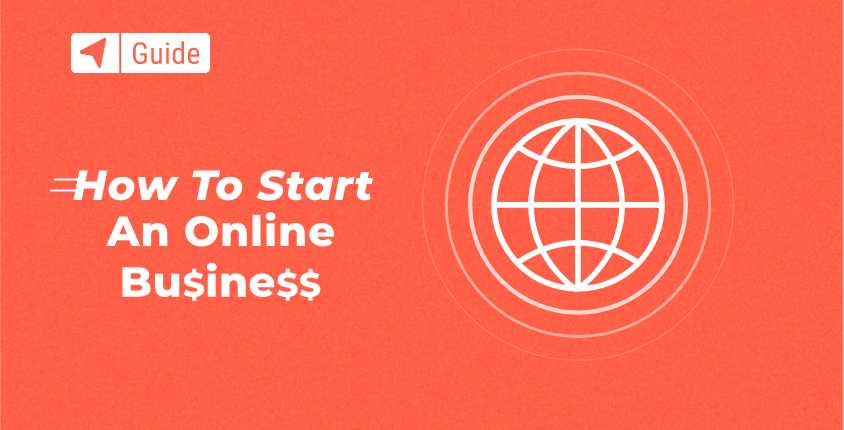 Only a few decades ago, the mere idea of starting a new business seemed like an impossible task that required extensive investment and planning. It was difficult for someone with limited resources and a 9-to-5 job to even consider initiating and leading their own entrepreneurial venture.
But then came the internet, the great equalizer. Suddenly, everyone had access to the same prospects and buyers, and advertising became more affordable and effective.
Today, anyone can build their own website, market it online, and run several online businesses at a time. One of the most significant advantages to starting an online business is that it requires little to no startup costs. As long as you have a comprehensive knowledge of the digital space and the online tools that you need for your business, you can slowly build an empire of your own.
Another significant advantage to starting a business on the web is that you can sell to anyone, anywhere in the world.
How to start an online business in 8 easy steps
Today, anyone can start a business via the internet to earn extra income or to create financial freedom.
However, before starting your own online business, you need to determine how your business will generate revenue. In plain words, you need to create a business model that lays out how you plan on offering value to your customers.
A successful online business venture requires planning, practical decision-making skills, and timely execution.
This guide is a handy resource for anyone who wants to start their own internet business and succeed at it. Here we detail all of the finer points about becoming an internet entrepreneur and making money online on your own terms.
Make sure to follow the guide step by step, and we assure you that by the end, you'll have a working model of your future online business.
Let's get down to it.
Step 1: Come up with a business idea
Successful businesses are built on unique ideas – whether you have a revolutionizing product or have discovered a way to bridge a market-gap. Having said that, coming up with a business idea is the first step towards creating a successful online business.
Step 2: Evaluate and research the market demand
Now, you might have several money-making ideas for your business, but not every idea can turn into a revenue-generating business. How can you determine whether your idea has the potential to turn into a profitable venture?
This is where market demand comes in. Knowing what your consumers want and the price they are willing to pay for it establishes your business's direction.
What is market demand?
Market demand is the estimation of what your customers are inclined to spend on your products or services.
If the market demand for your product or service is relatively high, then you can safely increase its price as well. Of course, you'll need to do some market research to know if your prospects are willing to buy what you want to sell and how much they can pay for it.
Conduct thorough market research
Market demand research evaluates if there are customers out there who would be interested in your products or services.
This involves extracting data, business statistics, and other information about a particular industry to assess what's trending or what people are looking to buy. Multiple strategies can be employed to conduct well-planned market research. For starters, run a social media survey and learn about the needs of your target market. All of the popular social media platforms are a hub of valuable data that can offer insights into trending topics.
While you are at it, you can also carry out testing to interact with potential customers and assess their purchasing behavior towards your product or services.
Find a need and fill it
A customer's requirements can only be fulfilled if you are aware of what they need. Take the time to understand how you can attract your target customers through strategic marketing campaigns. Once you know the spending capacity of your prospects, it's time to give them a reason to give that money to you.
Also, assess your product or service and determine how it can help your target customers so that you can fulfill their needs.
Find a scalable business model
A scalable business model promises higher revenue streams in combination with efficient processes and lower costs. However, to accomplish this requires thorough research and immaculate planning.
To find a scalable business model, you can use the product demand matrix to check the viability of your online business idea.
Step 3: Find a business (company) name
We understand the struggle of deciding on a name for your business as it can make or break your brand image.
If it's still hard for you to decide on a business name, several online business name generator tools can help.
Step 4: Choose a business model and make a plan
A business model defines how you will be offering value to your customers through the products or services and how you will be generating revenue.
Step 5: Ten proven ideas (ways) to start an online business
Here's a comprehensive overview of the types of business models that can easily be implemented online:
Idea #1: Creating a niche website
No online business can run successfully without a web presence. Customers who prefer to buy from online companies always go to their websites either to find information on the brand or to place an order.
Creating an elegant yet simple website that offers all of the information about your brand in one place provides a competitive edge to you. The good news here is that you can easily select from a variety of high-quality website software available to launch your own website.
However, before you do that, you should determine the purpose of your website and how it will serve your business. You should also establish the goals that you expect to achieve through the website.
How to find your niche
If you are struggling with finding your own niche, we can help you.
First, determine what you are passionate about or what interests you. Once you have analyzed your inclinations, narrow down your choices by assessing the problems of your target audience and how you can solve them. Conduct a competitor analysis to recognize any opportunity that gives you an edge over your competitors in this niche.
Once you have a detailed review of your niche, learn about its profitability, and if it has the potential to generate the income that you require. Browse through the price points of your competitor's products to get better insights.
Now that you have all of the essential information that you require about the niche of your choice, it is time to put your idea to the test.
Choose the right website platforms
Selecting the right website building platform can seem like a daunting task, especially since so many options are available. That's why we are sharing information with you about some of the most popular website builders available.
Select one of the following platforms and you can't go wrong:
WordPress.org is the most popular website building platform and content management system.
Wix.com has gained massive popularity over the years due to its easy to use website builder.
Squarespace.com is another widely-used website building platform for online businesses that offers elegant themes.
How to make money with a niche website
Niche websites offer great passive income potential but in order to tap into it, you need to invest a lot of hard work and effort to maintain the revenue stream.
Here are some ways that you can easily monetize your niche website.
Affiliate marketing
This involves attracting and directing traffic to a website that caters to your niche. You can market their products or services through your posts by inserting a link to their website.
So, whenever a visitor on your website clicks on that link, they are directed to their business page. And if the visitor purchases from the affiliate company's site, you earn a certain amount of commission on each purchase.
Programs like Amazon Associates allow you to easily link to affiliate vendors working in your niche industry. All you need to do is sign up to their platform and start integrating affiliate links into your niche website.
Incorporate ads
When it comes to placing ads on your niche website there are several notable options that you can use. The most common form of earning money through advertisements includes pay per click (PPC) ads that generate revenue with each click. Or, you can go for Cost Per Thousand Impressions (CPM) that offers commission whenever an ad reaches a thousand impressions.
However, you must ensure that all ads placed on your website are highly targeted for your audience base to get more clicks and in turn generate a constant income.
Idea #2: Starting a blog
Blogging is the most common example of a niche website that consists of building a loyal audience base through targeted content.
This model can be found in various niches, including finance, business, entertainment, and travel.
What is blogging?
Blogging refers to the practice of sharing written or media content (including images and videos) that are self-published on an online blogging platform.
Over the years, businesses have integrated blogs into their websites to engage their target customers with interactive content. This is why blogging holds high marketing potential in the business community.
How to make money by blogging
To make money from blogging, you need to set up your blog, decide on a niche topic, and start publishing meaningful content for your audience. Also, don't forget to engage your readers by reaching out to them and responding to their comments.
Other ways to earn money through blogging include displaying ads on your blog site through Google AdSense, soliciting sponsorships, writing paid reviews, or generating income through affiliate marketing.
Idea #3: Making a YouTube channel
YouTube is a renowned social media platform that's famous for its video-based content. Why not use it to start your own channel, post exciting videos, get views, and build a loyal audience base?
What is a YouTube channel?
It is like having your own private channel where you can post videos for your audience. These videos are available to everyone who signs in to YouTube, and you can easily customize the background theme or add logos, images, and music to make them more appealing.
The more viewers your videos have and the more subscribers you gain, the better off you'll be.
How to start your own YouTube channel
YouTube has made it easier than ever before to start a channel of your own.
Once you've signed up for a YouTube account, enter the channel's name and description to let your viewers know what they can expect from your videos.
Now that you have set up your channel, it's time to record your first video and upload it onto your channel. You can even optimize your videos for SEO by adding keywords and tags in the description so that your videos have better chances of ranking well on YouTube for a given keyword.
How to make money on YouTube
People who have gained popularity on YouTube are now some of the world's biggest independent celebrities. Popular YouTubers are real celebrities, known for producing entertaining and engaging content that appeals to a vast viewer base.
Some examples are Brazilian-Portuguese YouTuber Felipe Neto, Spanish YouTuber Samuel de Luque, known as Vegetta777, or American YouTube personality and vlogger Jenna Marbles.
These celebrities mainly focus on creating trail-blazing video content that serves as an example for their followers, inspiring and entertaining them at the same time.
Jenna Marbles makes entertainment videos and solely earns through the YouTube Partner Program. Marques Brownlee, an electronics reviewer, earns money by posting affiliate links.
Here are some steps that can pave the way for starting a successful YouTube channel.
Determine your niche
The hardest part of ensuring your channel's success is deciding on the right niche. Some of the most profitable niches include health and beauty, gaming, cooking, reviews and unboxing, and many more.
Everyone has their own set of talents and passions. It's important to select a niche where you can offer expertise.
Start adding videos
After choosing the right niche, you need to start making high-quality videos and post them consistently to keep your viewers coming for more.
Start attracting your ideal audience
To earn money, you need to build a loyal audience base. You can achieve this by uploading videos regularly, sharing them on other digital platforms, or interacting with your followers through comments.
Enable your channel for monetization
To enable monetization on your YouTube channel, go to My Channel and click YouTube Studio. Once you have accessed YouTube studio, select the Channel menu, click on Other Features > Monetization.
Once the Monetization window is open, select Start.
This means that you have accepted the terms of the YouTube Partner Program. Now you can add AdSense or any other account to your channel and earn money. You can change the monetization settings later if you wish.
Linking your YouTube channel to an Adsense account
This ensures that only related ads are run on your videos and selected according to the types of interactions people have with your channel.
All you need to do is sign in to YouTube, select the channel, and click Creator Studio. Select Channel displayed on the left and click Advanced. Right under "Google Ads account linking," click "Link a Google Ads account."
Follow through with the instructions, select Finish, and you are good to go.
Join the Youtube Partner Program
The YouTube Partner Program requires that you have 1,000 subscribers and 4,000 watch time hours over a year to qualify for monetization.
Also, your channel and its content should strictly adhere to the terms of service, policies, and guidelines made by the YouTube Partner Program.
If you are successful in qualifying for the YouTube Partner Program, you can have access to more resources and features offered by YouTube.
T-series ranks among the top YouTube channels by ensuring high volume and consistency in its videos. It uses the YouTube Partner Program and allows other YouTube users to place their ads on its videos to earn money.
You can also monetize your YouTube channel by getting ad revenue, making videos that review merchandise from other brands, or choosing to show your videos for a YouTube premium subscription fee.
Idea #4: Starting a podcast
Podcasting is like audio blogging. In other words, it refers to recording audio content (typically in MP3 format) and sharing it online. This way, people can access and download your audio file on
their smart devices and listen to the recordings.
Over the last decade, podcasting has been gaining more and more momentum. Today, there are more than 1 million podcasts out there.
Podcasting presents a good opportunity for business owners who are looking for a medium to connect with potential customers. It offers a more human touch to your customer relationships as you establish yourself as an expert in your business niche.
Also, it is the perfect way to create a positive brand image and drive traffic to your website. The most significant benefit of podcasting is that anyone can do it without any prior technical skills or knowledge.
Setting up your podcast
Launching your podcast could be the best decision that you will ever make.
That's because people can no longer carve out time for reading, watching long videos, or interacting with new businesses. However, they can and often do listen to podcasts while commuting to stay on top of industry news, expert opinions, and even for some light infotainment.
When podcasts are done right, you get exposure to a new audience, beat the competition, and establish mutually beneficial relationships with your listeners. If you are now convinced about the benefits of starting your own podcast, here's a quick guide to doing it right:
Get a good microphone and additional podcast equipment
The success of your podcast depends on the quality of the equipment that you use. Also, you need to buy a microphone that offers good audio quality as the audience will not engage with a podcast that sounds distorted.
Install audio recording and editing software
After deciding on the equipment, you also need to select and install the best podcast recording and editing software. Some of the most popular ones include Audacity and Alitu.
Make a podcast recording and save the audio file
Install the podcast equipment, write a script, so that you know what you are going to talk about in the episode, and record the podcast. Save the recorded audio file to move on to the next step.
Find a podcast hosting site and upload your files
To get your podcast online, you need to look for the best podcast hosting service. Some popular options include Buzzsprout, Podbean, Transistor, and Captivate.
How to make money through podcasting
Not only can they drive traffic to your website and enhance your brand's online presence, podcasts can also massively benefit you if you decide to monetize them.
Get sponsorship deals, coaching, or affiliate marketing
If you are still building up your podcast listenership, try affiliate marketing and securing sponsorship deals by getting in touch with a business whose products you could potentially advertise on your podcast. You can also make money by setting up a subscription fee that listeners will need to pay before they can download your podcast episodes.
There are several ways to monetize a podcast. Sponsorships, premium content, affiliate marketing, and coaching are some of the best ones.
You can ask for sponsors or display their ads on your podcast site, set a subscription fee to your podcast channel, or go for an affiliate program.
Idea #5: Dropshipping products
Dropshipping is slowly gaining momentum due to its low entry barriers and lower startup costs. With a simple computer, you can easily set up your dropshipping venture.
What is dropshipping?
Dropshipping is an online business model that allows you to purchase products from a merchant or supplier and ship it to your customer directly. You don't have to manufacture products, pay overhead costs, or keep an inventory to run a dropshipping business.
How to make money dropshipping
To start making money from a dropshipping business, you need to select the right niche market so that you can tap into a profitable venture. Also, you can move onto other niches with time.
This is how you can earn money through an online dropshipping business.
Find a dropship wholesaler or distributor
It's essential to partner with a credible wholesaler or supplier as the wrong one can damage your business reputation. Conduct thorough research before selecting your suppliers.
Some of the most popular drop shippers are AliExpress, Wholesale2B, Spocket, and Doba.
Price your products
The dropshipping business model is based on customer acquisition regardless of the price of the product. Selecting higher-priced products will help you to earn a high profit margin.
Start selling
After setting up your dropshipping website, securing a supplier, and pricing your products, you are all set to start dropshipping. Attract customers by offering quality products and streamlined services so that you can generate revenue right from the start.
Idea #6: Selling courses and info products
People continuously turn to the internet to find solutions to their problems. They are looking for authentic answers from experts in the industry, and you can take advantage of this opportunity by selling information products and courses to answer their questions. This is a promising online business model utilized by thousands of digital entrepreneurs with success.
How to earn money selling courses and info products
A large number of freelancers and home-based businesses sell digital information products on their websites or other online platforms. You can either make your own course or sell information products created by other people.
Pick a topic that you are experienced in
To create a value-packed course or informational product, you should have in-depth knowledge of a certain subject area. Leverage this knowledge to establish yourself as an authority on the course topic that you select.
Come up with the content
Once you have chosen your course topic, you can start creating the course. An online course is a series of videos that incorporate images, music, PDF's, and more to make it more engaging for the students. You can sequentially explain the topic and even add quizzes to make the course more interesting.
Create your course or info product
Once you have the outline of your course established, start recording it. You can either make a video using a camera, or you can screencast the entire session where you share your screen with the students. Also, you need to invest in the right tools for ultimate video quality and clear sound.
Price and host your content
You have the option of either hosting the course on your own or choosing an online hosting platform. If you decide to host on your own, you need to set up a website. However, with the online hosting platforms, you are just required to upload the course video and other content. Some of the best online course platforms include LearnDash, Udemy, Thinkific, and Coursera.
Promote your content
There are several ways to market your course online. You can boost organic traffic by optimizing the course pages with keywords to rank higher on search engines. Also, you can generate traffic to your course through blogging, publishing course videos on YouTube, Podcasting, or posting ads on popular social media platforms such as Facebook.
Idea #7: Tutoring and teaching online
Tutoring is an excellent way to earn extra money if you enjoy teaching. All you need is an in-depth knowledge of the subject you choose to teach, and ways to share that knowledge with your students.
How to make money tutoring online
Online tutoring has enabled people to earn money quickly from the confines of their homes. If you are switching to a career in teaching or just want to earn extra cash, online tutoring is your best bet.
Find what you are good at
To decide on the subject you should teach online, create a list of things that you are good at or you are passionate about. It could be the language you speak fluently, work-related skills, or even your hobby.
Find a virtual teaching platform
After deciding on the subject that you want to teach, select an online platform that allows you to easily teach your students online. Zoom, Skype, and Google Hangout are some of the most popular virtual platforms that are built to facilitate online communication.
Advertise
Now that you have chosen the platform that you will use to teach the subject of your choice, you need to market your tutoring services.
Start targeting potential students with online advertisements that emphasize your unique selling points and the value that you promise.
You can advertise by creating your online presence through a website or a tutoring profile on popular platforms. Leverage social media platforms to get in touch with a vast audience more quickly than any other platform. Or you can print promotional content to share with your community or distribute at places frequently visited by parents and students.
Get your name out there
Build the reputation of your online tutoring services by creating your online presence or sharing your testimonials. This is not only a short-term tactic but a long-term strategy that can do wonders for your reputation.
Offer incentives
To attract students, you may need to offer some of your tutoring services for free. You can give them a free trial session where they can gauge your teaching style and determine how comfortable they are with you.
Or, you can offer free seminars or training sessions to your potential students through an online medium.
Ask for testimonials
To attract new students, you need to show how you teach your students and help them overcome their weaknesses in a particular subject.
Testimonials from past students can help you to establish your authority as someone who promises the best results.
Setup your website and social media pages
To get your name out there, you need to create a website for your tutoring service where you can list your services. Also, create social media accounts on all of the major platforms to get in touch with a vast audience.
Idea #8: Printing on demand products
Printing on demand (POD) is a form of the dropshipping business model. You don't have to worry about holding and maintaining stock, the setup costs are low and there are little to no risks involved.
What is print on demand?
Print on demand means selling your products by printing custom designs on them. These products include mugs, t-shirts, hoodies, and other items.
Your supplier designs the products based on the number of orders you receive. So, you don't have to pay for the items until they are sold, and this saves you from maintaining an inventory.
How start print on demand business
Print on demand allows you to custom design products using design software. The entire business process is relatively simple, but there can be unseen issues, especially if the printing machine goes out of order.
Pick your niche
To set up your printing on-demand business, select between a product-based or a subject-based niche. If you go for the product niche, you will have to work on the same product throughout your business duration.
If you go for a subject-based niche, you need to come up with a trending subject and several designs that embody this niche. You need a niche that allows you to attract a wider audience. Comics, movies, eco-tourism, baseball, TV-shows, and healthy living are some examples of niches you could choose.
Set up your website
Once you have decided on a specific niche, it's time to create a website for your print on demand business. You have few options to launch a website:
Start your own website using software like Shopify (you will have to buy your own domain name and pay for hosting service).
Set up your website on the third-party print-on-demand stores on the platforms such as Teesprig or Merch by Amazon (your website will be hosted on these platforms, so you won't have your own store with a custom domain but this option is absolutely free).
If you decide to launch your own website, you will have to choose your print-on-demand provider that will complete all of your business orders. Some of the most popular print-on-demand providers include Printful, Printify, and Zazzle.
Add products to your online store
Once you have selected your print on demand provider, it is time to get your online store up and running. All you need to do is connect the store with your print on demand provider and start adding your products.
Promote your business
To get your name out there, you need to promote your business by offering valuable content that attracts your customers. You can also engage your customers by targeting them with news about your brand using email marketing tools.
Another promotion option is to create videos about your products and post them on your YouTube channel.
Idea #9: Selling handmade products
The crafts industry has recently boomed since the inception of online craft websites that allow you to sell your home crafts quickly.
How to earn money selling handmade and artisan stuff on marketplaces
If you are into knitting, sewing, making jewelry, or creating art, you can sell them online. Even if you want to sell vintage and artisanal materials, head online to dedicated groups and websites instead of going to your local flea markets in person.
You can command top dollar from those who genuinely appreciate the value of these masterpieces.
Find the products you want to sell
If you are thinking about what kind of products you should sell, choose the kinds of things that you enjoy making or get a lot of praise and requests for. If you are into vintage items, you can buy them from flea markets, auctions, or yard sales and resell them online.
Find the marketplace to sell your goods
To start selling your homemade and artisan items online, you need to select the best online marketplace.
Etsy is the best online marketplace for artisans to sell their hand-made products online as it allows you to reach a vast audience. You can quickly sell hundreds of products on Etsy without paying a high listing fee.
Other notable online marketplaces include ArtFire, Cratejoy, and Absolute Arts.
Idea #10: Building an eCommerce store
eCommerce has gained traction since people now prefer to buy online from the comfort of their home instead of visiting physical stores.
Before starting to sell your products, you need to determine the profitability of the niche you have decided to cover. After that, you need to develop an eCommerce website, which might seem like a hassle, but in reality, it is a practical way of offering your products or services online.
What is eCommerce?
eCommerce is short for electronic commerce, and it refers to buying and selling products online. It also includes all of the other aspects associated with online shopping, such as internet banking, online ticket bookings, and auctions.
eCommerce works for all four market segments, including business to business, business to consumer, consumer to consumer, and consumer to business.
How to make money from eCommerce sites
Making money from an eCommerce store involves more than just selling products online and earning profit.
If you are looking for ways to grow your eCommerce store so that it can start generating a higher revenue stream, here are your options:
Find the right products and/or services to sell online
The biggest challenge that many online business entrepreneurs face is searching for products and services that are profitable and in high demand. Remain in the loop with the latest trends to brainstorm ideas to come up with a product with a unique selling feature.
No matter which industry you choose to cater to, there are two types of products that you can sell. These are:
Niche products
These products are made to cater to a specific demand. These are usually unique or handmade products, so they are often more expensive than other products as they are fulfilling a particular request in the market.
Commoditized products
Commoditized products are those products that cannot be distinguished from their competitor's products. You can only tell them apart by their pricing range as they hold no differences in their quality or uses.
Identify or create products that solve a problem
The most effective way of finding a profitable product is to understand prospective customers' requirements and problems and provide your product as a solution.
Step 6: Work on pre-launch contents and materials
The entire purpose behind a pre-launch strategy is to create brand awareness and generate excitement before your brand is ready to get out into the market.
Step 7: Define marketing and growth strategies
The success of your online business depends on a well-crafted marketing and growth strategy. They help you to set your business goals and offer an outline that specifies the actions you need to take to achieve these goals.
Step 8: Launch your online business
Now that you are all set with your online business pre-launch activities, you need to create a launch strategy.
And now you are all set to launch your business.
Online business trends and ideas to watch for in 2023
Below are some of the interesting and trending business ideas of 2023. You can research these niches and find an online business opportunity in them.
Organ supplements business – the dietary supplement market is now worth $140.3 billion and it is predicted to grow at a rate of 8.6% between 2021 and 2028.
Tattoos – the tattoo artist market is measured to be $1.2 billion in 2021, which means that a tattoo business offers a huge potential to generate revenue.
Accessory Dwelling Unit (ADU) – 2020 was the year of Accessory Dwelling Units or ADU. By investing in this easy way to offer economical housing, you can tap into a huge customer base looking for economical housing options.
Work from home health – more than 80% of company leaders plan to allow working from home even after the pandemic. This offers a huge opportunity for businesses that specialize in work from home health and optimization.
Religious apps – millions of people globally want to connect with their religion and integrate it into their lives. Covid-19 has disrupted everyday communal gatherings, and you can provide online services similar to VR church which is already gaining popularity on social media.
Sports – with sporting activities on the rise, YouTube searches for sports increase by 90% each year. This provides an opportunity for you to either revive an old niche sport or jump into an up-and-coming field.
Neon lights – whether used in a bedroom or a café, neon lights are becoming increasingly popular. Their market size is expected to reach nearly $98.5 billion US by 2023, which provides a massive opportunity for you to capitalize on a business centered around them.
Garage upgrade – people are always looking for solutions to upgrade their garages so consider offering services like remodeling, decorating, and organizing. To optimize this opportunity, start with a free consultation or organization for someone you know and then ask for referrals.
Conclusion
Ready for a change? Want to become your own boss and work on something you are passionate about and truly enjoy? It's time to start your own online business.
Sure, starting an online business can be challenging, but it's also exciting and empowering. If you are ready to begin, this guide will help you decide how to get started and what steps to take.
Ensure that you stay up-to-date with your competition and how they are using the digital world's latest trends to make your industry more competitive. You have to remain at the top of your game to remain viable as a businessperson and ensure your online business's success.
The good news is that running your own online business has many benefits, such as working at your own pace and focusing on a niche that you are passionate about. If you do it right, chances are that you'll be able to make more than you did working a 9-to-5 job. You can even have your spouse help you and make money online as a couple.
If you have any queries or concerns about launching your online business, feel free to get in touch with us! We would love to help you out.