DreamHost Hosting Review 2023
Company Overview, Pricing, and Features
FirstSiteGuide is supported by our readers. When you purchase via links on our site we may earn a commission.
Read More
DreamHost Hosting Review 2023
Can DreamHost fulfill your web hosting dreams or will it be your nightmare? We will explore this question through this review so that you don't have to risk your time and money.
I will start off by sharing with you the DreamHost plans and pricing options so that you can quickly see if there's something appealing to you. Then, I will go through the most important features that DreamHost offers, and show you how easy it is to get started. I will then go through their control panel and test their servers to see if DreamHost is really as good as it claims.
Table of contents
DreamHost company overview
DreamHost is a popular web hosting service provider that's proud to be one of the three recommended services on the official WordPress hosting page.
The company has been dedicated to WordPress for ten years, but it started its journey in 1996 when three undergraduate students decided to establish a company. Since 1997, DreamHost has been attracting users worldwide, and now caters to their every need, promising total server control, good performance, and value for money.
DreamHost plans and pricing
Although DreamHost offers to host any type of website, their strongest features are aimed at WordPress users. While their plans may seem complicated at first, the truth is a bit different. There are three different plans, and then each one has a couple more options. This way, DreamHost covers everyone from a first-time user to a professional designer. Plus, they offer monthly hosting for those who are interested in testing their services.
WordPress starter
1 website, unlimited traffic, free domain, WordPress pre-installed, free migrations, free SSL certificate.
WordPress unlimited
Unlimited websites, unlimited traffic, free domain, WordPress pre-installed, free migrations, free SSL certificate.
DreamPress
Managed WordPress hosting built for 100,000 visits per month, 30GB storage, unlimited bandwidth, one-click staging, free SSL certificate, on-demand and daily backups, and more.
DreamPress Plus
Managed WordPress hosting built for 300,000 visits per month, 60GB storage, unlimited bandwidth, one-click staging, free SSL certificate, on-demand and daily backups, and more.
DreamPress Pro
Managed WordPress hosting built for 1,000,000 visits per month, 1200GB storage, unlimited bandwidth, one-click staging, free SSL certificate, on-demand and daily backups, priority support, and more.
VPS basic
1GB RAM, 30GB SSD storage, unlimited websites, unlimited traffic, free SSL, unlimited emails @ your domain.
VPS Business
2GB RAM, 60GB SSD storage, unlimited websites, unlimited traffic, free SSL, unlimited emails @ your domain.
VPS Professional
4GB RAM, 120GB SSD storage, unlimited websites, unlimited traffic, free SSL, unlimited emails @ your domain.
VPS Enterprise
8GB RAM, 240GB SSD storage, unlimited websites, unlimited traffic, free SSL, unlimited emails @ your domain.
DreamHost key features and functions
Recommended by WordPress itself, DreamHost has it all. But are there any features and functions that make it really special?
Employee owned – being owned by their employees makes DreamHost different and means that they are user-oriented.
Free WHOIS privacy – just talking about privacy isn't enough. DreamHost makes sure that they offer the strongest anti-spam options, and the good news is that WHOIS privacy is free in all of their plans.
Free domain – if you subscribe for at least one year of hosting, you get a free domain name.
100% uptime – unlike many of their competitors, DreamHost promises 100% uptime, meaning your site shouldn't be offline, not even for a second.
Security features – you can expect multi-factor authentication, automatically enabled sFTP, and free secure hosting option with Let's Encrypt.
24/7 support – you can always expect help from one of the in-house agents.
Purchasing a DreamHost plan
In order to show some details about DreamHost, I have to have a DreamHost hosting account. So, I will start by purchasing one. This will allow me to show everything from how simple it is to choose and pay for DreamHost hosting, to managing sites, and testing the support service.
To get your hosting space, go to the DreamHost official website. Click on the "Get Started" button, where you will see all of the available plans that you can choose from.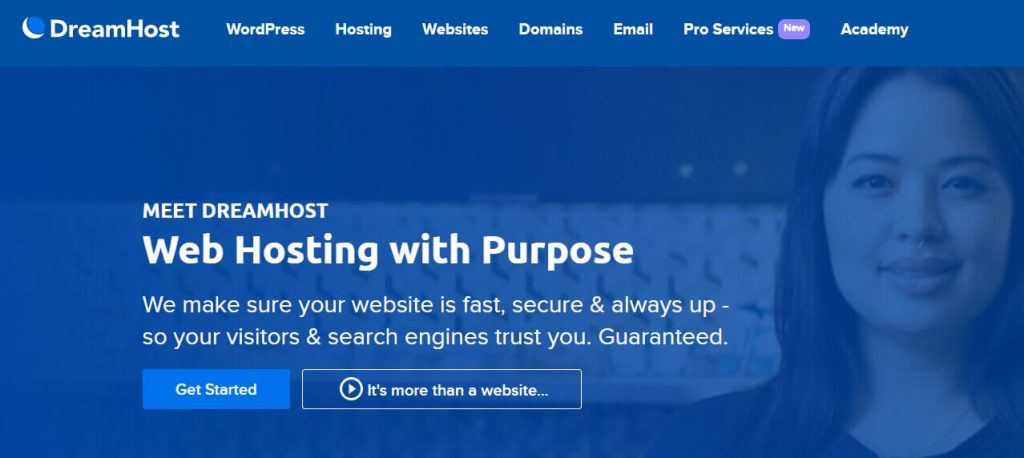 After selecting the plan, DreamHost will let you either register a new domain or assign an existing one to your new account. Adding a credit card or paying with PayPal is straightforward and fast – the only thing that can slow you down is your keystroke rate.
On the same screen, you get to either create a new account or log in with your Google account. I was amazed at how fast everything was, and seconds after confirming the payment, I had the DreamHost Web Panel in front of me, and a couple of confirmation emails in my inbox.
DreamHost admin portal overview
Before getting my DreamHost account, I read about how simple and amazing the admin portal is. But every user is different, so I am going to go through the panel myself, and slowly see what DreamHost has to offer.
The first page you will see is the Home section. It contains a thank you message, as well as the basic information about your domain, hosting services, and the status of your websites. This page can show you more details, complete WordPress installation, and link you to other Control Panel services available.
Websites section
This is the place to manage everything related to your websites. When clicked, the tab will show a couple of subsections that let you control the sites, files, databases, and certificates. Whether you need to (un)install WordPress or manage the existing installation, upload new files or simply transfer domains, you can do it quickly via this section.
If you're a beginner, you might feel overwhelmed when first opening this control panel section, as there will be some settings that you won't understand or need. But do not worry; everything is actually beginner-friendly, and you will be able to control your hosting effortlessly.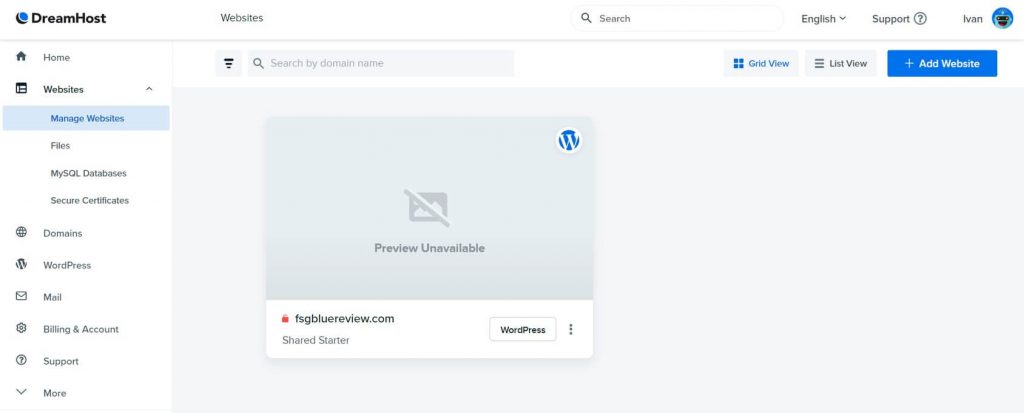 Domains section
Whether you need to register a new domain, handle an existing one or simply transfer a domain you had registered with a different registrar in the past, this control panel section will let you do it.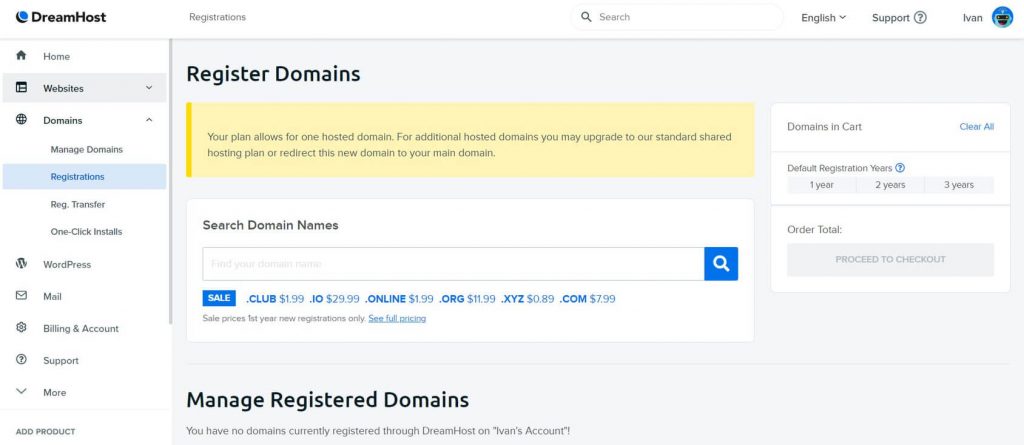 WordPress section
As I already mentioned in the introduction, DreamHost is one of only three hosting companies directly recommended by WordPress. Because of this, I'm not surprised that WordPress is put into the spotlight. Right below the websites and domains section, you can control your WordPress installation.
Nothing much here, though. The first subsection lets you learn more about the popular content management system and install it if you haven't already done so during the account setup. The second one shows you the managed hosting option. Although about four times more costly than a regular shared hosting account, managed WordPress hosting offers a better service where experts take care of just about every technical aspect of your WordPress website.
Mail section
Having your website space and domain created finally allows you to have a custom email address. If you decide to set one up, the Email section contains everything that you need.
If your account doesn't come with a free email service, DreamHost will offer to set one up through this tab. This is also the place to manage your email settings, work with filters and autoresponders, and access webmail.
Billing & account section
Everything related to your DreamHost account can be found under the Billing & account section. Manage your subscription, account privileges, payments, invoices, check usage statistics, and much more.
Support
If this is your first time setting up a hosting account, it is natural not to understand everything offered by the Control Panel. That's why you can quickly open a knowledge base, contact support, or check the system status.
I will write more details about the knowledge base and support at the end of the review.
DreamHost reliability and uptime
While its biggest competitor, Bluehost, promises 99.99% uptime, Dreamhost is courageous enough to claim 100% uptime. This 0.01% may seem small, but it's actually a huge deal, as 100% means there shouldn't be any downtimes, not even for a second.
To test that claim out, I decided to monitor my test website for a couple of days. I added the URL to my free UptimeRobot account. This tool checks for the URL every 5 minutes, and reports if there are any downtimes. If my website doesn't load, Uptime Robot should notify me.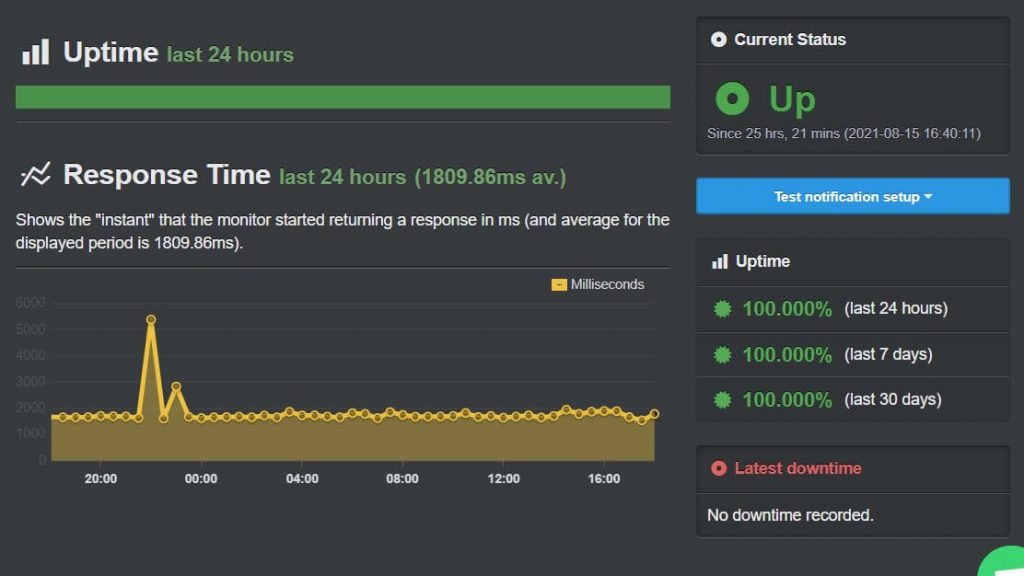 As promised, there were no downtimes during my test that lasted 25 hours, and DreamHost managed to fulfill their promise.
DreamHost web server performance
The web server performance test available at Dotcom tools is completely free, and allows you to quickly learn more about your website, and the hosting service you are using.
After entering the URL of my test page, I selected Mumbai, London, and New York as testing locations to see how fast the server loads from different locations in the world.
The average response time was 1.86 seconds. The fastest response time was achieved from a server in New York, measuring at 1.70 seconds, while the slowest one was London at 2.19 seconds.
Although the 2.19 seconds from London concerned me a bit, it's still an acceptable result.
DreamHost server response time
After testing web server performance, I opened another free test at Bitcatcha that allowed me to test the server from different locations.
After pasting the URL of my test page, the results came back a couple of seconds later, showing good numbers. The average server speed was 133ms, which means that DreamHost's server took only 133 milliseconds to respond. Everything below 180 seconds is considered fast, so DreamHost servers are working as expected.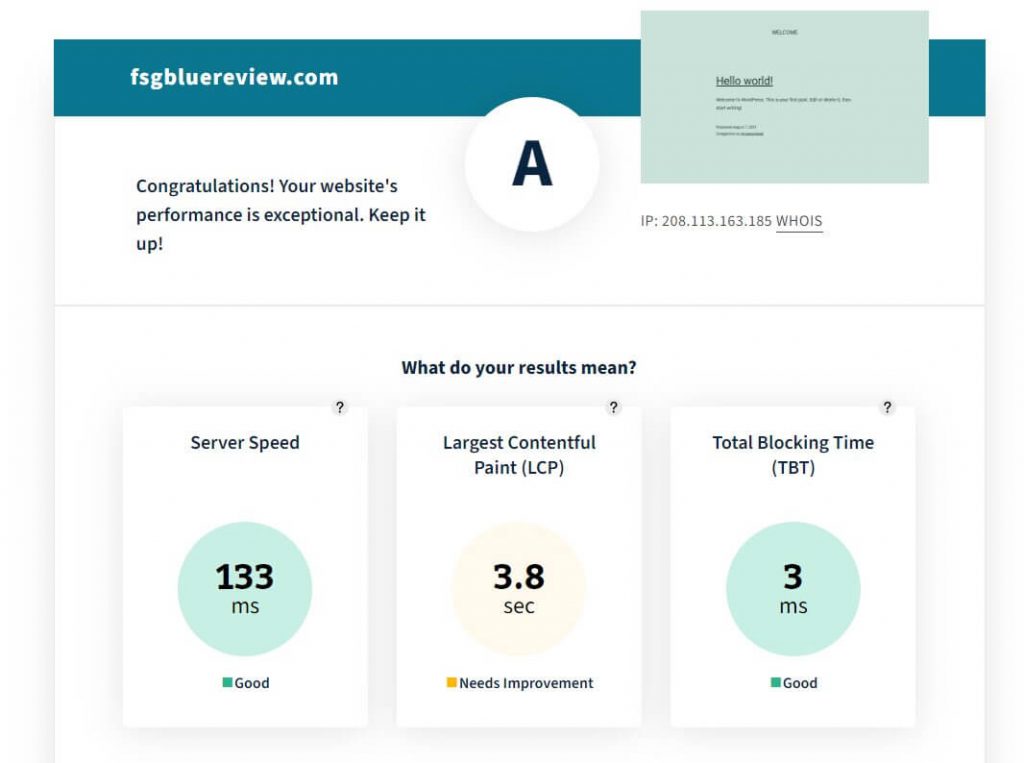 The quickest response time came from the US, measuring at an astonishing 3ms to react! Wow, that's really fast! The slowest to react were tests conducted from Mumbai (254ms) and Singapore (250ms).

DreamHost knowledge base and support
The first thing I noticed when I opened DreamHost's knowledge base was its simplicity. The entire homepage is very clean, and it is easy to find what you're looking for. If you do not want to scroll through the page to find your answer, you will like the huge search bar available at the top.
Besides the knowledge base, you can join the forum and talk to other users or learn WordPress at the DreamHost academy. What's most important is that there is a big "Contact Support" button available at the bottom of each knowledge base page.
When it comes to contacting support, you should be aware that there is no telephone support available. You can contact agents before purchasing a plan via chat, but if you're already a customer, you're encouraged to contact support via the Control Panel. Still, while you can't call an agent, you can request a callback simply by entering your phone number, which is a good option.
To test support, I sent a quick question about how to transfer my existing domain to DreamHost. The answer arrived in my inbox in less than five minutes on a Sunday night! Note that I am not talking about an automated response, but a personal email coming from a support agent who instantly addressed my issue, and asked a couple of questions to help me out.
Even in a competitive business like WordPress hosting, getting an answer in less than five minutes on a weekend is really something that is impressive to achieve.
DreamHost refund policy
If you decide to request a refund for a DreamHost hosting plan, it is good to know a couple of things. DreamHost does offer refunds, but the terms depend on the type of hosting you have purchased in the first place.
When it comes to shared hosting, I have fantastic news – DreamHost offers a full refund for 97 days, no matter if it was a yearly or monthly subscription! All you need to do to apply for a refund is to cancel your account via the control panel. Everything else is done automatically, and you can quickly expect your money back.
For VPS and Dedicated hosting plans, refunds are available only for yearly subscriptions. You can get your money back within 30 days after your purchase only.
For more details about other types of refunds and terms, please see the official knowledge base page.
The refund process itself was very quick and straightforward. After answering a couple of questions, I was told the details about my account and automatically refunded, unlike the horror I had to go through with Bluehost.
DreamHost pros and cons
DreamHost may seem like a dream come true, but like everything else in life, it is not perfect. So let's examine the pros and cons.
Pros
Easy to use control panel
Amazing customer service
97-day refund period
Free SSD storage
Free WHOIS privacy
Fantastic support
Cons
Pricing structure might be confusing for beginners
Doesn't offer cPanel
FAQs
Does DreamHost offer cPanel?
Unlike many other hosting services, DreamHost does not offer cPanel access. Instead of this popular control panel, DreamHost utilizes a custom-build control panel that offers everything you need to control your hosting account. This will let you manage your websites, databases, email, and billing.
Does DreamHost offer a free email?
Yes, almost all DreamHost plans (except for Shared Starter, DreamCompute, and DreamObjects) come with a free email address that you can easily set up. This also includes 25GB storage, so you can even keep your spam messages if you like, along with mobile and desktop sync, ad-free webmail you can access anytime and anywhere, and spam, virus, and phishing filters.
Is WordPress free with DreamHost?
Yes, if you purchase hosting services with DreamHost, you will get WordPress at no extra charge. Although WordPress is already free, it is good to know that this popular Content Management System (CMS) comes preinstalled with any of the plans, meaning that you can start your WordPress in a matter of seconds after setting up your account. Note that this WordPress installation comes with several pre-installed options that you may or may not like.
Conclusion
After creating my own account and conducting a couple of tests, I can confirm that DreamHost is definitely a hosting company you can trust. The servers are fast, the control panel has it all, and support is astonishingly fast.
When you consider things like their 97-day refund period, free WHOIS protection, and complimentary email address included in most of their plans, the natural conclusion is that DreamHost should be included in your list of hosting companies to consider.