DreamHost Hosting Review
Company Overview, Pricing, and Features
FirstSiteGuide is supported by our readers. When you purchase via links on our site we may earn a commission.
Read More
Introduction
Founded in 1997 in a dorm room, DreamHost is one of the giants when it comes to hosting. They claim to serve over 400 000 customers and host over 1.5 million websites, which is not a small number for… anything. They are also boasting that they are a green company that made a conscious effort to reduce the impact on the environment. But in the end, all the biggest question is if they provide a good service? Let's see together.
Hosting plans
There are several flavors that you can get DreamHost hosting: shared, VPS, dedicated, cloud and managed WordPress.
Shared hosting
Monthly plan will give you no limits on traffic, storage or websites and a free SSL certificate
1-year plan will give you everything from Monthly plan plus a free domain for a year
3-year plan will give you everything from Monthly and 1-year plan at the best rate
VPS hosting
Basic VPS will give you 1 GB RAM and 30GB disk
Business VPS will give you 2 GB RAM and 60GB disk
Professional VPS will give you 4 GB RAM and 120GB disk
Enterprise VPS will give you 8 GB RAM and 240GB disk
All VPS plans give you unlimited bandwidth and hosted domains on Linux Ubuntu OS and are fully managed.
Dedicated hosting
unlimited bandwidth and MySQL databases, max 12 cores, 63GB RAM and 2 TB storage with free SSL certificate beyond 1 year
Cloud hosting
Cloud hosting comes in two variations, DreamCompute and DreamObjects. While DreamCompute is actual hosting service, DreamObjects is intended for online storage.
Dream Compute
512MB RAM Server will give you 80GB SSD disk and 1vCPU
2GB RAM Server will give you 80GB SSD disk and 1vCPU
8GB RAM Server will give you 80GB SSD disk and 4vCPU
All DreamCompute plans come with free bandwidth and 100GB storage.
DreamObjects
powered by open source, S3 + Swift compatible, scalable, on reliable redundant servers with free uploads and API requests
Managed WordPress hosting
Basic will give you 1 website, 10.000 monthly visitors, 5GB SSD storage, free SSL certificate, Jetpack free, daily backups, email and chat support and website migration available
Plus will give you all from Basic and 30.000 monthly visitors, 10GB SSD storage, 3 phone support calls a month, daily and offsite backups, video and image CDN, daily malware scanning and repair, premium themes and Elasticsearch
Advanced will give you all from Basic and Plus and 2 websites + 1 staging website, 60.000 monthly visitors, 15GB SSD storage, 5 phone support calls a month and Jetpack Pro
Plus + WooCommerce will give you single website, 30.000 monthly visitors, 10GB SSD storage, 3 phone support calls a month, free SSL certificate, daily and offsite backups, video and image CDN, daily malware scanning, and repair, pre installed WooCommerce and StoreFront, Elasticsearch and website migration available
Custom will give you custom features
Features
First of all, right off the bat, we've seen that they offer 100% uptime. While we do know that this is an unrealistic thing to claim and we do not mind occasional downtime, especially for servicing servers, it is a bit silly claim. However, Dreamhost will credit you a day's service for every hour of interrupted service, which is a great offer, but then again, if they claim 100% uptime, this offer should not exist. They are also a company that consciously tries to lessen the carbon footprint on the environment and in this day and age, it is a smart, good and honorable thing to do.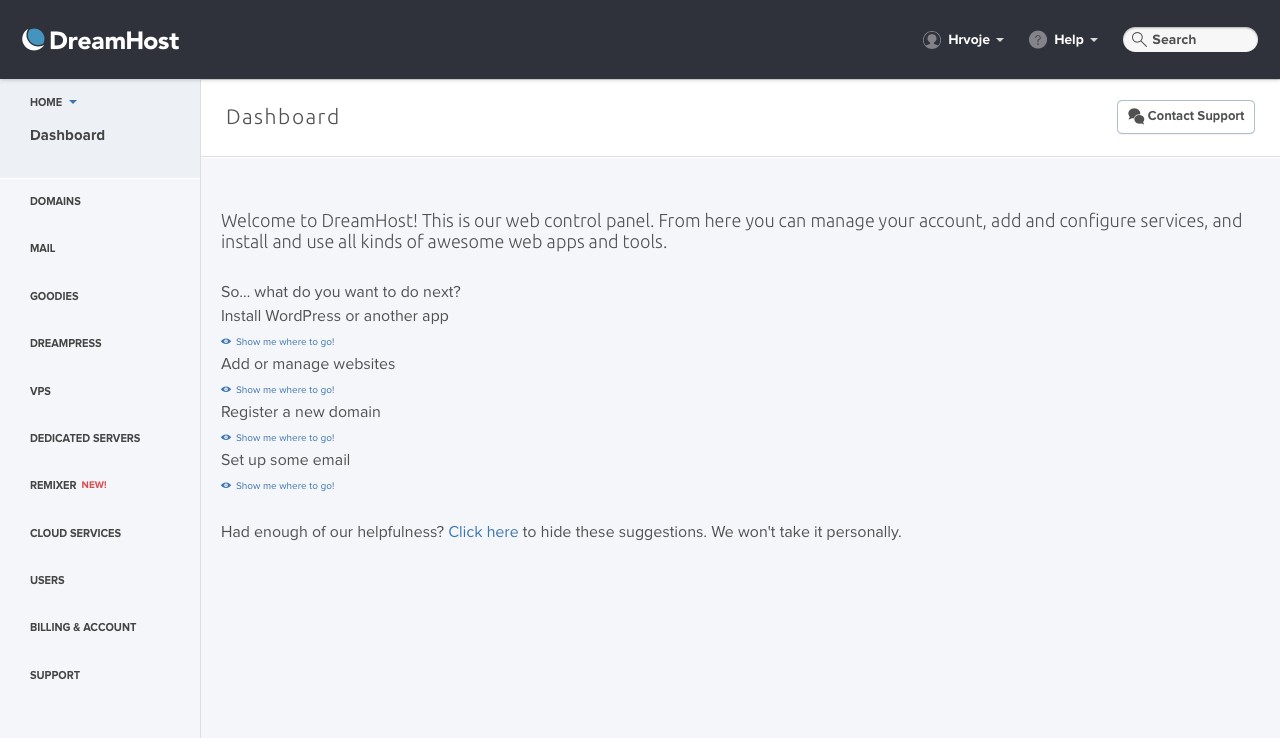 Moving on, their managed services include infrastructure management, automatic backups and updates, malware scans, and DDoS protection, which are all standard in the industry, but it seems that they are keeping their end of the bargain quite nicely. All of their storage is on SSD disks, even shared hosting. They also offer online storage and boy, don't we all want some extra space sometimes.
One of the things that are not really visible is their independent status. They are not owned by any group and that is reflected in their giving back to the community. Their team loves open source technologies, so while they may not boast a number of CMSs and scripts that the other hosts do, what they do have, they take care of. However, they did develop their own in-house control panel, so you won't see your usual cPanel which is always a double-edged sword. If it is done good, no problem, but if it is not, you might cry for open source cPanel.
Control Panel
With their proprietary control panel, things are minimalist and easy to navigate. Everything that you will need is on the menu on the right and the account and help center are at the top bar. However, we would appreciate that 'Goodies' were named 'Scripts' or 'Features' because this seems a bit too… kid-friendly. We do appreciate avoidance of techno babble where it can be done, but here it seemed a little bit off. There are app installs, chron jobs, and SQL databases to name a few under there, so sometimes friendly approach can be too friendly.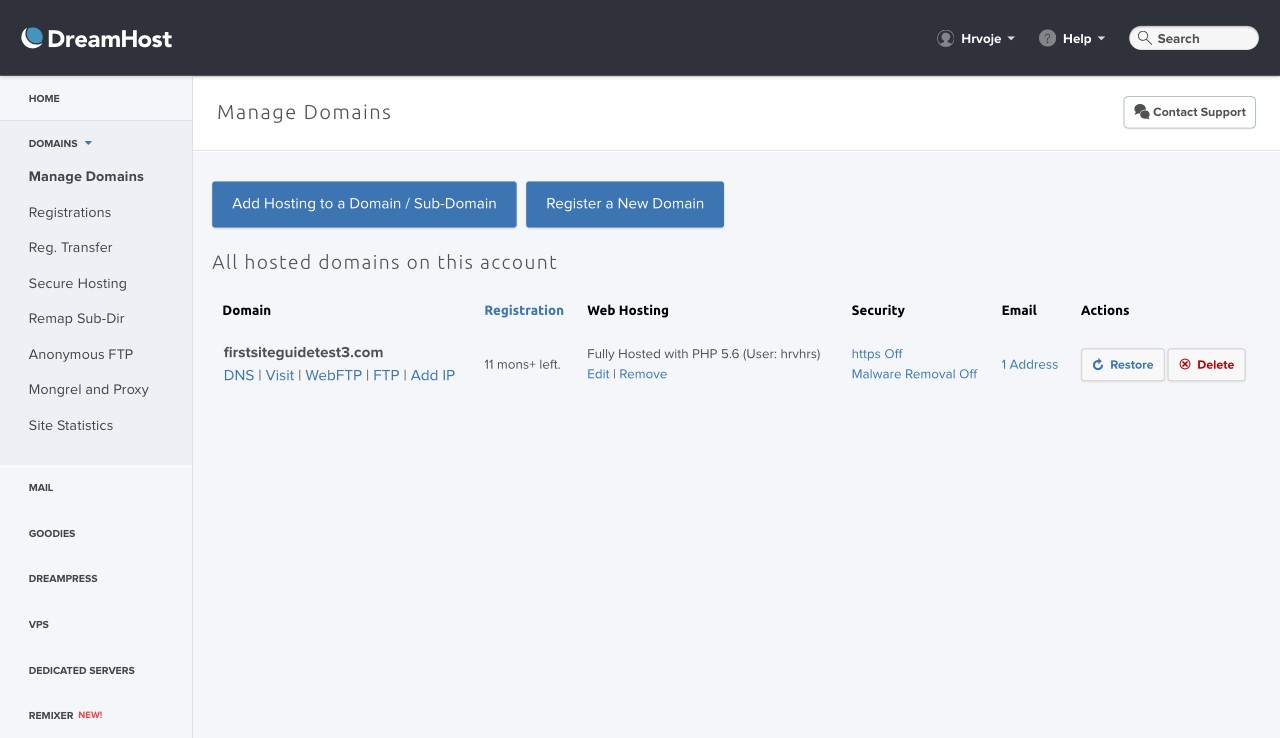 However, there is one thing to remember, especially if you are migrating from other hosts. Their panel does not have a way to import data from other panels including cPanel. If you need to transfer from another host, you will need to manually migrate everything. Additionally, you can't simply import your email from a cPanel backup file. And if you are using just one of their plans, like for example shared, you will see links to dedicated, VPS and shared servers. All in all, although their control panel has its advantages and we liked it, there are a few bumps in the road that could easily be fixed.
Email
There are two options for email. One is bulk-edit forwarding-only addresses and the second one is an actual email. There are many features that are ready for your setup right at the creation of your new mailbox. You can limit the size of the email, set up to remove read messages when inbox reaches a limited number of emails, get daily warnings for 10% of your limit or 100MB, whichever is smaller etc. There is also garbage email, which will automatically delete all email that comes in it. That can be handy if you need an email address but want to get rid of offers, spam, newsletters etc. All in all, we've seen a few better solutions, but this is far from bad.
Creating and setting up your website or blog
As we started setting up our account and website, things were moving pretty streamlined. Create an account, choose the domain, pick a plan and then some additional features with money being the last item on the list. During that setup, we noticed that they also offer WordPress migration for the site(s) but it will cost you $99. Granted, they guarantee no downtime, but we know that there are some competitors that will offer it for much less or even for free. Then again, they offer whopping 97 days of money back guarantee for shared hosting, so you will have plenty of time to decide if you want to stay with them and transfer any already existing websites.
After that part you will have to confirm your domain and email. Then you will be taken to your control panel, which is not your usual cPanel, which can always be a give and take. On one hand, if you had previous experience, you will have to get used to it, and on the other, it is sleek and clear, so navigating it won't be that hard, after a short learning curve.
Creating website is very beginner friendly. The first time you get into your control panel, they will point where to click to get your website up and running. You can install one of the more familiar CMS providers, or you can try out their Remixer, a drag and drop website builder. It is quite intuitive and easy to understand and its themes are modern and easy to adapt. Just bear in mind that it is not free. However, we chose WP and surprisingly, it wasn't instantaneous installation, but we were up and running in a matter of minutes.
Reliability and uptime
When it comes to uptime, DreamHost got a teeny tiny dent in otherwise quite a perfect record. Our relatively short Uptimerobot test of two weeks showed that the uptime was 99.94 percent. The only downtime was about eleven minutes long. Although that should not happen often, it is not a deal breaker at this rate and it proved once again that 100 percent uptime is a silly claim that no one should make. While this was not perfect, it was a passing grade.
Load Test
Our server was located on the West Coast, in Brea, just outside Los Angeles. Considering that, you would expect that the West Coast response would be lighting fast, but it was on par with the rest of tests across the US. The best first visit response time was from Ashburn 0.3 seconds, but the real problem is that the response wasn't constant throughout stress tests. It was difficult to average the response times because of inconsistencies and extreme values. Keep in mind that these are an average of the best results.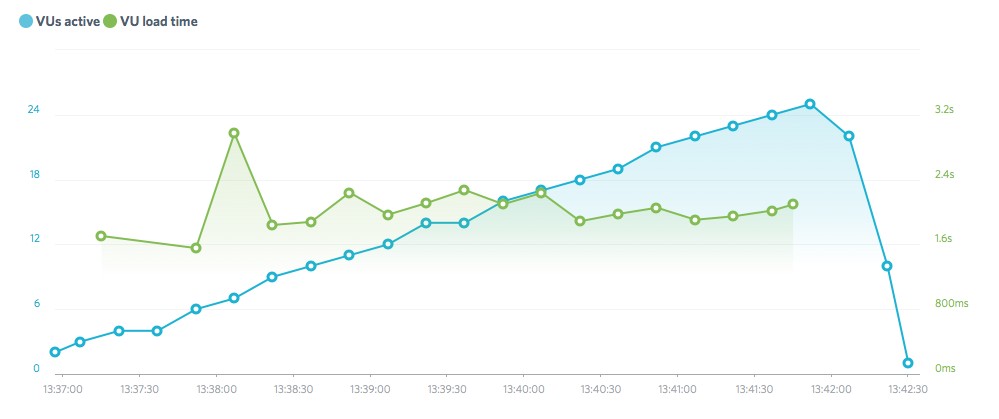 Portland response time (best)
Portland response time (worst)
International results were on par with the US. While Europe and South American results tried to stay around 3 seconds, sometimes Asia and Australia were over 10 seconds. The ups and downs were still present and making an average out of one test was a problem. Although Tokyo had an average response of about 3 seconds, it also had the worst response in all of our tests, at almost 15 seconds. All in all, if we were to put together all of the global results together its average would be around 2-3 seconds, which is not a great result. In the end, when it came to stress tests we were not really impressed but not catastrophically disappointed either.
Dublin response time
Sao Paulo response time
Help and Support
There are several ways to get the help you need. There are community forums, knowledge base, live chat and email support. While they do not have a phone number for the support they will, if necessary, provide a callback. They are available 24/7 and they claim they do not outsource support. Our experience was good and honestly, we can never complain about in-house support so they get two thumbs from us.
Customer support chat
Pricing
Shared hosting
Monthly plan $10.95 per month (no contract)
1-year Plan $9.95 per month (billed every year at $119.40)
3-year Plan $7.95 per month (billed every 3 years at $286.20)
Shared hosting is the only hosting that has a money back guarantee and it is 97 days.
VPS hosting
Basic $13.75 per month
Business $27.50 per month
Professional $55 per month
Enterprise $110 per month
Dedicated hosting
Cloud hosting
Dream Compute
512MB RAM max $4.50 per month ($0.0075 per hour)
2GB RAM max $12 per month ($0.02 per hour)
8GB RAM max $48 per month ($0.08 per hour)
DreamObjects
2.5¢ per GB of storage per month
5¢ per GB of downloads per month
Managed WordPress hosting
Basic $17 per month
Plus $25 per month
Advanced $36 per month
Custom custom pricing
Pros
no limits on the number of websites hosting
great proprietary website builder
in-house support (no outsourcing)
97 days money back guarantee for shared hosting
Cons
no refund on any plans besides shared
delayed set up
the nonstandard control panel
no reseller plans
Conclusion
DreamHost is big for a reason. There are a few setbacks that were more of an aesthetic complaint, major ones being delayed setups. They are a scalable service that offers a lot and will try to accommodate you however they can. But somehow despite all that, they miss the top marks by a few inches. Do not get us wrong, we know why is that. Performance wise, in the stress tests the response was a mixed bag of goods and that is to blame. We have a feeling that their service could be an acquired and abet not the cheapest taste for some. All in all, with their whopping 97 days of money back guarantee, we will wholeheartedly recommend you to test out their services.