Jimdo Review
Company Overview, Pricing, and Features
FirstSiteGuide is supported by our readers. When you purchase via links on our site we may earn a commission.
Read More
Jimdo was founded in 2007, in Hamburg, Germany. Due to rapid expansion, the company now has offices in San Francisco and Tokyo. In 2015, Jimdo received a whopping 25 million euro investment from Spectrum Equity, so they must be doing something right, yes? But let's not be swayed into choosing Jimdo only on the basis of this investment. Let's find out it's a well-oiled German machine, or if a flaw or two lurk beneath the surface.
Start and ease of use
When starting with Jimdo, you'll find a number of the typical steps in a slightly different order than you may be used to. Just go with the flow and it will all make sense. First, you select a design. Next, provide an email address and password. Now you can choose a new domain or link your existing external domain. You'll also get an email that will ask you to confirm your email address, but even without it, after the signup, you'll immediately be taken to the website editor to get started.


With a free account, you, of course, get the free domain with a jimdo.com extension. Upgrade to the lowest paid plan and you'll get a free domain of your choice or have the ability to connect your own. However, if you want a more fanciful domain than the usual .com, .info, .net and other basic domains, you can go through their service and, for an additional fee, you can get extravaganzas like .academy, .help, .sexy and others.

The editor is WYSIWYG; getting used to it is easy and painless. Even if you change your mind in the middle of building your website, you can easily switch to another one of the beautiful templates without having to start from scratch. All of your content will be transferred to the new one. Having a store (with one product) from the start is a nice touch; not all competitors offer this option. All in all, Jimdo delivers an attractive free package.
Website options
As usual, the more you pay, the more you get. A free plan is limited to 500 MB for one website only. Upgrades will increase the storage to 5GB or unlimited. Upgrades will also remove the native advertising and add other extras like email accounts, an online store or upgraded SEO. You can work with custom HTML, CSS and file—even in the free plan. The bottom line? We encourage you to upgrade at least to the cheapest paid plan so you can get your own custom domain.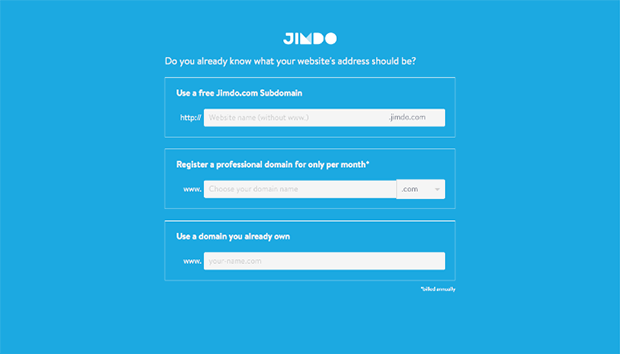 If you're not quite sure that a paid plan is what you're looking for, don't worry, you'll get a free 30-day trial to test it out. This is generous compared to the standard 14-day free-trial period most hosts offer. However, keep in mind that although Jimdo's free plans are generous, they don't offer substantial statistics. You'll get their native analytics only with paid plans. We did, however, find an option to connect Google Analytics. Not a deal breaker, but it is an unpleasant bump in the road. Also we have to mention the Jimdo app if you need to fully edit your website on a mobile device—it's one of the best out there.
Website editor
At first glance, you'll notice the placement of the toolbar on your right, which is a bit unorthodox, since the majority of the competition (if they have it) put it on the left. You'll also find that the editor is well designed, however, the elements aren't drag and drop. This might be a headache to those who aren't well versed in technobabble, because adding new elements can be tricky until you get the hang of it.

What you'll need to do is find a pop-up button under or above the existing element and click on it. From there it's much easier, because the actual content within most elements is drag and drop, and all elements are drag and drop to the other subpages. If you want to start from scratch, you can work with HTML and CSS or choose a blank template. This is a nice touch if you're more tech savvy and want greater control.


The toolbar on your right has everything you need. At the top are two buttons, View Mode and Log Out, which are self-explanatory. Below that, you have tabs that will slide open the menus on your left. Templates allow you to change the style, background or make a custom template. Below that is Style, which will essentially take you to the previously mentioned submenu of Templates, where you can adjust the color scheme and fonts. Not sure why it has its own toolbar tab.

Next are several additional tabs: Blog, Settings, SEO, Statistics, Partner Services, Help and Upgrade. Blog, SEO, Statistics, Help, and Upgrade are self-explanatory. Settings, where you can adjust your account settings, reminded us of hosting control panels. Partner Services gives you additional paid options for designing your logo, business card, letterhead and more.


One of the more pleasant surprises Jimbo offers is Dropbox integration. Although some website editors have their own storage, many don't have it at all, so integration with Dropbox seems like a solid middle ground. We do wonder why this isn't a more common feature because it seems like a natural. But this means that Jimdo storage is nonexistent.

There is social integration, but it's a bit scattered since Pinterest enabling is hidden in elements editing, connecting and adding the Twitter app is under Settings, and the Facebook button is an element unto itself. However, depending on the template, social sharing buttons will be automatically added to your template.
Templates and mobile
There's a lot of contradictory information about the number of design templates, depending on which version of Jimdo editor you use. However, with the free plan, we saw 16 templates, which is a relatively low number compared to most hosts. They're divided into categories and each is quite distinct. Sometimes quantity is better than quality, but we would still like to see a greater number of templates. As of relatively recently, the templates are responsive too, so there will be no problem with mobile devices. However, they seem simplistic and, although they are pretty, we're not sure if they'll stand the test of time in, say, five years.

E-commerce
The majority of the store settings are hidden under the Settings tab in the website editor's toolbar. It's quite straightforward and easy to use. But if Blog and Style deserved a separate tab, we think that the Store should too. But the big question when you're first building your store is: how do you add products? That option isn't in Settings; instead, it's hidden in the Add Element pop-up button. There you can add a Store Item or Store Catalog and edit them just as you do the rest of the elements. Not bad, but a bit unusual to have essential store options separated in two very different places. All in all, your basic needs are covered, but if you want a big and robust store with more than 20 items, you should seriously consider looking elsewhere.

SEO and statistics
In Jimdo's case, SEO comes with every plan, but the more you pay, the more you can do. JimdoFree plan allows you to create homepage meta for title and description, check Google indexing and preview listing. JimdoPro will give you meta descriptions and titles for other pages custom URLs and other options. With JimdoBusiness, you will also get URL redirects and more password-protected areas.

There are no statistics with JimdoFree. If you upgrade to JimdoPro or JimdoBusiness, you'll get detailed statistics on how many visitors have come to your site, on what date, what they entered in search engines that led them to your site—and more.
Hosting and exporting
If you buy a domain when you start your website, you'll get hosting too. You can link your own domain, but only if you upgrade to one of the paid plans. However, just like the majority of website builders, there is no option to export your website. We understand that taking away your website might expose some of the trade secrets, but not being able to move your site when you switch to a new host is a tiresome and annoying practice.
Help and support
A great Jimdo feature is little question mark in the lower right corner for each element. It explains what the element is used for and, if you want, you can click on the More Information button to be taken to their support center.

There you'll find a big knowledge base with previously answered questions. You'll also get suggestions on where you can read more and expand your inquiry. You will be able to send a ticket, but the response will be faster the more expensive your plan is. Higher-paying customers have the advantage. They say free users get an answer within a few days, Monday through Friday, 9 AM to 5 PM Pacific Time (which is, coincidentally, also their chat availability time), but we received a response in a matter of hours. However, they do not provide phone support. Support may be a bit slower than the competition and it's not available 24/7, but if you are paying customer, it will be much faster. The service will always be the same high quality.

Pricing
Jimdo offers three plans and each offers a 30-day free trial period. All prices provided here reflect a theoretical monthly charge for the sake of comparison. Jimdo bills for an annual rate; there are no monthly billing options.

JimdoFree free
500MB storage
basic SEO
5-item limit in the store
JimdoPro $7.50/month
5GB storage
upgraded SEO
15-item limit in the store
one email account
removes native ads
JimdoBusiness $20/month
unlimited storage
best SEO
unlimited items in the store
20 email accounts
removes native ads
Pros
domain and email account included in paid plans
Dropbox integration
very customizable elements
the official app for website editing on mobile devices
Cons
sometimes you have to search to find elements
limited photo-editing options
relatively limited e-commerce
lack of native content storage
Conclusion
When it comes to free plans, Jimdo is so well made that we're almost tempted to say you should use it forever. However, having native advertisements or a jimdo.com subdomain doesn't project a professional image. So, if you want to be taken seriously, go for the upgrade.

With a free-30 day trial period and an efficient, easy-to-use editor, it's easy to see why Jimdo is one of the more popular website editors. Pricing is reasonable and the inclusion of an email address is rare these days.

However, unlike many competitors, Jimdo features aren't that robust and sometimes the editor isn't as intuitive. Upselling is present, but not as aggressive. In general, there isn't much to complain about Jimdo and there are no major flaws. But it falls short of being a perfect website editor. Does this mean you should avoid it? Absolutely not! It is still one of the best options out there and with the free plan, we encourage you to test it out extensively, especially if you are a small business owner. Who knows, maybe you are just the right match for each other.