InMotion Hosting Review 2023
Company Overview, Pricing, and Features
FirstSiteGuide is supported by our readers. When you purchase via links on our site we may earn a commission.
Read More
InMotion Hosting Review 2023
Whether you are searching for WordPress hosting or any other kind of website hosting service, InMotion Hosting is a tech giant that can probably meet your needs. In this review, I will introduce you to InMotion Hosting, its services, features, and functions.
I will purchase one of their available hosting plans to see what the process looks like. Once I receive access to my piece of hosting space, I will create a simple test page with WordPress that I will be able to test further, and let you know how good (or bad) InMotion Hosting really is.
Table of contents
Company overview
InMotion Hosting is an employee-owned company that was founded in 2001. Since then, the company has offered hosting and domain services globally. Along with offering personal and business hosting solutions, InMotion Hosting is also well-known for their custom web design work.
The company has offices in Virginia and California, and it's also interesting to note that InMotion Hosting was ranked #20 in U.S. 2015 market share.
InMotion Hosting plans and pricing
Although InMotion Hosting offers several different hosting solutions, let's focus on their services dedicated to WordPress hosting.
WP-1000S
1 Website, 50GB SSD storage, 4x performance, free SSL, unlimited bandwidth, unlimited email, security suite, marketing tools, advanced caching.
WP-2000S
2 Websites, 100GB SSD storage, 6x performance, free SSL, unlimited bandwidth, unlimited email, security suite, marketing tools, advanced caching, Jetpack personal.
WP-3000S
3 Websites, 150GB SSD storage, 8x performance, free SSL, unlimited bandwidth, unlimited email, security suite, marketing tools, advanced caching, Jetpack personal, dedicated Opcode cache pool.
WP-4000S
6 Websites, 200GB SSD storage, 12x performance, free SSL, unlimited bandwidth, unlimited email, security suite, marketing tools, advanced caching, Jetpack personal, dedicated Opcode cache pool, dedicated IP.
InMotion Hosting key features and functions
24/7/365 WP Hosting Support – you can count on having professional support at any time of day or night.
Safety and Security – the company offers free SSL, premium malware & hack protection.
Free domain – if you don't already have a domain, you can get a free one when you sign up for a hosting plan.
Free Drag-And-Drop Builder – create custom layouts within WordPress.
WordPress Website Migration – get access to free website migration tools, and move your WordPress site from another hosting company without fuss.
WordPress Optimized Stack – including WP-CLI, Imagemagick, PHP 7, PHP 8, managed updates, and more.
Money-Back Guarantee – 90-day money-back guarantee.
Purchasing an InMotion Hosting plan
After going through the InMotion homepage and seeing the official offers, it is time to purchase a hosting plan.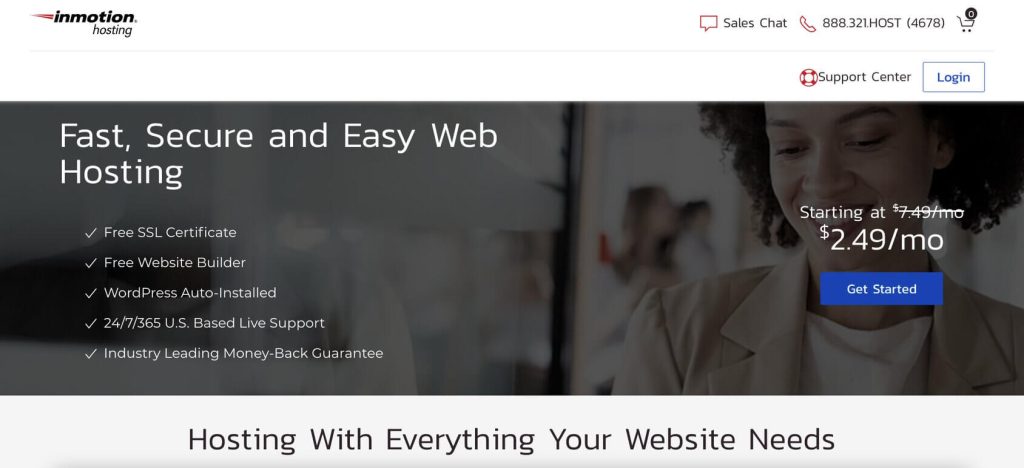 This will give me a chance to test InMotion Hosting and see what it feels like to have it as a personal hosting solution.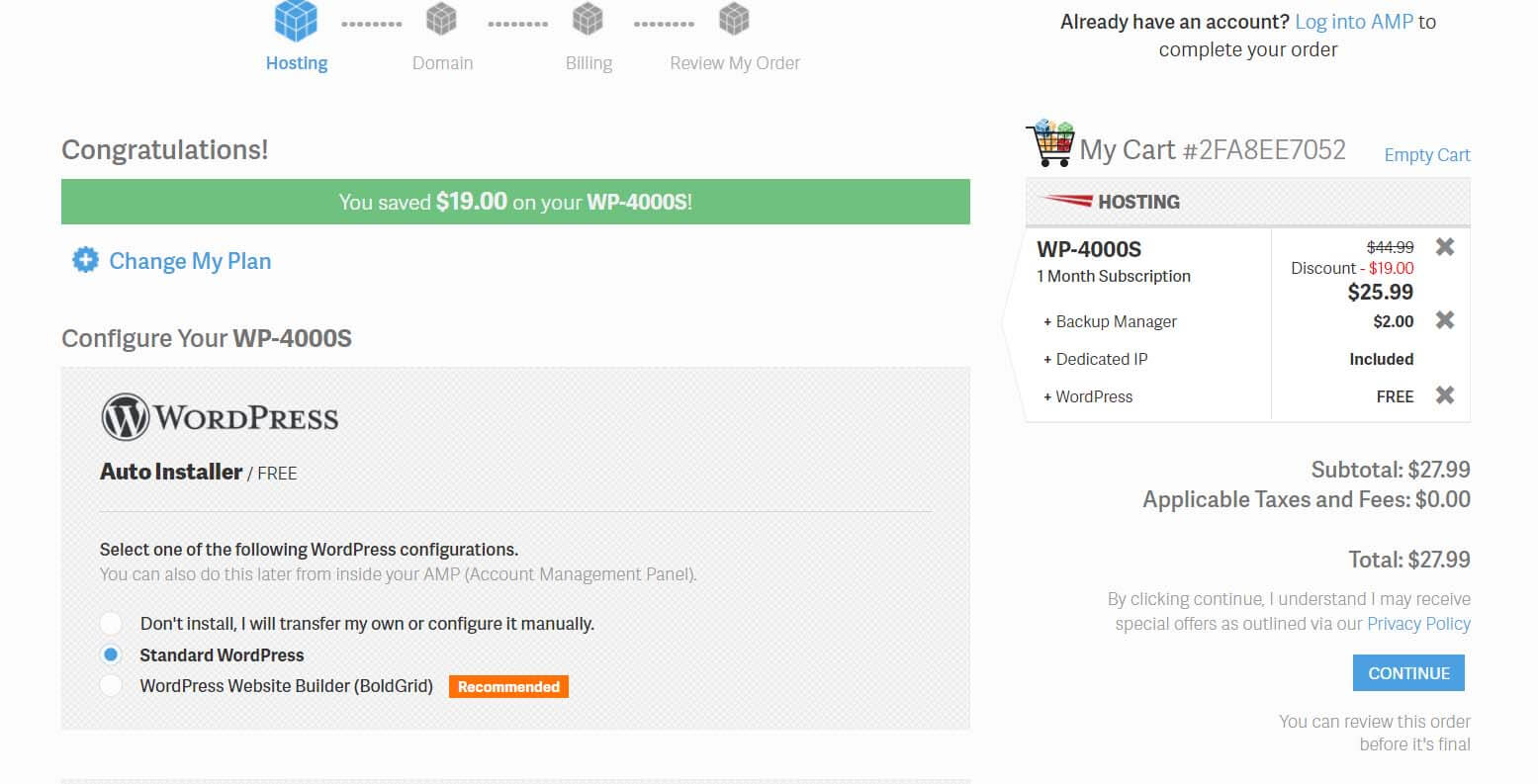 The purchasing process is standard. However, I was surprised by the fact that you can't purchase just any of their hosting plans for one month. Among the four available WordPress hosting plans, only WP-4000S (the most expensive one) is available for just one month, while the other three plans are only available if you decide to pay for one or two years in advance.
After confirming payment, you can expect a simple page telling you that the account setup process is in process and that you will receive an email confirming when it's complete. I expected to see a confirmation message and to be redirected to the login area so that I could start working on my test site, so this was a bit of an unpleasant surprise.
After a couple of minutes, I received a confirmation email, but without any login details. It only included some linked articles about how to work with the account. Still not impressed with how things are going here.
Also, InMotion Hosting claims that an account specialist calls everyone within 30 minutes to verify their order. Not sure how to feel about this. Should I feel special because I get to talk to an agent just for spending $25.99 or annoyed because I just want to get my hosting account ready as quickly as possible?
Luckily, I decided to contact support right away. My account was flagged for further review, and I had to spend more than ten minutes on chat to get this info. And when I did, I was told I should wait for another 20 minutes to get my welcome email. By now, I was about 30 minutes in and still couldn't get to my account.
With other hosting companies, I would have already set up my WordPress environment, installed a theme and a couple of plugins. This is definitely not something InMotion Hosting can or should be proud of. If I wasn't doing a review, I would have already asked for a refund and ditched InMotion Hosting.
InMotion dashboard overview
InMotion Hosting offers a custom panel that they call the Account Management Panel (AMP).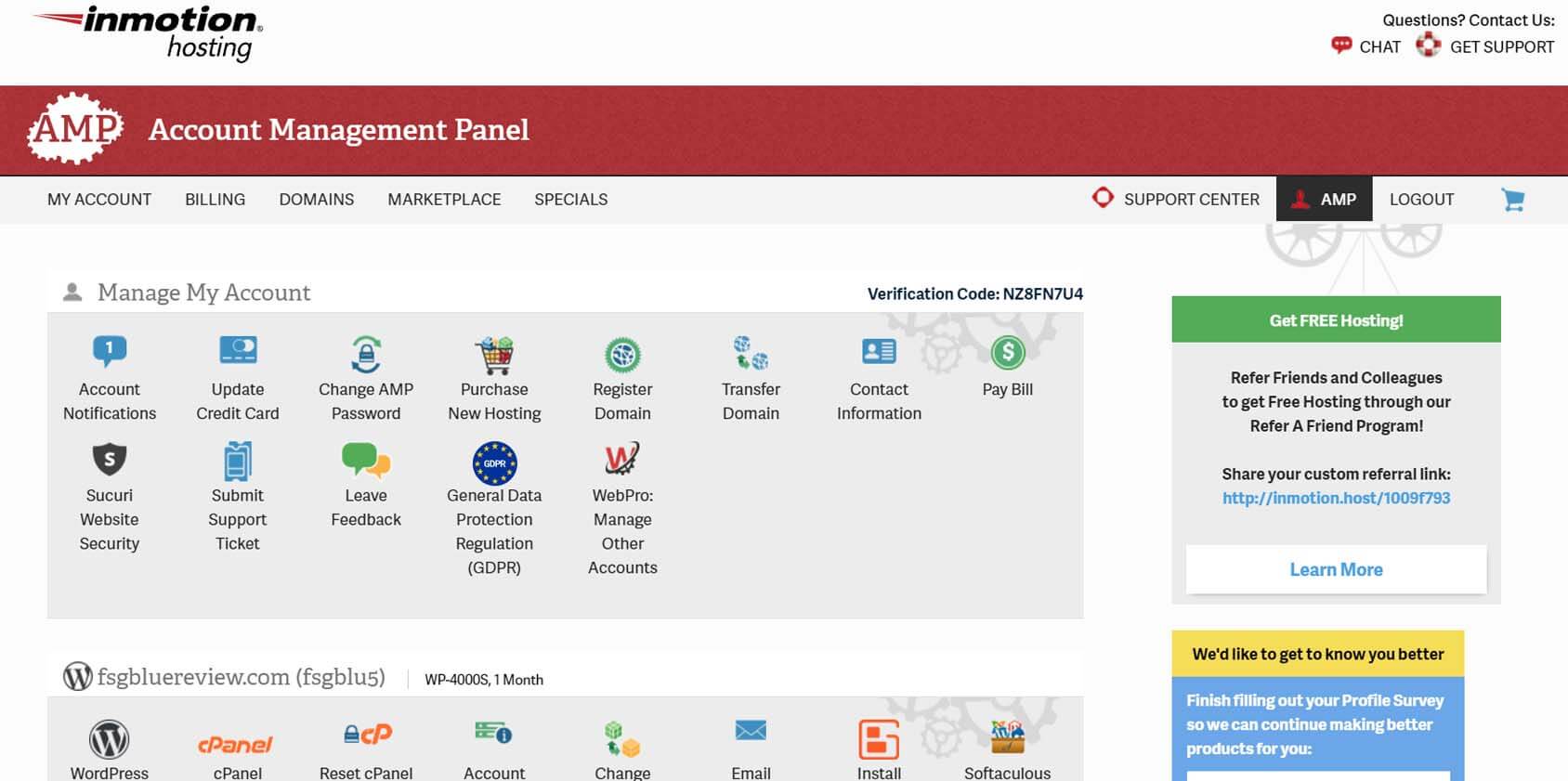 This dashboard offers a collection of icons that resemble those of the traditional cPanel. Everything is quite simple and you can access the settings pages by browsing these icons. Whether you need to handle notifications, credit card info, domains, or anything else, you will find an icon for it.
Billing
The billing page holds all of the information about your purchased plan. Here you will be able to renew your plan, change its details, or cancel if necessary. Other options in the billing section allow you to set renewal notifications, view payment history, change payment options, and more.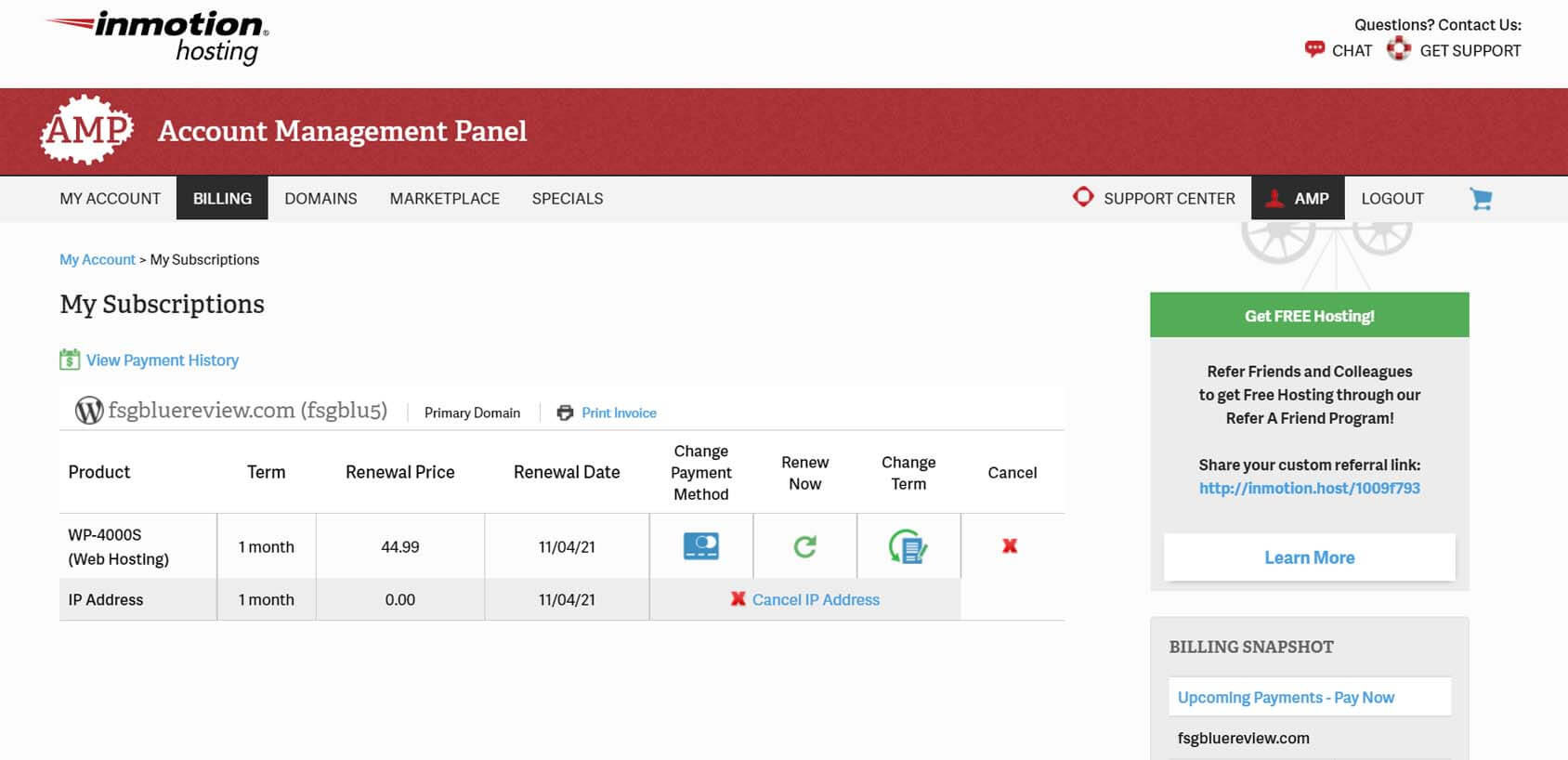 Domains
If you purchase a domain through InMotion Hosting, this is the place to manage it. If you still haven't done so, this is the place to get a new domain unless you want to work with a 3rd party registrar.
Marketplace
The Marketplace tab holds the extras. If you want to purchase a dedicated IP address, domains, hosting plans, or even hire experts to design your new website, you will find the icon under this tab.
Specials
This is the place to find coupons and other discounts related to your account. When I tested these services, I was offered $50 in free clicks for Amazon product ads, a free business listing on yp.com, and a free $100 in Microsoft Advertising credits.
InMotion Hosting reliability and uptime
Like most of the other popular hosting companies, InMotion Hosting promises 99.9% uptime. This means that your website should be available to users worldwide almost always. However, let's put that to a quick test, and see what the free UptimeRobot test says.
During my short test, Uptime Robot didn't record any downtimes, which means it received a perfect 100.000% uptime score.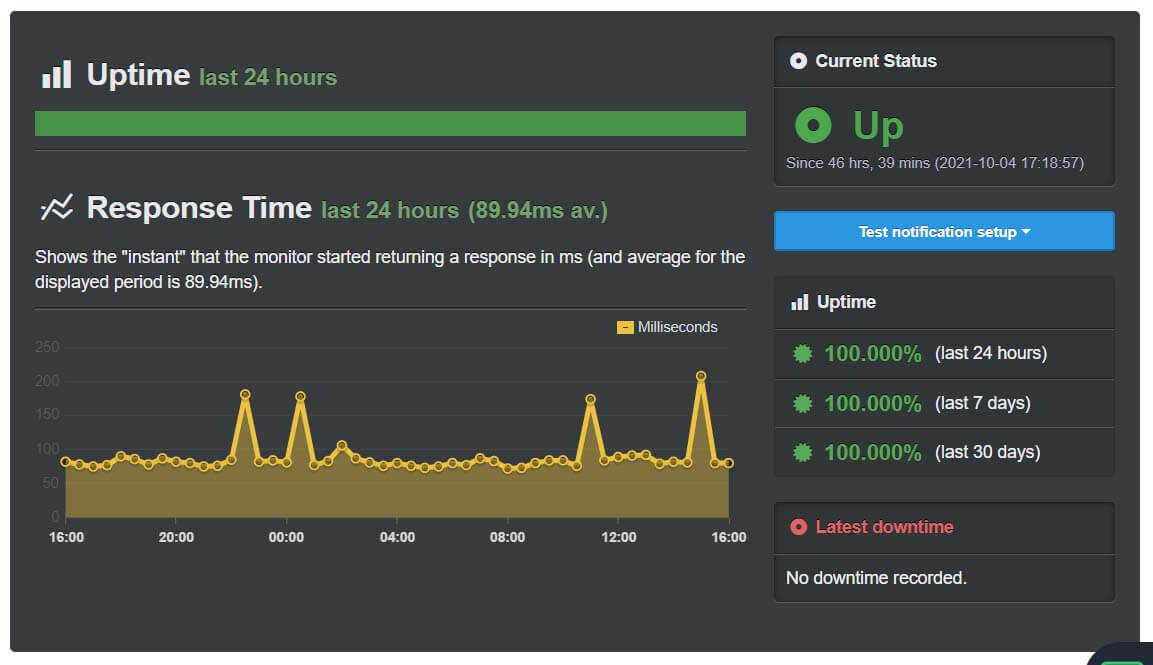 During the test, there were four spikes that indicated slower server response time, which is ok. The average response time was 89.94ms.
InMotion web server performance
Dotcom tools is a free service that offers a test from three locations. Just as with other hosting services I tested, I selected London, New York, and Mumbai to see the response from InMotion Hosting's servers.
After a quick test, the average result was 0.70 seconds. The best-performed test came from the New York server that measured only 384 milliseconds, while the other two were a little bit slower, with 0.78s from London, and 0.93s from Mumbai.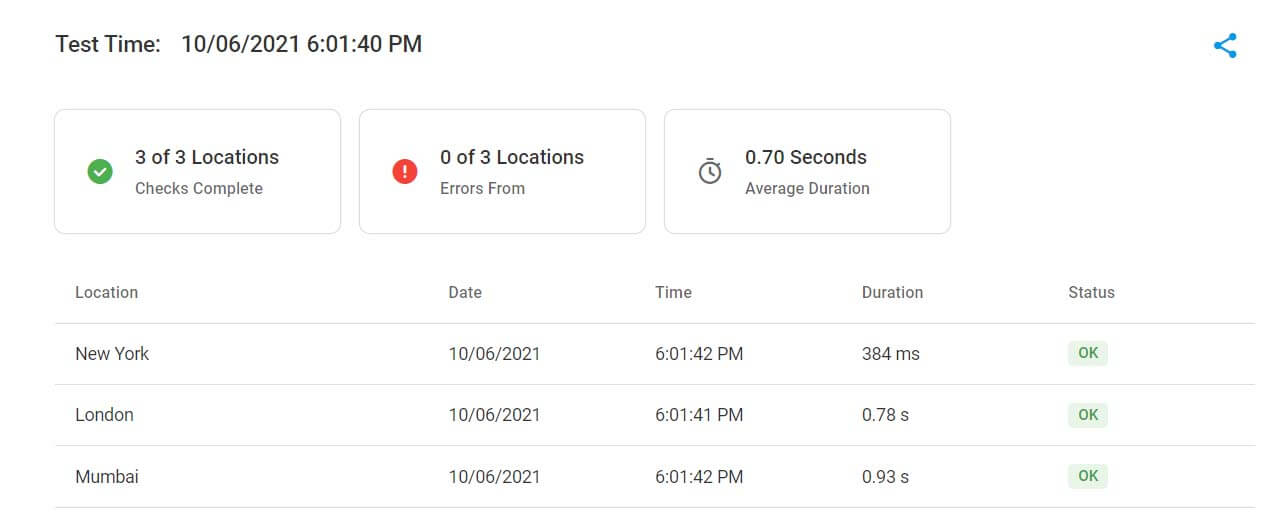 InMotion server response time
Testing a server from three random locations may not be enough, so let's include ten more. A free test at Bitcatcha allows anyone to quickly do that.
After a couple of seconds, the test returned a perfect A+ grade, with a server speed of 121ms, which is considered to be quite fast.
The fastest test came from the US(E) server measuring at only 2ms which really can't be improved at all. The slowest ones were Singapore and Sydney with 226ms and 258ms, respectively.
If you're not into numbers, let's just say that InMotion Hosting is incredibly fast, which was obvious from the first moment that I logged in to my WordPress website hosted by their company.
InMotion Hosting support
The official support center has it all. The main page will connect you to any topic you wish. Once you find what you're interested in, there will be detailed articles helping you with anything from purchasing and setting up your domain to website and email tutorials that will get you started as a new user.
Although at first glance the support center might look a bit cluttered compared to other hosting companies' documentation files, the widgets available on the sides help users to connect to the latest articles and popular tutorials.
After I purchased the hosting plan and did not receive my login info immediately, I took this opportunity to test support. I started a chat and was queued. The system told me I was fourth in line, and I had to wait to get support. I got a little bit frustrated. I had just spent $25.99, yet I still couldn't work on my site, and support had me stuck in a queue.
Luckily, it was just a couple of minutes of waiting in line, but the support was still somewhat slow. They took more than five minutes just to verify me as a customer before providing any help. Finally, I received an explanation. My account was randomly flagged for further review.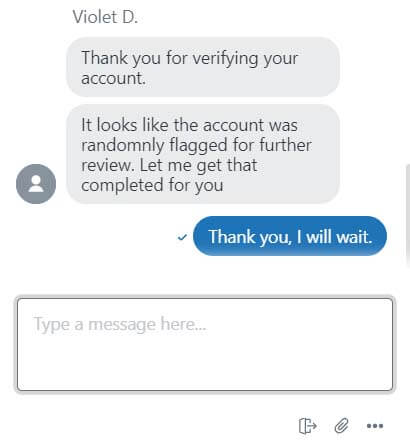 InMotion Hosting refund policy
If you decide to get a 6-month or longer subscription at InMotion Hosting, you can enjoy their 90-day money-back guarantee. This will give you more than enough time to see how well InMotion Hosting services work for you.
For those who purchase monthly plans, InMotion Hosting offers a 30-day money-back guarantee, which means that if you're not happy with how everything works, you can get your money back, even right before the subscription ends.
InMotion pros and cons
Pros
90-day money-back guarantee
Free website builder included
Clean WordPress installation without additional plugins
Incredibly fast servers
Cons
Most of the plans require a 1y+ subscription
Slow account creation process
Slow support
FAQs
Is InMotion Hosting free?
No, InMotion Hosting is not free. Their shared hosting services start at $2.49 per month, while WordPress hosting will cost you anything from $4.99 to $17.99 per month. If you choose one of the hosting options, you will receive a free domain for one year.
Does InMotion Hosting offer backup?
For as little as $2 per month, you can get automatic backups of your websites hosted with InMotion Hosting. This gives you up to 10GB of storage that you can use to store backups. If you happen to need more, the company offers an additional 10GB storage space for only $1 per month. For more professional users, there are options for including live and scheduled server snapshots (available on VPS hosting services).
Does InMotion Hosting offer an online admin panel?
All shared and managed hosting services available with InMotion Hosting include the cPanel control panel. For those who want a hosting service without one, it is good to know that the company offers Cloud and Bare Metal hosting services without a control panel included.
Conclusion
In this review, I examined InMotion Hosting and shared their plans and key features with you. After that, I purchased a hosting plan to see what it looks like, and so that I could show you the entire process, as well as be able to test their servers by using a couple of their free services.
The account activation is quite slow when compared to competitors like Bluehost, Dreamhost, or GoDaddy but WordPress worked well and quickly. Ultimately, I discovered that the servers are very fast, and the WordPress environment was clean and worked without problems.
There are definitely both pros and cons to InMotion Hosting, so take your time to go through this article, and consider if it is the right fit for you.