GoDaddy Review 2023
Company Overview, Pricing, and Features
FirstSiteGuide is supported by our readers. When you purchase via links on our site we may earn a commission.
Read More
If you search for GoDaddy online, the first thing that you will see in the site description will be details about its domain options. This isn't surprising, because GoDaddy is one of the largest domain registrars on the planet.
Along with handling domains, GoDaddy offers hosting services that get better and better every year and website creation using their own website builder.
In this review, I will focus on their hosting services, domain registration, and website builder. After a quick company overview, I will go through the plans and pricing, search for the most notable features, and ultimately, subscribe to a hosting plan and try the website builder in order to see what it looks like. The most interesting part will be testing the server performance via several free tools and talking to customer support.
Table of contents
Company overview
Unlike many competitors and similar internet startups, GoDaddy wasn't established by an aspiring student. Instead, this company was founded by a millionaire who decided to put money into a web hosting company.
That millionaire was Bob Parsons, who sold Parsons Technology to Intuit for $65 million in 1994. After a couple of years, Bob started a new company, Jomax Technologies, that was renamed GoDaddy in 2006.
Fun fact: the founders of GoDaddy wanted the company to be dubbed Big Daddy, but that domain name was already taken. So, someone suggested GoDaddy instead, and the rest is history.
The company is renowned for advertising during sports events like the Super Bowl or NASCAR racing, so it's not shocking that even non-techies feel acquainted with the funny cartoon-style logo that was active until 2019.
GoDaddy plans and pricing
Let's briefly forget the fact that GoDaddy is the biggest domain registrar, and focus on their hosting services instead.
GoDaddy hosting plans and pricing
Economy
Standard performance, 1 website, 100Gb storage space, 10 databases, free one-click WordPress install, free Microsoft 364 email for the first year, free domain for the first year.
Deluxe
Unlimited sites, unlimited storage, unmetered bandwidth, free one-click WordPress install, free Microsoft 364 email for the first year, free domain for the first year.
Ultimate
2x CPU power, free SSL for the first year, unlimited sites, unlimited storage, unmetered bandwidth, free one-click WordPress install, free Microsoft 364 email for the first year, free domain for the first year.
GoDaddy domain registrar pricing
As the world's largest web registrar, GoDaddy offers a plethora of domain options. Here are the prices for some of the most popular domains available. Note that the lower prices are good only for the first year and that the price significantly increases if you decide to renew.
.com
$0.99 first year


$20.14 per year after that
.co.uk
$5.99 first year


$11.99 per year after that
.net
$14.14 first year


$18.14 per year after that
.io
$51.69 first year


$54.27 per year after that
GoDaddy website builder plans and pricing
Creating a new website with GoDaddy's website builder is free. All it takes to start is to click the button. Although you can continue using their free website option, you won't have a custom domain tied to it, and you will miss out on a number of features.
If you decide to upgrade to a paid site, here's what you will receive.
Basic
Website security (SSL), custom domain connection, on-the-go editing, 24/7 support, guidance and analytics, 1 social media platform, 5 social posts and responses per month, 100 email marketing sends per month.
Standard
Website security (SSL), custom domain connection, on-the-go editing, 24/7 support, guidance and analytics, search engine optimization, 3 social media platforms, 20 social posts and responses per month, 500 email marketing sends per month.
Premium
Website security (SSL), custom domain connection, on-the-go editing, 24/7 support, guidance and analytics, search engine optimization, unlimited social media platform, unlimited social posts and responses per month, 25000 email marketing sends per month.
eCommerce
Website security (SSL), custom domain connection, on-the-go editing, 24/7 support, guidance and analytics, search engine optimization, unlimited social media platform, unlimited social posts and responses per month, 25000 email marketing sends per month, product listings, flexible payments, flexible shipping options, discount, and promotional features.
GoDaddy key features and functions
Hostingfeatures and functions
99.9% uptime – GoDaddy promises to have your site up and running 99.9% of the time. If they fail for some reason, you will get a discount.
Easy-to-use control panel – get control over more than 150 applications through a well-known cPanel.
Resources on-demand – if your site demands more power, it takes just one click to upgrade CPU, RAM, or I/O.
24/7 network security – GoDaddy's best people are working on the security of the entire network, so you can relax and not worry about suspicious activities and DDOS attacks.
Free domain – no matter what plan you purchase for one year, you get a free domain from the world's biggest registrar.
Domain registrar features and functions
World's largest registrar – if you decide to purchase a domain via GoDaddy, you will join millions of existing users who manage their domain through this popular registrar.
Large selection – GoDaddy lets you search for a domain through their powerful tool that will scan the entire web and let you know if a specific domain is available or not.
Award-winning support – if you need help with purchasing or managing your domain, there's 24/7 support available that you can contact via email, chat, or phone.
Web builder features and functions
Templates – hundreds of modern templates that will help you to start your new website.
AI help – you will have the help of artificial intelligence available the entire time you're building a website.
Built-in tools – tools dedicated to email, SEO, and social media will help you to improve your website & business.
Free professional images – if you need images for your site, you will love the fact that professional images are already included in the package, so you do not have to spend additional money on media.
Simple updates – don't worry about the updates and security, because everything is managed for you.
Purchasing a GoDaddy hosting plan
To get a closer look at what GoDaddy has to offer, I am about to purchase one of the hosting plans. This will allow me to go through the purchase process itself, and get a sense of the control panel.
When you open GoDaddy's homepage, hosting options might not be the first thing you see. As previously stated, they're a domain registrar first, and hosting comes second. However, when you place your cursor over the menu, you can quickly get to the hosting page that will let you start creating your GoDaddy website.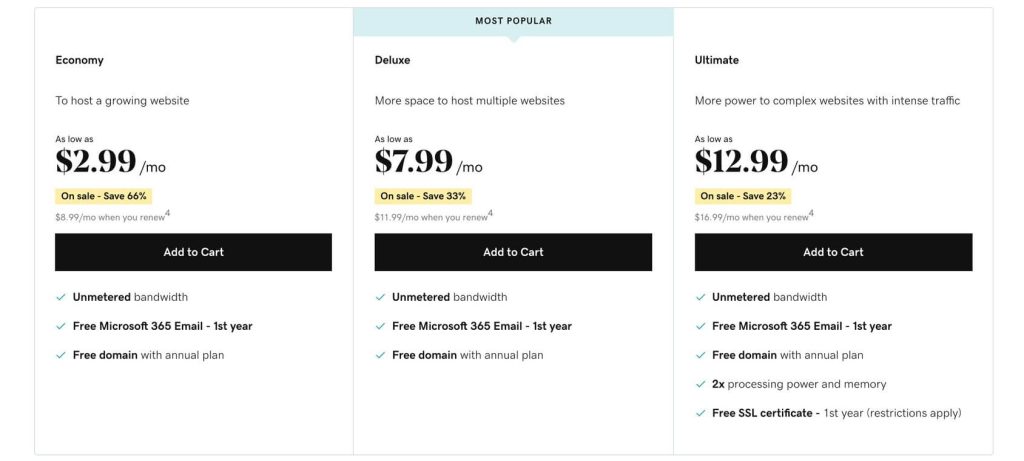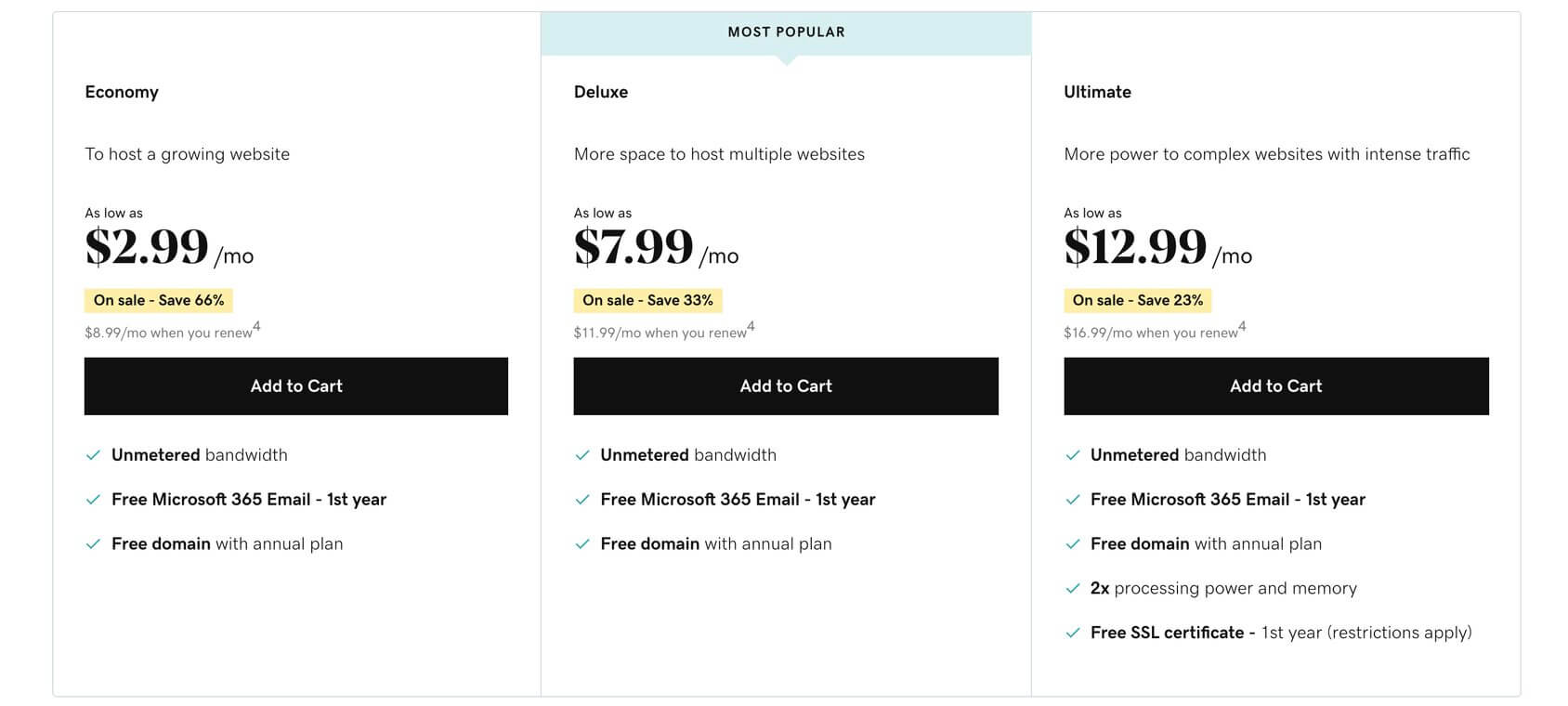 Even if you select the cheapest option, you will still get to choose your free domain name.
After selecting one of their plans, GoDaddy will let you log in via your Google or Facebook account to make everything faster. If you do not like this option, you can quickly create a new account by using your email address.
The next step is payment, where GoDaddy tries to speed up the entire process by allowing you to log in via your PayPal account. If you do not have one or want to pay with a different method, you can manually enter your billing information.
The entire process was quite fast, and I was able to purchase my plan in just about a minute.
The next step is picking your domain. Whether you have taken the free opportunity and registered your first domain, or have one already on board, you just have to type it in the field. GoDaddy also takes care of your location, so you will be prompted to choose a data center that's closest to you.
Although they have its own website builder, GoDaddy still recommends WordPress. This is your chance to select your options and quickly start working with the most popular CMS (Content Management System).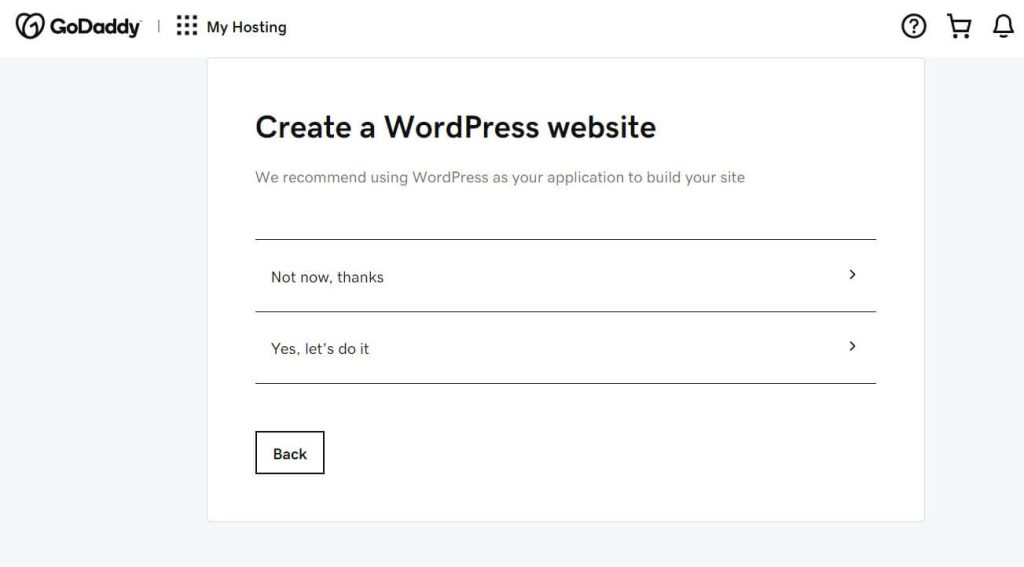 If you choose to do so, all you will have to do is select your WordPress username and set the password. GoDaddy will work for a minute behind the scenes and set up your account.
Sadly, before I got the chance to browse through the control panel, I was stuck at creating the account. My WordPress account hadn't been created, and an error showed up, urging me to contact support via phone. But more about support later.
Dashboard overview
Once you log in, GoDaddy will show its simple dashboard that holds all of the important links and settings you will need when managing the hosting account and your domain(s).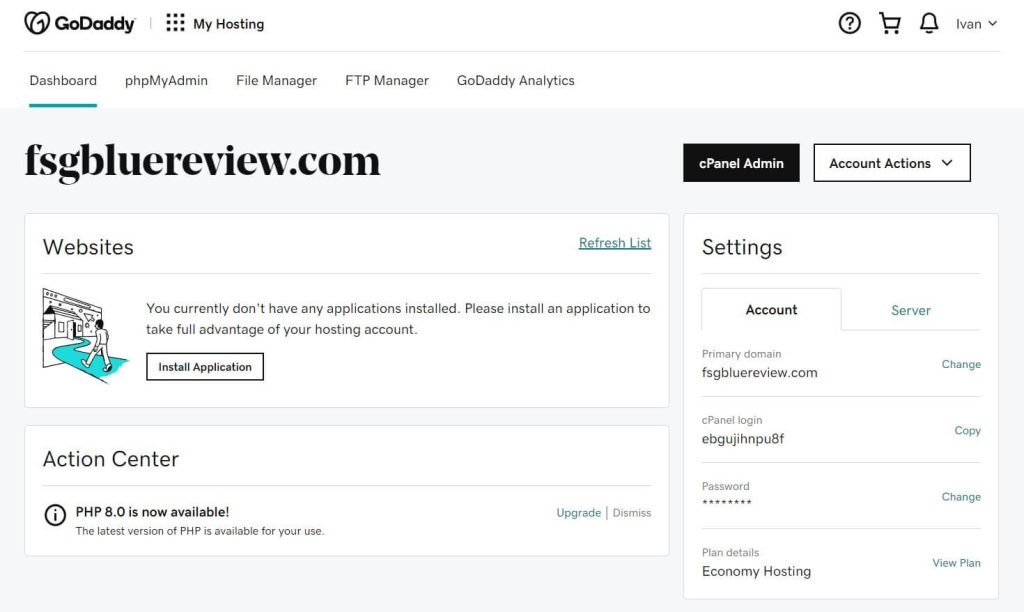 The dashboard shows notifications about available updates, and lets you quickly access the Installatron where you can install WordPress, other content management systems, as well as handle tons of other applications. The entire widget is dedicated to account settings and server status (where you can quickly change the data center if necessary). There's a different widget dedicated to services like SSL certificates.
If you look up, you will notice several tabs that let you open PHPmyAdmin where you can manage your databases, file manager, FTP manager as well as GoDaddy Analytics.
Domains
If you have registered a domain with Godaddy, this is the place to manage it. Here you can also sell and buy domains, manage DNS settings, and add DNS hosting (in case you have a domain registered with a 3rd party register), and so on.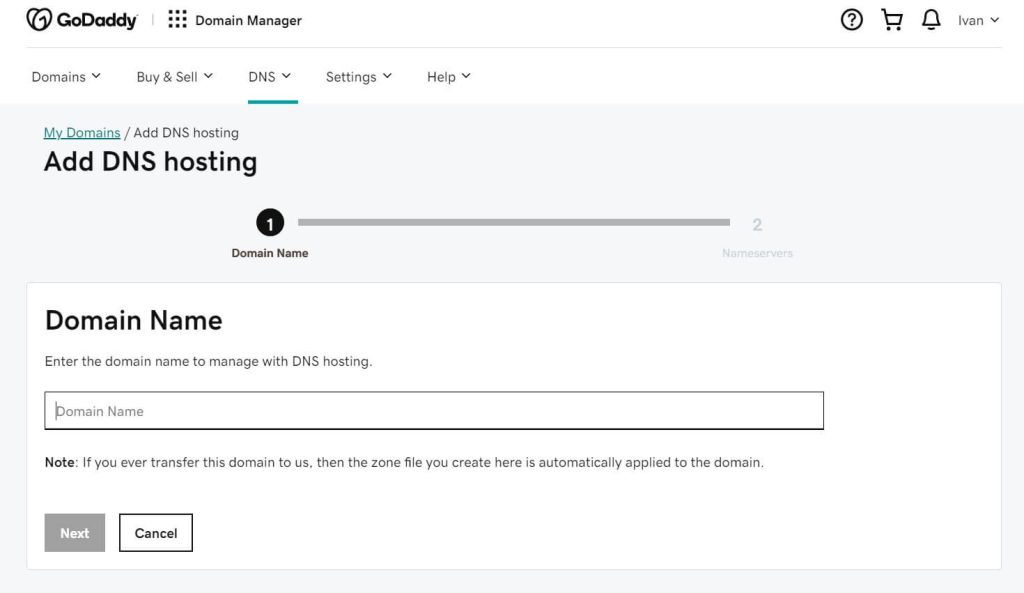 Websites
This tab lets you manage your current websites and hosting accounts. You can search for your account by domain, edit your profile, billing & renewals, and more.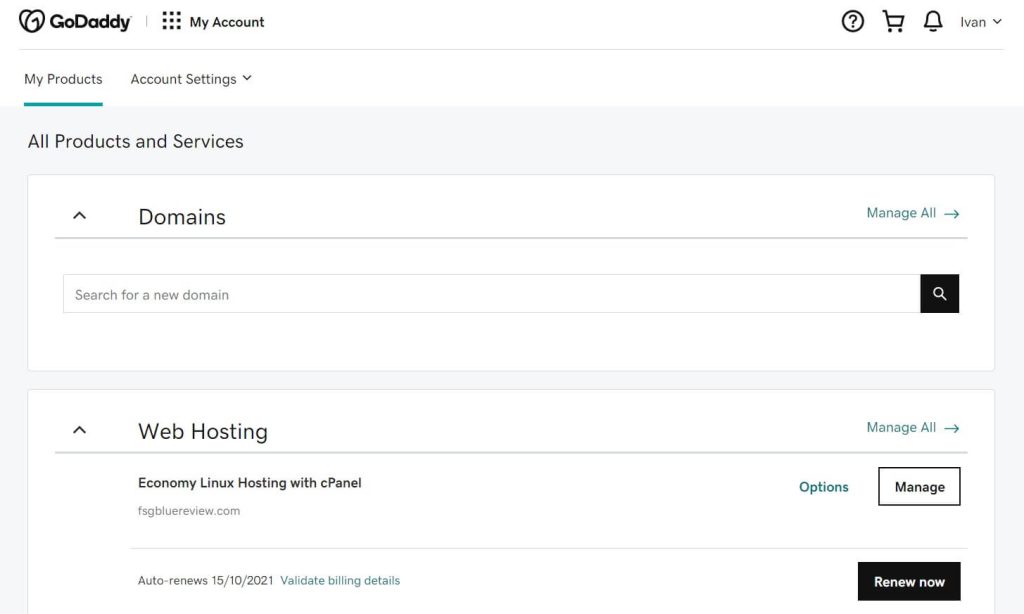 Hosting & WordPress
If you open this settings page, you will again get a link to your websites hosted with GoDaddy. If you click on the manage button, you will be redirected to the dashboard.

Email & Office
Want to manage your new email address? This is the place to create your account. If you do not have an active account, GoDaddy will redirect you to a page where you can purchase one.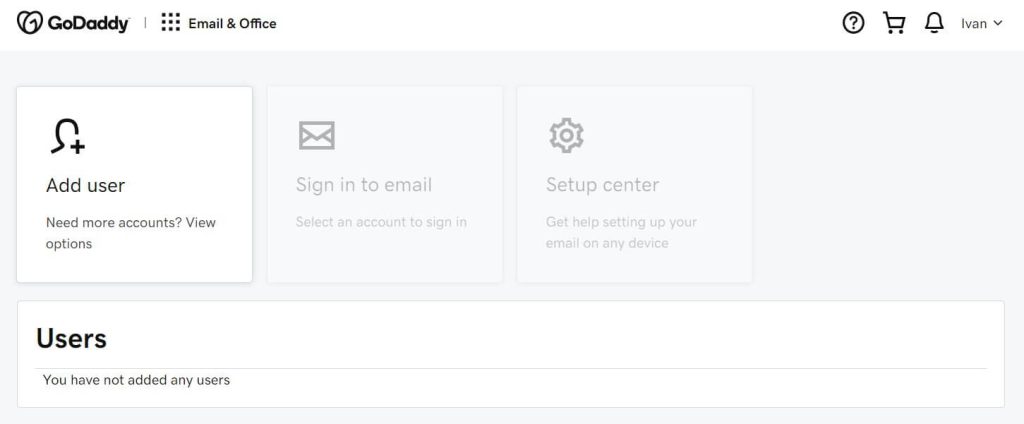 SSL certificate
Security is important, and you do have to have an SSL certificate. This is the page to manage one.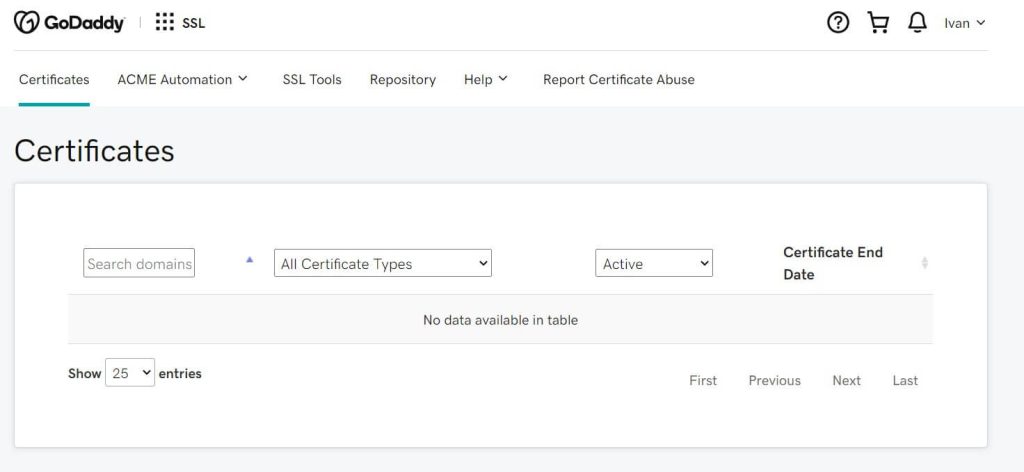 Unlike many competitors, I must admit that GoDaddy isn't as user-friendly. Handling the control panel will require some know-how, and you will need to understand what cPanel is and how it works in order to set up your hosting the right way.
Creating a website with GoDaddy's website builder
To start working on your new website with GoDaddy's website builder, you just have to click on the "Start for Free" button that's available at several locations on their website.
The AI assistant will ask you a couple of questions that will guide you through the process and recommend the right site template for you depending on your responses.
After answering just questions, this is what I started with: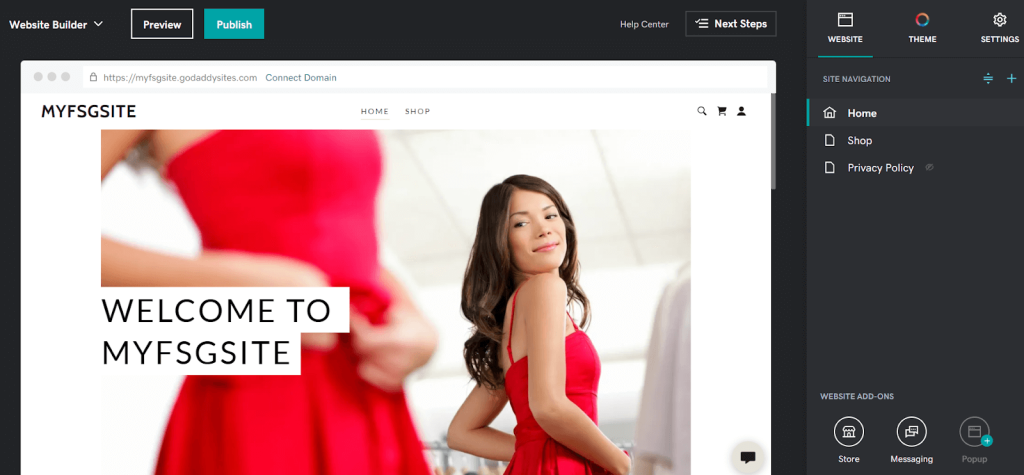 GoDaddy's website builder is intuitive and easy to use, so even beginners should not have any problems managing their new websites.
Add and remove elements, change colors, images, and other details until you get a result you're happy with. You can publish your website at any time, and keep using the free plan as long as you want.
If you decide to have a custom domain name or use additional features that the builder offers, you can upgrade to one of the premium plans at any time. Your work will be kept saved, so you can simply continue to work on your site as if nothing changed.
GoDaddy reliability and uptime
GoDaddy promises 99.9% uptime for all of its hosting plans. This is not anything new, and it's become a standard for most modern hosting companies. If the company fails to provide the promised uptime, you are eligible for a 5% return.
However, do note that in order to apply for getting 5% of your money back, you have to contact support first. Nothing happens automatically.
Also, it is important to know that even if you do manage to get 5% back, those funds will be stored on the account, and you can only use them to purchase more products and services from GoDaddy.
To test the uptime, I ran a free uptime test with UptimeRobot. After 48 hours, the test didn't report any downtimes, and the uptime was a perfect 100% with a steady response time that averaged at 303.59ms.

GoDaddy web server performance
To test GoDaddy's hosting even more, I opened Dotcom tools, which offers a free test from three locations. Just like with other companies we have checked, I selected London, New York, and Mumbai. After entering the URL, and waiting for a couple of seconds, the results came back.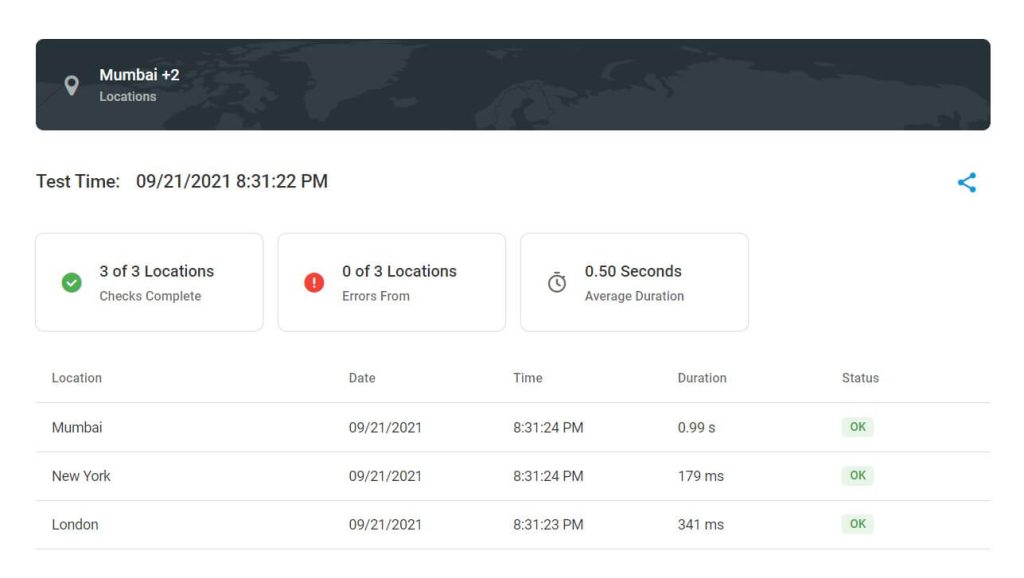 The average response was 0.50 seconds which was a fantastic result! For example, the same test I performed for DreamHost averaged 1.8 seconds, and the one on Bluehost was 1.7 seconds. This means that GoDaddy is more than 3 times faster than their competitors, which is astonishing!
The best result came from the New York server which took only 179 milliseconds to respond, while the slowest one was from Mumbai and that was close to one second. These tests prove that GoDaddy's servers are extremely fast.
GoDaddy server response time
After testing the server performance from three locations at Dotcom tools, it was time to give it another nudge. A free test at Bitcatcha allows everyone to ping their websites (servers) from ten different locations.
Let's see how my test website behaved on GoDaddy's hosting.
This test returned the perfect grade, and all assessments were green (meaning they performed well). An average server response was 143ms which is quite good (the goal of this test is to get 180ms or lower response time).

The fastest response time was one directed from a US (West) server that took as little as 22ms. The worst result came from Mumbai's server that took 268ms to respond.
Knowledge base and support
The help center is well-organized and easy to use. If you open its homepage, you will be able to search for solutions to your problems or simply navigate through the knowledge base by using the icons located at the bottom.
Getting support is straightforward. Simply click on the question mark icon that's always available at the top of the screen, where you will get to choose how to contact support. GoDaddy is well known for having phone support, but 24/7 chat is available as well.
If you choose live chat, you will be greeted by a bot that will ask a couple of questions in order to connect you to the right agent. Unfortunately, instead of getting instant help, I was queued and had to wait for the first available agent that was supposed to help in just one minute.
I decided to contact support on several other occasions, and I can say only good things about the agents. Most of the times I opened the chat, it took only about one minute to get to talk to the agent. I had a chance to talk with several different agents, and they were all polite and professional.
On one occasion, I actually needed help with configuring the DNS settings for my domain. The agent was extremely polite and helpful and managed to help me get the correct name servers, IP addresses, and other details. Kudos to GoDaddy's support – whatever you are stuck with, you will be able to count on them!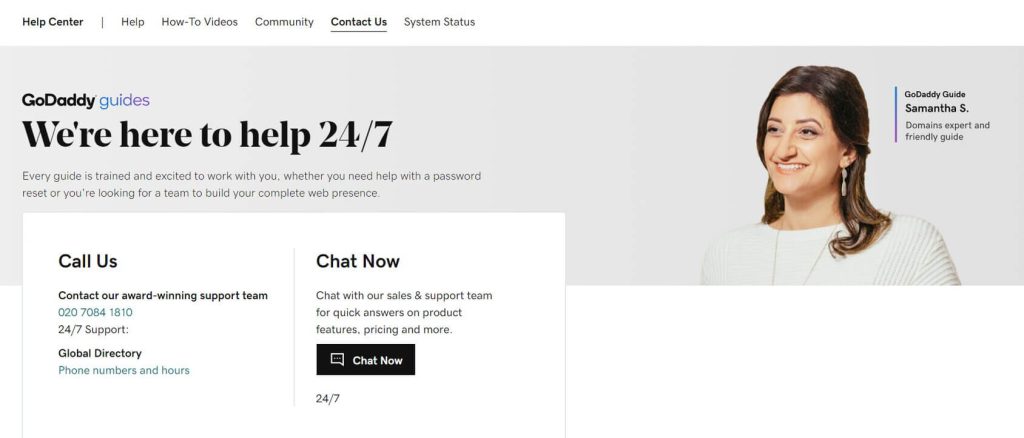 GoDaddy refund policy
Hosting refunds
GoDaddy offers a 30-day refund policy when it comes to annual (or longer) plans. However, if you select a monthly subscription, please note that you have only 48 hours to request a refund. That's not something that they clearly show on the website while you're ordering, so keep your eyes on the clock while testing their hosting services.
Also, it is not possible to cancel an account through the control panel; you will have to contact support to cancel your account and ask for a refund.
Compared to other hosting companies, this is quite stiff and seems unfair.
Domain refunds
Domains purchased through GoDaddy can be refunded, but there are several rules depending on the registration type:
New Registration: 5 Days (120 Hours)
Auto-Renewal (one-year): 45 Days (1080 hours)
Auto-Renewal (multiple-year): 5 Days (120 Hours)
Manual Renewal: 5 days (120 Hours)
Website builder refunds
If you are not happy with the GoDaddy website builder, you can cancel the plan and ask for a refund within the first thirty days. Just make sure not to cancel/delete the account before contacting support about the refund.
GoDaddy pros and cons
Pros
Extremely fast servers
Fast and helpful support team
Unlimited disk space and bandwidth
Frequent discount offers
Data centers available in 3 major regions
Cons
Higher renewal prices
Refund policy & terms
FAQs
What does GoDaddy hosting include?
No matter which hosting plan you choose, GoDaddy offers a free domain and unmetered bandwidth. However, depending on the plan, you can have anything from 100GB to unlimited storage, and just one website to as many websites as you want. 
How long is GoDaddy's free trial?
If you subscribe to an annual plan, you can run the hosting plan of your choice for 30 days. During that period, you can ask for your account to be canceled and refunded. However, if you subscribe to a monthly plan, you only have 48 hours to test the service. After that, it is not possible to get a refund.
Does GoDaddy have a file manager?
Yes, GoDaddy hosting does have a file manager which can be quickly accessed via the control panel. When you log in, simply navigate to My Products, where you will find the Web Hosting section that holds the link to the File Manager app.
Is there a free GoDaddy website builder plan?
Yes, you can quickly start creating your new website with the free GoDaddy website builder. The website can remain free forever if you wish, but you can also upgrade to one of the premium plans if you decide to access all of the extra features.

Can I switch back to the free builder plan after I've paid for a premium one?
Unfortunately, that's not possible. Once you upgrade to a premium plan, you will not be able to revert back to the free one and keep your site. The only way is to start a new free website from scratch. 
Can I buy a domain name from GoDaddy forever?
No; it is not possible to buy a domain name forever. Every domain name can be registered only on a yearly basis. If you want to keep a domain for yourself for longer than a year, you can prepay for a longer period, but you can not purchase it and keep it permanently.
Conclusion
GoDaddy has one of the fastest (if not the fastest) servers I have had a chance to test. The free tests that I conducted show three times faster response times than the competitors. This could be a reason to choose GoDaddy instead of one of the competitors, even if you find that their plans are more expensive or missing a feature.
When you add fast and friendly support to their speed, it equals a company that definitely deserves your time and money.