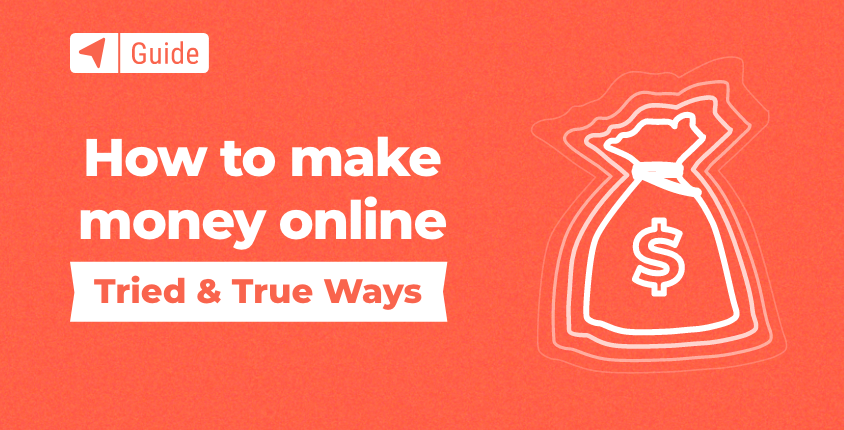 Are you in search of ways to make money online to supplement your primary income? Or do you want to work on your own terms and go online full-time because you are tired of the 9 to 5 grind?
You are not the only one.
I get asked these questions a lot: How do I make money on the side or earn a living online?
Whatever your reasons may be, the good news is that there are many reliable techniques to start making money in 2023.
Let's explore in detail some of the best ways of earning income on the internet.
35 Ways to Start Making Money Online
Below are some of the best options to build an income source online (or side hustle) for beginners from the comfort of your home.
1. Starting a blog
Blogging is among the most popular ways of communication online and can be used for monetization purposes.
It is a useful instrument for sharing information and important news with people with similar interests and affinities. It allows you to share your perspective about topics that you are passionate about.
Your blog could be about anything – interior décor, politics, business, management, app-building, or any other topic under the sun.
As long as you can write well about the subject matter at hand and understand what your audiences want to read, blogging can be a lucrative way to earn money online.
2. Building a niche website
Niche websites are another great venture that can be turned into a profitable business.
If you want to work at your own pace and enjoy more flexibility while earning money online, try building a niche website. The site should be aimed towards a micro-topic and target keywords that appeal to a very specific audience. That way you get high-quality website traffic that converts into buyers, and if your website becomes popular it can bring you a lot of money in the long term.
3. Starting a YouTube channel
People around the world use YouTube to watch videos for education, entertainment and more.
You could monetize this phenomenon by creating and publishing videos online. If you are enthusiastic about a particular topic that lends itself well to video, starting a YouTube channel is the way to go.
4. Starting a podcast
If you have the gift of the gab and don't mind talking up a storm about your interests, then perhaps you should have your own podcast.
It is a very effective medium for hobbyists to share their interests and for business owners to create brand awareness and tap into a vast audience.
5. Dropshipping business
With dropshipping, you can quickly sell products online without handling huge amounts of stock and carrying an inventory.
6. Selling print-on-demand products
A print-on-demand business is a great way to monetize your creativity and sell customized products online.
Best of all, this strategy makes it possible for you to forego investment requirements and inventory risks, and go straight to selling bespoke products (mugs, diaries, t-shirts, etc.) at a fraction of the cost.
7. Becoming an influencer on Instagram
Popular Instagram influencers earn millions by creating promotional content for brands. However, before you can get there, you'll have to start your Instagram profile and page, and then go on to build quality content that attracts followers.
Once you have amassed enough followers (several thousand at least), brands will begin to take an interest in what you can do for them.
8. Selling online courses
You can now leverage the power of the internet and help learners seeking to learn new things through online courses.
9. Publishing and selling eBooks
With self-publishing on the rise, this is an excellent time to write and sell your own eBooks to establish authority on a topic you hold expertise in.
10. Freelancing
Freelancing offers you the opportunity to exercise your skills and work in whatever niche you are passionate about. This is a great way to earn money on your terms.
11. Become a writer on Medium
Medium is an online publishing platform that allows you to share your stories and ideas with a diverse audience.
12. Creating an app
With the rise of apps, you can now make a lot of money by developing an app.
13. Online garage sales
If you want to earn money while decluttering your house, an online yard sale is the best way to make the most of unwanted items in your home.
14. Flipping goods online
This is when you buy things at economical rates and then sell them at a higher price to gain profit.
15. Flipping sports cards
If you have a sports card collection, you can easily make money out of them by merely flipping them online.
16. Testing websites and apps
If you are tech-savvy and have a stable internet connection, you can test websites and apps for developers and get paid for your work.
17. Try Amazon Mechanical Turk (MTurk)
Amazon Mechanical Turk is an online crowdsourcing platform where you can perform menial tasks remotely for a small amount of money.
18. Buy Amazon return pallets and sell them
Amazon sells its return pallets at huge discounts, so buying pallets and reselling the items can help you to make a lot of money.
19. Take surveys for cash
Hundreds of businesses are looking for feedback and opinions about their products or services to make their processes more efficient. You can leverage this opportunity by filling out their surveys from the comfort of your home.
20. Sell your photos or digital art
Are you a talented artist or a designer? In that case, you can capitalize on your skills by selling your photographs or digital artwork online.
21. Sell your handicrafts on Etsy
If you are good at making jewelry, knitting, sewing, crafting of any kind, or making printables, you can easily earn money online through your creativity by using the Etsy platform.
22. Become a translator
Online translation has become a lucrative industry, especially since more businesses than ever are choosing to go global with their products and services.
23. Make money as a gamer (Twitch)
Twitch is an online platform that allows gamers to record videos while playing games and charging viewers to see those videos.
24. Buy and sell custom domains
In this tech-centric world, an online business that deals with buying and selling custom domains offers lucrative opportunities.
25. Tutoring online
If you have specialized training in any subject, from physics to dance, you can teach it to people online. Use cameras, microphones, and presentation software to deliver lessons from your home.
26. Selling your music online
If you love composing music, it can serve you as a side-gig or even a full-time job and pave the way for a profitable music career.
27. Become a virtual assistant
As a virtual assistant, your job is to provide online support to your clients. Businesses may also hire you to remotely provide customer services and follow up on clients.
28. Online stock trading
Online stock trading is a great way to earn money, but it can also be quite risky if you don't know what you are doing. To earn a profit, you need to research the market and make appropriate investments.
29. Get paid for hacking
Ethical hacking helps you earn good money if you are passionate about testing your ability to bypass security systems to make a living.
30. Become a mystery shopper
You get to work with customer research panels, spend your day visiting various online businesses, and interacting with them to gauge their propensity for customer service. Working as a mystery shopper is a highly flexible way to earn money as a side-gig.
31. Sell consulting services
This involves offering advice and tips to businesses and individuals by leveraging your own experience. So, if you have extensive professional experience, this career option is for you.
32. Play online poker tournaments
If you are good at poker, try your hand at the online version to potentially make huge profits.
33. Get into crypto trading
Since cryptocurrencies are highly volatile, crypto trading can be quite a profitable endeavor. However, it can also be very risky, especially if you don't know much about the market, as the volatility can be at the benefit or detriment of your investment.
34. Create and sell NFTs
Creating and selling digital assets as NFTs (Non-Fungible Tokens) can be extremely lucrative. You can create and sell music files, artwork, images, videos, GIFs, video game items, digital trading cards, 3D models, and more. You can even sell tokenized tangible items as NFTs, such as collectibles, clothing, and real estate.
35. Try play-to-earn crypto games
Play-to-earn crypto games can help you make a lot of money, as you can earn crypto just for playing. You can also sell all of the in-game items you earn or purchase as NFTs on various NFT marketplaces.
Conclusion
If you are ready to earn money from a side hustle or you have decided to leave your monotonous 9-to-5 job, you are in luck.
Earning online in 2023 is even more exciting, thanks to the many opportunities available out there and the flexibility that comes with them. Consider your spouse helping you and making money online as a couple.
If you have any "How to make money online" queries, feel free to get in touch with us!