The Best Webinar Software in 2023: Top Platforms Reviewed
Top 10 Webinar Tools for Your Business or Personal Use
FirstSiteGuide is supported by our readers. When you purchase via links on our site we may earn a commission.
Read More
Web seminars, or webinars, are used by thousands of companies on a daily basis. They are conducted by using webinar software, an online tool that helps you to present a product, hold lectures and workshops, share ideas, and keep up with your customers.
Quality webinar software should help you to create a professional-looking online seminar that is intuitive and easy to use for both webinar hosts and the people who are listening to and watching the presentation.
Having reliable webinar software is crucial in today's day and age, as more and more companies are starting to focus on conducting their business online.
EDITORS' CHOICE (JUNE 2023)
This is why I am choosing to share with you not one, but ten best webinar tools. These tools are safe and stable, so you won't have to worry about meeting interruptions and losing time. Moreover, they come with high video quality and plenty of features that will impress your customers. Some webinar tools on my list can seem a bit pricey, but most allow you to test them for free so that you can be convinced that investing in quality webinar software is worth every penny.
Disclosure: FirstSiteGuide is supported by our readers. When you purchase via links on our site we may earn a commission. We test and try all the products that we recommend.
The top 10 most popular webinar software
After doing thorough research, I have concluded that these are the top 10 webinar software tools. I have based my research on each of these tools' advantages, features, reliability, pricing, and popularity, as well as other people's reviews.
Here is the final list:
---
Zoom Webinar — Light and free webinar tool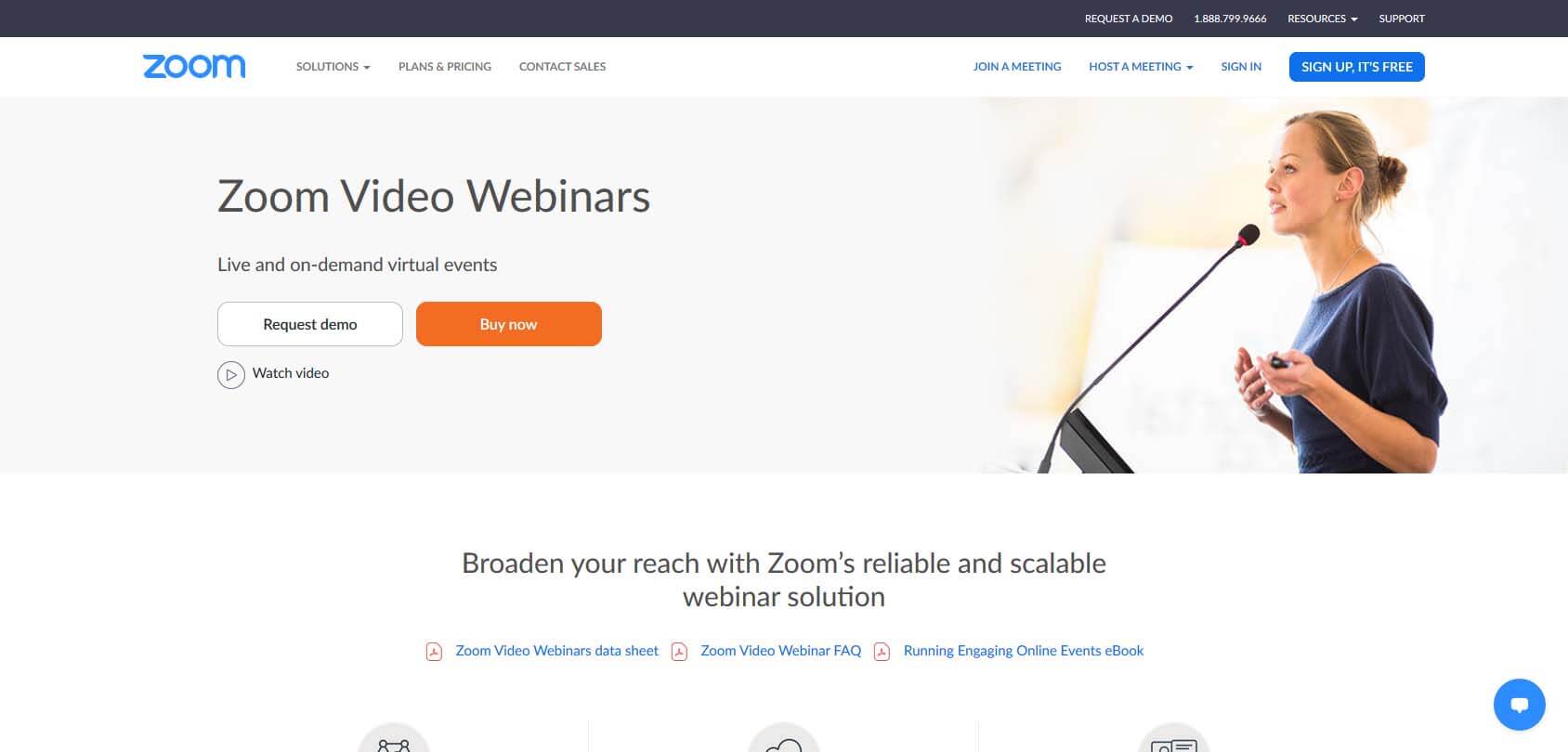 Zoom allows you to register and set up a meeting in minutes, with various pricing plans that let you host up to 50,000 attendees.
Zoom was originally a chat and call service very similar to apps like Skype. However, many people use Zoom because of its simple and low-priced webinar tool.
Zoom Webinar is often described as the best budget webinar tool, and I don't disagree. This webinar tool can be used for free with some basic features, while a very affordable entry-level pricing plan unlocks other features that you will find useful. The dashboard is simple and functional, which is why Zoom is ideal for beginners and people who haven't had much experience with hosting webinars. That being said, Zoom might not be the best solution for more complex presentations.
Nevertheless, Zoom is affordable, reliable, and comes with excellent stream quality.
Key features
HD video and audio — great video quality with equally good audio capabilities that let your audience see and hear you clearly.
Up to 50,000 attendees — you can engage with up to 50,000 attendees and have up to 100 live video panelists interacting with the audience.
Reporting and analytics — receive insights into the number of registrants and attendees and use polling and Q&A for a follow-up.
Live streaming integrations — use custom service integrations such as YouTube Live and Facebook Live to share your social media event.
Host controls — decide who gets to speak as a panelist and promote attendees to panelists.
Event assistance — plan and rehearse your events with the help of Zoom's professional consulting team.
Plans and pricing
You can register with Zoom for free and use their basic personal meeting plan without paying a dime, but if you want to take advantage of some awesome webinar features, you should subscribe to one of Zoom's paid plans.
Basic
Simply register and get your basic personal meeting plan that's free forever. Host up to 100 participants and get unlimited 1-on-1 meetings.
Pro
$15.99 per month

$149.90 per year
Business plan
$19.99 per month

$199.90 per year
Business plus
$25.00 per month

$250 per year
Enterprise
Contant for pricing information and more
Visit Zoom Webinar for additional information >>
WebinarNinja — Great all-in-one webinar software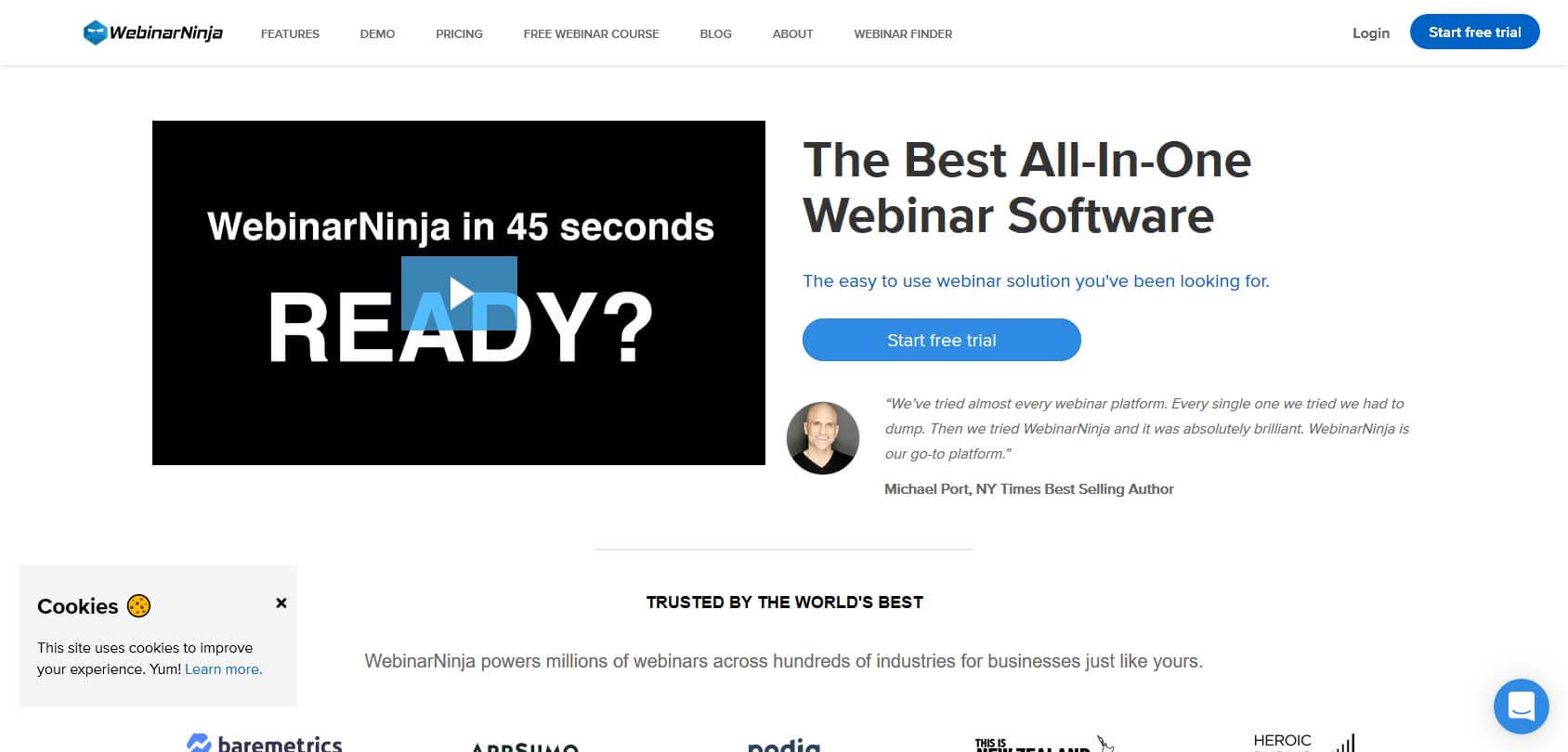 WebinarNinja is proud to be the webinar software of choice for thousands of renowned businesses across hundreds of industries.
Founded in Australia in 2015, WebinarNinja has quickly climbed the rankings of best webinar software solutions in the past several years. WebinarNinja makes it easy for hosts to market and sell their products and services in a presentable fashion.
You can start using this reputable online webinar tool through a free trial version, although affordable paid plans have all of the features that will truly help your brand grow. Hosts can upload slides, share screens, have a dedicated Q&A area, and use a fast and responsive text chat.
Scheduling a webinar via WebinarNinja takes only a few seconds. You can also create an automated webinar and let the software host it for you.
Key features
Live webinars — present your seminar live with a chance to upload slides, share screens, use live chat, insert videos, create polls, ban attendees, and more.
Automated webinars — upload your video presentations and choose the times and dates when you want to make them available.
Email notifications — send automated reminder emails to your registrants with all of the crucial information about your presentation.
Media library — have all of your images, videos, logos, and templates neatly kept in WebinarNinja's media library.
Statistics — measure attendance rates, see how many people engaged via chat, how many attendees clicked on your offer, and more.
Plans and pricing
WebinarNinja has four pricing plans, together with a free trial available upon registration. The plans differ in the number of attendees you can host, while each new plan unlocks more useful features.
Basic
$29 per month

$24 per month


billed annually
The Basic plan is ideal for beginners. It allows up to 50 live webinar attendees, together with unlimited options for automated webinars. All basic features like live chat, Q&As, polls, and stats and analytics are available.
Pro
$99 per month

$83 per month


billed annually
With the Pro plan, you will receive up to 100 attendees for live webinars and unlock special tools like Webinar Series and Summits and Facebook ad tracking.
Business
$199 per month

$166 per month


billed annually
The Business plan allows for up to 100 live attendees, and it also unlocks hybrid webinars that combine live hosting with pre-recorded videos.
Visit WebinarNinja for additional information >>
Easy Webinar — Live and automated webinars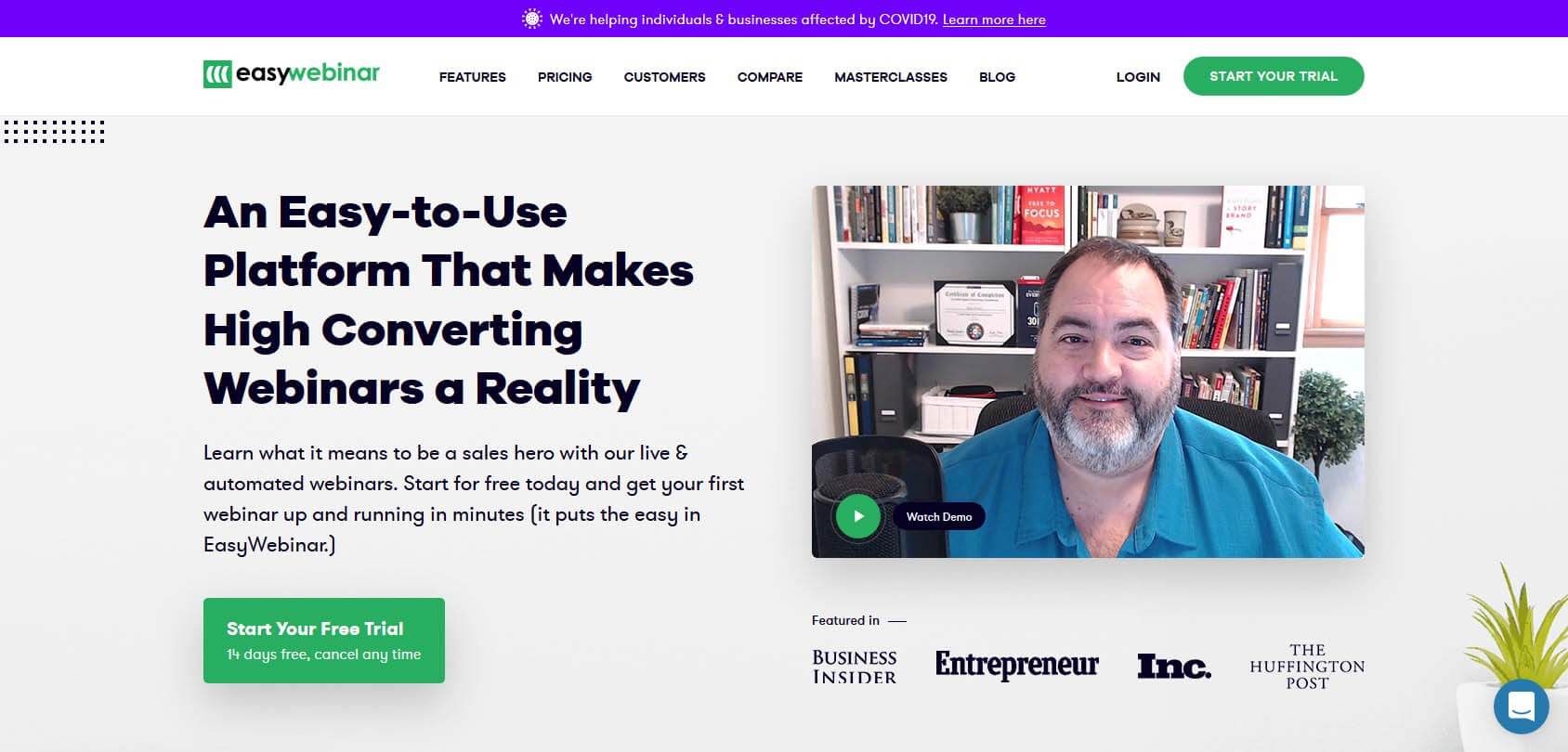 Easy Webinar is an appropriately named easy-to-use platform that will help you to create a great looking webinar and spread the word about your business.
Easy Webinar markets itself as the easier and most intuitive webinar tool around. Even if you're new to webinar marketing, Easy Webinar promises that you will learn everything you need to know with five easy steps that include crafting your message, promoting your webinar, engaging with attendees, selling access to your product or service, and getting rewarded for your efforts.
This software lets you create live webinars or automated webinars that are pre-recorded and that are played for you at the time and date of your choosing. The software also comes with plenty of customizable options, integrations, and advanced analytics and stats.
The plans might seem a bit pricey considering the other webinar tools on my list, but if you choose annual billing, you will practically get the first three months for free.
Key features
Up to 2,000 attendees — get 2,000 people to attend your seminar by choosing the Enterprise plan.
High-quality picture and sound — Easy Webinar guarantees pixel-perfect streaming and high definition sound without frustrating delays or buffering.
Webinar archive — record, archive, and download all of your previous sessions and use recorded live sessions as future automated webinars.
EasyCast — stream your webinars live on several social media platforms at the same time.
Advanced analytics and reporting — get insight into overall stats and attendee engagement, together with a chance to export all of your data to a CSV report.
Plans and pricing
You can register with Easy Webinar for a 14-day free trial with the option to cancel at any time during that period. Additionally, Easy Webinar has three paid plans named Standard, Pro, and Enterprise.
Free plan
With the software's free plan, you will get to use some of its best features for the first two weeks upon subscription. Your credit card won't be charged during this period, and you can cancel at any time.
Standard
$99 per month

$83 per month


billed annually
This Standard plan lets you have up to 100 attendees, use YouTube Live integration, get live chat support, use instant on-board calls, go through an elite webinar course, and more.
Pro
$199 per month

$166 per month


billed annually
Easy Webinar's Pro plan is the most popular among users of this software. For a reasonable price, you can extend the number of your webinar attendees to 500, employ custom fields on the registration page, and use EasyCast for Facebook Live and YouTube Live streaming.
Enterprise
$499 per month.

$416 per month


billed annually
The Enterprise plan is for those who are really serious about their webinars. Apart from features from all other plans, the Enterprise plan also unlocks the full EliteWebinarMastery course, while offering you a dedicated account representative with VIP priority support.
Visit Easy Webinar for additional information >>
ClickMeeting — Browser-based webinar platform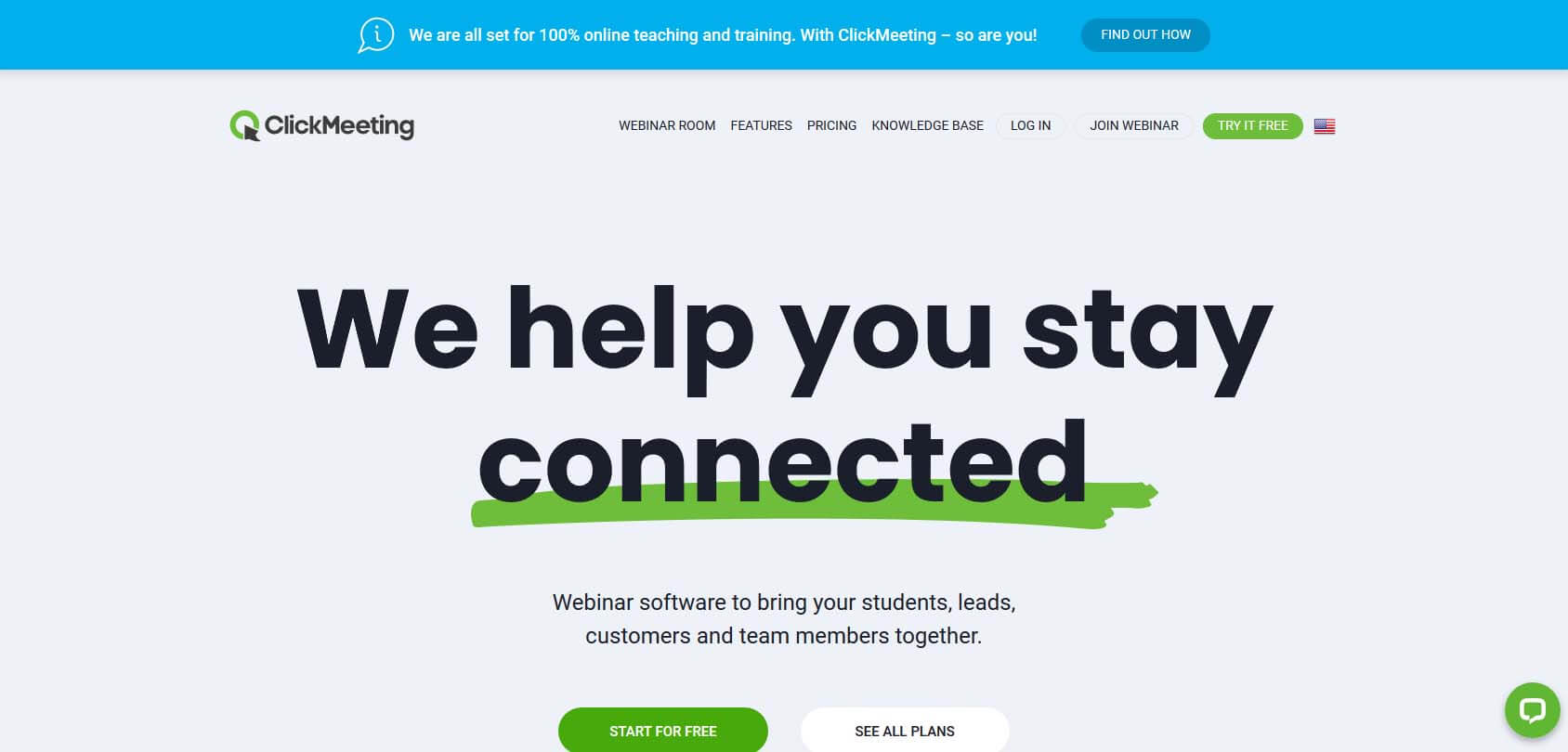 ClickMeeting helps you to run online classes, courses, and business webinars directly on your browser, allowing up to 1,000 attendees.
ClickMeeting is the best browser-based software of its kind. It has an abundance of useful webinar tools that will help you present and spread the word about your business in the most effective way possible.
This software makes it easy for you to prepare your presentation and invite people by using a simple form that can be completed in moments. You can run smooth webinars, live or automated, regardless of the device or the operating system that you're using.
ClickMeeting claims to have over 100,000 satisfied customers in 161 countries. One of the main reasons for this is the software's flexible pricing model that lets you decide how much you want to pay based on the number of attendees you're expecting.
Key features
Automated webinars — if you haven't got the time to run live meetings and events, you can let the automation tool host pre-recorded webinars for you.
Subaccounts and multiuser accounts — give your team members a chance to run webinars at the same time and log into ClickMeeting with multiple accounts.
Registration page — create custom registration pages to find out more information about your audience.
Polls and surveys — run in-webinar polls and surveys on a topic of your choosing to get useful insight and feedback from attendees.
Screen sharing — share a screen with your audience to get increased productivity.
Mobile app — ClickMeeting has an amazing mobile app that lets you run webinars on the go.
Simultaneous chat translation — overcome any language barriers and awkward comprehension gaps with your multinational audience by using the instant Google translation feature.
Plans and pricing
The software's pricing plans are very flexible, as they let you choose how much you want to pay based on the number of attendees and the billing period. There's also a free trial that comes with basic features so that you can get a quick peek at ClickMeeting's capabilities.
Free plan
The 30-day free trial lets you have up to 25 attendees. It has 30-minute recording storage, 500 MB file storage, and almost all of the other features available with paid plans.
Live
$30 per month

$25 per month


billed annually
This is the most affordable plan and will cost you only $30 per month if you have 25 attendees. Use the slider at the pricing page to see how much the price changes if you're expecting a larger audience. The number of attendees will also change the number of allowed presenters. The Live plan has six hours of recording storage and 1 GB of file storage.
Automated
$45 per month

$40 per month


billed annually
The Automated plan has all of the perks of the Live plan, with the addition of the automation webinar cycle. It also has longer recording storage (10 hours) and bigger file storage (2 GB).
Visit ClickMeeting for additional information >>
Zoho Meeting — Best alternative to Zoom
Zoho Meeting is a great solution for online meetings, but this service also has functional webinar software that lets you engage with your prospects and leads.
Zoho Meeting markets itself as the best alternative to Zoom. In essence, these two are very similar, as they are both primarily designed as practical solutions for online meetings. However, Zoho Meeting adds useful webinar tools for those who want to effectively spread the word about their business and ideas.
Zoho Meeting has everything that functional webinar software needs to have, including high-resolution video streams, recording storage, customized registration forms, and more. Also, you don't need to download anything, as the software is browser-based.
Key features
Webinar analytics — download reports in CSV or XLS to get insight into the number of registrants and attendees, Q&As, and poll results.
Customized registration forms — learn more about your audience by creating custom fields and questions in the registration form.
Raise Hand feature — let your attendees "raise their hand" and silently ask questions directed at one of the organizers or co-organizers.
Authorize a presenter — you can give any attendee the authority to present by sharing their screen and letting them talk to the entire audience.
Moderate registrants — create a wall against spammers and registrants who haven't fulfilled prerequisites.
Plans and pricing
Zoho Meeting has four pricing plans, depending on how many attendees you want to host. There's also a free plan and a free trial period that doesn't require you to provide credit card information. A free trial lets you test things out, while paid plans are chosen based on the number of attendees.
Free plan
The free plan is ideal for small webinars, as it allows you to host up to 100 people. Webcam and screen sharing are available, together with features like scheduling, moderator controls, and customized registration forms. If you want to use other features for free, you can do so during a two-week trial period. No credit card is necessary.
Standard
$9 per month

$8 per month


billed annually
The Standard plan starts from as low as $8 per month when billed annually. The pricing changes depending on how many attendees you want. The features are the same for each plan.
Professional
$19 per month

$16 per month


billed annually
The Professional plan allows you to host 25 attendees.
Visit Zoho Meeting for additional information >>
Demio — Hassle-free webinar software
Demio is a browser-based webinar tool that provides uninterrupted sessions, plenty of customization options, and flexible pricing plans.
Demio provides a seamless webinar experience for both hosts and their audience. The software is browser-based and works on all major browsers, including Chrome, Mozilla, Safari, and Edge, while it can also be powered on all of the latest Android and iOS mobile devices. This makes it easy for both hosts and the audience to set everything up and begin the session.
Users can choose to go live or launch an automated campaign while having full control of the scheduling. Customize your registration form to make it look professional and promote your registration page in various ways. The streams are in HD, and you will have the option of sharing your webcam and screen while also playing videos and uploading slide presentations during the session.
Demio might seem a bit pricey compared to other webinar tools on our list, but the prices are fair considering the quality of software and the number of features offered.
Key features
Multiple session types — go live, use pre-recorded videos, or combine the two. You can also schedule a series of live sessions or give people a chance to see your event on demand.
Customized registration forms — create beautiful and engaging registration forms by using various customization options.
Interactive polls — ask your audience questions and see the results in a neatly packed stats sheet.
Handouts and gifs — incentivize your attendees by sharing handouts, gifts, and bonuses.
Marketing app integrations — connect Demio to tools that you're already using, such as Mailchimp, Marketo, ConvertKit, and more.
Plans and pricing
The pricing plan you choose will depend on the number of attendees you wish to host. There are three paid plans, together with a two-week trial version that lets you explore all of the benefits of Demio before paying.
Starter
$59 per month

$499 single host


billed annually
The Starter plan is designed for small businesses and webinar beginners. It comes with all of the standard features such as unlimited sessions, unlimited storage, advanced event setup, and customizable registration options. The only true limitations are the 3-hour session limit and the option to include only one host.
Growth
$109 per month

$899 per host


billed annually
Growth is the most popular plan on Demio, and it is also the plan you can try in the free trial version of the software. If you decide to be billed annually, you will save 30%. This plan allows a 150-attendee room, a 5-hour session limit, automated events, and room and email branding.
Premium
$3,300 per host


billed annually
Reserved for aspiring businesses that need large webinar rooms, the Premium plan allows up to 500 attendees with up to four hosts, an 8-hour session limit, priority support, and a dedicated account rep.
Visit Demio for additional information >>
Live Webinar — Modern and simple webinar software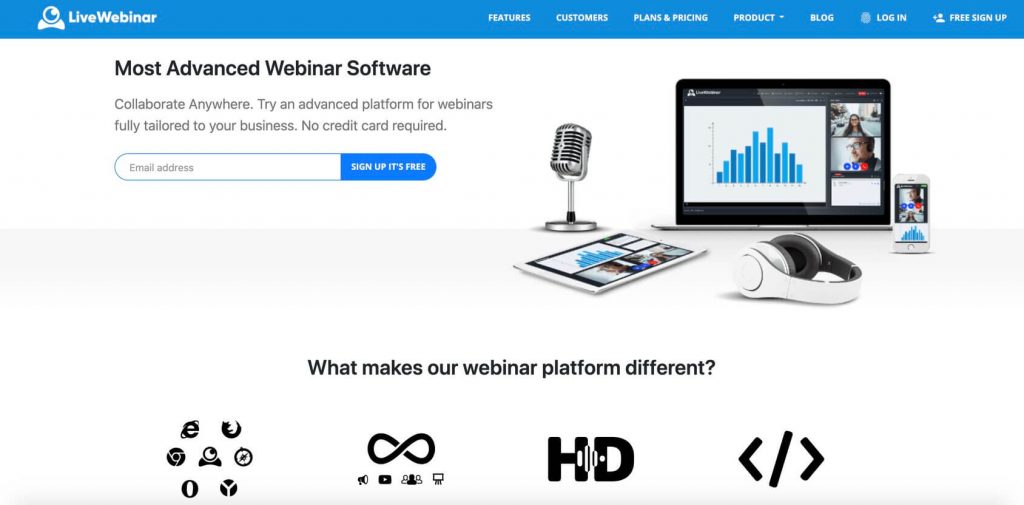 LiveWebinar is one of the most versatile webinar tools on the market today.
Just because "webinar" is in the name, doesn't mean you can only host webinars – you can do plenty more with this platform. Whether you're using it to host business meetings, to teach the next generation of thinkers, or recruit new employees from halfway across the country (or the world), it can suit your needs perfectly.
Ease of use is one of the main features of LiveWebinar – so don't worry about having to download the latest software update just minutes before your big meeting – LiveWebinar is 100% browser-based. There are no plugins or downloads needed, and the platform works on all major browsers.
Key features
Security – LiveWebinar is GDPR and Privacy Shield certified. All webinars are protected via end-to-end encryption by the Advanced Encryption Standard (AES) 256-bit algorithm, so you can feel safe and secure during your events.
On-demand content – stop worrying about time zones and scheduling conflicts! Create and record your webinars ahead of time, and let attendees access them when they want.
Simplicity – creating an event in LiveWebinar is simple and only takes a few minutes, or if you want to have a quick meeting, you can choose to host an instant meeting.
Branding – create a meeting room that fully reflects your brand! You can customize the colors of windows and fonts in the room and add your own logo.
Integrations – streamline your workflow thanks to the many integrations LiveWebinar offers. Integrate the email, marketing, or education tools you use daily, such as Mailchimp, Zapier, Integromat, HeySummit, and many more.
Interactive features – make the most of your meeting thanks to features that up to your interactions. Use the Whiteboard and Screen sharing to illustrate your ideas, Polls, and Tests or Breakout Rooms to facilitate discussions and plenty more.
Plans and pricing
LiveWebinar offers a two-week free trial, three paid options, and an Enterprise option for clients seeking a fully personalized platform. Each plan gives you a set number of participants and features, however, if there's a feature you need that isn't part of your current plan, you can always purchase it via the add-ons option.
Free plan
For two weeks you can test out the platform for free. Host events for up to 100 attendees, and test out features like screen sharing, polls and surveys, and more.
Pro
$17.99 per month

$14.42 per month


billed annually
Host events for up to 100 attendees and access features like the whiteboard, branding tools, sub-accounts, and more. Record up to 6 hours of your webinars.
Business
$143 per month

$114.42 per month


 billed annually
Host events for up to 500 participants, and use features like the presence manager, full HD recorder, and recording editor, share your storage with your subaccounts, and send mass invitations.
Business Plus
$275 per month

$220 per month


billed annually
With this plan, you can pick and choose the features you'd like to have based on your needs. Host events for up to 1000 participants.
Visit Live Webinar for additional information >>
GoToWebinar — Reliable and professional webinar tool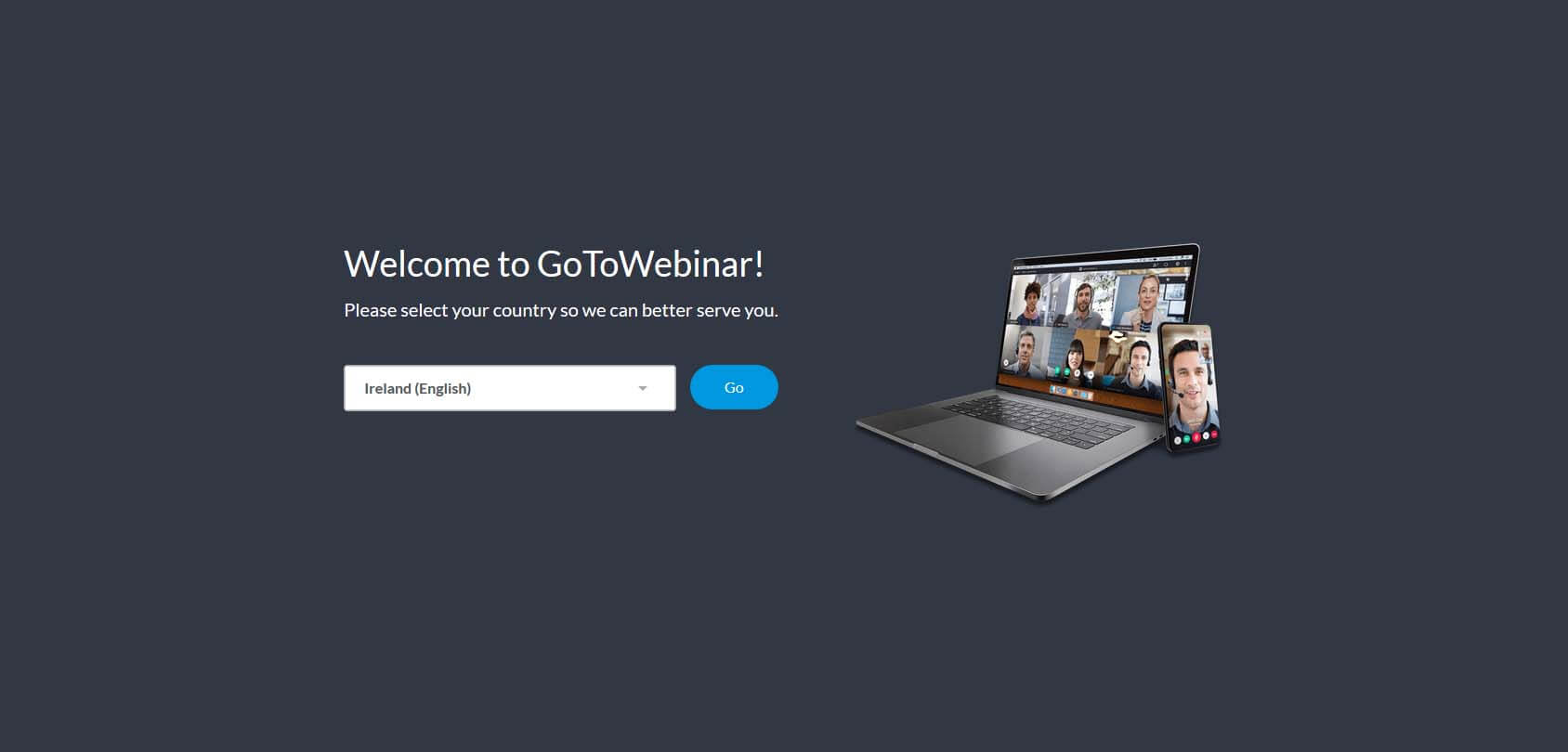 GoToWebinar is trusted webinar software that has over 50,000 satisfied customers and 2.7 million webinars hosted on its platform every year.
GoToWebinar is one of the most commonly used video conferencing platforms with lots of useful features and tools that will help you to plan, promote, host, and analyze your webinars.
This software developer also has a webcasting product called GoToWebcast that can host up to 100,000 participants.
With its intuitive layout and easy-to-use tools, GoToWebinar will let you plan your event in minutes and promote your business the right way. Both you and your audience can have fun during the presentation, thanks to several engaging and interactive features that keep the flow going.
Key features
Flexible scheduling — you can create a one-time live event, a series of events, or give your clients on-demand access.
Branding — personalize your landing page by adding your company logo, brand colors, and high-resolution images.
Custom registration — get to know your audience better before the session by creating a customized registration form.
GoToStage — by publishing your webinar, you can land a spot on GoToStage.com and get exposure by being featured in front of millions.
Event analytics — explore key metrics and see how your presentation has performed.
Plans and pricing
There are four different pricing plans to choose from, and you can save up to 23% if you select a yearly subscription. You can also test the software out through a trial period. Note that the prices stated below reflect payments per month and organizer.
Lite
$49 per month


billed annually
The Lite plan is designed for small webinars of up to 250 participants. It includes all of the basic features such as screen sharing, video sharing, drawing tools, full-service registration, and reports, and analytics.
Standard
$99 per month


billed annually
Apart from allowing up to 500 attendees, the Standard plan differs from the Lite plan by having video embedding options and a single channel page.
Pro
$199 per month


billed annually
The Pro plan offers the best value, and it's the most popular pricing plan on GoToWebinar. This plan permits an audience of up to 1000 and has some premium features like a video editor, recorded events, source tracking, and transcripts.
Enterprise
$399 per month


billed annually
Enterprise comes with a full pack of features, together with five-channel pages. It's ideal for massive webinars, as it allows up to 3,000 attendees.
Visit GoToWebinar for additional information >>
BigMarker — No-download video conferencing tool
BigMarker is one of the best webinar software solutions that runs on the cloud and works flawlessly on all major mobile and PC browsers.
BigMarker is a multi-purpose video platform ideal for meetings, summits, virtual conferences, and webinars for all business models.
The software is completely browser-based, meaning that you won't have to download anything. This makes things significantly easier for both hosts and their attendees.
The users of BigMarker can run both live webinars and automated sessions while using resourceful webinar marketing tools, including landing pages, forms, and email campaigns. There's also an option for setting up on-demand webinars.
Key features
Webinar landing pages — create an engaging landing page by using over 15 professionally designed templates.
Email invites and reminders — customize email invitations and send automated reminders to all registrants.
Up to 10,000 attendees — BigMarker's White Label plan allows a massive audience.
HD screen sharing — share your point of view in high-resolution quality.
No presenter limit — add an unlimited number of presenters and promote an attendee to a presenter during the session.
Plans and pricing
BigMarker's flexible pricing plans allow you to choose a plan according to the number of attendees and the number of features you want. Additionally, there's a free trial version that allows you to test the software.
Visit BigMarker for additional information >>
Systeme.io — Practical all-around business software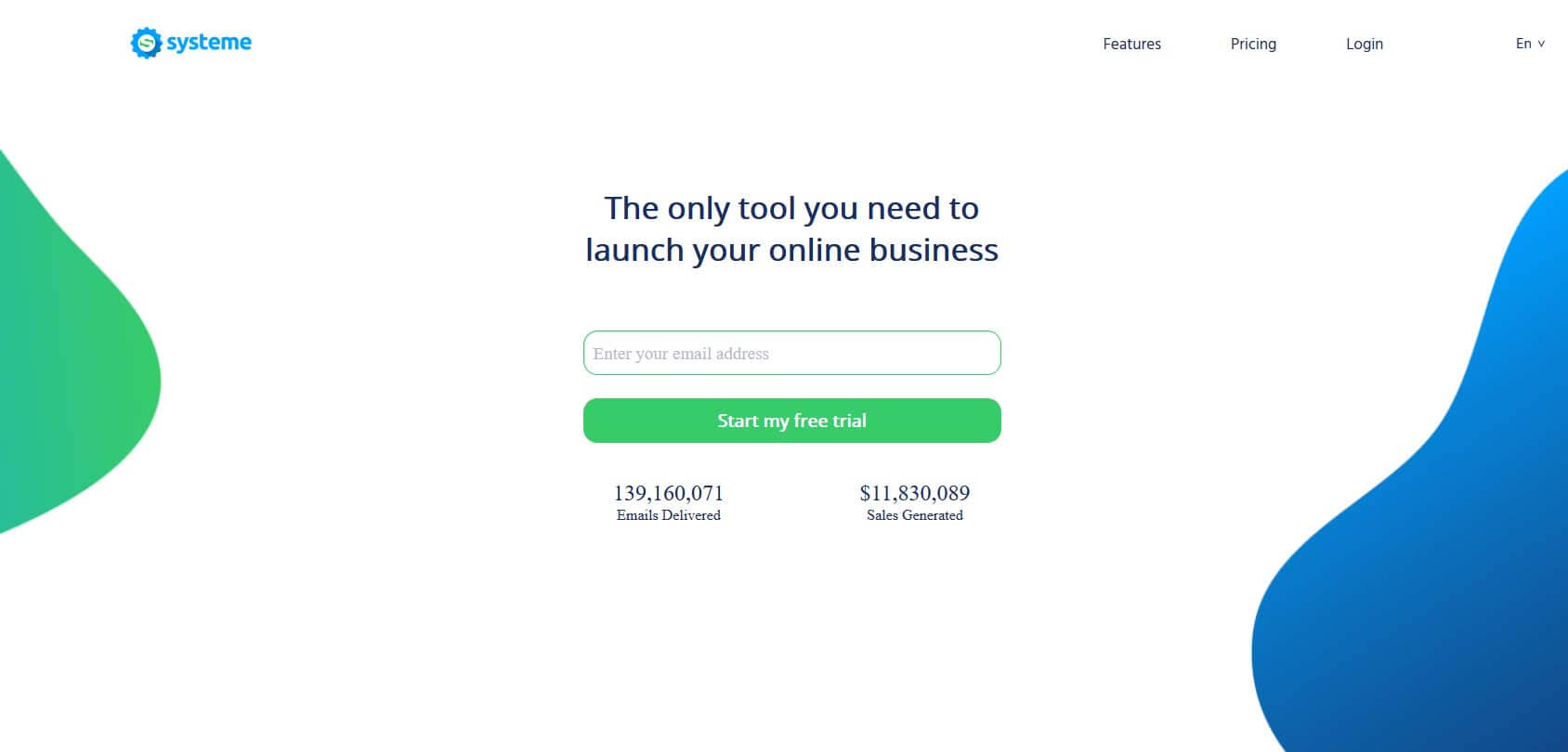 Systeme.io is the Swiss knife of online business tools, helping you to get exposure through email marketing campaigns, blog building, and webinars.
While it's not primarily webinar software, I felt Systeme.io deserved a mention on this list. You won't be able to power up live or offer automated webinars. However, you can share evergreen webinars.
This tool allows you to design a webinar according to your needs, and you'll be able to build it from scratch, not being forced to use a limited number of templates.
I suggest that you consider Systeme.io only if you need some of their other business features, like email marketing and affiliate programs, as the software is used more as an all-around business tool.
Key features
Unlimited evergreen webinars — choosing the Enterprise plan will grant you an unlimited number of evergreen webinars.
Design from scratch — build a custom webinar from scratch to reflect the style of your business.
Payment integrations — connect Systeme.io to PayPal and Stripe to sell your products.
24/7 live chat support — no matter which pricing plan you choose, Systeme.io customer team will always be there to assist you.
Unlimited file storage — safely keep all of your important files at one place.
Plans and pricing
Try Systeme.io for free or immediately subscribe to one of three affordable plans with month-to-month payments.
Free plan
Use Systeme.io and all of its features for two weeks, which should give you enough time to discover all the software's benefits. There are no obligations, and you can cancel at any time.
Startup
$27 per month

$228 per year


billed annually
Keep up to 5,000 contacts and get three membership sites while using marketing automation, order bumps, one-click upsells, and other perks.
Webinar
$47 per month

$396 per year


billed annually
Receive five membership sites and two custom domains. This plan also grants you three evergreen webinars, and a chance to implement coupon codes and run A/B tests.
Unlimited
$97 per month

$828 per year


billed annually
The Enterprise plan comes with unlimited contacts, unlimited membership sites, and five custom domains. You will also receive an unlimited number of evergreen webinars.
Visit Systeme.io for additional information >>
How to choose the right webinar software for you
There are dozens of quality webinar tools out there, and I managed to filter out 10 that I consider to be the cream of the crop. However, this doesn't narrow it down too much for you, as you still need to end up choosing only one webinar software.
So, how do you select the best webinar software for your needs, and what are some of the things that you need to pay attention to?
Experience level
Preparing and running a webinar is not an easy task. You will know what I'm talking about if you have ever participated in or hosted a webinar session. If you're new to webinars, it's best to choose software that is not too complicated to set up and has an intuitive dashboard.
On the other hand, more experienced webinar hosts who expect large groups can look for webinar software with more sophisticated options and features.
Number of attendees
Be realistic about how many people will attend your webinar sessions. This is important, as it will also determine how much you're going to pay and which plan you'll end up choosing. Almost every webinar tool on my list categorizes pricing plans according to the number of attendees.
Webinar type
There are several types of webinars you can host, but not all webinar software solutions have the same options in that regard. Some webinar tools allow only live and automated webinars, while others give you a chance to set up webinars on-demand, hybrid webinars, and webinar series.
Consider your budget
Some webinar tools on my list are fairly affordable and will cost you less than $50 per month. However, they usually come with a limited number of features and options you can use. Paying more usually means that you will get more, but if budget's the issue for you, try to balance things out and find a relatively inexpensive pricing plan that matches your business model.
Yearly subscriptions to a plan always pay off, as you will usually get a 20% to 30% cheaper price than when subscribing to a month-to-month billing system.
Best of the best
Every webinar software on my list is worth subscribing to. However, you should still spend some time deciding which webinar tool to choose based on your needs and preferences. To help you in making that decision, I have created this "best of the best" section with three categories — free, small businesses, and agencies.
Best free webinar software for beginners
If you're a beginner who doesn't know much about webinars in general, it's best to use free solutions. This will give you an idea of what webinars are and how it feels to host one. Once you've mastered the basics of webinars, you can start exploring paid options as well.
Best webinar software for small businesses
If you're starting to get more serious about webinars and are ready to move on to the next level, you should explore some options that are suited for small businesses. They are usually not free, but they are still affordable enough and will give you plenty of additional features.
Small businesses should choose webinar software that extends the number of allowed attendees to several hundred. They should also think about features like analytics and getting reports on their webinar performance.
Best webinar software solutions for agencies
Okay, so you already know a thing or two about webinars, and you're looking for sophisticated software that can match your serious business model. Most webinar services on my list are simple solutions for small businesses, as they are easy to set up and have all of the basic features a beginner needs.
However, there are a few listed options that can give you more than that, providing a wider set of options. Of course, these tools are more expensive, but every penny invested in them is worth it.
FAQS
What is the webinar software?
The webinar software allows companies and businesses to promote their products and services through online video conferences, presentations, and workshops. With quality webinar software, hosts can attract hundreds or even thousands of people while sharing their knowledge and ideas, engaging in communication with prospects, and gaining valuable information from participants.
What are the important characteristics of good webinar software?
Primarily, good webinar software must have quality live broadcasting features. It should also allow for other types of webinars, like automated, hybrid, series, and similar. Other important aspects of quality webinar software are easy-to-use interface, customizable options, and analytics tools.
What is the difference between pre-recorded and live webinars?
Pre-recorded webinars are sessions that you can record and schedule to be played multiple times at the time and date of your choosing. On the other hand, live webinars are one-time sessions that are played in real-time via live stream.
What is the most popular webinar software?
Every webinar software you can read about on this page has tens of thousands of satisfied customers from all over the world. They all have a high reputation and are some of the most trusted pieces of software in their industry.
Which webinar software is the easiest to use?
Without a doubt, the easiest webinar software to use is Zoom. It can be set up in seconds and has a user-friendly interface that even beginner users can figure out without needing any instruction manuals.
Conclusion
Properly hosted webinars can leave a long-lasting impression on your audience and help you to achieve your business goals. This is why it is so important to choose the best webinar software available. This article is here to recommend and give you an insight into some of the top webinar software solutions on the market.
In the end, your choice will depend on your needs and how you want to present your brand, but you should also keep your audience in mind, as they will be the users of your webinar software as well.