Designing a perfect website won't help you if no one can access it from their computers or smartphones. To allow everyone to view your new site, you first have to assign a domain name to it. This process should not take a lot of time even if you're a beginner. All you have to do is to decide on the website name and pay for it.
Although it is possible to change a domain name at any point, this is not something that I would recommend. Ensure that you are choosing the right domain name at the very beginning because this could be the internet address you will be stuck with for the lifetime of your website.
Domain names explained
What is a domain name?
A domain name is a short string of text that identifies a location on the web. It is used instead of an IP address (a set of four numbers separated by dots), which isn't as memorable for human beings. People usually recognize the domain names that are the addresses to their favorite sites. A domain name is how you identify a site (whether you know specific domain names by heart like google.com or you search for them).
Domain name structure
No matter what kind of domain name you decide to register, you should differentiate its three main components:
Prefix: an internet protocol (HTTP: – standard, HTTPS: – secured).
Host name: usually "www" to indicate a website
Domain name: any string of characters. For example, "firstsiteguide"
Top Level Domain (TLD): an extension such as .com, .net, .io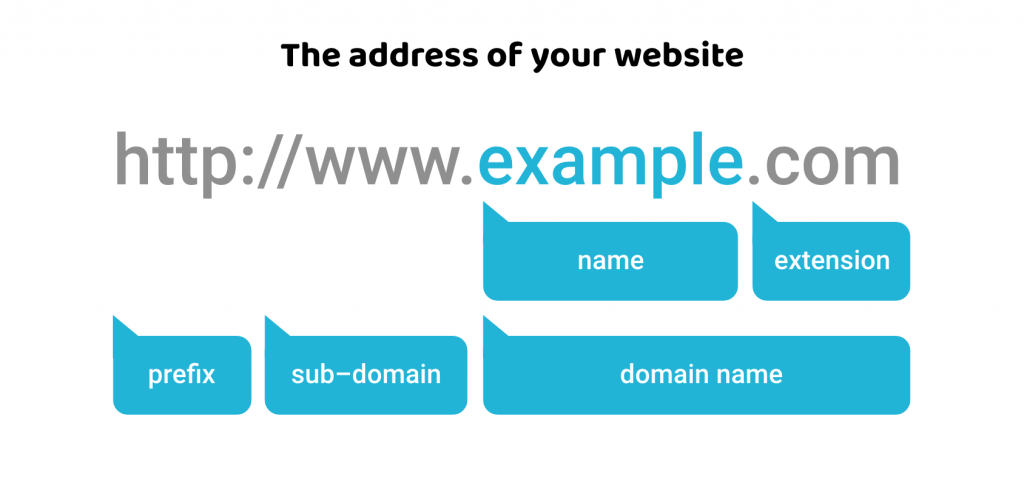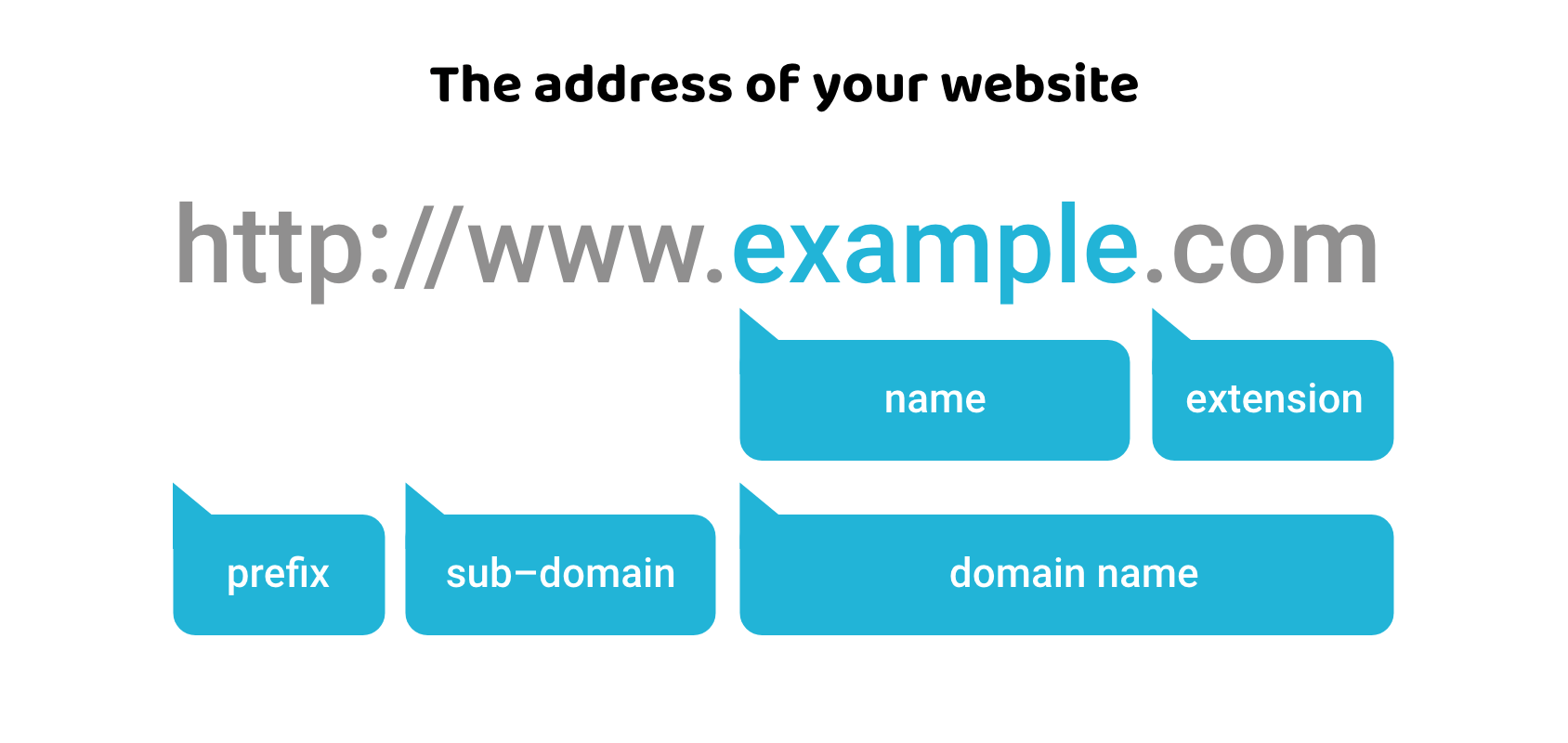 Choosing the right domain extension (suffix)
According to stats, there are more than 1500 top-level domains available for you to choose from. Although this sounds like a tough decision, you will probably consider only a couple of domain extensions like .com, .org, .net, or a couple of local ones (.us or .eu for example) that may be important for your site.
More often than not, people will aim to acquire a .com extension. This is definitely the most popular TLD, and most successful companies have their sites reflecting these kinds of top-level domains. However, because of its popularity, it is getting hard to get a short and memorable domain name with a .com extension. The reason is simple – most of them are already registered by other people. Sometimes, it is still possible to purchase one, but more about that later.
If you can't get a .com domain name for your website, it is completely ok to go for a non .com domain. Here are a couple of popular TLDs worth considering:
.com (commercial) – in the early days of the internet, this was used to identify commercial sites, but now can be used for anything, including personal blogs.
.net (network) – stands for "network" but can be used for any type of website. This is a common replacement for people who can't get their domain in the .com version.
.org (organization) – great for non profit companies, and usually not recommended for any other type of business.
.me (personal) – great choice for personal sites like blogs.
.us, .ca, .uk, etc. (country specific) – perfect choice for websites that represent local businesses such as restaurants, for example.
Along with the evergreens mentioned above, the modern era has brought us new extensions that are getting more popular every day:
.io – although this domain belongs to the British Indian Ocean Territory, it's mostly used by startups that need a short domain name that wasn't available in the .com variant. The abbreviation also stands for input/output hence the popularity among tech startups.
.co – another extension that represents a country (Columbia in this case). However, because of the abbreviation, it is also internationally accepted as a domain for companies/corporations.
.site – a general TLD that can represent any website. People usually use this one for their personal blogs.
.online – similar to the .site one. This domain is popular among bloggers.
.shop – pretty much self-explanatory. A perfect choice for online shops.
Buying a domain name with a registrar
After giving some thought to your domain and the extension, you're probably ready to register one for yourself. To do that, you will need to go to a registrar's website, where you can search for the availability of your desired name, and purchase it if available.
Usually, people use registrars to purchase just the domain names. If you do not need hosting, but just want to make sure that no one else grabs your preferred name, domain registrars are here to help. This is a great option for people who handle multiple domain names because then you can have them all organized with just one registrar.
Another option is to register a domain name through your web hosting company. Often, hosting companies will allow you to register a free domain for the first year, and will make the entire process quick and easy.
Top 3 domain registrars
GoDaddy — Trusted by 20+ million customers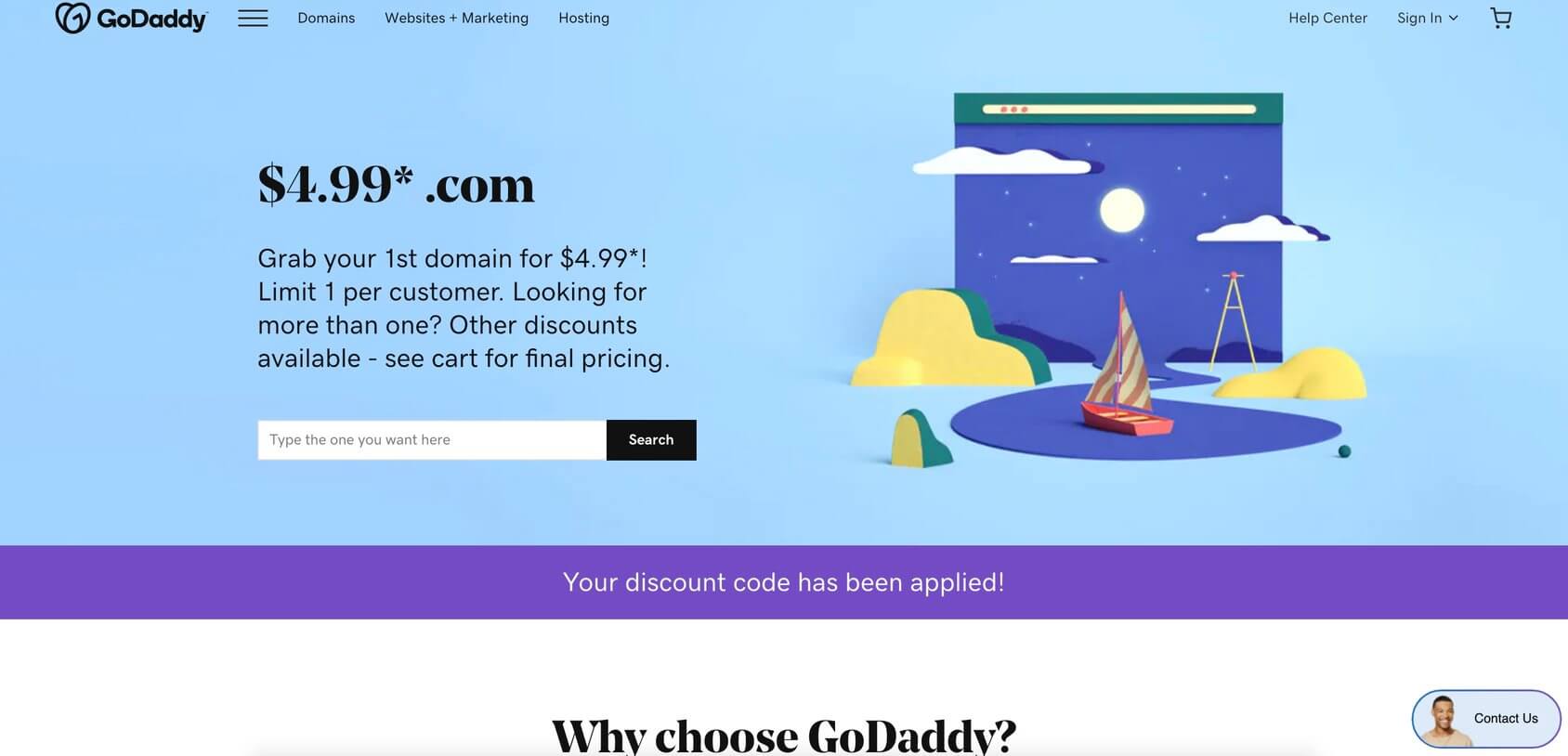 With more than 20 million customers, GoDaddy is one of the most popular domain name registrars on the planet.
Features
Choose from .co,.uk and .com domains.
24/7 support
10GB of email storage
Pricing
.com – $4.99/year
.net – $14.99/year
.org – $20.99/year
.co – $11.99/year
Register domain name with GoDaddy >>
Namecheap — Bring your ideas to life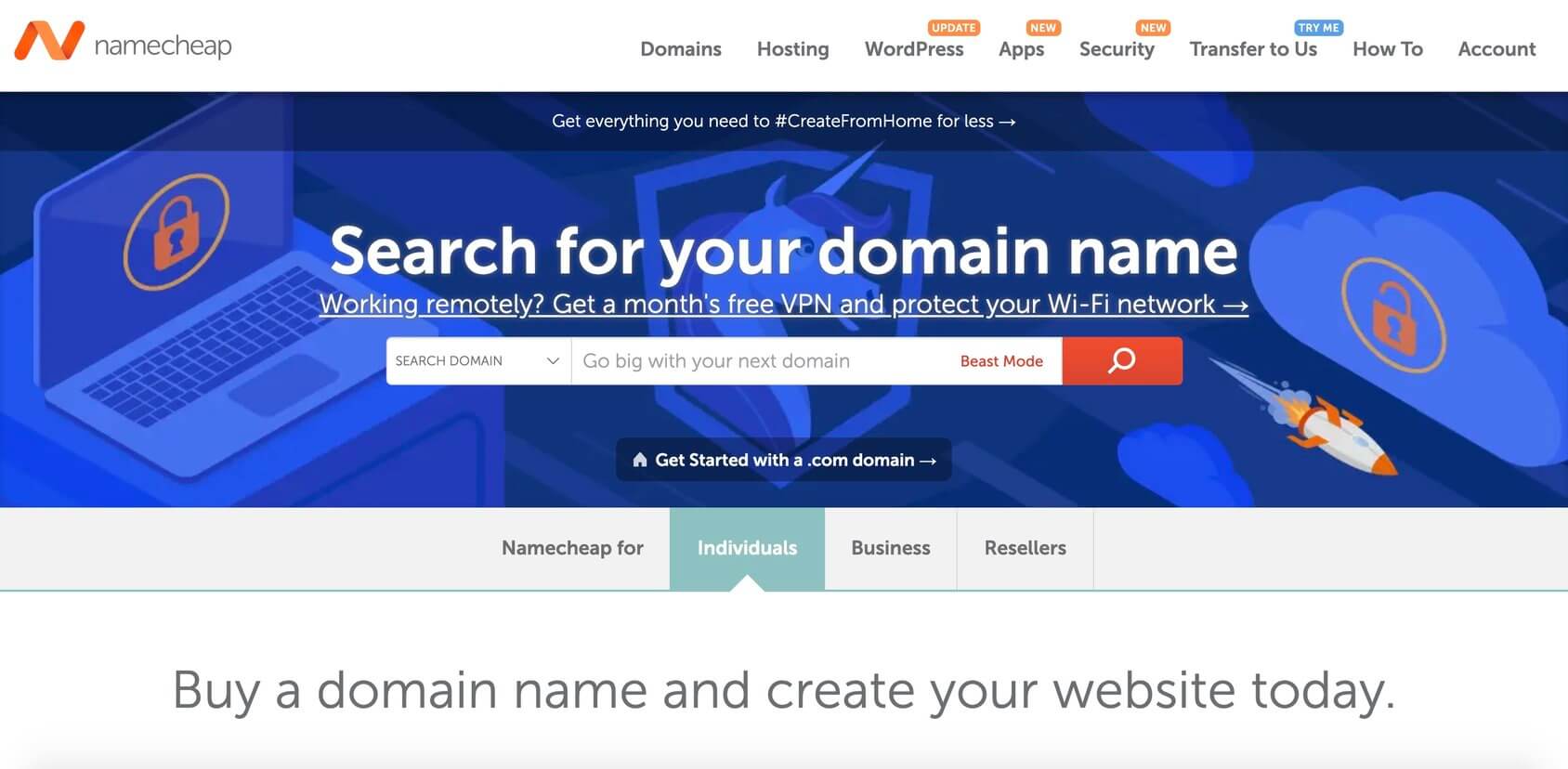 Namecheap is a budget registrar known for its affordable prices. They have registered more than 10 million domain names.
Features
Popular domains at competitive prices
Free privacy protection for life
Easy setup
Pricing
.com – $8.88/year
.net – $10.98/year
.org $9.18/year
.io – $32.98/year
Register domain name with Namecheap >>
Google Domains — Choose from more than 300 domain endings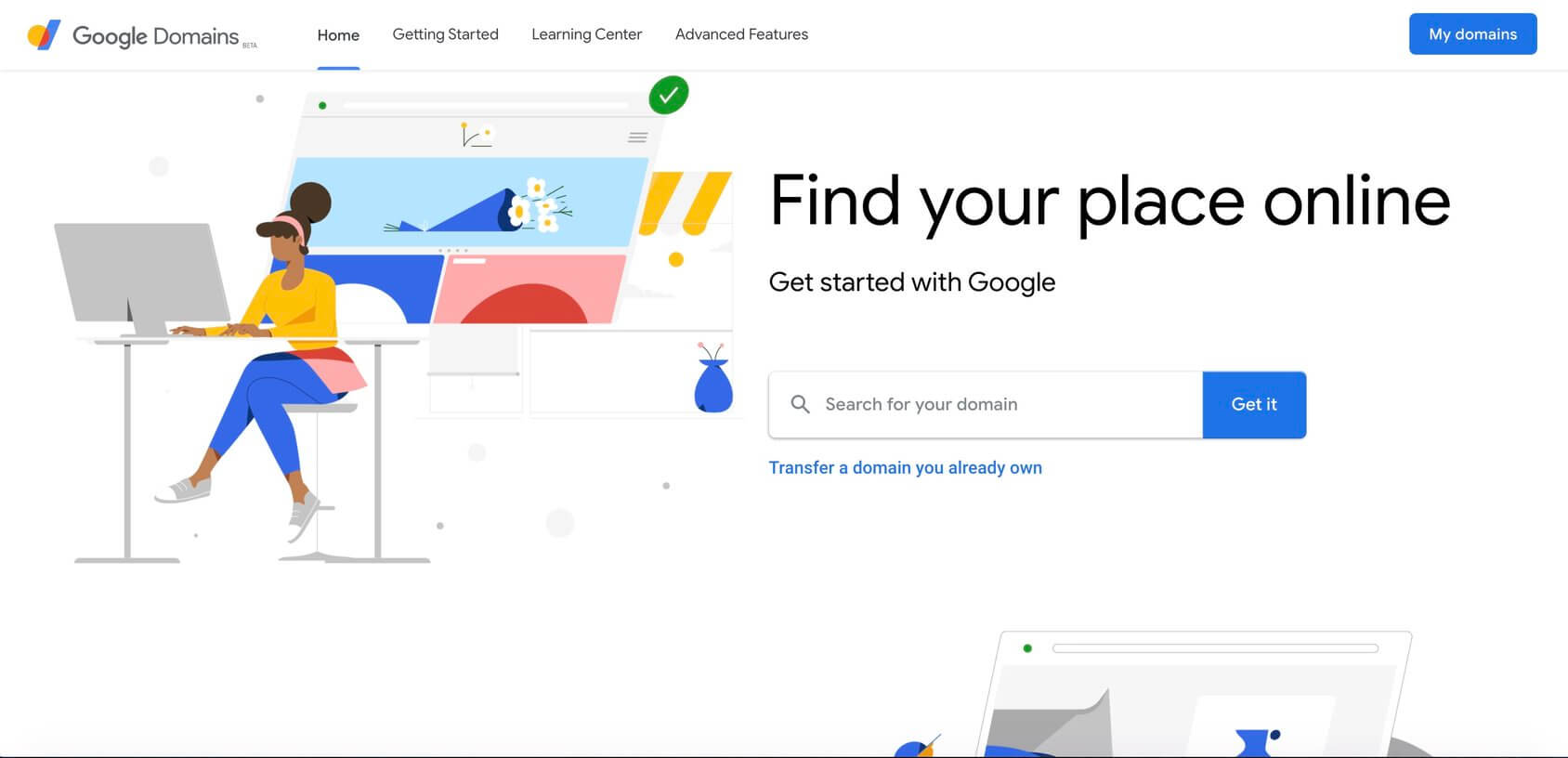 Google doesn't need a special introduction. But did you know that you can register your domain with them? Check out their features, prices, and choose your domain name.
Features
Simple pricing
Speed and security promised using Google infrastructure
More than 300 domain endings
Pricing
.com – $12/year
.net – $12/year
.org – $12/year
.page – $12/year
Register domain name with Google Domains >>
Buying a domain name with a web hosting
Modern web hosting companies are trying hard to make everything perfect for their new users by offering many special features. Hosting services offer domain name registration for you, and usually, you will get one for free when you pay your first hosting bill.
If you are starting a blog or creating a website for the first time, this is a perfect solution. You will definitely need hosting, and you won't have to bother with 3rd party registrars. Since you probably do not need any extra domains, you can have everything organized with just one company.
Recommended web host that offers a free domain
Bluehost — Free domain name for the 1st year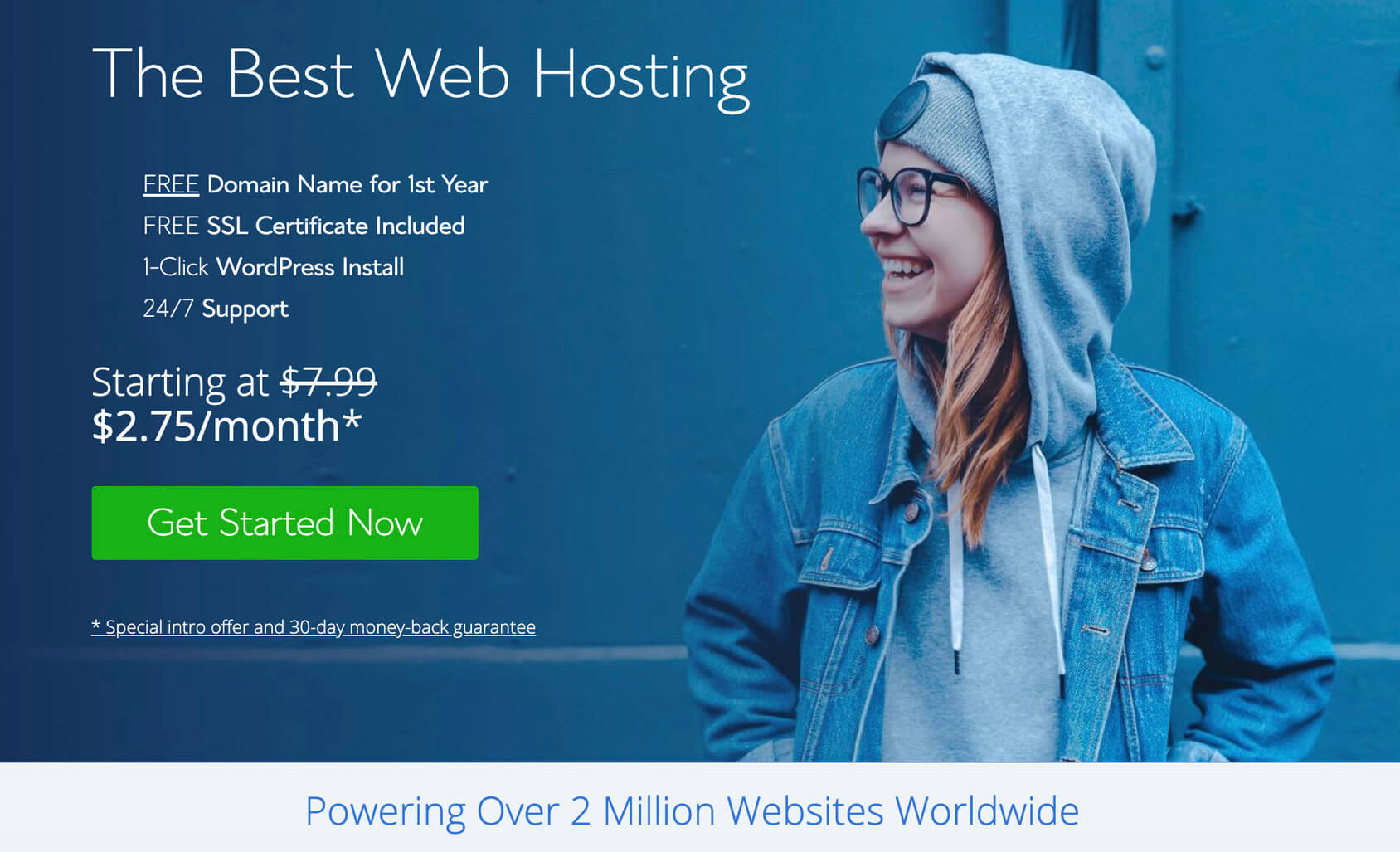 Bluehost is one of the most popular web hosting companies, and it is officially recommended by WordPress. Did you know that Bluehost gives you a free domain for the first year if you purchase one of their hosting plans?
Features
Easy setup
Free domain name for the 1st year
50GB storage
Pricing
Free domain name for the first year if you pay for a hosting plan
.com – $12.99/year
.net – $14.99/year
.org – $9.99/year
Register domain name with Bluehost >>
3 things to watch for when buying a domain name
Buying a domain is usually a straightforward process. However, before you rush into it, make sure to check these three things:
1. Check the pricing and hidden fees
It's important to understand that registrars are here to sell domains, so the pricing tables are usually created to lure you in. Although there may be different prices between registrars, be sure to check the fine print. Many domain name registrars will have additional costs hidden in the fine print or their terms of service. Some will try to sell you additional TLDs, or even charge you for additional services that you will probably never need. Other companies will grab your attention by showing low domain prices (sometimes as low as a couple of cents) but will charge extra for renewals.
2. Protect your privacy and data
When you register a domain name, you also provide personal or company information as the new owner of the domain. Make sure to check the privacy option provided by the registrar. Some will charge you an additional fee for hiding your personal information.
If you do not take care of your privacy and data security, you will quickly become a target of spammers who could send you false renewal invoices. Some registrars also sell your personal info to advertising companies, so read the fine print carefully.
3. Review renewal rates and cancelation policy
Some registrars will try to lure you in with lower prices. However, if you do not review the renewal rates carefully, you may get a surprise bill after the first year with higher prices. Also, make sure to check when and how you can cancel the subscription. Some registrars will charge you an additional fee if you decide to transfer the domain to another company.
When and how to buy a premium domain
Premium domains are usually short and memorable names with a .com suffix that everyone wants. The shorter the domain, the more it is usually worth. Although you might not be able to register the one you want, you might be able to purchase it from the current owner directly or get it from a domain auction. Premium domains are usually quite expensive. Some are worth thousands or even millions of dollars.
People usually look for premium domains when they're starting a new company that needs to compete on the market. By having a premium domain, a company can get that extra advantage of a memorable name that might even help to rank more highly on Google and other search engines.
Top 3 places to buy premium domains
If you are about to purchase a premium domain, you should use a trustworthy service that will connect you to the owners.
GoDaddy auctions – As one of the most popular registrars, GoDaddy also offers buying and selling domains during auctions. Anyone can list their domains and sell them to other people. GoDaddy charges a percentage of the price of the sold domain to the seller.
Sedo domain auction – Search for premium domains with a free account. This service will help you to evaluate the domains, pay for them securely, and quickly transfer them to your preferred registrar.
Name.com aftermarket – Name.com offers a tool that allows you to search for expiring and premium domains. You can search by specific keywords or domain name.
FAQs
How do I permanently buy a domain name?
Buying a domain name is not possible. All domain names can be only registered on a yearly basis, while some registrars allow you to prepay for ten years.
How long should I buy a domain name for?
Although you can pay for your domain for more than a year, it is recommended to stay on a yearly payment plan. This allows you to control your domain name, and to be able to switch registrars more easily if you decide to do so.
Can I get a domain name for free?
If you are paying for a hosting service, you can get a domain name for free. However, keep in mind that the registration is not actually free. In this case, the hosting company is paying for the domain for you, as they profit from you indirectly. Also, you should note that most of the hosting companies offer free domains for the first year only, and you will pay for it after the first 365 days.
Conclusion
The process of registering a domain is quite straightforward, and you do not need any technical knowledge or web experience to secure one. However, since there are so many domain name registrars and hosting companies that offer domains, you should take your time reviewing all of the options before you commit.