The Best Podcast Hosting Sites of 2023
A Definitive Guide to Podcast Hosting for Beginners
FirstSiteGuide is supported by our readers. When you purchase via links on our site we may earn a commission.
Read More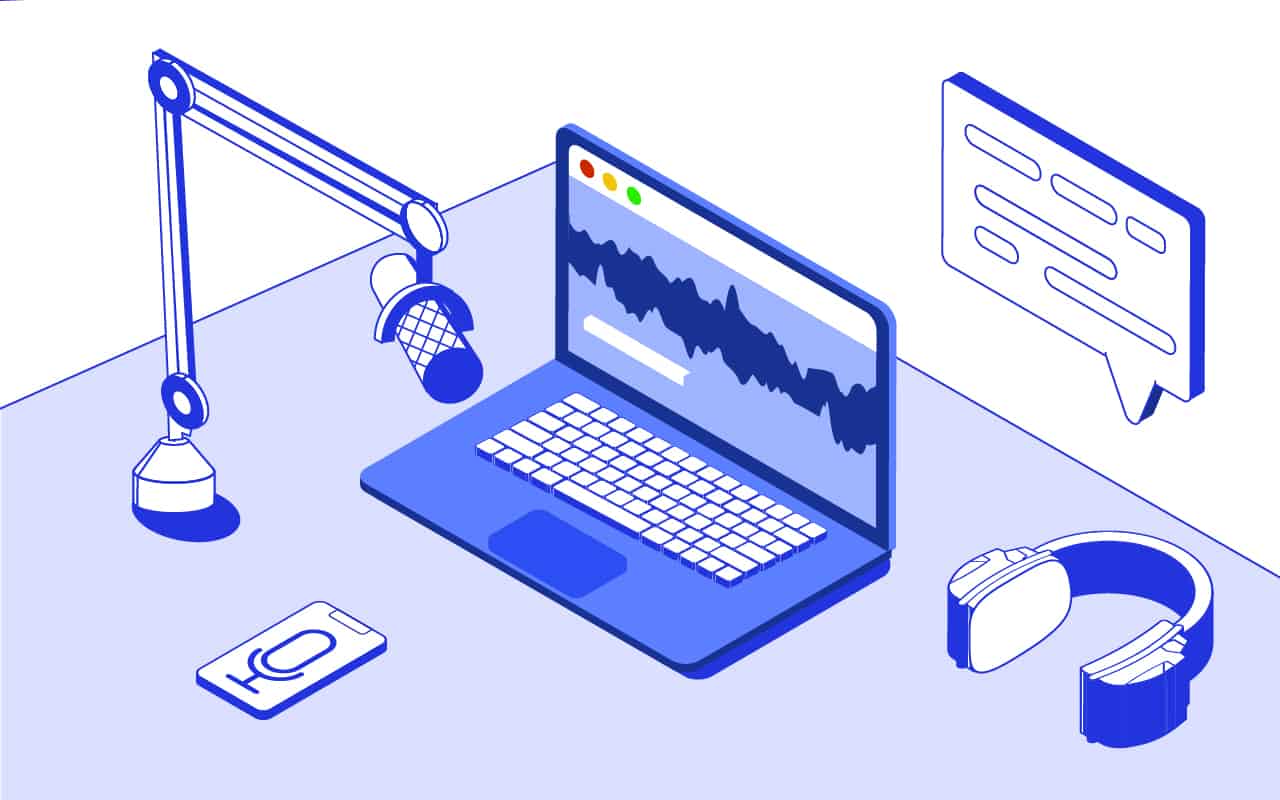 If you want to launch your podcasts and share your views with the world but don't know which podcast hosting service to choose, you have come to the right place.
We understand that finding a host for your podcast isn't always easy. Every podcast and niche requires a different approach. This is why you need to ascertain your specific requirements before considering a free podcast hosting site.
Choosing a reliable and secure podcast hosting site is essential for the success of your podcast since it has a significant influence on the quality and quantity of the audience you gather.
What is podcast hosting?
Before starting this guide, if you are asking yourself: "What is a podcast?", the answer is straightforward.
In layman's terms, a podcast is a collection of audio files on a specific topic that can be listened to and downloaded to a computer or mobile device.
Podcast hosting is a unique service that provides a platform to store and deliver media files associated with a podcast. Since podcasts require a lot of space and bandwidth, personal website servers do not have this amount of storage for such large files.
However, hosting servers for podcasts offer you the capacity to store audio files so that your audience can download them. These podcast hosting sites provide advanced analytics reports on your podcast's audience, marketing tools to increase your audience base, 24/7 customer support, and much more.
The most important reason for selecting a hosting service for your podcast is so that you can stop worrying about how you can share or store it. These services are designed in such a way to eliminate the technological aspects of creating a podcast through the provision of built-in features.
In addition to this, these hosting services also simplify the process of embedding or sharing podcast files on social media or other websites.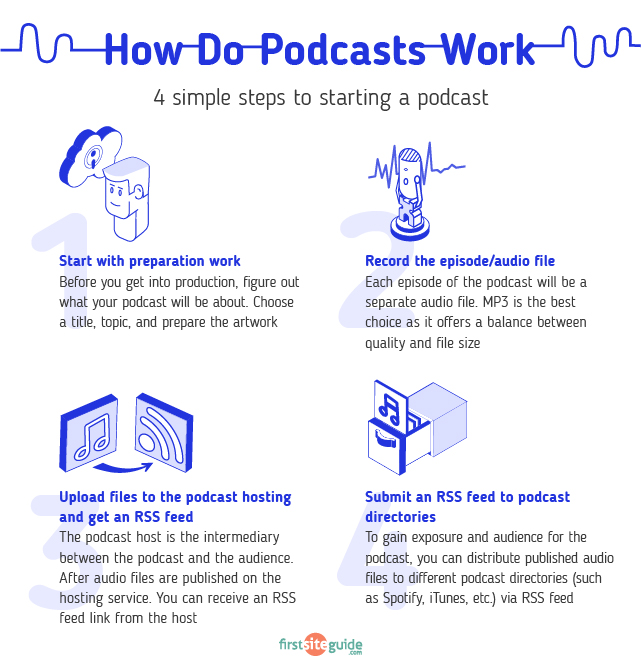 We have compiled this comprehensive guide of the best hosting options to save you time searching for a good podcast host. Instead, you can spend your time recording great podcasts.
The top 11 most popular podcast hosting sites
Before choosing the right hosting platform for your podcasts, you must realize that there is no a "one size fits all." Different podcasters require different hosting services. Nonetheless, here is a list of some of the best podcast hosting sites that provide several notable features.
Buzzsprout — Starting at $12 per month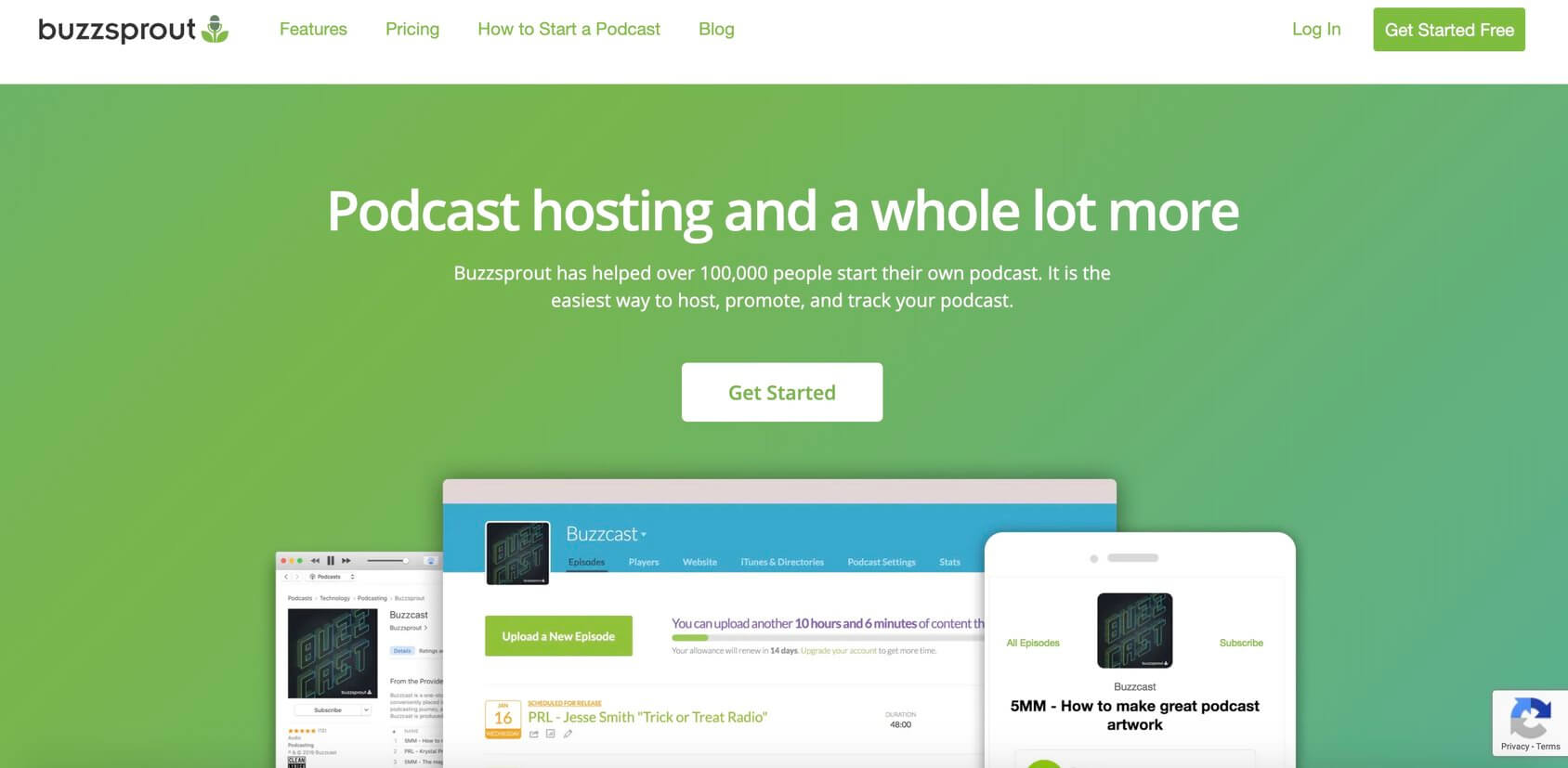 This service tops our list of best podcast hosting platforms for many reasons. BuzzSprout has been in business since 2009, amassing a vast and robust community of podcasters all around the world. Their clientele includes some of the leading podcasters today.
BuzzSprout is perfect for new podcasters due to its easy to use interface and one of the best-designed dashboards available. BuzzSprout is also constantly rolling out updates and new features that enhance the host's service and simplicity.
Key features
Advanced podcast statistics to track progress
Automatic episode optimization
It makes your podcasts more accessible through transcriptions
Monetize your podcast
Integrates easily with other leading podcast tools
Plans and pricing
$12 per month


3 hours of uploads

$18 per month


6 hours of uploads

$24 per month


12 hours of uploads
Visit BuzzSprout for additional information
PodBean — Starting at $14 per month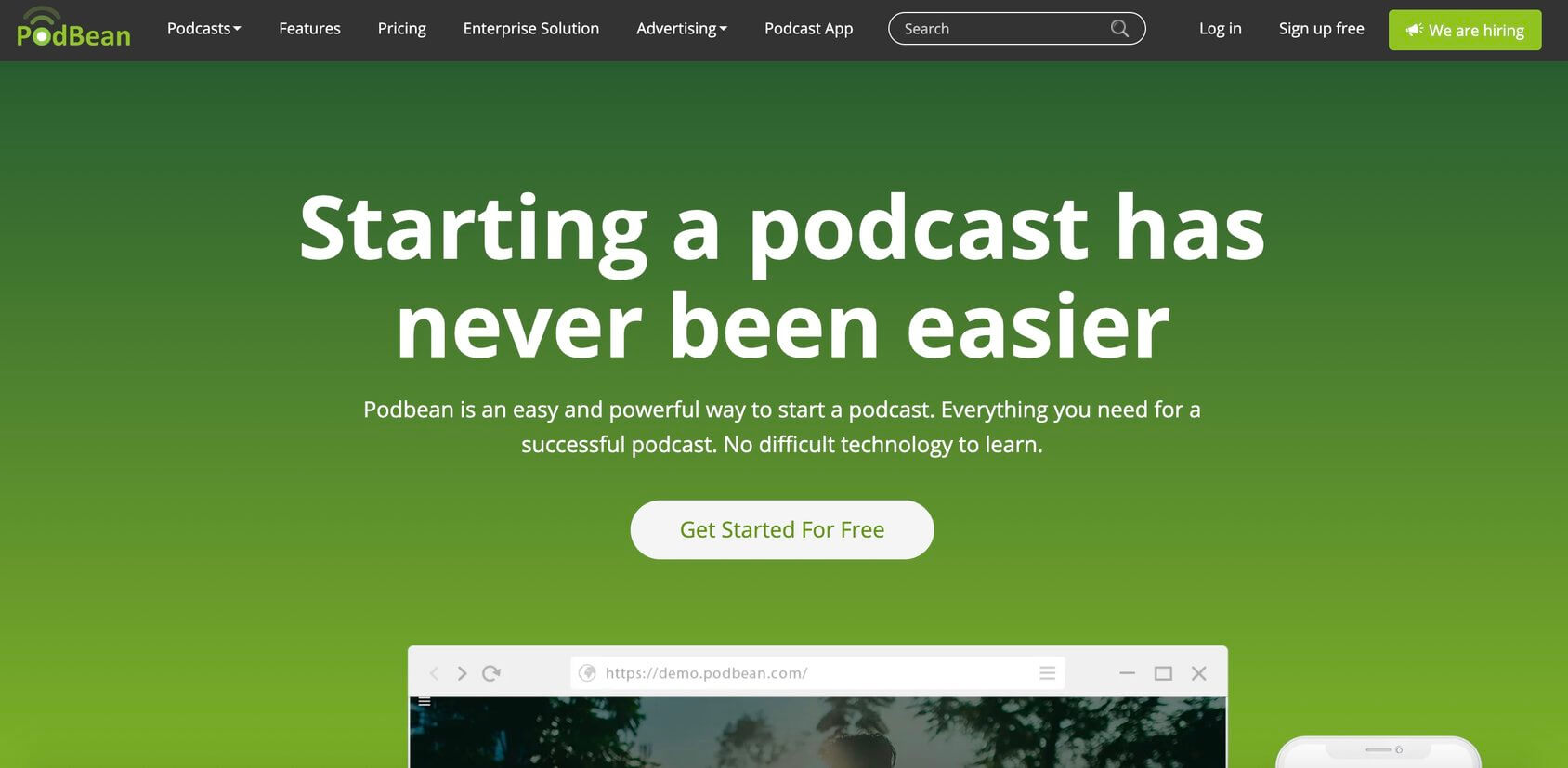 PodBean provides several tools to podcasters to help them to grow and monetize their account. Their podcast hosting services are of top-notch quality, built for both podcasters and audiences to browse and explore other podcasts. PodBean also provides distribution and promotion of podcasts on iTunes, Google Play, Spotify, Amazon Alexa, and other major apps.
Moreover, it offers a Crowdfunding feature. This is an efficient way to convert podcast fans into sponsors, through which your podcast can generate a monthly income stream.
Key features
Unlimited bandwidth and storage at incredible rates
Comprehensive stats to better understand your audience
Customizable branding
Social sharing tools
Engagement with podcast followers
Plans and pricing
$14 per month


$9 per month on an annual basis

$39 per month


$29 per month on an annual basis

129 per month


$99 per month on an annual basis
Visit PodBean for additional information
Captivate — Starting at $19 per month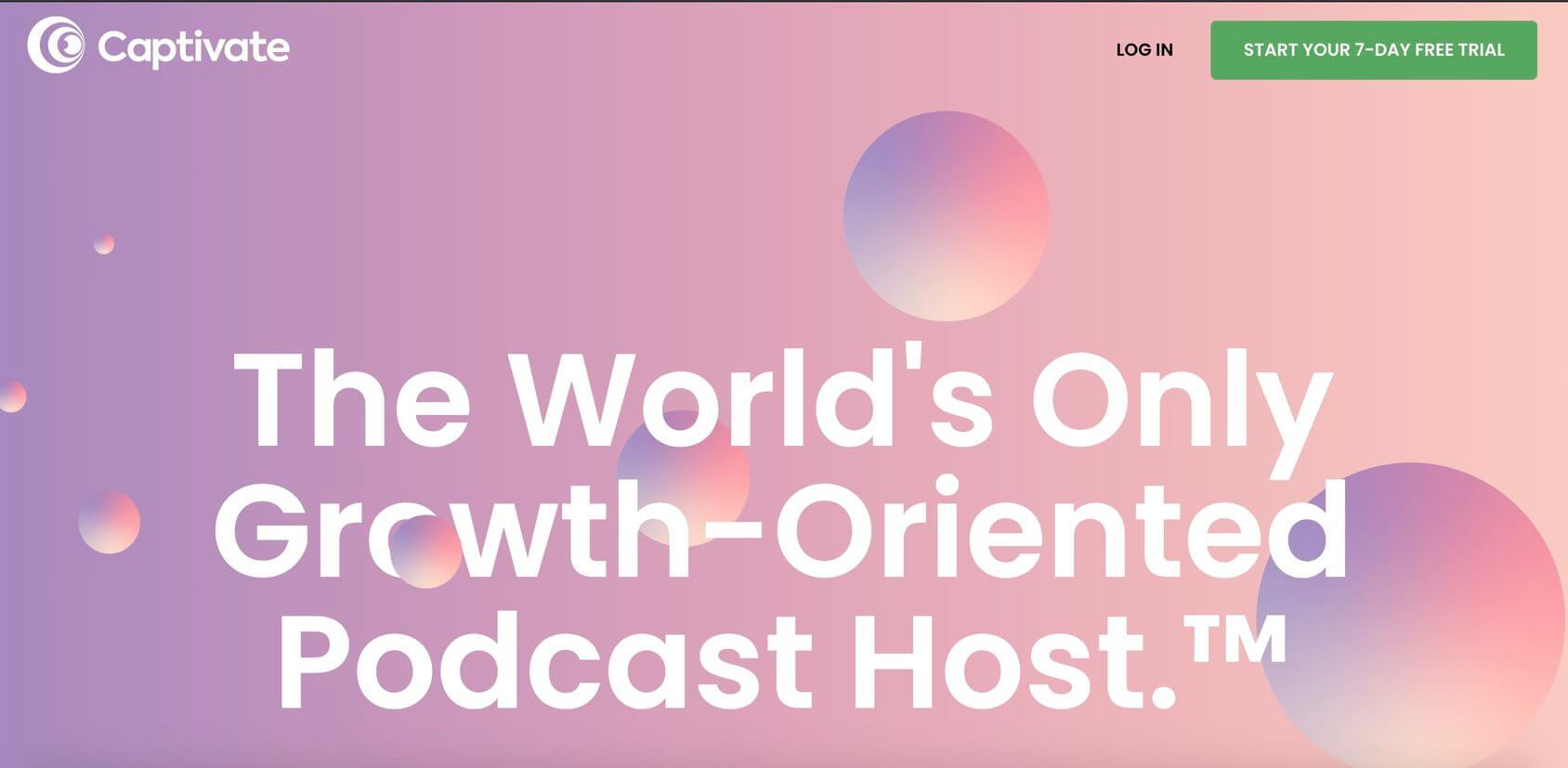 Captivate is a new podcast hosting platform with a special focus on growing podcast audiences. This service was created by the same team that has been running Podcast Websites for years and has considerable experience in this domain. All plans provided by this Captivate come with an unlimited number of podcasts and team members, advanced analytics, and marketing tools. They also offer a customizable, mobile-friendly website with built-in funding support along with each plan.
Moreover, their marketing tools allow you to automatically generate links for other sites where you can circulate your podcast and increase visibility to new potential subscribers.
Key features
Stunning podcast player
Device-friendly dashboard
Advanced podcast analytics
Built-in website podcast player call to actions
Import your show for free
Plans and pricing
$19 per month


12,000 downloads from a podcaster

$49 per month


60,000 downloads from an audio influencer

$99 per month


150,000 downloads from a podcast brand
Visit Captivate for additional information
Transistor — Starting at $19 per month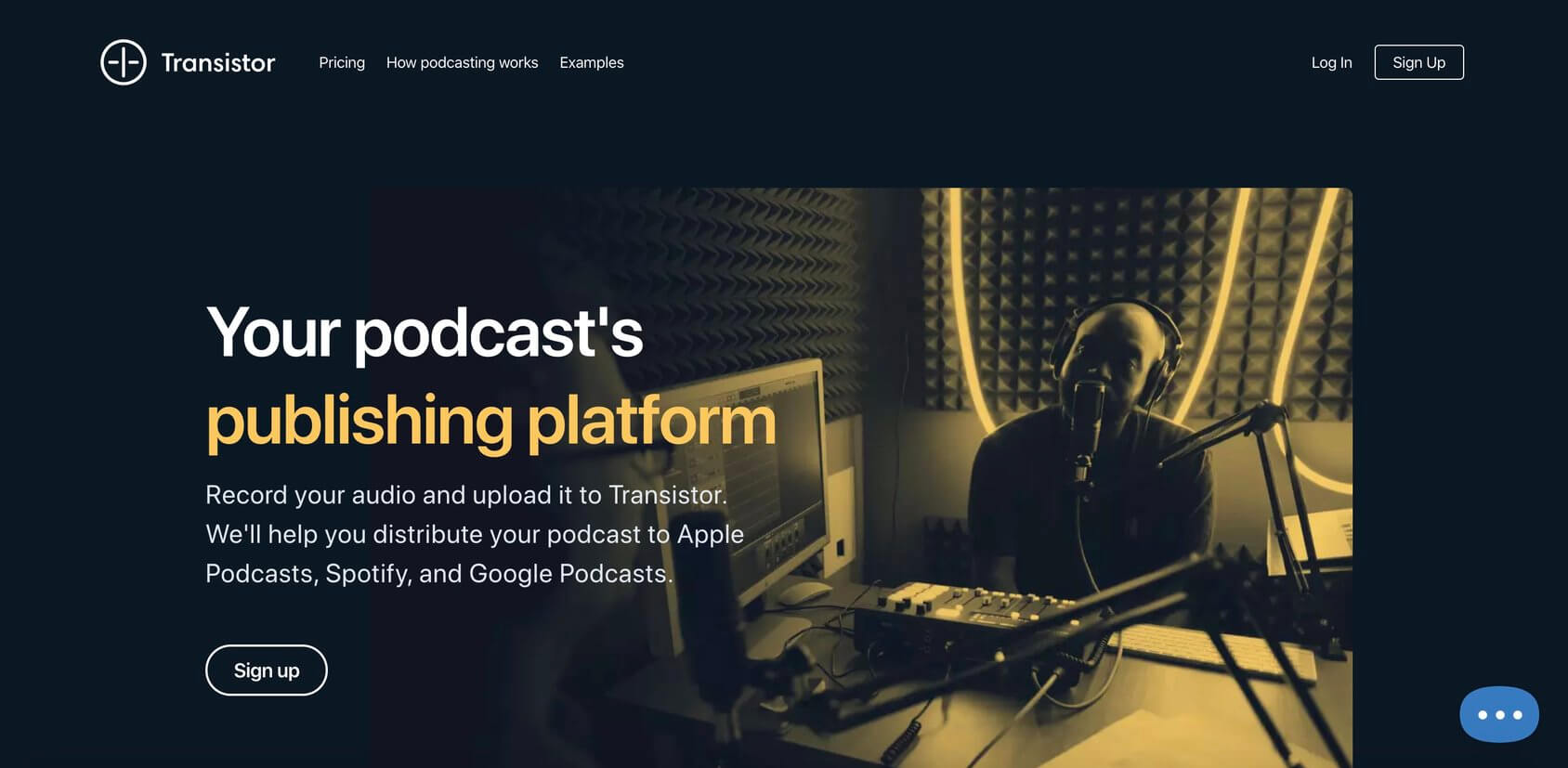 Transistor is a new podcast hosting service that provides excellent analytics and customer support. They are especially focused on brands and professional podcasters. Transistor provides clients with various tools such as unlimited shows, multiple users per account, podcast distribution, and viewing analytics to help them grow their podcast audience.
If you are already using another podcast hosting platform, you can easily import your existing feed to Transistor.
Key features
Host multiple podcasts on one account
Add and manage team members
Get advanced statistics
Create a podcast website
Private podcasting feature
Plans and pricing
$19 per month (Starter)


or $190 per year billed as one payment

$49 per month (Professional)


or $490 per year billed as one payment

$99 per month (Business)


or $990 per year billed as one payment
Visit Transistor for additional information
SimpleCast — Starting at $13.50 per month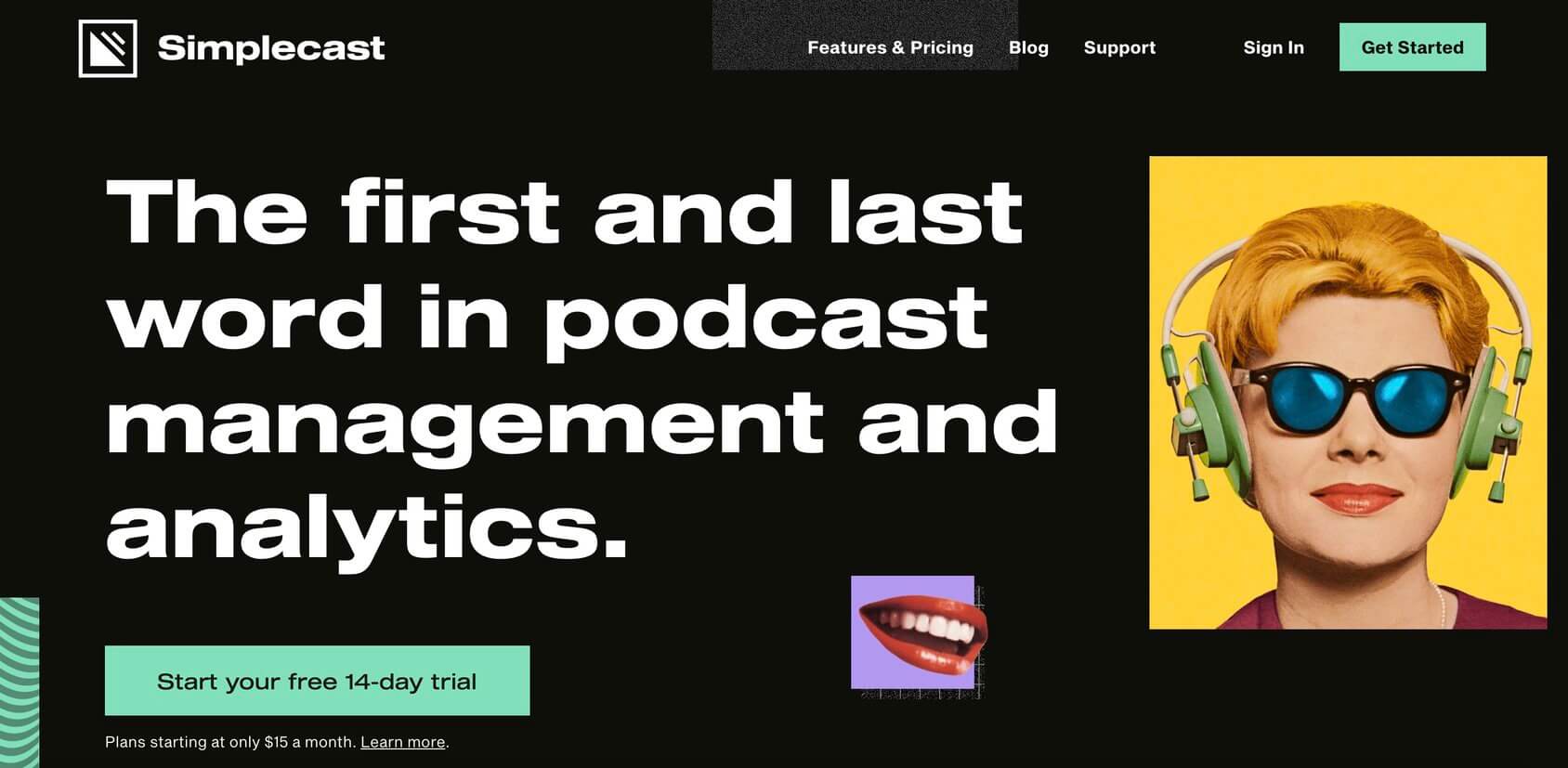 SimpleCast is a podcast hosting service that has been around for six years. They host some impressive brands like Kickstarter, Nike, Facebook, and HBO. SimpleCast is known for their industry-leading features such as unlimited listener plays, reliable analytics, customizable websites, and embeddable audio players. Their stand-out feature includes inviting others to collaborate with you on a podcast and being able to set up multiple managers.
Key features
Embeddable website audio player
Secure site and RSS feed
Email support
Unlimited storage and uploads
Manage multiple shows
Plans and pricing
$15 per month (Basic)


$13.50 per month for an annual payment

$35 per month (Essential)


$31.50 per month for an annual payment

$85 per month (Growth)


$76.50 per month for an annual payment
Visit SimpleCast for additional information
Castos — Starting at $19 per month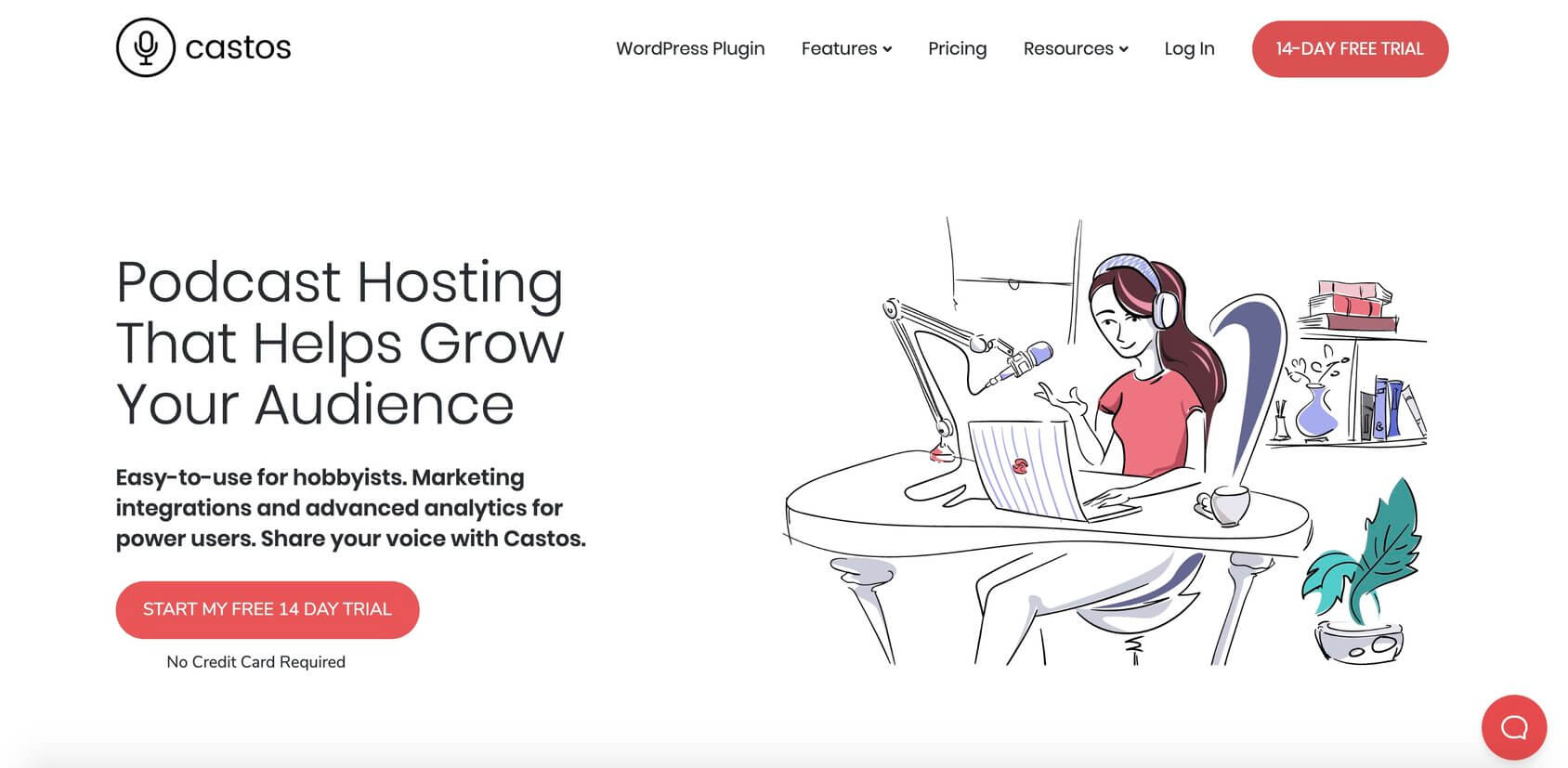 Castos is an easy to use podcast hosting site, especially if you are a WordPress user. With Castos' WordPress plugin, it has become really simple to publish podcast content. Furthermore, they also provide a Premium Podcasting feature to monetize your podcast through subscription.
Castos has an automated importing process that helps users to switch from their competitors to their platform easily. Additionally, an integrated YouTube publishing option allows podcasters to convert their audio into video files that can be shared with the click of a button.
Key features
Unlimited storage and bandwidth
Automated transcripts
YouTube republishing
Personalized podcast website
Customizable media player
Plans and pricing
$19 per month (Starter)


or $190 per year billed as one payment

$49 per month (Growth)


or $490 per year billed as one payment

$99 per month (Pro)


or $990 per year billed as one payment
Visit Castos for additional information
Audioboom — Starting at $9.99 per month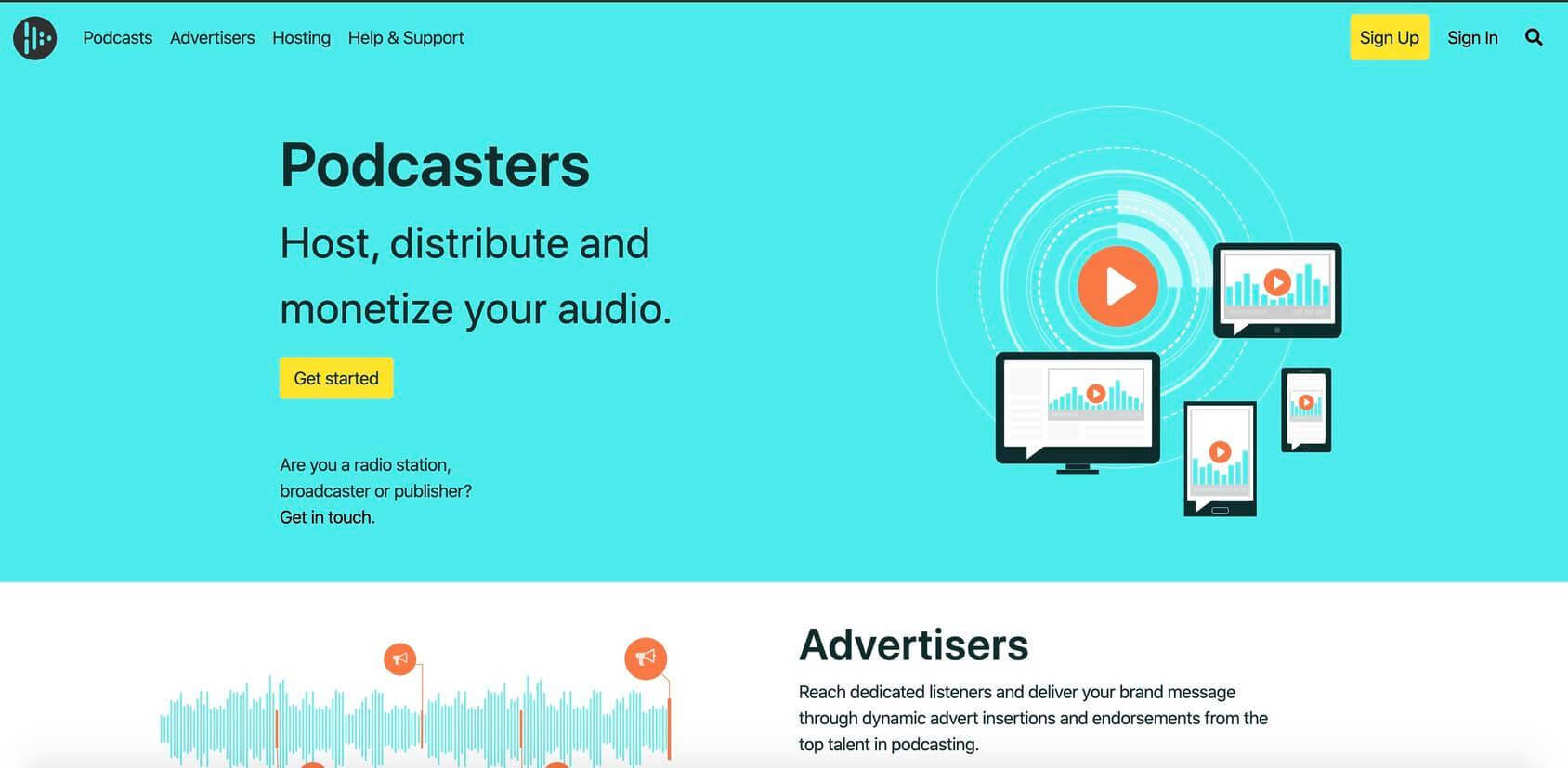 Audioboom is the best podcast hosting platform for dynamic ads and monetization. It gives you simple podcast distribution, and once you go beyond 10k monthly downloads, you are given access to their targeted network, sponsorships, and branded partnerships. This allows you to easily monetize your website once your audience base starts growing.

Whether you have one show or an entire podcast network, Audioboom will give you access to unlimited channels and episodes for free.
Key features
Impressive technical support
Unlimited episode uploads per month
Embeddable players for the website or social media integration
Advanced analytics
Plans and pricing
$9.99 per month


or $99 per year billed as one payment
Visit Audioboom for additional information
Fusebox — Starting at $8 per month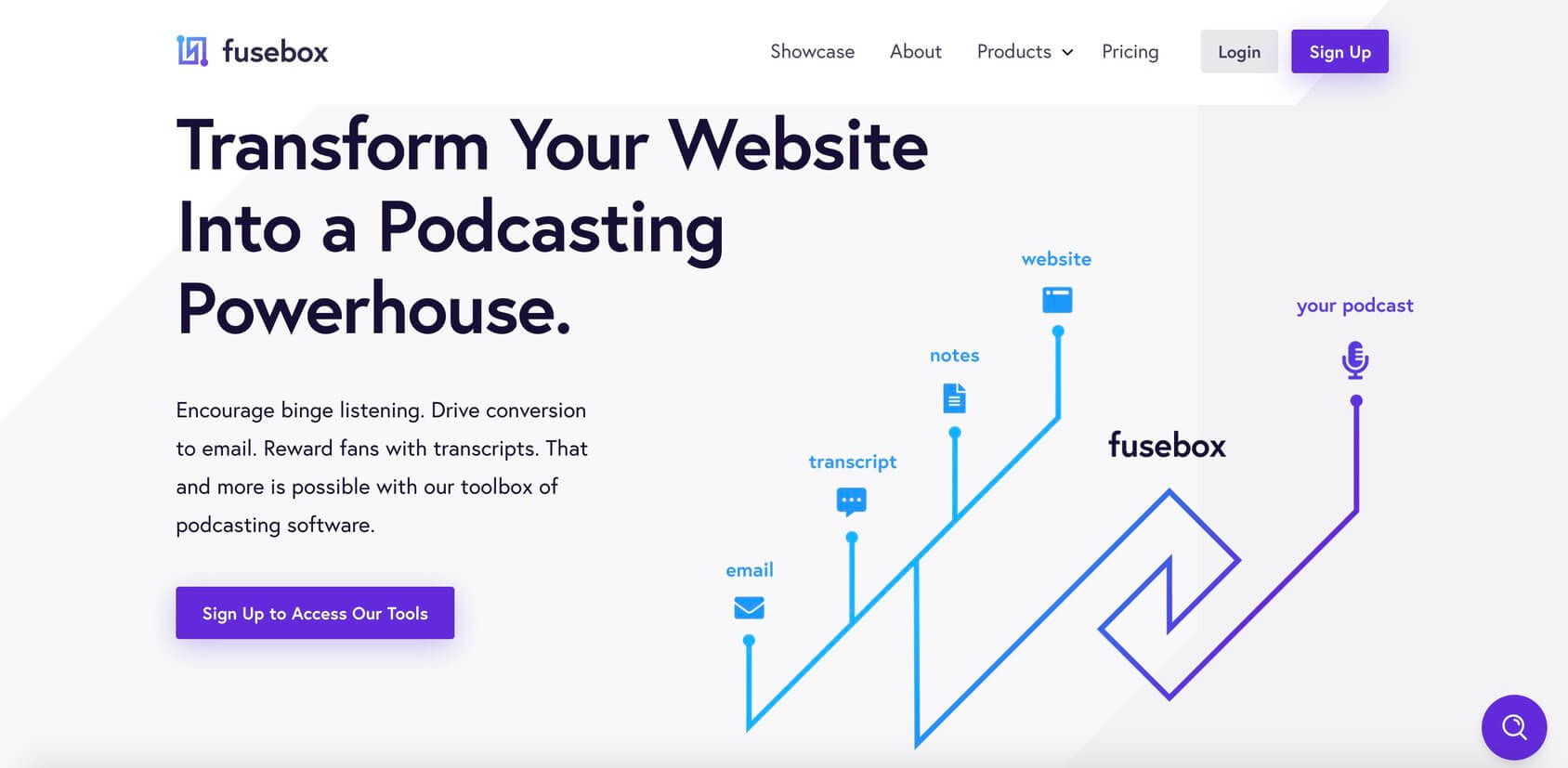 This podcast host was created by the famous podcaster Pat Flynn with a mission of providing the best website podcast player that visitors will love. Users only have to install the Fusebox WordPress plugin and add their podcast's RSS feed. After that, you just have to enter your subscription URLs to make your show visible in all of the major directories.
Fusebox is the best podcast hosting service to use if you want to host your podcasts, send them to the right networks, and display them on your WordPress website.
Key features
Simple to install and configure
SEO-friendly live text
Downloadable transcript PDFs
Mobile-friendly interface
Efficient technical support
Plans and pricing
$12 per month


or $8 per month on an annual basis
Visit Fusebox for additional information
Blubrry — Starting at $12 per month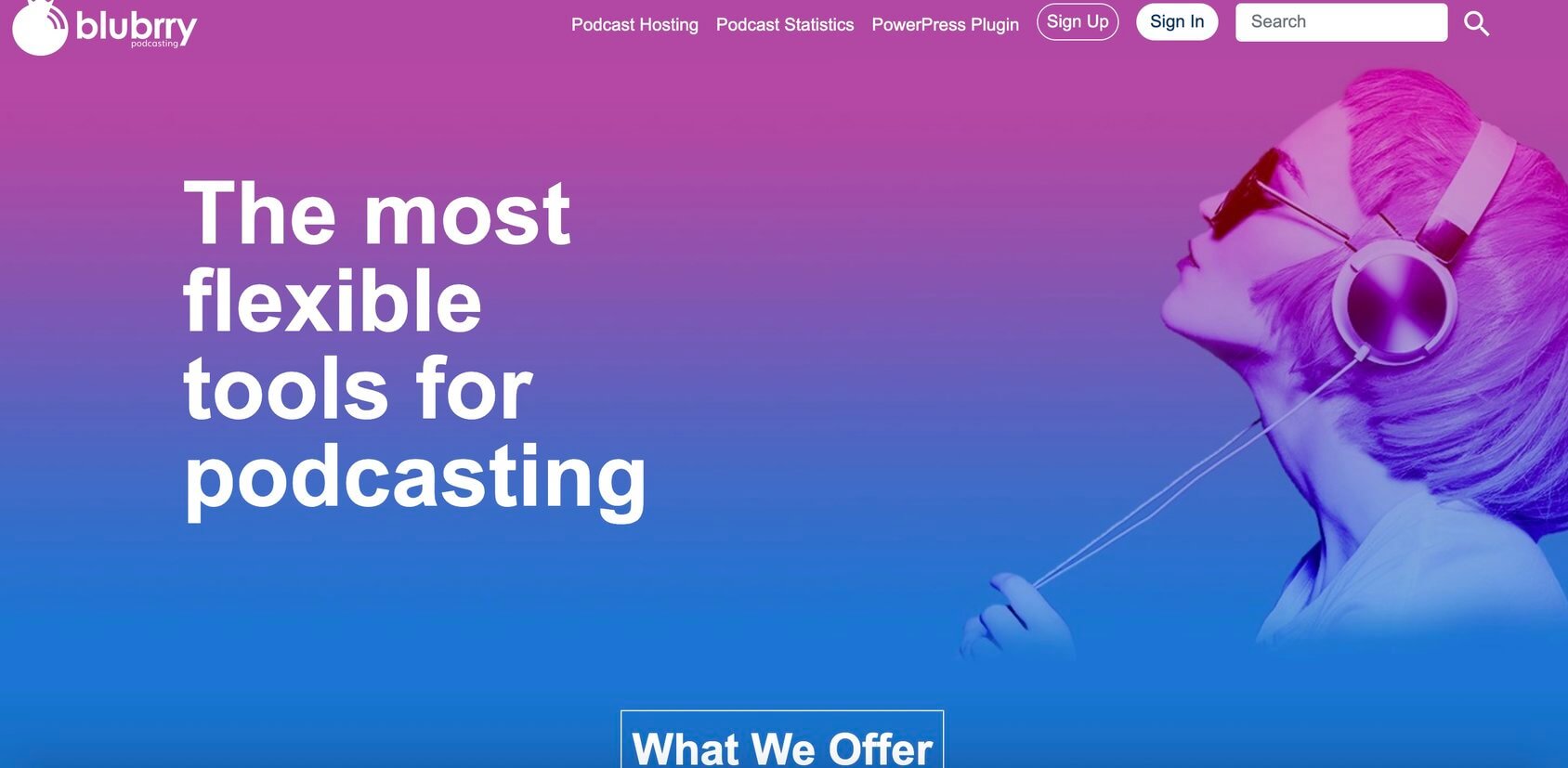 Blubrry is one of the best podcast hosting platforms that provides not only hosting services but also offers managed WordPress hosting with PowerPress. PowerPress is the number 1 WordPress podcast hosting plugin for podcasters. This plug-in is free to use with SEO options, MP3 tagging, and consistent maintenance.
Blubrry also offers a podcasting manual that gives you a comprehensive guide on using their services as well as tips and advice to make your podcast successful. Blubrry is becoming one of the top-rated choices because of its customer-first approach and compliance with IAB guidelines.
Key features
Free media migration
Free WordPress site
Optimized for iTunes and Google Play
Free email support
World-class CDN
Plans and pricing
$12 per month (Small)

$20 per month (Medium)

$40 per month (Large)

$80 per month (Extra-large)
Visit Blubrry for additional information
Libsyn — Starting at $5 per month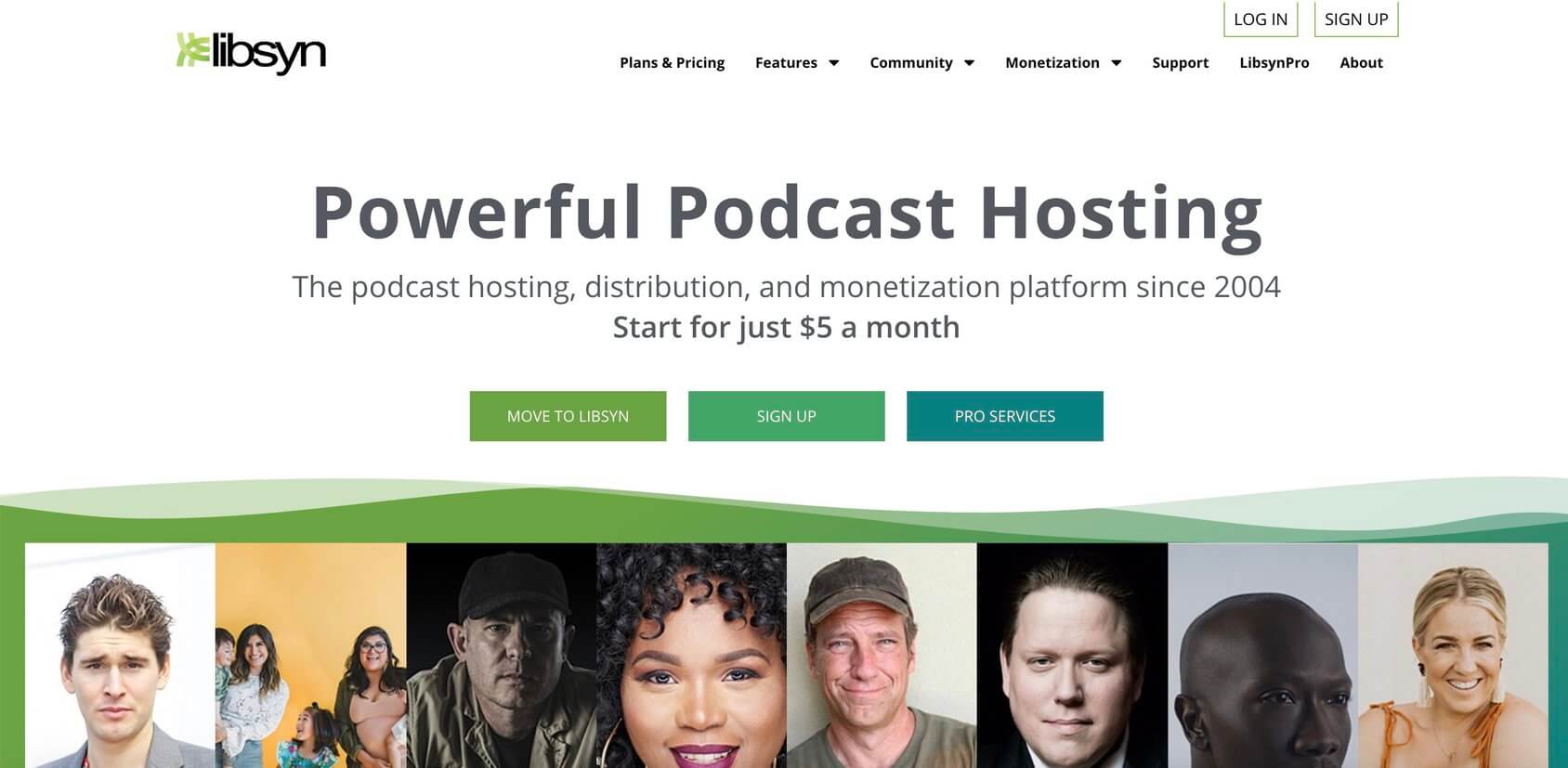 Established in 2004, Libsyn was one of the first podcast hosting sites. As a top podcast service now, it is best known for its simple user interface, easy RSS link generation, and customizable information for iTunes. Libsyn is a pioneer in creating this system of hosting and publishing podcasts with an ever-growing network of listeners.
They provide all of the tools necessary for promoting your podcasts, such as media hosting, advertising programs, statistics, and much more.
Key features
In-depth audience analytics
Customized apps
Podcast monetization options
Timely customer support
Plans and pricing
$5 per month (Classic 50)

$15 per month (Classic 250)

$20 per month (Classic 400)

$40 per month (Classic 800)
Visit Libsyn for additional information
ZenCast — Starting at $12 per month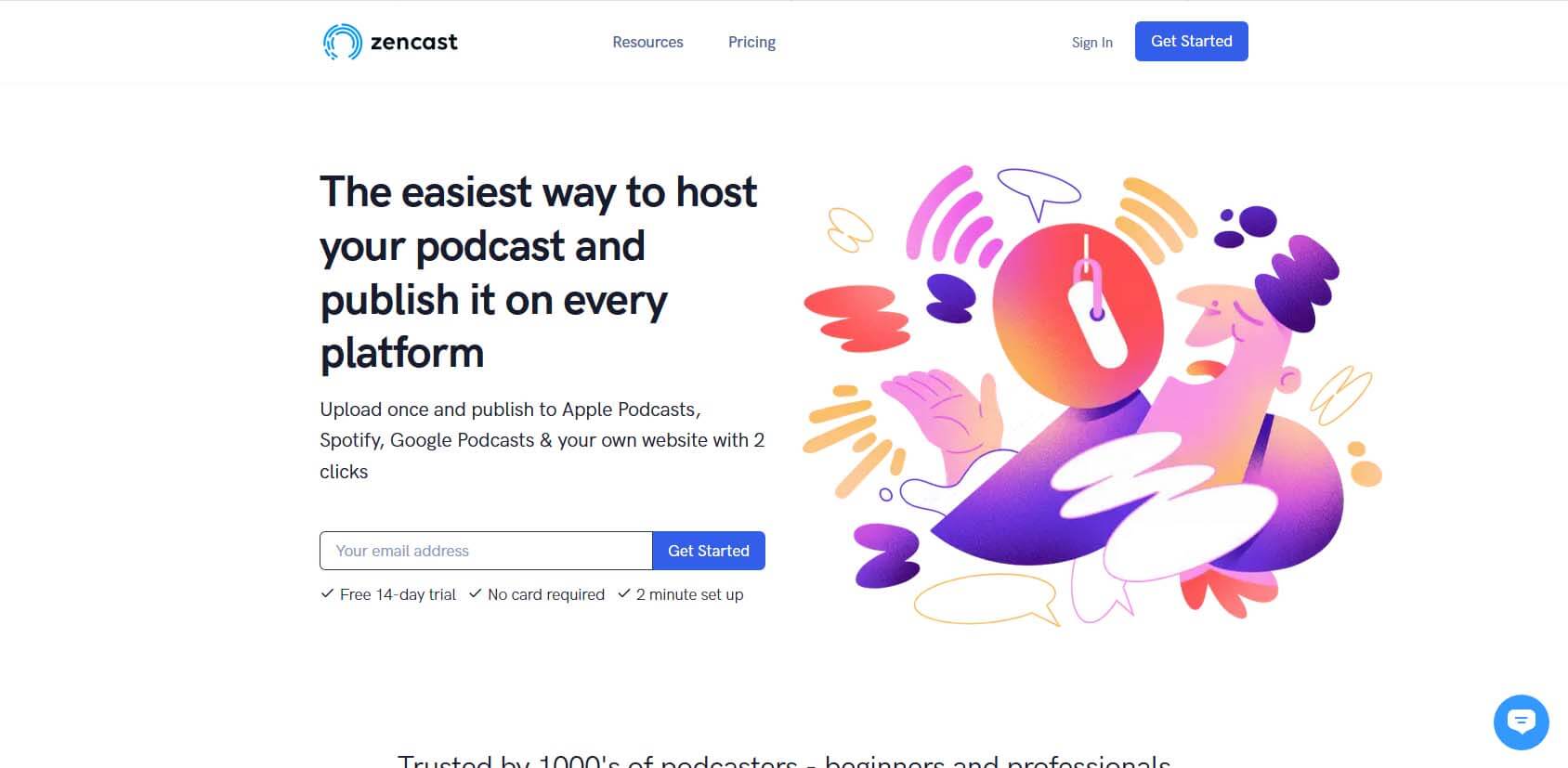 ZenCast.fm is a podcast hosting platform that has been designed from the ground up to make hosting and publishing a podcast easy. All of ZenCast's plans have no upload or download limits, which removes the stress of having to plan uploads around a monthly quota. There's also no need to worry about your audience growing and your hosting costs increasing.
Something that's unique to ZenCast is its support for keeping track of and linking people to episodes. Within the user dashboard, you can keep all of your past guests and contact information in one place, see when a guest was last on your show and see how many episodes they have been on. ZenCast's hosted podcast website and podcast player include these guest profiles to give listeners more information and quick access to guest's social media profiles or past episodes.
Key features
No upload or download limits
Host and guest profiles included on the website and player
Multiple podcasts supported under the one account
Google Analytics integration
Podcast rating and review monitoring
Plans and pricing
$12 per month (Hobby)

$35 per month (Pro)

$89 per month (Plus)
Visit ZenCast for additional information
Best free podcast hosting plans
Here's a list of the best free podcast hosting sites. Some of them are exclusively free platforms, while some have both free and paid plans.
This podcast hosting platform has a free plan that lasts for only 90 days, after which you have to move towards their paid hosting plans. This free trial period allows you to gauge the features of this platform and determine if they will help to boost your business
Key features
2 hours each month of uploads
Unlimited team members
Upgradation required for removing unnecessary ads
PodBean has a basic free plan with a limited amount of storage and an easy interface to start your podcast hosting. However, you will need to upgrade to receive more advanced analytics reports or more website customization.
Key features
5 hours of storage space
100 GB monthly bandwidth
iPhone/Android app
RSS feed and iTunes support
Embeddable players
This service is a well-known platform for singers, musicians, and DJs, where they upload their music for free. SoundCloud podcast hosting allows podcasters to upload their episodes, which makes it a directory as well as a podcast host. However, while they rate high on the list of music listening apps, they are not that high up on the list of podcast hosts.
Key features
Advanced analytics
Support through Twitter and SoundCloud help center
Unlimited hosting time
Anchor is probably the most well-known free podcast hosting site. Their main focus is mobile podcasting, but you can also use their web interface to manage your episodes.
Key features
Free unlimited podcast hosting
One-click distribution to all major platforms like Apple Podcasts, Google and Spotify
Monetize your podcast through the Anchor sponsorship program
Multiple collaborators
Analytics to track progress
Spreaker has a free speech hosting plan with live streaming and one-click best podcast distribution that will help you to start your podcast easily and for free.
Key features
15 minutes per live podcast
Mobile and desktop applications to create content or go live
Multiple podcast hosting
5 hours of audio storage
The most popular podcasting directories
So you have selected your podcast hosting platform and created your podcast, but you aren't reaching very many listeners, and you are wondering how to get more?
One of the best ways to increase your podcast listeners is to distribute your podcast to podcasting directories. Two of the most popular places to promote your podcasts are Apple Podcasts and Spotify. However, there are also other sites that can help you to grow your listening base. To put it simply, these two directories are not places to host your podcast. Instead, these sites just automatically read the RSS feed created by your website or podcast host.
Here are some of the more popular podcast directories that can play a role in promoting your podcast and getting more listeners.
Apple is the biggest player in the podcast space, so it's important to be listed on Apple Podcasts or iTunes if you want your podcast to grow. Statistics have shown that 70-80% of your listeners will come from this platform alone. Apple Podcasts provides a simple and easy to navigate interface. Any podcast that makes it into their Top Charts will see huge growth in their audience and popularity.
Google Play is another big player among podcast sites. It has two ways to find podcasts: Google Play Music and Google Podcasts. Google Play recommends podcasts based on the previous listening habits of users, which makes this platform an easy tool to rank your podcast higher than other podcasters.
Spotify introduced the option of listing podcasts only recently, in 2018. However, they have quickly become the best podcast directory. That's because Spotify reaches a vast majority of people who don't listen to podcasts and visit Spotify to get access to music. This is a simple yet fantastic way of increasing your podcast reach and expanding your network.
This podcast directory has been around since 2008 and portrays itself as the easiest way of listening to podcasts on your iPhone, iPad, Android, PC, Smart Speaker, and even in your car. Stitcher has stats for downloads, listens, listening time, and monthly active users. Since it is only a mobile app, more people can find you on the go, directly through the app.
This is a popular online radio and podcast streaming service on the web. IHeartRadio accesses your podcast information directly from your podcast hosting platform. They have a weekly Top Podcasts chart and personalized listener recommendations that make it very easy for new people to test out your show.
Pandora is another podcast directory that has a powerful personalized podcast recommendation algorithm. This algorithm works at the user and episode level based on their preferences and listening history. Recently, they have updated their submission process to accept more podcasts than previously.
CastBox is very different from its competitors as it provides SEO and AI optimization to make podcasts more relevant to what users want. This is why it is the podcast platform of choice for people who like to experiment with new podcasts. Moreover, CastBox also provides social media features that allow listeners to comment on and share individual episodes that will help you get noticed and increase your audience.
10 tips to make a podcast successful

There are a million ways to start a podcast, but a successful one that helps you to reach out to more listeners requires some work.
Here are our top 10 tips for launching a successful podcast.
1. Invest in proper equipment
You don't need to spend thousands on state of the art recording equipment or software. Just make sure that you have a decent microphone to start your podcasting career. A microphone, a headset, and some basic audio enhancing or editing software will be enough to make you successful. The initial investment is very small as compared to the prospective profits from podcasting.
2. Decide a theme
The entire theme of your podcast will play a huge role in determining its success. This means choosing to talk on a subject you are an expert on. If you are passionate about your topic, it will resonate with others who share the same passion or interests.
3. Know what your audience wants
You should know your target audience and what their preferences are. It should be your priority to target your content at a particular group of people since this increases the chances of gaining loyal fans and listeners. Your audience plays a big role in the success of your podcast. Moreover, by gaining their feedback, you can determine what your audience wants from you, and you can deliver that to keep the show interesting.
4. Be consistent with your content
Consistency is key if you want to make your podcast successful. You need to commit to a post schedule, format, episode length, audio levels, and other details. Most importantly, a consistent release schedule is vital to maintain listener loyalty since it gives them a sense of security that you are there for them.
5. Record and edit your podcast
To produce a successful podcast, you need to devise a script and stick to it while you record. After recording, you must edit your content and cut any irrelevant content that messes with the quality of your podcast. The content and quality of the podcast matter more than the length of your podcast.
6. Limit the length of your content
The secret to a successful podcast is to make sure that the show is concise and engaging. Since people have short attention spans, lengthy and drawn-out episodes can be a drawback. You need to structure your podcast in a way that provides maximum information over a relatively short period of time.
7. Produce a good sound quality podcast
Audio content is all that you have when it comes to podcasting. This is why you need to ensure that you publish an episode with the highest sound quality to make sure that your audience is engaged throughout the length of the episode. For this, you need to invest in a decent microphone or use efficient software to record podcasts, or both.
8. Grow your audience
After creating a podcast, the hardest part is promoting it and growing your audience. Apart from creating engaging content that will naturally attract an audience, you need to have a professional-looking podcast website, conduct polls and surveys, and social media integration. These are some of the best ways to help your podcast get discovered by a large audience base.
9. Track your progress
The best way to track your podcast progress is to set goals, create a strategy, and then adapt as you go. Luckily, most podcast directories share your podcast's metrics with you through which you can gain valuable insights into how it's performing.
10. Monetize your podcast
The first goal of a successful podcast must be to produce authentic content that helps listeners in multiple ways. Monetizing your podcast always has to come second, since you cannot do that without high-quality content. To begin the monetization journey, you can sell advertising placements in your show or get a show sponsor. Another effective way to generate revenue is to grow your personal brand. You can even sell your own products and services or offer premium content through a membership site.
FAQs
How do I host a podcast on my website?
If you have an established website, especially for your podcast, you might be considering using that site for hosting the files. However, this is never a good idea, since the storage space and bandwidth required to host a podcast adds up quickly. Because of this, a website is not the best platform to host your files.
How much do podcast hosting services cost?
In most cases, basic plans for podcast services start at $10.00 per month and go up to $15.00 per month. If your podcasts consist of videos or you want a podcasting service for commercial purposes, the rate will increase. Most podcast hosting sites will either ask you to increase your plan capacity or the option to purchase extra storage if you have extra requirements. Also, some hosting site plans have hourly storage limits or limited file sizes.
Where can I host my podcast for free?
Starting as a new podcaster with a small audience base, you need to select a free podcast hosting service that is reliable and helps you to grow your podcast. Buzzsprout, Libsyn, Anchor, and Soundcloud are just a few options that you can try to host your podcasts for free.
How to choose the right podcast hosting platform?
Although you can choose your podcast host based on their pricing plans, you need to look at the bigger picture and focus on their features and how they will benefit your podcast long term. Every cheap podcast hosting service has a unique feature, but you need to determine your requirements and long term goals. For example, if you want to increase the number of your listeners, we recommend you choose hosts like Buzzsprout or Podbean since they provide comprehensive podcast analytics and social media integration.
How do I promote my podcast?
Many of the podcast platforms mentioned above allow you to upload podcasts on social media platforms and even podcast directories like Apple, Google Play Music, or iTunes. Since your podcast is published as an RSS feed, all you need to do is copy the URL provided by your podcast hosting service.
How to do podcast distribution?
Distributing your podcast is harder than creating it. Some of the best distribution methods are by submitting your podcast to popular podcast directories or other podcast platforms like Apple, Soundcloud, or Repurpose.io. These podcast distribution services convert your podcasts to YouTube videos, blog posts, or Facebook videos and propagate them through cross-platform distribution tools.
Do podcasts make money?
With the growing demand for audio content through podcasts, they have successfully hit mainstream media. This means that there are plenty of opportunities to start your podcast and start making money through it. There are countless ways that a podcaster can earn money that increases in step with the growth in their audience.
How do podcasts make money?
Podcasts make money through advertising or promotion of other businesses' products or services to your listeners as an affiliate. Moreover, they can also be monetized through donations, crowd-funding income, selling branded merchandise, and different subscription models.
Which equipment do I need for a podcast?
You need to use a variety of high-quality equipment to record podcasts. This includes microphones, audio interface, windscreen, shock mounts, closed-back headphones, mixers, and more. Our best advice would be to invest in a USB microphone rather than a built-in microphone. Also, you don't need a high tech laptop to start a podcast; a normal one will work just fine. Finally, there is no need to invest hundreds or thousands in an expensive camcorder or DSLR camera. A good webcam that streams in 1080p will work well.
Conclusion
Now that you have our complete list of best podcast hosting sites and podcast directories, you need to make a decision by digging deep into the potential podcast hosting platforms features. You must be able to upload as much monthly content as needed, get enough storage space, view analytics, and grow your audience. Some free podcast hosting sites are also available online that help you to test their features before selecting a permanent podcast hosting platform.
Finally, you can choose some of the podcast directories mentioned above to help your podcast to grow and attract more listeners to make it successful.