Lifestyle Blog
Many people are starting lifestyle blogs. They are extremely popular and the cool thing is that you can write almost anything on a lifestyle blog.
Unlike many other niches that are quite specific, lifestyle is something that may confuse people very often. For example, when you say that you have just started a food or fashion blog, people can quickly put the pieces together and visualize the entire site. It is obvious that you write about cuisine and recipes or in the other scenario, you can imagine posts about clothes and apparel. But lifestyle blog is something much more.
5 of The Most Searched Blog Topics According SEMRush

Lifestyle blog can cover many more topics and you are the only person who decides what to write about. Since you are presenting your life to the audience, it is much easier to create a unique blog. Even if you are covering a popular topic, the chances are that you will not publish another vague review of a device or tutorial on something that's been covered millions of times. It is your life and your storytelling, and that's something people love. A lifestyle blog allows you to write about each and every topic you have in mind, and you can do it your own way.
This is one of the reasons why to start a blog. It gives you a chance to write about your life experiences and actually enjoy what you do. And if you start it the right way, you have a greater chance of making some extra money on it or maybe even transform a simple blog into a money-making machine that might turn your life around.
Starting a Lifestyle Blog
Starting a blog is not that hard if you follow all the steps that we are about to represent. If you have already decided to give it a try, we hope that you have also browsed through several popular lifestyle blogs that might have given you the right ideas. Still, there are some things you need to take care of.
Lifestyle is a broad topic. Well, it covers everything that happens in life, so that's pretty much everything you can think of. Choosing the right niche is crucial because otherwise, you may fall into a trap of trying to cover everything. While it might sound like a good idea to write anything about everything, you should stop here and think about the things you love the most. Focus only on those aspects of life that you really enjoy and love. Also, include the things you know something about, and you will quickly be able to isolate several categories that will make up your blog.
Do you love traveling? Maybe you're an expert in home decor? Or do you love to talk about relationships? These are just some of the examples you may focus on. And the great part about lifestyle blog is that you get to combine all of the different categories into one blog that will allow you to express your love and show expertise.
Choose your blogging platform
What Are The Best Blogging Platforms?
Top 100 Blogs by Platform
The internet is huge, and all of those billions of websites and blogs clearly aren't based on the same technologies. So, how do you choose the best blogging platform for your lifestyle blog? Some platforms come free of charge. Some may seem perfect for beginners but yet are not anything close to that. Luckily, there is a blogging platform that gives you all the possibilities. The one that will allow both beginners and professionals to focus on blogging instead of all the technicalities and dealing with problems. We are talking about WordPress.
As you may already know, there are two versions of WordPress. But we are talking about self-hosted WordPress that's free of charge, but it still gives you the option to have full control of your blog that you may expand as far as you wish.
If you plan on being serious about your blog in the future, it is important that you start the right way. Choose self-hosted WordPress, treat yourself with a good hosting company (more about this in the following lines), find a good theme, and useful plugins.
Have you thought of your domain name?
Consider a domain as an address of your blog. Just like your home comes labeled with a street name and number that your postman will recognize to route your eBay orders to the right place, your blog needs something similar. Where would you direct visitors if you haven't had a unique address?
It will definitely take time to come up with a memorable domain name that both you and your visitors will love, and that's yet available for purchase. The name should be tightly connected to the name of your blog. You have to find the right extension and follow some other unwritten rules about choosing a domain name.
How to get your blog online
Bluehost is Hosting Over 1.5 Million Domains and nearly 2% of all domain names in use on the whole internet.
We at FirstSiteGuide have had our share of the time with many web hosting companies. We have even reviewed many of them and compared one to another. After so many hours spent on hosting companies, we are strongly recommending Bluehost. This premium hosting company is even recommended by WordPress.org as one of the best you can choose for your WordPress-powered blog.
Step One – Get the deal
By following this link, you will get the same premium hosting deal at Bluehost for less money. To make sure everything's ok, you should see the price of $2.75 instead of the regular $7.99 per month. Click "Get Started Now" button to proceed to the next step.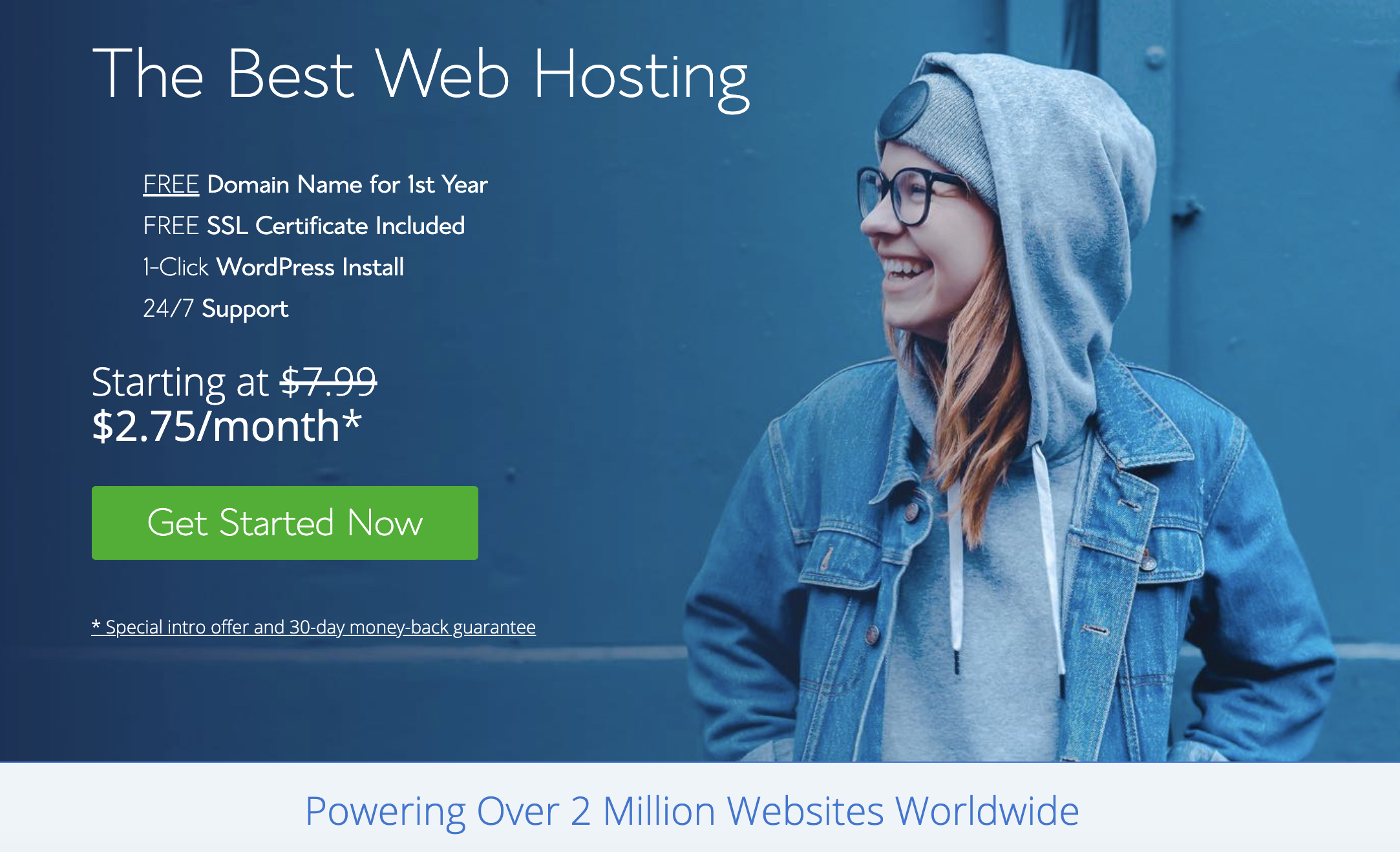 Step Two – Pricing Plans
Although the previous screen showed the most affordable plan, this deal allows you to select any of Bluehost's plans with lower prices.
The Basic plan is limited to one website and 50GB of website space, but it still gets you everything you need to get started. That will be more than enough to get you in the blogging waters, and you can spend months blogging about lifestyle without feeling anything is missing. But when you outgrow the Basic plan, it's easy to upgrade, so that shouldn't worry you at the moment.
Plus and Pro plans allow you to scale up your blog and step up your hobby and turn it into a serious business. This is good to know, so when you decide it is time to become even more serious about the blog, you won't have to worry about finding another hosting company.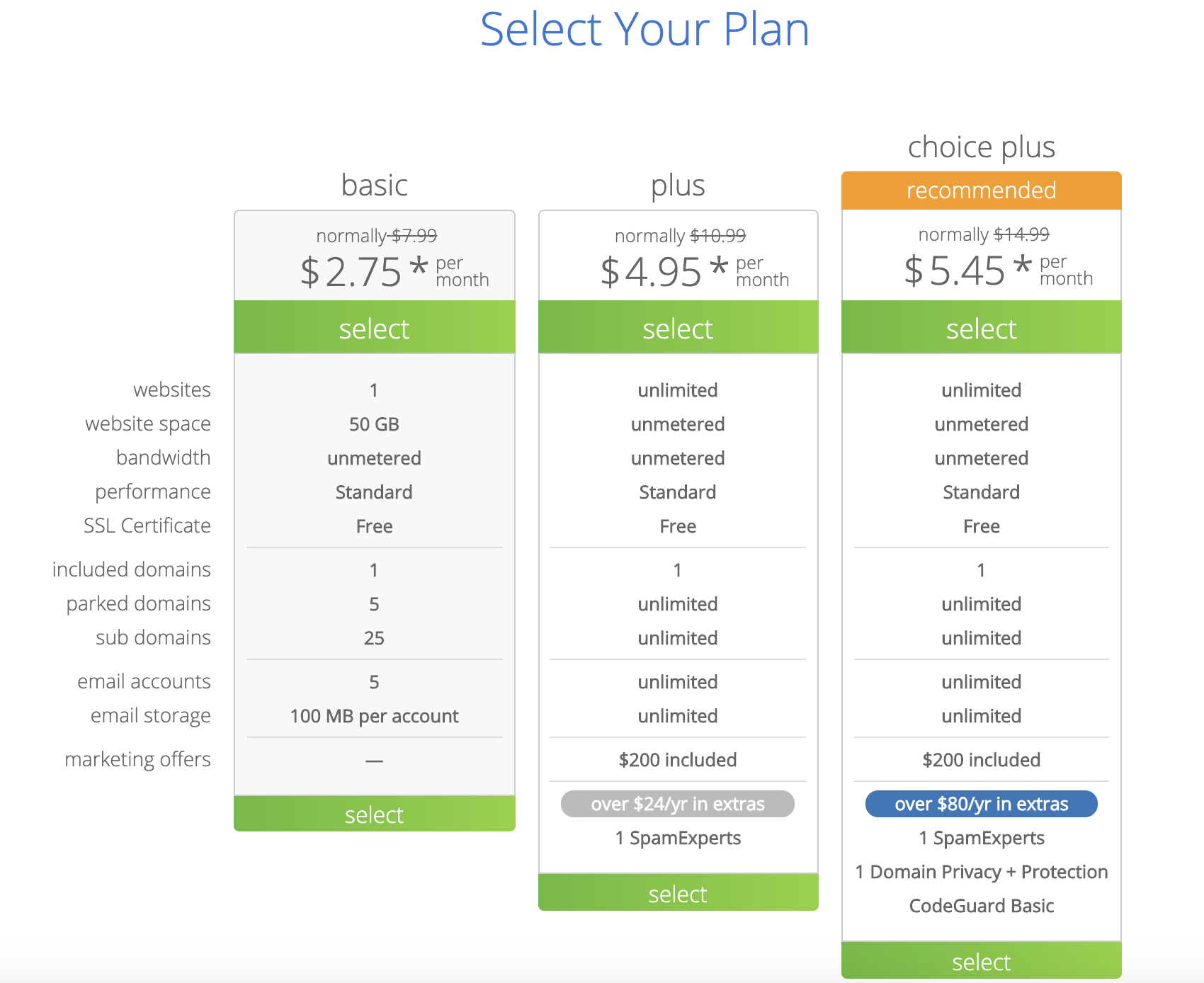 Step Three – Domain Name
Bluehost gives you a free domain. Now it's time to choose one for the blog. This is an important part, so don't take it for granted. Once ready, carefully type in the domain name, check it twice and click "Next".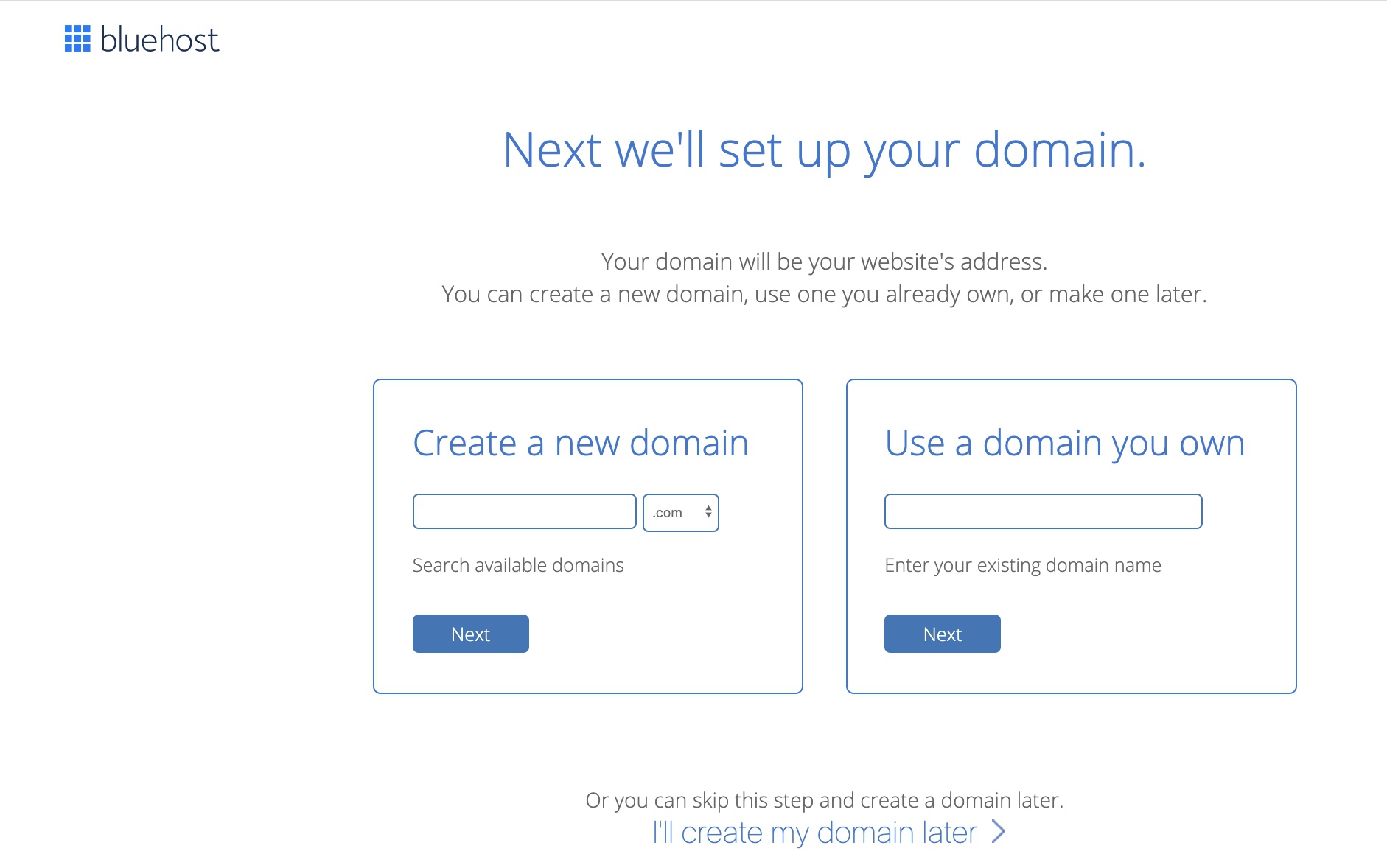 Step Four – Account information
Your domain name has been accepted, congratulations! It is now time to fill out some personal information. Carefully write in all the details about yourself, and don't worry – Bluehost takes this very serious and keeps all the info private and safe.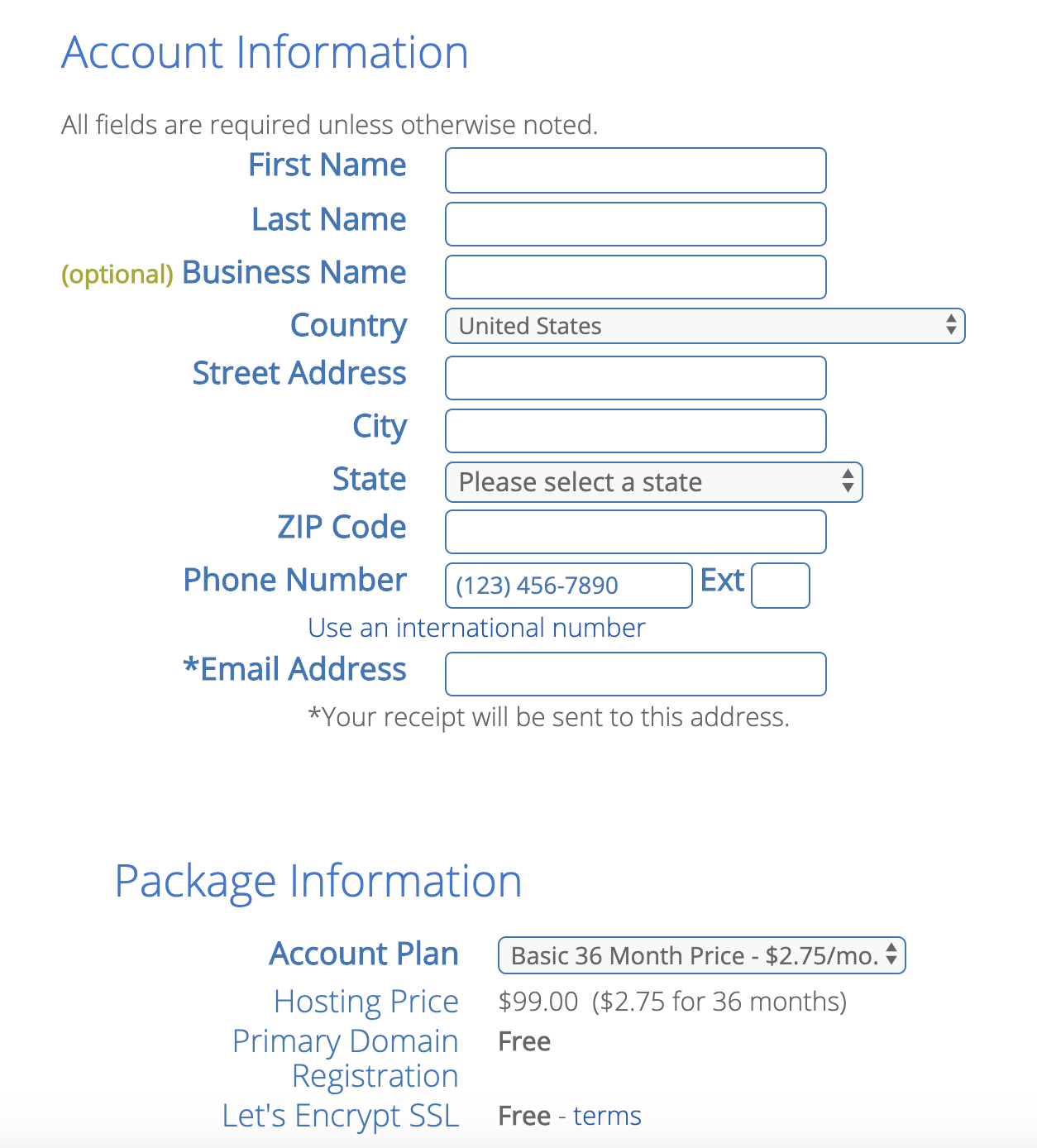 Step Five – Package Information
By selecting the Account Plan, you can lower the price of your monthly hosting expenses. Since you had selected the Basic plan already, you don't have to worry about the options. Everything will be the same, except for the price. The standard 12-month plan will cost you $4.45 per month, but if you decide to pay for 36 months now, you will be paying only $2.75 per month! Don't forget that you are having your website hosted for the entire month for the price of a cup of coffee!
Carefully check the other information, and select any of the extra options if you need some. If you are not sure what to choose at the moment, feel free to skip this as you can always come back to your Bluehost account and make changes. Enter your payment info at the bottom and check the "Terms and Regulations" box. Make sure all the info is correct, and click the "Submit" button.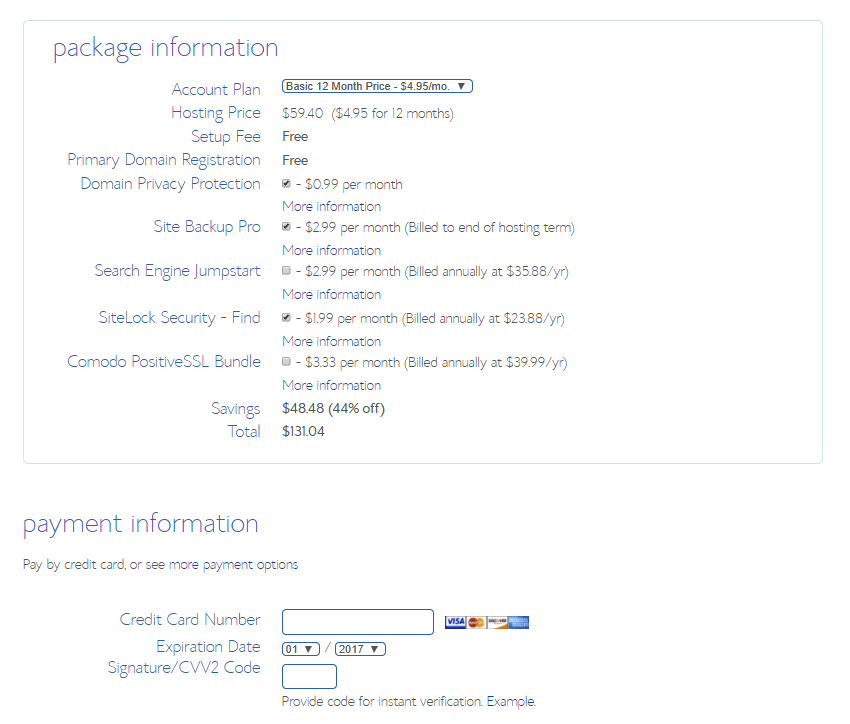 Step Six – Log In
Before you can log in to your account, Bluehost will need you to create your password. It is crucial to understand the account holds everything related to your website, including the payment info, so make sure that you use strong passwords and make it secure. Click on the "Create your password" button. Choose a password or let Bluehost recommend a strong one, read and agree to the privacy policy and terms of service, and click "Next."
Now it's time to log in to your new account. Click on the "log in" button or get back to the Bluehost homepage. You should see the login button in the menu located on top of the page. Click on the button and fill in your domain name or username, and password information.
Step Seven – Install WordPress
Locate the WordPress icon and choose a quick install option. The system will now do everything automatically. You can forget about manually installing WordPress or worrying about how to create databases and mess with files. You should immediately receive the username and password which will let you log in to your WordPress blog.
Step Eight – Choosing a theme
After installing WordPress on your new account, you should select a theme so you can finish up setting your blog. We suggest that you just select one from the list since you will have to spend some extra time selecting the best WordPress theme for your blog. Don't worry, no matter which theme you select at this point, you can always choose a different one from WordPress Theme Directory.
Once you have a theme selected, just click the "Start Building" button which will let you access the dashboard.
Step Nine
If this is your first WordPress site, Bluehost is ready to help. Follow the on-screen tutorial that will guide you through the simple setup process. If you know what you're doing, and know how to move through the WordPress dashboard, click the "I don't need help" button, and you will be able to work on your own. If you go this way, don't forget to check our complete guide that will help you learn WordPress basics.
Step Ten
Unlike regular WordPress installations, Bluehost prepared various tools that might help you with your blog. In the upper left corner, you will find the Bluehost menu item which contains different options.
But before your new lifestyle blog is ready for the public, you will still have to add the Site Title and Site Description. This is an integral part of the site, but you can always come back to the WordPress General Settings and change that. So, although you do have to take care of what to write here, don't bust your head against the wall since the changes are just one click away.
Recommended reading: Learn How to Use WordPress
How to handle the content
A blog is just one platform that lifestyle bloggers will use to distribute content on. Often, lifestyle bloggers will user other mediums such as videos, podcasts, and social media to send and promote their message and content
By publishing just two blog posts a week, you'll have a hundred by the end of your first year. That'll put you well past the 54 blog post threshold and you should start getting at least 30% more traffic.
Once the blog is set up, the real adventure begins. It is now time to start delivering exciting content to the public. No matter how beautiful your blog looks like, people won't stick to it unless it proves some value.
Unfortunately, handling the content is something that we can't guide you through step by step. Every blog and every blogger are different. While long stories will work for one blogger, another one will attract readers just with short announcements. While one lifestyle blogger may earn monthly paychecks by posting images, another one will learn how to interact with people through videos.
What we can do here is tell you to stick to what you like and know. If you are good with words and love to tell stories, focus on that. Sooner or later, people will realize that. But if you focus on images instead (which may not be your thing) you will end up doing something you don't like – and that's something the visitors will notice.
Without further ado, start with your first post, and do not forget that blogging isn't a one-month project. Before you can begin to attract visitors and interact with them, it may take months.
Recommended reading: How to Write and Create Great Blog Content
How to get your first visitors?
If you want to keep a blog just for yourself, then you should start a personal diary instead. A blog should be something other people would be happy to read. But how do you get those first visitors?
There are so many ways of getting people to check your new blog. People are dedicating their entire careers to this, so we can't cover all the techniques in just one little paragraph. You can send emails, join forums or groups and connect with people, add links to your email signatures, use various services or advertise on other websites. So take your time, and start with smaller steps.
Recommended reading: How to Promote Your Blog and Its Content
FAQ
How much does it cost to start a lifestyle blog?
As we pointed out earlier, a lifestyle blog does not have to be expensive. At least when you're doing the first steps. Instead of spending thousands on a custom website, you can start with WordPress and select a nice theme. If you choose Bluehost, hosting and the domain will cost you only $2.75 per month, and you will still get all the options and features that you need. WordPress is free, and Bluehost will automatically install it for you.
What should I blog about?
Since you're interested in starting a lifestyle blog, you should find a few parts of your life that you enjoy. If you know a thing or two about the topic as well, that's probably a topic for you. To help you out, here are a few things you might consider:
Blogging Niches That Make The Most Money
Write about your travels
Describe your daily routines
Write about your cooking skills
Upload images and videos from parties your organize
Give bits of advice about relationships or motherhood
Include people in discussion about something you read in the news
No matter what you decide to blog about, remember that it's a lifestyle blog and this is something where you should feel comfortable. Don't go for topics that you don't like simply because someone told you people will respond to specific things better.
How lifestyle bloggers get paid?
Obviously, it will take time before you can start making money. Before getting the first paycheck from your blog, you should focus on the blog itself and attracting the audience. But to understand how vast the possibilities are, here just a few ways of earning money with a lifestyle blog:
Blogging income from affiliate marketing
% Amazon Accounts of Affiliate Income by Niche
Advertising networks – you can join one of the popular advertising networks (like Google AdSense, Media.net or BuySellAds) that will allow you to show targeted ads. The more popular the blog gets, the more money you can earn.
Sell ad space directly – a lifestyle blogger can show ads on the sidebars, in articles or anywhere on the site. You can sell those ad spaces directly to an advertiser.
Sponsored posts – you can accept sponsored posts. If you establish a good blog, people will want to pay to get featured on your site.
Affiliate programs – you can recommend a product through your blog. If a customer makes a purchase, you'll get a commission.
Sell your own ebook – you can write a book or ebook and sell it.
Start membership sites – if you can offer something unique, people might want to pay monthly fees for unique content.
Sell your food photos – if you are a good photographer, you can sell the rights to your imagery.
How much money can you make with a lifestyle blog?
Lifestyle blogs are usually image-heavy, providing more of a visual experience for the reader
Just like with any other blog, it may end up as just a hobby and something you work on the weekends. But it can also prove to be a money-making machine that will substitute your regular 9-5 job.
A popular blog can earn a few thousand dollars per month without a problem. For example, Huffington Post reported that Lindsay and Bjork Ostrom, the duo behind the Pinch of Yum blog earned $802,144.55 during a 12-month period (from December 2015- November 2016). Obviously, not many lifestyle blogs will be able to earn so much. Just to understand how it goes, the same couple from the example earned only $20 their first month.
So, it is important not to quit just because you haven't earned millions in your first months of blogging. But if you're good and work hard, you can start earning hundreds of dollars per month after your first year blogging.
Top lifestyle blogs to follow
If you are still not one hundred percent sure what a lifestyle blog should look like, let us show you a few examples. The following people managed to create successful blogs that have been attracting loyal readers on a daily basis. Yes, these people are even making money with it.
A Cup of Jo
Include high quality photographs and visuals. Readers gravitate to blogs that have beautiful photographs and visuals to look at. Use a good digital camera to take photographs that relate to your postings
This amazing blog is written by Joanna Goddard from New York. After a successful career at different popular magazines, Joanna decided to start her own blog. Although it began as a weekend hobby, A Cup of Jo quickly became very popular where Joanna now writes about style, food, design, travel, relationships, and motherhood. The blog is an excellent example of what a lifestyle blog should look like, so don't be afraid to learn from Joanna's experience.
Wit & Delight
Kate Arends decided to start her own blog in 2008 when she was still working as a graphic designer. Her love for expensive and gorgeous things made her think about life. That's when she decided to start Wit & Delight as a medium that allowed her to express herself. The blog quickly became a success, and now counts more than 3 million unique followers and several people who work on it on a daily basis.
Cupcakes and Cashmere
Emily Schuman is another successful woman who started the blog as a simple way of reaching people and expressing herself. People fell in love in Emily's writing style and posts that she began to deliver, so she was able to turn Cupcakes and Cashmere into much more than just a hobby. The blog is now one of the most popular lifestyle blogs where Emily has a few employees. The blog covers fashion, food, beauty, decor, and much more.
Conclusion
Starting a lifestyle blog is not that hard. Even if this was your first encounter with setting up a blog, you should still be able to follow all the steps and have the blog ready. But maintaining a successful lifestyle blog is a whole other story. Now it's time for you to shine and show all of your creativity.
Writing stories, snapping photos or recording videos takes time. Getting visitors and luring them back in with another post is a challenge. But this is why you wanted to start a lifestyle blog in the first place, right? To show what you are passionate about, to teach people something and share your life with the community. Keep posting, and don't forget to stop by at our blog to learn more blogging.