Best Website Builders in 2023
How to Choose the Right Website Builder for Your Business
FirstSiteGuide is supported by our readers. When you purchase via links on our site we may earn a commission.
Read More
Best Website Builders in 2023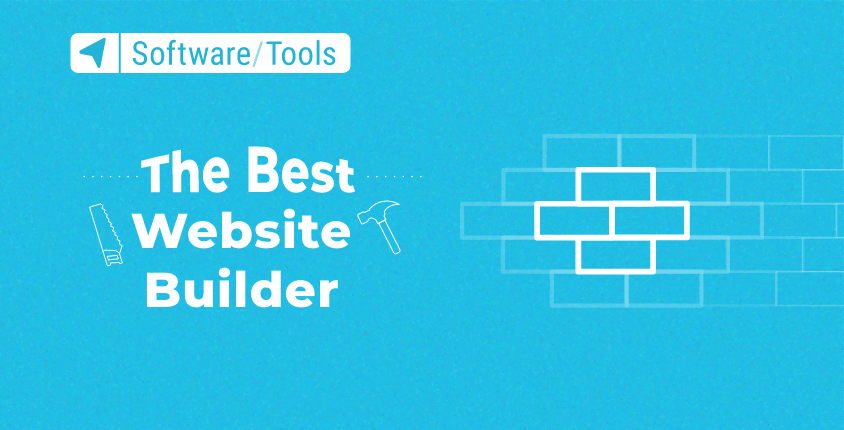 Do you want to set up a personal or a small business website but don't know anything about coding or design?
Then, you should try a website builder!
Most modern website builders offer visual "drag and drop" editor software that lets you create your own website without any specific technical skills.
But how do you pick the best website builder for your individual needs?
Hi there, my name is Artem.
While writing this guide, I reviewed more than 20 website builders and selected the top 10 services that are best suited for beginners.
Here is how I reviewed and picked website builder companies:
Tried and tested each software by building a test website.
Checked all of their features and available pricing plans.
Selected tools that are best for specific use cases.
Each tool has its own advantages. Check them out and pick the best website builder for your new project.
P.S. If you have any questions, I am more than happy to assist you for free.
Disclosure: FirstSiteGuide is supported by YOU – our reader. When you purchase products through links on our site, we may earn an affiliate commission (it comes at no extra cost for you but it helps us to create more useful content).
EDITORS' CHOICE (JUNE 2023)
The 10 best website builders (also most popular)
Today, there are dozens of free and easy-to-use site builders that can help you to make a perfect website in minutes. You just choose a template, apply design changes (usually with a drag-and-drop editor), and edit your content.
Here is my top 10 list of the best reliable website builders on the internet:
Whether you need a simple one-pager or a complete online store, one of these web builder software companies is sure to meet all of your needs.
---
Wix — Free and easy-to-use website builder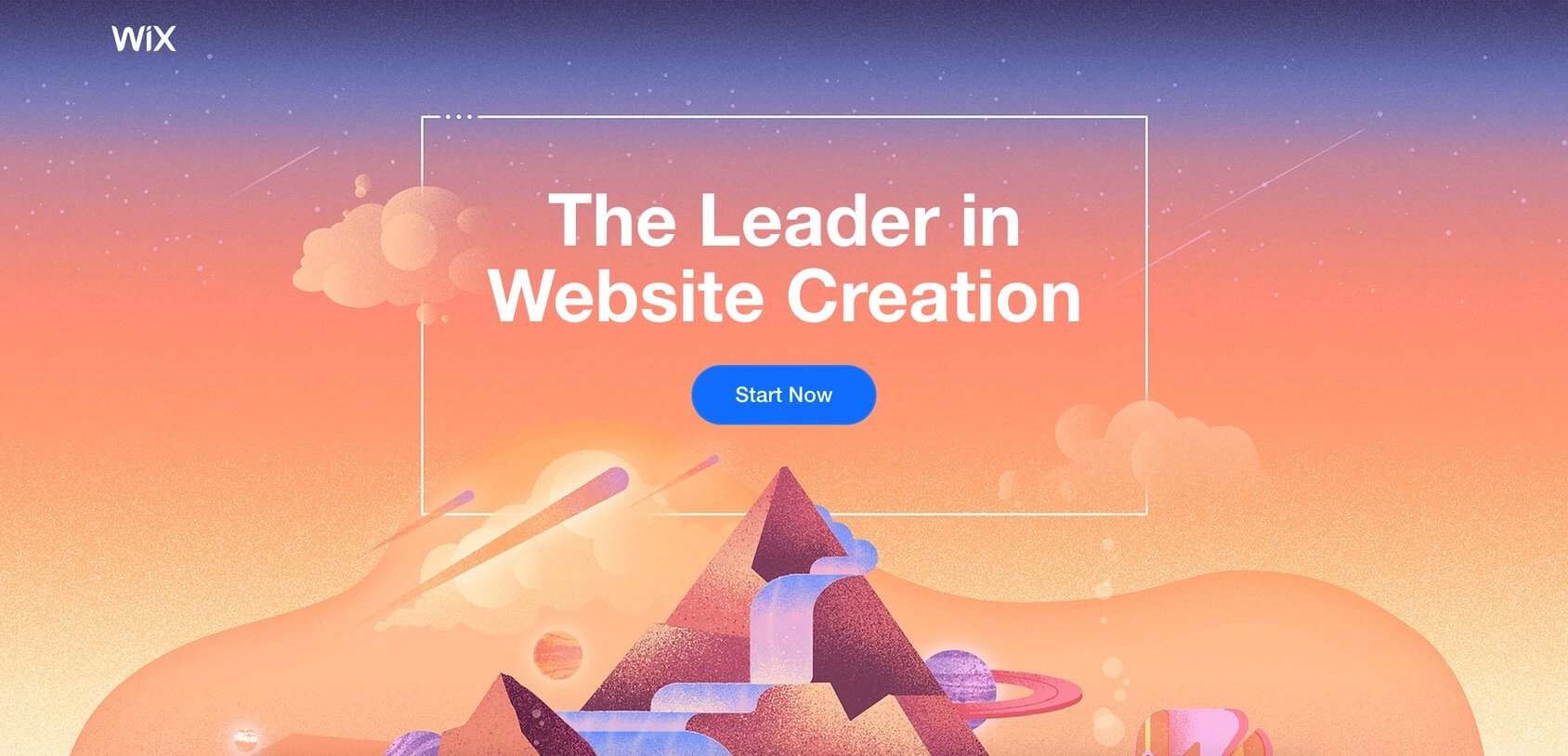 Wix is one of the most popular free website builders, and it's ideal for beginner users.
With the Wix website builder, each user can create a unique online presence thanks to over 500 designer-made templates. Wix also offers plenty of drag-and-drop features, mobile editor tools, search engine optimization plans, and more.
Regardless of your website-design skill level, Wix will allow you to make a website according to your needs. Their tools are hassle-free and intuitive, yet have plenty of advanced features that will cater to pro designers as well.
Even though Wix is a free website builder, it does have its own set of Premium plans for those who want to get a little more out of their website.
Wix helps you to grow your online business, regardless of your website's niche. Their services are ideal for making blog-style sites, logos, mobile-optimized pages, online stores, SEO-friendly content, and custom domains. Wix states on their website that they are the builder of choice for over 160 million people from across the world.
The Wix platform is continually improving, releasing new updates and tweaks to their already impressive set of services.
Key features
Free templates — hundreds of designer-made templates that are free to use.
Wix ADI — artificial design intelligence that helps you to build a personalized website.
Corvid Open Dev Platform — more skilled users can use this feature to build web applications with hassle-free coding and serverless computing.
Optimized mobile view — everything you need to build a mobile-friendly website.
SEO tools — get exposure for your page with advanced search engine optimization tools.
Plans and pricing
Wix has several pricing plans.
Connect domain
With this plan, you can connect your own custom domain, but Wix brand ads will be displayed. Receive 500MB storage space.
Combo
This plan comes with a custom domain and Wix ads will be removed. Receive 3GB storage space.
Unlimited
This plan comes with a custom domain, unlimited bandwidth, and increased storage. Receive 10GB storage space.
VIP
This plan comes with all of the same features as Unlimited, plus VIP support. Receive 20GB storage space.
All of the Website plans (Connect domain, Combo, Unlimited, and VIP) come without Wix ads.
More of Wix's plans for business and eCommerce
Wix is definitely at the top of the best website builder list with their attractive free offer.
Visit Wix.com for additional information
WordPress.com — World's most popular website builder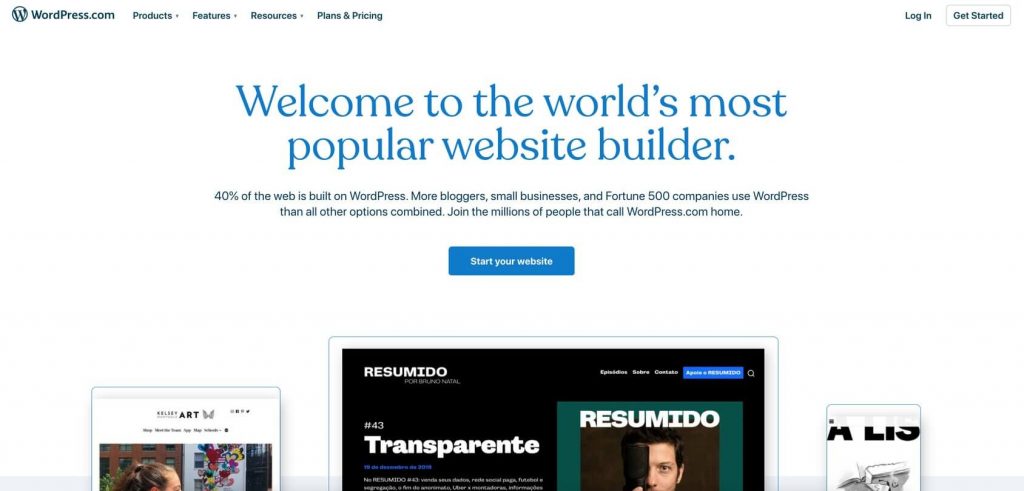 Over one-third of all websites on the internet are created using WordPress, and there's a good reason for that.
Even if you don't know much about website builders, chances are that you've heard of WordPress.com. This popular web builder or CMS (Content Management System) represents the backbone of millions of sites all over the web. It is characterized by its simplicity, and it's ideal for everyone, from bloggers and small businesses to world-famous brands.
WordPress doesn't offer drag and drop website builder design flexibility and has a learning curve, but it does have hundreds of customizable themes, with new themes released every week. WordPress sites look great on every device, and creating a mobile-friendly page only takes one click.
You can start your WordPress subscription for free, but if you choose one of their four paid plans, you will enjoy many additional perks.
Key features
Customizable themes — hundreds of designer-made themes with plenty of customizable options.
Mobile compatibility — easily create a website that looks great on every mobile device.
Update via the app — WordPress lets you update your website on the go with simple-to-use desktop and mobile apps.
Built-in social media sharing — make it easy for readers to share your posts through simple social media tools.
In-depth stats — get to know your audience by having an insight into who visits your site.
Pricing and plans
WordPress has four paid plans, along with a free plan that lets you test some of the builder's basic options.
Free plan
Available with limited features and the WordPress.com subdomain only.
Personal
$9.00 per month

$4.00 per month


billed annually
Subscribers receive a free domain name for one year, 6GB of storage, basic live chat support, and no WordPress ads.
Premium
$18.00 per month

$8.00 per month


billed annually
Subscribers receive unlimited premium themes, advanced customization options, 13GB of storage, Google Analytics integration, VideoPress support, and other perks.
Business
$40 per month

$25.00 per month


billed annaully
Power your small business website with custom plugins and themes, 200GB of storage space, automated backup, SSH file transfer protocol, and 24/7 live chat.
Commerce
$70.00 per month

$45.00 per month


billed annually
This option is best for online stores. It is a powerful and flexible plan that lets you grow easily, integrate with shipping services, and list unlimited products. This plan also provides special marketing tools and premium customizable themes.
WordPress is definitely a popular choice among all of the available website builders for people starting a blog website.
Visit WordPress.com for additional information
Squarespace — Turn your ideas into reality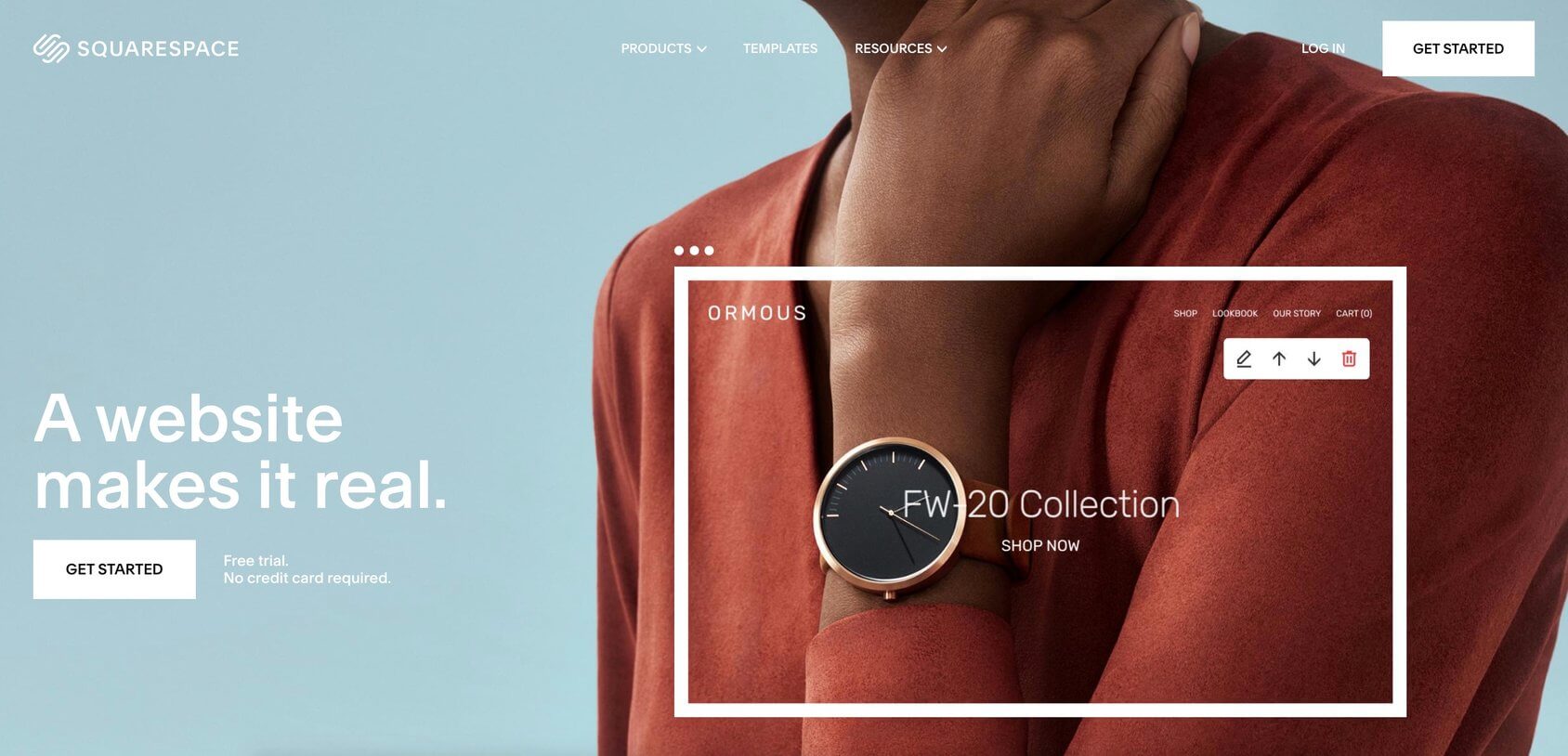 Squarespace is one of the fastest-growing website builders that can help you to build your online presence with easy-to-use tools.
Squarespace is a website builder and hosting service that has shown staggering growth over the last several years. This is the web builder of choice for millions of people, ranging from artists and bloggers to small and big businesses.
With Squarespace, you can use hundreds of modern templates for anything you need, whether it's a simple portfolio or an eCommerce store with thousands of products.
You can start your free 14-day trial with Squarespace to test it out, or immediately subscribe to one of its relatively affordable plans. They are all worth it!
Key features
Modern templates — Squarespace's template library has some of the best-looking website templates out there.
Template switching — ability to install multiple templates on a single website.
Style editor — plentiful customization settings allow you to tweak your website and make it look exactly the way you imagined.
Built-in mobile websites — every website template is made to look great and fit perfectly on any device.
Free fonts — enjoy using a massive library of fonts that also includes a selection curated by Google.
Video backgrounds — make your website visually powerful by integrating a video into the background.
Plans and pricing
Apart from a free trial, Squarespace offers several paid plans that you can pay for in two ways. If you pay annually, you will save up to 30% and get a free custom domain for a full year.
Personal
$23 per month

$16.00 per month


billed annually
The Personal plan includes SSL security, unlimited bandwidth and storage, SEO features, mobile optimization, 24/7 support, and basic website metrics.
Business
$33.00 per month

$23.00 per month


billed annually
The Business plan allows for unlimited contributors and unlocks features such as premium integrations and blocks, advanced website analytics, gift cards and donations, and promotional pop-ups and banners. Transaction fees are only 3%.
Commerce basic
$36.00 per month

$27.00 per month


billed annually
The Commerce basic plan allow for customer accounts, powerful eCommerce analytics, various merchandising tools, advanced shipping options, discounts, and other perks. No transaction fees are imposed…
Commerce advanced
$65 per month

$49 per month


billed annually
All the tools necessary for the more advanced seller. No transaction fees.
If you are planning to make a portfolio type of site, Squarespace is a top pick for that from among all website builders.
Visit Squarespace for additional information
Weebly — Make your website look professional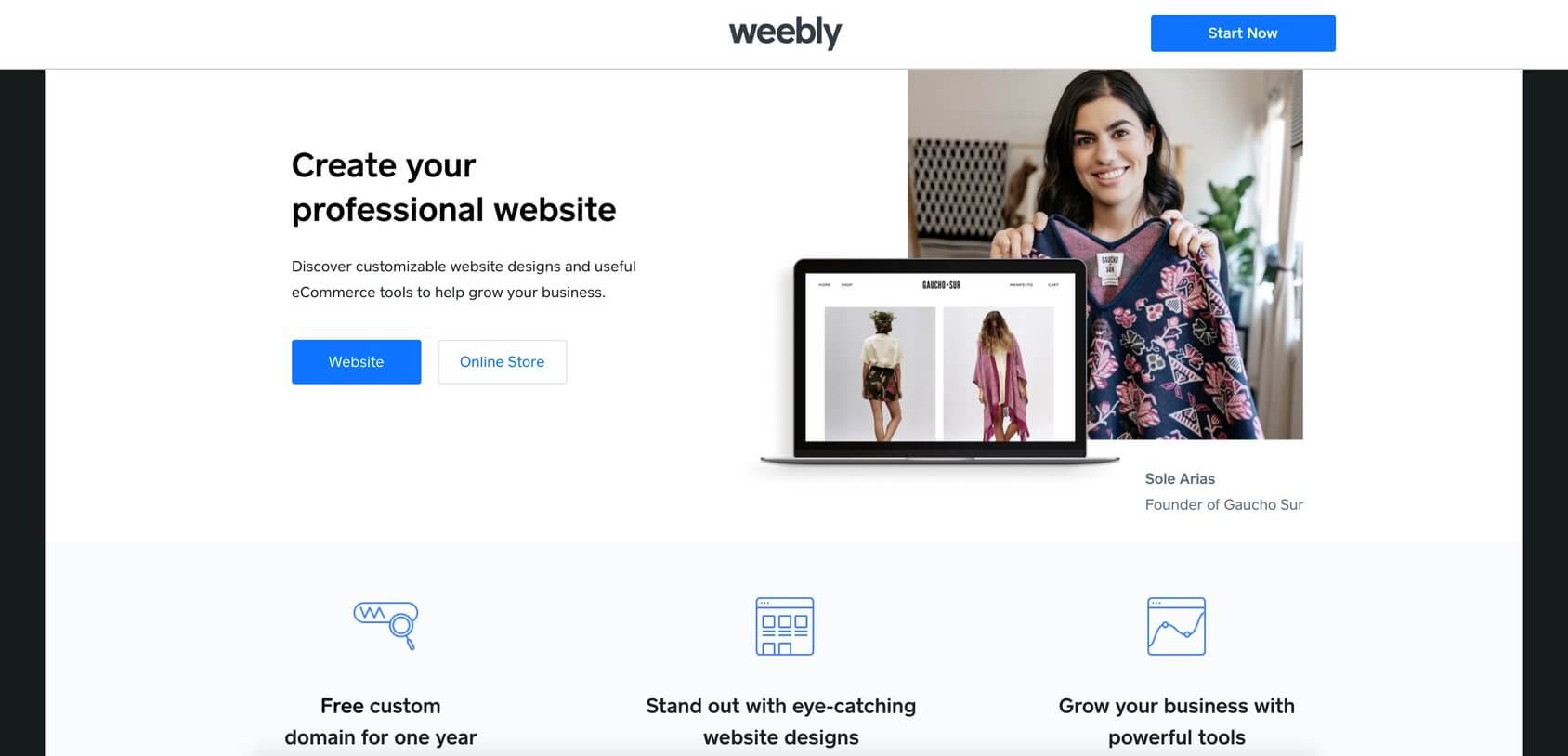 Weebly was acquired by Square Inc. in 2018 and since then their primary focus has been on eCommerce. Today, the platform offers plenty of customizable eCommerce website builder templates and tools that give you the design flexibility to build your own online business.
Weebly is another member on the list of awesome website builders that can help you to create a neat-looking website. You can make your site look professional even if you don't have any experience in website design. If you may have problems with Weebly's speed, you may be able to fix them yourself easily. If not, their friendly and understanding customer support is available to guide you if you need any help.
Weebly's plans come in two categories — websites and online stores. Pick one of many pricing plans or choose the free trial version.
Key features
Design tools — Weebly's design tools give you the freedom to build a website according to your preferences.
Slideshow maker — easily integrate slideshows and take advantage of the rich photo gallery.
App center — the app center allows for seamless third-party integrations for any website type.
Mobile websites — responsive themes made to look great on all mobile devices.
SEO tools — intuitive SEO tools help your website reach a high rank on search engines.
Plans and pricing
Depending on what kind of website you're building and how much you are willing to pay, Weebly offers several different pricing plans.
Free
This plan provides for basic use (500MB storage space) and offers a subdomain with Weebly branding.
Personal
$13.00 per month

$10.00 per month


billed annually
With the Personal plan, you receive a custom domain name for your website along with 500MB of storage. However, you will still see Weebly ads in the footer.
Pro
$16.00 per month

$12.00 per month


billed annually
With the Pro plan, you will not see Weebly branding ads, and you can have a site search on your website. This plan also offers a Shopping cart and accepts payments.
Performance
$29.00 per month

$26.00 per month


billed annually
With the Performance plan, you receive all of the options listed from the Pro plan along with many other additional supports for running a successful eCommerce website.
Select one of these plans for everything from basic personal use to small business sites. All Weebly plans include a free SSL certificate, SEO, chat, and email support. Weebly Pro and Performance plans unlock advanced site stats, inventory management, item reviews, shipping calculators, and the ability to remove Weebly ads.
All of these Weebly pricing plans offer unlimited storage, a search feature, custom domains, shopping carts, Square-powered payments, advanced site stats, and full support.
Visit Weebly for additional information
GoDaddy — Prime web hosting and website building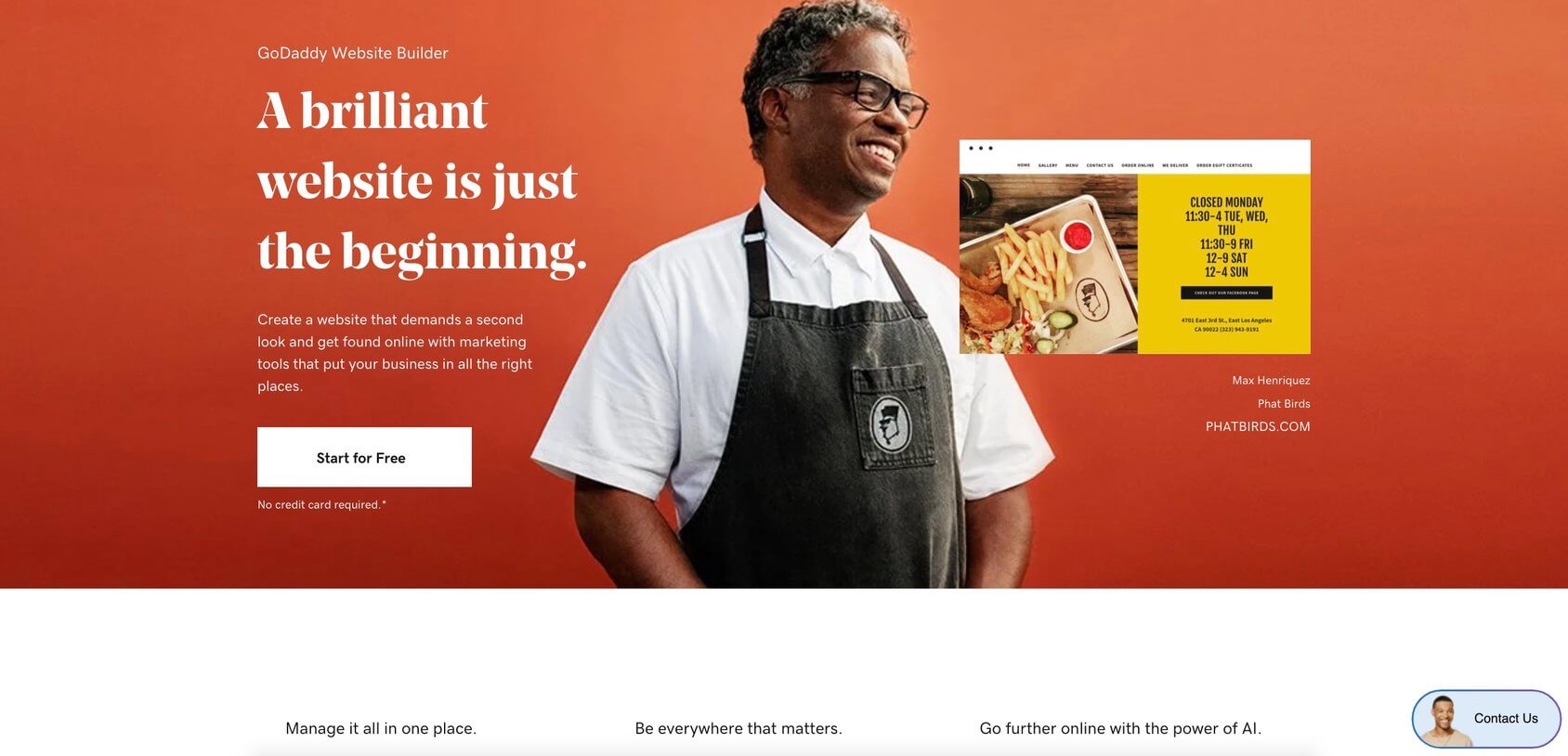 Founded in 1997, GoDaddy is one of the oldest internet domain registrars and web hosting companies with free website builder services included. Today, GoDaddy has over 44 million satisfied customers.
With GoDaddy, you can use a website builder to create a snappy and professional-looking website for your business without any technical or web design knowledge. You will receive data-driven suggestions that will help your business grow, along with many other features that will put your website on the map.
No matter which pricing plan you choose, GoDaddy will give you access to its phenomenal website builder for free for a period of one month.
Key features
Reliable hosting — GoDaddy is known for web hosting, so you can expect your site to run smoothly and for the pages to load quickly.
Easy updates — edit your website in minutes, with the ability to do so on your smartphone or tablet.
SSL security — your website will be secure at all times thanks to state-of-the-art SSL security systems.
Designer-made templates — choose one of their many professional templates to make your site look wonderful.
InSight™ — use GoDaddy's smart tech system to get personalized suggestions on how to expand your online presence.
Plans and pricing
GoDaddy has several pricing plans that range from basic ones to those specially designed for eCommerce sites. Every plan comes with a 30-day money-back guarantee.
Basic
The Basic plan includes SSL security, a mobile-friendly site, a custom domain, and guidance and analytics. The only true limitation with this plan is that you'll only get one SM listing platform, up to five social posts and responses a month, and only 100 email marketing sends a month.
Standard
The Standard plan includes everything that the Basic plan does, as well as SEO tools and higher limits for social media listings, posts, and email marketing sends.
Premium
The Premium plan comes with unlimited social media listings and interactions, together with up to 25,000 email sends per month. It also has useful online-appointment tools that help you to better organize your business.
Ecommerce
The Ecommerce plan has everything that is included in the Premium plan, plus some specialized eCommerce tools like shipping options, discount and promotion management, a product listing editor, and more.
GoDaddy's builder product is at the top of the list of best website builders offering free trials, easy to use software, and 24/7 customer support.
Visit GoDaddy for additional information
Jimdo — Perfect for small businesses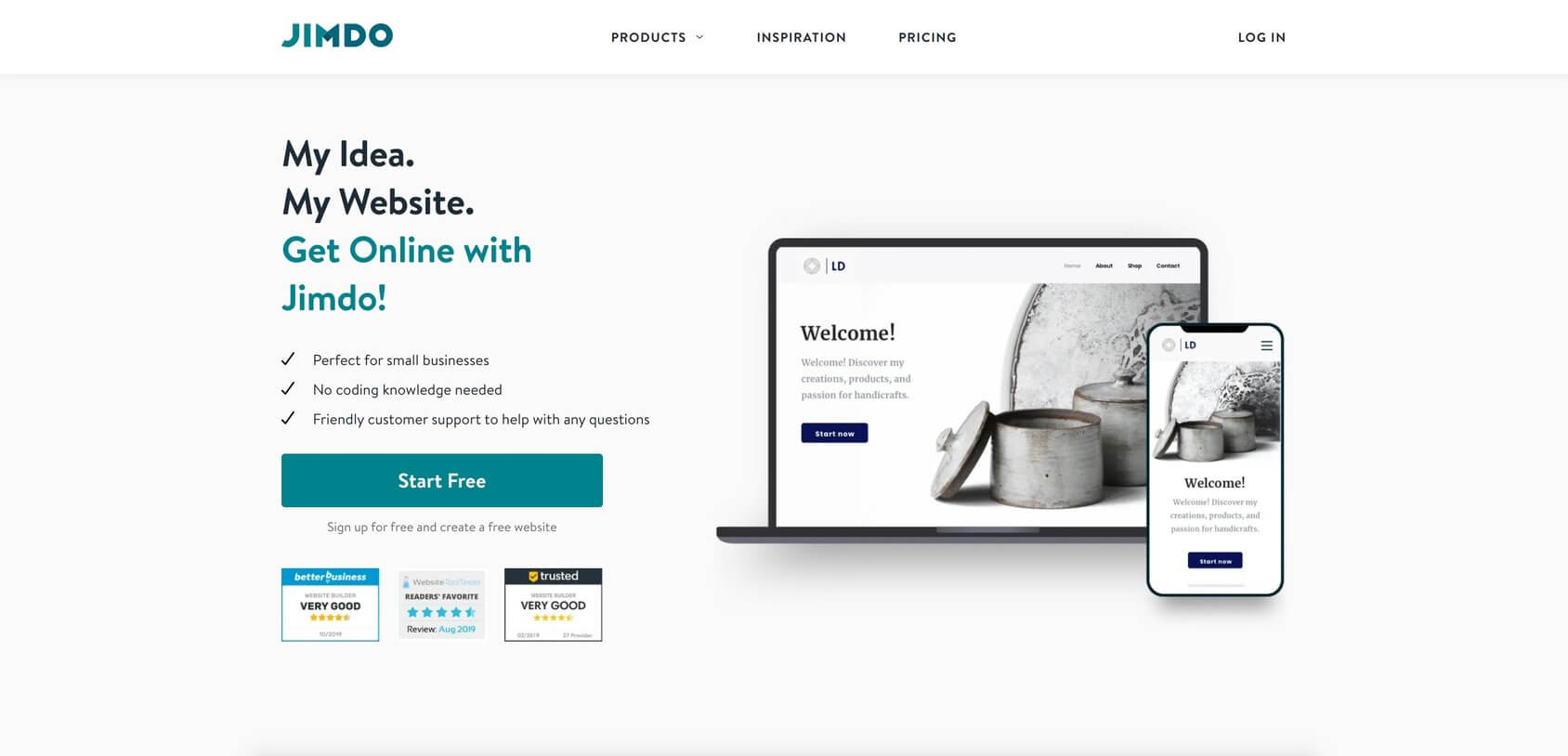 Jimdo is all that you need to create a small e-commerce store for your growing business. With features like automatic SEO and easy-to-track statistics, Jimdo will allow you to better understand your customers and improve on your product offers.
Of course, you can create any type of website with Jimdo and not just an online store. Also, this web builder has a free version with all of its basic features available that you can use for an unlimited amount of time.
Key features
Gold standard security — the website you create with Jimdo will be protected by state-of-the-art HTTPS encryption.
Automatic SEO — boost your search engine rankings automatically with this useful tool.
Product layouts — beautiful product layouts allow you to create a neat-looking online store.
Logo creator — create a perfect logo to give your business a visual identity.
Advanced statistics — learn the numbers behind your visitors and see how they interact with your website.
Plans and pricing
Jimdo has two separate pricing plan categories. One is for regular websites and the other one is suggested for businesses.
Website solution
$9.00 per month (Start)

$15.00 per month (Grow)

$39.00 per month (Unlimited)
All Jimdo website plans come with a free domain, automatic SEO, HTTPS security, statistics, and no ads. The unlimited plan is the most powerful one, as it has unlimited storage and bandwidth, and it allows you to create as many pages as you want.
Jimdo online store solutions pricing comparison table:
Online store solution
$15.00 per month (Basic)

$19.00 per month (Business)

$39.00 per month (VIP)
All of these plans are designed to accommodate online store owners. They offer various product layouts, discount codes, strikethrough prices, and responsive email support. VIP users can enjoy unlimited storage, unlimited pages, business listings, and other perks.
Visit Jimdo for additional information
IONOS — Websites that design themselves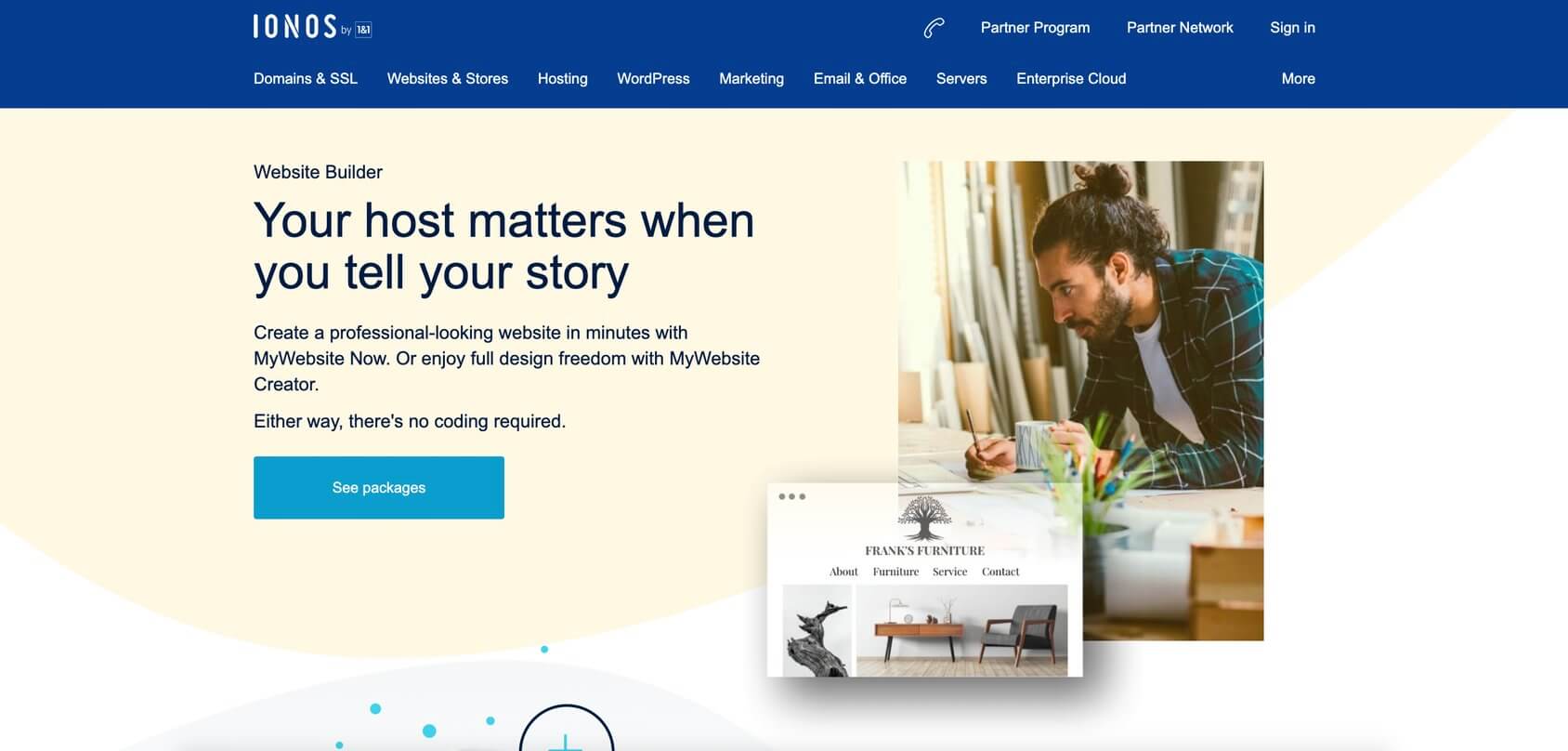 IONOS offers an array of web hosting and cloud services, including one of the best website builders that can be used by everyone, from people with a basic website needs to large eCommerce store owners.
You can build a website in minutes with its MyWebsite Now tool, or you can choose the MyWebsite Creator tool if you would like access to more editing options. Either way, no coding skills are required on your part, as these tools are meant for total beginners.
If you want to start a website by yourself, all of the IONOS tools are free to use for one month. After the first month, you will pay between $5 and $20 a month, depending on your needs.
Key features
Mobile optimization — the websites you create will look great on every device.
SSL certificate — your customers and visitors can rest assured that your website is 100% secure.
SEO — built-in SEO tools help you climb the rankings of popular search engines.
Online store tools — advanced tools that will help you grow your eCommerce business.
Email address — create a customer email address with the name of your business.
Plans and pricing
How much you pay will depend on whether you would like to make a website by yourself or if you would like to have a website built for you.
Starter
$5.00 per month


$9.00 per month (Regular price)
MyWebsite Now Starter is ideal for beginners and people with limited time.
Plus
$1.00 per month


$15.00 per month (Regular price)
MyWebsite Now Plus is great for more creative freedom and online bookable services.
Pro
$15.00 per month


$25.00 per month (Regular price)
Pro includes all perks from Plus but with added bonus of an SEO Optimization Tool.
Visit IONOS for additional information >>
Webflow — Responsive web design tools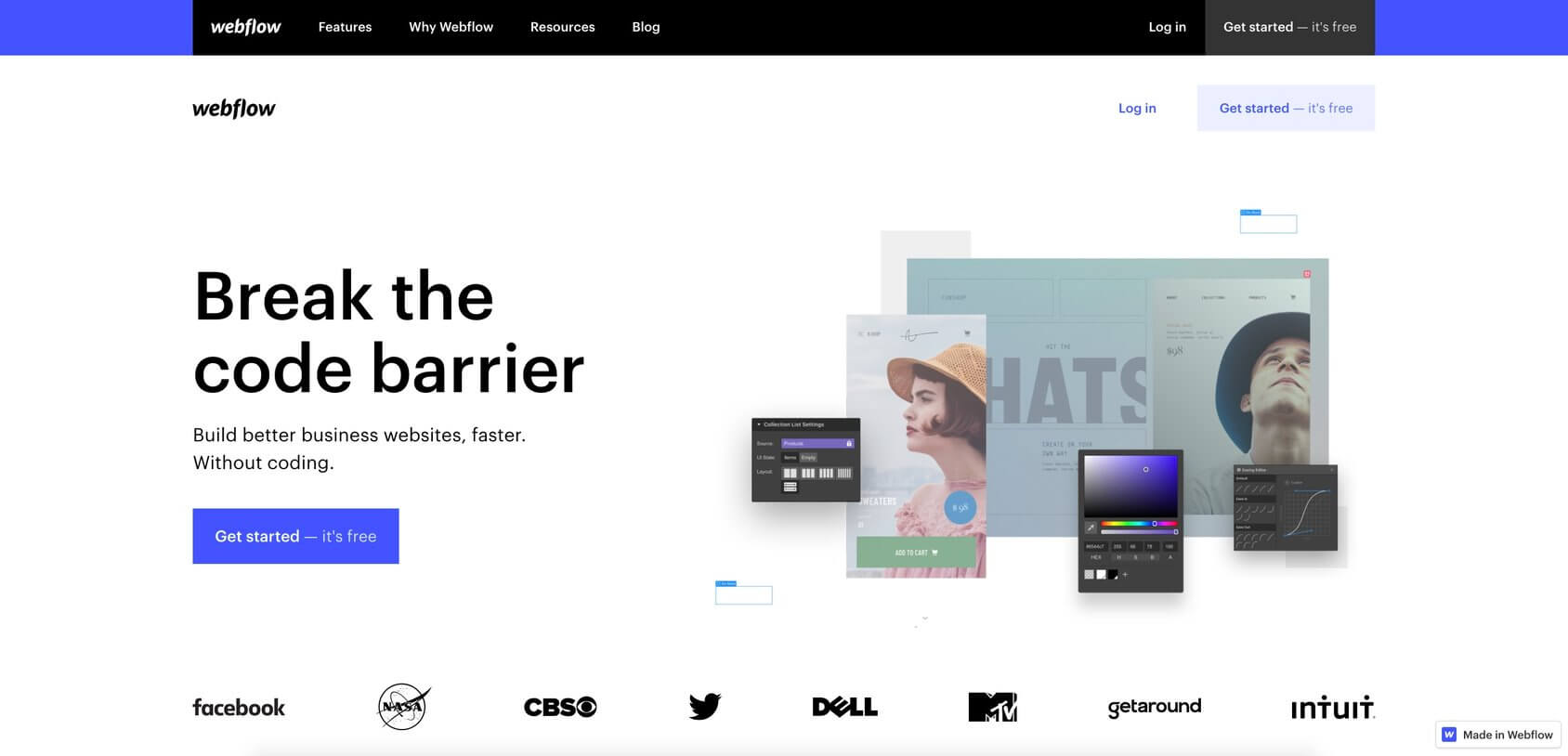 Webflow is the best website builder for designers looking for a free visual tool to use without coding knowledge.
Even though no advanced coding is involved, it does have a learning curve. However, your website will look like it was created by a true professional.
If you're a complete beginner, you can access Webflow's University section where you can read guides and watch hundreds of videos that will give you some basic tips about how to create an awesome website.
There are plenty of pricing plans to choose from, but you can also start for free.
Key features
CMS — use content management and design your pages to your liking.
Animations and interactions — make your website interactive by adding layers of cool and unique animations.
Editor — edit the content right on the page with an intuitive website editor.
SEO — advanced SEO tools help your business become visible to a larger audience.
eCommerce tools — grab shoppers' attention by utilizing smart eCommerce tools.
Plans and pricing
Webflow has two types of plans, both of which have several sub-plans that let you choose exactly what you want and how much you want to pay for it.
Getting started with Webflow is free of charge.
General
Free


Free of charge

$16.00 per month (Basic)


billed annually

$23.00 per month (CMS)


billed annually

$39 per month (Business)


billed annually

Contact sales for pricing (Entreprise)
General plans include unlimited hosted projects, client billing, 3D transforms, custom fonts, reusable symbols, and plenty of responsive templates.
Ecommerce
$29.00 per month (Standard)


billed annually

$74.00 per month (Plus)


billed annually

$212.00 per month (Advanced)


billed annually
Ecommerce plans are designed for personal sites, blogs, or business websites and include custom domain names, and CDN services, you can have up to 100 static pages on your website.
Visit Webflow for additional information
Carrd — Fully responsive one-page sites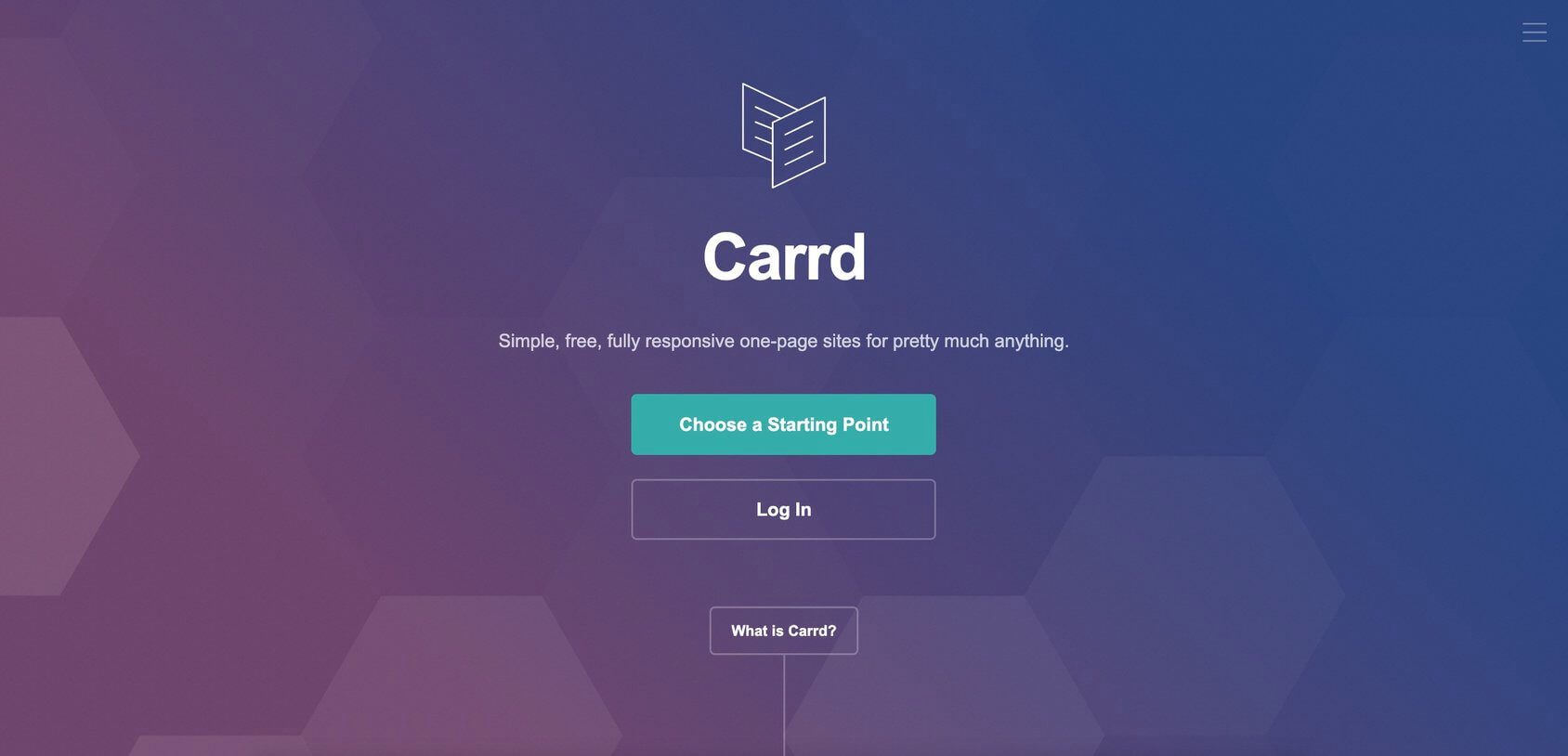 Carrd provides everything that you need to create a simple one-page site for free. Or, pay an extremely affordable yearly subscription and receive some very useful advanced tools.
The Carrd official site is an excellent example of how your website could look if you use this website builder. If you're looking for a simple and minimalistic design for your one-pager, it has all of the tools you need.
Carrd offers dozens of templates that you can browse through. Or, start from scratch, if you like, and build your site one step at a time. More importantly, the websites you create will be very responsive and smooth on every device.
The best thing about Carrd, as with other free website builders, is that you can test the product without paying for it. However, its paid plan has some useful features that are worth considering.
Key features
Custom domains — receive any type of domain you like along with SSL support.
Multiple sites — create multiple sites from a single Carrd account.
Forms — make simple contact, signup, or payment forms for your customers.
Embeds — embed widgets from a variety of third-party sites and services.
Google analytics — receive reports on your website's traffic and see who visits your pages.
Plans and pricing
Carrd has simple plans: you can either choose to use the builder for free or upgrade to Pro at any time and unlock advanced features.
Free plan
Browse through Carrd's expertly-designed templates for absolutely free. Your website address would be under the carrd.co subdomain.
Pro Lite
This plan is very affordable. You receive some improvements over the free plan, however, you do not receive a custom domain.
Pro Standard
This is the most popular Carrd plan. It includes a custom domain and easily integrated forms to collect emails.
Pro Plus
This plan is designed for power users. You can create up to 25 websites with developer-friendly features.
By choosing one of the available Pro plans, you will eliminate all Carrd branding on your site and receive access to pro templates, a high-quality image library, site icons, embeds, and meta tags. And yes, these prices are really for yearly subscriptions, making Carrd the cheapest website builder on our list.
Visit Carrd for additional information
Format — Websites for photographers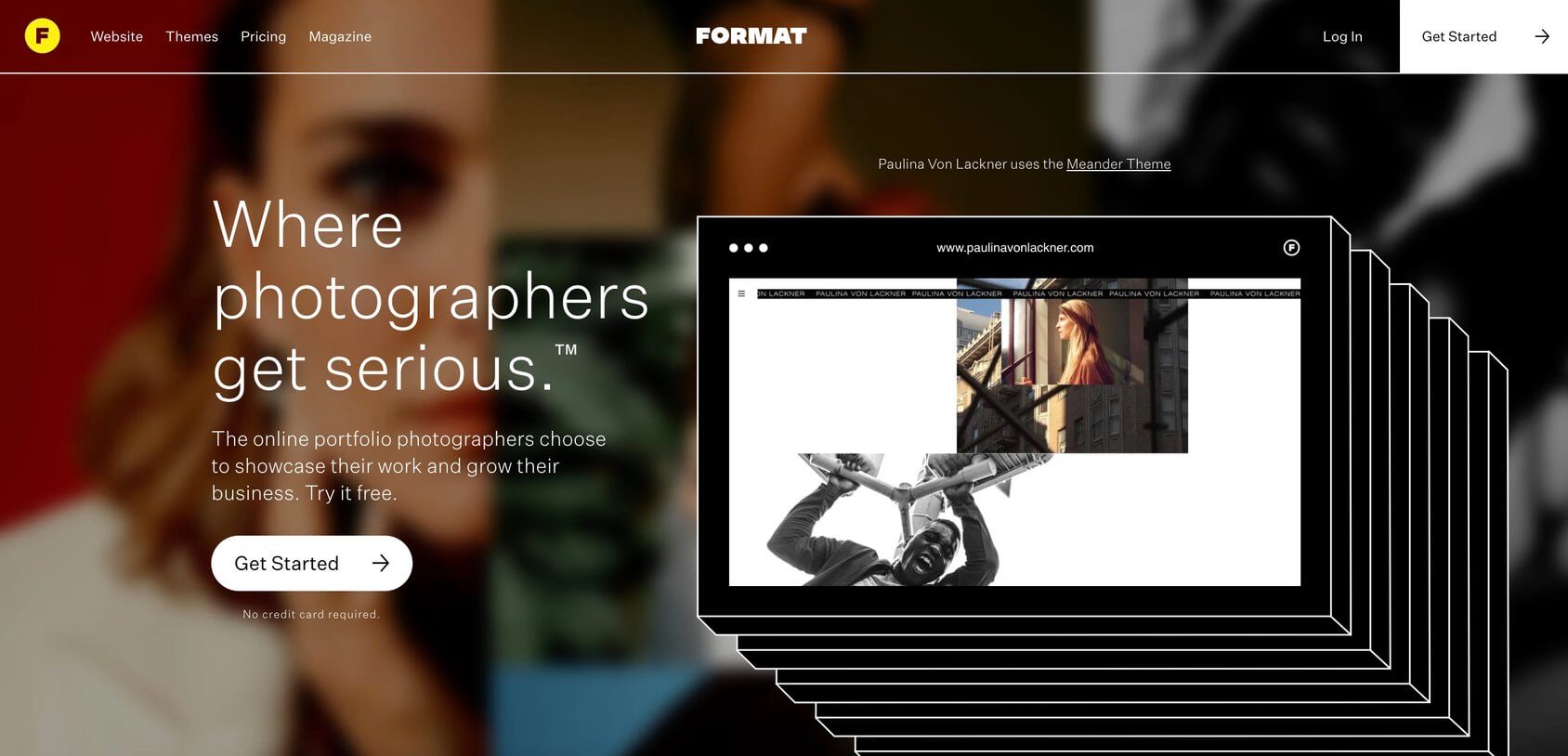 Format is a niche website builder software that caters to photographers who can use one of its many beautiful designs to expand their online exposure.
While images are an important part of any website, websites for photographers should be designed in such a way that the images are the focal point of the page and not just a backdrop. Although photographers can use any other website builder I have listed here, Format should probably be their number one choice, as this website builder is specific to their profession.
Through Format, you can create your online portfolio with ease, and use plenty of editing features and business tools to help you to grow your online presence.
Key features
Photography templates — professionally designed templates with photography exposure in mind.
Simple customization — customize your pages without having to use any complex coding.
Mobile optimization — make your work look great on any device regardless of screen size.
Online store — sell your work by setting up an online store with just a few clicks.
Client photo galleries — enable client-friendly downloads and protect your work with watermarks.
Plans and pricing
Format has a plan for everyone. It is available with Pro, Pro Plus, and Premium plans. There is a two-week free trial period available with no obligation or a credit card required to get started. After the trial period, you can choose a plan that's right for your wallet.
Basic
$10.00 per month

$4.00 per month


billed annually
With the Basic Plan, you can upload up to 100 images to your website, but you won't receive access to all of the premium-designed themes. This plan is also available in month-to-month terms at $10.00 per month.
Pro
$22.00 per month

$8.00 per month


billed annually
This is the most popular option available. Subscribers receive access to all of the pro features and can upload an unlimited number of images. This plan is also available in month-to-month terms at $22.00 per month.
Pro Plus
$36.00 per month

$13.00 per month


billed annually
With this plan, subscribers can create without any limitations and use all of the business professional tools. This plan is also available in month-to-month terms at $36.00 per month.
With Format's Pro plans, you will have full image protection, an unlimited number of themes, mobile optimization, and custom code editing, as well as Lightroom and Capture One integration. The Pro Plus plan also includes a free professional email address from Google, up to 1,000 commission-free products, premium layouts, and other perks.
Visit Format for additional information
More website builders worth mentioning
Aside from the best website builder solutions mentioned above, there are even more tools available on the web. Many of these website builders are easy to use, offer drag and drop interface, and a custom domain setup for new businesses.
Strikingly has positioned itself as a leader in the one-page site builder niche with promising results.
Their platform includes an intuitive editor that helps you in creating sections that can be scrolled up and down as one page. You can easily get started with this one-page website builder by completing a short signup form or connecting with Facebook to automatically fill up your information. You do not need any coding experience.
Webnode is a low-cost solution that creates modern and mobile responsive website designs. It is an easy-to-use website builder that allows you to connect with a domain name.
It has two low-cost plans: Limited and Mini. Limited shows a small Webnode footer while mini doesn't display ads and includes a free custom domain name for a year. These are both great plans for small personal or professional websites.
Duda is a design-focused website platform that first became known for its flagship responsive site builder product.
Duda has scored spectacularly well for ease of use, all thanks to a simple and fast sign up process. It also has an intuitive drag-and-drop editor that lets you customize your templates according to your taste.
Google sites are part of the Google Editor suite of products such as Google Docs, Sheets, Slides, and Drawings.
It's a free web-based product that you can use by signing up for a Google account. This website building software is not as popular as Google's many other useful and famous services. However, it's definitely easy to use and you can try it completely for free.
After acquiring Weebly, Square, a financial service and mobile payments company, launched its own new product Square Online – the best website builder with eCommerce functionality.

It's a free and easy-to-use website builder designed for people who want to start selling online. You can set up an online store for no monthly fee but Square will charge you when you make a sale—2.9% + 30¢ per transaction.
Shopify is trusted by over one million businesses across the world, and there's a good reason for it.
This platform is primarily designed for online shops and recognized by many as the best overall website builder for eCommerce, meaning that all of the features are there to help your products reach your potential customers. Customizable layouts allow you to set your pages up in minutes, with no coding skills required.
How to choose the best website builder
Building a website for your business should be done with great care. Make one wrong choice and you could potentially be missing out on a lot of revenue. So, even though these website builders allow you to create a website in minutes, you should take a little more time before selecting one. Here are some of the aspects that you should consider before making your choice.
Template selection
Instead of starting with a blank canvas, website builders will save you a lot of time by offering a wide variety of templates. These templates can vary in style and design, and you should choose one according to the type of website you're building.
Of course, the more templates a website maker has, the better. But quantity is not the only important thing here. You should compare templates on all of our selected site builders to see which company has the best-looking ones.
Mobile compatibility
Your website should look great and be highly responsive no matter what sort of device people use to get to it. More and more people are browsing the internet using their smartphones and tablets, and that's why some website builders prioritize mobile compatibility.
If you think that your online store or portfolio is going to attract a lot of mobile users, opt for the best website builder that can make your site look great on a smaller screen.
Features and functionality
Every site builder has dozens of features that help your website to reach a bigger audience. These features can come in all shapes, from marketing tools and Google analytics to contact forms, third-party integrations, and slideshow makers. Before you commit, check what features are available.
Also, make sure that the website builder you choose has additional necessary functions. Here are a few important ones:
Drag and drop – Not all site builders include drag and drop website design flexibility, so if you are looking for that type of visual editor, make sure that it is included with the software you pick.
SEO – Search engine optimization is a big part of any website creation process. Make sure that the software offers built-in (or integrable) SEO functionality.
Blogging – If you are planning to add content regularly and run a blog as an additional marketing channel for your website, make sure that the website builders of your choice include some CMS integrations.
Online store – If you plan to add eCommerce functionality to your website or if it's part of your business strategy, make sure that an eCommerce store can be created with the platform, or make sure that you go for an eCommerce store builder.
Again, you should choose the best website building software that has all of the features and functions necessary for your specific project.
Plans and pricing
The website builders listed on this page offer a wide variety of pricing plans, from the free versions to premium plans that unlock advanced features.
Some site builders are more expensive than others, of course, but paying a higher price is usually worthwhile if with that you get the ease of use. The best pricing plans are those that allow you to get a discount if you subscribe for a longer period. On such plans, you could be saving hundreds of dollars a year and still get to use everything that the web design tool offers.
Best website builders for different uses
So, you know what your website is going to be for and you have some notion of how you want it to look. But, since I listed fifteen excellent sites in this guide, you might find it difficult to determine which one is best for your particular circumstance. To help you out a little more, I have selected seven different use cases for website builders and named one service that covers each of these in the best way possible.
Best free website builder
If you're a little light on cash right now and you can't pay for a website, you can choose any of the free website builders. Of course, none of them will get you the same service as paid plans, but they are still worth checking out. Here is a perfect free website builder for all of your needs.
Best premium website builder
For those who don't mind spending a little more in order for their website to look top-notch, every site builder on my list has a premium package that includes all of their available features. In my opinion, this is the best one:
Best one-page website builder
There are some people who don't require big websites with loads of content. Instead, they just need one neat-looking page covering all they want to present. Luckily, there's a website maker for that specific purpose as well:
Best website builder for blogs
There are millions of blogs across the world wide web and dozens of different website builders that power them. Taking all of your blogging needs into consideration, here is the best website builder for blogs:
Best website builder for photographers
Images are an important part of any website, but when it comes to websites for photographers, images must be the main focus. That's why photographers choose website-builder software that caters to their specific needs and lets them build a site through which they can expand their exposure:
Best website builder for small businesses
One of the most important steps you need to take in order to grow your business is to create a professional-looking website that your customers will appreciate. Apart from the design, a quality website builder for small businesses also needs to provide you with all of the necessary tools for tracking your visitors. Luckily, there's a great option for that as well.
Best eCommerce website builder
If the main purpose of your website is to open an online shop, you should look for a site builder with eCommerce features like being able to include hundreds or even thousands of different products, along with payment service integration, intuitive shopping carts, and more:
FAQs
What is a website builder?
A website builder is a piece of software that allows you to create a website according to your wishes. When using a site builder, there's no need to hire a website designer, as you can become one yourself by using simple editing tools and pre-installed layouts.
Types of website builders: offline and online?
Website builders can be categorized into offline and online ones. Online site builders, like Wix, include drag and drop website design functionality and let you create a website easily and without prior coding experience. On the other hand, offline website builders are software solutions that you need to install on your computer. They are usually used by skilled website designers to develop complex projects.
How does a website builder work?
To put it simply, a site builder works by letting you create a website without manual code editing. Instead, you will use simple drag-and-drop website builder features to fill your pages with content, and edit that content using various themes, fonts, and colors.
How long does it take to build a website?
That depends on the type of website you're creating and the number of pages that you want your website to have. If you're looking to create a simple one-page website and choose a good website builder, your site can be ready to go in minutes.
How can I create my website for free?
Almost every website builder will let you set up a website for free, although you will have limited options to do it. But, if you need a simple website with not a lot of content, you will have plenty of free options that will do the job. Simply take a look at my list and see which free website builder is best for your needs.
How can I build a professional website from scratch?
Even though most website builders have pre-installed templates that you can use, some of them let you build a website from scratch. Simply use all of the tools provided by the software, and you will have a professional-looking site set up in no time.
How can I create an online store?
Creating an eCommerce store is similar to creating any other type of website. Certain website builders that I mentioned in this article have eCommerce features that let you have unlimited items, shopping carts, payment system integration, and other things that can help you to sell your products.
Conclusion
All of the best website builder companies that are listed in this article offer solid and unique products. Website builders have their strengths and weaknesses, so you should carefully select one according to the type of project you're planning on starting.
However, no matter which website builder you end up choosing, any of them will almost certainly help you to build a professional website by yourself in no time at all.