The Beginner's Guide to Blog Content Planning
FirstSiteGuide is supported by our readers. When you purchase via links on our site we may earn a commission.
Read More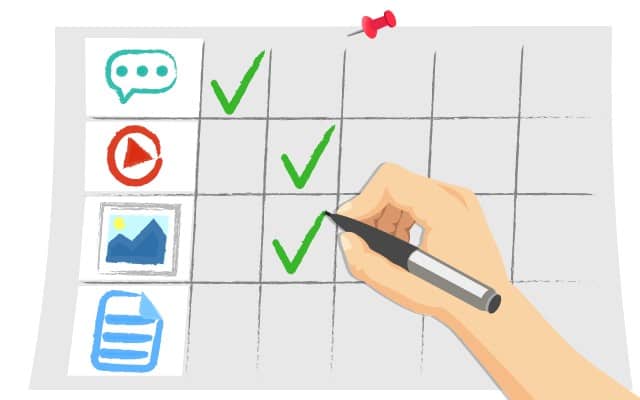 Blogging is not only a day in, day out writing effort within a particular niche or related to a particular subject matter. To create and maintain a successful blog you need to have a well-established content plan. It should include all the details related to future blog posts, publishing schedules, audience development and growth, social media plan and much more. Without this concrete plan, it is impossible to maintain the popularity and consistent quality of your work.
If you are facing the daunting task of creating a content plan for the first time, this guide will be of tremendous help. Even though each blogging program is a bit different, we will provide you with a basic skeleton that you can build on. Be sure that everything you learn here will make you realize that blog content planning isn't difficult after all.
Essential steps to creating an effective blog content plan
The following steps are the crucial steps that you need to take to create an effective content plan. You will be able to craft high-quality content on a regular basis and succeed in engaging your target audience. And turn your blog into a successful project.
Establishing your goals
Setting your goals is the first step that you should take because only then you know what it is that you want to accomplish with your content. Do you want to generate quality leads that you can convert into customers? Do you want to showcase your photography skills and attract clients? Are you looking to raise awareness of a particular cause and help people improve their lives?
Whatever your goals are, you need always to have them in the forefront of your mind, so that you can work on achieving them. Identifying them before you begin your content planning stage will help you develop the best content strategy.
Market research
Conducting market research is one of the most important steps toward creating quality content. The content you produce has to be relevant and useful to your target audience. The market research plan will help you know which direction to take on the road to attract the readers you need to make your blog useful.
You need to examine your target market to learn what it is that people are looking for about the topics of your choice. Also, it's important to check how your competition covers these topics.
Without market research, you may not be able to take the right approach when it comes to promoting your products or services on your blog. And you could forget to showcase a particular talent because of which you started your blog in the first place. It is when you learn everything about your target market that you will understand how to please your readers'.
Step 1: Audience research
Since you cannot read people's minds, you need to learn what it is that your target audience wants. You need to learn everything you can about their preferences, interests, and behavior so that you know how to provide them with what they need.
Getting to know your target audience is the absolute key to crafting relevant content. You need to learn what people expect from blogs in your niche. What kind of content do they find useful and exciting? What benefits do they expect to receive from particular blogs? What makes them tick and compels them to keep coming back for more?
When you get into the minds of your target readers, you will understand how to give them what they need. The best way to learn about them is to conduct online surveys on social media since you don't have any blog subscribers yet.
You can create questionnaires and polls and ask people what they would like to read about on your blog. Ask them what topics they would like to know more about and what would make that content interesting. Such surveys will paint a clear picture of the market and give you an idea of how to write enticing content that will engage your readers. You can also ask them about their favorite blogs so that you can have an even better insight into their preferences.
Step 2: Competitive review
Conducting a competitive review is also of great importance. It will provide you with an insight into how other bloggers in your niche are making their blogs popular. This kind of research is not supposed to help you copy other bloggers, but show you how they are managing to attract their readers.
What's more, a competitive review can inspire you to try and be better than others. By gaining an insight into your competitor's content strategies, you can work on improving strategies that will work for your blog.
Being able to stand out and show your uniqueness is what will enable you to make your blog attractive. That is why market research is a vital step to effective blog content planning.
Keyword research
It's not about attracting a lot of visitors to your blog, but rather about attracting the right kind of visitors. That is why conducting keyword research is crucial in your content planning. You need to attract people looking for the exact kind of content that you provide. Using relevant keywords is one of the first steps for accomplishing that.
Keyword research enables you to step up your SEO game and drive more targeted visits to your blog. Keywords tell search engines what your blog is about. If you pick and target the right keywords to your content, your SEO ranking will improve. Google will recognize your blog as a relevant and credible source of information.
What about those targeted visits that you will bring in? When you put in place keywords relevant to your content, people who type those keywords in search engines will be able to find you.
The best tool for conducting your keyword research is the Google AdWords Keyword Planner. It enables you to find the most relevant keywords for your niche and, thus, lay the groundwork for creating quality blog content. It is entirely free of charge, and all you need to do is set up a Google AdWords account before you can start using the tool.
If you already have a Google account, you can use the email address for that account to set up a Google AdWords account.
After you have your account set up, you can start researching the keywords relevant to your niche. The process is pretty straightforward, as all you need to do is type in the terms and phrases related to your subject to see the search volumes. That will give you an insight into what keywords your target audience is using to find information online. You can use those exact keywords in your content and drive organic traffic to your blog.
But, to drive the right type of traffic to your blog, you should use long-tail keywords, which are usually three or four-word phrases. People who search for such specific phrases are more likely to find you if you incorporate them into your content. Generic short-tail keywords are harder to rank for. Plus, the traffic you get from these keywords is too broad and may not be looking for the content you provide.
For instance, if you are going to write about particular live chat support software products for websites, you should target highly specific keywords. For example, "live chat support software", "live chat for websites", "live chat customer support software", and so on. Using these keywords will help you attract people who are looking for the exact type of software you promote.
But, if you use generic keywords such as "live chat support" or "online chat support", you will attract a lot of people who may be looking for something other than what you are offering.
Let's look at this example: If you are selling outdoor furniture, you should use specific long-tail keywords. Such as, "outdoor wicker furniture", "outdoor patio furniture" or "backyard porch furniture". Those phrases will generate quality leads, as opposed to keywords such as "outdoor furniture" or "patio furniture". Long-tail keywords don't have as much competition as generic. Apply long-tail keywords, and you will be able to pull in the right people who are looking for exactly what you are offering.
Finding ideas and resources for your blog content
The market research will give you an idea of what kind of content your audience is looking for; it will be much easier for you to find what topics to cover.
You can brainstorm various ideas and check to see how they would perform on the market by using BuzzSumo. It is a useful tool that analyzes millions of posts, searching for the patterns that appear in the most shared content. It will give you an insight into what kind of content performs best for any topic, as well as any competitor.
But before you start working on these topics, it is important to organize all the information based on your monthly priorities, topical importance, etc. Invest in a good content planning tool that helps you draw up this plan, and also get it signed off by other stakeholders before you move ahead with the topics to pursue.
When you come up with the best ideas that you want to write about, you need to take the time to perform quality research. Finding the most relevant resources is key to writing content that will be useful. Thorough research will help you provide accurate information on your blog.
Speaking of accuracy, when you want to include some numbers and statistics in your content, you need to make sure that you include real facts. You need to support every claim with facts, which is why thorough research is essential before every single blog post created.
Copywriting and editing plan
Having a copywriting method will help you develop good writing habits and optimize your content creation process. Your writing schedule will help you write consistently, but the number one takeaway of establishing this plan is efficiency. The following are the necessary steps for an effective copywriting and editing plan:
Step 1: Thorough research
The first phase of every writing process is thorough research. You need to brainstorm ideas and think about what keywords you want to implement in your content. You need to have in mind your target audience and what they would want to read.
That is the most important part. Make sure that all the information you gather has a clear purpose and provides real value to your target audience.
When doing research, think about everything you want to write about and consider how much detail you want to go. Most importantly, think about whether or not you can write about a particular topic from an entirely new angle. Instead of only gathering the information that is already out there trying to put a new twist on your content. Writing from a different point of view is what will help you stand out from your competition.
Step 2: Making a draft
That is another critical step before actually writing your copy. Making a sketch includes creating a skeleton to build on, as you do with the entire process of blog content planning. You need to list all the bullet points that you want to address so that you can have a clear picture of what your blog post will look like.
This step is necessary because it enables you to think about the value you want to provide to your readers. The message that you want to convey will appear right before your eyes when you have all your subheadings listed. Moreover, having a list of things you want to discuss may light the way towards a new angle that will help you stand out from your competition.
Step 3: Writing your copy
This step should always come after your research and draft is done. Even if you think you may know everything about a certain topic, you still need to understand how to present it. Think of how your target audience would want to digest it, as well as how your competitors are covering it. Never start your writing process without previous research. There is always room for learning something new, no matter how well informed you are about something.
Step 4: Editing
When you get to the editing process, you need to pay close attention to details. You need to make sure that the content has a good flow and that you polished it. First, you need to make sure that there are no grammar and spelling mistakes because those can affect your reputation. If you want to become an authority blogger in your niche, this is one of the ways to do that.
Take the time to carefully read through everything you wrote, so that you can make sure that the purpose and message of the content are clear. Make sure that the tone of the entire piece is consistent and that everything is structured well. If there are some lengthy paragraphs, consider breaking them up into smaller, digestible chunks.
Most importantly, see if some information can be eliminated, something that doesn't quite fit in the whole piece. The key is for the entire content to be useful and to the point. If some ideas are not so important for the message, it would be best to leave them out and use them for other purposes.
Publishing schedule
Having a publishing schedule in place will help you blog consistently to make sure that your blog is active. Of course, what will make it useful is the quality of your content. But, also you cannot expect to drive a lot of traffic if you publish one blog post every two months, for instance.
It doesn't mean that you need to publish a new post every day. Focusing too much on quantity may lead to your blog posts being mediocre, and you don't want that to happen. Focusing on quality over quantity is what will help you make your blog successful. It is something you need to take into account when setting up your publishing schedule.
Not only is scheduling vital for consistency, but it is also crucial for helping your readers know when to expect fresh content. By publishing content on a regular basis, you will build momentum. With more experience over time, you can adjust your schedule and publish more. The key is to be consistent and not to let months pass before you give your blog visitors something new to read.
What you should think about when determining your publishing frequency is the time it will take to research, write, edit and promote your content. You need to set up a reasonable schedule for that entire process so that you don't end up rushing things and your content takes a hit and loses its quality.
When you are a newbie, it may be best to start with two or three posts a month. Thus, you will have enough the time to analyze the results and measure the success of your content. You need to see how your content is performing and whether you should make some adjustments. If your posts don't exactly yield the results you wanted, you don't want to keep publishing similar stuff, do you?
If your posts turn out to be quite excellent, release four next month or more if you have significant resources at hand and think you can pull it off. When you get the hang of it, you can publish new content even more frequently, but make sure you don't overwhelm your readers. Rather give them some time to soak it all up.
The best tool that can help you schedule your posts is Google Calendar. Not only is it a convenient editorial calendar solution, but it is also completely free. You can even share your calendar with other members of your team (if you are not a solo blogger) and improve your collaboration.
Promotion plan
The entire process of your blog content planning cannot be complete without a reliable and efficient advertising plan. You need to develop a good content marketing strategy for promoting every piece of content you publish. It will extend your reach and attract your target audience. The "build it and they will come" model doesn't apply here. If you don't share your content, how do you expect people to know about it?
Of course, by implementing relevant keywords into your content, people will find you in search engines. But there are more ways for promoting your content, so read on.
Social media marketing
Promoting your content on social media is the fastest way to spike your traffic and pull in a larger audience. There are billions of social media users, so you can reach quite a high number of people interested in what you have to offer. You need to share every blog post on various social media networks.
But, you should establish your social media presence on the channels that your target audience prefers to use. There is no reason to waste your time sharing your posts someplace where no one would read them. Also, you should learn about the best (and worst) times to post on social media, so that you can know exactly when you can reach a larger audience.
However, merely sharing your posts isn't enough. You need to engage your audience and connect with them, and you can achieve that by actually interacting with them. Instead of just dropping links, you should ask questions, encourage discussions and reply to every comment and message. That way you will show your followers that you respect them and care about them.
The same rules apply for comments under your blog posts. Reply to each one of them, as that will show your readers that you appreciate the time they have taken to read your posts, and also share their opinion.
Creating meaningful relationships with your social media followers is very important to the success of your blog. That's why audience engagement should be an essential part of your content promotion plan. You need to take the time to communicate with them and let them get to know the person behind your blog.
Email marketing
Email marketing is another great way to promote your content, so you should use it to its full potential. Apart from adding subscription buttons on your blog and enabling your visitors to opt-in to receive your newsletters. You can reach out to influential bloggers in your niche via email, which can help you build strong relationships with them. If they assist you with your content promotion, you can tap into their audience and extend your reach even further.
Harnessing the power of email marketing can help you increase your blog subscriber base. Thus, make sure you develop a good strategy that will help you hook people in and entice them to click through and visit your blog.
Audience surveys
Why include audience surveys in your blog content planning? To provide the best type of content to your readers, you need to understand what it is that they want to read. What better way to know what they want than to simply ask them?
You should send out audience surveys via email or text message once or twice a year because you don't want to annoy your audience. Once or twice a year is enough for you to gather the information you need to understand better how you can improve your blog and create excellent content. Getting direct feedback from your readers will help you determine whether your efforts are paying off.
You can ask them how often they are reading your blog, how satisfied they are with your content, what kind of content they prefer, what topics they would like to read. And anything else that you think will give you a real insight into how you can improve your blog.
One of the most common survey generators you can use is SurveyMonkey, so make sure you check out its many survey templates.
You can also create polls on social media from time to time. Those can give you a real insight into the performance of your blog as well, given the number of daily active users on various networks.
Additional resource: Check out Marketing Automation Software from TrustRadius.
Conclusion
All these might seem a bit overwhelming at the moment, as there is a lot of information to take in. But you can see that not one step in this guide is hard to make. Everything is pretty straightforward and you can create your blog content plan if you follow this guide step by step.
This blog content planning guide should serve as a recipe for success. All the steps include tried-and-true tips for reaching your goals. Make sure you always use it as a base for creating compelling content that your audience will love.