The Best Print on Demand Companies in 2023
Bring Your Vision to Life With One of the Best Print on Demand Companies
FirstSiteGuide is supported by our readers. When you purchase via links on our site we may earn a commission.
Read More
The Best Print on Demand Companies in 2023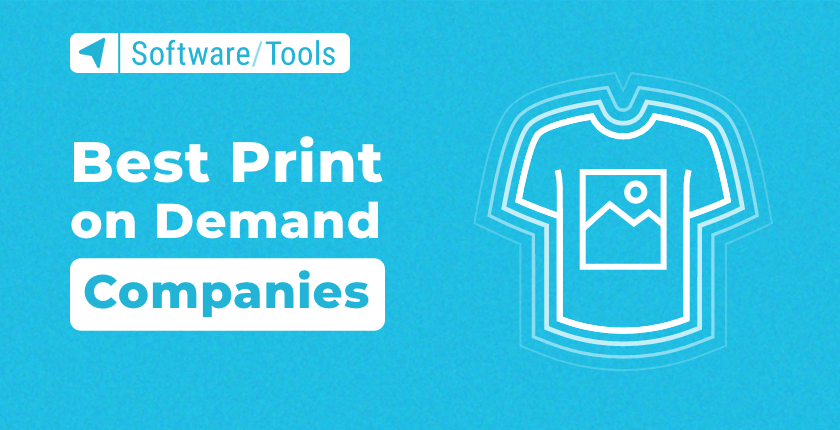 Don't have time to read the whole guide now? Here's the best company for June 2023:
🏆 Printful – The most flexible print-on-demand service with no upfront fees.
Selling custom products online is not an easy task. You need to take care of the design, stock up, and manage inventory. Print on demand is the only solution that can resolve all of these challenges, especially if you want to start a dropshipping business.
It is one of the most convenient fulfillment models out there that takes the challenge of inventory management out of the equation. Keep in mind that print on demand is definitely one of the best ways to start earning money online.
However, if you start looking for print-on-demand companies, you will discover that there are hundreds of them. Each one advertises its services as either "the best" or "the most affordable". Add to this your own specific needs and requirements, and you can easily hit an impasse.
At FirstSiteGuide, we have a team of experienced professionals specialized in providing unbiased reviews to our readers. We've reviewed all popular print-on-demand companies and identified the 10 best of the best ones.
EDITORS' CHOICE
Top 10 print on demand companies
There were a variety of factors that we used to identify the best print-on-demand companies in the marketplace. The two most important factors that we considered were pricing plans and features.
The following ten companies emerged as the ones worthy of your attention.
---
Printful — The most flexible print-on-demand service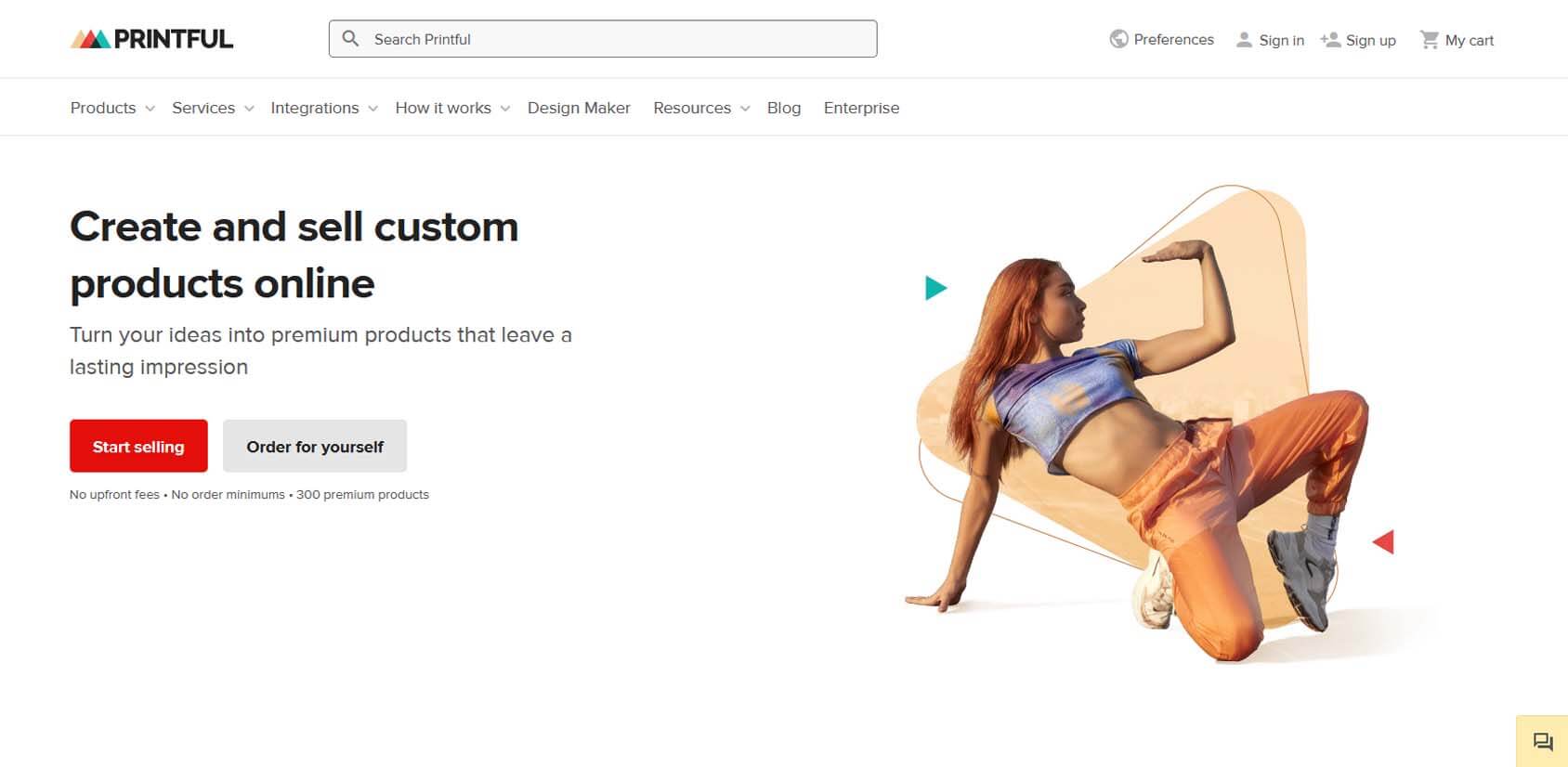 Printful is another popular print-on-demand solution. The company has a variety of tools to help you monetize your ideas and turn them into hot-selling products. Printful will handle your printing and shipping logistics so that you can focus on product design, sales, and marketing.
At the moment, Printful offers you access to 293 customizable products, including t-shirts, tank tops, hats, hoodies, face masks, and more. You can upload your designs or create them directly from Printful, which offers access to over 80 million ready-for-design $1 images.
Key features
Design maker – a free tool you can use with Printful to make mockups and product designs;
Support for integrations – Printful integrates with all major eCommerce platforms, online marketplaces and offers Printful API;
Free to use – no upfront fees, fulfillment, and shipping costs incurred once you receive the order;
No order minimums – freely experiment with products and designs until you hit the sweet spot; and
Custom branding – sell custom-designed products under your brand.
Plans and pricing
Printful is entirely free to use. The company will charge you shipping and fulfillment costs only after you receive an order.
Visit Printful for additional information >>
Printify — The widest selection of products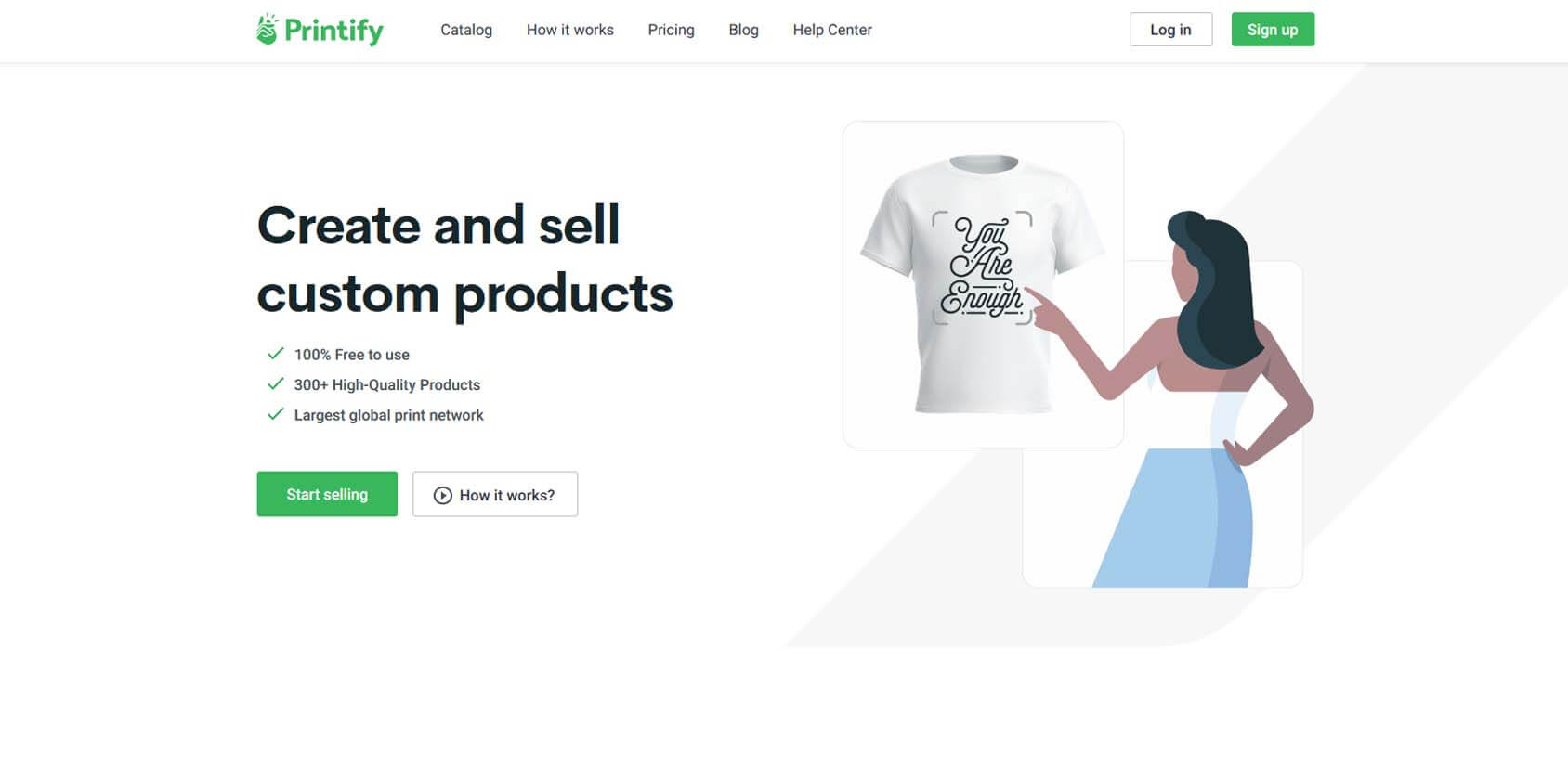 Printify is a reputable brand in the print-on-demand niche. The company has enough resources to streamline scaling for its customers even through holiday seasons. Printify offers a selection of over 500 products coming from famous and quality brands.
You can use this company to create completely custom products and sell on the terms you choose. Printify handles the complete set of logistics, including printing and delivery.
Printify's design tool is easy to use. You can use it to add custom designs to hundreds of products ranging from t-shirts to phone cases. The company continuously works on adding new perks for its users. One of the recent updates enabled users to add embroidery to products.
Key features
Mockup design – easily upload your designs and see realistic mockup previews;
Powerful integrations – support for Shopify (read our complete Shopify review), Etsy, and eBay integration and access to Printify API;
Manual order creation – easily choose what to deliver from already created products; and
Self-serve help center – learn how to use Printify correctly and resolve some common issues;
20% discount – up to 20% discount on all products.
Plans and pricing
Printify offers three pricing plans: Free, Premium, and Enterprise.
Free
Perfect for merchants starting a business. The free account comes with unlimited product designs but has a 5-store limit per account.
Premium
$29 per month

$24.99 per month


Billed annually
Perfect for growing sales. It comes with everything in the free plan plus a 20% discount on all products and 10 stores per account.
Enterprise
It comes with everything included in the Premium plan plus unlimited stores per account, a dedicated account manager, and custom API integration.
* Printify allows you to pay yearly for its premium plans and save an additional 14% on your investment.
Visit Printify for additional information >>
Sellfy — The easiest-to-use platform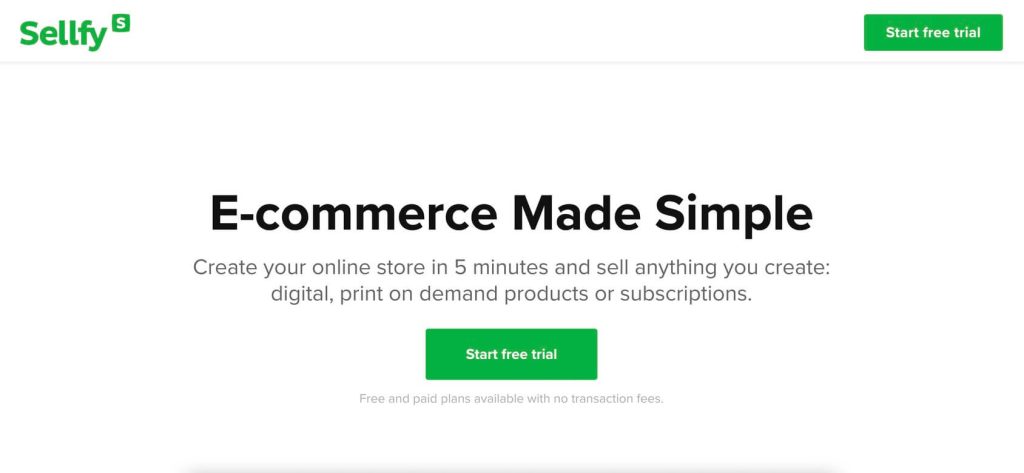 Sellfy is an eCommerce platform that allows people to easily sell their digital and physical products. It's suitable for various products ranging from online courses, artwork, videos, and ebooks. A big emphasis is placed on making the platform easy to use.
Sellfy even advertises that users can build their eCommerce stores in just 5 minutes. This platform certainly lacks some advanced features compared to other platforms such as Shopify, but it is offered at a much lower price and can be used by anyone.
Even though their main focus is on selling certain digital products, Selly currently has over 300,000 active users. These people use the platform to set up their custom stores, market and manage products, process downloads, handle payments, and process orders.
Key features
Specialized for online stores – set up an online store with all necessary functionalities and visuals in no time.
No storage limit – users can host as many digital products as they wish at their store.
No transaction fees
Can be embedded anywhere – you can embed your Sellfy store on your site, social media, blogs, and more.
Ease of use – anyone can use Sellfy.
Plans and pricing
Selly has three pricing plans: starter, business, and premium plan.
Starter
$29 per month

$22 per month


$264 billed yearly

$19 per month


$456 billed every two years
Includes digital products, subscriptions, unlimited product support, 2,000 email credits, and domain syncing.
Business
$79 per month

$59 per month


$708 billed yearly

$49 per month


$1,176 billed every two years
Offers the same options as the starter plan as well as 10k email credits, upselling, store migration, customizable branding, and cart abandonment.
Premium
$159 per month

$119 per month


$1,428 billed yearly

$99 per month


$2,376 billed every two years
Upgraded business plan with an additional 50k email credits, priority support, and product migration.
Visit Sellfy for additional information >>
Print Aura — Best for small orders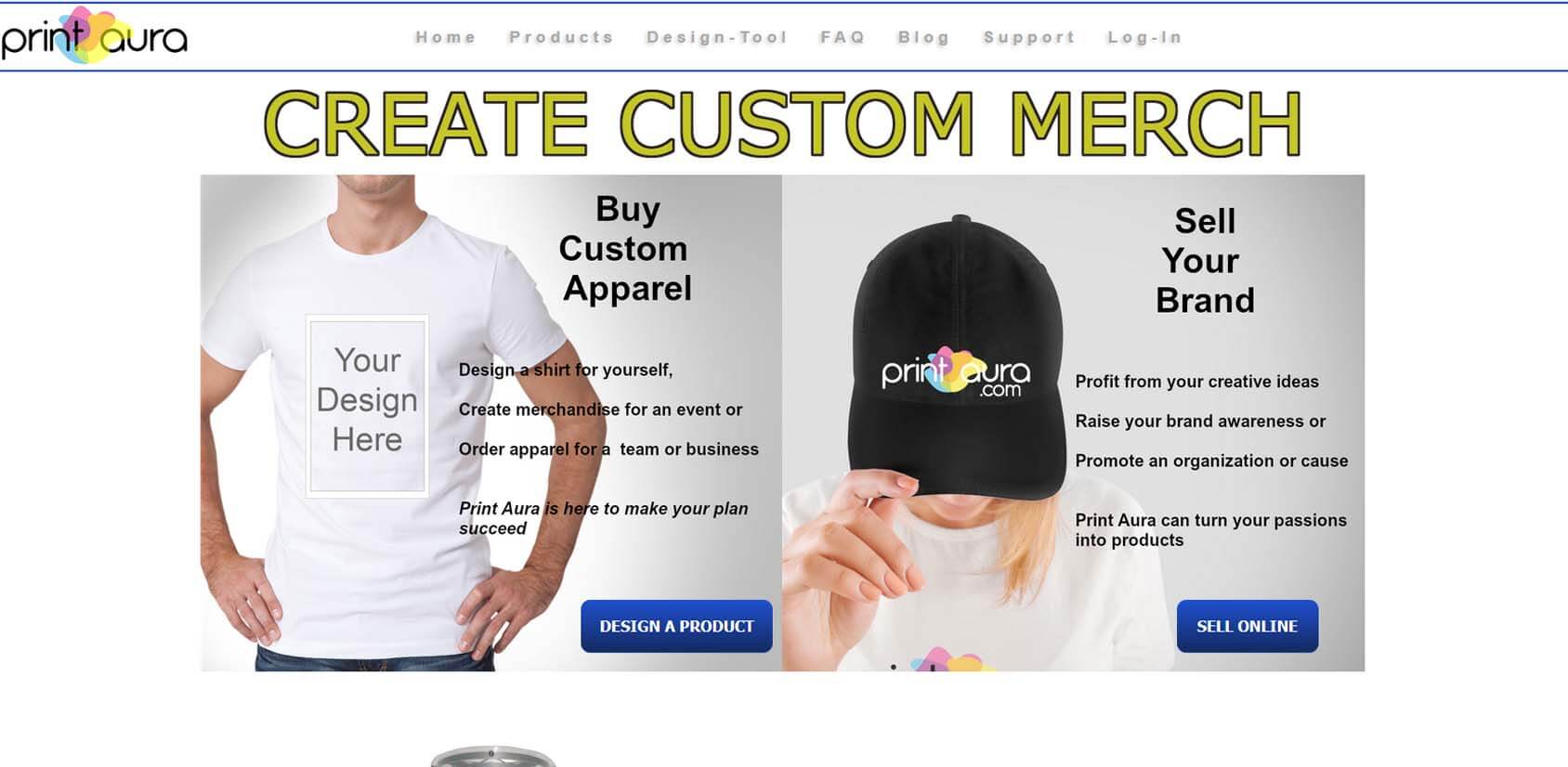 Print Aura is a versatile print-on-demand brand. You can use it to design and sell your own t-shirts, merchandise for a special event, or apparel for your business, team, and more. The company even enables you to order specialty items, closeouts, and overstocks without prints.
The company has the capacity to deal with high volume orders and uses the latest printing technology to guarantee high-quality printing. They are so confident in their printing and manufacturing process that they will pay to replace any items that ship out with errors.
Key features
No minimum order – since the company prints on-demand, you won't need to pay for setup costs or place a minimum order;
Design tool – create stunning designs and mockups with easy-to-use design tools;
Great product offer – choose from hundreds of available products in tons of colors, sizes, and brands;
Integrations – integrate Print Aura with Shopify, Etsy, WooCommerce, Sorenvy, or OpenCart; and
Direct to garment printing – Print Aura can deliver standard 12"x16" as well as 14"x18" prints.
Plans and pricing
Printing, shipping, and fulfillment costs incur once you place an order with Print Aura. The billing transaction is completely automated for your convenience.
Visit Print Aura for additional information >>
SPOD — The fastest fulfillment service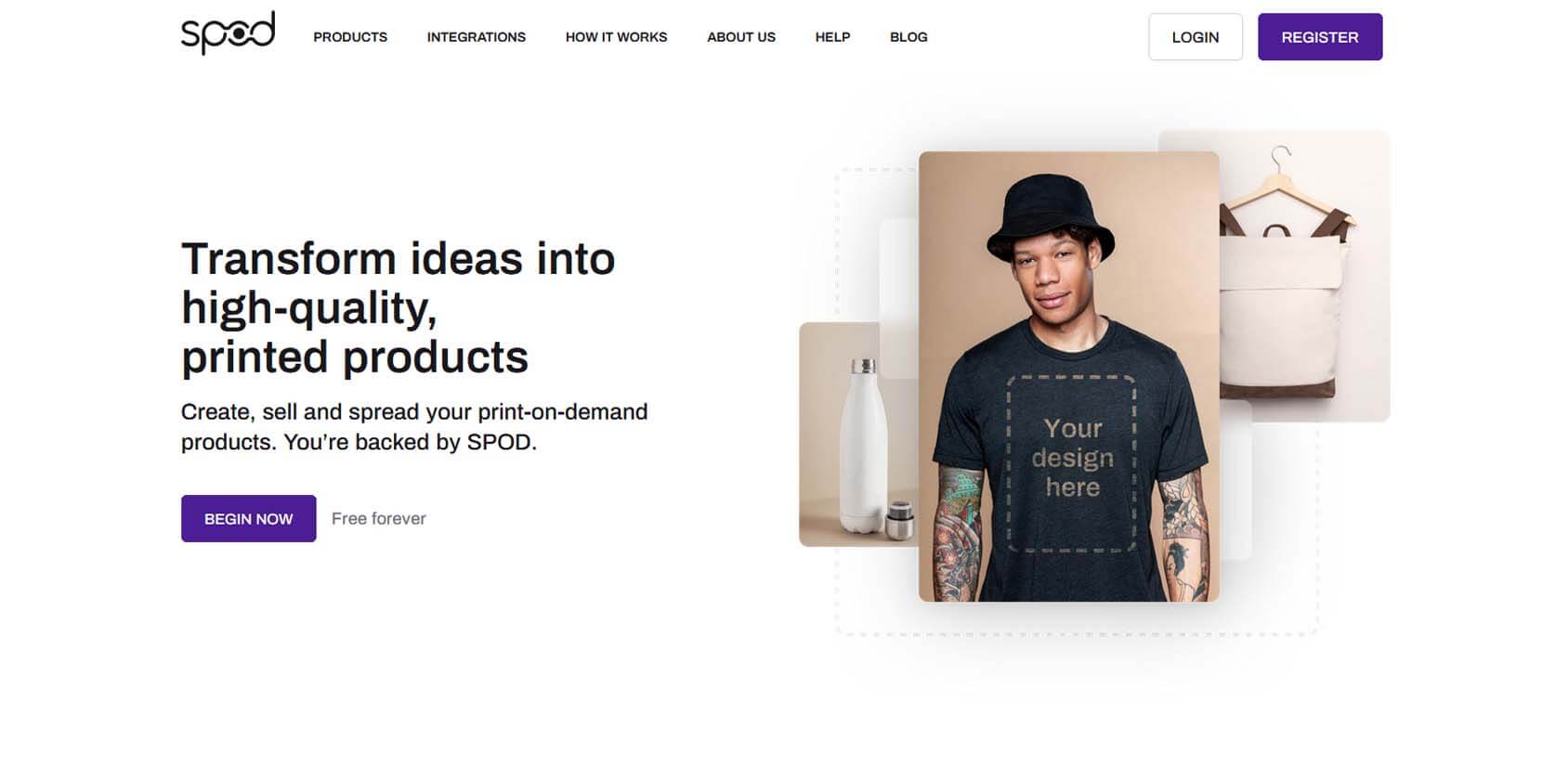 SPOD backs up entrepreneurs worldwide. Over the years, the company has perfected its dropshipping print-on-demand service to make it affordable, convenient, and reliable. SPOD currently has five production and delivery centers, two in the US and three in Europe.
The company has aligned with seven quality brands to ensure the availability of a variety of products. Its partnership with Spreadshirt enables SPOD to tap into 20-years worth of industry experience and provide dependable services.
Key features
Under 48-hours production – get the products faster to consumers thanks to fast turnaround times that SPOD offers;
Integrations – integrate SPOD with Shopify, Order Desk, WooCommerce, Magento, or use SPOD API;
Help-center – get free access to actionable information to make the most out of SPOD services;
Variety of products – SPOD product offerings include accessories and products for men, women, kids, and babies; and
Shipping calculator – see exactly how much it will cost for you to ship products to your customers.
Plans and pricing
You can use SPOD for free. You only pay once a customer places an order.
Visit SPOD for additional information >>
Spring — Best for selling via YouTube and TikTok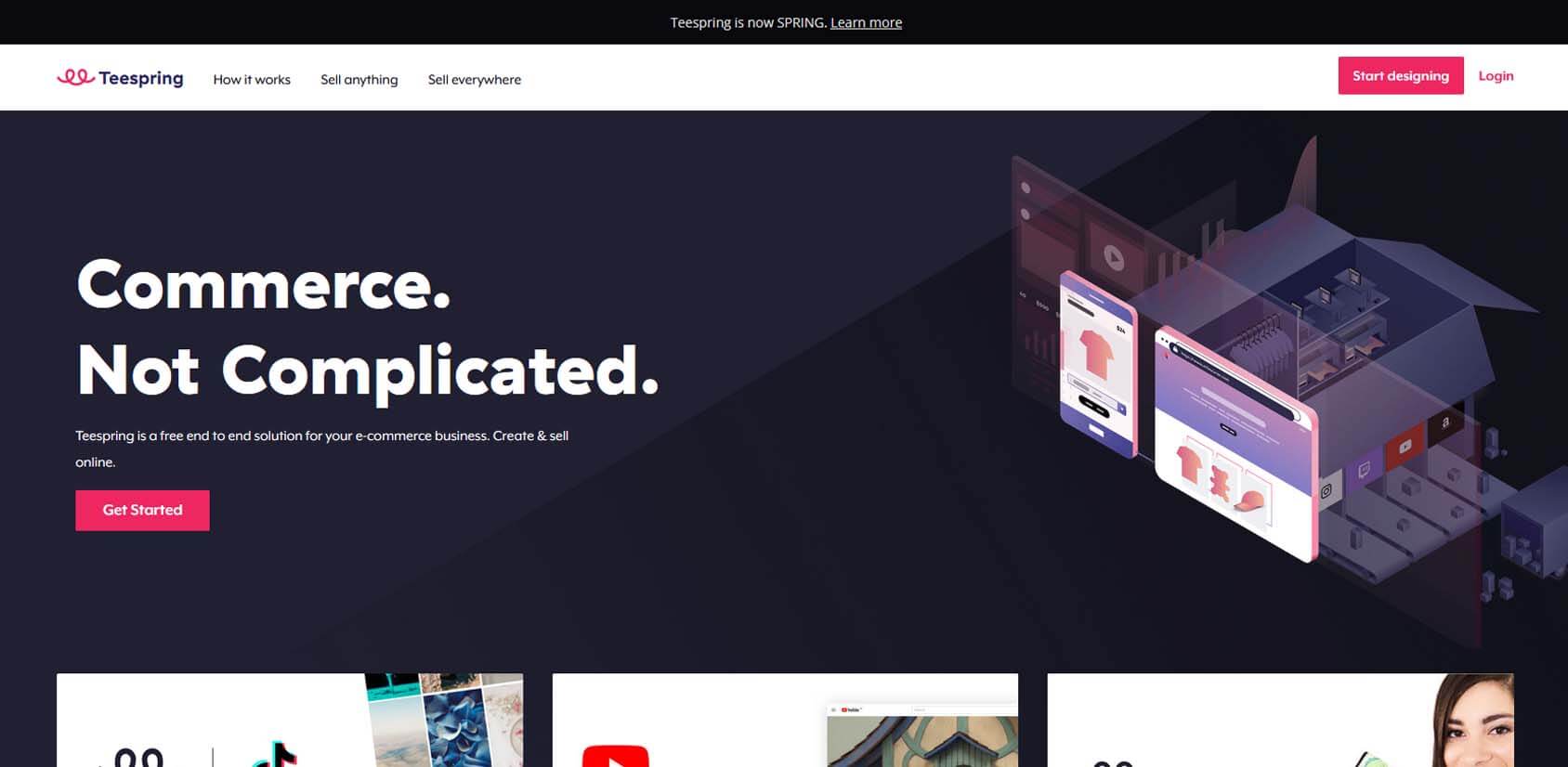 Spring facilitates the creation, sales, and ordering of custom products. The platform operates in line with the best industry practices and caters to the needs of modern customers.
With Spring, you will be able to sell products via YouTube merch shelf and even through TikTok. The company focuses on upper-body wear and digital products. You will be able to pick from various tank tops, t-shirts, and hoodies for both men and women.
The company will handle production, shipping, and customer service while you are left to handle marketing and selling your goods. Spring is tailored to meet the expectations of the younger generation as is reflected in its integration capabilities with platforms such as Discord, Streamlabs, Google Shopping, and Twitch.
Key features
Ability to sell physical and digital goods – you can sell your digital creations and products and not just t-shirts and hoodies;
Social integrations – sell your custom goods directly to your social media followers;
Create custom stores – leverage Spring wizard to create and launch great looking online stores;
Strategic partner manager – get professional guidance to nail your product launches; and
Custom fulfillment – no matter how unique your product concept is Spring will help you bring it to life.
Plans and pricing
Free plan
You can start using Spring for free. You will only pay for the base price of a product and get to keep the profit margin.
Premium
Premium service price is available upon request. The services included in the premium package are:
Strategic Partner Manager
Design support
Custom fulfillment
Visit Spring for additional information >>
Gooten — Best customer loyalty program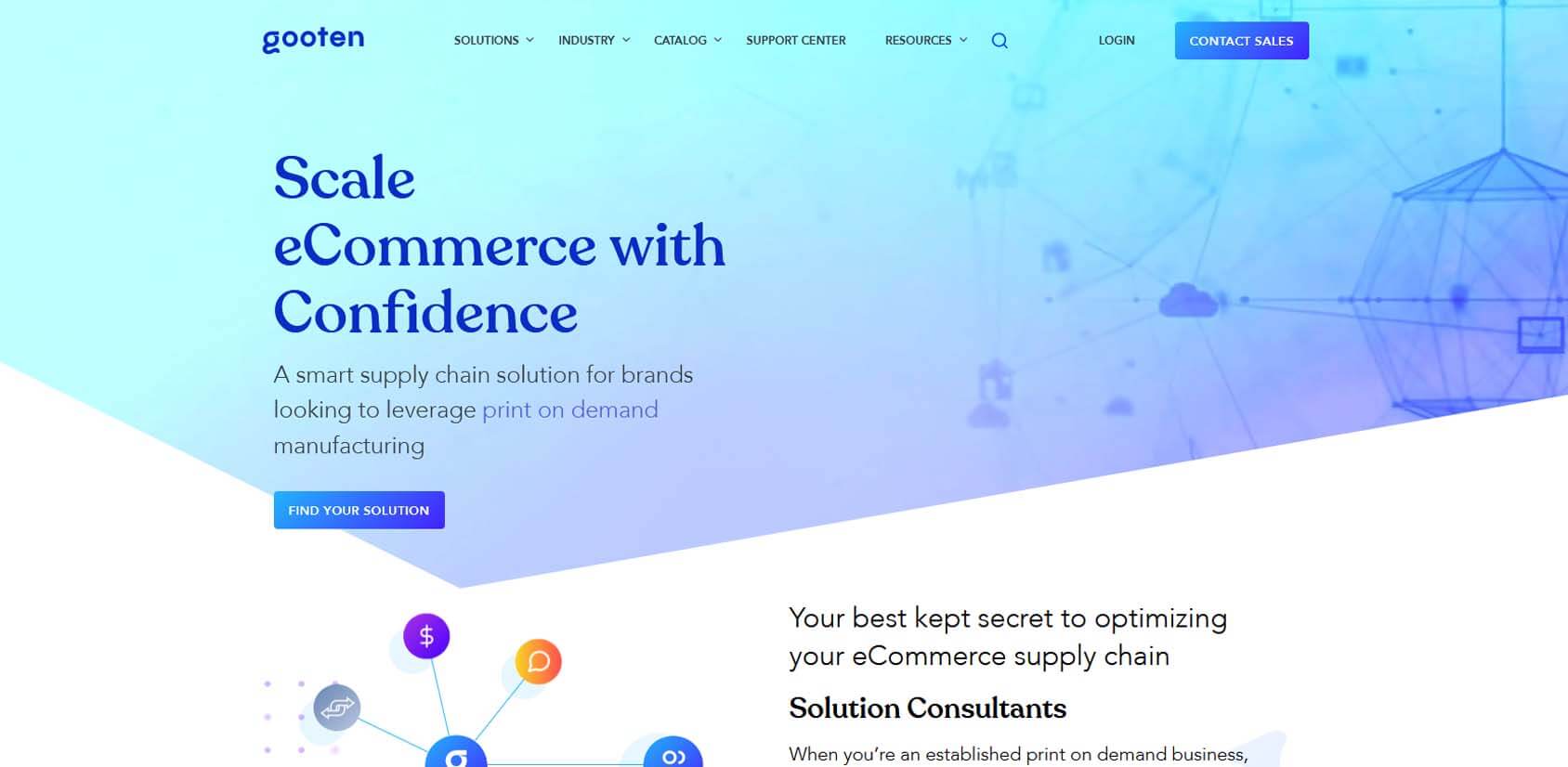 Gooten has optimized its supply chain process to help brands take advantage of print-on-demand manufacturing. Gooten helps businesses grow and scale up their sales. It even features the VIM loyalty programs for clients who decide to stick with the company as they grow larger.
With Gooten, you will find everything you need to succeed, including powerful integrations and a considerable product offering. The company supports printing on products in several categories, including fashion, home, wall art, accessories, baby, and pets. Here are the most noteworthy features.
Key features
Comprehensive support center – learn everything about Gooten capabilities and how to use them to grow your business;
Integrations – import your products to Shopify, WooCommerce, Etsy, and Gooten API;
Over 150 product lines – test different products in your market to find the one that resonates best with your customers;
Fast turnaround times – it takes four days on average for products to reach your customers; and
Gooten VIM – a very Important Merchant loyalty program that will provide you with actionable advice and resources to take your business to another level.
Plans and pricing
You can use Gooten for free. You will be only charged for the product and shipping costs. For the price of Gooten VIM services, you need to contact the sales department.
Visit Gooten for additional information >>
Redbubble — Best for unique designs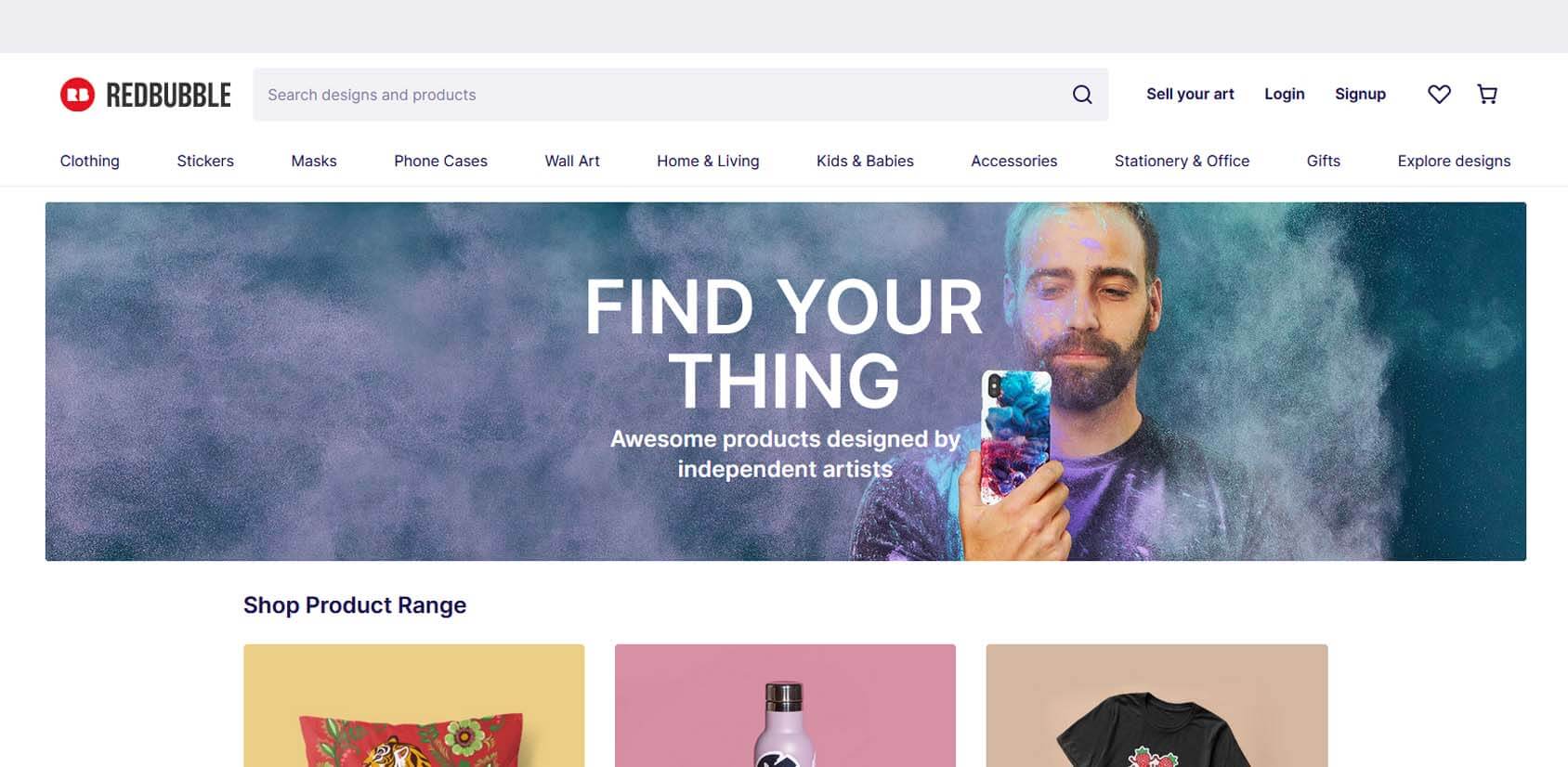 As a print-on-demand company, Redbubble keeps up with the competition. The company offers a wide range of products and print designs by independent professional artists.
Rebubble was founded back in 2006 in Melbourne, Australia, and it's considered a veteran in the print-on-demand niche. Its specialty comes from focusing on unusual and eye-catching designs.
Additionally, Redbubble connects talented artists with businesses. You can use your own designs or purchase professional designs from over 700,000 artists on Redbubble. Whichever you choose, you will enjoy using the Redbubble app as it is simple yet very appealing.
Key features
Huge art database – Redbubble features one of the largest collections of printable images;
Comprehensive list of products – you can print on anything ranging from clothing to accessories;
Secure payments – the company uses industry-grade 256-bit SSL encryption;
Easy returns – Redbubble handles returns with a simple click of a button; and
Standard and express delivery options – control how fast you want to ship your products.
Plans and pricing:
You can use Redbuble for free. You will be charged only once your order is processed.
Visit Redbubble for additional information >>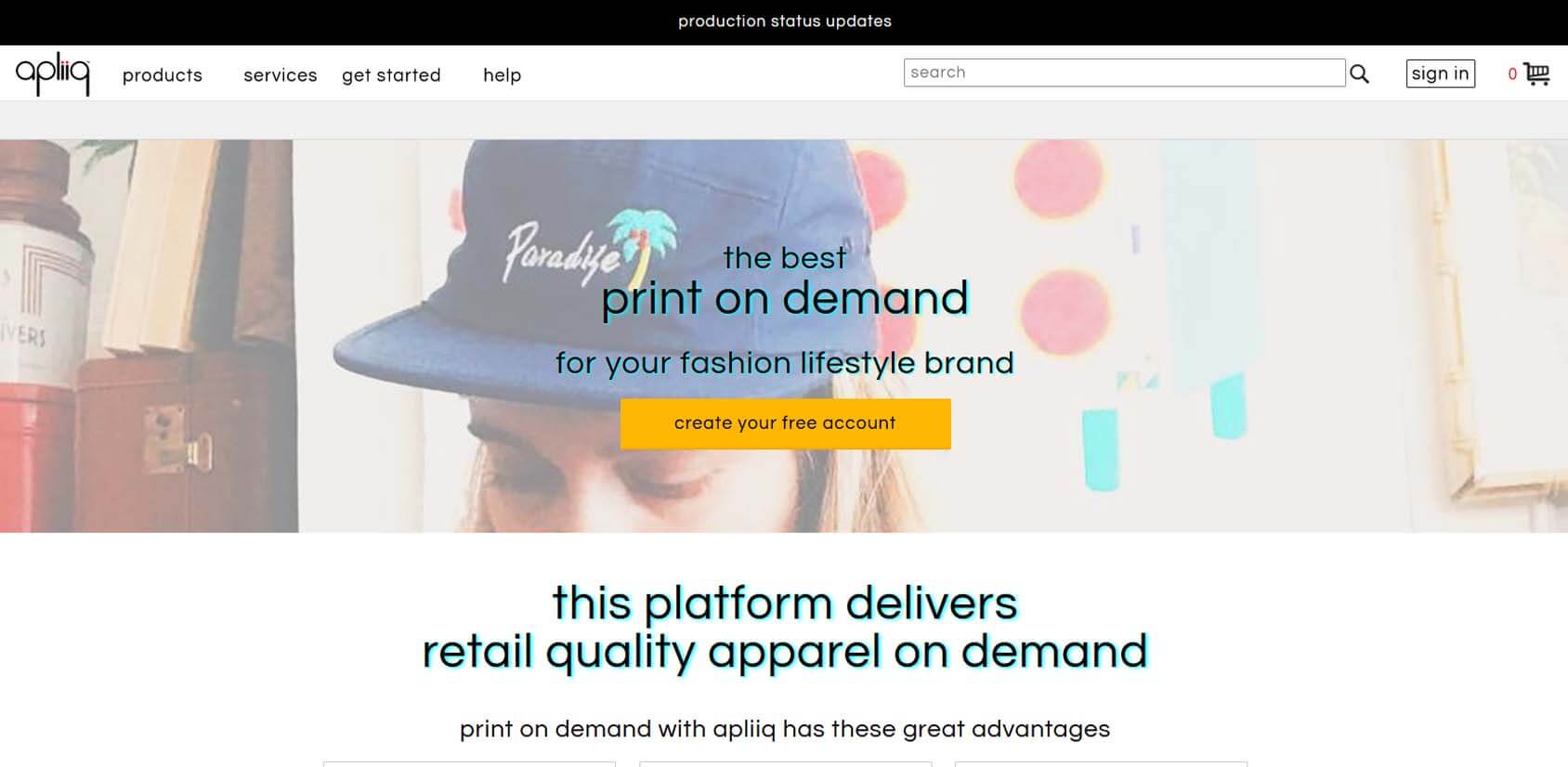 Apliiq strives to deliver retail quality apparel through its print-on-demand services. Apliiq's unique offer is rooted in offering amazing apparel products. For instance, you can find fashion-forward base garments, liner hoodies, and over-pocket tees in the company's offer.
Apliiq also provides a private label subscription to businesses that only want to sell their own branding.
Apliiq guarantees the premium quality of its prints. It uses the best industrial direct-to-garment printers. It has a transparent shipping policy which you can check to assess whether your products will be competitive in the target market.
Key features
Support for embroidery – Apliiq does embroidery on fleece products, hats, and t-shirts;
Private label – have your products re-labeled with your brand tags;
Immediate quotes – as soon as you select a product and print, the site generates quotes;
Bulk discounts – the progressive bulk discount model can help you to generate more profit once your business starts growing; and
Guaranteed delivery dates – you can pay an extra fee to have your orders shipped faster.
Plans and pricing
Apliiq is free to use. You can see exactly how much printing and delivering a product will cost you on the website. For private label and guaranteed delivery, customers have to talk to the sales department.
Visit Apliiq Print On Demand for additional information >>
T-Pop — Best for selling to environmentally conscious customers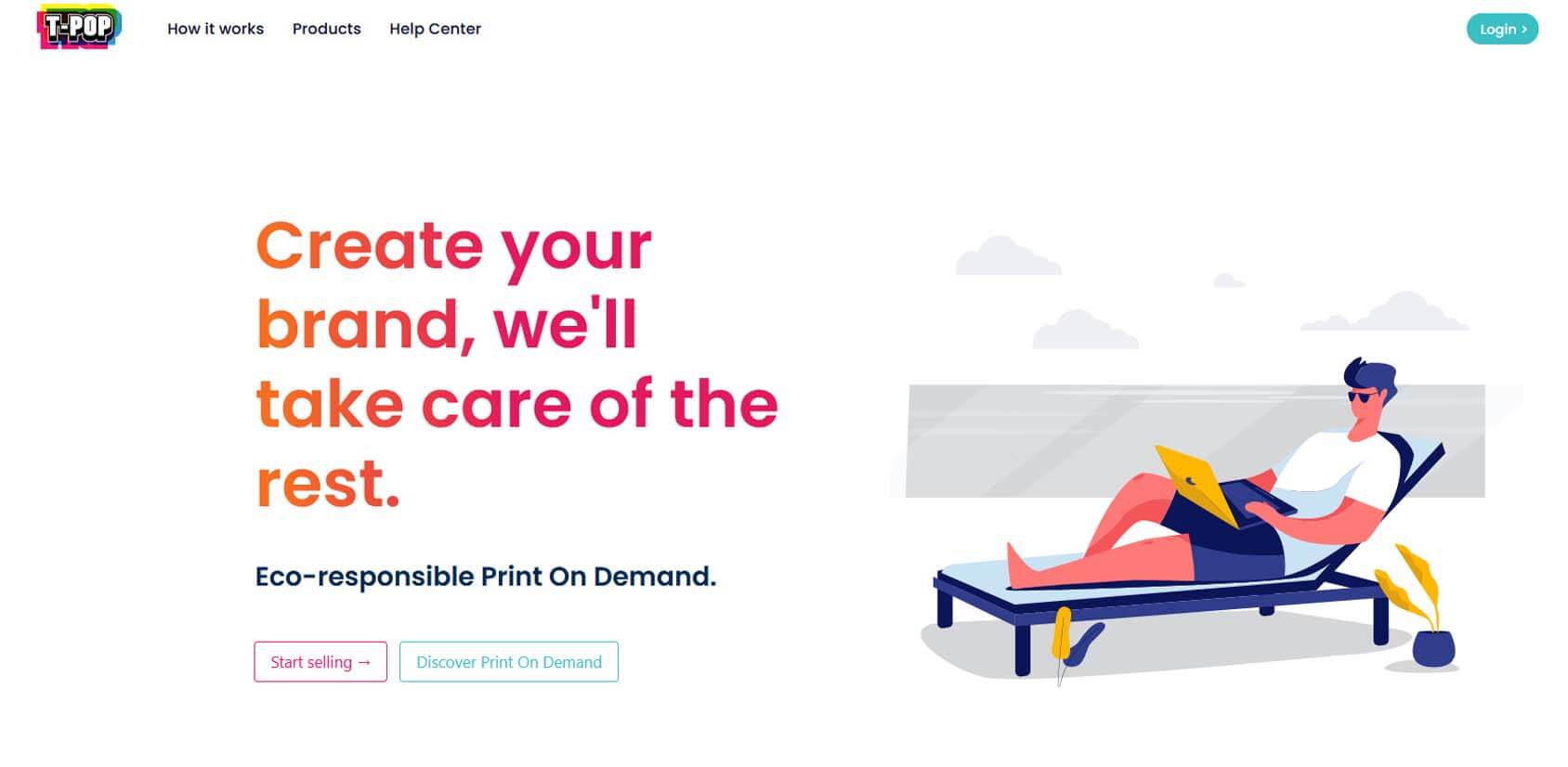 T-Pop delivers a fully automated print-on-demand experience. If you partner with T-Pop, you will be in charge of sales while your print-on-demand partner handles everything else.
With this company, you will have access to some additional branding options such as eco-responsible packaging and packaging slips translated according to the destination.
T-Pop focuses on delivering eco-friendly products. Its printing process is also optimized to leave an untraceable carbon footprint (uses inks with VEGAN, GOTS, and Oeko-Tex labels). If you are catering to the needs of environmentally aware customers, T-Pop is your best option.
Key features
Integrations – import your products to Shopify, WooCommerce, and Etsy with few clicks;
Free white labeling – add your logo and social networks on the package and packing slip for free;
Eco-friendly print-on-demand – T-Pop delivers eco-friendly products, prints in an eco-friendly manner, and uses eco-friendly packaging;
Product personalization – get your packaging slips translated based on the delivery address; and
Package tracing – see real-time reports on your order status from the T-Pop dashboard.
Plans and pricing
T-Pop is entirely free to use. You will be charged for product, printing, and shipping costs for every order placed.
Visit T-Pop for additional information >>
How to choose the right printing company for your needs
Before you start your online business, you should take the time to choose the right printing company for your specific needs and preferences. How do you do this? Here are the most important factors to consider:
Pricing plans and flexibility
As you can see from our brief reviews, most print-on-demand companies have one thing in common – a pricing plan. Most of them, apart from Printify, don't have any upfront costs and will charge you product price, shipping, and printing costs at the time of ordering.
So what should you be looking for?
You are looking for the pricing plans that you can afford. But, not only that. You also need a company that offers some flexibility. For instance, a discount on batch orders can help you to make a bigger profit.
Shipping rates are also very important. Look for flat shipping rates for specific geographical regions and product categories. A company should have transparent shipping and pricing policies to make it easier to assess whether it will be worth your while.
In terms of flexibility, you also want to go with a company that offers the most integrations. Unless you have the budget to make your own website and use API to sell custom-designed products, you need an easy way to import products to website builders and content management systems.
To be on the safe side, make sure to check whether a print-on-demand company offers integrations with the best sites selling online.
Finally, the number and location of manufacturing and shipping facilities are vital factors as well. As your business grows, chances are that you are going to consider penetrating new markets. If your current print-on-demand partner doesn't cover your target markets, you will have to switch to a new one. Make sure that your print-on-demand service provider ships globally.
Range of products on offer
The range of products available for sale also adds more flexibility. Comprehensive product offers have more opportunities than limited ones, especially if you are a beginner and you are starting your first eCommerce business.
Why does it matter? A wide range of products leaves you with more options. You can test various products in your target market. It can help you find out which products perform best sales-wise. Also, with more products to choose from, you can easily launch seasonal sales, offer bundle sales, and introduce product recommendations to boost sales.
You will have the opportunity to introduce niche products too. This is quite important as your business starts growing and attracting more customers. Having valuable products for each one of your customers is the best way to build a reputation and ensure repeat business.
While we are talking about the product range, you should also ensure that the products are of good quality. The quality of the materials, inks, and packaging all contribute to a great customer experience. Pay close attention to the fabric and thread used for products. High-quality products look good and last longer, which can help you to build an excellent brand reputation.
Fast and reliable shipping
Since you are planning to run a dropshipping print-on-demand business, you need to be aware that you will have no control over packaging and shipping whatsoever. Your print-on-demand partner will fulfill these services in your stead.
To avoid frustrating your customers and to build trust with them, you need to live up to your "delivery date" promise.
To do this, you need to choose a print-on-demand company with fast and reliable shipping. All 10 companies that we've listed above offer fast and reliable shipping. However, not all of them have manufacturing centers in the same countries. Since the centers' locations are one factor that dictates delivery dates, make sure to check whether your desired company has a center near your target market.
Additionally, you want to check the company's printing capacities. Their ability to handle huge workloads affects delivery dates, especially during holiday seasons.
Good return policy
Even a bullet-proof product print-on-demand sourcing strategy doesn't guarantee your customers won't return products. How you deal with the returns reflects your brand image. Simply put, a couple of bad reviews on social media and consumer forums can slow your business. Unfortunately, you don't have control over how the returns are handled.
However, you have the opportunity to invest more time in researching print-on-demand companies. Before you settle on one, make sure that they have a good return policy.
A good return policy clearly outlines terms and conditions and enables customers eligible for returns to either:
get their money back
get store credit
get a new product
or exchange product for another product.
Reliable and available customer service
The dropshipping print-on-demand supply chain is not overly complex, but it still encompasses three parties – a print-on-demand company, your customer, and you. There is no doubt that at one point, either one of these parties will encounter some issues. How fast you are able to resolve them can make or break your business.
Choosing a print-on-demand company with reliable and available customer service is paramount for your success. They need to be quick with responses. You can contact the customer support team directly to test it and see for yourself how they communicate.
Aligning with a partner that offers 24/7 support and quickly replies to inquiries is imperative. A self-service help center is a bonus as it allows you to resolve common issues by yourself.
Good track record and social-proof
Since you are about to embark on your online business adventure, you should know that many customers look for online reviews before making a final decision. Buying print-on-demand services makes you an online customer as well. Fortunately, you can easily track any company's track record online.
Make sure to visit the company's official website and look for reviews. You can extend your research to other internet platforms such as Google Business. Don't only consider the rating but the number of reviews as well.
Social-proof is just a fancy term that describes how many people publicly endorse the company's services. The more social-proof there is, the more trustworthy the company is. The best companies in the niche often have a social-proof section right on the homepage of their official websites.
You can go one step further in your research and hit social media platforms. Look for print-on-demand company mentions and scan their official profiles. You can see how they interact with their customers and comb through both positive and negative feedback.
Best of the best
If you are in a hurry, can't be bothered with researching print-on-demand companies one by one, and want a quick solution, we got you. Below you can find our best picks for specific situations and goals.
Best for fashion lifestyle brands
As a fashion lifestyle brand, you need a reliable print-on-demand service and one that ensures that the final product is of the highest quality. You also need a platform that has a comprehensive list of products and support for custom prints.
Best for monetizing trends
If you want to monetize trends, you need a print-on-demand partner that regularly adds trending and hot-selling products. You also want to ensure fast delivery times, which calls for plenty of distribution centers.
Best for ensuring repeat business
Businesses focused on repeat business need print-on-demand partners with fast production times. Partnering with a company with unparalleled turnaround and fulfillment times is paramount to delight customers and ensure repeat business.
Best for businesses selling across many platforms
Printful is the best all-around option if you want flexibility when it comes to integration. Its integration capabilities are amazing. At the moment, Printful supports integration with 17 eCommerce platforms and 5 online marketplaces. Additionally, you also have access to the Printful API to work on some customized solutions.
Best for businesses serving the US market
If your focus is on selling custom printed products to US customers, you need a partner that focuses on the US market. You need a print-on-demand company with plenty of US centers to ensure fast delivery times and delight your customers.
Best for businesses selling worldwide
If you are selling custom printed products globally, you should consider partnering up with a print-on-demand company with an appropriate supply chain. Your partner needs to have a wide network of manufacturing centers and be able to ship worldwide.
FAQs
What is print on demand?
Print on Demand, or simply PoD, is a fulfillment service. It puts you in charge of the sales, marketing,  product procurement, and design processes. On the other hand, print-on-demand companies and affiliates in their network are in charge of production, printing, inventory management, packaging, and shipping.
How to start a print-on-demand business?
Regardless of the product category you plan to sell in, starting any print on demand business should follow these steps:

– Choose a niche target audience;
– Research the market to identify sales opportunities;
– Discover what the competition is doing;
– Choose an eCommerce platform or online marketplace to sell on;
– Choose print on demand provider; and
– Import your products to your online shop.
Is print on demand profitable?
Print on demand is a great way to make money online. The best thing about it is that you can choose a path where there are no upfront costs. With modern eCommerce platforms and online marketplaces, it's really easy to set up your online shop and get started. Online sales are rapidly growing, with year-over-year growth of 44.5%. The market is huge. Whether print on demand will earn you money or not depends on your ability to find a niche market, source hot-selling products, and how you market your online store.
How does print on demand work?
Once you align with a print-on-demand company, you can import the products in its offering to your online shop. Your job is to have an online store and add products to it. Once your customer places an order, it is automatically fulfilled by your print-on-demand partner. They will produce the item, pack it, and ship it to your customer's address.

Most often, there are no upfront costs, and you will only be charged for the product and shipping cost. However, some print-on-demand companies charge a monthly subscription fee and additional fees for premium services.
How long does print-on-demand production and shipping take?
Production and shipping times vary from one print-on-demand company to another. However, there are some numbers that can serve as general guidelines. Usually, it takes around 2 days for a product to be produced and anywhere from 2 to 14 days to arrive at its destination. The most crucial factor here is the distance between the manufacturing center and the shipping address. Choosing a company that is near to your target market or one that guarantees fast turnaround times is considered the best practice.
Conclusion
If you want to start earning cash online without having to worry about printing custom images on products, inventory management, and shipping, print on demand is definitely worth exploring. We've listed the ten best print-on-demand companies to help you narrow down your options once you decide to start your business.
If you don't have enough time to research every company, we have even prepared the best options for specific situations. Don't forget that launching your print-on-demand online store is just the beginning. Once it is up, you will need to market it to increase its visibility and attract more customers.