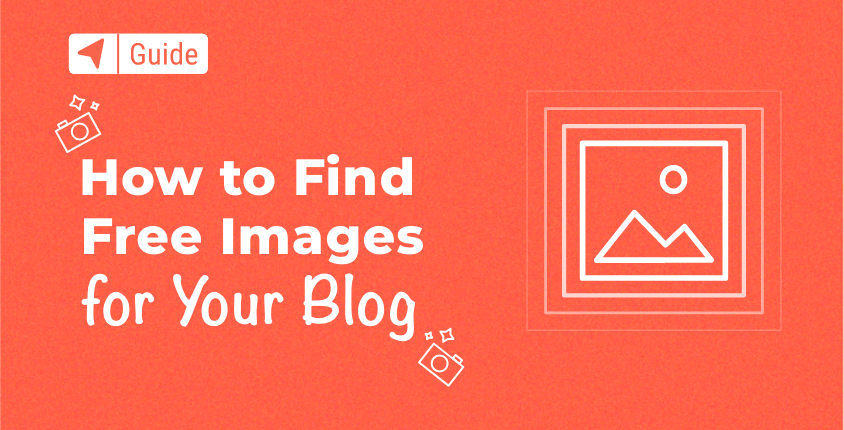 Older internet users might still remember the web that was focused only on the written word. The internet started as a text-driven medium, and it definitely wasn't visually appealing. Although people loved images, they simply couldn't work with them online because of slow internet speeds and not yet evolved technology. And to be honest, digital images weren't that good back then.
Today, it is impossible to imagine a website without visual media. Digital imagery of all kinds have flooded the internet, and you can even search the web just for images. Should we talk about what Instagram is? And although photographs might be the first thing you will think of, there are actually a lot of different formats you can use on your blog. There are infographics, graphic illustrations, schemes, tables, screenshots, wireframes…
What is the importance of images for your blog?
A beginner blogger might easily forget to include images in their posts. When you focus on what to write and keeping your new site in order, handling extra media might seem overwhelming. But if you ignore images, you are doing a huge mistake! Why? Well for starters, 65 percent of people are visual learners and 90% of information that comes to the brain is visual. Also, articles with images get way more total views than those without one. If that's not enough, here are a few more reasons why images are important for your blog:
Visually appealing — as soon as you insert the first image into your post, you will realize how the article suddenly became better. Of course, that will be true if you have used the right kind of image, and if it's related to the content. Images can also be used as text breaks, so readers can rest their eyes after a few paragraphs of black on white text. This will make the post look more appealing and longer.
Social media — sharing on social media is something you must do if you want to succeed with your blog. So, when sharing an article, social media sites will take images directly from your article. You don't want to share a post without media since it will look unprofessional, quite boring and it will be easily get scrolled away by many users.
Search engine traffic — have you noticed that Google and other search engines allow you to search for images? Well, if you use images on your blog, other people will be able to stop by your site just because they found a photo on a search engine. Amazing, isn't it?
Easier understanding of complex information— sometimes, a simple image will serve for educational purposes or for explaining something in greater detail. Instead of writing the entire paragraph of text, you can simply display an image.
What NOT to do when searching for images for your blog?
While it is crucial that you use images on your newly created blog, you must do it the right way. Although it's easy to download any picture you stumble upon to, that's a big no-no! Before we show you how and where to find the best photos for your blog, let us show you what not to do.
Don't Google search
When people realize the importance of images, their first step is usually to go to Google image search and start looking for a specific keyword. Stop there! Before you do the same, you should note that most of the images in Google search may be copyrighted. Meaning, if you just take an image from a known or unknown source, you are actually stealing it and you might suffer consequences for that.
Depending on an image and source you have stolen it from, you might suffer from penalties and even legal actions against you, so think twice before using random images found on Google image search. And don't forget to do everything in your power to stop others from stealing content from your site.
Don't hotlink
Hotlinking is a practice that allows you to load an image from a different source. So, instead of hosting an image on your own site (server), you actually load it directly from another site. And that means it uses the bandwidth of another site which costs them money. It's like watching a football game from a nearby building without paying for a ticket to enter the stadium.
Also, a hot-linked image can be taken down or changed on the site that it originates from so you can unknowingly show something that you didn't want to. So, instead of being careful with hotlinking, we suggest that you never hotlink images in the first place!
Different kinds of image licenses
Before you start looking for images for your blog, you should understand different types of image licenses. Although there are many websites that offer images for download, they operate under different licenses:
Rights Managed — images with this license can usually be used only once per payment. Those are the most expensive pieces, but usually the best you can get.
Royalty Free — requires you to pay a fee for an image which you can then use anywhere and as many times as you want. Many sites offer subscriptions and sell images in packages.
Creative Commons Zero – completely free images that can be used by anyone. Some sites require you to mention the photographer, so don't forget to check the rules before downloading.
Although these are the most common license, please note that each site reserves the right to modify the rules. So, there are actually many more alternatives to the popular licenses, and you should always read the rules before paying and downloading images.
Rights Managed
Here are a few companies that you must have heard of. Those offer some of the best images you can get for the blog, but be ready to reach deep in your pocket for Rights Managed photos.
Pros
You get exclusive rights for the image you pay for
High-quality images taken by professional photographers
Cons
An image can be used only for one project; you have to pay again for the same piece if you want to reuse it
Licenses are very expensive (can easily get up to a couple of hundreds of dollars)
Getty Images is definitely the most prestigious company that deals with images. It was a well-known way before this medium became popular on the internet, and has quickly adapted to the new technologies. There are millions of premium-quality photos that you can get on Getty Images, but the price of those photos usually means that this stock photography giant is only available for large corporations who can afford even a few hundreds of dollars per image. Yes, that's the price of getting exclusive rights to an image.
This is one of the most strict companies that deal with high-quality images. Their strict rules result in a lower number of photos you can buy, but you can make sure that those ones will be top-notch. And while the photos look amazing, you will have to pay $10-20 for a single image. Prices can go down if you decide to buy them in bulk so it can get affordable for even smaller players in the industry.
Royalty Free
While you will still have to pay for Royalty Free images (they are not free; just free of royalties), they are much more suited for a regular blogger. Since most of the companies offer packages and subscriptions, images get quite cheaper in comparison to Rights Managed ones.
Pros
More affordable than the Rights Managed licenses
Unlimited and multiple uses of an image
One-time fees
Fewer restrictions
Cons
Non-exclusive which means other people can also buy the same image you are using
This company introduced a stock photo subscription model, so it doesn't surprise that it is one of the most recognized websites for getting images online. The fact that Shutterstock features almost one hundred million photos can't do anything but improve the image of the brand. Although you can buy pictures on demand, they get most affordable if you subscribe to a monthly/yearly plan. Depending on the subscription plan you choose, you can get images for as little as $0,20 each!
iStock is another giant in the industry who can brag about being backed by Getty Images. That's a big deal! The company exists for almost twenty years and was one of the first to provide micropayments which users always wanted. iStock features hundreds of millions of images you can use for any occasion. There are different plans you can subscribe to, and it's possible to download images for about $10 per piece. This may still be expensive for a lot of bloggers, but it's much more affordable than the Rights Managed competitors.
Another well-known company that has years and years of experience. Depositphotos has focused on Royalty Free images and offers a variety of subscription options. Their 80+ million photo stock is organized into multiple categories, so you can easily find what you need. The company offers stock photos, vector images, and videos. Depending on the plan you choose, you can get a photo for as little as $2-4 per piece.
This photo agency is dedicated to small and medium-sized businesses. It has a large library of images which you can purchase in packs or by paying a monthly subscription. Depending on the plan you choose, photos will cost you $5 on average and as little as $0.20 per image if you subscribe. If you can't afford any of the bigger players in the industry but still want Royalty Free images, StockPhotoSecrets Shop might the perfect choice for you.
Creative Commons Zero (free)
Images labeled with Creative Commons Zero license are completely free. You can download them anywhere and anytime. This license also allows you to use the images in commercial projects, but you can't resell the images as your own. It is definitely the most popular license people are looking for since in most cases, you don't even have to register to a site that offers Creative Commons Zero images.
Pros
Completely free
You can use the images in multiple (even commercial) projects
Easily accessible
High-quality
Cons
The same image may be used by millions of other bloggers
There are still restrictions you have to take care of
Ads on the site
One of the most popular sites for getting images is Unsplash. It features more than 500,000 images, and the number keeps on getting bigger. When you open Unsplash for the first time, you will probably be amazed by the quality of the pictures you can get. And yes, all those amazing pictures are completely free, and you can use them on your blog without worrying that someone will hunt you down. There's one problem, though. Unsplash is so popular that millions of people use images from the service, so the chances are that you're going to find those all over the web.
This free stock photo site was created by twin brothers from Germany, and it has quickly become one of the most popular websites that offer free images for practically any kind of project. Their focus is on modern and authentic images. All photographs are submitted by their large base of users. At the moment, there are more than a few hundreds of thousands of images uploaded by users, and the number only gets bigger every day.
This popular site gets new free images on a daily basis. Admins curate submitted images, and choose only the best ones that end up on the website. Everything's completely free, and you can use the images for your blog without questions asked. Just search for an image you need or browse through multiple categories on the site. Currently, there are more than 50,000 images submitted by more than 5,000 subscribed photographers.
Behind the interesting name, there's a company that took a unique approach to free images. Instead of handling millions of similar photos, the team at Gratisography decided to be very, very picky about photos that go on their site. So instead of quantity, you can expect a smaller number of completely unique photographs. Those are hand-picked and have to meet high-quality standards. To quote them: "To become a Gratisography image, a picture must bring something unique to the table. Of course, it has to be perfectly composed, with the right amount of light and exposure, sharp focus on the central subject."
How to download images?
Downloading photos depends on the site you have chosen. Obviously, Rights Managed and Royalty Free sites will ask you to register and pay for a subscription plan (or to order an image from them). But after that, downloading images is pretty much the same. Let's see how to grab the image from Unsplash which is completely free:
Open Unsplash site
Search for an image (for example "beach")
Browse through all images that match your query
Click on the image you like to open a larger version of it
Click on the "Download free" button
Things to watch for before uploading images to your site
Now that you have the image stored on your computer, there are still things you should take care of before uploading the image to your blog.
Resolutions
Check the resolution of the image. If you want to insert the image into the post, you will want it to be at least 700-800px wide (the width depends on the theme you have installed and can vary tremendously). It is always a better solution to upload a somewhat larger image – if you use the WordPress blogging platform, it will automatically scale it down for your post without losing on quality. But if you upload a small image, it will become blurry if you decide to stretch it across the screen.
Format and file size
High-resolution images can easily get larger than 10Mb per file. If those images aren't formatted correctly, they can get even bigger. You should check the size and format before uploading, especially if you have limited hosting space and bandwidth.
Optimize images for web
There's so much more you can do to optimize images for your blog. Since we already have a dedicated article to improving images in WordPress, we won't go into details here.
Conclusion — what images are right for me?
We hope that this guide has helped you understand the importance of images for your blog. We also hope that you realized that stealing images from Google search and other websites isn't a way to start a blog. But now that you know about different stock sites and licenses they offer, how do you choose one for your blog?
Obviously, if you are just starting a blog and have no budget for images, Creative Commons Zero (free) is the way to go. There are some negative sides to it, but if you stick to the popular sites which we have mentioned, you shouldn't have any problems. There will be millions of photos at your disposal, and you will be able to sleep tight knowing you aren't stealing anything. But as soon as your blog starts to grow, free images might be stopping you from achieving the next milestone.
If you find yourself stuck with free images, and you can afford a few extra bucks, Royalty Free images are the right choice for you. Right Managed photos are the most expensive, and those should be left only to bigger companies that can afford to spend dozens (if not hundreds) of dollars for just one image.