Hostinger Hosting Review 2023
Company Overview, Pricing, and Features
FirstSiteGuide is supported by our readers. When you purchase via links on our site we may earn a commission.
Read More
Hostinger Hosting Review 2023
While not officially recommended by WordPress like Bluehost, DreamHost, or SiteGround, Hostinger is a name you should have already heard on the Internet.
This popular hosting service comes with many hosting options, starting at just $1.99 per month, which makes it appealing to all beginners.
In this review, I will purchase one of the Hostinger plans, so that I can offer an overview of the control panel, and test their servers.
Table of contents
Company overview
This hosting company was established in 2004 in Lithuania, and today counts more than 1.2 million users worldwide (29 million for all of their brands). While these numbers are impressive, it should be noted that this includes a couple of subsidiaries like 000webhost which was launched in 2007, and which is recognized as one of the most popular free web hosting services in the world.
Today, Hostinger offers web hosting services (including WordPress hosting), VPS, cloud hosting services, and domain registration.
In 2022, Hostinger was recognized as one of the fastest growing companies in Europe. I am sure that their free hosting options helped as well as the fact that they offer dedicated Minecraft hosting, which is still a popular video game played both by young and old.
Hostinger plans and pricing
Hostinger may be best-known for its cheapest hosting plan that you can get for as little as $1.99 per month, but it also offers numerous other options such as their month-to-month hosting plan. Here are their WordPress plans:
Single WordPress
Managed WordPress hosting, 1 website, 50GB SSD, suitable for about 10,000 visits per month, 100GB bandwidth, free unlimited SSL, and free email.
WordPress starter
Managed WordPress hosting, 100 websites, 100GB SSD, suitable for about 25,000 visits per month, unlimited bandwidth, freeunlimited SSL, free email, WordPress multisite, SSH access, and free domain.
Business WordPress
Managed WordPress hosting, 100 websites, 200GB SSD, suitable for about 100,000 visits per month, unlimited bandwidth, freeunlimited SSL, free email, WordPress multisite, SSH access, free CDN, daily backups, and free domain.
WordPress pro
Managed WordPress hosting, 300 websites, 200GB SSD, suitable for about 300,000 visits per month, unlimited bandwidth, freeunlimited SSL, free email, WordPress multisite, SSH access, free CDN, daily backups, and free domain.
Hostinger key features and functions
Optimized for WordPress – Hostinger offers a set of features that make using WordPress easy. They are also proud to be regular contributors to the WordPress codebase, which means that they know what they are doing when working with WordPress, the popular content management system (CMS).
Enhanced security – all WordPress (WP) sites are monitored 24/7 at no extra charge. Your sites will be protected against vulnerabilities, malware, and any other threats.
Speed – to make sure that your WP website works quickly, Hostingers offers LiteSpeed web servers, which are known as the fastest ones available. The LSCache plugin works its magic to even further improve the speed of your site, which I will later put to the test.
Developer friendly – Hostinger likes to have developers onboard, and is proud to offer seamless site management experience both to beginners and experienced developers.
Fast support – Hostinger claims to answer every ticket in under 30 minutes, 24/7/365, which will be put to the test.
Purchasing a Hostinger plan
When you open the official Hostinger website, you will quickly realize that the entire screen is dedicated to getting you onboard. If you decide to get one of their hosting plans, you just have to hit the "Start Now" button located on the left-hand side of the screen.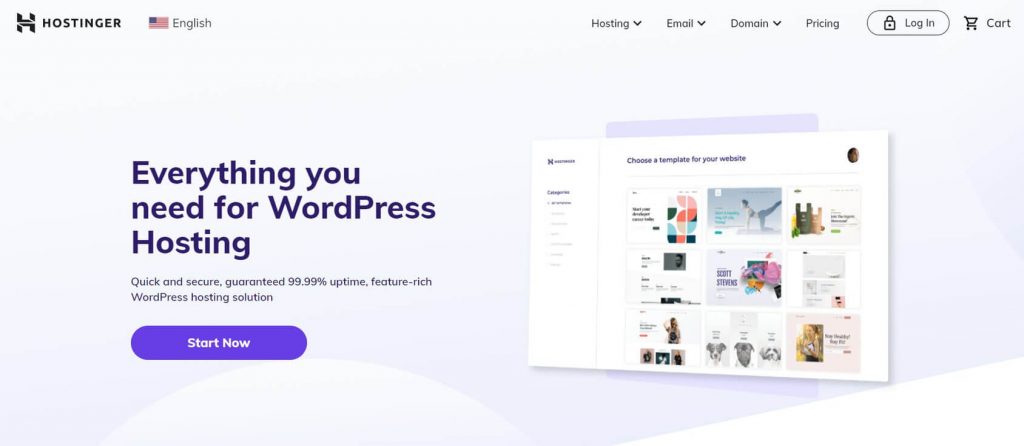 The button will take you further down the site where you have to choose one of the four available plans (I am still talking about WordPress. If you need a different hosting plan, you can explore all of the options from the main menu).
For the purposes of this review, I decided to get the beginner-friendly, first plan that starts at an unbelievable $1.99 per month. However, before getting one for yourself, please note that this plan doesn't come with the free domain option. If you already have one, this option is definitely the perfect one to start with. But if you need a new domain as well, choose the second available plan.
Once you click on the "Select" button, you will be redirected to a payment and account creation page.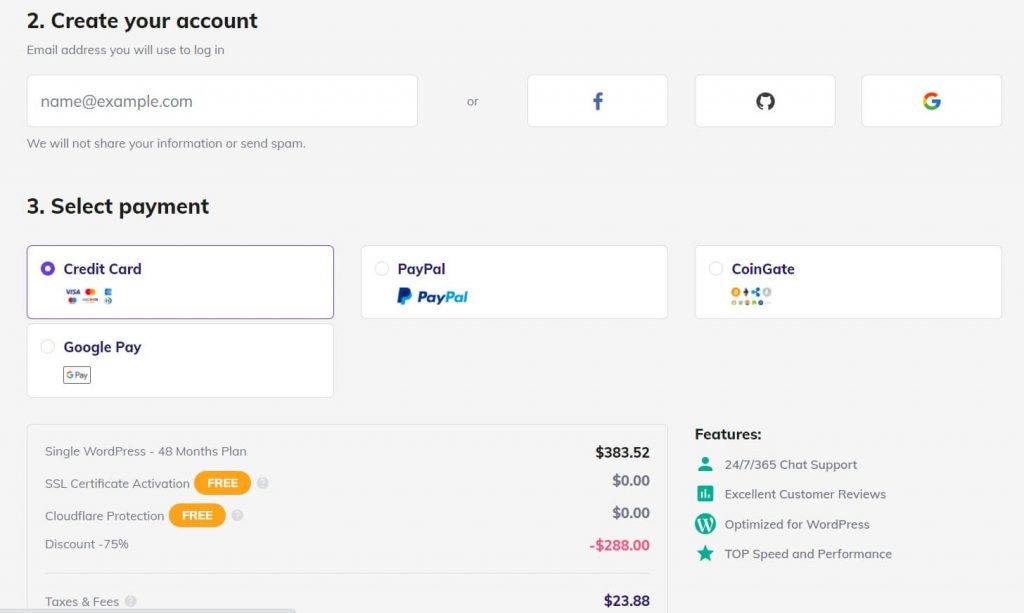 Hostinger lets you choose your subscription period. The longer your subscription period, the cheaper the hosting services get.
Creating an account is extremely simple. Either type in your email address, or choose a Facebook, Github or Google account to log in, and instantly create your Hostinger account.
When it comes to payment options, you can use:
Credit card
PayPal
CoinGate
Google Pay
Yes, having CoinGate as one of the options means that you can pay with cryptocurrencies! But be aware – this payment method is non-refundable.
A few seconds after processing your payment, you will have to set up a new password and log in to your new Hostinger account. If you are a beginner, you can continue on to answer a couple of questions from Hostinger, which will help the system set up your first site. These steps include selecting your CMS of choice, the theme, and even allow you to purchase a domain or use the one you already own.
If you are more of an experienced user, and this is not your first time setting up an account, you can easily skip all of the steps and continue by accessing the control panel.
Dashboard overview
When you log in to your Hostinger account, you will receive a message from one of the team members who will welcome you to the family, and show you their Twitter account. After that, you will load the hPanel – Hostinger's control panel that holds all of the important information and hosting management tools you will need.
hPanel is extremely simple, and because of that, perfect for beginners. Even if this is your first hosting account, don't worry, because Hostinger made sure that everyone understands everything that's available on the panel. Whether you need to set up your SSL certificate, change billing details, or transfer a domain, the task shouldn't be complicated.
Home
The home screen holds the most important links and notifications regarding your account. Here, you can expect to see reminders about setting up your SSL certificate and Cloudflare protection, as well as buttons that will lead you to the website and email management tools.
Hosting
This simple page holds the information about your current hosting account. It will display what kind of plan you have purchased, and allow you to renew or upgrade it.
Email
The email tab holds everything you need to set up your email account. If you have a domain, you will see your email status, available mailboxes, and be able to manage the email account.

Domains
If you purchase a domain from Hostinger, this is the place to locate information about it. Besides managing a domain name, here you can handle any transfers or even quickly get a new domain by accessing the market from the main menu.
Servers
If you are a developer who needs more server power, the Servers tab lets you order one of the eight available server plans.
SSL
Manage your SSL certificates that can improve the security of your website.
Website builder
For those who don't want to build their site with WordPress, you can use Hostinger Zyro. This is a free website builder that allows you to create a site with no coding or design skills. You can quickly try it out by clicking the "Get started" button available on the page.
Billing
Check your Hostinger receipts, manage services, and get access to payment history. This is the place to handle your payment method as well.

Help
Opens up Hostinger documentation. I will talk about this in a later section.
Store
If you want to get new hosting plans, acquire a new domain name, get extra security options, handle VPS and more, the Store tab connects you to everything you need.
Hostinger reliability and uptime
After setting up my testing environment, I opened up my free account at UptimeRobot. I took the URL of my test website and started the uptime test. After three days, there were no downtimes measured, meaning that the servers had worked flawlessly the entire time.
The only negative thing I noticed is the minimal spike that happened. This spike on the yellow graph means that the server took a little longer to respond than usual. Still, since I am talking about milliseconds here, that's not such a big deal, and I can state that the uptime is flawless.
Hostinger web server performance
After checking out the uptime stats, I continued to test Hostinger's servers. The second test was one that is available at Dotcom tools. These tools let you select three locations that will be used as the starting point for the test.
Just like with the other hosting companies I tested, I selected New York, Mumbai, and London as the three testing locations.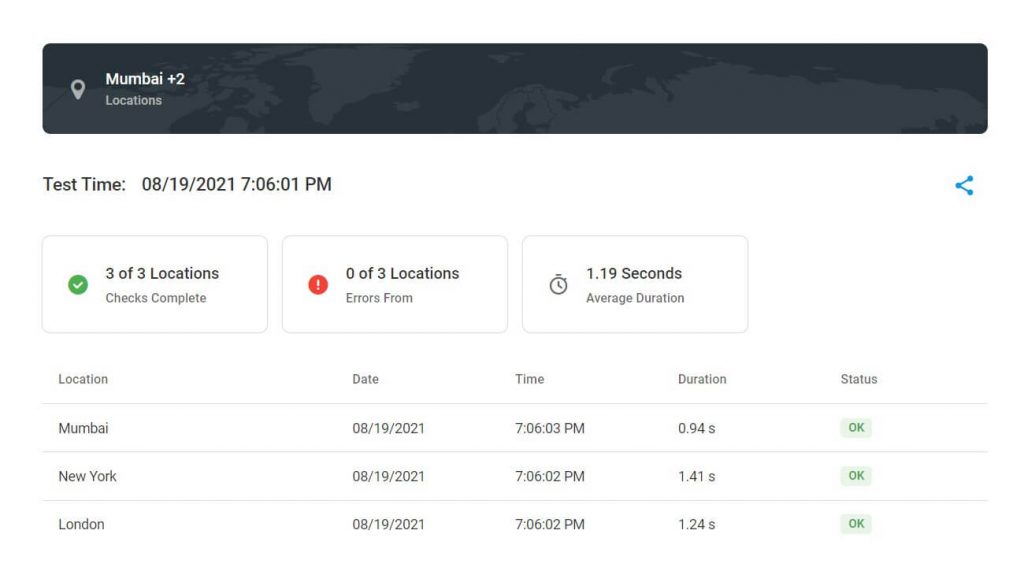 After a couple of seconds, the tests were completed, and I was amazed with the results. The first test, done from Mumbai, lasted only 0.94 seconds which is below the average, and actually faster than some competitors like Bluehost and DreamHost!
The average duration was only 1.19 seconds with the slowest ping coming from New York, which lasted 1.41s.
Hostinger server response time
After such great results from Dotcom Tools, it was time to do another one. The second test I decided to use was one from Bitcatcha.
This tool tests the URL from ten different worldwide locations, and measures how fast the server is.
After a couple of seconds, Bitcatcha returned the B+ grade. This means that the website I tested on Hostinger's servers was fast, but could definitely use some improvements. In comparison with Bluehost or DreamHost who received amazing grades, Hostinger definitely reacted a little bit slower.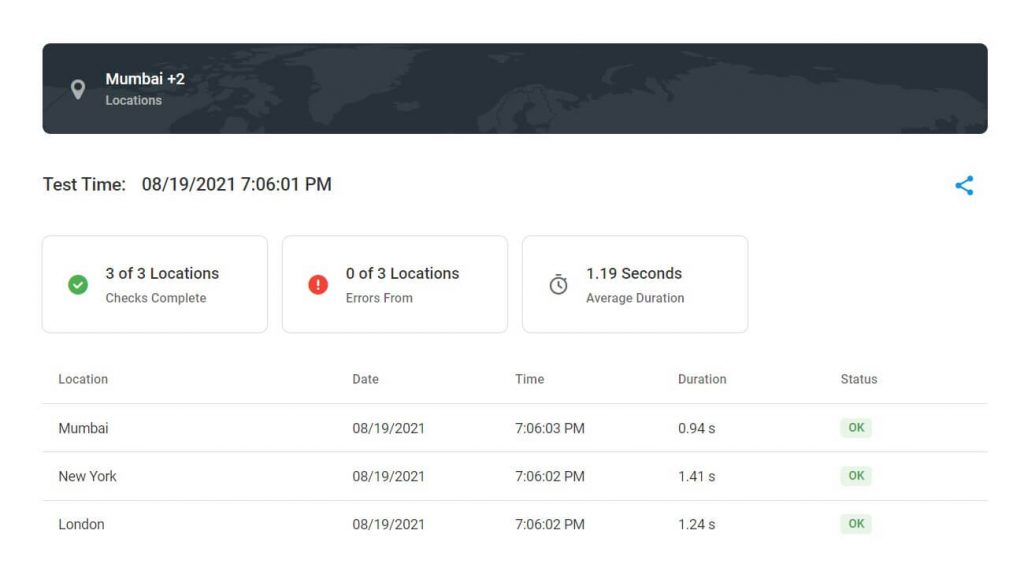 When it comes to the server speed, the fastest test was done from the US (west) server, which took only 21ms to react. The slowest one was coming from Mumbai, and it took 301ms to react, which made the average speed look worse than it should.

While not horrible, after reading so much about how fast Hostinger is, I expected slightly better results.
Knowledge base and support
While browsing through the control panel, the "Help" button is always available at the top-right corner. By clicking on the button, you will load Hostinger's knowledge base where you can learn more about Setup & Install, Account & Billing, Hosting & Website, Privacy & Security, Domains, and Emails.
The entire knowledge base is visually appealing. Its clean design will let you focus on your problem, and not force you to wander around searching for an answer. If you know what you came for, there's a big search bar available at the top of the page.
Hostinger also lets you easily access their tutorials and contact support agents. When you decide to start a chat, Hostinger will let you know that they usually need about half an hour to answer tickets. In my case, they took almost 3 hours to answer my question. However, the support agent was quite polite and wanted to help from the very beginning.

When compared to other hosting services, like Bluehost and DreamHost for example, where agents needed just a couple of seconds to respond, these 3 hours might feel like an eternity. I still wouldn't say the support is bad; just a little slower on the trigger than popular competitors.
Hostinger refund policy
If you decide to refund your Hostinger subscription, you can do that within 30 days after your initial purchase.
It is important to note that if you paid for hosting with cryptocurrency, you will not be eligible for a refund.
Another thing you should be aware of is that payments made after a free trial period are non-refundable.
Unlike many other competitors, Hostinger does offer to refund your domain registrations. To make this refund eligible, you have to cancel your domain within four days. However, not all domains are refundable. For more information about refunds, please check Hostinger's official refund policy page.
To get a refund, all you have to do is open the chat window from the control panel and follow a few steps.
Hostinger pros and cons
Although they are a well-established company with almost 30 million users, Hostinger does have its pros and cons. Let's take a look.
Pros
Easy to use control panel
Scalable plans
Free hosting option available at 000webhost
Extremely affordable
Cons
Slower customer support
There are no daily backups available
Lack of cPanel
FAQs
Is Hostinger really free?
Hostinger is not free, but you can get a WordPress plan at one of the most affordable prices available on the internet. However, 000webhost is a subsidiary that does offer free hosting that comes with PHP, MySQL, cPanel, and no ads!
Does Hostinger offer free migration?
Yes, Hostinger offers a free migration as soon as you get your hosting account. All you have to do is open the Migration Request page accessible from the control panel, enter a couple of details, and your WordPress website will be on its way to your new Hostinger account.
Can I have a free domain with Hostinger?
Hostinger offers three ways of acquiring a free domain name. The first one is subscribing to their annual subscription. Once you choose a hosting plan you like and pay for at least one year of hosting services, you will get to choose a free domain name as well. The second option requires a bit of luck – if you stumble upon a Hostinger website during their special promotions, you can get a free domain. Currently, you can get a free domain with the following TLDs: .online, .tech, .site, .store, .website, .space. The last option is to get a free subdomain by signing up to their free web hosting known as 000webhost.
Conclusion
Hostinger is a popular web hosting company that offers affordable prices and allows beginners to easily start their blogging journey. However, according to my tests, it seems that a more affordable price means slightly slower servers. You have to give up something to get something, right?
Still, Hostinger is an amazing hosting service that every blogger with a budget in mind should consider. And for those interested in just testing the hosting waters, you should know that Hostinger's subsidiary 000webhost offers completely free hosting services.