Bluehost Hosting Review 2023
Company Overview, Pricing, and Features
FirstSiteGuide is supported by our readers. When you purchase via links on our site we may earn a commission.
Read More
Bluehost Hosting Review 2023
Bluehost is one of the rare hosting companies that is directly recommended by WordPress. Because of this, it isn't surprising that it is also one of the most popular hosting services on the Internet.
In this review, I am investigating to see what's so special about Bluehost. First, I will show the available plans, so that you can understand the options for your site. Then, I will show you the process of purchasing one of the Bluehost plans by actually "getting my hands dirty". Once I register for their hosting services and decide on a test domain, I will go through the Bluehost control panel, and show you what's available there.
Then, it's time for some real tests. I will install WordPress and set up one of the basic themes, as well as load one page with a dummy content. This will allow me to have a real site hosted by Bluehost that I can test with a couple of free tools. Will my test site be online all the time? How well does it perform? How fast does the server react? Can you count on the support of the customer service agents? Let's find out.
Table of contents
Company overview
Although the Bluehost name was created in 1996, founder Matt Heaton took a few more years and ran other two hosting projects before Bluehost was presented to customers in 2003.
After several years of attracting new subscribers and introducing new technologies like CPU throttling, Bluehost was acquired by Endurance International Group. Bluehost is now dedicated to servicing WordPress websites. The company has more than 750 employees who are proud to count more than 2 million websites under their management.
Bluehost plans and pricing
For WordPress, Bluehost offers four hosting plans that offer more than enough for nine out of ten users. For those interested in their VPS hosting, they offer month-to-month hosting plans.
Basic
1 Website, 50 GB SSD Storage, Custom Themes, 24/7 Customer Support, free domain for one year, free CDN, free SSL certificate.
Plus
Unlimited websites, Unlimited SSD Storage, Custom Themes, 24/7 Customer Support, free domain for one year, free CDN, free SSL certificate, free Office 365 for 30 days.
Choice Plus
Unlimited websites, Unlimited SSD Storage, Custom Themes, 24/7 Customer Support, free domain for one year, free CDN, free SSL certificate, free Office 365 for 30 days, free domain privacy, free automated backup.
Pro
Unlimited websites, Unlimited SSD Storage, Custom Themes, 24/7 Customer Support, optimized CPU resources, free domain for one year, free CDN, free SSL certificate, free Office 365 for 30 days, free domain privacy, free automated backup, free dedicated IP.
Bluehost key features and functions
There are a number of features and functions that make Bluehost a good choice for hosting your website. Let me go through a few of the key features that make Bluehost an attractive option.
Free domain name – if you subscribe to a hosting plan, Bluehost will give you a free domain name for one year. After that, you have to pay for the domain.
Unlimited storage – 3 out of their 4 plans offer unlimited storage, which means that you do not have to track the number of databases or files you're storing.
Full class technology – dual quad processor performance servers, UPS power backup, 24/7 network monitoring, site backups, and more.
Full email service control – includes POP3/POP3 Secure and IMAP email support, 3 different webmail solutions, forwarding, and much more.
Free website scripts – including WordPress, message forums, Joomla, Moodle, Drupal, and many more.
eCommerce features – including SSL secure server, OS Commerce Shopping Cart, Agora Shopping Cart, and Cube Cart Shopping Cart.
Purchasing a Bluehost plan
Most beginners will manage just fine with the Basic plan. Let me show you how to start, and what it feels like to purchase hosting from Bluehost.
Open Bluehost.com.
Click on the "Get Started" button.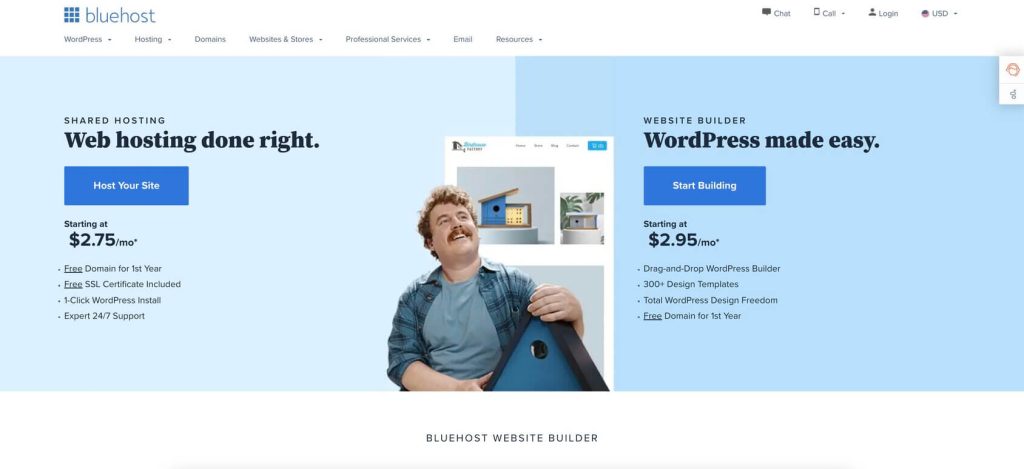 Choose your plan by clicking the "Select" button.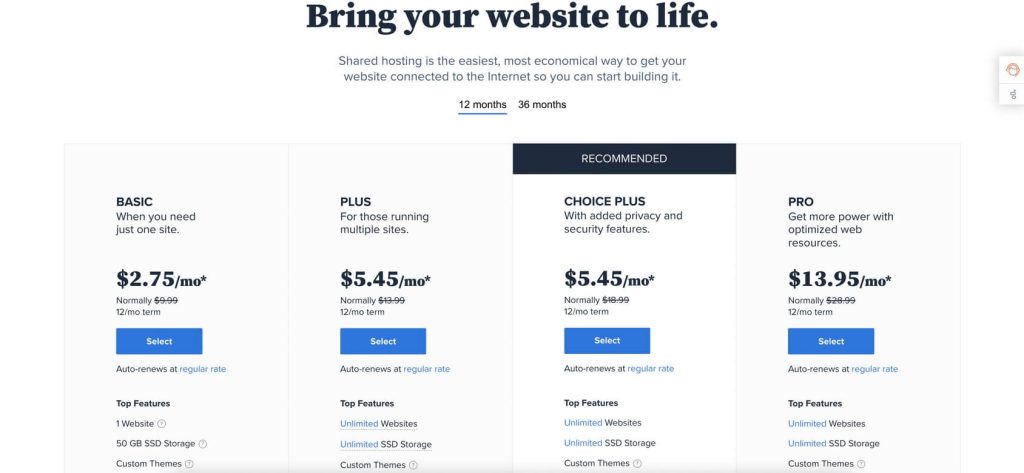 Choose your domain name.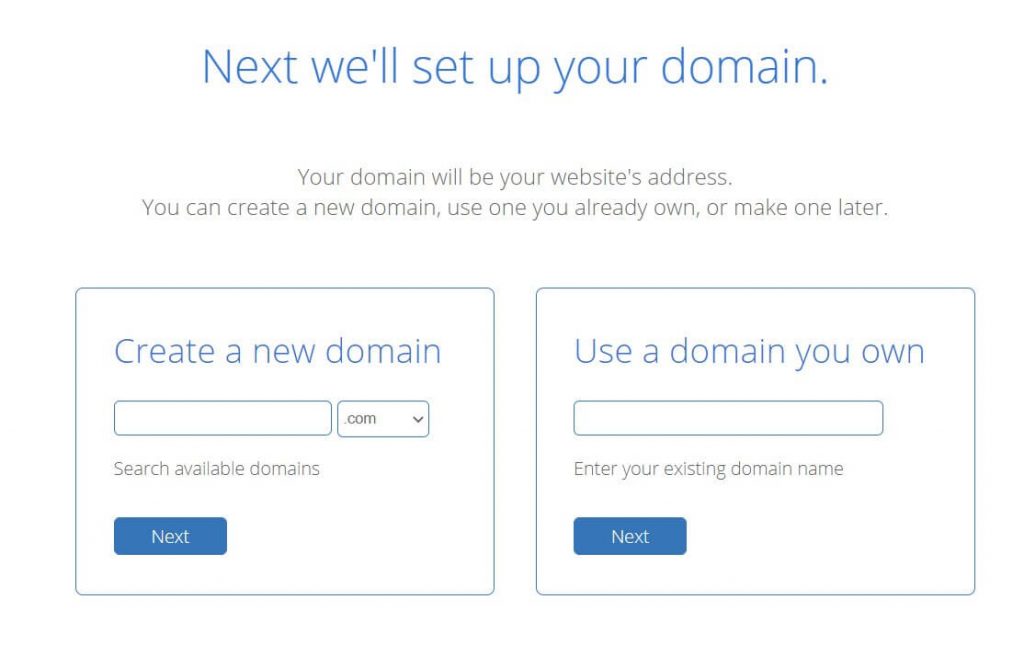 If the domain name you choose is available, you will receive a confirmation message.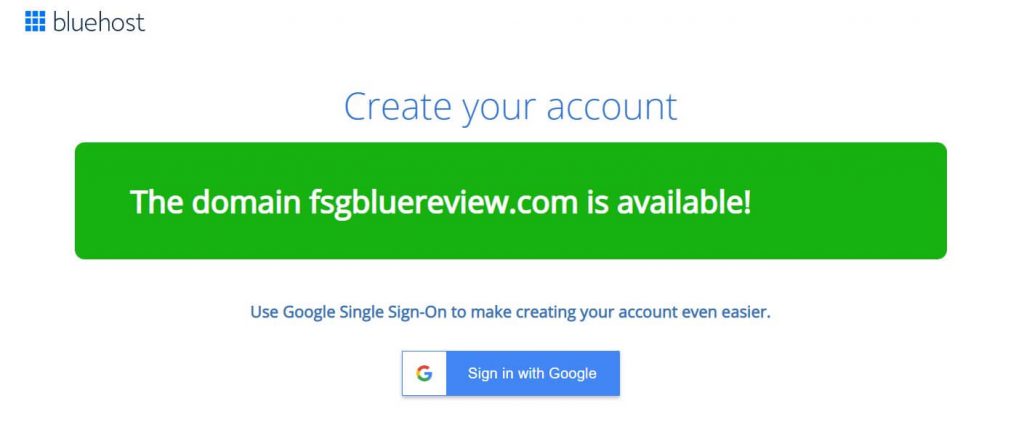 To move on to the next step, you will have to enter your personal and payment details just below the confirmation message.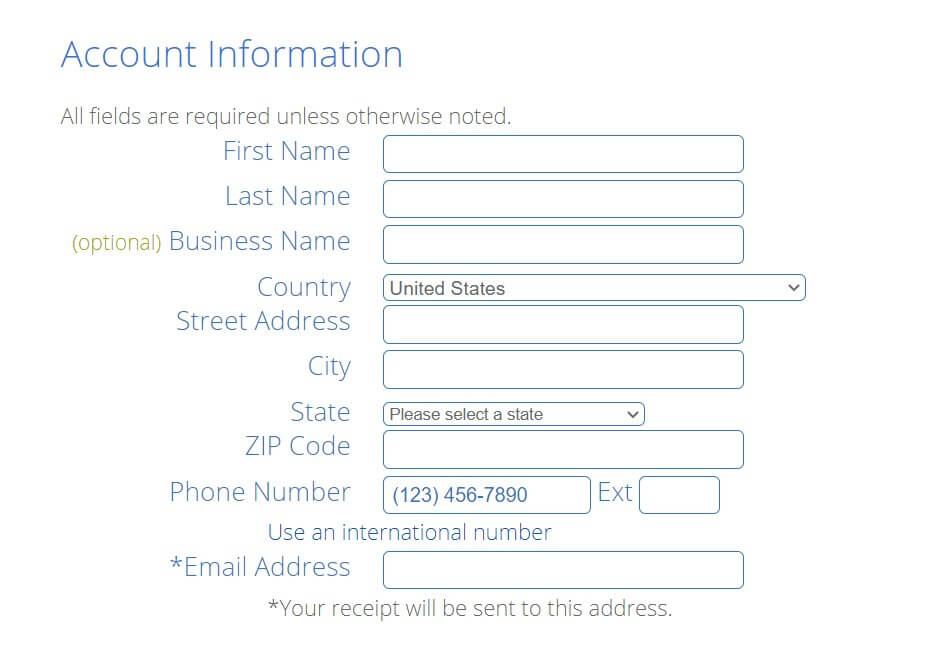 When you scroll to the last section that lists "Package Extras", make sure to read everything carefully. Several extra options will be checked by default. Although all of the extra features are nice to have, do note that each option adds up and makes your bill total higher. I do advise you to keep the Domain Privacy Protection option since this will keep your personal information safe.
You can skip the other extras at the moment because you can always decide to upgrade your account if you change your mind in the future.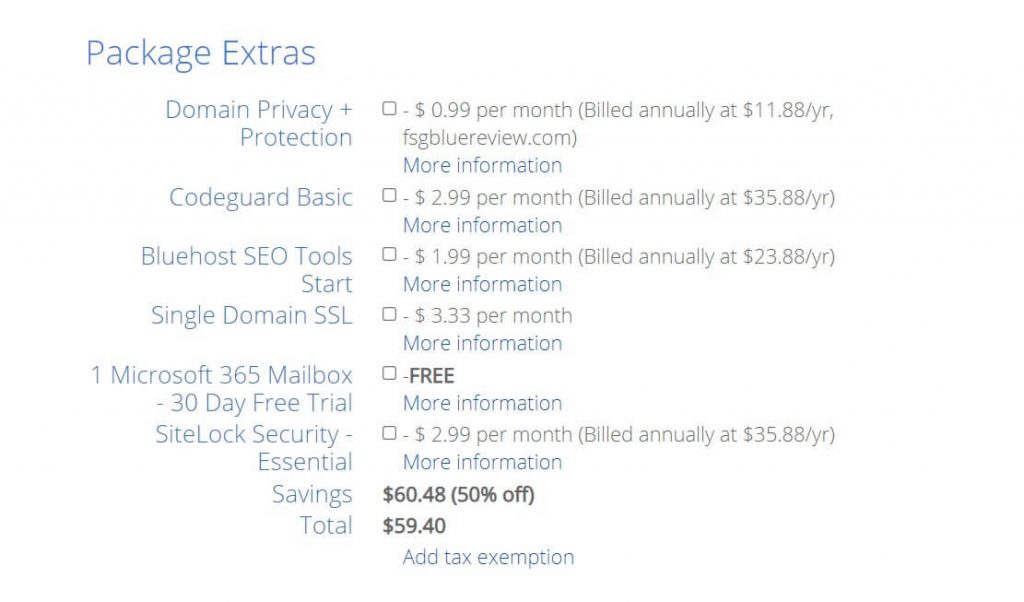 Once you have filled in all of the necessary information, make sure to read and check the terms of service and decide if you want to receive emails from Bluehost. After that, hit the "Submit" button.
The system will handle your information and process the payment. After a couple of seconds, you should be redirected to a new page that celebrates your success.
This is it – I have successfully purchased a hosting service from Bluehost. Now it's time to create an account that will allow me to log in to their control panel. This will be the place to manage everything, including the installation of a WordPress or any other type of website.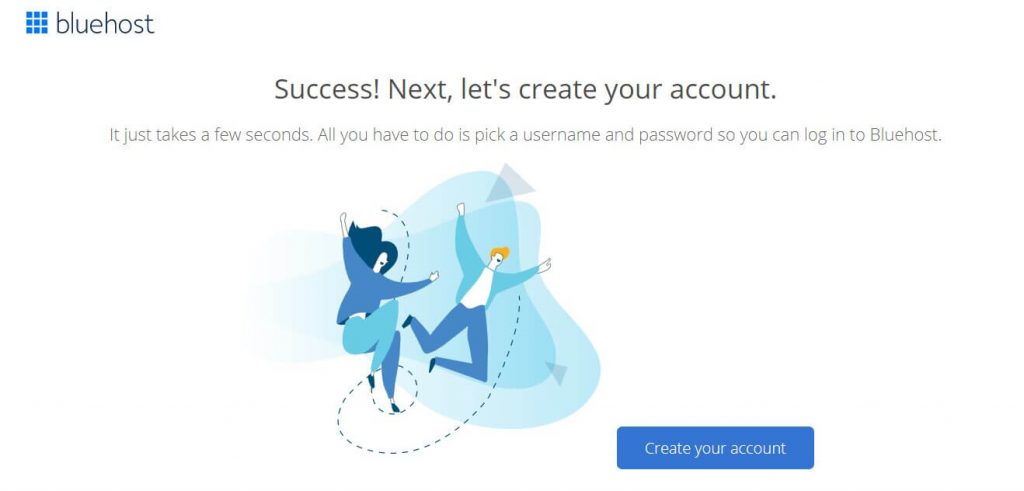 Creating a new account is quite straightforward. The domain name you chose will be automatically prefilled for you as your username, and all you have to do is select a strong password.
The system will redirect you to the login page, where you need to enter your newly chosen password one more time.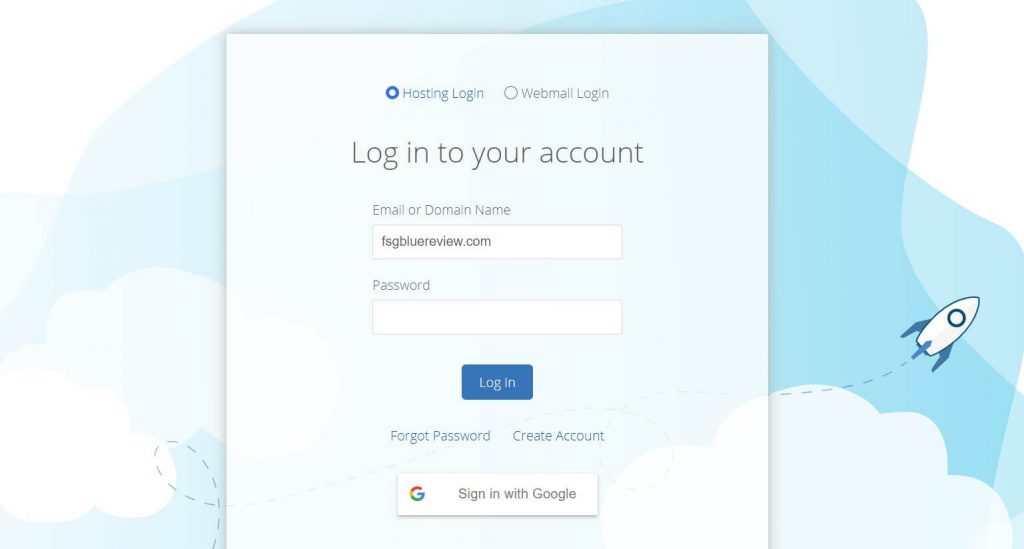 Once logged in to the Bluehost Portal, it is finally time to start your site. The portal will let you create a new site by clicking the button or allow you to migrate an existing one from another host. Let's keep things simple, and assume that you are just getting started. So, let's create a new site.
On the next screen, choose the second option that provides help, unless you already know what you're doing.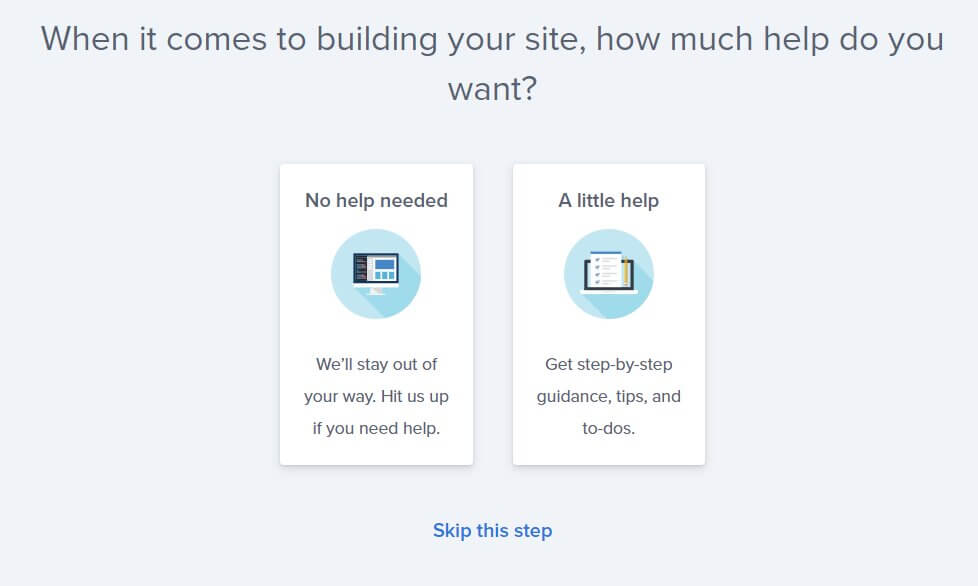 Tell the system what kind of a site you are building. I will select the first option, as I want to create a blog for testing purposes.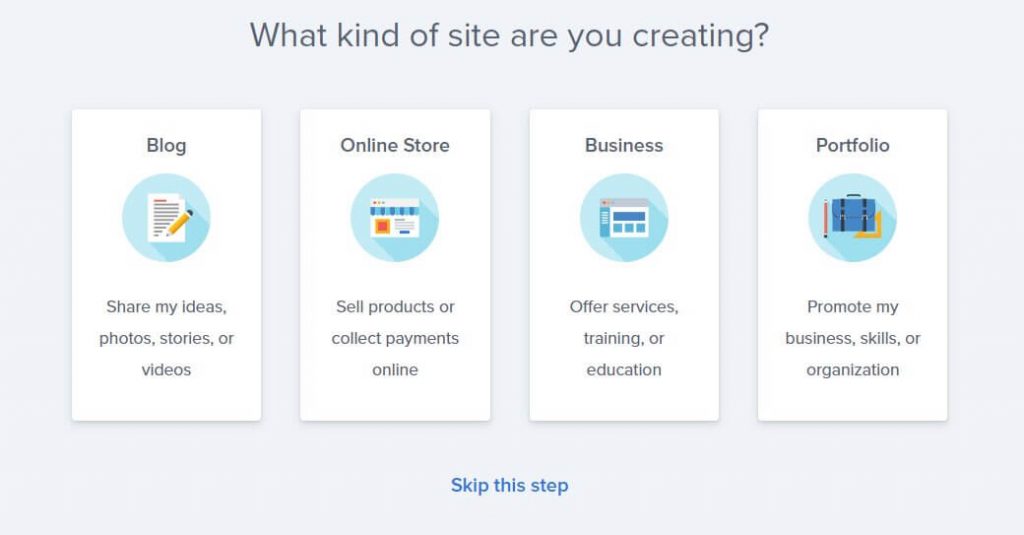 Bluehost will offer WordPress and their native website builder as an option. Let's choose WordPress, and continue with the setup.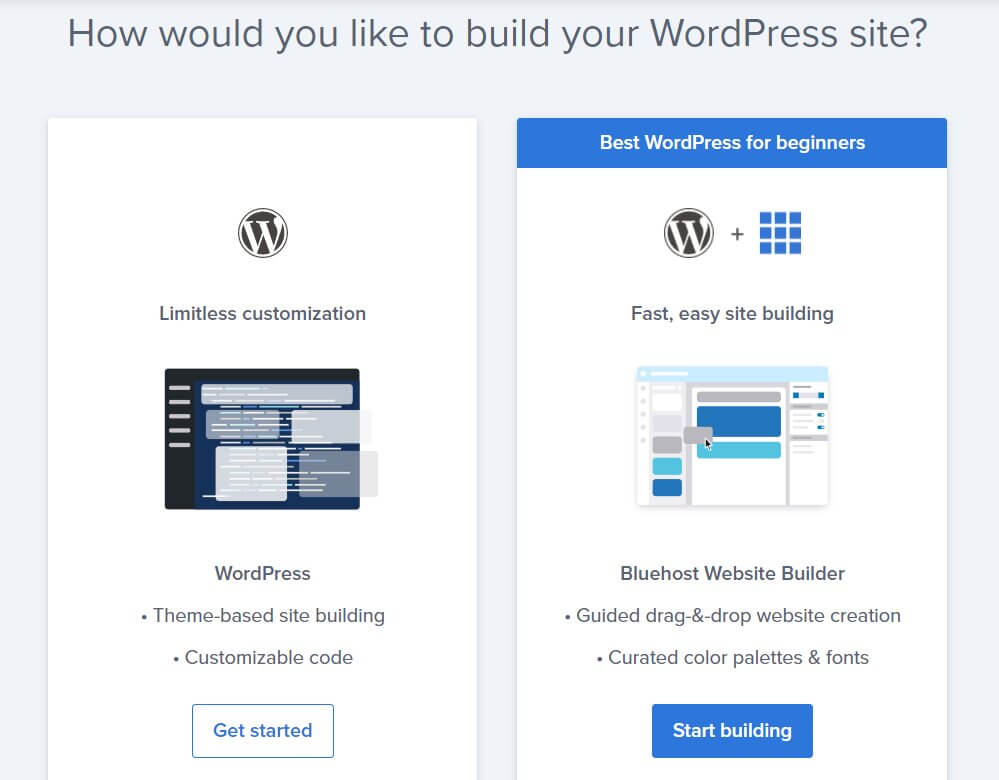 Now, you can answer a couple more questions, or skip them by clicking the button. These questions are here to help the AI system provide the options and features that will be the closest to what you need. Don't worry; you will not miss anything if you skip these steps, and you can always change things later in the setup.
After answering a couple of questions, it is time to choose a theme. You can select one from the list now, but don't spend much time on your choice. You can always switch WordPress themes later, once you have the entire platform set up.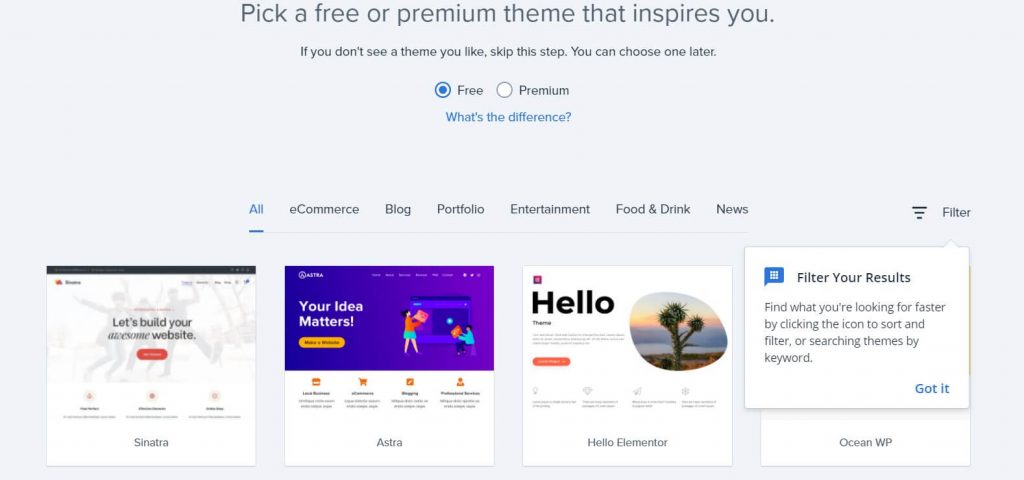 That's it. You are now officially done with the setup. Welcome to the Bluehost Portal that controls your entire hosting account. From this location, you can log in to your newly created WordPress site.
Since I am writing this to show you what Bluehost hosting looks like, I will not go into detail explaining how WordPress works. There are other tutorials on FirstSiteGuide that can teach you more about that.
Here, I will focus on Bluehost and their services. Let me guide you through the entire control panel known as the Bluehost Portal. It allows you to manage your account and the site.
Dashboard overview
Once logged in to the Bluehost Portal, the first page that you will see is the welcome/home page. This page holds the login button to your WordPress site, as well as the most important steps that you may or may not have completed yet. If you have skipped some important steps while creating your site, those will be listed here, and the system will guide you through the rest of the setup. Take your time and examine all of the steps that you have and haven't done.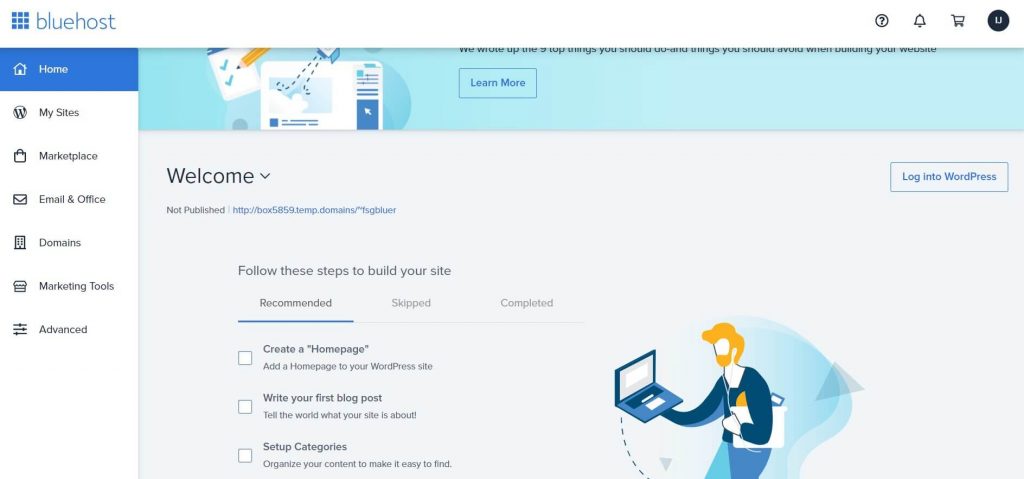 My sites section
The next tab that you can see on the left-hand side menu allows you to control your sites. Since I have created just one site, it doesn't surprise me that there is only one site on the list. There is a huge "Manage Site" button available here, and that lets you take control of your site. For people who have multiple sites, it is easy to click on the "Add Site" button next to it, which reveals a couple of new options – one for creating a new site, and another that allows you to migrate an existing site to Bluehost. Regardless of the number of sites that you have, this is the place to control them all on this hosting account.

Marketplace section
The Marketplace tab reveals hundreds of options that can enhance your website and your selected hosting plan. If you are using WordPress, this is the place to browse for themes and plugins. The Marketplace is tailored for beginners and allows everyone to find exactly what they need.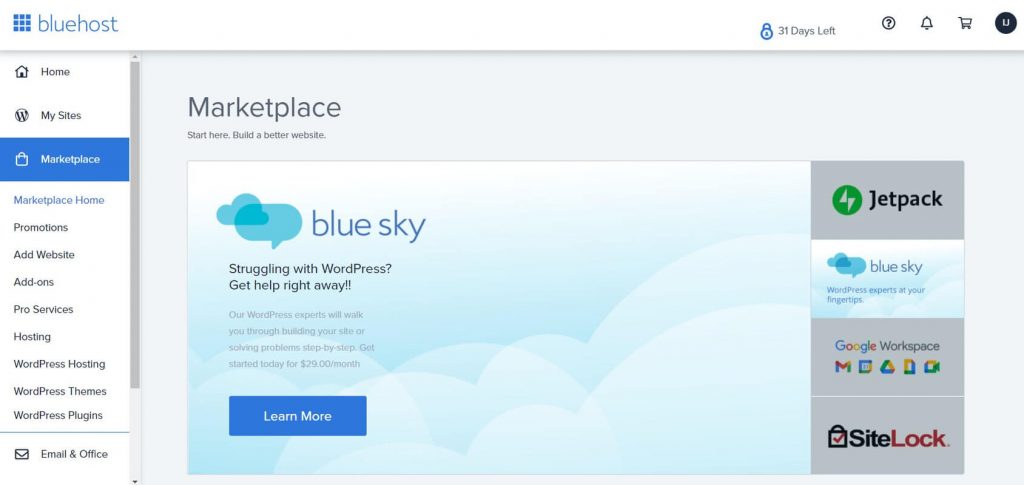 Email & office section
The Email & Office tab is the perfect place for creating and managing your professional email addresses. Instead of using Gmail or another free service, you can have your own email domain.
This tab will show you details, and let you choose between Microsoft 365 and Google Workspace. Please note that both email options are charged additionally but well worth it.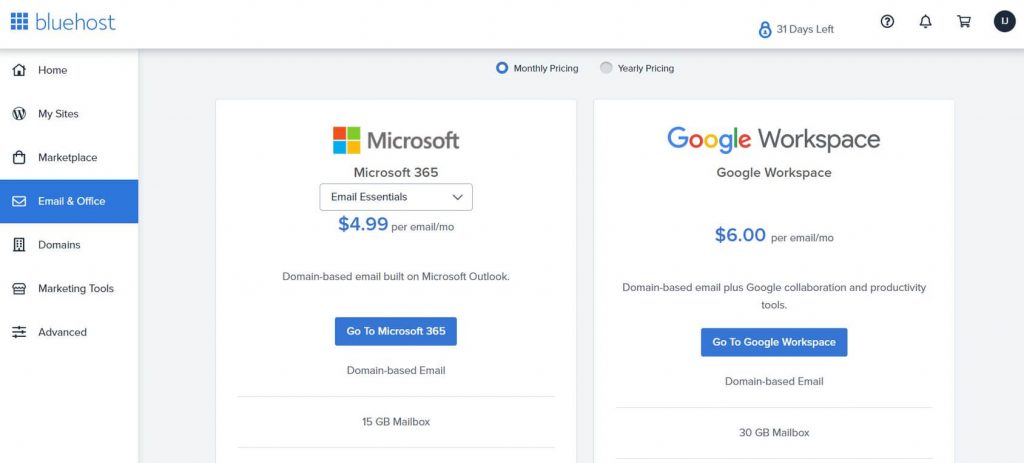 Domains section
Whether you have a single domain or multiple ones that you want to manage, you can quickly access them through the Bluehost Domains tab. This is the place to manage settings, verify domains, control DNS, redirects, transfers, and more.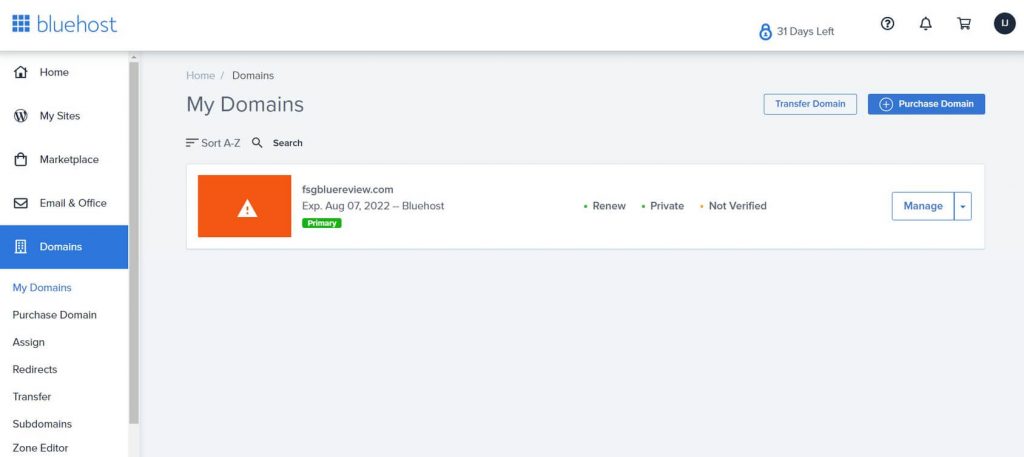 Marketing tools section
Once you have your website up and ready, you will probably want to market it. This is why Bluehost offers Marketing Tools that quickly connect you to Google My Business, Bluehost SEO, Google Ads, and other marketing options that you may need.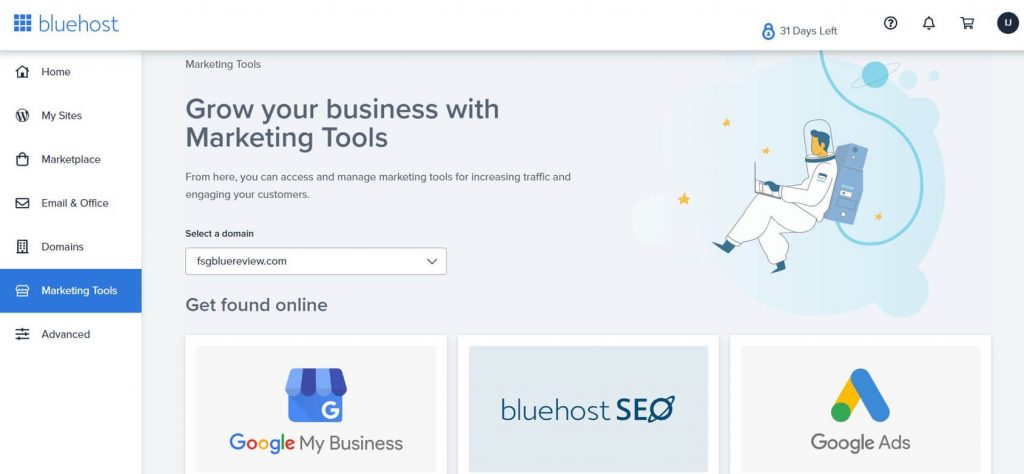 Advanced section
If you click on the Advanced settings, you will load cPanel, a popular control panel that lets you do practically anything you want with your hosting account. You can control emails, files, databases, check the metrics, set up security options, and much more.
Beginners probably won't have to mess with cPanel because it is used for handling more complex site features, but it is good to know that you're only a click away from expanding your options.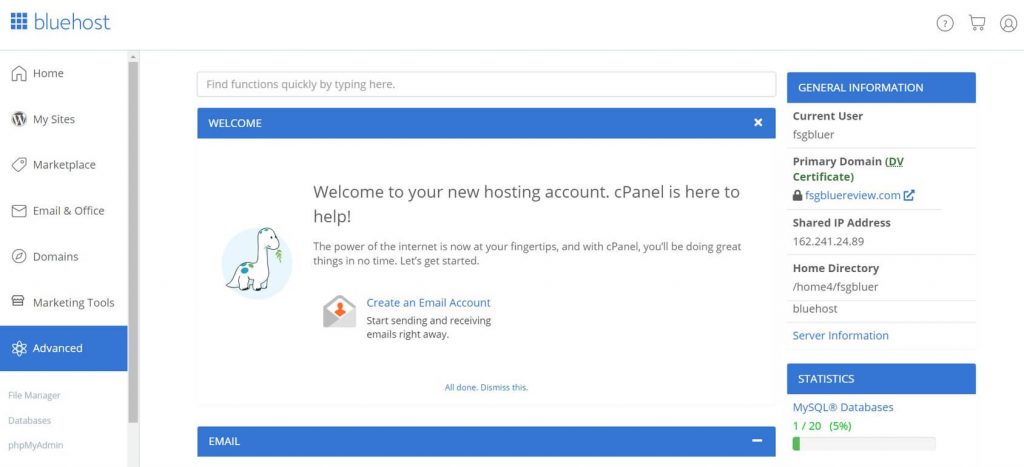 Bluehost reliability and uptime
Bluehost claims that their servers are up and running 99.99% of the time. That sounds amazing and is not an unrealistic claim.
To test this claim, I opened a free account at UptimeRobot, which allows anyone to test their sites. After adding the URL, I let it run for 24 hours over the weekend. The result was a perfect 100% uptime, which means that my site was available the entire time.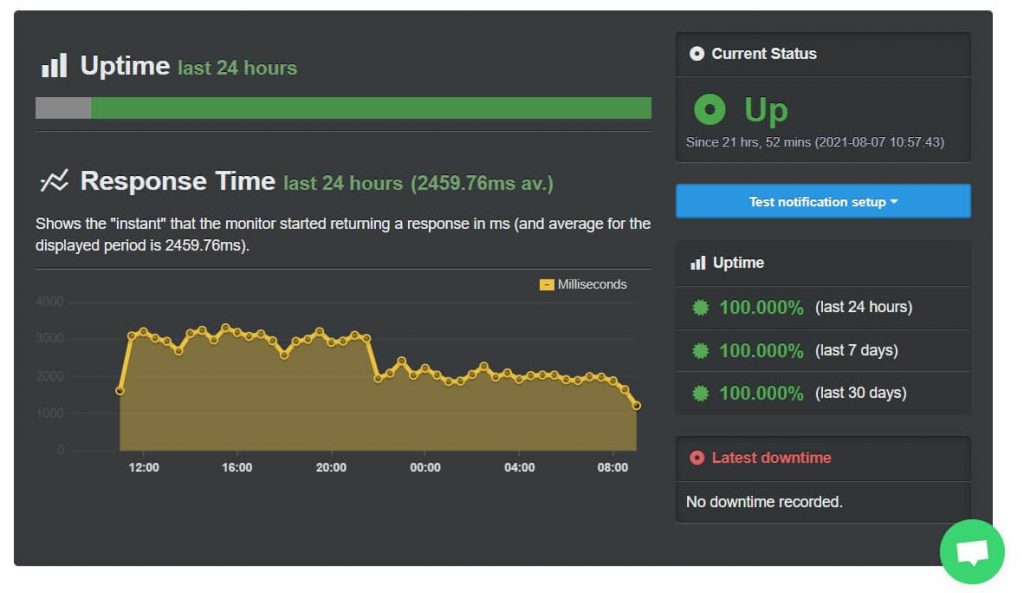 Of course, if I had left the test for weeks and months to run, there would definitely be some downtimes. Last time we did a thorough Bluehost test on FirstSiteGuide (a few years ago), there was one incident of downtime lasting 26 minutes. Although surprising, that's still normal and should not worry you too much. However, it's also worth noting that Bluehost has improved their service dramatically over the years.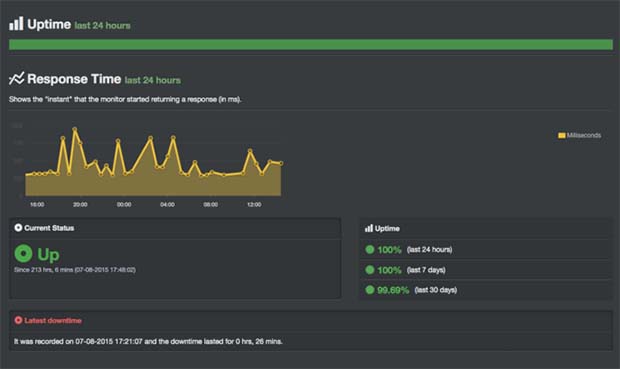 Bluehost web server performance
To test Bluehost even further, I decided to run a web server performance test. This free test is available at Dotcom tools, and all it requires is pasting the URL of your site.
The Web Server Performance test takes several key performance indicators into consideration. It checks to see if a server returns a valid response, which can tell you if everything is ok. It even tests the elements on your site, as well as the speed of the website, along with the total time required to load the entire page you requested.
I selected New York, London, and Mumbai as three locations to run the test from.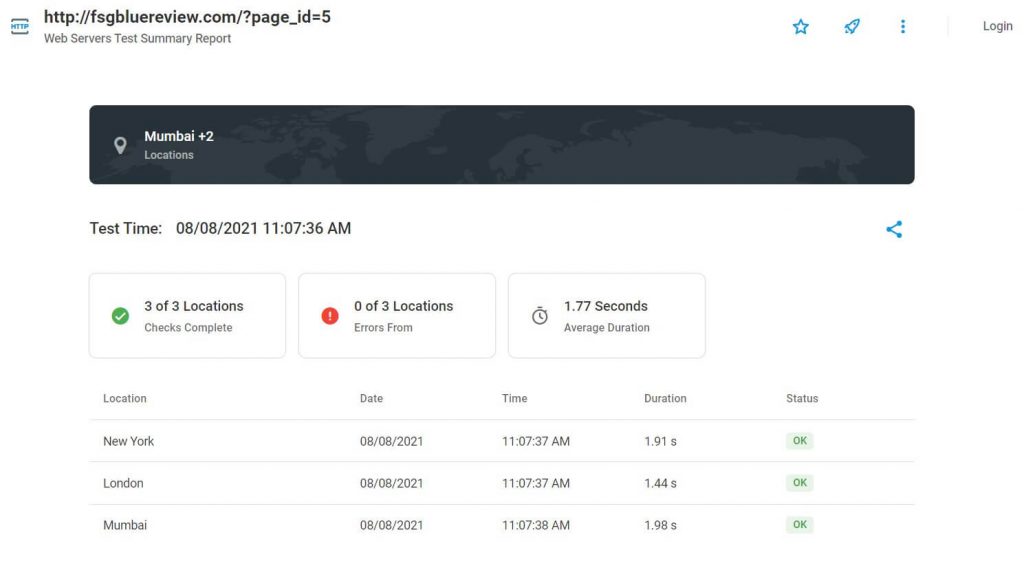 The results show great performance from all three locations. The average response time was 1.77 seconds. The server responded the best when accessed from London (1.44s) and the worst from Mumbai (1.98s).
These numbers indicate that Bluehost's hardware performs well, and provides access to your website from any location in the world in a timely manner.
Bluehost server response time
To make sure that all of the testing was checked thoroughly, I decided to use another free service that allows me to see how well my site on Bluehost performs. The tool is available at Bitcatcha and can be performed within seconds. All I had to do was paste the URL of my new website, and let Bitcatcha do the rest.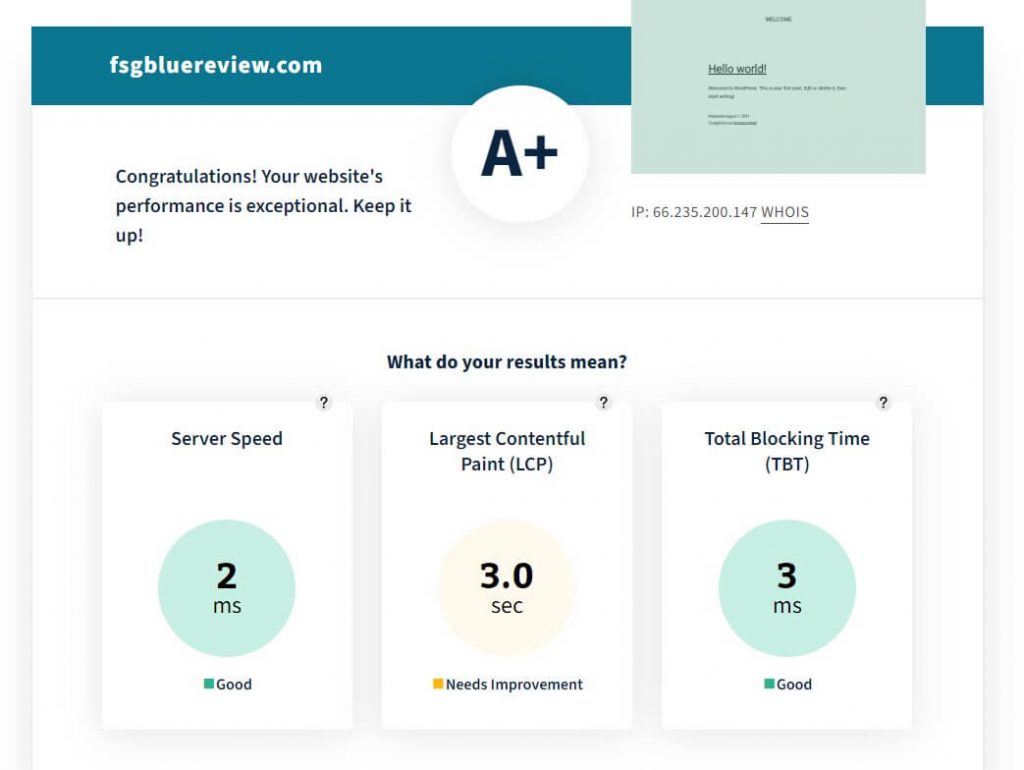 My website received an A+ grade, so everything is performing well. Server speed averaged at 2ms which is quite good. This means that on average, Bluehost's servers took only 2 milliseconds to react to the test.

Bitcacha conducts a test from 10 different locations in the world. Each location sends three requests, and the image shows you an average. As you can see, the best performing location this time was Mumbai with only 1ms response time, while the worst performing locations were Sao Paulo and Japan with 4ms, which is slightly slower than expected.
In the end, the average result is quite good. You too can expect your site to have a great response time when hosted with Bluehost.
Knowledge base and support
The Bluehost knowledge base feels adequate. Nothing fancy here, but you get all of the information you need. What I really liked are the icons that show up next to each question. So, if you're looking for a tutorial about how to work with WordPress, for example, Bluehost will show you video tutorials, webinars, and regular articles. However, at all times, there are also live chat and phone buttons that let you connect directly to a support agent who can help you with anything you need.
Besides a telephone number, Bluehost support offers live chat. I decided to test the support by opening the chat. Before connecting to the agent, the AI system asked me a couple of questions and offered documentation files. However, since I wanted to ignore that, I was quickly redirected to the live chat. I was quite surprised to see how fast everything was. An agent answered me within a couple of seconds and asked some additional questions. Since I inquired about the domain, I quickly received an email with a validation token. Bluehost takes security and personal information very seriously, and I love that.
Within 3 more minutes, the agent helped me by changing my temporary domain over to the newly purchased one.
If you are a beginner, I can't stress how important it is to have a fast and reliable support service like this that's available even on weekends. Kudos, Bluehost!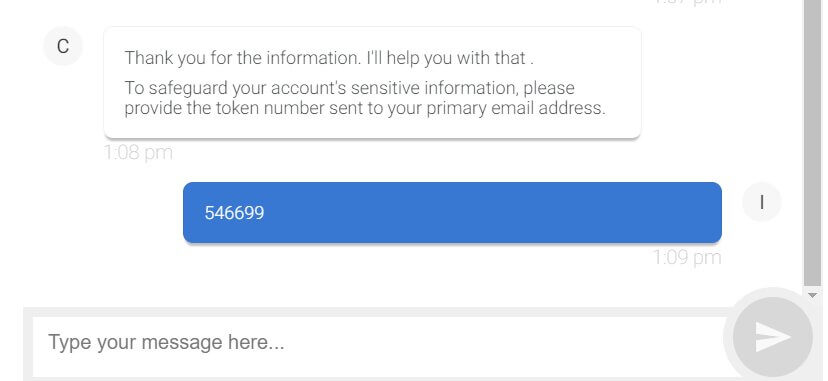 Bluehost refund policy
If you decide to cancel your hosting subscription, it is good to know that Bluehost issues a full refund between 3 and 30 days after the purchase. However, keep in mind that domain registration fees are not refundable. Also, after 30 days, no refunds can be received.
If you're not satisfied with their hosting service within the first three days, you can get a full refund minus $15 spent for a domain (if you purchased one during the checkout).
If you do decide to request a refund, be prepared to spend at least 20 minutes on chat. When it comes to refunds, agents are much slower than usual, and they will ask you question after question, trying to keep you on board. Refunding was a really terrible experience, to be honest.
Bluehost pros and cons
Bluehost is definitely one of the best hosting services available, but let's quickly examine the pros and cons.
Pros
Beginner-friendly control panel.
Quick setup.
Good uptime.
Consistently great response time.
Specialized WordPress hosting.
Fantastic support.
Cons
Costly additional features.
WordPress comes preinstalled with too many plugins.
FAQs
Is Bluehost good for beginners?
Bluehost is a perfect solution for any beginner. The team makes sure everything is easy to understand throughout the process, from choosing and purchasing a hosting plan to setting everything up. Starting a WordPress blog feels easier than ever with Bluehost since you're guided through your entire journey. It is also important to emphasize that the support staff is very quick to respond and will be able to help you within minutes.
Why is Bluehost so cheap?
Price is definitely one of the strengths of Bluehost. Since their cheapest plans use shared hosting, that means that your website is not the only one on that particular server. Because you are sharing server resources with others, it makes the entire setup more affordable for everyone. Don't worry; as a beginner, you probably won't need anything else, and your website should work well. If you decide to step up your game, you can always upgrade your Bluehost plan and even switch to a dedicated server (that is not shared with others).
Is WordPress free with Bluehost?
Yes, you can easily start a free WordPress site with Bluehost. Once you purchase and set up your hosting plan with Bluehost, the system will let you choose WordPress as your content management system. The installation and setup take just a couple of minutes.
Conclusion
Everyone talks about Bluehost, and now that I have scrutinized it and put what they offer to the test, I understand why. Bluehost is definitely a fantastic hosting solution for every beginner, and also comes at a price that every new site owner can afford.