BlueHost Hosting Review
Company Overview, Pricing, and Features
FirstSiteGuide is supported by our readers. When you purchase via links on our site we may earn a commission.
Read More
Introduction
Bluehost has grown up side-by-side with the Internet. The company that was to become Bluehost was founded in 1996. Now owned by Endurance International Group, the company hosts more than one million websites.
That said, Bluehost has had more than its share of controversy. The company was accused of censorship prior to being acquired by Endurance International Group. It also was one of the victims of the 2015 Syrian Electronic Army hacking attack. Nonetheless, Bluehost is still one of the biggest hosting companies in the world. Let's explore why Bluehost is so enduring.
Hosting plans
Shared hosting is offered in three packages. They all give you unlimited bandwidth.
The Starter plan gives you one website,100GB of disk space and 100 email accounts that are limited to 500MB per account.
With the Plus plan, you'll have unlimited websites, disk space, email accounts and storage.
Business Pro, like the Plus plan, provides unlimited websites, disk space, email accounts and storage. It also gives you extras like SSL and a dedicated IP.
VPS hosting is available in four packages.
Standard gives you 30GB of disk space, 1TB bandwidth, 2GB RAM, 2 CPU cores and one IP address.
Enhanced ups the ante with 60GB of disk space, 2TB bandwidth, 4GB RAM, 2 CPU cores and two IP addresses.
Premium gives you 120GB of disk space, 3TB bandwidth, 6GB RAM, 3 CPU cores and two IP addresses.
Ultimate provides 240GB of disk space, 4TB bandwidth, 8GB RAM, 4 CPU cores and two IP addresses.
Dedicated hosting comes in three packages. They all include 1TB of mirrored disk space.
Standard gives you 4×2.5GHz CPU, 4GB RAM, 5TB bandwidth and three IP addresses.
Enhanced offers 4×2.5GHz CPU, 8GB RAM, 10TB bandwidth and four IP addresses.
Premium goes all out, delivering 4×3.3 GHz CPU, 16GB RAM, 15TB bandwidth and five IP addresses.
WordPress hosting is, basically, VPS hosting specialized for WP. Bluehost doesn't offer reseller hosting.
The Blogger package gives you 100 million visits per month, 30GB disk space, 30GB for backup, 2GB RAM, and five WP sites. But it doesn't include automated backup or an SSL certificate.
Professional allocates 300 million visits per month, 60GB disk space, 60GB for backup, 4GB RAM and 10 WP sites. This package includes automated backup, but no SSL certificate.
Business allows 600 million visits per month, 120GB disk space and the same amount for backup, 6GB RAM, 20 WP sites. The Business package includes automated backup and an SSL certificate.
With Enterprise, you'll have unlimited visits per month, 240GB disk space. 240GB for backup, 8GB RAM and 30 WP sites. Automated backup and an SSL certificate are included.
Cloud hosting
The Starter package gives you 100GB disk space, unlimited bandwidth, 2GB RAM, 2 CPU, 500MB email storage and one website.
Performance has unmetered disk space and bandwidth, 4GB RAM, 4 CPU, unlimited email storage and unlimited websites.
Business Pro provides unmetered disk space and bandwidth, 6GB RAM, 6 CPU, unlimited email storage and unlimited websites.
Features
When creating your profile, you'll be able to do extensive customization of your package. Bluehost gives you general services at the main price—and a ton of add-ons that you must pay for. Features such as a dedicated IP address, mobile website builder and positive SSL certificate are available, but you'll have to fork over an additional annual fee for them. In the same manner, you'll pay for your package on an annual basis. Another thing to consider is that a 30-day trial period often isn't long enough to decide if you want to stay with the hosting provider. As a result, it's easy to miss the money-back guarantee deadline.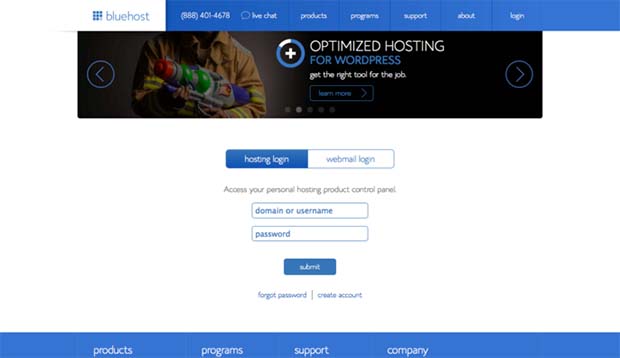 When you log in into the account portal, you'll be greeted with an attractive, easy-to-navigate design. It's logically structured and user friendly, so you won't be lost. However, don't be confused if you get just one login username and password. That's all you need because everything is located under one roof. Practical? Yes. Safe? The typical safeguards for securing your information are in place.
The five main tabs are "Hosting," "WordPress tools," "Domains," "Addons" and "Account." It's unusual to see that WordPress has its own dedicated tab, but let's be honest, a ton of websites function on it, and you will probably work with it at least once, so why not make it convenient to access? We view it as a small feature that's big on convenience.This only enables you to access basic features. You'll can still use the standard WP login, which is also located here, if you want to use more advanced features.
Control panel
With most hosting sites, you must access your control panel via the account portal. Bluehost saves you a step by integrating the two. Everything is in one place and you will be deprived of one more login. Devastating, we know. However, if you are used to the standard look, you may be taken aback. Their cPanel looks like part of the account portal and the visuals reflect the BlueHost image, rather than the usual retro default cPanel look. But don't be fooled; all the control panel components are there. Although you may experience a slight learning curve, you will get used to it, especially after you discover that you can hide or view certain elements.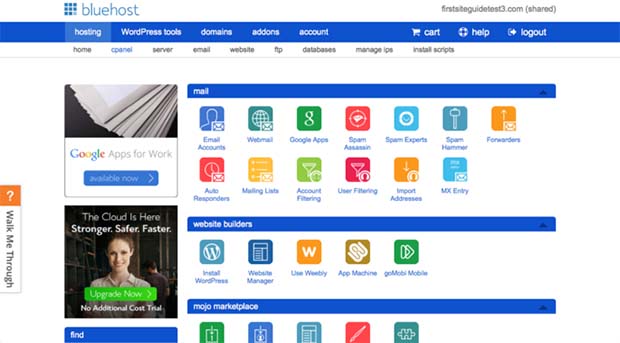 Under the "hosting" tab in the account portal is a second tab titled "cpanel." There you'll find everything you need—from email settings, file and domain management, statistics and database tools to more advanced features like 404 settings and process managers.
After the login, you can snoop around on your own or you can get help from the Bluehost team. If you choose the latter, you'll get a lesson and assistance from the educators, but be aware that it will cost $99.99. Also, you'll pay $99.99 if you want to transfer your old website. If you want a new, custom design, the cost will be $799.99.
Email
If you want to log in in the webmail client, you can do that from the same place where you log in to the account portal. Just click on the "webmail" tab and import your previously created profile info. However, while creating the email, you'll need to pass muster with their password strength bar, which is set at 50 on their 0-to-100 scale. That means you'll need to use at least one uppercase character, one lowercase character, one number and one special character in your password.
During this process, you will also be able to choose which email client you want to work with—or you can do this after the first login. You have three options: Horde, Roundcube and SquirrelMail. You also can select forwarding, auto response, email and spam filtering, and configuring the client(s), so all the basics are covered. However, the lowest price package limits the number of emails to 100, which may be enough for some small- to medium-size businesses.
Creating and setting up your website or blog
When logging in to the user portal/cPanel, you can use your website domain and password, instead of a user name. Although this allows you to directly access one of your multiple domains, it doesn't mean you'll have to log out and log in again to access other domains.
For setting up your website, you'll have at your disposal widely used Weebly and WordPress (which you can import from an already existing WP site). Additionally, AppMachine is available for building a mobile version of your website (no coding required).
However, there is no classic setup wizard, although you can be transferred to help pages if desired. There's an option for getting help from the staff, but it will cost $99, which is a bit pricey.
Except for Weebly, WordPress and AppMachine, there are no other "all-in-one" tools to help you create your website. Although those are some of the most commonly known and used scripts, some diversity would be welcome. Similarly, there aren't many options to choose from when it comes to other parts of the website. But that doesn't mean all of your bases won't be covered. There are more free and paid add-ons and they have integrated Mojo marketplace, which is loaded with apps and add-ons.
Reliability and uptime
Uptimerobot tests showed that Bluehost isn't far from its 99.99 percent uptime claim, with 99.69 percent uptime. Although testing indicated one incidence of downtime lasted 26 minutes, which is fairly long time, the majority of downtime occurrences lasted a minute or two.
Although this is not uncommon (normally when restarting or upgrading the server), and the incidents occurred over a period of two to three days, it would be nice to get advance notice. All in all, although this was not a deal breaker, it felt like getting your favorite dish with a little more salt than you're used to: not bad, but not the best.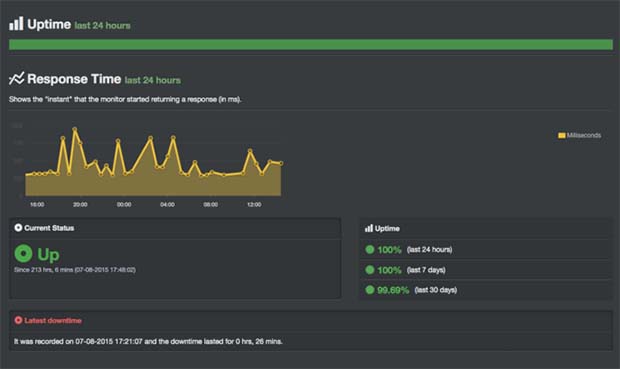 Load test
We conducted our testing with Load Impact. The website server was located in Provo, Utah. We ran a number of tests on response time to Ashburn, Virginia on the East Coast, so we used that as an average for the loading test. The response was relatively constant, around 0.8 seconds, which is fairly good response time. The best average time, 0.7 seconds, was from Palo Alto, on the West Coast. This might be expected, because the distance to the server is shorter.
There were some irregularities on several tests and locations. At about 15 to 20 users, load time would spike up and come back down, with the worst response from Portland, when it took almost 5 seconds to load. You can see the similar irregularity in Dublin, which, surprisingly, took almost the same time to load as Portland and Sydney, with an average 1.4 seconds response time. Disregarding these occasional irregularities, Bluehost had relatively stabile loading time globally.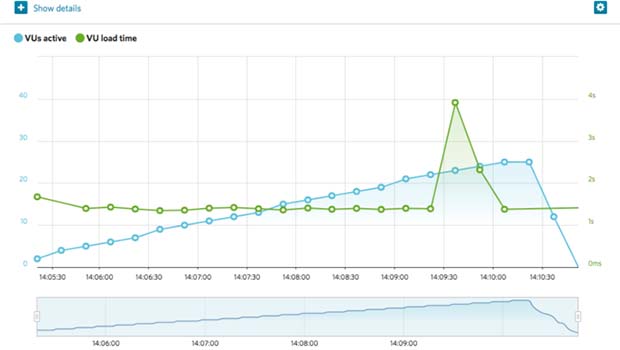 Help and support
Help and support ran relatively smoothly and when something was wonky, we had plenty of options to choose from. Standard chat and phone assistance are available 24/7 and there are separate numbers for the U.S. and outside the U.S. It was a bit of a cold shower, though, when the email ticket notified us to allow a minimum of 24 hours for a reply. In reality, it didn't take that long.
The staff tend to "teach" you how to resolve problems, rather than solving them for you. This may not be to everyone's taste, but it felt more interactive than just waiting on the other side of the line. If you are DIYer, there is interactive guidance that you can browse on your own, or you can type your question in a box and speed up the process.
Pricing
Shared hosting
Shared hosting has an introductory discount offer, although it's not clear how long this discount lasts. Current prices for shared hosting with the discount are:
| | |
| --- | --- |
| Starter | $3.95 per month |
| Plus | $4.45 per month |
| Business Pro | $6.95 per month |
Please note: VPS, Dedicated and WordPress hosting packages have a reduced rate that lasts one month only.
VPS hosting
| | |
| --- | --- |
| Standard | $29.99 ($14.99 first month) |
| Enhanced | $59.99 ($29.99 first month) |
| Premium | $89.99 ($44.99 first month) |
| Ultimate | $119.99 ($59.99 first month) |
Dedicated hosting
Dedicated hosting packages have a reduced rate for the first month only.
| | |
| --- | --- |
| Standard | $149.99 ($74.99 first month) |
| Enhance | $199.99 ($99.99 first month) |
| Premium | $249.99 ($124.99 first month) |
WordPress hosting
| | |
| --- | --- |
| Blogger | $24.99 ($12.49 first month) |
| Professional | $74.99 ($37.50 first month) |
| Business | $119.99 ($60.00 first month) |
| Enterprise | $169.99 ($85.00 first month) |
Cloud hosting
Cloud hosting, like shared hosting, has undefined introductory discount. Current prices for shared hosting with the discount are:
| | |
| --- | --- |
| Starter package | $5.95 |
| Performance | $8.95 |
| Business Pro | $15.95 |
Bluehost—at a glance
Pros
customizable cPanel
good uptime
consistently great response time
specialized WordPress hosting
Cons
costly additional features
missing the classic "setup helping wizard"
lack of website builders options
unclear discount duration for shared and cloud hosting
Conclusion
Bluehost has a service that at first glance seems too good to be true. While it shows some cracks in the perfect exterior and a few limitations, there were no real deal breakers. Loading times were relatively fast and stable, the integration of cPanel and account portal worked beautifully and the help staff was very accommodating. However, not everyone likes the educational approach to fixing the problem, some people like to stay out of it.
Downsides? It took an entire day to get an email help-ticket response. Uptime isn't really 99.99 percent, as advertised. The visuals take some time to adjust to. And Bluehost lacks a classic setup wizard. Although there are a lot of discounts, most last for just one month—and you have to pay up front for the whole year. Also, most people have a love-hate relationship with Mojo marketplace, so if you are short on money and aren't too demanding, Bluehost might be place for you. Otherwise, you'll either have to open the wallet wider or seek hosting somewhere else.