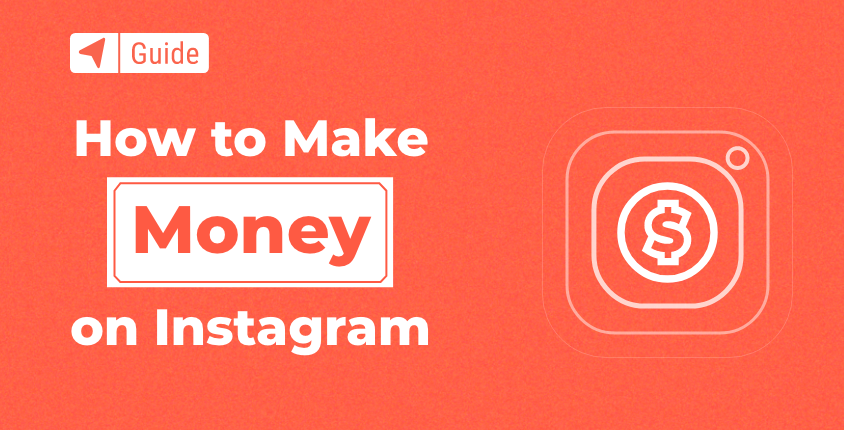 What started out as a simple photo-sharing app saturated with images of everyone's breakfasts has evolved into a marketing empire in its own right. No other social media platform has quite the reach as Instagram, or the engagement levels, which is why brands just can't get enough of it. Of course, this provides you, the average Instagram user, with the perfect opportunity to monetize your account.
Making some serious money online is easier than ever in 2023 – it doesn't require any significant investments, it doesn't take any special talents, and it doesn't necessitate an entrepreneurial spirit. All you need is dedication. However, keep in mind that dedication isn't always the easiest thing to maintain. (That's why you don't see every other Instagrammer with a few million stashed in their bank account.)
With this in mind, let's get into how to monetize your Instagram account and learn about the top ways to do it. 
Can you make money on Instagram?
Before we get into the strategies, techniques, and approaches to monetizing Instagram, let's first clarify a single, simple question – can you even make money on Instagram as an average person? As in, can you do it if you're not a member of the Jenner/Kardashian family but just a regular person who knows how to create engaging content?
Yes, you absolutely can.
Instagram is a massive platform with over a billion active users. You don't have to be a beauty or style influencer to make money there (although you can be if you want to).
You can choose your niche, share relevant content, engage with your audiences, and start making money through your posts, whether you're a gamer, amateur photographer, world traveler, topology connoisseur, or even a parent who's just started a blog. As long as you can engage your audience and build trust, your Instagram account can make your wallet happier, because that's what brands are looking for.
The main reason brands flock to Instagram (or Instagram influencers) is that it's one of the few platforms that truly allows them to connect with consumers. Instagram influencers enjoy trust unlike any other type of celebrity. They engage directly with their followers, start discussions, and make genuine connections – something not many brands can achieve on their own.
Traditional banners, TV, radio ads, and the like have a weak impact on today's markets, especially when we're talking about millennials and younger generations. However, if an influencer they love and follow suggests a product or service, their followers will be more likely to take them up on the offer because they have confidence in their opinions.
Consumers trust influencers and their recommendations just as much as they do their friends and family.
Therefore, as long as you have a loyal following and partner with brands that make sense for your niche, making money on Instagram is a genuine possibility for you.
How many Instagram followers do you need to make money?
Although the quality of your followers is generally considered to be the more important factor, their quantity still matters. You can't really hope to make money with your account if you have a private profile with only 20 followers. Even if each of those followers looks only to you for business, product, and service recommendations, it isn't nearly enough for fattening your bank account.
The good news is that you don't need as many followers as you might think. Sure, if you want to be paid over a million per post like Kylie Jenner, you need a following like Kylie Jenner (275+ million), and no, buying fake followers won't do it. However, you can still start monetizing your account with much, much less.
Nano influencer
1,000 to 10,000 followers 
Nano influencers are those who have a following of between 1,000 and 10,000. However, while you might come across quite a few profiles with such numbers, that doesn't immediately mean they're an "influencer."
Your old friend from high school might be uncommonly popular and have 5,000 followers on Instagram because she posts really nice pictures, has a unique Instagram feed plan, and accepts every follow request. Still, that doesn't make her a nano influencer – it just makes her popular.  
Nano influencers have a particular niche they stick to, and most of their posts are only relevant to that niche. Their followers come to them because of their unique content, expertise, or knowledge on a particular subject that's very specialized – think sword making, knot-tying, wrist-watch repairing (you get the gist). In essence, nano influencers are big fish in a small pond.
Their engagement levels are through the roof because they commit to answering questions, responding to comments, and sharing their expertise with their loyal listeners. They're very vocal about the companies they support and those they don't.
Partnering with nano influencers has become quite a trend among highly specialized brands. However, it's not an attractive opportunity for better-known companies since nano influencers can do little to expand their reach and brand awareness.
On Instagram, nano influencers can make anywhere between $10 and $100 per post – not nearly enough to quit your day job and move to LA. However, more commonly, they won't receive monetary compensation at all. Instead, most brands will send free goods or other perks in exchange for product promotion.
Micro influencer
10,000 to 100,000 followers 
A micro influencer is a step up from a nano influencer. These Instagrammers have a following of between 10,000 and 100,000, and they enjoy the best of both worlds – the authenticity of the nano influencers and the potential reach of the macro influencers.
Micro influencers still belong to a highly specialized niche, and they've built up their reputation due to their intricate knowledge of it. They're working hard to expand their reach, improve the quality of their posts, and ensure the utmost satisfaction of their followers.
They post almost daily, ask for and listen to follower feedback, and engage with their audiences as often as possible. They inspire trust and loyalty, which is why more and more big brands are starting to reach out to them.
While nano influencers generally receive collaboration requests from companies within their niche, micro influencers can receive requests from an array of different businesses. Still, they're very particular about who they collaborate with.
Considering just how much their followers value their opinions and recommendations, a micro influencer who partners with a nonsensical brand can be seen as a sell-out. Choosing the wrong brand can cost them their reputation and followers, so they need to be careful.
They should only promote products and services that they've thoroughly tested and enjoyed using. Otherwise, their followers could see through their efforts and lose respect for them.
An average pay a micro influencer can earn per post is between $100 and $500. Still, most of them hold off on accepting partners at this stage as they're focused on growing their audiences and establishing a stronger Instagram presence that could earn them more later on.
Macro influencer
100,000 to 1 million followers 
Macro influencers are more serious players. With a following of up to a million, they've established themselves as true leaders of their niche, and their followers can't get enough of them.
As a general rule of thumb, macro influencers fall into one of two categories – B-list celebrities who are just a few steps away from cutting through the noise or respectable experts who are slowly but surely reaching ever-wider audiences.
Macro influencers find it easier to partner with brands because they have a much wider reach than most other types of Instagrammers. They can expect to have their inboxes filled with collaboration and partnership requests since their accounts open a range of possibilities for businesses.
An Instagram profile with a more considerable following unlocks perks like account verification (that ever-elusive blue checkmark by your name) and even the story swipe-up feature that takes viewers to the added link (that's not in the bio). These features help build credibility and enable influencers (and brands who partner with them) to expand their audiences.
The only drawback of macro influencers is that their engagement levels are lower than those of micro and nano influencers. It becomes more challenging to keep track of everyone, respond to all DMs, and engage in the comment section with so many followers.
Still, even with lower engagement, macro influencers can expect to earn anywhere between $500 and $10,000 per post, more than enough to supplement or even completely replace their primary source of income.
Mega influencer
Over 1 million followers 
With a following of over a million, we're entering Kylie Jenner territory. Mega influencers are often celebrities in their own right, earning their fame the old-fashioned way – making music, starring in movies and reality TV shows, playing sports, and the like. However, there are also plenty of mega influencers who've climbed up the social media ladder and established a cult following solely through their online activities.
There's no set way to become a mega influencer. Some have slowly built up their brands over the years. Others reach this level by becoming the star of a meme. There are no rules or standards.
Of course, you'll need to keep in mind that it's one thing to gain the mega influencer status and quite another to maintain it. You'll need to invest in the right social media tools to monitor your accounts and gauge engagement levels. You'll need to hire staff and agents who can help you to build an even stronger Instagram presence. You'll essentially need to establish a whole business around your Instagram account, and that will require some serious time and effort.
Once you enter this realm, however, the world is your oyster. You can charge as much as a million per post, be extremely selective about the brands you partner with and collaborate with virtually any other influencer or traditional celebrity of your choosing.
Now, regardless of whether you're a nano, micro, macro, or mega influencer on Instagram, there are several ways to monetize your account. You don't have to stick to a single approach – mix and match them for the best effect.
5 Best ways to start making money from Instagram
In all honesty, it will take some time and effort to start making money on Instagram – it rarely just happens overnight. The key is finding a monetization approach that works best for you, staying committed, and giving it all you've got.
1. Promote products via affiliate programs
Joining an affiliate program might be the easiest way to monetize your Instagram account. Essentially, it involves identifying a brand that you enjoy, becoming their affiliate partner, then promoting their products on your Instagram for a cut of the sales profits. The more people that use your unique link or promo code to make a purchase, the more money you earn – it's as simple as that.
Of course, you cannot simply tag a brand in your post and expect them to pay you money. You need to reach out to the brand directly (or a brand needs to reach out to you if they deem your account worthy) and become a member of their affiliate program for this whole process to work. Once you've developed a partnership, you can start earning a profit from the sales that you've generated for the company.
Most commonly, you'll notice affiliate links in some of the blog posts you read – sites like Mashable, WireCutter, and NerdWallet all use affiliate links in their posts. However, even though blogs are where you'll commonly see examples of affiliate marketing, virtually every Instagram influencer has used affiliate programs to boost their profits as well.
Nicol Concilio, for example, a famous beauty YouTuber with over 1.1 million followers on Instagram, is an affiliate partner of brands like ColourPop Cosmetics and INH Hair. Every time you use her promo code to buy products from these brands, she earns a profit.
2. Sell your own physical or digital products
Along with helping to boost another company's sales, you can use Instagram to boost your own – provided that you have some physical or digital goods to offer. Don't worry – you don't have to start a full-on eCommerce business to make this work. You can build your influencer career, then start introducing relevant merch as you gain followers.
The type of product that you introduce will depend entirely on the influencer niche you've chosen. If you're trying to make it as a style and beauty influencer, introducing a software solution would be nonsensical for your audiences. However, introducing cosmetics, makeup removers, or even simple merch like T-shirts with your own unique design on them could make quite a difference.
Brad Leone, for example, uses his Instagram to market his new cookbook. His account isn't solely about the cookbook, but it's the perfect tool to increase sales. Kelsey Dangerous uses her Instagram to promote her own merch. Your options are endless; just make sure that your products make sense for your niche.
3. Become an ambassador or partner with brands
Becoming a brand ambassador isn't as simple as it sounds. You'll need to have high engagement rates, a loyal following, and a brand that makes sense for your specific niche.
As a brand ambassador, your job is to support and promote the company that you're representing, helping it to reach a wider audience and spread brand awareness. Virtually everything you do should align with the brand's unique voice and identity – online and offline. Additionally, you'll need to be well-informed about the products that you're promoting.
Most commonly, a brand ambassador is a customer who already supported a company before they started working for it. If you have a large enough following, then chances are that some of your favorite brands that you're already mentioning in your posts will reach out to you to form a partnership. If not, you can always make the first move and offer a partnership to them.
Keep in mind that being a brand ambassador isn't just about sharing a few photos while wearing/using a specific item. You'll need to address your partnership in your posts, include the #ad among your hashtags, and mention why you love the product or how you use it in the caption. Additionally, you'll need to be prepared for partnering with the company in their other marketing endeavors – TV ads, YouTube commercials, and even billboards.
One famous example of brand ambassadors on Instagram includes the mother of dragons herself, aka Emilia Clarke, with the brand Clinique.
4. Publish paid shoutouts and posts
If you're not yet ready to go so far as to become a brand ambassador, you could instead publish sponsored posts on your Instagram. What this means is that you'll occasionally have to publish content that's relevant to your sponsor, add the essential #ad, and tag the brand that sponsored your post.
In your caption, you'll have to include a short description of the product in question and present it in the best possible light.
Depending on your number of followers (aka your potential reach), you could get paid a pretty penny for your efforts. You don't have to become the brand voice for the company or be all that familiar with every product in their offer. You could even have your own unique brand and still publish additional sponsored posts on your account.
5. Promote your personal brand or business
If you're going over possible online business ideas that would suit you, you can always rely on Instagram to help lift your business off the ground. Whether you're running an eCommerce store, a blog, have a small antique shop, a tech startup, or anything in between, you can use your Instagram account to spread your brand awareness, reach out to new audiences, and boost your sales.
You don't even have to be an influencer to get started. It's enough that you have an Instagram account and a product to sell. Eventually, you could even develop a brand that hires its own Instagram influencers.
While scrolling, you've likely come across a few business accounts that don't even have a website, just an Instagram profile that connects them with their audiences (still, it's always a good idea to have a website if you're going to run a business of any kind!).
It's a good idea to also look into dropshipping businesses to make delivering the products to your customers easier on yourself.
Check out accounts like Mud Lowery to get a feel for how to use Instagram to sell your own products. A few high-quality pictures, a unique brand voice, and a good product, and you can easily start monetizing your account.
Pros and cons of becoming an Instagram influencer
Although becoming an Instagram influencer is all the rage today, it's not the perfect career that it's made out to be. You won't get to spend your days snapping a few selfies and lying on a beach in the Bahamas. You'll have to work hard and commit to your audiences and the brands that you're partnering with.
So, before you get started on this path, take a look at some of the main pros and cons of becoming an influencer.
Instagram influencer pros:
You could make a lot of money;
You could become a respectable celebrity;
You can create an inspiring community;
You could enjoy free perks and products from brands;
Your work will be flexible;
You can meet amazing new people;
You could get to travel a lot;
You could get invites to exciting events;
You don't have to work 9 to 5; and
You can have a great work-life balance.
Instagram influencer cons:
You need to work hard to break through;
You have no job security;
Your entire income depends on how popular you are;
You could get canceled for the smallest thing;
You might find it hard to get other jobs;
You'll have little privacy;
Your friends and family could be negatively impacted by your career;
You'll face mean comments and harassment;
You'll always have to work on maintaining your following; and
You can find it difficult to disconnect when you need to.
The biggest problem is that it can be challenging to face such harsh competition on Instagram. Everyone wants to be an influencer, so you'll have to work hard to become noticed. However, once you do, the sky is your limit.
Conclusion
Becoming an Instagram influencer can be a dream come true for many. This career can be a challenge, but one that's well worth it. Also, once you start monetizing your account, you'll forget about all of the challenges along the way to make it work.