Shopify Platform Review 2023
Features, Plans & Pricing, Pros & Cons of a Popular E-commerce Platform
FirstSiteGuide is supported by our readers. When you purchase via links on our site we may earn a commission.
Read More
Shopify Platform Review 2023
Until recently, creating a functional and attractive online store was a job that only professionals could do. Because of that, anyone who wished to sell products online needed to hire experts who could manage code and allow them to sell their first product.
In 2020, things have changed. Instead of spending money on a custom eCommerce solution, you just need to have an idea, something to sell, and time to set up your first project online yourself.
Shopify is absolutely one of the industry's most prominent players, and there are already more than 1.7 million active users of their platform worldwide. The numbers speak for themselves, but there are still strong and weak points of this website builder.
Who should use Shopify (best for):
Shopify's number one target users want to create an online store without the help of professional web designers. Their platform allows anyone to build a fully functioning website that will look good, load fast, and enable people to purchase what they have to sell.
Whether you're a beginner who's just testing the online business waters or a professional who already runs a successful business, you will have everything you need to sell with Shopify.
However, if you're interested in becoming a blogger or creating a business website, Shopify isn't the best choice for you. This builder's name tells it all, so if you don't need an online store, you will most likely be happier with a free website builder like WordPress or Wix.
Shopify key features
Bring your business online – quickly create an online store without having to know how to code.
Easy management – Manage your entire online store from one location – your dashboard. You can even use a mobile app for managing your store.
More than 100 payment gateways – Choose PayPal, Stripe, Amazon, Apple, or practically any payment gateway you wish and start selling online.
Review Summary
In order to review Shopify, I started a free trial, which allowed me to set up my online test store. I tried changing and modifying the themes, adding a blog, playing around with SEO options, as well as mobile optimization to see what Shopify can do for you.
Detailed Shopify review
Ease of use
Shopify can be considered either easy to use or somewhat complicated. It all depends on your perspective.
If you are a new user trying to build your first website with just a few pages to see what it can look like, Shopify will seem complicated. All of the backend options, managing inventories, taxes, shipping, and apps that you don't understand will just give you a headache. It will seem hard to edit a template and create what you want. In this case, prepare for a hard time learning all about Shopify, and if you don't want to start an online store, be prepared for failure.
On the other hand, if you already have a vision for your online store but don't have the technical knowledge to code the entire system yourself, Shopify will feel fantastic All of those options and features will come in handy, and you will love the fact that everything, from adding products to managing inventories and taxes, can be done quickly through their admin interface.
Templates
Shopify is a modern website builder, so I expected their templates to be clean, simple and designed with mobile devices in mind. And they met my expectations.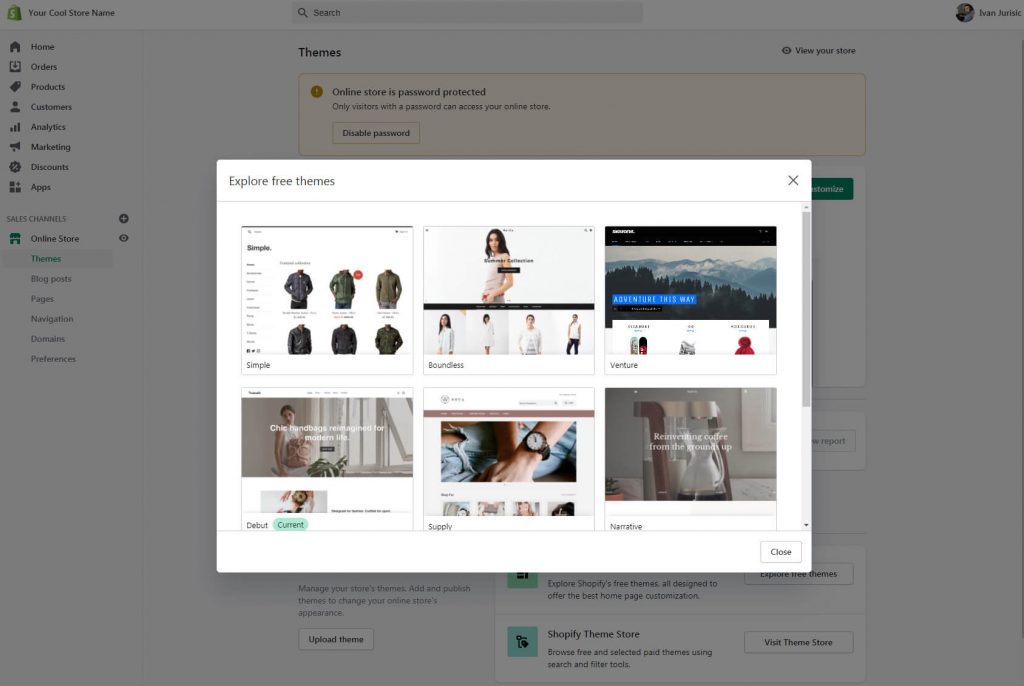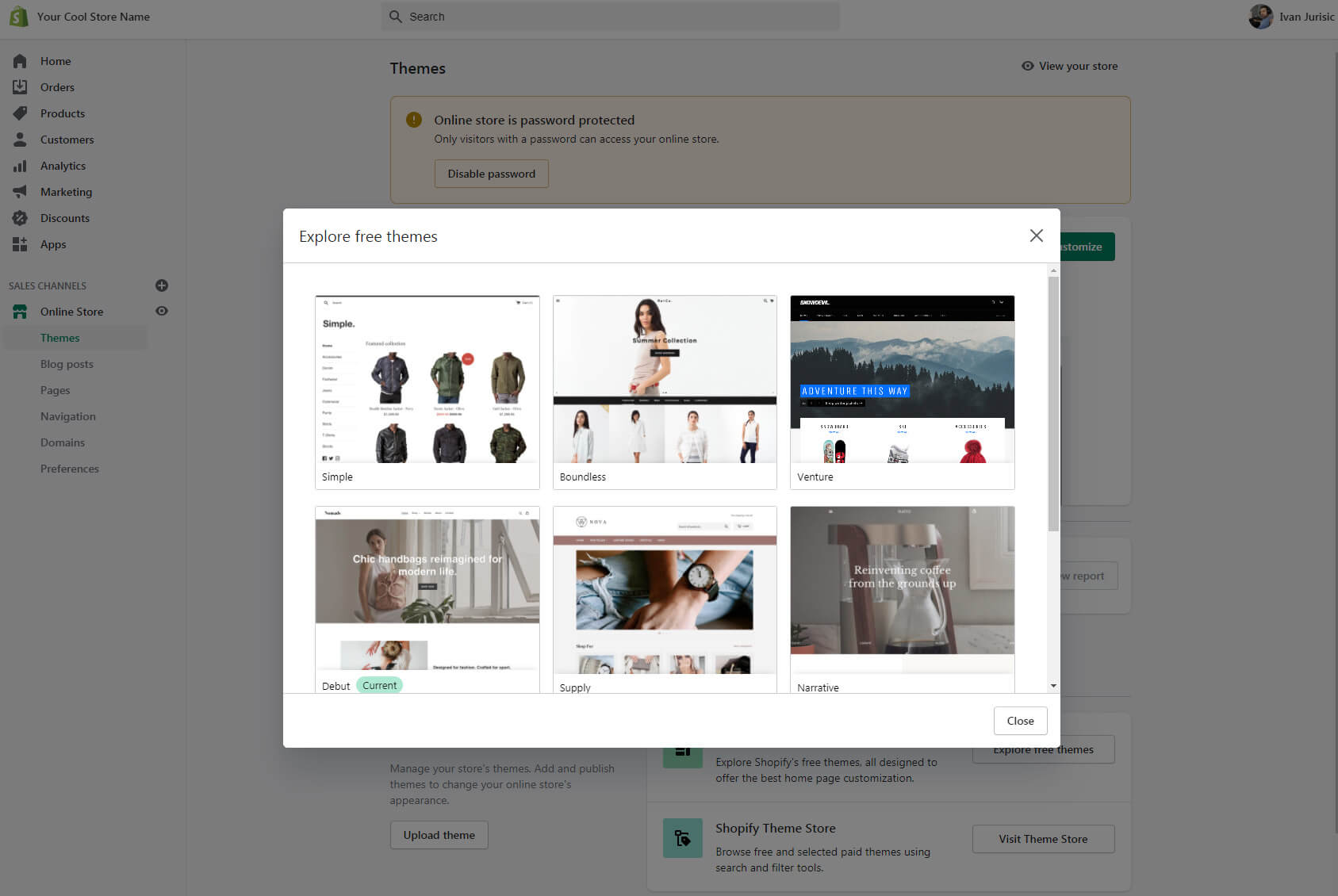 There are nine free templates that you can start with, and more than fifty premium ones that you can pay for additionally if needed. The templates have a good variety, and you will be able to select among dozens of layouts and color schemes. It is important to know that not all of the templates are built the same, so even their functionality may differ. For example, not all themes will be perfect for large catalogs or support live search options. Because of that, I suggest that you take a good look at all of the themes available until you find the one with everything you need.
Each template comes with customizable sections, free photos, built-in styles, and much more.
Since you're about to create an online store, you will probably love the fact that some themes come equipped for different languages, so that you can easily translate them if needed.
Design flexibility
Once you choose a theme, you will be able to modify it further. It's relatively easy to switch content; adding new images or rewriting the demo text on a homepage is straightforward. However, adjusting the layout might be a bit more challenging to accomplish.
There's no classic drag and drop editor with Shopify, so you can forget about grabbing an element with your cursor and dropping it into another location. Where other website builders would let you click on the text to choose a different size, font type, color, and so on, Shopify will not cooperate. To make modifications like this, you have to select that element from the left-hand side menu. It can be a problem identifying a specific element at first until you adapt to your theme and become more comfortable with the layout.
When you do figure things out, the options might disappoint you as you can only play with the essentials. For example, if you decide to modify an element that comes with text and images, you can only change the image itself, alignments, text, and make it bold or italic.
Still, you can add more sections to your homepage and make it more customized. Compared to some competitors like WordPress, Wix, or Squarespace, there are only a handful of elements you can add, so don't expect much. And if you decide to add more pages, the editor becomes even harder to work with, as it feels like you're writing a new comment on a random blog, and not editing a new page for your online store.
Keep in mind that Shopify is designed to let you create a fully functional store, not just any kind of website. If you're considering the process from that perspective, all of the necessary options are there. In order to create a perfect shop, I suggest adding the products first. When you do that, you can choose and modify a theme according to your needs, not the other way around.
Domain options
When starting with a free trial, Shopify will create a custom subdomain for you, so that you can have your site up and running quickly. However, as soon as you decide to start selling with your Shopify site, you will want to connect a custom domain name. Whether you already have one or need to purchase a new domain, you will be able to do it efficiently through Shopify.
Mobile site optimization
It's easy to preview your online store on desktop or mobile at any point during theme customization. All of their templates are well optimized for mobile devices, so you can expect your site to look good. However, don't expect to be able to modify your site specifically for mobile devices. You will have to be happy with what Shopify creates for you.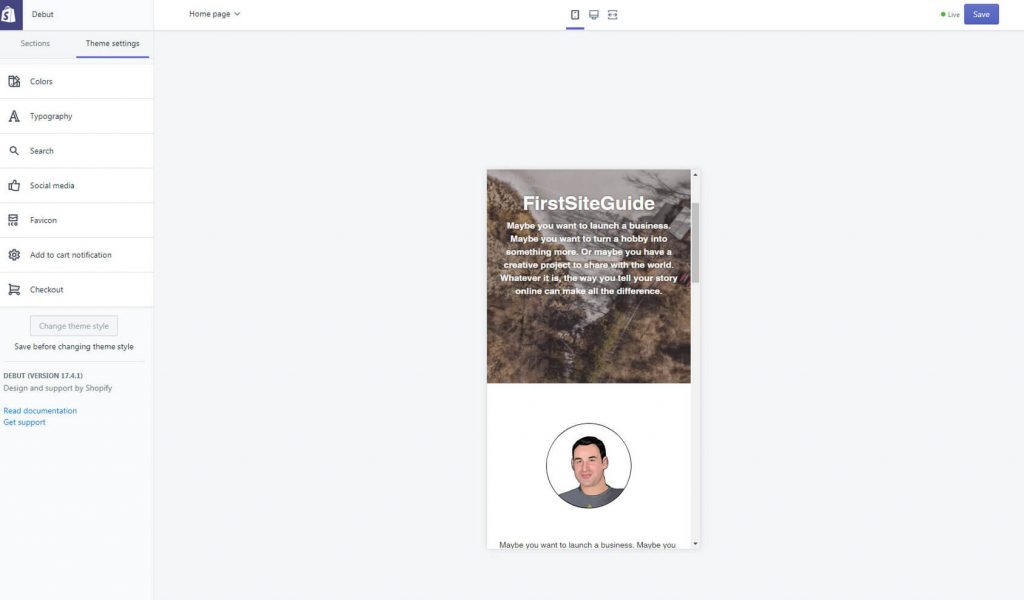 SEO (Search Engine Optimization)
Search engine optimization is a crucial thing when it comes to an online store. You want your site and your products to be easily accessible by random people searching for something online. To do this, you need to modify your site and make your product pop.
Unfortunately, basic Shopify SEO options are quite simple. You will be able to change the titles, subtitles and change the URL structure, but nothing more than that.
Luckily, there are 3rd party apps that you can connect to Shopify which will enhance your SEO experience.
Blogging functions
A blog is a fabulous addition to an online store. Simply by writing stories about a product, you will be able to attract users to your store. If you share this opinion, you will love the fact that adding a blog to Shopify is just a click away. Actually, a blog comes with your site from the very moment that you open your account. You simply need to access it.
Shopify will let you write a blog, segment your posts into categories, and even handle blog-specific SEO options. Although it comes with RSS and a commenting system, the blog features are very rudimentary and should be improved. They are honestly only good enough for occasional blogging. If you decide to get serious about your blog to promote your store, you will find the selection of features to be seriously lacking. For example, Shopify does not come with an analytics system, social bookmarking, or search features.
eCommerce integration
eCommerce is the most vital point of Shopify. If you're looking to build an eCommerce store, this website builder is something you have to check out. It has everything, from selling products, managing inventories, taxes, shipping, to letting you choose payment gateways, selling across multiple channels, and so on.
Adding new products is as easy as adding a few options to your site. Once you click a button, all you will have to do is fill in the details about a product, add an image, variants, and other information. Shopify will then place your product on the list and allow you to start selling. Managing one or hundreds of products is easy; you can always check your stock, orders, and other details.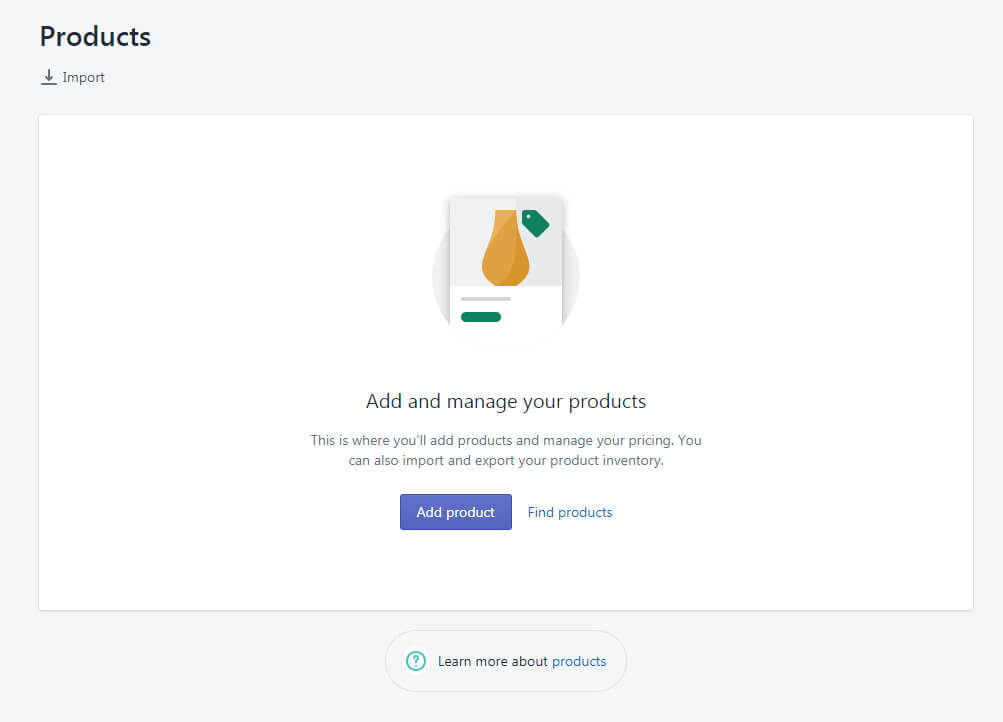 Shopify comes with its own payment gateway that you can use without a fee. While it's impressive that the platform lets you use more than one hundred 3rd party payment gateways like PayPal, Amazon, Apple, and other popular options, you should understand that Shopify will take a percentage from them. It's obvious that they're forcing their own payment gateway with this strategy. This could impact you significantly if your customers prefer another payment option, so keep that in mind. For more details about Shopify rates, please check the pricing section.
No matter which payment gateway you choose, you can rest assured that all of the transactions and your online stores are safe.
Handling taxes, multi-channel selling, shipping, and everything else is a breeze with Shopify. And if you decide you want more, there are dozens of 3rd party apps that you can install and connect to your site that will provide even more features for your online store.
Oh wait, that's not all. If you run a brick and mortar store, you will love their POS (point of sale) app that will help you to improve the business. With it, you can let people pay via the app and handle refunds as well. The app syncs directly with your online store, so you don't have to worry about a thing.
Compatibility
We have named numerous benefits, but there is a catch. Since it is a cloud-based server, you cannot host it on your server and offer your products directly on your website. This platform is one of the examples of a self-hosted solution, and you cannot integrate it into your site. However, you can use Shopify Buy Buttons to promote products on your website.
These buttons lead users directly to some of the items you are offering. However, you should promote specific products instead of your Shopify page. Although you cannot host it on your server, you can still create an effective marketing strategy that will boost your sales by using the feature mentioned above.
Shopify pricing and plans
Unlike many competitors, Shopify doesn't come with a free plan. Instead, you get to test run the service for two weeks, after which you have to pick a paying plan to continue running your Shopify site.
Shopify Lite
Add products and accept payments on any website.
Basic Shopify
Unlimited products, 2 staff members, up to 4 store locations, shipping discount up to 64%. Online credit card rates are: 2.9% + 30¢ USD, in-person credit card rates: 2.7% + 0¢ USD. Additional fees using any payment providers other than Shopify Payments: 2.0%.
Shopify
5 staff members, up to 5 store locations, professional reports, shipping discount up to 72%. Online credit card rates are: 2.6% + 30¢ USD, in-person credit card rates: 2.5% + 0¢ USD. Additional fees using any payment providers other than Shopify Payments: 1.0%.
Advanced Shopify
15 staff members, up to 8 store locations, advanced report builder, 3rd party calculated shipping rates, and shipping discount up to 74%. Online credit card rates are: 2.4% + 30¢ USD, in-person credit card rates: 2.4% + 0¢ USD. Additional fees using any payment providers other than Shopify Payments: 0.5%.
Shopify Plus
Starting at $2000 per month.
Details upon request.
Customer support
The entire platform is well documented, so you can do everything on your own. The help pages are organized exceptionally well, and it won't be hard for you to find what you're looking for.
If you can't find the answer, you can always contact support. Shopify will first ask you to write your topic, so the AI can offer documentation pages, if possible. But if you still decide to talk with a support agent, you will be able to do that via chat, email, or telephone. I decided to send a quick question via email.
Although I immediately received an automated response, it took almost two days for an agent to reply. I would have been much happier if I had received my answer the same day. When the response finally arrived, I was pleasantly surprised at how detailed the answer was. I felt like I was reading a custom documentation article, written just for me! My question was about creating and modifying mobile pages, and the agent really tried to explain in detail how things work. He even asked a few additional questions to help him understand my problem and pointed me to the forum pages. Overall, I can say Shopify's agents really make a great effort, but I wish they responded faster.
Shopify pros and cons
Pros
Ease of use – even if you decide to create a complex online store, you shouldn't have a hard time making one on your own, as everything is available within a few clicks.
Templates – all templates are professionally designed and look polished. Depending on the kind of store you're trying to build, you will be able to find a suitable template that you will be able to modify to your needs.
A number of payment gateways – there are more than one hundred payment gateways you can choose from.
eCommerce features – Shopify comes with practically anything you will need for running a successful online store. If it's not there by default, you will be able to install a 3rd party app that will extend your Shopify experience.
Cons
Blogging – Although you can write a blog on Shopify, it's only good for occasional content updates. If you're looking for anything more serious regarding blogging, you will do much better with other free website builders.
FAQs
What payment fees can I expect with Shopify?
Before you start to use Shopify, you should know that there are two kinds of fees. First, you will have to pay a fee to Shopify, and this one is determined by the Shopify plan you're on. It ranges from 0.5% to 2%. Another cost is the payment processor's fee. Again, this depends on the payment processor you're about to use, but you can expect something around 3% per transaction. If you're living in Australia, Austria, Canada, Denmark, Germany, Hong Kong SAR China, Ireland, Italy, Japan, The Netherlands, New Zealand, Singapore, Spain, Sweden, United Kingdom, and the United States (excluding the US territories except for Puerto Rico), you can use the Shopify Payment gateway without any extra fees.
Is there a Shopify mobile app?
Yes, Shopify does have an app for iPhone and Android. When you install the Shopify app, you get to view recent activity, update catalogs, and even manage your orders.
Is Shopify free to use?
While Shopify does have a 14-day trial period that you can start without entering your credit card info, it is not free to use after that. To continue using Shopify, you will have to select one of the premium plans starting from $9 per month for Shopify lite or $29 for the Basic plan.
In what countries can I use Shopify?
Shopify can be used anywhere in the world. However, in order to process orders and payments, you will have to consider the payment gateway limitations and incorporate shipping services in your country. This could mean different conditions and fees. If you want to use the Shopify Payment gateway without fees, you will have to be from one of the following countries: Australia, Austria, Canada, Denmark, Germany, Hong Kong SAR China, Ireland, Italy, Japan, The Netherlands, New Zealand, Singapore, Spain, Sweden, United Kingdom and the United States (excluding the US territories except for Puerto Rico).
What can I sell on Shopify?
Along with physical and digital products and services, Shopify allows you to sell memberships, consultations, event support, experiences, classes, lessons, workshops, rentals, installations, donations, event tickets, gift cards, and much more.
What are Shopify's Buy Buttons?

Buy Buttons are shortcuts to your products you can post or integrate into other websites or social media platforms. They allow you to promote your store to other sources to gain a larger audience since you cannot incorporate your Shopify account into your website or server. They are a great alternative for "hosting" Shopify on your server without having to search for headless Shopify versions.
Conclusion
For anyone trying to build an online store without hiring professional designers, Shopify is a platform that provides a helpful service. It comes with everything that you need for running a successful online business – from modifying professional templates to managing products and payments. However, you should keep in mind that e-commerce is the main focus here, so if you're looking to create a simple business site or blog, you can do much more with other competitors like Weebly, Squarespace, Wix, or WordPress.