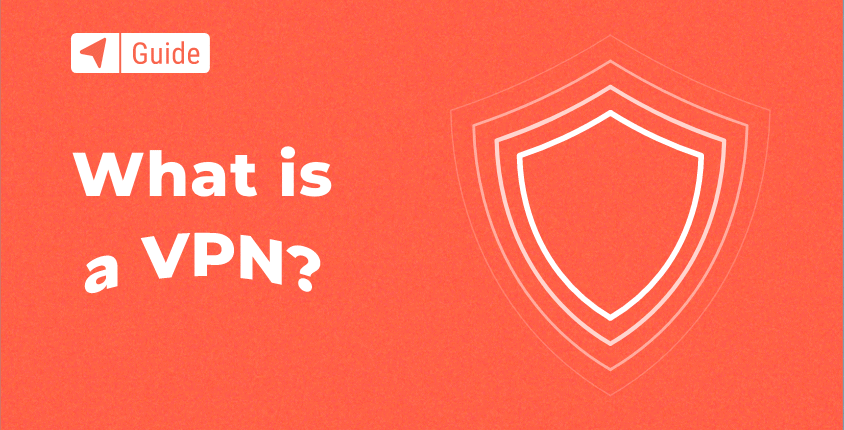 Staying safe on the internet and maintaining privacy are primary concerns for both companies and individuals in this time of rapid online expansion. The solution in the form a Virtual Private Network offers various conveniences—privacy benefits being just some of them.
You may have already used VPN, but weren't aware at the time that you were using it. If you've ever worked remotely by connecting to a corporate network, you were operating in the waters of VPN.
If you're unfamiliar or just vaguely familiar with VPNs, this guide is perfect for you. We're going to lead you into the world of VPNs by explaining what they are, how they work and what benefits they offer. We'll also provide valuable information on how to choose a VPN provider that will meet your needs, whether for individual or business purposes. Let's get started.
What is a VPN?
The best way to visualize a VPN is to look at it as if it were a version of a physical computer network. The difference comes in the means of connection.
Physical computer networks are usually limited to some location, such as a home or office, and the computers are physically interlinked. The VPN is a virtual type of network, allowing different computers, no matter where they're located, to join the network and use it to access the internet. The physical connection still remains, but now it consists of both public and private cables, routers, and servers. And there are no range limits whatsoever.
So, a VPN is not some new groundbreaking device that allows computers to act like they're physically interlinked, but it's a method of connecting computers in a virtual network. This method is designed to enhance security and improve the privacy of the end user, without any restrictions when it comes to accessing content on the internet.
So, how does VPN work?
To access a VPN, you'll need to get a free or paid VPN service; we'll talk about the differences between the two later. Once you do so, you'll get a VPN client installed on your computer or mobile device and that's where it all begins.
With a VPN client, you'll gain access to a pre-setup VPN, put in place by the provider. While you browse the internet via the VPN, your computer doesn't communicate by using the IP address assigned to you by your Internet Service Provider(ISP). Instead, it uses one provided by the VPN.
In addition to masking your initial IP address, a VPN also secures all the data. So, how is data confidentiality achieved? VPNs use protocols to encode all the data exchanged between your computer and the computer which you use as a sort of gateway to access the internet. Here are the most commonly used encryption protocols:
L2TP/IPsec – Layer 2 Tunneling Protocol was created as a collaborative effort by members of the PPTP forum, the Internet Engineering Task Force (IETF), and Cisco. This protocol is called L2TP over IPsec because it provides the security of IPsec over the tunneling of L2TP. This protocol is used by VPNs running on Windows 2000 OS.
IPsec – Powered by very strong encryption algorithms and wide-ranging authentication, Internet Protocol Security Protocol offers additional layers to data security. IPsec encrypts the data via tunnel and transport. Transport encryption mode encodes the payload, or the essential content, of data, while tunnel mode encodes both the header and payload of data. In order to use this encryption protocol, all devices connected to the network must use a common key/certificate. A special app installed on a user's PC handles this encoding/decoding during connection with a remote VPN. This encryption protocol has support for 56-bit and 168-bit encryption.
PPTP/MPPE – While PPTP is an obsolete protocol, many VPNs are still running it. It was created through the joint efforts of ECI Telematics, US Robotics, 3COM, Microsoft, and Ascend. It supports 40-bit and 128-bit encryption, using MPPE – Microsoft Point-to-Point Encryption.
In addition to these encryption protocols, other protocols can be used by a VPN, such as Non-Repudiation, AAA, Data Integrity, Traffic Flow Confidentiality, SOCKS5, and Anti Replay. The protocols used by a VPN determine the services they can offer to users. We'll address this in greater detail further in the guide.
What are the unique benefits of using a VPN?
Security
As already mentioned, security is a primary concern for anyone who's online. The data on the internet may be intercepted, stolen or even altered. This can have serious consequences for users, including stolen credit cards and a leak of sensitive corporate information. Communication from you to the outside world can't be fully protected by firewall and antivirus software installed on the computer.
Since the communication between your PC and a VPN is established through the protocols we described, the connection between your PC and remote resources is secure. If any of the routers get compromised by a hacker, it won't be possible for him to decrypt the data flow between you and the VPN computers.
Privacy
Keeping your identity hidden while online is also very important. Without a VPN, your identity can easily be revealed by marketing agencies or anyone who's curious enough and has sufficient skills. And when we talk about identity, we mean IP address, name, address, and location. While you're on the net, your device communicates with routers and web servers, leaving behind information about your IP and ISP.
A VPN successfully prevents this undesired disclosure of private information. While accessing content online through a VPN, the VPN provider's identity becomes your own. You will appear to be online on a location other than your own, while your personal information, including the IP address, remains hidden.
Unrestricted Access
Many companies offer their online services with specific geographical restrictions. For instance, Netflix is still not available in many countries around the world. Similar to this, there are countries that forbid their citizens to access certain websites and companies that restrict their employees' internet use. A VPN easily overcomes these obstacles.
Since there are VPN providers in many geographic regions, users can easily go around any geographical restrictions put in place either by a foreign company or their country.
Better Web Experience
Connectivity issues are a very common problem around the globe, especially when you want to access something that's on the other side of the world. Due to poor internet routes and limited bandwidth, your overall online experience may be poor.
This can be solved by a VPN
When using a VPN, your bandwidth while accessing remote locations will be approximately the same as the bandwidth between the VPN and your computer. A VPN solution is very beneficial for users whose ISP providers enforce bandwidth limits.
There are other benefits that may differ from one VPN provider to another. Some VPN providers offer better connectivity among all devices on their network, while others allow port forwarding, which makes other devices on your network accessible via the internet.
What to look for in a good VPN service?
The best VPN service is the one whose services completely meet your needs. This is why you have to identify those needs before selecting a VPN provider.
That being said, there's a consensus for what general services and features a good VPN service provider delivers.
Security. Since you're going to place all information about your browsing, along with your personal information, into someone else's hands, it's of utmost importance to make sure that the VPN service provider secures VPN nodes, website and infrastructure. Good VPN service providers have regular security audits, PCI compliance, web application firewalls, dedicated server hardware and secured/reliable servers.
Software. A good VPN service provider also has user-friendly software. This is essential because you don't want to troubleshoot software with customer support every time you connect to a VPN. Good software is easy to set up and will get you online in no time. So make sure to see if the VPN provider has its own custom software.
Locations of VPN servers. Good VPN service providers have servers in more than one geographical location. This allows you to have unrestricted access to any content, no matter where it's hosted. So make sure the VPN provider has servers spread around the globe before purchasing their services. Keep in mind that the USA, UK, Australia, Canada and New Zealand, called the Five Eyes, have agreed to exchange information in order to enhance security. This means that a government of any of these five countries can compel a VPN provider, through a court order, to disclose any information it holds. This does not apply to VPN providers that are based in any other country in the world.
Customer Support. This is also a very important factor that differentiates the good from the not-so-good VPN providers. Customer support has to be accessible 24/7 so that you can get your problems solved regardless of the time zone difference. The good ones will have a self-service help desk and live chat support at their users' disposal.
No data logging. Most people choose a VPN solution because they're concerned about privacy and security. If you want to stay completely hidden behind the VPN, you have to read the VPN provider's terms of use and policy in order to make sure they do not log your data.
Speed. The bandwidth may go down when you're accessing the net via VPN. You want to make sure that the VPN provider invests in new servers and software in order to meet the needs of a large influx of new users. You can get an idea of this by reading the reviews of their users. With a good VPN provider, you should only experience very small changes in speed.
Pricing. It's good general advice to always go with a provider that offers multiple payment options and various subscription plans that you can cancel anytime you want without facing any penalties.
Before making your selection, review the services and pricing options carefully. And check through their client reviews to make sure they provide all the services advertised.
Free vs Paid VPN services
When you're considering using VPN services, you have two options: free and paid VPN services (You can also check out VPN promos). There are many differences between them, apart from price.
Pros of free VPN services:
they're free
anonymity (there's no need to give any personal information when you sign up)
Cons of free VPN services:
Very low-security level (128-bit encryption/PPTP protocol)
No customer support
Lower speed due to many users
In some cases, limited time online and data transferred
Bunch of personally tailored ads (this means they log your data)
Pros of paid VPN services
Uncapped bandwidth
Pro security
No ads
Access to customer support
Ability to choose from among various bandwidth options
Cons of paid VPN services
Obviously, you'll have to pay for this service
You might end up paying for features you're not going to use
How to choose between the best options
Due to rising concerns about cyber crime, surveillance, data leaks, etc., the number of available VPN service providers has peaked in the last couple of years. But only some providers are found on the top lists of the websites whose rankings have authority.
This is a good time to remind you that your choice will depend upon your needs and a VPN service provider's features, price, subscription plan, reputation, and ease of use. So, let's go through some of the top options that are currently available on the market.
NordVPN. One of the VPN service providers designated as "editor's choice" in both top lists, Nord VPN certainly attracts attention. This provider is based in Panama, and its rigorous no logs policy, more than 1200 servers in 61 countries, top-notch double-layer encryption, ability to stay anonymous even on the dark web, and pay via PayPal, Credit Card or Bitcoin are all the perks that have rendered this VPN provider a favorite with so many people.
It also has a live chat support service that's available 24/7. It can be set up on Mac, Windows, Linux, iOS and Android, and supports up to six devices connected at one time. The basic subscription plan costs $6 per month. Experts recommend this VPN service provider if you want to use VPN to watch U.S. Netflix.
IPVanish. This VPN service provider has over 700 hundred servers located in 60 countries around the world. It supports five devices connected at one time and has very light encryption, which really complements torrent downloads. It's available on all operating systems. IPVanish also can be used on Amazon Firestick and Android TV. If you commit to an annual plan, you'll pay $6.50 per month.
Private Internet Access VPN. This VPN is very popular because its encryption will make your data transfers impenetrable, yet you only have to deal with a very simple user interface.
With just one click, Private Internet Access VPN will ensure that your identity remains hidden. This provider has more than 3,000 servers located in 25 countries. They have the option to pay anonymously with various major brand gift cards (Best Buy, Starbucks, Costco, etc.). They are a U.S.- based corporation, so keep in mind that they participate in the Five Eyes treaty. Fees range from $6.95 per month to $3.33 per month, depending on the contract you choose.
There are many other VPN service providers you can also check out Buffered, ZenMate, TorGuard, Express VPN, Surfshark and many others. Just make sure to get as much information about your top choices in order to make an informed decision. One last piece of advice, the free trials offered by paid VPN service providers only include basic features, so don't base your opinion only on the experience you get from the free trial.
Conclusion
This is basically all you need to know about VPN services. You've seen that a VPN not only provides a better web experience but also addresses security and privacy concerns. On top of this, you'll be able to access any online content by bypassing geographical restrictions. We hope the information you've found in this guide will make it easier for you to decide if you want to go with a VPN service provider and how to choose the best one for your needs.