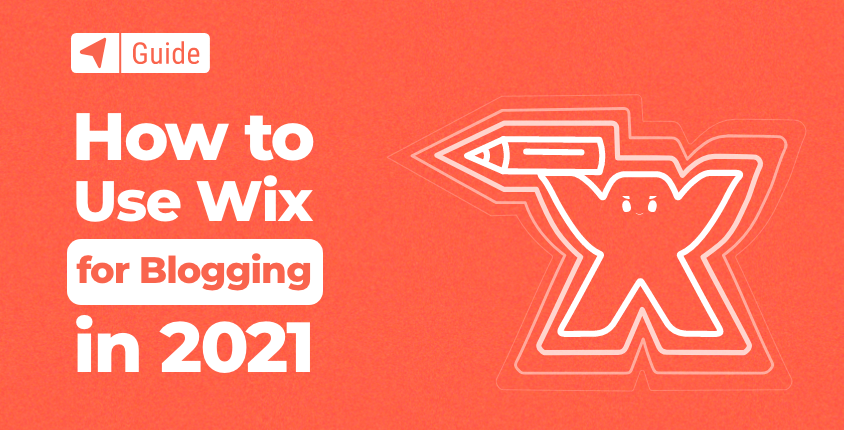 Blogging has become a way of life for many. Some people see it as an outlet for their creative thoughts, some are actively blogging after work as a side gig, and some earn big bucks with their blogs.
No matter why you are starting a blog, the great news is that creating one has become a task that everyone can complete in a matter of hours. Also, easily accessible platforms like Wix allow people to use their software for blogging.
Wix is definitely among the best free website builders that will let you create a blog, but is it the best choice? Let's learn how you can use Wix for blogging (and if you should).
Jump to "How to Make a Blog Using Wix in 8 Easy Steps"
Is Wix a good tool for blogging?
Most Wix themes already have a blog as an active component of the site. Some of those themes are designed with blogging in mind, and they will let you focus on posting regular content. But is Wix the right choice for starting a new blog?
Keep in mind that overall, Wix is mostly designed for people who want to create personal and business websites. If a blog is just a side component you wish to have in addition to your homepage, Wix may have everything you need. But if a blog is your main reason for creating a site with Wix, you should continue reading and weighing the pros and cons.
Pros
Free trial – Wix is entirely free, which means that you only need to spend some time to test it out. Choose a template dedicated to blogging, and see how you like creating new posts and managing content.
Beginner-friendly – You do not have to have any level of web expertise before starting a blog on Wix. This popular platform has one of the most straightforward site editors available. So, even if this is your first time trying one of the free website builders, it shouldn't take you long to figure out the basics. Managing a blog is simple, so you should be able to publish your first post in no time.
Website builder functionality – Even if you decide to build a simple blog instead of a full-blown site, Wix gives you the freedom to create it with their fantastic editor. This means that even if you're a beginner, you can quickly start a blog that will look and perform well.
Cons
Higher costs – Wix is a service, and so, if you choose one of their paid plans to improve your site, you're paying for everything they're offering. This means that even if you do not need some features from the list, you are still paying for it since you can't pay less and remove some of the features.
The basic plan displays Wix brand ads – Although Wix is free, you should be prepared to display Wix ads on your site. This may not bother you in the beginning, but when you start growing your blog and attract a larger audience, you will either have to continue "spamming" your visitors with ads or pay Wix to remove ads by choosing one of the premium plans.
Hosted solution/can't move to other hosts – Wix comes with its own hosting, meaning your entire site and services will be located on their servers. While Wix does work great overall, this is still limiting as you can't move your Wix site to another hosting company. You're always dependent on Wix. If they decide to delete the entire service, there's not much you can do.
Wix vs. WordPress for blogging
If you searched for a free blogging platform to start with, you probably already stumbled upon both Wix and WordPress. Both may seem like a decent fit, and pretty much the same. But there are differences you should know about before creating a new blog.
Design
It may seem that Wix comes with tons of design options, as there are more than 300 free templates. However, when you compare that to tens of thousands of WordPress themes, it's clear who the winner is.
Editor
With Wix, you can let the platform create a blog for you, or you can work your way around the editor and modify a template to create a custom site. The story is different with WordPress. This popular platform comes with dozens of popular page builders that all behave differently, and allow you to modify themes the way you want. If you do not like one of the editors (like Gutenberg that comes as the default page builder), it is easy to switch to another popular solution and get something you can enjoy and understand better.
Plugins
Wix comes with more than two hundred apps that can enhance your blogging experience. However, WordPress counts more than 50,000 free plugins in their repository, including countless premium ones that could do wonders for your blog.
SEO
Overall, WordPress is much better equipped for SEO from the very start. And since you have better control over your posts, permalinks, tags, categories, and so on, it is easier to have an impact on search engine optimization and prepare your blog for Google.
Plans and pricing
Below is a comparison table of basic plans for the most popular blogging platforms: Wix, WordPress.com, and WordPress.org.
Wix
WordPress.com
WordPress.org
Price
$4.50/month
$4.00/month
$2.75/month
Storage
3GB
6GB
50 GB
Free domain
First year free,
after $14.95 per year
First year free,
after $18.00 per year
First year free,
after $13.99 per year
Advanced eCommerce
Yes
No
Yes
* Storage space shows you how much space you can use for your blog and media files. WordPress.org is a free open source software. In order to use it, one needs a web hosting account. As an example, we showed prices from Bluehost, a company that offers easy WordPress.org software install.
How to make a blog using Wix in 8 easy steps
As I already mentioned in the Pros section of this guide, Wix is free, so it doesn't cost anything but a few hours to try it out and see if it fits your needs. Instead of starting a blog on another platform and always wondering what it would be like to work with Wix, grab a coffee, relax, and create your test site.
Step #1: Sign up and create a free account
To sign up, you need to follow three short steps:
Go to Wix.com.
Find the big "Sign Up" button and click on it.
Enter your email address and choose a password.
Wix will not ask for credit card details or annoy you with dozens of fields to fill up. It's in their interest to provide you with a fast sign up process, and you can literally be done in under a minute.
Step #2: Get a blog made for you or pick a template
Depending on how much time you want to invest, there are two options to start with.
1. Wix artificial intelligence
If you are not interested in testing out the editor and don't want to spend time adjusting each and every detail of your site, Wix ADI is a great solution. It is an artificial intelligence answer to your need that creates a website based on a few responses from you.
If you choose this option, Wix will ask what kind of site you are interested in creating. Typing "blog" will trigger a dropdown menu with several subcategories, so you can choose anything from the list, or ignore it entirely and type something unique to you. Based on your input, WiX ADI will suggest a few features you can start with.
In my case, Wix suggested adding a subscribe form, chat, and an Instagram feed. I could also choose to select several more features like an online store, bookings, video, and more.
If you already have images and content on another website, Wix can import them into your new blog.
After inputting your info, the most exciting option appears – selecting a theme. You can choose from only six themes, and instead of browsing by categories, you just need to select a color palette. However, this can be easily changed later, so don't put too much thought into it.
Choose your homepage design, add a few extra pages if needed, and Wix will have a complete site ready for you.
2. Choose a template
For those who are more creative and want more control over their blog, choosing a template that you will be able to edit is a much better solution. There are several blogging categories available. You can choose from personal, travel, or food blogs, just to name a few.
Instead of answering questions, this option will let you edit your template in the very next step.
Step #3: Make changes with the website editor
Making changes with Wix ADI is possible, but the editor is quite limiting. All you will get is the option of selecting the elements and changing to a few predefined options.
On the other hand, modifying a template is fun, and it allows you to be in charge of every part of your website. You can create new pages and arrange them on a menu that displays to your visitors. Whether you decide to have a background color, add an image, or even play a video, the options are all available to you.
No matter what kind of template you choose, you can add dozens of elements and transform your entire blog into a custom project.
However, when it comes to blogging, the most interesting settings are those that allow you to design & manage your blog section. If you click on the blogging section from the editor, you will be able to control how the blog appears on your site. Show featured posts only, hide author names, remove author images, decide if you need the publishing date, reading time, views counts, comments, or likes.
You can even handle layout changes with a single click. Don't worry, changing colors and paragraph styles is also possible, as well as modifying borders, backgrounds, and the feed. There are more than enough options for you to play with, so the only limit is your imagination.
Step #4: Add functionality with apps
Although Wix comes with a plethora of options, there are always users who will need more. If you're one of them, Wix App Market is for you. Simply search for "blog," and Wix will show you more than a dozen apps you may want to install.
These apps will introduce new elements to your blog, so you can create a different site altogether, add a search feature, different commenting system, push notifications, social media stream, and so on.
Besides these blogging-related apps, there are more than two hundred others that will enrich your entire site and allow you to create something both you and your users will love.
Step #5: Design a professional logo for your blog
Even if you only want to create a simple blog for fun without running a business, that doesn't mean you should leave it without a logo. Wix comes with a free app that will help you to generate a custom logo in minutes.
After you start the logo maker from the main settings menu, Wix will ask you some questions. Enter the name of your logo, and add a tagline. Choose a niche you're working in, select a style you like (dynamic, fun, formal, or techy), and choose from a few examples to let Wix know what you like. Give it a few seconds for the magic to start happening, and Wix will show you several logos. Choose the one you want, and start editing it until you get that perfect logo that will proudly represent your new blog!
Step #6: Choose and connect a domain name
When using a free account, Wix will let you use their subdomain for free. That means you can have the name of your blog displayed in front of Wix's domain. For example, you can have a domain like myblog.wix.com, or actually anything.wix.com, as long as the title is available (not used by anyone else on the platform).
This option is a fantastic feature you can use for free while starting up, but as soon as your blog starts generating an audience, you will want to connect to a custom domain. To do this, you will need to start paying for one of the premium plans and connect an existing domain or purchase a new one. No matter what you decide to do, Wix will guide you through each step of the way, and you will be able to complete the task without hiring experts.
Step #7: Optimize and customize your blog
Just a few years ago, blogs were something people read exclusively from their desktop and laptop devices. But today, your blog has to be available for mobile users as well.
With Wix, you can easily modify and optimize your site for mobile visitors. If you're in a rush or simply not into editing the site in the minute detail, click on the smartphone icon at the top of the screen, and view the "Page Layout Optimizer". When you click on the button, Wix will automatically optimize your site for mobiles, and you will be good to go.
If you want more control over this, you can use the menu from the screen's left-hand side to modify menus, pages, and background specifically for mobile devices. These changes will not affect your desktop version of the site.
One of the amazing features that Wix offers is hiding some site elements from the mobile view. You can focus on only offering several mobile tools that will handle everything your mobile visitors might need. Those are usually action bars, special buttons, and welcome screens.
When it comes to optimizing your site for Google and other search engines, Wix has you covered as well.
Go to your dashboard, and find the menu on the left-hand side of the screen. You will see Marketing and SEO options. Choose SEO tools, where you will be able to make your site better for Google and other search engines.
While the Sitemaps and Robots.txt will automatically be created for you, you should start the "Get Found on Google" feature that will guide you through a few SEO settings. Here, you will get to change titles, subtitles, pick your keywords, and follow your personalized plan until you have all of the SEO basics complete.
However, do note that these are just the SEO basics. In order to rank well on Google and other search engines, you will have to start learning more about SEO and invest time and money into making everything correct.
Step #8: Publish your blog to make it live
Once you're done modifying the site, and optimizing it for mobile users and search engines, you should be ready for publishing. This is the last step before the entire world gets to see your blog.
While you're still in the main editor, look at your browser's top-right corner, where you should see the big blue "Publish" button. Click on it, and wait for a second. Wix will publish your website, and show you a popup window with the details. All you need from here is the address of your site (the free subdomain or a custom domain if you have connected one already). Click "Done," and you can start sending this link to your friends and family. Hopefully, they will start reading your content from day one.
Conclusion
Wix is an incredible free website builder that lets you create any kind of site you can imagine. If it's a blog you want, it can be done in less than an hour.
However, before choosing Wix exclusively for blogging, you should know that this platform is designed for creating personal and business websites. Although blogging is possible, it's quite basic and only suitable for people who don't expect much.
Those whose primary purpose is to blog will find that they need more than Wix can offer. Wix would be an adequate option for some bloggers, but since there's WordPress available that was designed specifically for bloggers, and that offers tens of thousands of plugins that can improve your blogging experience, Wix simply can't compare.