The Best Parental Control Software for 2023 – Free & Paid
The Ultimate Guide to Software Solutions for Parental Control
FirstSiteGuide is supported by our readers. When you purchase via links on our site we may earn a commission.
Read More
The Best Parental Control Software for 2023 – Free & Paid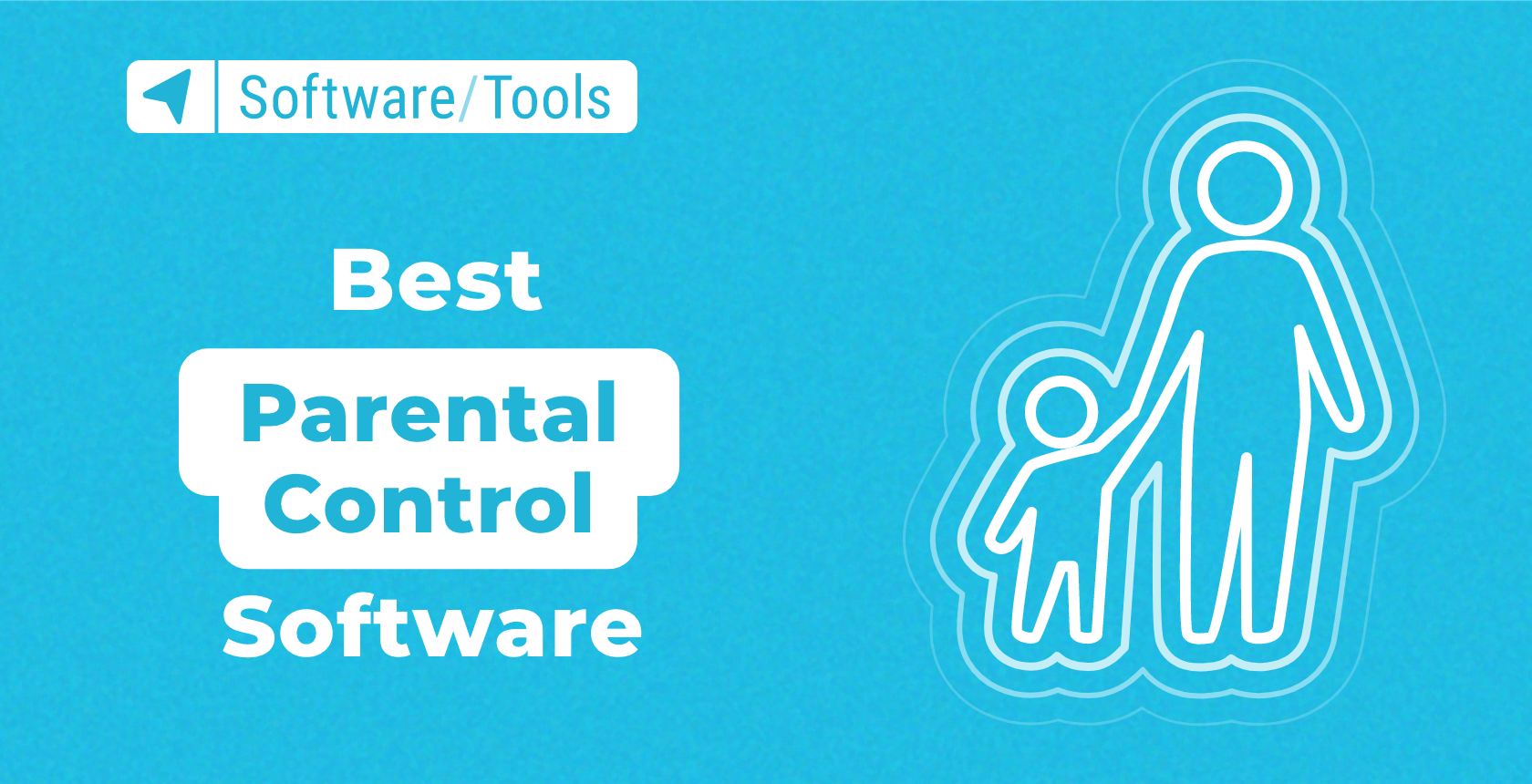 Modern-day children are used to surfing the web and getting things done online. Most of today's kids spend long hours using the internet to stay connected with their friends and family, as well as to perform daily chores.
Since kids often spend more time online than their parents, it isn't easy to keep up with their online activities. Most parents are worried with all of this online time as they're aware of all of the illegal, disturbing, and explicit content, apps, and websites on the web.
Thankfully, parental control software tools can help parents limit their kids' access to the internet and manage the ever-increasing assortment of devices that their children use.
Parental control software solutions allow you to restrict the use of explicit apps, limit screen time, block unwanted websites, avoid risky content, and more.
EDITORS' CHOICE (JUNE 2023)
Top 10 most popular parental control software
Here's our handpicked selection of the most reliable parental control software utilities that offer all of the important details to keep your kids safe.
---
Aura — An all-encompassing family-friendly digital solution
Available on Android and iPhone mobile devices, Aura is an all-in-one digital safety solution that allows you to take care of your entire family and their unique online needs. Aura is your go-to parental control app that can mitigate all of the online risks and ensure that your kids surf the web safely.
Whether your kids use an Android or iPhone mobile device, the Aura app allows you to block social media apps and websites such as TikTok and Snapchat and receive detailed reports about your kids' online activity. Customize online content for your kids, set screen time limits, restrict internet access, and filter out inappropriate websites across all of your kids' devices.
Key features
Block websites and monitor content – harness the power of Aura's online filters and customize content for your kids by selecting websites, apps, and games they can access.
Manage screen time – keep your kids from spending too much time on the internet by setting time limits for websites and apps.
Internet usage – monitor your kids' internet use across all devices to create healthy online routines and determine the right amount of screen time for your children.
Secure VPN – block scam and phishing attempts, unblock restricted content and increase your kid's online privacy with a single click.
Safe browsing – receive alerts when your kids interact with harmful websites and explicit content and help them to avoid identity theft and data loss.
Pricing
Aura offers a 14-day free trial for parents to test the app for free. You can cancel your free trial anytime during those 14 days. After 14 days, their services cost $99.99 per year.
Premium plan
The premium version gives parents access to a full suite of parental control features such as unlimited mobile device monitoring and management, content filtering, website and app blocking, screen time limits, internet usage tracking, a customizable dashboard for every family member, and VPN and antivirus for up to 10 devices.
Visit Aura for additional information >>
Norton is already a well-known company for its fantastic security solutions, so it's no surprise that we've included it in this list. Norton Family is one of the most reliable parental control software solutions for Windows, Android, and iOS devices.
NF is packed with top-grade features and allows you to monitor your kid's online activity, locate their mobile devices, and check the websites and apps that they've recently accessed. You can customize the software to receive notifications and alerts for the specific activities you prefer.
Key features
Web, time, and search supervision – block unsuitable sites, limit your kids' time online, and supervise what your children are searching for online.
Parent mobile app – monitor your kids' online activity from your preferred mobile device and change settings on the go.
Access request – enable real-time communication with your kids and receive notifications about their activities.
Advanced reporting – receive detailed weekly and monthly reports of your kids' online activities.
Parent portal – manage device security via a user-friendly web portal.
Pricing
Norton Family offers a 30-day free trial and one pricing plan for parental control.
Norton Family
The parental control pricing plan ensures a safer browsing experience for your children and helps them learn how to manage time spent online, search the web safely, and focus on schoolwork.
Visit Norton Family for additional information >>
Qustodio — Well-rounded suite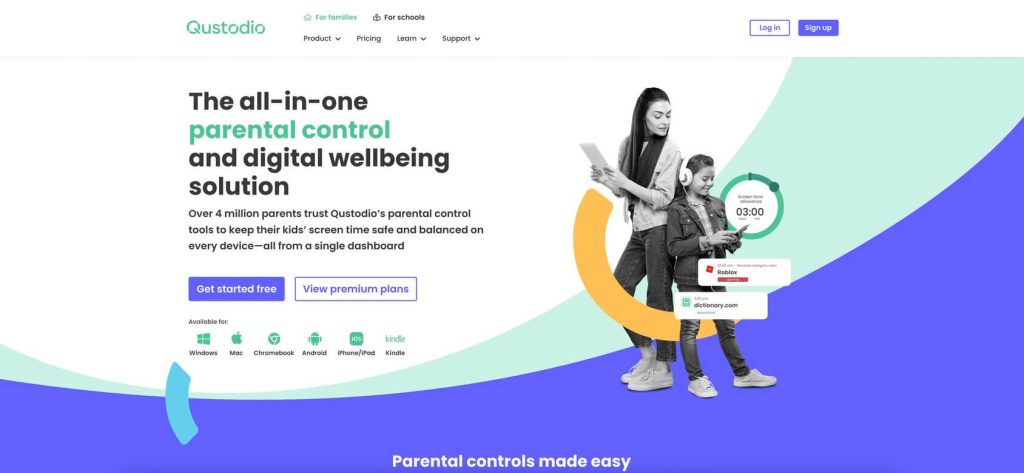 Qustodio is an excellent solution for parents with teenage children. You can use the software to prevent your child from spending too much time on social media. Qustodio's most prominent feature is social media protection.
In addition, this software solution enables parents to control the screen time of specific online services and apps and even block apps when needed.
Qustodio will keep the user up to date with the most recent activity across all selected devices. Users can tap into the pay-as-you-go pricing model and save money by paying for only the necessary features.
Key features
Online supervision – receive reports, block apps, set time limits, filter websites, and more.
Content filtering – enable automated protection to ensure a child-friendly online experience with each internet session.
Monitor activity – monitor your kids' real-time online activity and check their location, screen time, social media use, YouTube views, and more.
Time limits – set online-free time periods to help your kids develop healthier online and digital habits, better sleep routines, and more.
Locate family – set safe locations for your kids and be notified when they leave the safety zones.
Android/iOS call tracking – assume control over your kids' mobile device usage, track their calls and SMS messages, and block contacts.
Pricing
Qustodio offers three pricing plans for parents: Small, Medium, and Large.
Small
The Small plan provides a detailed activity log, robust app blocking, and advanced web content filtering for mobile and desktop platforms.
Medium
The Medium pricing plan allows you to cover up to ten devices, filter apps, block web content, monitor your kids' online activity, and more.
Large 
With the Large pricing plan, parents can set consistent time limits to help their kids avoid screen addiction and teach them the importance of healthy online habits. They can also track SMS and calls for iOS and Android devices, locate their kids anytime, tap into advanced reporting, and more. It's good for up to fifteen devices.
Visit Qustodio for additional information >>
Bark — Multi-platform support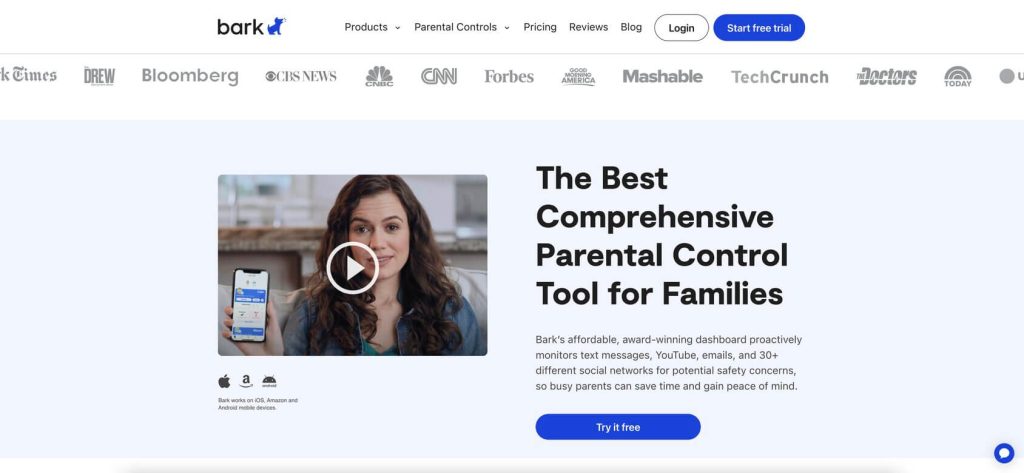 Bark provides an all-in-one parental control application for social media monitoring for kids of any age. Location tracking and sharing, content blocking and monitoring, social media protection, and screen time control are some of its most notable features.
Bark stands out from the rest thanks to its advanced reporting feature that shares real-time updates on your kid's online activity. It notifies you when your child may be in danger online so that you can take the necessary steps to mitigate the risk and resolve the situation.
Key features
Platform compatibility – connect Bark to 30+ social media apps.
Real-time alerts – be notified of your kid's online activity to prevent them from getting into trouble.
Cyberbullying protection – monitor your kid's surfing patterns to spot any signs of cyberbullying and act accordingly.
Content monitoring – track the content that your kids search for online, including social media, texts, email, and more.
Screen time management – manage your child's screen time by setting custom daily schedules for their device.
Pricing
Bark provides two pricing plans for parents – Bark Junior and Bark Premium.
Bark Junior 
$5 per month

$49 per year
With Bark Junior, parents can manage screen time, filter web content, determine which apps and sites their kids can visit, and track their kids online.
Bark Premium 
$14 per month

$99 per year
In addition to the Bark Junior features, Bark Premium gives you access to advanced monitoring features across 30+ social media platforms as well as anti-cyberbullying protection.
Visit Bark for additional information >>
FamilyKeeper — Real-time geo-tracking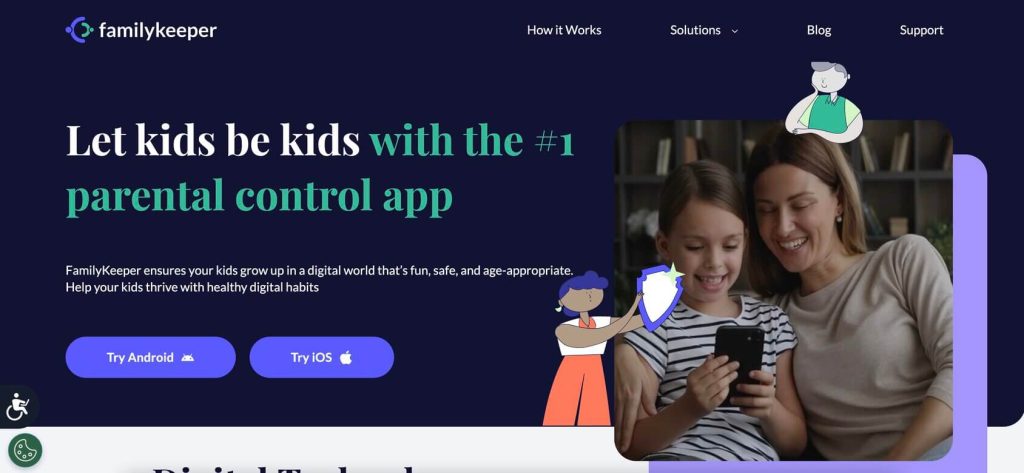 FamilyKeeper is a perfect solution for parents who need an easy-to-use app to ensure their children's online safety. Thanks to its simple user interface, parents can install FamilyKeeper in seconds and provide their young family members with the highest level of digital security.
All it takes to use FamilyKeeper is downloading and installing the app, creating your account, and pairing it with your kid's device. You'll receive alerts whenever your child encounters any troublesome situations online. In addition, you can monitor their online activity via an intuitive dashboard and take proactive measures when necessary.
Key features
Locate your kids – monitor your kids' location in real-time and be notified if they leave the safety zone.
Limited screen time – schedule an internet usage plan for your child to limit their access to certain apps and help them to focus on schoolwork.
Social media monitoring – keep your children away from online predators, sexting, cyberbullying, and more.
Content filtering – detect inappropriate content on your child's device and take steps to handle sensitive situations.
Safe surfing – ensure your kids land on reputable websites and prevent them from interacting with explicit content.
Pricing
FamilyKeeper doesn't provide any public information about its pricing structure. However, we managed to uncover that their paid plans start at $10 per month and include parental control features such as screen time limits, app filtering, SOS button, call monitoring, content control, and real-time geo-tracking.
Visit FamilyKeeper for additional information >>
Net Nanny — Superb filtering systems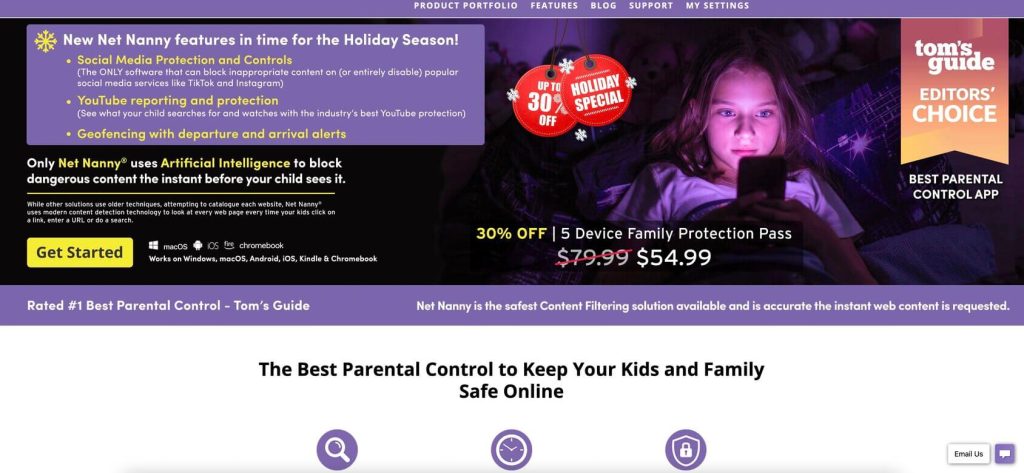 Offering cutting-edge features such as social media and YouTube monitoring, location tracking, screen time management, and filtering tools, Net Nanny is the ultimate web filter service for parents. Aside from top-grade features, Net Nanny includes other useful tools such as custom web filters, app blocking, and simple setup.
While it may be more expensive than other software tools listed here, the comprehensive Net Nanny Family Feed is perfect for keeping track of what your kids are doing while surfing the web.
Key features
Web interface – manage your parental control settings from a unified, user-friendly dashboard.
Web filter – block or allow specific websites and determine the type of online services your child can access.
Screen time scheduler – cap device usage for the current day and schedule a weekly screen time plan for your child.
App blocking – select the apps that you don't want your child to access on iOS and Android devices and use social media protection features to control your child's access to social media networks.
Geofencing – monitor your child's devices and define geographic regions on a map as safety zones.
Pricing
Net Nanny offers three pricing plans.
Windows or macOS
A one-year subscription provides access to content filtering and monitoring, an internet access scheduler, app blocking, screen time management, and advanced reporting.
Family Protection Pass 
$54.99 per year


5 devices

$89.99 per year


20 devices
Receive all of the available features and secure protection for platforms such as Windows, macOS, Kindle Fire, iOS, and Android. Block inappropriate content, monitor your kids' online activity, select the off-the-grid apps, schedule screen time, and more.
Visit Net Nanny for additional information >>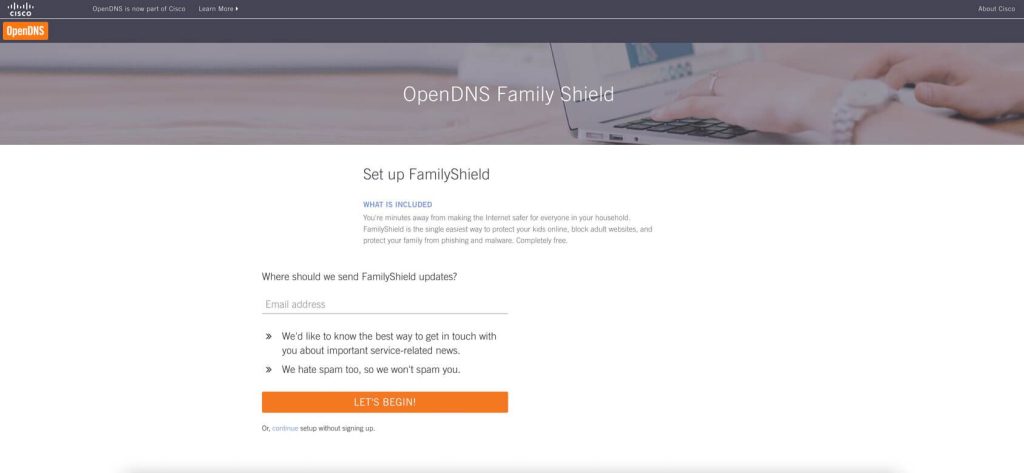 If you're looking for a high-end protection suite for all devices in your family, Family Shield should be your go-to solution. Aside from reliable and secure parental control, FS provides real-time notifications to filter web content and block questionable websites.
With Family Shield, you can set up an automated system for detecting and instantly filtering out inappropriate content. You can also use FS on iPod Touch, video game consoles, and other Wi-Fi-enabled extensions.
Key features
Web protection – keep your kids' devices safe from malware and phishing.
Content blocking – block inappropriate content such as adult websites.
Notification system – receive automatic notifications for explicit websites to filter out content immediately.
Domain blocking – restrict access to specific domains to create a safe digital environment for your children.
Whole-family protection – set parental controls for every device in your home.
Pricing
Family Shield is free. We couldn't find any information about the additional pricing structure.
Visit Family Shield for additional information >>
Spyrix offers a free keylogger for children that parents can use for remote monitoring, as well as actions such as taking screenshots, changing passwords, and recording keystrokes. This software is ideal for monitoring and recording every keystroke your child makes on your home PC.
You can use this freeware to protect your kids online and prevent third parties from stealing their identities. Tap into this free parental control software to keep track of your kids' online activities 24/7.
Key features
Remote monitoring – use any computer to access your web account, monitor your kids' online activities remotely, and view recorded data on demand.
App activity tracking – keep an eye on all running apps, including iTunes, games, and more.
Keylogger – receive access to all recorded keystrokes even after deletion.
Screenshot capture – take screenshots whenever needed without your children knowing.
Clipboard control – have access to all content copied to the clipboard.
Pricing
Spyrix Free Keylogger is free to use. However, the service provider also offers paid plans for Android, Mac, and Windows for customers who want additional protection.
Spyrix Personal Monitor (Windows) 
$69/1PC

$79/3 PC

$129/5 PC
The Windows pricing plan gives you 24/7 access to screen, web camera, call recording, search engine, and URL monitoring, three months of data storage for up to 500 Mb of data, and site blocking by categories.
Spyrix Personal Monitor PRO
$79/1 PC

$99/3 PC

$159/5 PC
The PRO pricing plan covers all features for Windows and adds web camera snapshots, web camera, and microphone voice surveillance, 1Gb of data storage for three months, and the option to view everything your child is doing online in real time.
Spyrix Employee Monitoring for business users 
$199/5 PC


Different plans up to 300 PC/$5979
The business plan includes all features for Windows and adds the live panel option for real-time employee screen viewing, full company analytics, domain monitoring, and one year of data storage for up to 5Gb.
Visit Spyrix Free Keylogger for additional information >>
Surfie — Customizable notifications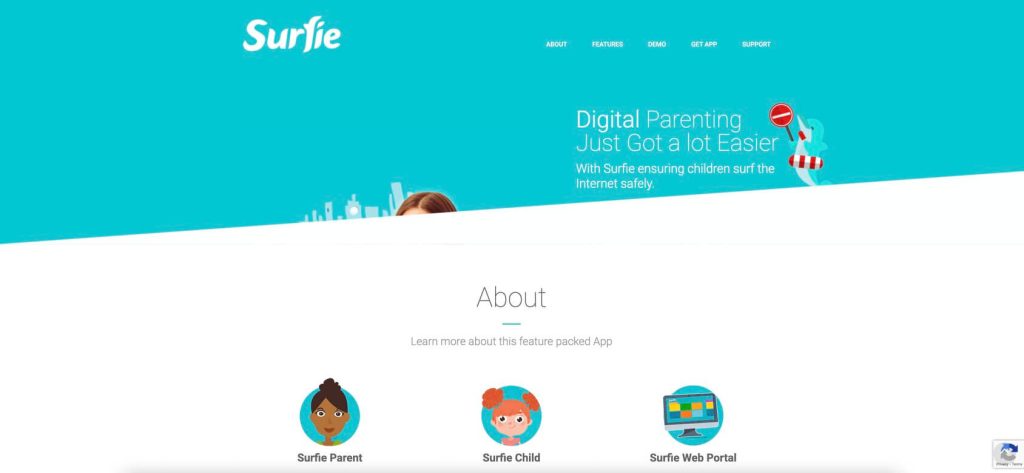 Surfie is a digital parenting solution for ensuring your kids' safety while surfing the web. You can harness its power to manage and customize content and internet use according to your child's age. Surfie excels in giving you complete control over your child's digital activity.
You can receive alerts when your children take specific actions, monitor digital use, define age-appropriate boundaries, and take every step necessary toward understanding your kids' online needs.
Key features
Online safety network – block or filter out inappropriate content to ensure that your kids have the best online experience while surfing the web.
Screen time management – schedule parental controls quickly and easily on the go.
Social media protection and networking – protect your kids against cyberbullying and help them avoid online sharks.
Geofencing – determine safety zones for your kids and receive alerts when they leave safe areas.
Surfie Parent/Child – receive 24/7 access to your child's devices and set up prevention measures to keep them safe from online risks.
Pricing
We couldn't find any pricing information on the official Surfie website.
Visit Surfie for additional information >>
Locategy — Top location-tracking capabilities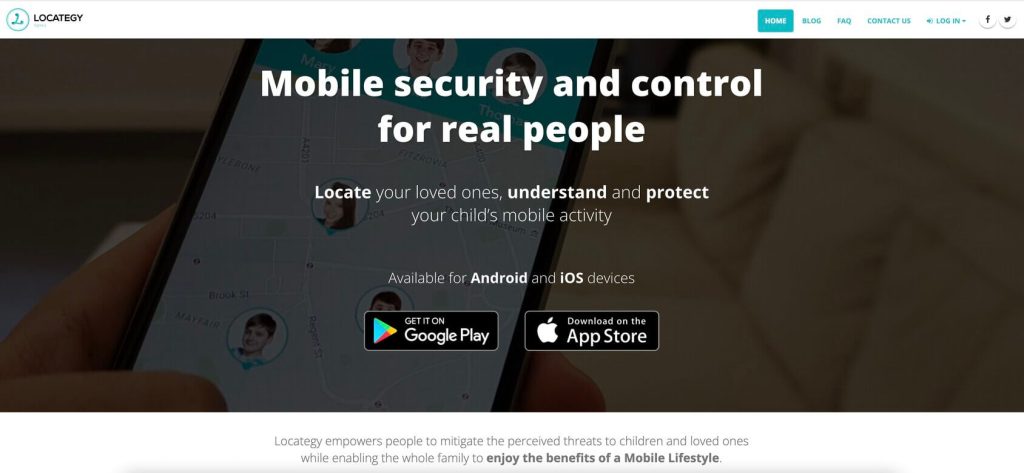 Locategy equips you with app blocking, geofencing, activity reports, and a user-friendly interface to take some of the pain out of parenting in the digital age. It makes keeping tabs on your child's locations and online activity as easy as possible.
Available in free and premium versions, Locategy provides an intuitive monitoring app for iOS and Android with excellent location tracking features, app blocking, and internet usage schedules. Parents can quickly locate their kids anytime, protect their online activity, and mitigate potential risks.
Key features
Location tracking – use Locategy to track your kids' real-time location with a simple tap.
App time limitation – set limits to application usage time to help your kids develop healthy online habits and avoid screen time addiction.
Location alerts – set locations and receive notifications when your child reaches or leaves them.
Location history – access a comprehensive view of the recent and current location history.
Device monitoring – use your smartphone to monitor your kids' devices.
Pricing
Locategy has a free trial plan plus it provides three pricing plans for the premium version: a three-device plan, a five-device plan, and a ten-device plan.
Premium for three devices 
$4.99 per month

$29.99 per year
Associate three devices with three Locategy licenses and receive access to 24/7 customer support from your mobile or PC browser.
Premium for five devices 
$6.99 per month

$39.99 per year
Associate five devices, access 24/7 customer support, define as many locations as you wish to monitor, receive alerts when your kids leave or reach those places, and block as many apps as necessary to protect your children.
Premium for ten devices 
$11.99 per month

$69.99 per year
The ten-device premium plan gives you access to a full suite of Locategy features such as remote data deletion on demand, access to web activity and history, complete control over app usage, and automatic detection and mitigation of cyber threats such as ransomware and malware.
Visit Locategy for additional information >>
Choosing the best parental control app for your kids
Choosing the best parental control app for your children revolves around your parenting style, kids' age, and unique needs. Here are several factors to consider when deciding on parental control software for your family.
Functionality
Functionality should be your primary concern as it determines which features are most suitable for your unique parenting style.
Some essential features of parental control and monitoring apps include panic alerts, location tracking, social media monitoring, activity reports, and web filtering.
Consider your child's most frequent online activities and use those insights to decide which features best suit your needs.
Usage
Think about the best ways to use your parental control app concerning your child's privacy. Most parental control software solutions respect your kids' privacy.
We recommend choosing a solution that offers a secure and safe digital environment with an easy-to-use setting for your child. A top-grade parental control software tool should be easy to use and navigate.
Flexibility
When it comes to flexibility, there are two factors to take into consideration:
The age of your child; and
The types of devices in your home.
For younger children, you should look for a parental control app with features such as activity reports and web filtering. For older children and teenagers, we recommend solutions with more advanced options like social media, text, and email monitoring and protection.
The type of devices that your children use also helps to determine the app that will work best for your needs. For example, if your kids prefer using smartphones, you'll need software compatible with their operating system and digital preferences. On the other hand, apps with features like web filtering work better on desktop devices.
A solution that caters to both environments might be the best option. In addition, we recommend choosing an app that allows you to set specific rules for scenarios such as usage time, websites, different devices, and more.
Intuitiveness
Intuitive parental control apps use AI-powered technologies like machine learning to scan for potential risks and cyber threats such as profanity, sexual content, violence, and other inappropriate content.
These tools provide all of the necessary features for mitigating online risks and adjusting sensitivity levels according to your child's age. Intuitive apps are less invasive and only send alerts when they detect something potentially concerning or problematic.
In addition, they provide a full range of valuable features such as safe browsing, social media monitoring, and app blocking.
Security and privacy
Nowadays, children spend a lot of time online. Therefore, parents need reliable parental control apps that they can trust. The best way to ascertain the trustworthiness of an app is to check its privacy and security policies.
Such policies should clearly state that the app won't sell or share sensitive data with third parties. It should also keep its security protocols transparent so that you possess the only credentials to change settings for your children.
Downloading and installing an untrustworthy application on your child's device can endanger your child in various ways. Safety, security, and privacy come first when deciding on the right parental control software solution for your children.
Price
Affordability is one of the most significant considerations for parents, primarily if they're operating on a tight budget. However, the price also determines the range of features that you'll receive in a parental control app.
Although there are free apps, we don't recommend relying solely on them. Instead, look for premium solutions that fit your budget and parenting lifestyle.
Best of the best
When choosing a parental control app, you want to ensure that you get your money's worth. With this in mind, we've handpicked some of the best software solutions from our list that fit different scenarios and situations.
Best for keeping kids safe online
Best for social media
Best for home monitoring for free
FAQs
What is a parental control app?
A parental control app allows you to monitor your kids' digital activity and protect them from inappropriate content, harmful behavior, and cybercrime. 

Users download and install these tools on preferred devices to access a user-friendly dashboard or an interface that allows them to limit, block, and monitor activity on a child's tablet, laptop, phone, or computer. 
How do I use a parental control app? 
You must download and install the app on your device to use it. A parental control app provides insights into your kid's text message history, web searches, overall screen time, web and app usage, and more. 

You'll receive alerts and push notifications if your app detects any suspicious activity or concerning words in your kid's text messages or search history. Some apps allow you to filter out inappropriate content, lock questionable apps, and block explicit websites. 
Is there any free parental control software? 
Although using freeware can expose you to certain risks, there are free parental control software solutions that are safe to use. Spyrix Free Keylogger is such a solution that allows you to use all of its features for free. 
Can I block sites with parental control software? 
Yes, you can. Parental control apps like Net Nanny analyze websites and apps individually and filter the content that your children are accessing. It also uses advanced filters for applications, online streaming services, and web browsing to ensure that your kids don't interact with inappropriate content. 
Conclusion
All parental control software tools on our list are top-class solutions that can help to keep your kids safe online.
While no software is ever perfect, these service providers offer well-rounded features that can make monitoring your child's digital activity more straightforward and streamlined. All services provide a clean, user-friendly interface and are compatible with most devices that kids use today.