How Much Does It Cost to Start and Run a Blog?
FirstSiteGuide is supported by our readers. When you purchase via links on our site we may earn a commission.
Read More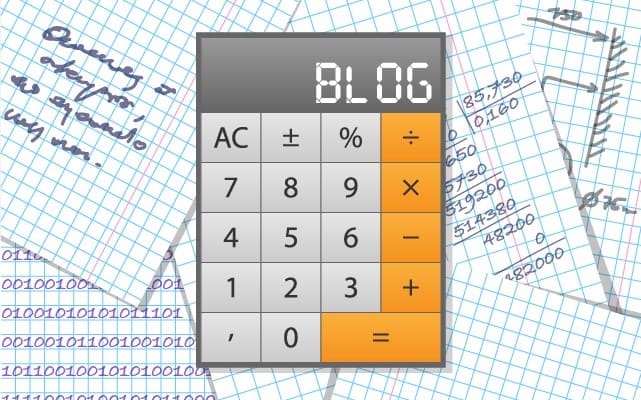 Writing a few articles as a hobby on some of the free blogging platforms is one thing, but being a professional and running a full-time blog is entirely another thing. The first one comes at no cost, except, of course, your time. And it is a viable option if you want to keep things casual.
For those of you who want to be anything but casual when it comes to blogging, there are certain costs that you have to know. Paying for the things listed here will help you to set yourself apart from the casual bloggers and reach success in the long run. So, let's see how much it costs to run a blog.
Blogging hardware costs
Professionals handle blogging in a completely different manner than the casuals do. They usually use a reliable laptop, a decent webcam, a quality microphone and a DSLR with a couple of additional lenses. Here is why you need it, what the entry-level gear is and how much it costs.
A decent laptop
Using the laptop as a blogger has many benefits over using a desktop computer. The main being, of course, the ability to write and maintain your blog and other things related to it from any location you choose. You need something reliable, with long battery life, HD screen, at least 8Gb RAM, at least an i5 processor and yet nothing too big or heavy.
If you prefer Apple over PC, you can't make a mistake with the MacBook Pro 15-inch, you will get a reliable and incredibly fast laptop. It packs serious hardware, so you will be able to use it for photo and video editing as well. With a battery life of 10 hours, you will get yourself a serious piece of hardware that will serve you well for at least a couple of years. The price tag on this one is $2,399.
If you are not an Apple fan and want to spend a lot less but still have approximately the same power, the HP Envy with a 13.3 inch full HD display can make this possible for you. It packs 8GB of RAM, the latest generation i5 processor, and 256Gb SSD. The price tag on this one is $679.
Webcam and microphone
Since the modern audience prefers to meet the person behind the blog, you will also need a decent webcam so that you can make some quick vlog posts while you are traveling, for instance. To cut the things short, you should stick with Logitech, since their cams come with the best performance-to-price ratio.
If you want higher quality video, Logitech HD Pro Webcam C920 offers what you need. It costs $100. On the other hand, you can get Logitech HD Webcam C270 for $40. Keep in mind though, that if you want to film videos in front of a green screen, the more expensive option supports it.
To record the sound of better quality, you will also need a microphone. You can use it while recording for vlogs or very common for podcasts. You won't need anything that fancy, Audio-Technica ATR2100 is ideal for this purpose and it costs $69.
DLSR and lenses
It is not by chance that the image has become the most valued type of content by digital marketers. It has the power to capture a viewer's attention to engage the audience. If you want to add more value and uniqueness to your blog, you should consider taking your photos.
The good entry-level camera for bloggers is Nikon D3300 18-55mm VR Lens Kit. It packs everything you need, and it costs $450. It's better to get the kit because it is much cheaper than to buy a camera body and lens separately. If your blogging niche requires you to use zoom when taking photos, you should consider an 18-200mm lens. It will cost you another $450.
Having multimedia tools for your blog niche will most certainly help you create better content and build your audience faster.
Blog hosting costs
There are many hosting companies online. You want to make sure to have your blog website hosted by a trusted company to avoid any inconveniences, such as frequent downtimes or poor customer support.
The hosting services provided by many hosting companies will cost you from $2 to $20 per month. This price may go up if you want any of the advanced plans offered by these providers.
Our recommended hosting provider, Bluehost, is providing a special offer for our visitors that includes a FREE domain name. If you don't like their services, they offer a 30-day money-back guarantee.
Blog domain costs
The domain name is important, as it will be your blog name, thus tied to your brand identity. It will add more credibility and increase the level of professionalism of your blog. You can purchase a domain name from a registrar or a hosting company.
The average cost of a .com domain, for instance, is around $14 per year. When purchasing a domain name, make sure that you are the one who will own it. We are saying this just as a precaution. Or you can always use Bluehost and get a Free domain name when you sign up for the hosting account.
Blog design costs
You have three options here. You can go with something completely custom-designed, specially tailored by professionals, and built from the ground up to meet your unique needs and requirements. The other choice is to go with WordPress and buy one of the favorite themes for blogging or get a theme and further modify it. There is one more factor that changes the price of the design process – and that is if the work is going to be done by a company or a freelancer.
The cheapest option is to go with a ready-to-go WordPress theme. Themes suitable for bloggers can be bought for $30 to $60.
Please be aware that these cost projections are approximate since we don't know how many and what type of customizations and website functionalities you may require. Customization of a free or paid blog theme that doesn't include changes to the structural theme design can cost you up to $500.
In the price range between $500 and $2,500, you can get a highly customized unique theme for your blog. On the other hand, for an entirely unique design with increased functionality, you will have to set aside $2,500 and more. The costs go up significantly since there is no theme to be adjusted and a team of people will build your website.
If you want to sail into the professional waters, you will also need a custom header and logo design. Thanks to the different freelancer platforms online, you can get this service done for under $100.
Content writing costs
If you are running a pure blog website, you can grow it organically. You can write one or eventually two high-quality posts per week. Organic blog building takes significant time and effort.
You can speed things up by purchasing the copywriting services of other writers. Just look up the ones who have experience writing in your niche on any of the freelance platforms. The hourly rate of the copywriters goes from $15 to $50.
On the other hand, if you are running a business and want to run a blog section on your official website, at the start it is much better to pay for the content than to hire a full-time copywriter if you don't have one on your team.
In case you were wondering when you will start to receive offers from contributor writers, here is your answer. Once your website has a domain authority of 35 or above the influx of offers made by contributors will start to grow.
Since most of these offers are made as part of some backlinking campaign, you want to check each offer and make sure the article is relevant to the title and that there are no links that may damage your reputation and domain authority.
Advertising costs
There are numerous ways to promote and advertise your blog that won't cost you anything but your time. But if you already have quality content on your blog, you can pay for promotion and advertising to push things in the right direction.
Google AdWords is Google's service that can be used to promote a blog on Google Search. The good thing is that you won't get charged when the link to your blog is displayed. Your account will be charged only if anyone clicks on it.
You can set and change the pricing model anytime you chose or start, pause and stop your advertising campaign whenever you see fit. You will be able to set the cost and have complete control over your budget. The price varies depending on your choice of keywords. Each click may cost from $1 up to $50.
A Facebook advertising campaign can be used to target your audience precisely. The price will vary depending on the size of the audience and your niche. It may be $0.16 up to $1+ per click.

On Twitter, you can use promoted tweets, accounts and trends. Promoted trends will cost you $200,000 per day. This plan is not suited for bloggers, but promoted tweets and accounts are. These will cost you $0.50 to $4 per engagement.
LinkedIn advertising costs depend on your targeting settings and competition. The average cost per click sits at around $2.
Blogging software
Fortunately, the vast majority of software tools needed by bloggers are free. Take Google Docs for instance. However, some tools might help you become more efficient at what you do.
A speech recognition tool will help you to transcribe text through voice. These types of tools have evolved, and they are capable of recognizing precise terms and acronyms tied to different niches. They are also capable of learning new phrases and words. This software goes for anywhere between $35 to $80.
To sort your ideas and never lose track of them, you can consider buying project management and writing tool. This type of two-in-one software can help you store, sort and structure your ideas on the go. If you are writing 10x content, these tools can be of much help. The average price of these is $40.
Proofreading, editing, and fine-tuning your content are also essential. Some tools can help you with this. You will get the grammar and spell checks, great customization of writing style, and advanced vocabulary enhancement. This software service goes for around $30 per month.
Grammar tool that we use and recommend is Grammarly.
Since many bloggers use WordPress as their blogging platform, we are going to mention premium WordPress plugins too. Headline optimizers are something that any blogger should consider. These plugins use engagement metrics and check whether the content lives up to the headline to determine which headline is the most accurate and has the most engaging potential. The average price for these is around $70.
Conclusion
If we sum the things up, here is how much it costs to run a blog in two different scenarios.
| | | | |
| --- | --- | --- | --- |
| | Price | Beginner Blogger | Pro Blogger |
| MacBook PRO | $2399 | | X |
| HP Envy | $679 | X | |
| Logitech HD Pro Webcam C920 | $100 | | X |
| Logitech HD Pro Webcam C270 | $40 | X | |
| Audio-Technica ART2100 | $69 | X | X |
| Nikon D3300 VR Kit Lens | $450 | | X |
| Zoom 18-200mm Lens | $450 | | X |
| Web Hosting | $20 / month | X | X |
| Domain Name | $14 / year | X | X |
| WordPress Theme | $45 | X | X |
| Customization | $500 | | X |
| Completely New Design | $2500 | | Optional |
| Copywriter | $33 / hour | | X |
| Advertising | Depends on the scope and duration of your strategy | X | X |
| Speech Recognition Software | $35 | | X |
| Project Management/Writing Tool | $40 | | X |
| Proofreading | $30 / month | | X |
| WordPress Plugins | $69 | | X |
| Total Initial Expenses | | $867 | $4,221 |
| Total Monthly Expenses | | $21 | $51 |