Free FirstSiteGuide Tools
FirstSiteGuide is supported by our readers. When you purchase via links on our site we may earn a commission.
Read More
Free FirstSiteGuide Tools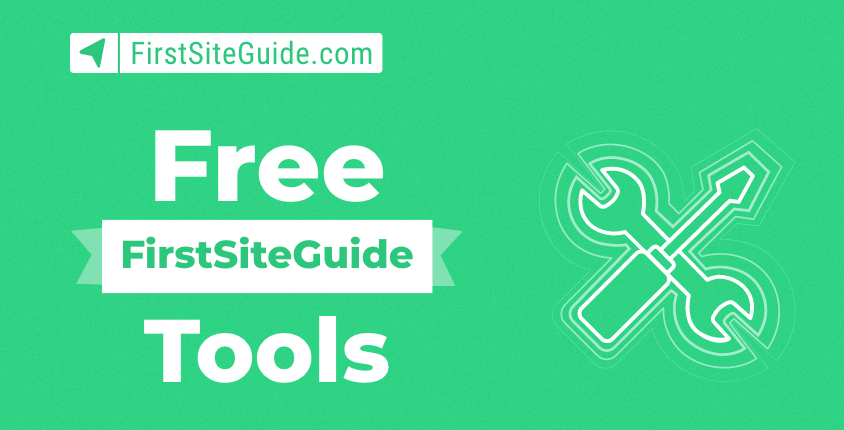 If you are just now entering the online business world, you certainly know that there are a lot of steps ahead of you necessary for getting your business off the ground and setting the course for success.
Every beginning is challenging, especially when you start building your blog or website for the very first time and start working on all the strategies for growing them and making them effective. This is why you need to have some great tools at your disposal, and FirstSiteGuide is here to help.
What kind of free tools does FSG offer?
Our free FirstSiteGuide tools can help you launch a website or blog and quickly and easily achieve the results you want.
They are not website builders, but they can be incredibly useful when you are building your website or blog, as they can make the process significantly easier by providing you with a lot of other useful information for making your website beautiful and secure.
You can also check whether or not a particular domain name is available, as that is one of the first necessary steps for building a website.
Furthermore, you can use our free FirstSiteGuide Lookup Tool to crawl and analyze any website you want and find out which technologies they use and how good their performance actually is. This is a very beneficial tool for analyzing your own site, as it can provide you with useful information regarding your keywords, page speed, page tags, and loads of other attributes.
List of free tools
All of our tools are completely free of charge and you can easily use them on our website. With just a few clicks, you can get the information you need and use it to create a relevant, visually appealing, and highly secure website or blog.
If you are looking for the best tools for helping you start a blog or build a website from scratch, you have come to the right place. Our free FirstSiteGuide tools are designed with incredible ease of use in mind, so you don't need to worry about jumping through hoops to find your way.
All these tools are available to you 24/7, so you can use them anytime you need them. Moreover, you can seamlessly use them on any device you want, without any friction whatsoever. Check out the list of all our free tools below and feel free to try them all to see for yourself what benefits they offer.
Conclusion
If you are a new webmaster, you need plenty of tools to ease your way into launching your website or blog and help you get everything up and running quickly and effectively. Rest assured that our free FirstSiteGuide tools can help you achieve your desired results.