Why Capturing Email Is So Important for Your Website & How to Do It
FirstSiteGuide is supported by our readers. When you purchase via links on our site we may earn a commission.
Read More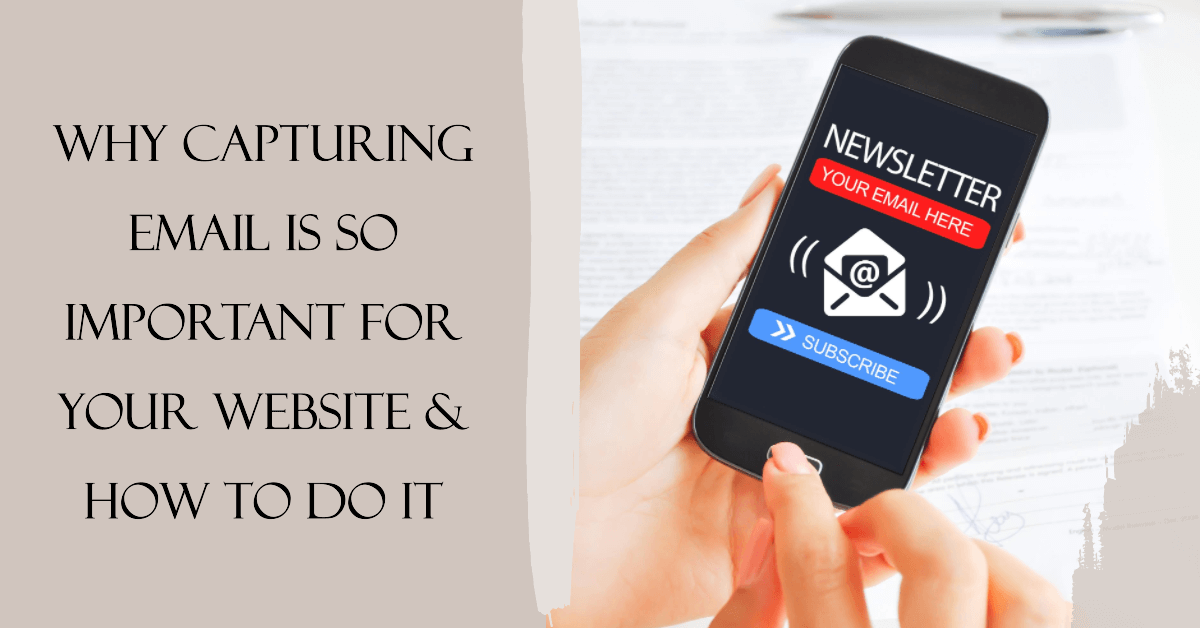 Growing your email list is essential for online marketing and has a multi-faceted effect on your marketing results. It helps you engage potential customers, build relationships, grow revenue, and expand business opportunities.
Email might seem like an outdated marketing channel, but it's still one of the most effective techniques you shouldn't neglect. How can you capture more emails on your website and turn them into results? Here are some tips for doing it effectively.
Top 8 ways of capturing emails on your website
The best ways to capture emails on your website are to use newsletters, CTAs, pop-ups, exclusive content, and ads, streamline the sign-up, add gamification, and display the benefits of becoming a subscriber. 
1. Display your newsletter around the site
Offering newsletter sign-ups is a no-brainer, but you must promote it everywhere around your site. Pop-ups should be your primary tools, but you can set them up in various locations. One of the most effective places to offer newsletter sign-up is your blog.
Find a good email marketing tool that works well with your website and lets you display your newsletter in different locations while giving valuable insights to help you test various options and fine-tune your placements.
2. Create powerful CTAs
Strong call-to-action messages have always been a staple of growing an email list. The CTA message informs visitors about the subscription option and showcases the benefits. For example, your contact form can say, "Get your weekly discount here," which informs customers what they will get for submitting their email.
Remember that internet users see hundreds of ads daily and that your CTA should be value-driven if you want to get their attention.
3. Add pop-ups with special offers
Pop-ups are an excellent way to collect emails. You can create email opt-in forms within pop-ups and display them directly to your visitors since they are usually tucked away in the corners of pages, and people rarely pay attention to them.
However, they can't be annoying appearing on their own without a "hook," so include special promotions like exclusive discounts, complementary offers, or gifts.
4. Offer exclusive content to email subscribers
Many companies, especially B2B organizations, create exclusive informational content that gives their target audience exceptional value and reflects their fundamental interests.
That includes free software trials, tutorials, white papers, case studies, webinars, and e-books. Offering this kind of content to email subscribers is an effective technique.
5. Create ads
Using ads is one of the most cost-effective options for gathering email subscribers quickly. With a solid budget, you can get hundreds of subscribers monthly. With the correct targeting and user segmentation, you can get on marketing platforms and gain valuable leads interested in your products or services.
Research your target audience and target them with ads by behavior, location, age, marital status, etc. 
6. Make the sign-up process easy
The sign-up process should be simple and quick. If you've convinced people to give you their email addresses, don't push them away with a complex process.
Ask only for their email, not their phone numbers, location, or additional information. The process should be straightforward and have a maximum of two fields (for example, their email and name).
7. Use gamification
Many online stores use website gamification. They have created games for customers to get rewards and discounts. You can offer a game as exclusive content available only to email subscribers. 
On the other hand, you can create a whole ecosystem of progress where customers can take specific actions on your site daily or annually to qualify for discounts and level up their accounts, which will open up discounts or special offers.
You can even create competitions for email subscribers and draw monthly winners to reward them for their efforts.
8. Show clear benefits of becoming a subscriber
If you want to convince people there's meaning in subscribing to an email list, create meaning. Offer something your target audience needs or wants, and quickly tell them how they will benefit from subscribing to your email newsletter.
Regardless of the CTA, form, or incentive you use, send clear messages and constantly create campaigns that reward subscribers for their loyalty.
Conclusion
Once you've built an extensive email list, use it to your advantage and engage customers further to create loyal people who will sustain your organization for a long time. Start small by welcoming prospects and continue by engaging them regularly with drip email campaigns, CRM insights, and workflow automation.