Top Instagram Statistics for 2023
FirstSiteGuide is supported by our readers. When you purchase via links on our site we may earn a commission.
Read More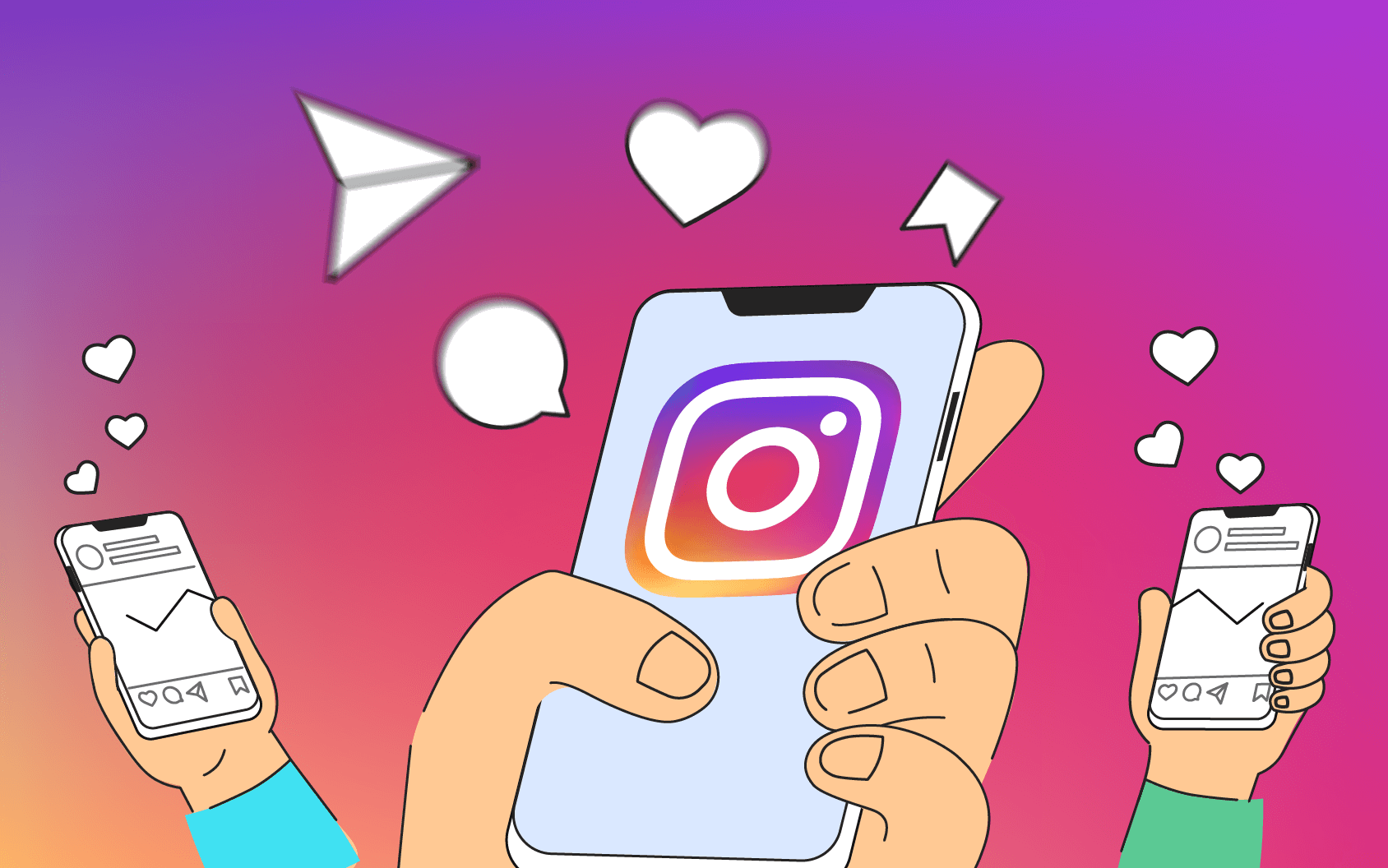 Instagram has been around for almost 12 years now, and it's become the dominant force in the social media realm. If you compare the first version of this most popular social network to the most recent version, you'd be surprised at how much Instagram has changed over the last decade.
However, the most significant change came with the COVID-19 pandemic. 2021 made Instagram a global force to be reckoned with.
If you're running a business today, Instagram is one of the most critical tools to use on the web, especially when it comes to promoting your brand. Also, Instagram users trust the network and view it as the most trusted and authoritative source for reputable and accurate information.
If you're about to start planning your digital marketing strategy, having the latest, up-to-date facts and figures about Instagram might be the only leverage you need to boost your performance and take your business to the next level.
Let's review the most important Instagram stats for 2023.
Top 10 Instagram Statistics
Instagram will reach 1.22 billion active users every month by 2023.
Instagram users spend an average of 30 minutes using the network every day.
81% of internet users rely on Instagram to research services, products, and businesses.
50% of internet users have purchased a product or service recommended/advertised by Instagram.
Instagram advertisers can reach more than 235 million users.
Half a billion users use the Instagram Stories feature every day.
Instagram's gender ratio is 49% male and 51% female.
130 million Instagram users tap shoppable posts every month.
88% of Instagram users come from outside of the US.
95 million videos and photos are shared on Instagram daily.
General overview of the most important Instagram statistics
Since Instagram is so important to both businesses and average internet users, let's take a look at some of the most important statistics regarding one of the largest social media networks on the web.
1. The number of global Instagram monthly users is expected to reach the 1.2 billion mark by 2023.
In 2019, Instagram had almost 815 million users who used the platform for content sharing every month. This number is expected to increase to 1.2 billion monthly users by 2023.
(Source: Statista.com)
2. India was the leading country with over 201 million Instagram users as of October 2021.
According to recent statistics, India was the leading country based on the number of Instagram users in 2021, followed by the US and Brazil. As of October 2021, India had over 201 million users, the US had over 157 million, and Brazil had almost 115 million.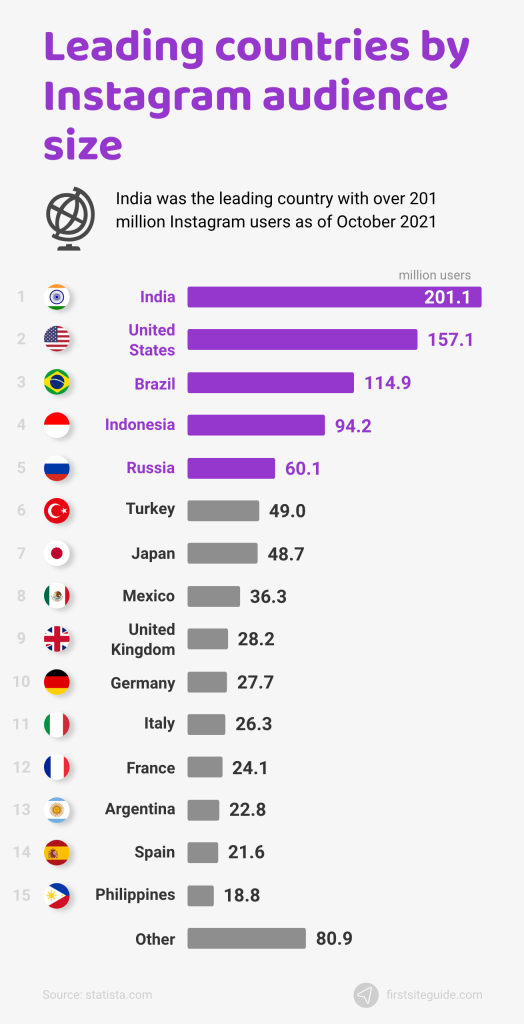 (Source: Statista.com)
3. 32% of global Instagram audiences ranged between 25-34 years as of October 2021.
As of October 2021, around 32% of Instagram audiences worldwide ranged between 25 and 34 years of age. According to the same stats, over ⅔ of global Instagram users were aged 34 years or younger.
(Source: Statista.com)
4. The most popular Instagram post generated 55.1 million likes as of June 2021.
As of June 2021, the most popular post on Instagram is a photo of an egg posted by the account @world_record_egg. The image generated 55.1 million likes. The second most popular post is Ariana Grande's wedding photos, generating 26.3 million likes.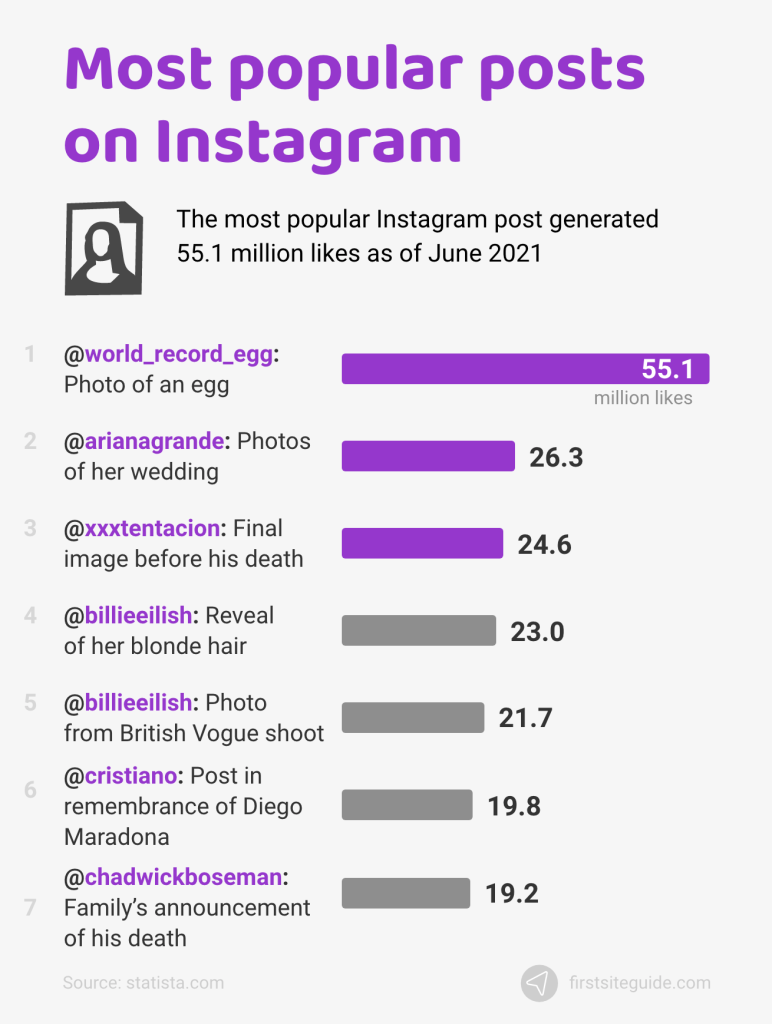 (Source: Statista.com)
5. 47% of Instagram audiences have an annual income of more than $75,000 in the US.
According to recent studies, 47% of Instagram users located in the US generate an annual income of more than $75,000.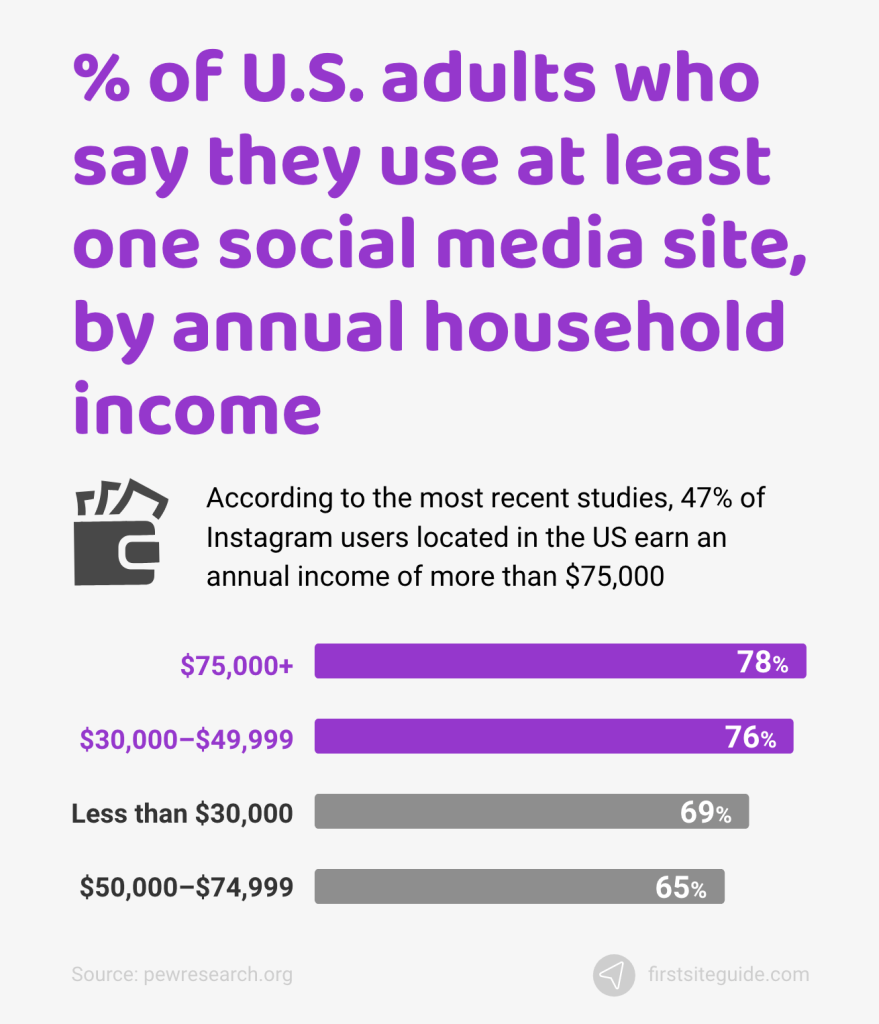 (Source: Pewresearch.org)
6. Instagram's account is the most popular account globally with over 369 million followers as of July 2021.
The Instagram account with the most followers globally in 2021 belongs to the platform itself, with over 369 million followers. The second place account belongs to the popular footballer, Christiano Ronaldo, with nearly 244 million followers.
(Source: Statista.com)
7. Instagram achieved 52% growth in US ad revenues in 2020.
According to a recent forecast, Instagram is expected to reach over $26 billion in US ad revenues, achieving 52% growth. That is over 50% of parent Facebook's 2021 net ad revenues.
(Source: Emarketer.com)
8. Higher Ed achieved the highest Instagram engagement rate/post with a 3.19% increase.
Despite experiencing a decrease in Instagram engagement rates by 25% in 2021, industries like Sports Teams and Higher Ed still managed to come out on top. Higher Ed increased its engagement rate/post by 3.19%, while Sports Teams saw a 1.79% increase. The overall median posting frequencies also saw a slight decrease by 8% on Instagram across all industries.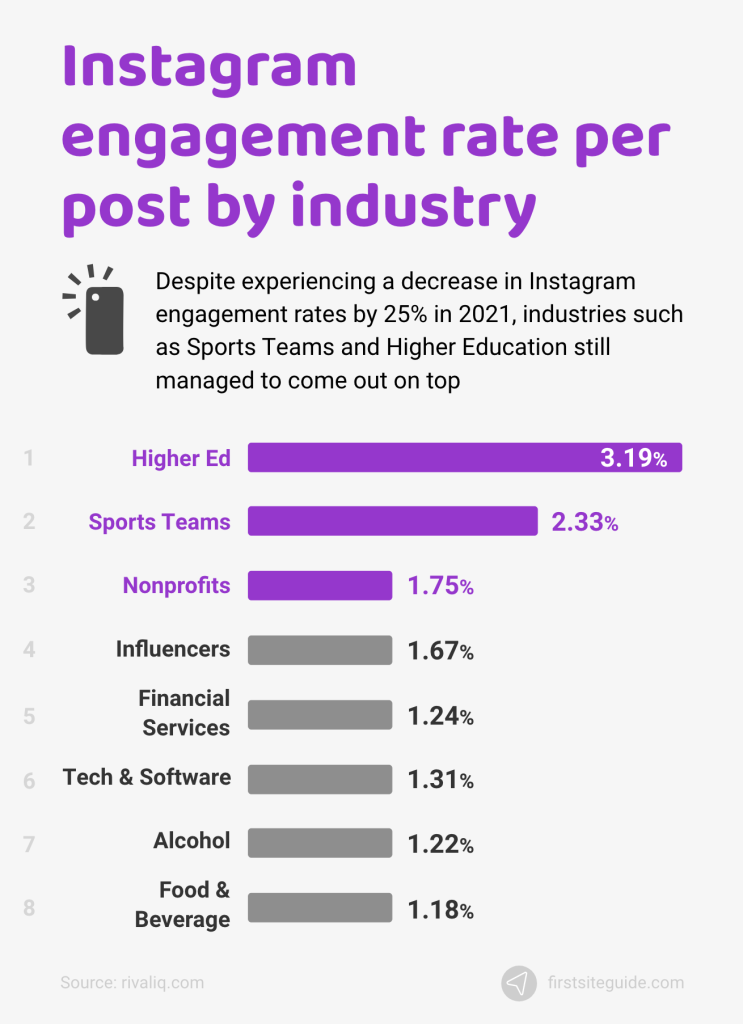 (Source: Rivaliq.com)
9. Kazakhstan was the country with the highest reach (78.7%) on Instagram in 2021 worldwide.
In 2021, the list of countries with the highest Instagram reach included the following:

Kazakhstan – 78.7%
Brunei – 68.4%
Iceland – 66.5%
Sweden – 66.5%
Kuwait – 65.7%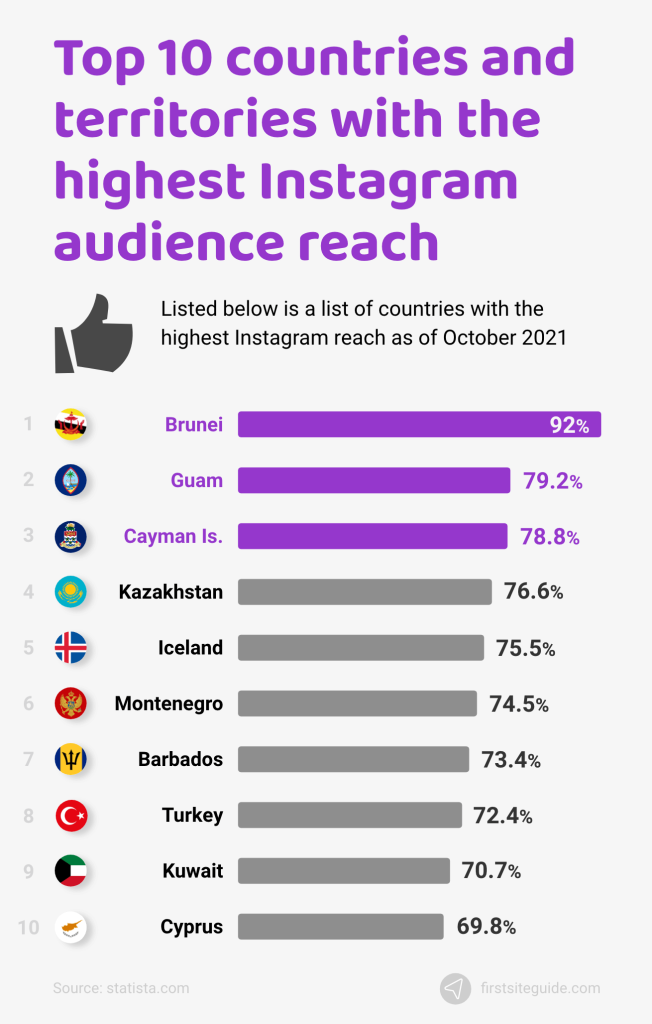 (Source: Statista.com)
10. 68% of internet users use the Instagram platform to interact with businesses.
68% of people with internet access say they visit Instagram to get in contact with popular creators. The platform offers many useful options to modern businesses, such as Branded Content ads among many other features.
This allows modern brands to convey their brand messages in creators' voices to reach wider audiences, expand to new markets, and measure their performance.
(Source: Business.instagram.com)
11. There were 200 million business accounts active on Instagram worldwide in 2021.
In 2021, there were over 200 million business accounts worldwide on the Instagram platform that people visited daily. According to the same research, around 90% of platform users follow at least one brand.
(Source: Business.instagram.com)
Top Instagram marketing statistics
Modern businesses rely heavily on social media platforms to market their products and services, build a trustworthy reputation and image, and grow brand awareness. Since Instagram plays a critical role in the digital business realm, let's look at some of the latest, most important Instagram marketing statistics.
12. 83% of Instagram users use the platform as a digital marketing hub for discovering new products and services.
Social media marketing can do wonders for brand recognition, image, and awareness. That is the biggest reason why Instagram quickly became the number one digital marketing channel for modern businesses.
According to recent studies, 83% of Instagram users say that the platform helps them to find top-rated brands and discover new products and services. Also, 74% of Instagram users consider businesses with Instagram profiles authoritative.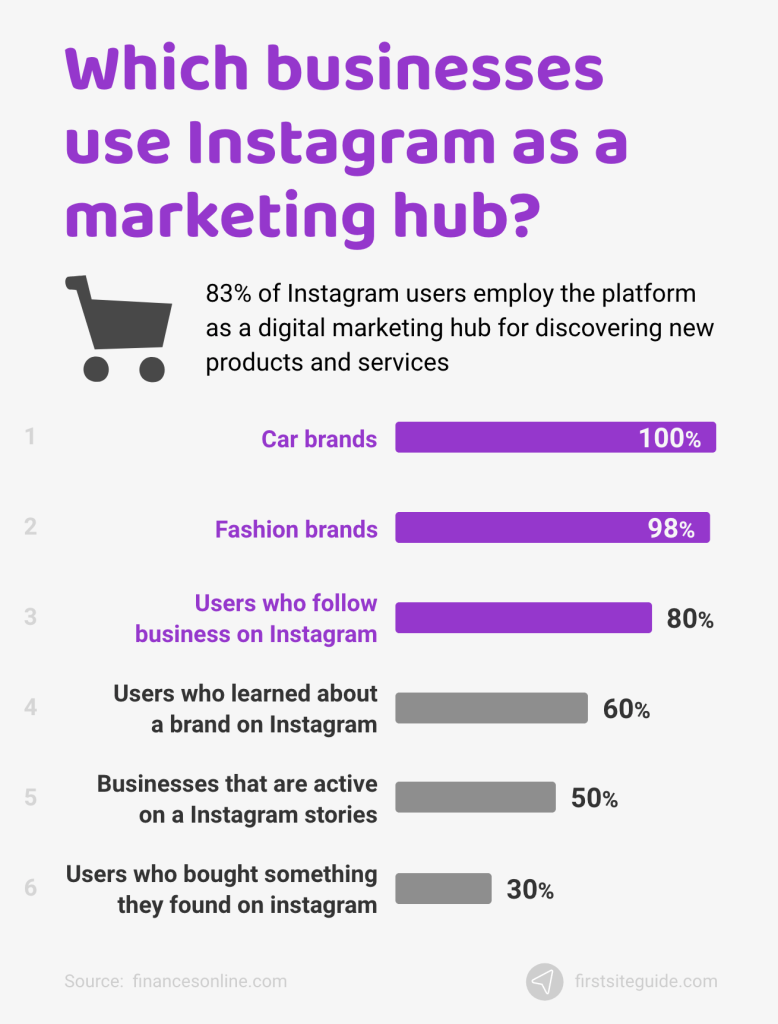 (Source: Financesonline.com)
13. 29% of businesses spend almost half of their marketing budget on Instagram ads.
Businesses spend lots of cash on social media ads. According to the most recent stats, 50% of companies spend half of their marketing resources on social media ads, with 29% of their marketing budgets going to Instagram ads.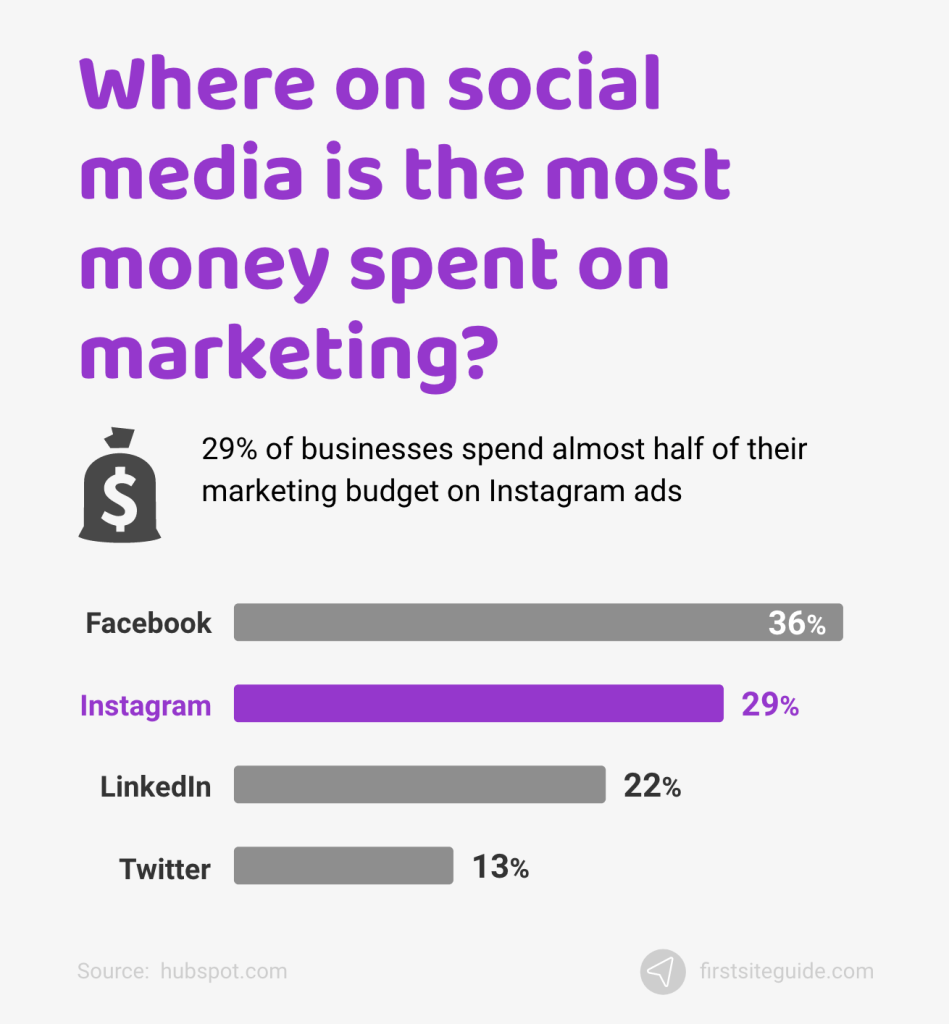 (Source: Hubspot.com)
14. 36% of business leaders rely on Instagram to make better decisions on researching new products and services.
According to the most recent B2B research, 36.2% of modern business leaders and decision-makers use Instagram to research the most trending products and services.
(Source: Blog.hootsuite.com)
15. 60% of modern consumers use Instagram to get new product recommendations.
Modern consumers rely heavily on social media platforms to discover top brands, products, and services. 60% of them use Instagram to discover new products.
(Source: Business.instagram.com)
16. 200 million Instagrammers visit at least one business account every day.
The most recent studies have shown that 200 million Instagram users visit at least one business profile daily. Around 70% of Instagrammers turn to the platform for product recommendations.
Instagram is also quite popular among influencers. The platform gathers over 500,000 active influencers, and almost 69% of businesses rely on influencers to run marketing campaigns.
(Source: Instagram.com)
17. Influencers earn from $100-$3,857 for providing their services on Instagram.
The most recent forecasts for 2021 indicated that 67.9% of US businesses would rely on influencer marketing for paid or unpaid campaigns. Instagram influencers earn high rates for providing their services to a wide range of users. The rates vary depending on the type of service.
The going rate for YouTube videos is higher than on other platforms, ranging from $315 to $3,857, depending on how many followers the influencer has. Brands are willing to pay a premium depending on what they need.
Here is the list of influencer rates worldwide:
$100–$2,085 for an Instagram post;
$114–$3,138 for an Instagram video;
$43–$721 for an Instagram story;
$315–$3,857 for a YouTube video; and
$31–$2,400 for a Facebook post.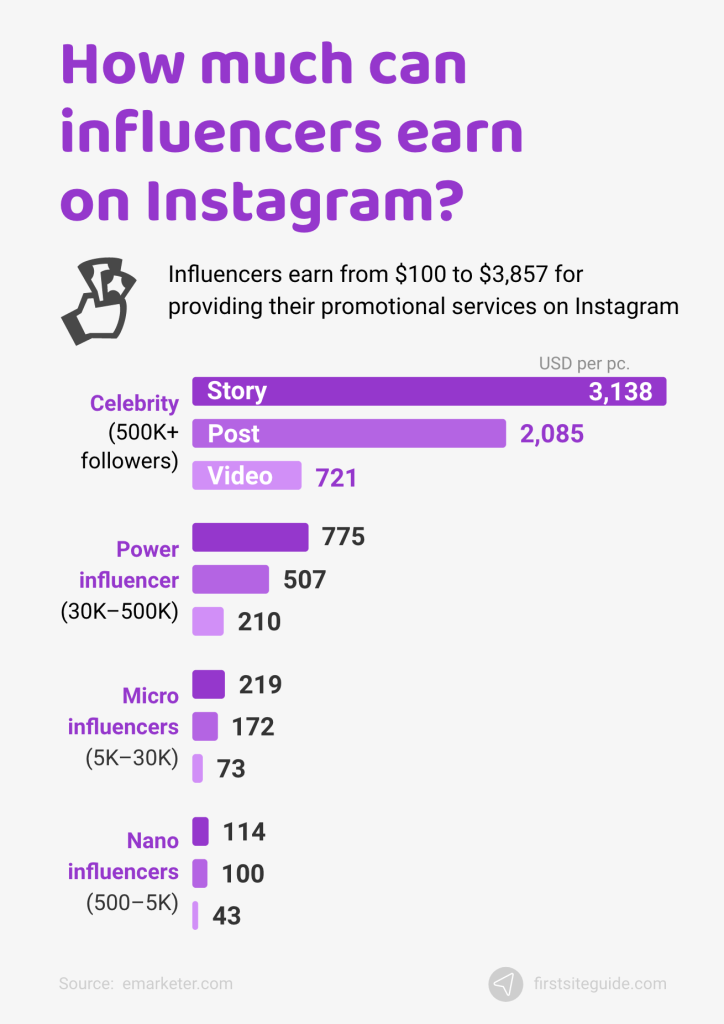 (Source: Emarketer.com)
18. 50% of top challenges of influencer marketing include identifying inauthentic engagement and fake followers.
According to a 2019 survey conducted with 162 marketers at B2B businesses, consumer-facing brands, and marketing agencies, here are the main influencer marketing challenges:

Identifying inauthentic engagement and fake followers;
Low content visibility due to changes in social media algorithms;
Running always-on marketing campaigns instead of using one-off marketing strategies;
Handling rising influencer costs;
Staying relevant by monitoring the latest social media trends;
Developing a strong creative strategy;
Making marketing campaign management more time-efficient;
Brand alignment and brand safety;
FTC requirements and regulations;
Tapping into emerging channels; and
Shifting influencer marketing to in-house.
(Source: Emarketer.com)
19. The highest-earning account on Instagram belongs to Cristiano Ronaldo who earns up to $1 million for a single post.
A recent analysis from 2019 revealed the highest-earning Instagram profiles by ranking celebrities by their annual average earnings from the platform. First place was awarded to Cristiano Ronaldo's profile with 187 million followers.
Businesses can pay up to $1 million for a single post on his profile. Second place goes to Lionel Messi, earning $23.3 million per year. Kendall Jenner comes in third with $15.9 million in annual Instagram earnings.
(Source: Buzzbingo.com)
Top stats on Instagram promotions
Running marketing campaigns on Instagram is one of the most effective ways to increase sales in the digital business realm and find your place in the eCommerce space. 60% of Instagram audiences use the platform as a marketing hub for discovering products and services and doing research on competitors.
Both eCommerce brands and retailers alike are relying on the platform to drive more traffic to their existing storefronts. With that in mind, let's quickly review some of the top Instagram promotion statistics.
20. Over 50% of Instagram audiences use the Explore feature on a monthly basis.
The Explore page has become quite popular in the past few years. More than 50% of Instagram users rely on this option to discover new accounts to follow and discover new and interesting content. Brands are also very fond of this option as it helps them to gain more visibility and exposure. Businesses often use the Explore feature to attract new followers.
(Source: Business.instagram.com)
21. You can get 79% more engagement on Instagram if you include a location in your posts.
Posts with a location can greatly increase the reach and user engagement on Instagram. Some studies indicated that geotagged posts with a location achieve up to 79% more engagement than posts without a location.
Instagram locations can be either the location of an actual business or geographic location, depending on what type of Instagram account is being used. If it's a business profile, adding a precise geotagged location to an Instagram post can significantly improve user engagement and result in more traffic and increased sales.
(Source: Sendible.com)
22. Photos with faces achieve a higher reach and get 38% more likes.
Posting photos with faces can get up to 38% more engagement in both comments and likes compared to photos without faces. According to a study conducted by Hashtagsforlikes, photos with faces also get 32% more comments and significantly increase user engagement on the platform.
(Source: Hashtagsforlikes.co)
23. You can get 12% more engagement if you include at least one hashtag in your Instagram posts.
Instagram offers many different features and options for increasing user engagement. Research showed that posts with one or more hashtags could achieve up to 12.6% more user engagement. Hashtags are among the most effective ways to increase engagement on Instagram posts.
Businesses use hashtags to categorize and label their content to target the most relevant users and achieve their goals. Hashtags operate as search filters on the platform that businesses use to boost the search results on the Explore page. They also allow Instagram users to view different content in the suggestions.
Some of the most popular hashtags based on usage include:

#love
#design
#instagood
#interiordesign
#fashion
#inspiration
#style
#art
#smallbusiness
#shoplocal
(Source: Later.com)
24. Instagram posts with 11 hashtags achieve 79% of interactions per 1,000 followers.
Instagram interactions allow platform users to measure how engaging their posts are. Every post they make on the platform displays the number of interactions per 1000 followers.
Businesses commonly rely on Instagram interactions and use them as a metric to measure their impact and assess the performance of their post during a selected time range.
Posts with no hashtags achieve up to 18% interactions per 1,000 followers, while posts with 11 hashtags achieve a whopping 79.5% of interactions per 1,000 followers.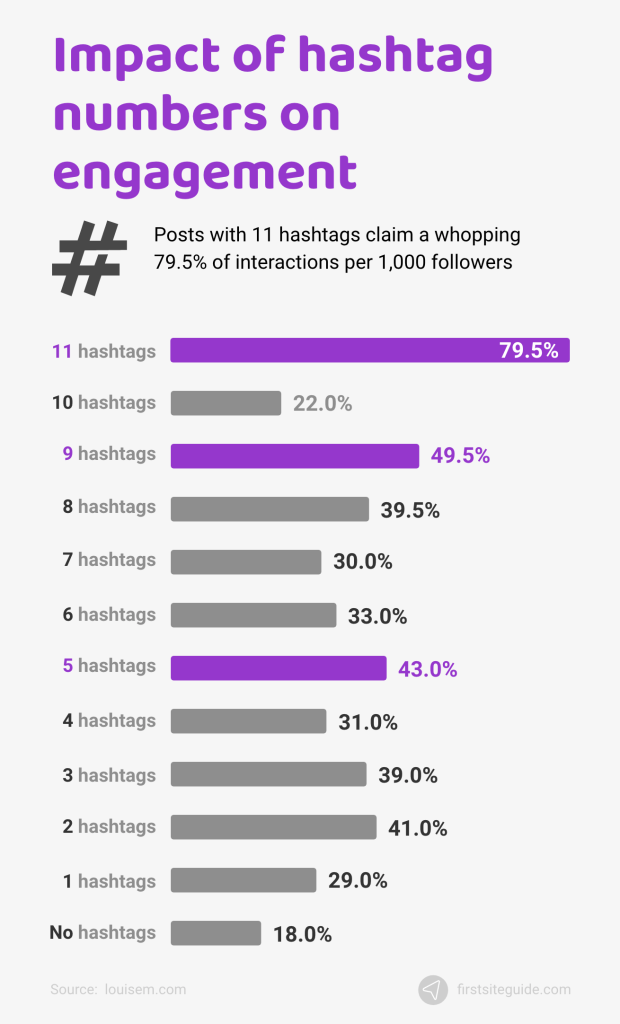 (Source: Louisem.com)
25. Instagram carousels achieve the highest average user engagement rate of 1.9%.
Carousel is the king of content on the Instagram platform, providing countless brands with a wide range of business opportunities. Brands commonly combine photos into carousels to earn more impressions by engaging users who don't engage the first time.
You can use Instagram carousels to re-target the users who didn't interact with the posts right away. Most recent research indicated that carousel posts achieved the highest engagement rate of 1.94%, followed by images (1.74%) and video posts(1.45%).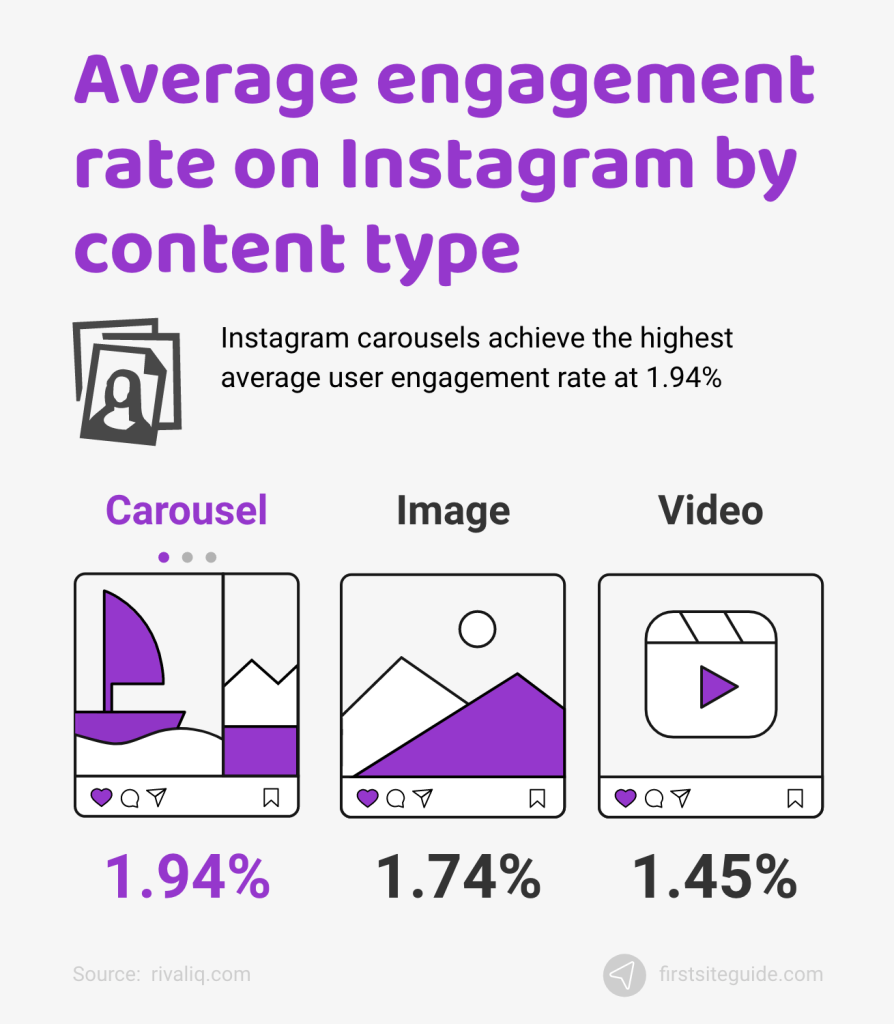 (Source: Rivaliq.com)
26. Leading brands receive 50% of total comments in the first 19 hours and 10% more comments in the next 19 days.
Instagram posts with half the average engagement receive 50% of user comments in less than 3 hours. On the other hand, top-performing posts tend to peak later and can achieve double the average user engagement. They take more than 19 hours to score 50% of the total comments.
Top brands usually need about 19 hours to get 50% of the total comments. They can also achieve 10% more comments in the next 19 days. On average, the posts made by top brands get 225 comments. 50% of comments are being posted within the first 10 hours, with 69% of comments coming in the next 48 hours.
(Source: Reutersevents.com)
27. 11% of internet users go to the Instagram platform when they're looking for the latest news.
Instagram is an excellent social media platform for posting visual content of all sorts. Users post images primarily, as well as short videos and stories. Photos with captions are pretty popular among Instagram users.
According to a report done by Reuters, 11% of internet users rely on Instagram as a trusted news source. 13% of internet users regularly visit both Instagram and Twitter for fresh news.
(Source: Reutersinstitute.politics.ox.ac.uk)
28. Instagram advertisers reached 20% more users in the past year.
According to the most recent studies conducted by Instagram's self-service advertising tools, the data published indicated that Instagram advertisers managed to increase their reach by 20.3% over the past year.
Instagram's advertising audience could reach 1.393 billion Instagram users in October 2021 alone, making this platform the world's most active social media network. Today, Instagram advertisers can reach more than 235 million more users.
(Source: Datareportal.com)
29. Instagram accounts with the highest Instagram engagement (1.1%) were business accounts with fewer than 10K followers.
Locowise's latest calculations show average Instagram engagement rates for posts made by businesses. According to their study, posts with the highest engagement rates by followers were published by business accounts with fewer than 10,000 followers. Business accounts with 10K-100K achieved a 0.93% engagement rate, and businesses with more than 100K followers scored a 0.76% engagement.
(Source: Datareportal.com)
30. The best time to post on Instagram is Tuesday 11 a.m.-2 p.m.
If we take a look at Instagram global engagement, the best times to post on the platform include:

Best times: 11 a.m. (Monday-Friday), Tuesday 11 a.m-2 p.m.
Best day: Tuesday
Worst day: Sunday
Evenings and weekends are the best times to get increased user engagement. Businesses looking to boost their Instagram marketing strategy rely on these best times to post to achieve a stronger Instagram presence.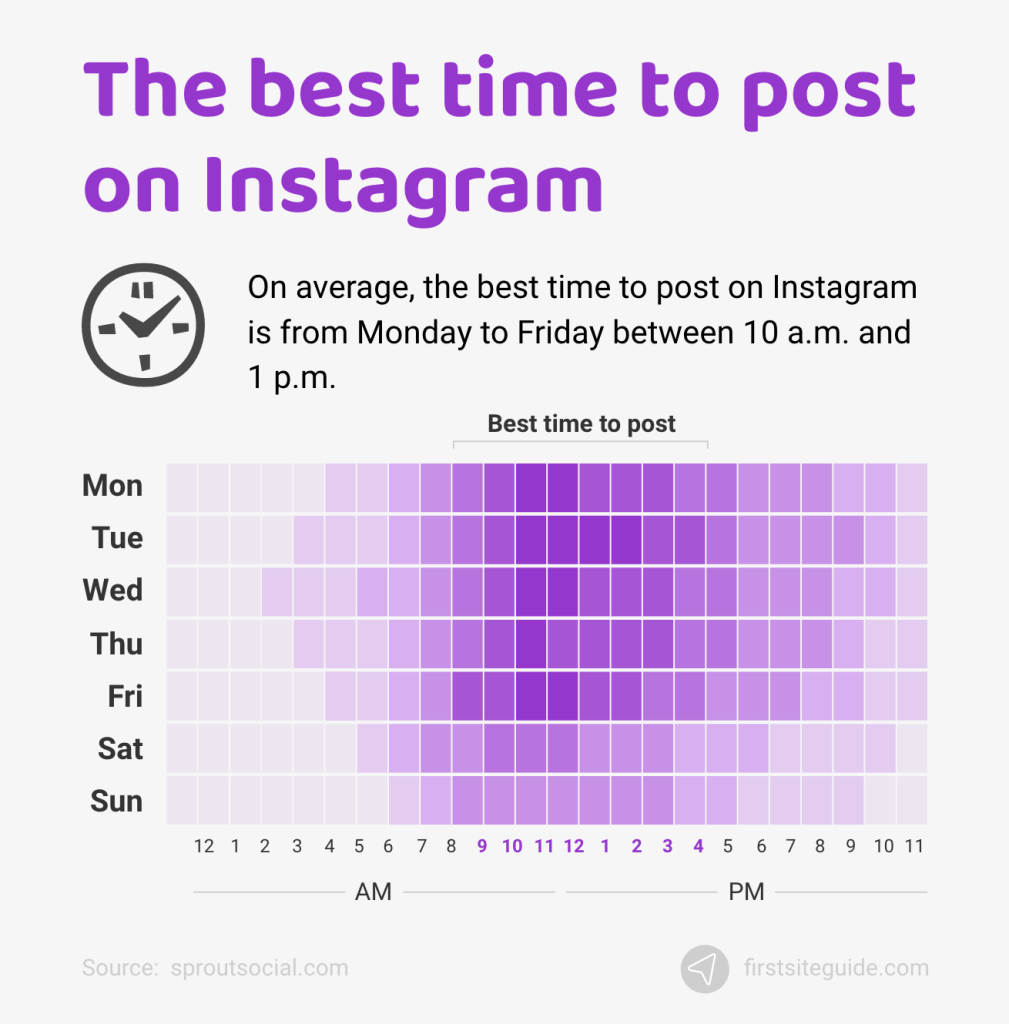 (Source: Sproutsocial.com)
Conclusion
Year by year, the Instagram social media platform has consistently been a leader among social media networks. The platform has quickly pioneered its way into the status of the most popular platform on the web. Aside from being so popular among regular internet users, the platform is also a trustworthy marketing hub for advertisers, influencers, marketers, and businesses of all sizes.
If used correctly, Instagram can help a business drive lead generation, conversion, and revenue. This list is just a tiny portion of the most important statistics about Instagram that internet users rely on to enhance their real-world results.