How to Create a Marketing Plan for Your Blog
FirstSiteGuide is supported by our readers. When you purchase via links on our site we may earn a commission.
Read More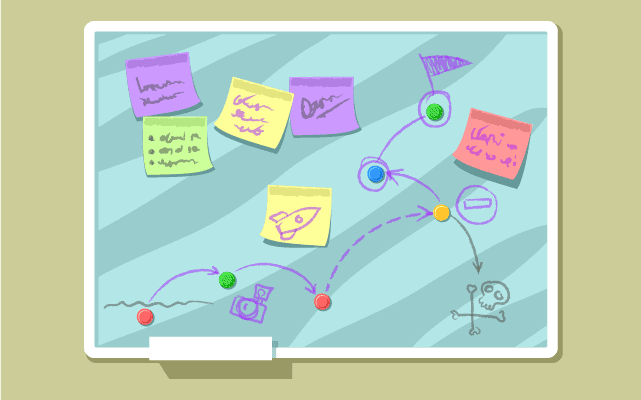 Marketing plays a crucial role in a growth strategy for every business. It is important to know what you want to achieve and how to maximize the effect of your marketing efforts. As blogging brings an abundance of benefits, many companies rely on it to increase their reach and gain authority.
But, creating a blog without a detailed plan is not going to bring concrete results you can build on and improve. Thus, it is necessary to create a great marketing plan for your blog. By taking this step of planning, you will create content much easier and get results quickly without losing time or money.
Now, let's take a look at what a marketing plan is, why you need it and how you can make one.
What is a marketing plan?
A marketing plan consists of all the details of the marketing strategy you are going to apply. It is necessary for optimizing your advertising budget and making sure your campaign is going to be effective.
When it comes to blog marketing, the plan needs to include the following:
publishing schedule
target audience
content auditing
social media strategy
paid content advertising
reaching out to influencers
keyword research process
competition analysis
implementation of images
content quality
detailed costs
marketing goals
and other details
The goal of a great marketing plan also includes budget estimations and knowing that every invested dollar is going to pay off in the long run.
Why do you need a marketing plan?
Many businesses understand how important content creation is. But, many start creating content without any particular system. In general, a marketing strategy takes time to develop. Making any mistakes, in the beginning, can impact the company's budget, in the long run, making blog marketing pointless.
How to avoid these types of issues? It is best to create a plan you can follow. Even though it takes time, creating a plan puts you in a position where you know what goals to achieve and which methods to use. Without it, you will do random things, without understanding or recognizing the direction you head.
Thus, a detailed blog marketing plan will most importantly help you stay on budget, without sacrificing the intended goals.
To get a better idea of what we are talking about, let's dig into the following details that will help you create a marketing plan for your blog.
Steps for Creating a blog marketing plan
Creating a plan should involve developing two separate plans. The first plan is to focus on the quality of the content you are planning to build. While the second plan should revolve around the promotional details.
By working on these two plans, you are going to be able to create relevant content for your audience and promote it through the right channels.
Content creation plan
No matter how good your promotion plan is, delivering bad content to your audience is not going to bring any positive results. In fact, it is going to be a waste of both time and money. Thus, focusing on content quality should be the number one priority. The following steps can help in the process:
Set clear goals. What is going to be the purpose of your blog? Do you want more traffic to your blog? Do you want higher conversion rates? Do you want to make sales from it?
These are only some targets you should set when you start working on your goal. In the majority of cases, the purpose of a blog is to attract traffic, but once there is traffic, you need to know where you want to direct it.
Always work on the goals of your blog. They might change over time, but it is important to keep heading in a particular direction and publish content with a purpose. Without goals, both you, your writers and your whole blog are going to underperform.
Define your target audience. Who are you writing your content for? Define who will be reading your content and why. It is a good idea to target a particular group of potential customers. After some time, you can start broadening the impact of your blog.
Analyze competition. You are starting out in a competitive market. Your marketing plan should include what the competition is already doing. It will give you an insight into what you can offer to your audience that competitors are not already doing.
But, don't get carried away in the research process, it can turn into a waste of time. Take a look at other businesses' content and deduce their methods. Then, start working on content that is going to be better.
Define content quality. Content is the foundation of every blog. The better it is, the greater the impact of your content is going to be on the audience. High-quality content should include valuable information for the reader.
It is the only way to ensure that the visitor is going to stay on your blog and go through the whole article. Also, good content gets shared. It is getting challenging for people to find great online resources, so they tend to share quality information that they found.
Add visual content. Presenting information visually is sometimes more efficient. Plus, it is easier to share and attracts more attention. Thus, find someplace in your plan to add visual content from time to time.
Analyze and improve. From the moment you start making plans, make sure to add all the necessary analytics to your blog. Create a schedule to make routine checks on the visitor's behavior. This insight will draw your goals for you. Doing this at least once per month is necessary to make your blog much more efficient.
It will show you what types of content attract the most attention, where your readers are coming from, and when they read your blog. By knowing these insides, you can start adjusting your content to bring better results.
These are the basic things you should include in your blog marketing plan. Consider them a necessary foundation that will shape the performance of your marketing strategy.
Simply put, an excellent blog will help you turn your business into an authentic brand that brings valuable knowledge to customers. No matter what niche you are in, this approach is going to work.
Once you have established a content creation plan, it is time to consider what promotional options you have at your disposal.
Promotion plan
Once you publish content on your blog, it is time to take a step further and put it in front of all the people out there. There are plenty of promotional tactics you can use to promote your blog. Let's take a look at the most popular options.
Collaborate with influencers. This strategy is used by countless companies, as influencers have a significant advantage over other types of advertising.
An influencer who has a robust community behind him or her has a high authority and a lot of connections. Your marketing plan should include the possibility of working with an influencer. It can bring incredible results for a one-time investment.
Find an influencer in your niche and ask him to start a collaboration; it will immediately bring traffic to your blog.
Establish a social media presence. A social media presence is necessary for all types of business. The only thing you should be thinking about is which platform to focus on.
Visual content will have better engagement on image-focused networks, while the textual format might be better for Facebook or Linkedin. The good thing is that you can always track your social media network marketing performance. It will show you where to divert most of your efforts.
With a social media network campaign, you can get a high number of new visitors.
Stimulate sharing. You want your content to reach as many people as possible. Consider making a plan that is going to encourage people to share content. For example, offer freebies for all those who share the content from your blog.
Build up a mailing list. Mailing lists still work great. People who leave their email information guaranteed to have an interest in your blog. Thus, reaching out to them is going to remind them to come back and take a look at the new content you are offering. Also, you can bundle up a month's worth of content and deliver it to your subscribers; they will feel much more appreciated.
Set up PPC campaigns. Before you take this step, make sure that there is plenty of content on your blog. Even though you are going to promote a couple of pieces of content, you are in fact advertising your whole blog. Make sure that it is in perfect condition before you start advertising.
Another advantage of PPC campaigns is the amount of control in your hands. You can target the specific audience with your ads.
Work on inbound marketing. Your plan should include a long-term promotional strategy. Having a large number of links leading to your blog will help the rankings of your blog in the search engine results.
Thus, you should not only think about keywords but also go after natural links from other websites to your content. The success of this strategy depends on the type of content you are creating. The more valuable statistics and unique information you have, the higher the chance that other people are going to link to you as a source. These links will help you get more top search rankings.
Planning and picking your promotional strategy is crucial for delivering your content to the right type of audience. So, the whole process should be carefully performed and improve its success from the very start.
Conclusion
Working on both plans is going to let you synchronize the whole process and start working on content that is going to be promotion friendly. It will let you save a lot of time during the entire process. If you do it from the moment you start working on your blog, you can reach the set goals sooner, making your blog useful much faster.