Using WordPress pages and creating a new page
WordPress pages, besides posts, are the standard built-in post type that allows you to publish content on your blog. That wasn't the case a few years ago until WordPress reached version 1.5. As it started as a blogging platform, WordPress offered only posts to its users. After some time, people developed a need for different post types that would allow them to differentiate dynamic posts from static pages that rarely change.
Learn more about #WordPress pages and how to use them on your new #blog
Click to tweet
We have already covered the differences between WordPress posts and pages. So, in this article, we'll show you how to create your first page in WordPress.
How to add a new WordPress Page
Luckily, creating WordPress pages is practically the same as creating posts. The only difference is visible on the right side of the screen. Where posts allow you to select categories and tags, pages give you the opportunity to arrange them in hierarchies, apply custom templates and reorder them as you wish. So, let's focus on those parts.
To add and publish a new page, you will need to:
Go to Pages -> Add New
Enter title, content and set a featured image if available
Click the "Publish" button on the right side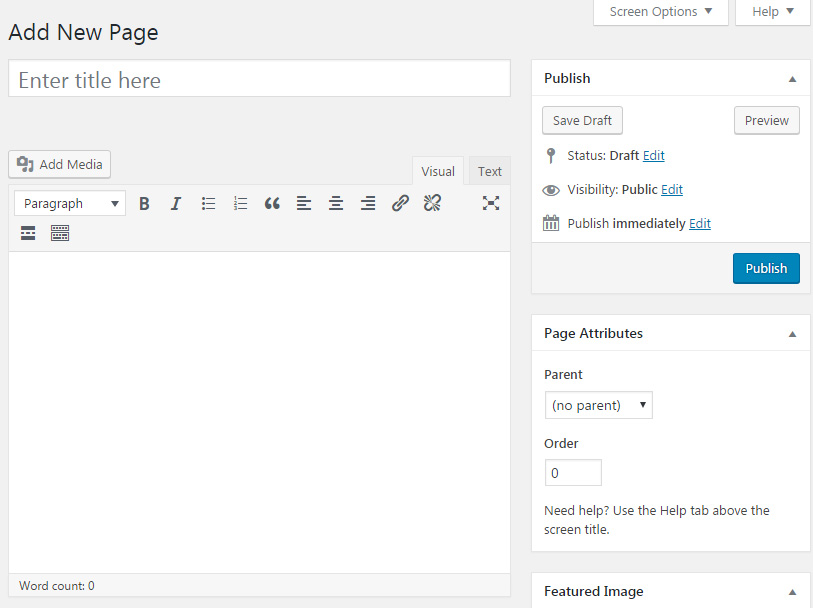 Arrange pages in hierarchies
Unlike posts, you can nest WordPress pages and create groups that make sense to you. When creating a new page, or editing an existing one, select its parent and the relationship will be set. By using parent pages, you can organize your website and make it more attractive to both admins and users.
This feature isn't important only to you and your visitors. By correctly organizing WordPress pages, you can help Google and other search engines to recognize your site as a more valuable and organized one. There are no guarantees, but well-organized websites may rank better in search engine results just because of their structure.
As an example, you may have a page dedicated to advertising on your site. If you want to give detailed descriptions and prices, you can create one page for advertising with banners, another one for sponsored posts or one for advertising on social media. All the aforementioned pages could be nested under "Advertising" page which would make it a tightly connected group understandable to everyone.
Use custom templates
Depending on the theme you currently use, any page can have a different template. By choosing another template, you can create an entirely different page design. So, for example, your "About me" page doesn't have to be the same as the "Advertise" page.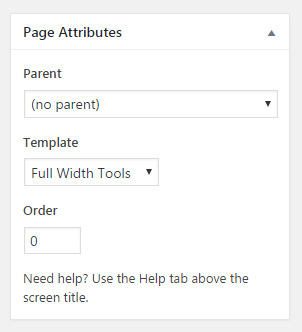 The design of templates depends solely on the theme you're using. Of course, it is possible to create your own templates, but you will have to know how to work with HTML, CSS, and PHP to build one on your own.
Many themes have a "homepage" or "frontpage" templates available. So, if you choose that one, you can quickly generate the front page for your site without any extra work involved. If you want to use a page as your front page, here's what to do:
Create and publish a page
Navigate to Settings -> Reading
Change "Front page displays" option to "A static page (select below)"
Select your new page from the "Front page" menu
Click "Save Changes" button
How to reorder WordPress pages
Unlike posts that depend on the date of publishing, pages can be quickly rearranged. You can reorder WordPress pages by giving them numbers. Use number 1 for the first page, 2 for the second one and so on.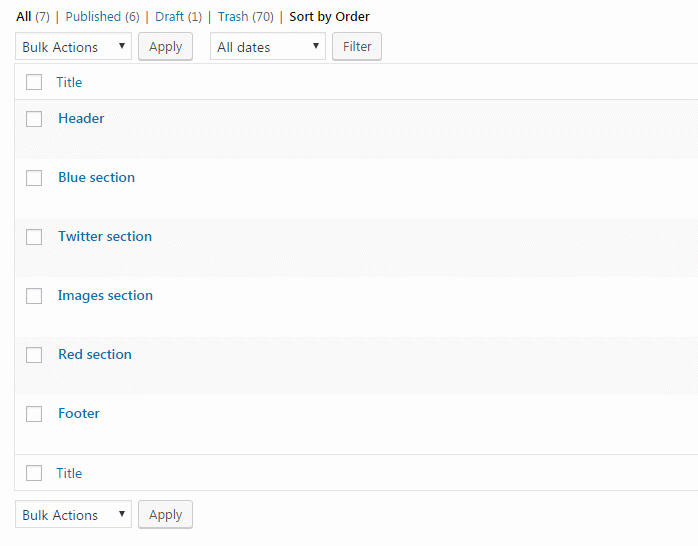 Since WordPress developers still haven't made it possible to drag and drop pages to reorder them, you can extend this feature by installing a free plugin like Simple Page Ordering:
Go to Plugins -> Add new
Search for "Simple Page Ordering"
Install and activate the plugin
Open Pages -> All Pages
Click on a page you want to move and hold down the mouse button
Move the page up and down until you get to its desired location
Release the mouse button to drop the page to its new location
A perfect example when to use this feature are themes that focus on sections. In that case, each page represents a specific section on the site. You may have header and footer, a section for displaying posts, images, Twitter feeds, etc. You can easily rearrange sections just by dragging and dropping one page before the other.
Conclusion
Even though there are differences between WordPress pages and posts, creating new ones is practically the same. Since we have already shown you how to publish a first WordPress post, this article taught you how to work with hierarchies, templates and how to rearrange pages.