30+ Best Food Blog Examples (2023)
FirstSiteGuide is supported by our readers. When you purchase via links on our site we may earn a commission.
Read More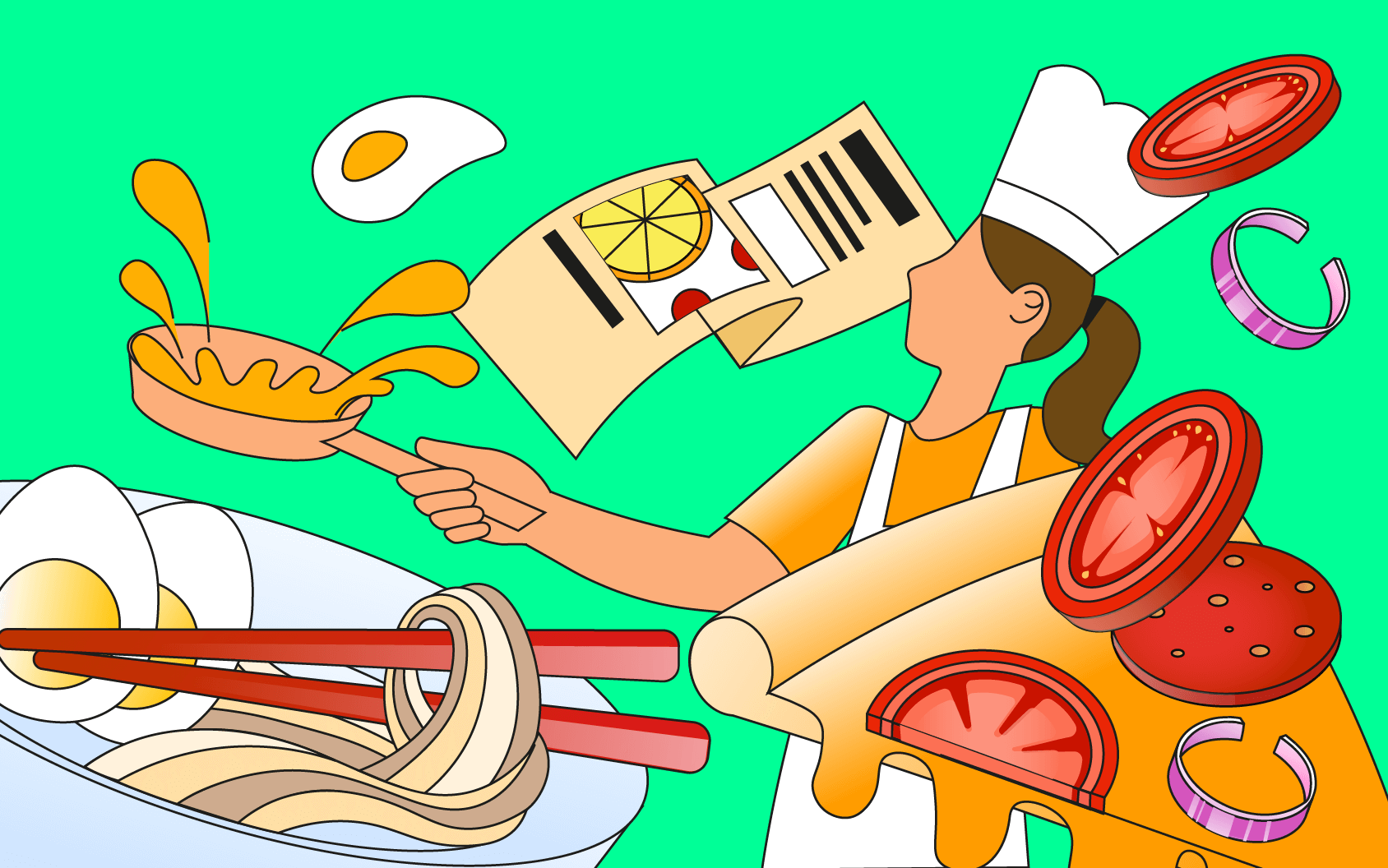 Food blogs have always been very popular. This is not only because food is something we all need, but also because blogging about it has turned out to be quite lucrative for those who have a lot of tasty content to offer.
We wanted to give you a detailed selection of some of the best examples of food blogs so that people looking for new recipes and potential food bloggers can benefit.
We strongly believe that these blogs are fantastic examples of great design, excellent content, and superb food choices. Keep reading to learn which food blogs are the best and what makes them so popular.
35 inspiring examples of food and cooking blogs
The research was long and arduous, but we think it was worthwhile. We've managed to find the very best food and cooking blogs on the web. These blogs have some of the greatest recipes and their content looks delicious.
We'll share with you exactly what makes these recipe blogs so popular, how they make money blogging, what website builders are behind them, and more. Plus, we hope that these blogs will inspire you to make a blog and share your love for food.
Iowa Girl Eats is a lovely food blog owned and operated by Kristin, a business owner and mom of three from Iowa. She focuses on quick and healthy meals that are great for the whole family. However, she also makes a number of gluten-free recipes, as she has Celiac Disease which has prompted her to create these meals.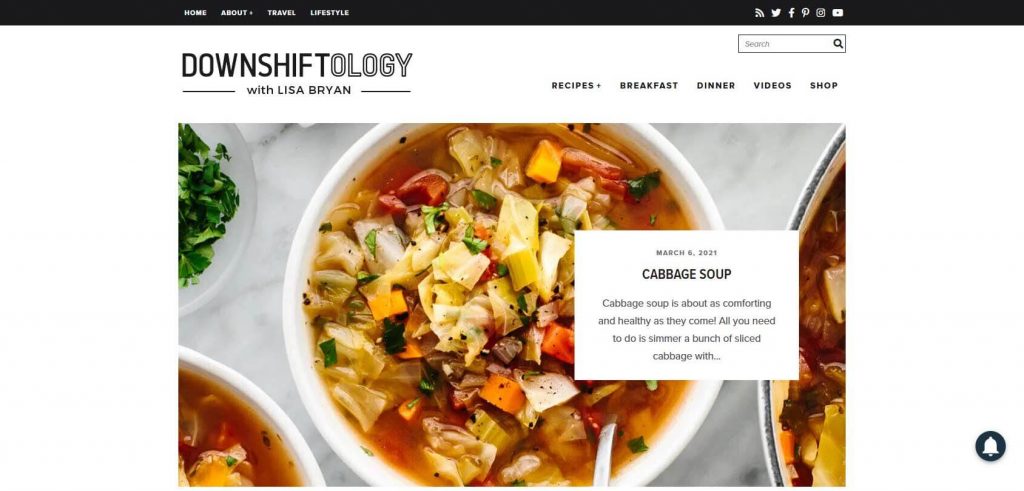 Downshiftology is a food blog focusing on popular gluten-free and healthy choices. It is operated by Lisa Bryan, one of the best food bloggers in her niche. Lisa's secret lies in the delicious recipes she offers on this neatly designed food blog and her extremely popular YouTube channel. She also offers travel and lifestyle tips that are connected to the food niche.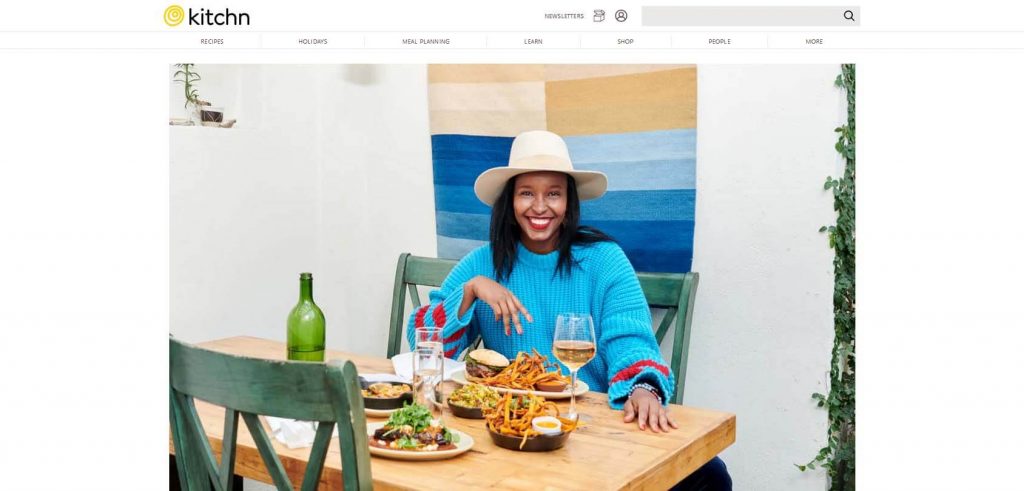 TheKitchn is more of a food magazine than a food blog, but that doesn't stop it from being one of the best food websites out there. This site uses a simple design, and you can easily navigate it to find hundreds of useful recipes, which is precisely what makes it so good.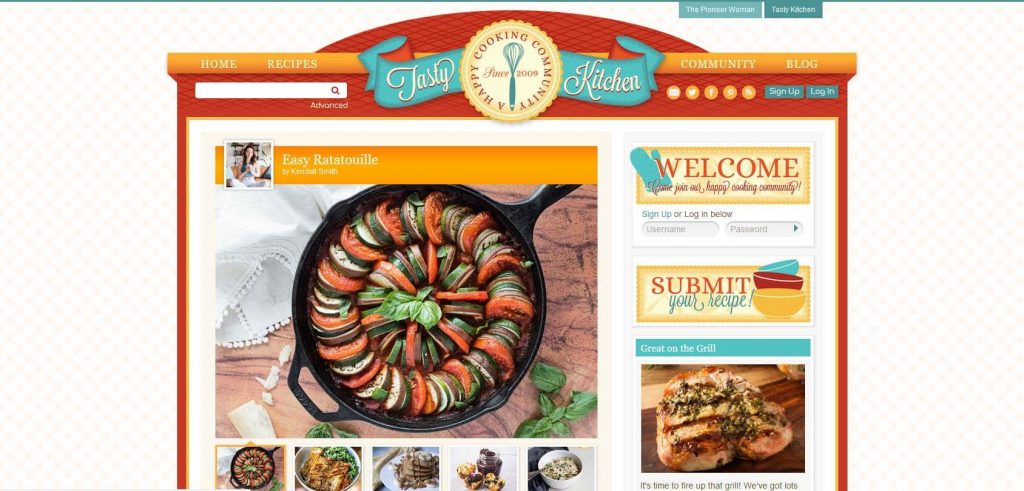 Tasty Kitchen is a food blog with a simple design. The fact that it relies heavily on the recipes provided by its community is its biggest advantage, as people share and vote on recipes. Finding the one you love the most should be very easy.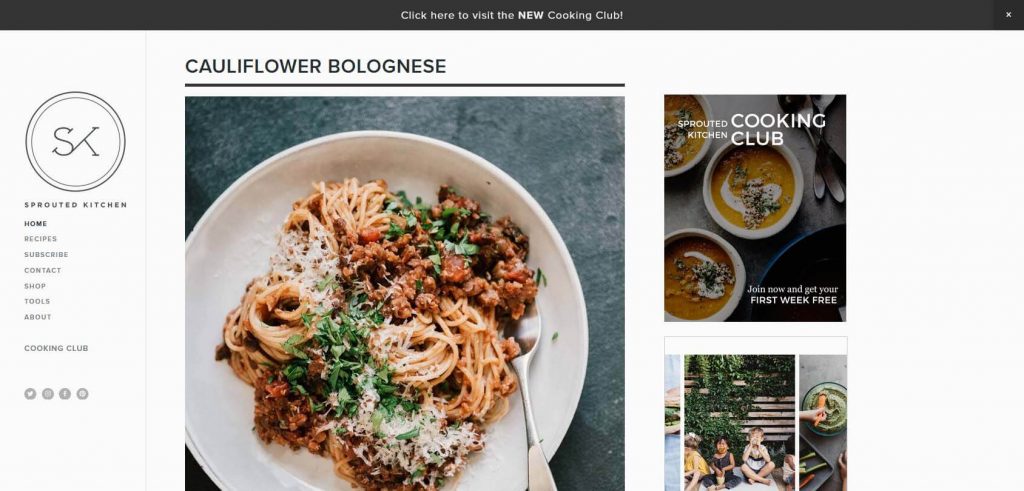 Sprouted Kitchen is one of the best cooking blogs out there. It is a gorgeous website known for its amazing design and quality content. The site is wonderful to look at, and you'll be happy to see that it offers a cooking club where busy people can learn how to cook delicious food quickly.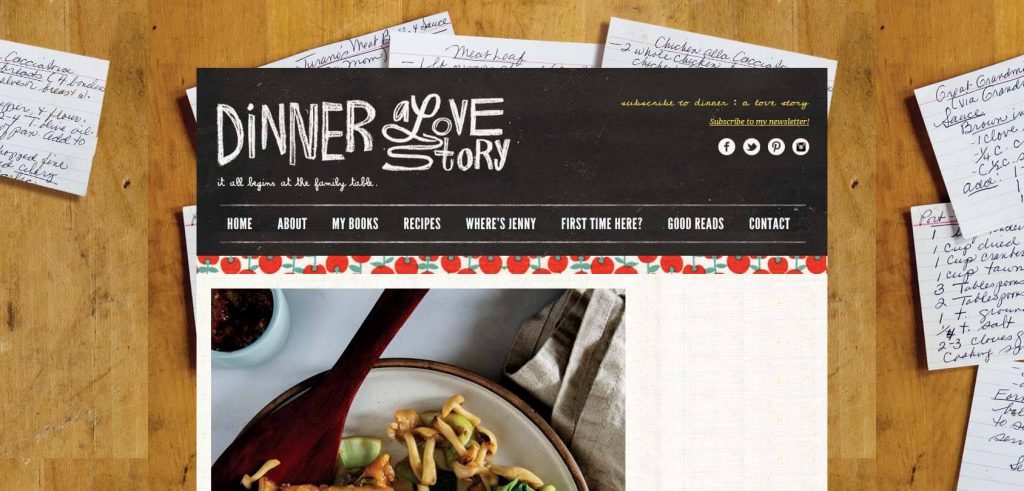 Dinner: A Love Story has been made to resemble a recipe, which is ingenious if you ask us. On this stunning website, you'll find many interesting dinner recipes for the whole family, including numerous sweets that the kids are bound to fall in love with. It's truly a well-rounded family blog that will interest most parents.
Lindsey and Bjork, the owners of Pinch of Yum, run a classy and well-designed site that offers a lot of quality content and is gorgeous to look at. The best thing about it is that the main emphasis is put on the pictures, which is precisely what you want to see on a food blog.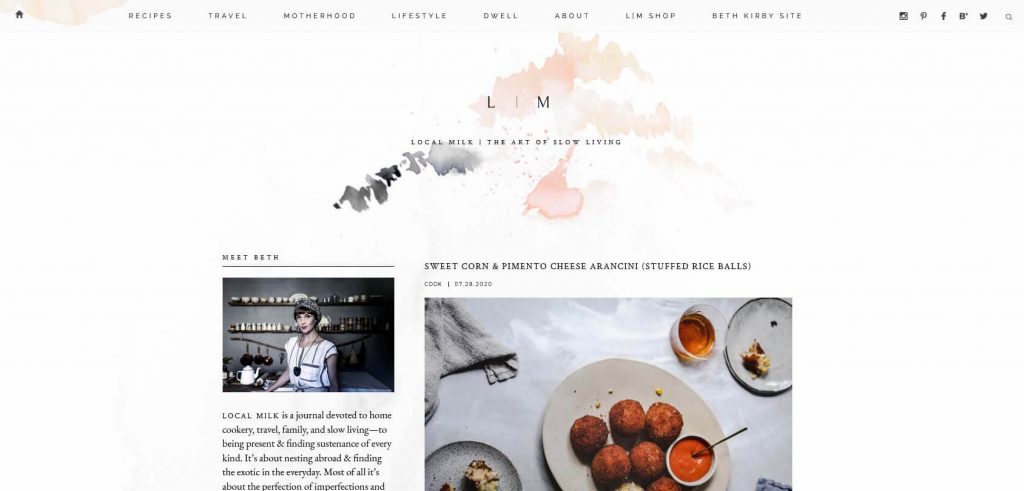 We love the stylish, minimalist design of this website and how unique it is for this niche. The homepage looks like a lovely painting, and it offers a lot of quality content that's also neatly arranged and easy to navigate. The blog also has a well-designed shop with interesting products for cooking, traveling, and more.
Not only does La Tartine Gourmande have a great name, but it also boasts some mouth-watering recipes. Its owner, Beatrice, is a talented food writer, photographer, and stylist whose professions have been combined here to create a marvelous offering that her readers adore.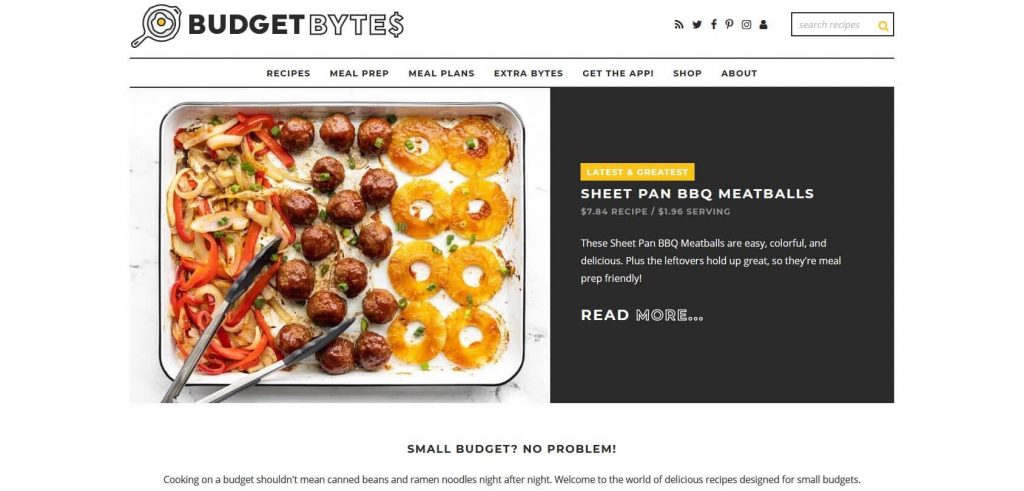 Cooking on a budget can be fun and exciting, which is something that BudgetBytes definitely exemplifies. What's more, the blog looks cool, even though it doesn't rely on flair and art like many others. And, of course, there's a staggering amount of quality recipes that cost only a few dollars.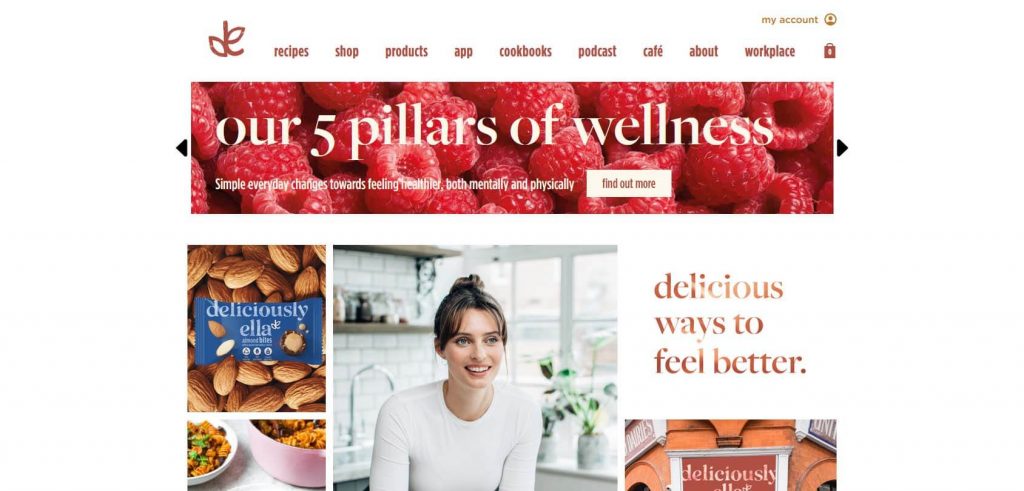 Deliciously Ella is not only one of the best food blogs on the web but also proof of how a hobby can become a profitable business. Ella started small but now has published cookbooks, hundreds of popular vegan recipes, a line of products, and even a cafe.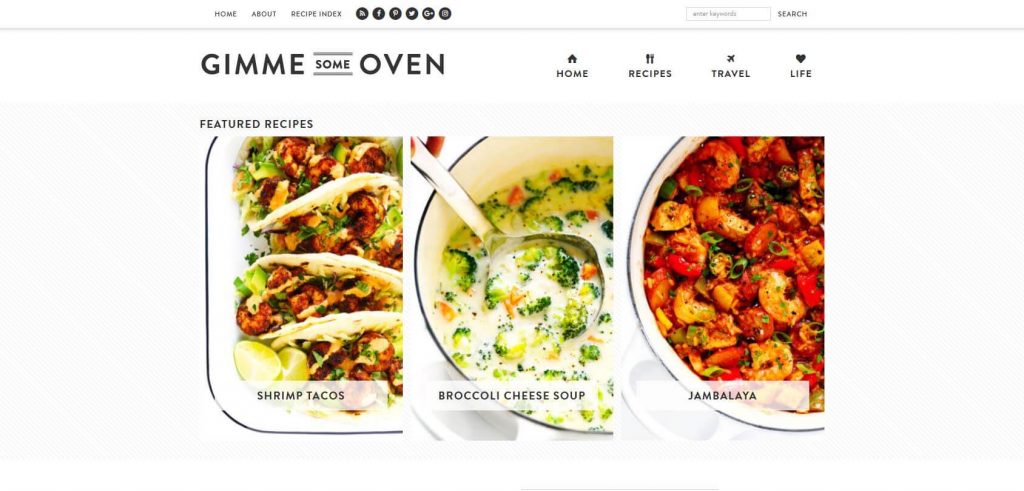 Unlike other great cooking blogs, Gimme Some Oven uses a wonderful yet simple white background to emphasize the blog's content. Most bloggers focus on design but Gimme Some Oven shows how a completely minimalist outline can work as well.
The Naptime Chef is a food blog that doesn't focus on offering an eye-catching site, instead prioritizing interesting recipes and quality content. This site provides numerous family dishes you'll enjoy making for your loved ones, and we believe this is precisely what makes a great recipe blog.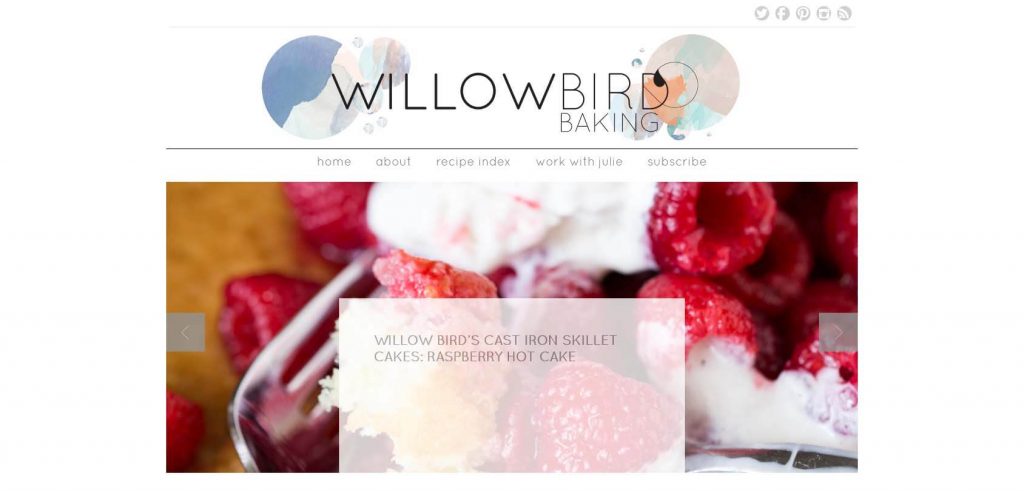 Willow Bird Baking is a beautiful food blog that knows how to accentuate pictures. The font is small and barely noticeable, except for the bolded recipe names, and the images are high quality and well-styled. This site is something that every food lover will adore, which is exactly why we've listed it as one of the best recipe blogs.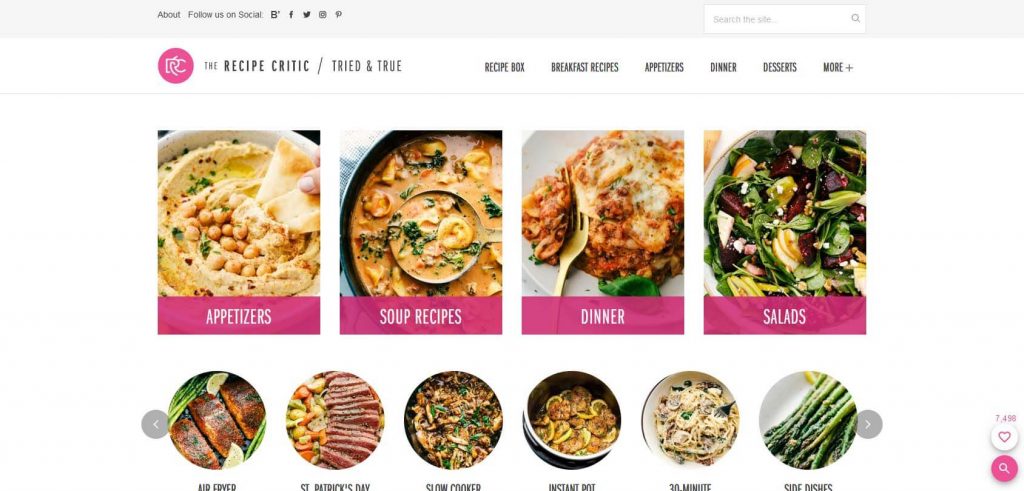 This site boasts a wonderful design with tons of delicious recipes, but what stands out the most is the fact that it has food critics on board. Alyssa, the owner of this food blog, assures her readers that all recipes are tried and tested, which is precisely why so many people love them.
Salt might not be good for you if you eat too much of it, but it's still an integral part of numerous meals, and this blog knows it. Joking aside, we love this minimalistic blog because it combines recipes and journals in one place. Also, it's worth noting that the recipes include stunning photographs of the meals and ingredients, and we are sure that you will appreciate them.
Dinner with Julie uses gorgeous design and stylish images to emphasize the beauty of the recipes that it offers. All of them are made by Julie who says she loves to eat, and judging by the quality and deliciousness of the food she prepares, how could she not?
The Trail of Crumbs is basically a travel and food blog, as it's focused on offering recipes from restaurants and cafes all over the world. Adrian and Danielle, the duo behind the blog, make sure to provide their readers with full impressions of their travels, which is what makes this blog so special and unique in food and travel niches.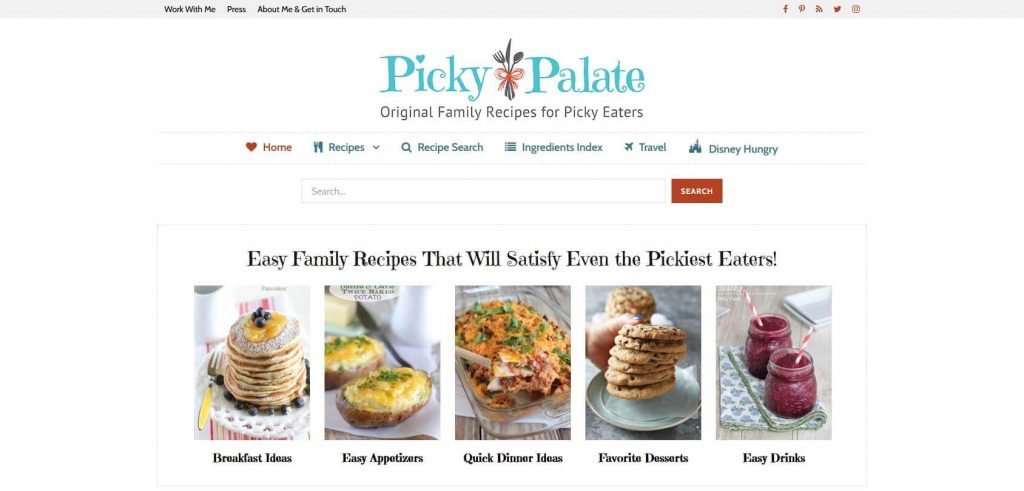 The site's name shows what this food blog is all about: people and families with picky palates. All recipes are made to appeal to everyone, and that's precisely what makes this blog so special. What's more, even though the website's design is not unique, it's certainly among the cutest ones you'll find in this niche.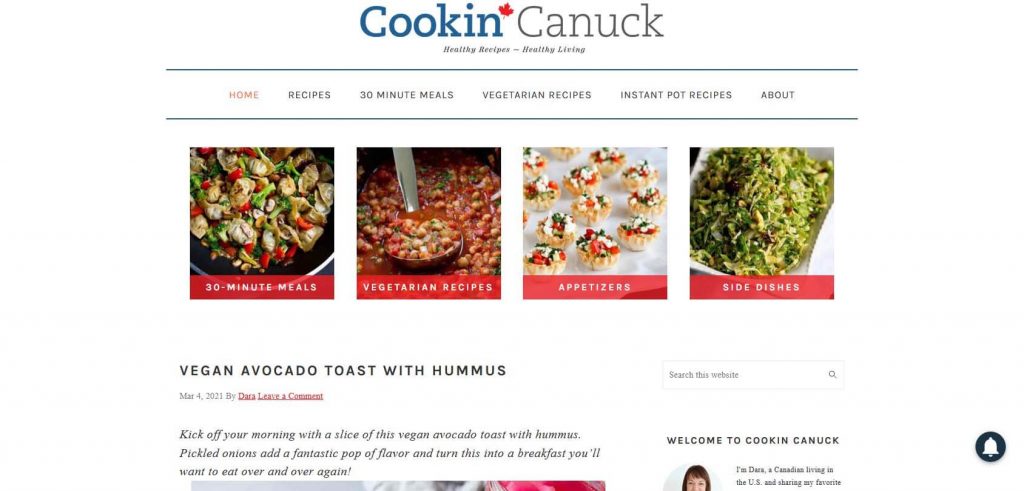 Cookin Canuck offers easy-to-make homemade meals everyone will love. On top of that, it also focuses on giving its readers tips on healthy living and meal plans that can be lifesavers for busy parents.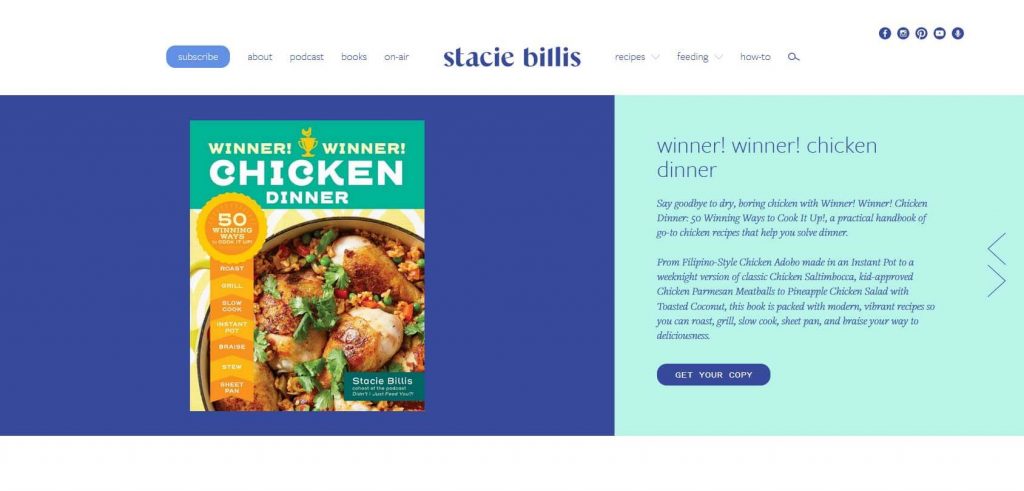 This amazing food blog used to be called One Hungry Momma, so you know exactly what it is about, and you can probably guess how great the content is. But that's not all — the design is also top-notch, and we love how simple it is, as it emphasizes the images and doesn't bother you with too many unnecessary details.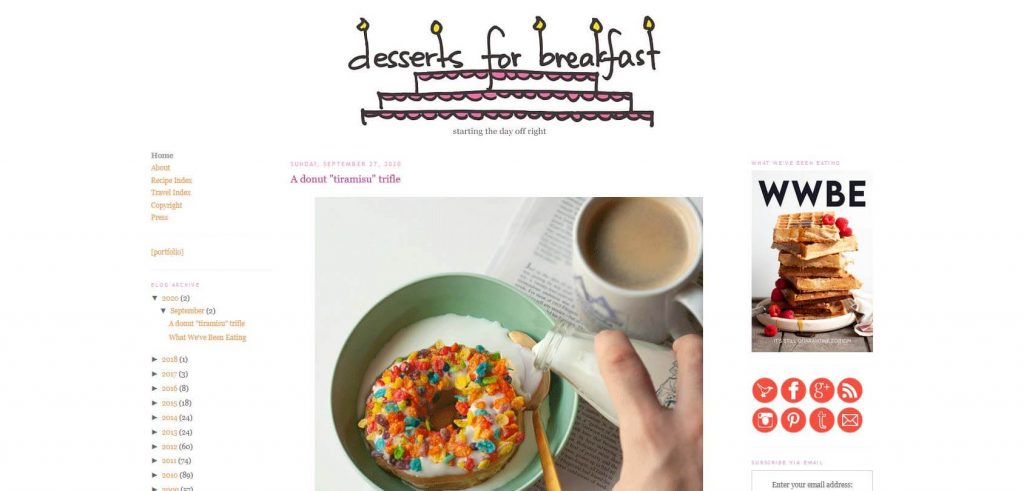 Desserts for Breakfast wouldn't differ from other food blogs were it not for its happy and quirky design, coupled with astounding images. Stephanie, the woman behind the site, makes some jaw-dropping close-ups of the meals and treats she makes, which is why we believe this site is on a whole new level of food blogging.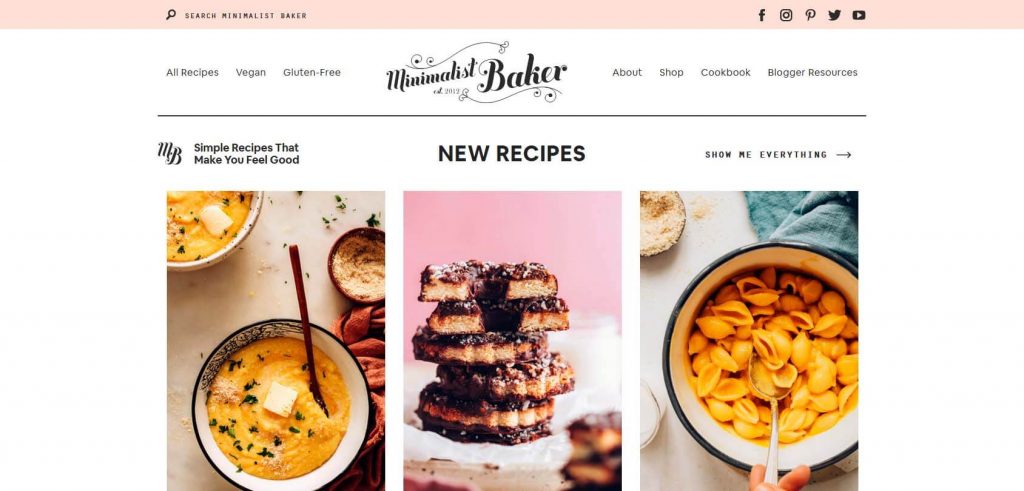 The Minimalist Baker is one of the best food blogs for those who don't want to spend too much time cooking. It offers simple recipes and complements them with a minimalistic website design that uses symmetrical arrangements of content and other site elements.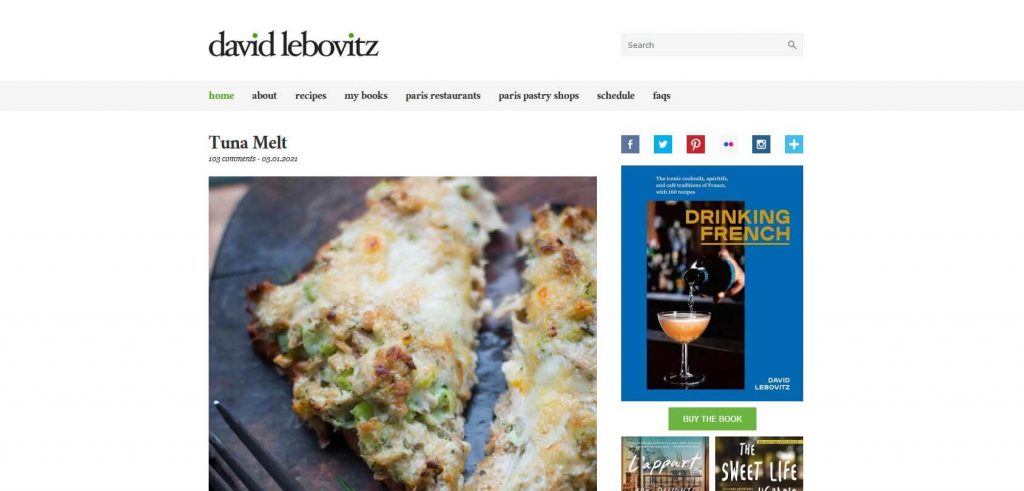 Even though this is one of the oldest food blogs in the world, it's still managed to keep up with the changes in the industry. David Lebovitz, the author of the blog, is a marvelous chef who has written numerous cookbooks. His website is an amazing example of how you can find long-term success in the food blogging niche.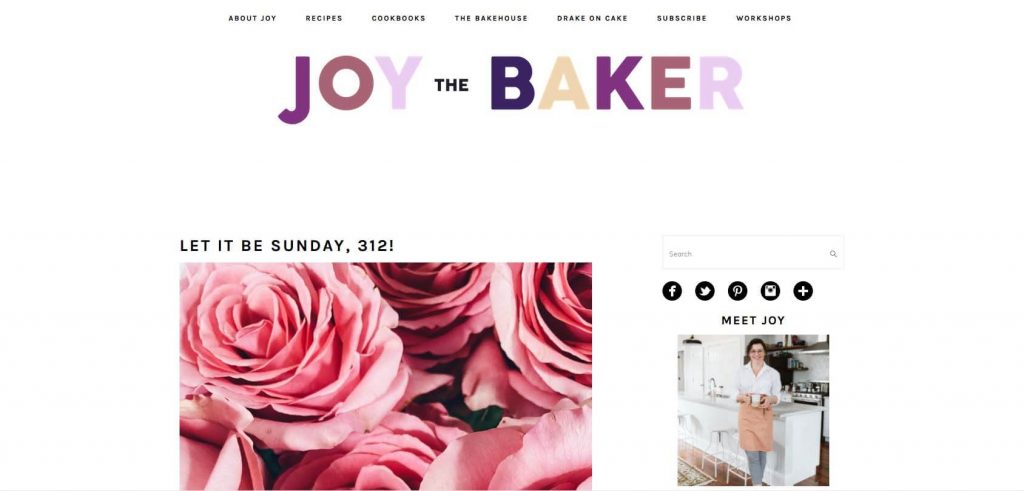 Once you visit this food blog, you'll immediately notice the beautiful watercolor elements that separate it from the rest of the industry. These elements go amazingly well with the stunning photos of the meals that Joy Wilson prepares.
Nourished Kitchen is a food website owned by nutritionist and herbalist Jenny McGruther. She offers a wide range of traditional meals and recipes that everyone is bound to fall in love with. Her readers also appreciate the stunning site design filled with quality content in terms of both text and images.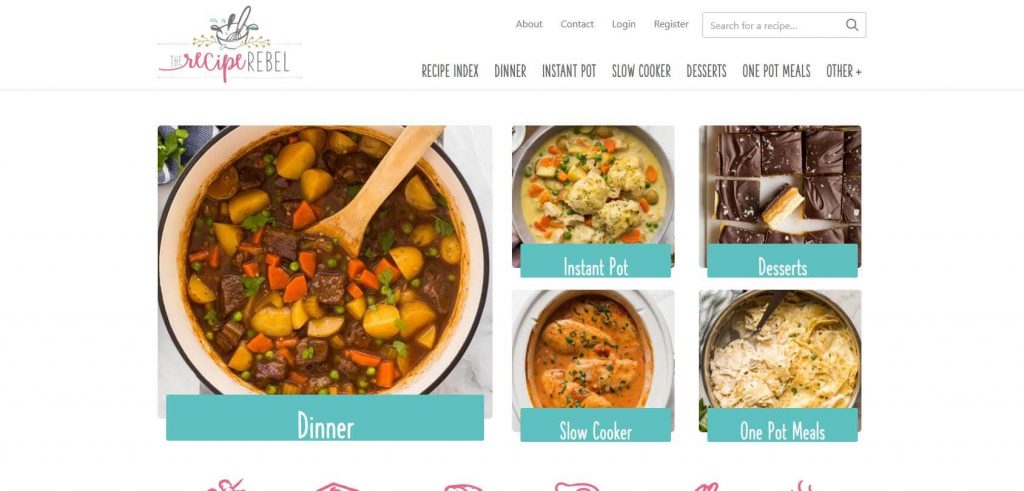 The Recipe Rebel is a family-focused blog owned by Ashley, who has a different way of making food. Even though she publishes full recipes, she still encourages her readers to modify the food according to their own taste and change it whenever they need to. Thanks to her quirky site design, she has managed to create a popular blog that her readers adore.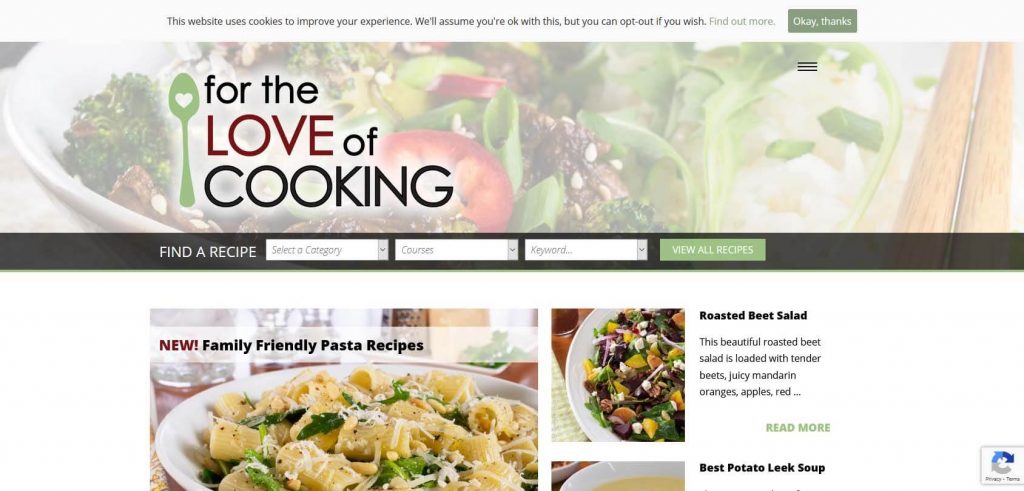 This great recipe blog is truly made for the love of cooking, and the high quality recipes, images, and design of the site clearly show that. The blog has a great search function right at the top, which makes finding recipes easy. This is one of the only food blogs that focuses on being user-friendly, as most of them are made according to the owner's design taste.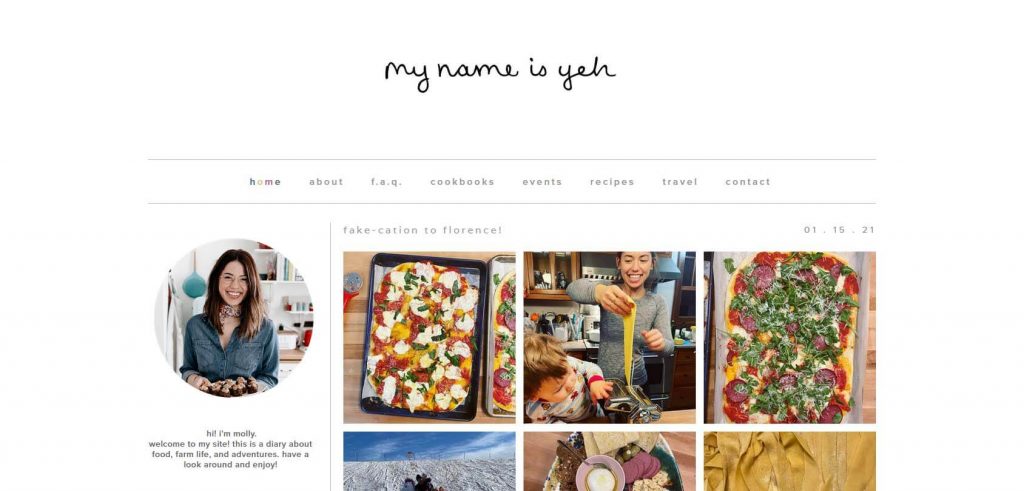 Who doesn't love home-cooked meals, especially ones coming straight from a farmer's house? This is precisely what you'll find on this blog. Its gorgeous design is another reason why we love it. The content and images are simply superb, and they go perfectly well with the site's overall look.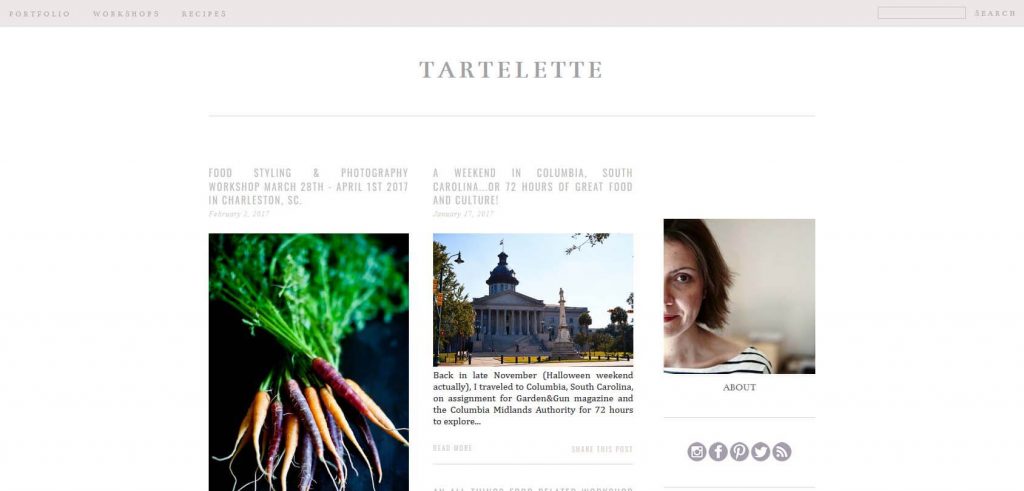 Tartelette is an old-school food blog owned by a French expat living in South Carolina. Helene Dujardin is a food lover who lives a gluten-free lifestyle, so most of her recipes have been created accordingly. Interestingly, the blog is very retro, with the posts in a list form, which is something we don't often see anymore.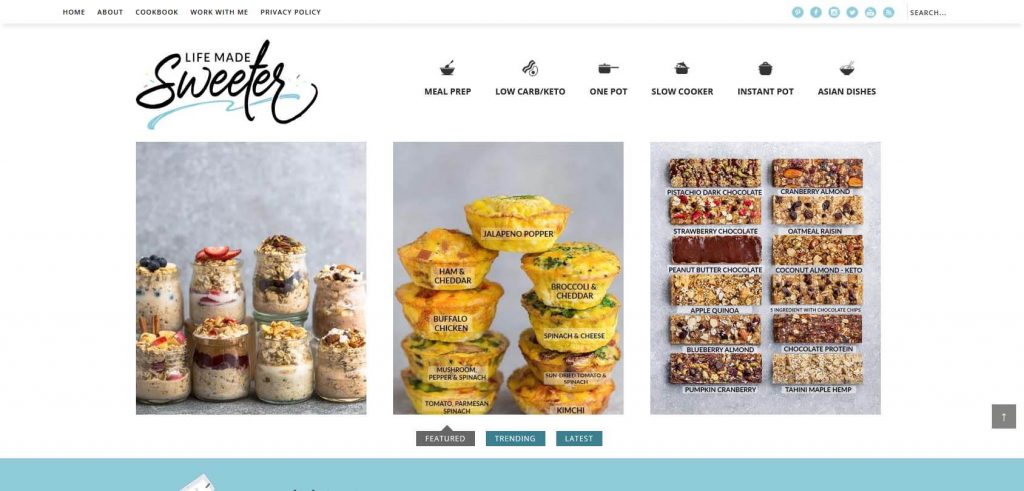 Life Made Sweeter focuses heavily on Asian foods, but it provides many other recipes that are to everyone's tastes. The site is certainly unique, as it uses a custom design to put a lot of emphasis on the overall look of each meal.
This stylish food blog is operated by Elana, a New York Times Bestselling author. Her stunning site focuses on healthy meals. Everything, from the design to the tiniest details like the font, work together to create a powerful blend that's gorgeous to look at.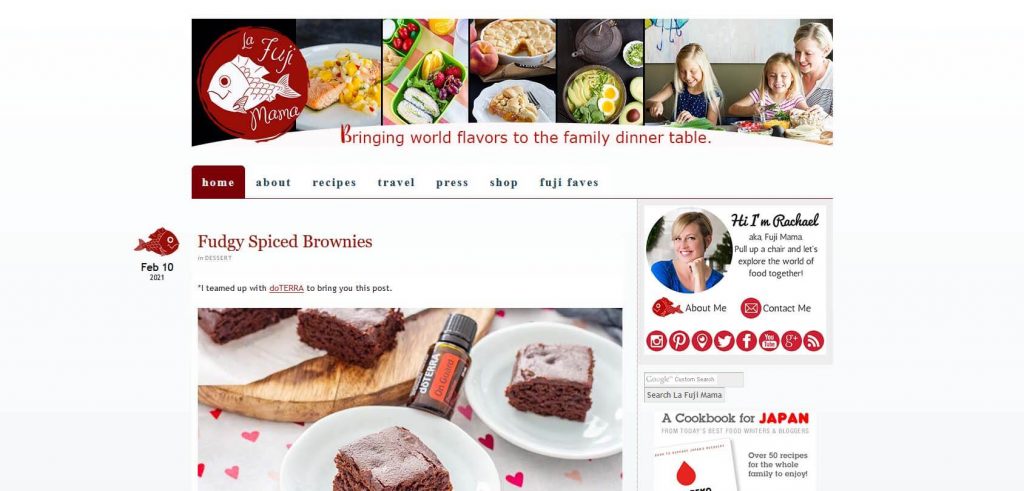 La Fuji Mama uses a standard yet colorful design inspired by other cooking blogs to bring delicious family meals to life. On top of that, it has a large number of quality recipes you'll love to prepare for your family.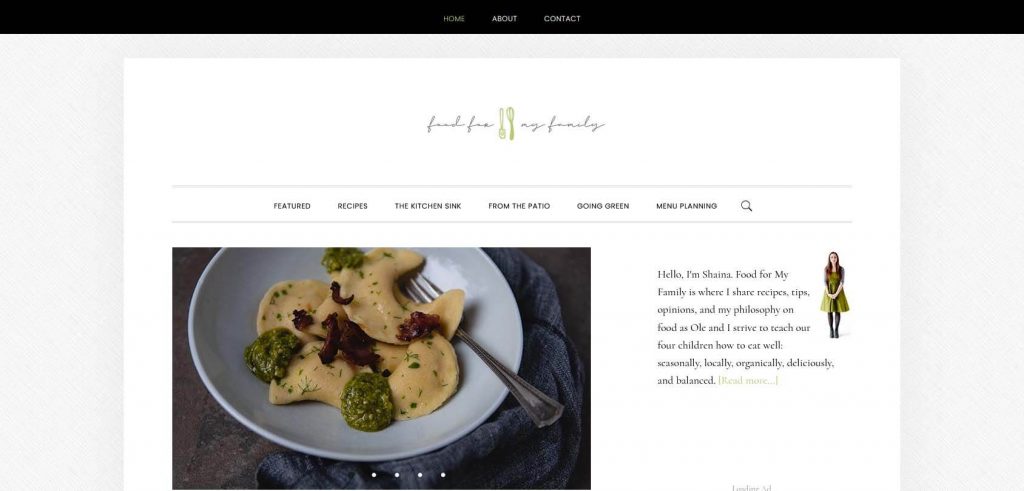 Food for My Family might seem like any other family-oriented food blog, but it's one of the best cooking blogs for an important reason — a stylish website design. The site's look is more in line with an upscale restaurant, but this is perfectly appropriate considering the top quality of the home-cooked meals that are prepared for the entire family.
101 Cookbooks is a blog that aims to create delicious recipes for vegans and vegetarians alike. It publishes them on a well-designed website, one that should appeal to anyone's taste. And let's not forget the images that are out of this world.
Conclusion
So, there you have it — 35 amazing food blogs that are bound to inspire you to either create your own food blog or start preparing some delicious meals. Whatever you end up doing, we are certain that you'll love checking out these stunning websites.