Where Can I Host My Java Web Application for Free? Top 5 Options
FirstSiteGuide is supported by our readers. When you purchase via links on our site we may earn a commission.
Read More
Where Can I Host My Java Web Application for Free? Top 5 Options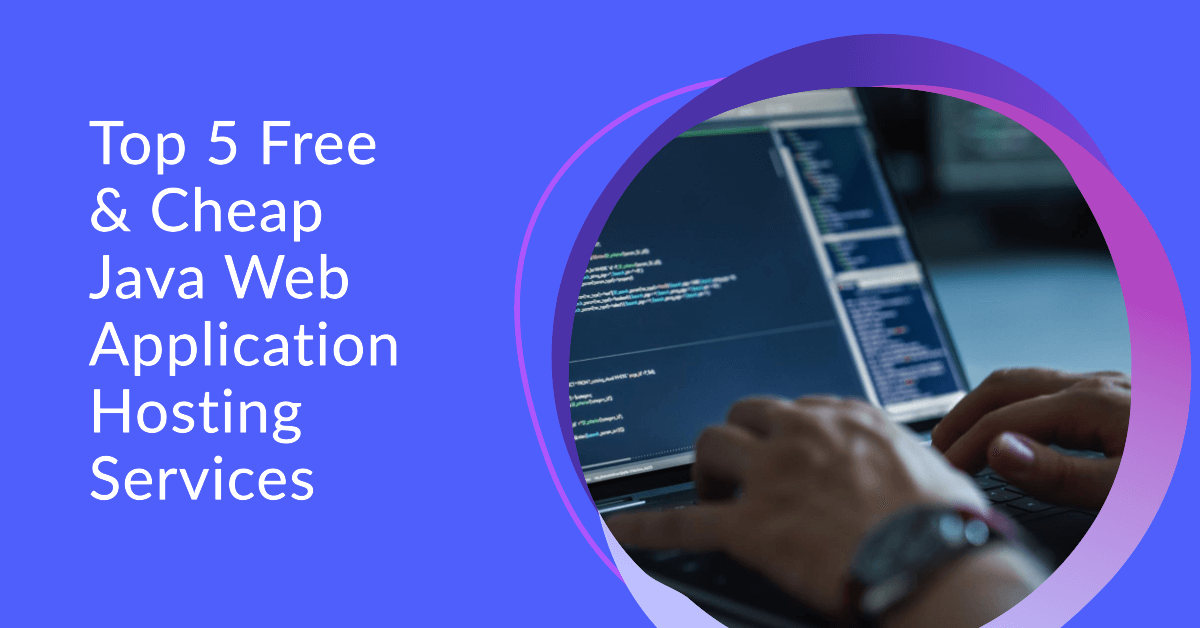 Although website hosting has never been more accessible, as we have access to numerous providers and various services, picking the right one for your hosting needs has never been more challenging.
If you want to host your Java web application for free, your choices are slightly more limited, but you still have plenty of options. However, it's worth noting that free hosting services come with various disadvantages, which likely won't be worth it in the long run.
Nevertheless, we've created a list of the top free hosting providers to help make your decision more painless. We've also included other cheap options, as paid services are often much better than an entirely free hosting service.
Top 5 most popular free and paid Java web app hosting services
The five best Java web app hosting services are GitHub Pages, Bluehost, A2 Hosting, 000webhost, and AwardSpace. Some are free, some are paid but incredibly cheap, but all offer various services and hosting types at affordable prices that can fit anyone's hosting needs.
---
Used by over 100 million developers and owned by Microsoft, GitHub offers various hosting services in the form of GitHub Pages. Revolving around GitHub repositories, the GitHub Pages hosting service is perfect for static websites that use HTML, CSS, and JavaScript languages.
Key features
Backed by GitHub and Microsoft – thousands of companies use the GitHub version control system, and there's a strong community always ready to help.
Static-content oriented – whether you want to host a Java web app, blog, CV, or hobby website, GitHub Pages does static websites exceptionally well.
Incredible coding features – writing and hosting code is easy, and increased code safety measures are in place.
Pricing and plans
GitHub offers three pricing plans: Free, Team, and Enterprise.
Free
It includes unlimited public and private repositories, 2,000 minutes/month of GitHub actions, 500 MB of packages, and community support.
Team
$4 per month

$3.67 per month


(billed annually)
It offers what the Free option does but with 3,000 minutes/month, 2 GB of GitHub packages, and standard support via the web.
Enterprise
$21 per month

$19.25 per month


(billed annually
The package includes 50,000 minutes/month, 50 GB of space, advanced security measures, and available enterprise cloud and server, and it comes with premium and premium plus support.
Visit GitHub Pages for additional information >>
Bluehost — Intuitive and simple to use with powerful features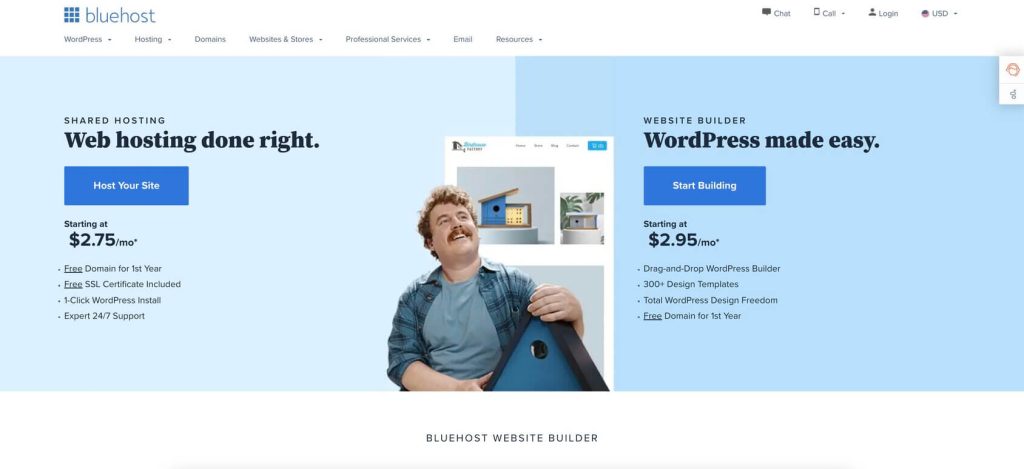 As one of the most versatile hosting services, Bluehost offers various plans and hosting types, such as shared, dedicated, and VPS hosting. The hosting service is incredibly reliable and fast, regardless of the plan. Moreover, there's excellent 24/7 customer support.
Key features
Various hosting plans – Bluehost offers four shared, three VPS, and three dedicated pricing plans, so there's something for everyone's hosting needs.
Virus protection – except for the Basic plan, all plans include a powerful malware scanner for excellent security.
Free SSL certificate – even the Basic option offers free SSL for the first year, while other packages have it for the subscription duration.
Pricing and plans
Although Bluehost offers four paid plans (Basic, Choice Plus, Online Store, and Pro), all have a 30-day free trial, low prices, and one-year or three-year subscriptions.
Basic
$2.75 per month


(billed annually)
It includes 10 GB of SSD storage, one website, custom WordPress themes, and a free domain and SSL for the first year.
Choice Plus
$5.45 per month


(billed annually)
This plan offers 40 GB of SSD storage, unlimited websites, a free domain for a year, free SSL, domain privacy, malware scanning, and daily backups for the first year.
Online Store
The package includes 100 GB of storage, exclusive store themes and analytics, daily backups, and various eCommerce plugins.
Pro
$13.95 per month


(billed annually)
The Pro version gives you everything the Online Store does except the plugins but includes an extra free dedicated IP address.
Visit Bluehost for additional information >>
A2 Hosting — The most affordable paid version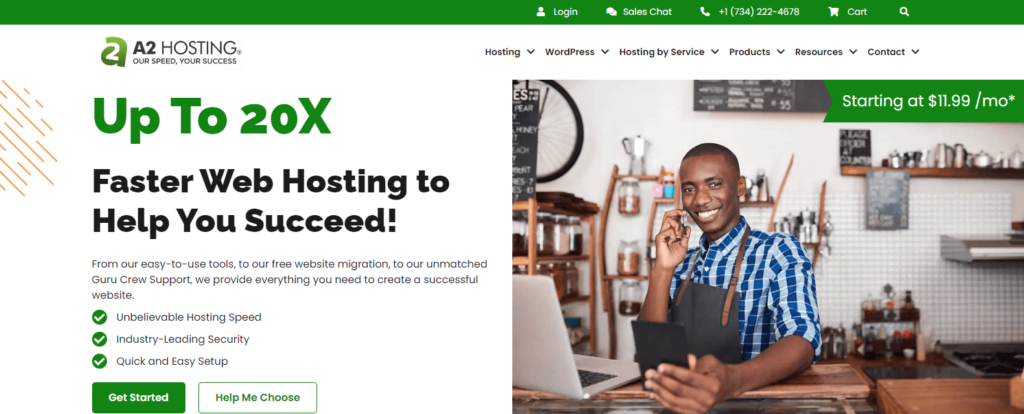 With eight basic and four WordPress hosting types, and the ability to choose the perfect hosting by your industry, A2 Hosting is one of the most versatile
Key features
Free and easy site migrations – whichever plan you go for, migrating your website to A2 Hosting will be effortless.
Affordable yet powerful paid plans – although the paid packages are cheap, they have various advanced features.
Money-back guarantee – regardless of your hosting service, you can quickly get your money back if you're unhappy.
Pricing and plans
A2 Hosting offers four pricing plans, and they all come with effortless and free website migration capabilities and a money-back guarantee.
Startup
Created for hosting a single website, Startup offers 100GB of SSD storage, unlimited emails and transfer, and 24/7/365 phone, live chat, and email support.
Drive
Drive package includes unlimited websites and SSD storage, free automatic backups, traffic spike protection, and 2x the resources in addition to everything Startup offers.
Turbo Boost
The Turbo Boost gives you everything Drive does, but you also get NVMe storage, a 20x faster Turbo mode, and a LiteSpeed-enhanced web server.
Turbo Max
The package offers everything the Turbo Boost does but with five times more resources.
Visit A2 Hosting for additional information >>
000webhost — Excellent features for a free hosting provider
With low prices for its paid packages and a free plan, 000webhost is an excellent budget hosting service. It offers a shared hosting service that can fit any individual or small business's needs and comes with free SSL encryption, plenty of storage, and a lot of bandwidth.
Key features
The free plan is fantastic – it includes a MySQL database, an FTP account, and Cloudflare-protected servers.
Ample bandwidth – although the free package only has 3 GB, paid packages have at least 100 GB or unlimited bandwidth.
Include courses – if you go with a paid plan, even the cheapest one includes free learning courses worth $1,000.
Pricing and plans
000webhost offers four hosting plans: Free Web Hosting, Single Shared Hosting, Premium Shared Hosting, and Business Shared Hosting.
Free Web Hosting
It supports one website, 300 MB of space, and 3 GB of bandwidth.
Single Shared Hosting
This basic paid plan supports one website, 50 GB of space, 100 GB of bandwidth, one email account, and 24/7/365 support.
Premium Shared Hosting
It can handle 100 websites and offers 100 GB of space, unlimited bandwidth, ten emails, 24/7/365 support, weekly backups, and a free domain.
Business Shared Hosting
This package gives you everything the Premium plan does but with 200 GB of space, daily backups, and 4X allocated resources.
Visit 000webhost for additional information >>
AwardSpace — 99.9% uptime guarantee
Whether you're after hosting services for your Java web application, a startup business, or a personal blog, AwardSpace can be a fantastic choice for both individuals and companies, as it offers high-quality hosting services that are either free or incredibly cheap. Moreover, it comes with excellent customer support.
Key features
A free plan with 99.9% uptime – it includes incredible features, doesn't cost a dime, and can be an excellent starting point.
Unlimited storage and bandwidth – all packages, except the free one, come with uncapped monthly traffic and provide abundant disk space.
Outstanding support – AwardSpace includes exceptional 24/7 customer support regardless of your plan.
Pricing and plans
AwardSpace has four hosting plans: Free, Basic, Web Pro Plus, and Max Pack Plus.
Free
It includes one domain and three subdomains, 1 GB of disk space, 5 GB of monthly traffic, 99.9% uptime, a web-based file manager, and 24/7 customer support.
Basic
$0.25 per month 

$2.99 for a year
The Basic plan offers two websites, free SSL and HTTPS, 24/7 support, and quick one-hour responses.
Web Pro Plus
This package gets you everything the Basic package does but with up to ten websites and one free domain for life.
Max Pack Plus
$9.49 per month 

$113.88 for a year
It includes everything the Basic package includes but with unlimited websites and two free domains for life.
Visit AwardSpace for additional information >>
How to choose the best Java web application hosting service
Picking the first web hosting provider that pops up after searching isn't the wisest idea. Instead, look into various aspects of web hosting, which can help you choose the best Java app hosting service for your needs.
Reliability
The first thing you must review is the hosting provider's reliability. That includes reading customer comments and reviews and discovering more about the service's speed and loading times, server uptime, and guarantees.
Level of security
You'll need to learn more about the hosting provider's security options, which include SSL encryptions, HTTPS instead of HTTP, SFTP instead of FTP, periodic password changes, malware scanners, updates, and more.
Available resources
Depending on your needs, you should consider the hosting service's CPU power, RAM, storage, and bandwidth. These can mean the difference between happy and frustrated customers because of your website or app's loading times.
Customer support
You'll want reliable customer support if you ever have trouble with your website or application. It's essential when choosing the best hosting provider.
Conclusion
Getting your website or app up and running is now easier than ever, as various websites offer incredible and accessible hosting services. Now that you know more about the top five providers, some of which have free plans while others offer incredibly cheap packages, you can quickly get your Java web application online.