The Best Website Malware Scanning Tools You Should Use in 2023
FirstSiteGuide is supported by our readers. When you purchase via links on our site we may earn a commission.
Read More
The Best Website Malware Scanning Tools You Should Use in 2023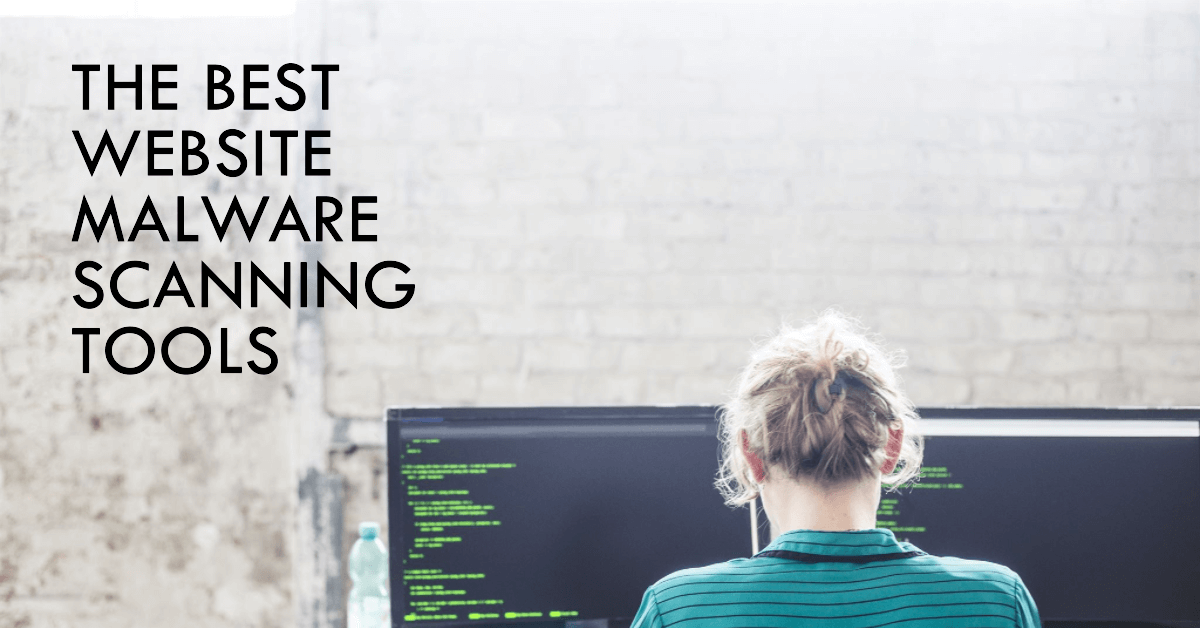 Malware is one of the most common cyber threats on the web. Invented by cyber criminals, the malware software allows hackers to access sensitive data, business information, and user credential stored on your website or computer.
According to statistics, hackers launch more than half a million new pieces of malware every day. In other words, you won't stand a chance without proper anti-malware protection.
Since malware can cause damage beyond repair to your brand and customers, you need adequate protection. A malware-scanning tool is one of the best ways to prevent malware from messing with your website. It can detect, identify, and remove malware infections before they cause permanent damage to your computer systems and websites.
With that in mind, we've gathered a list of the best website malware scanners you should use to protect sensitive data from unauthorized access.
Top 5 most popular website malware scanning tools
Let's review these solutions, including their features and pricing, so you know what to expect.
---
Quttera — AI website scan engine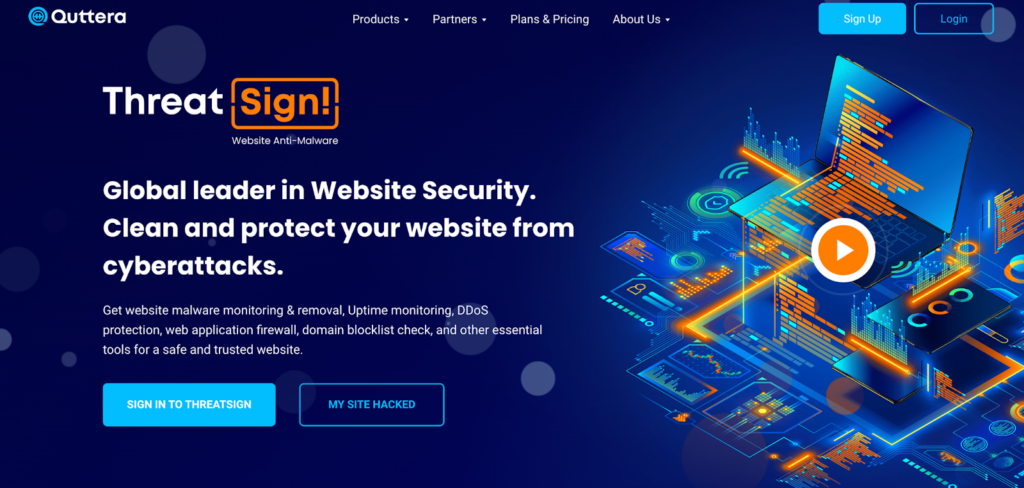 Quttera is a fast, reliable, easy-to-use website malware scanning freeware for removing malware infections from Joomla, WordPress, and CSS/HTML-based websites.
It can blacklist infections, detect suspicious external links, and identify and remove malicious files from your internal links and web pages. Quttera will monitor your website for malware activity and come back to you with detailed reports.
Key features
Scan for infection – an AI-powered scan engine can quickly scan your website for malware to prevent downtime, malvertising, blacklisting, and other security threats;
Malware detection – detect the latest web threats and remove them before they cause damage to your website;
Web Application Firewall – block malicious activities, visitors, and requests from your website.
Plans and pricing
Quttera offers four pricing plans: Free, Essential Security, Premium Security, and Emergency.
Free 
The Quttera free malware scanner will scan your website for malware and return to you with a full report on all affected pages, including the cause of infections. The scanner will clean malware on demand.
Essential Security
Essential Security is ideal for protecting your website against malware from a unified dashboard with features like external and continuous server-side malware scanning, SSL certificates, DNS-based WAF, DDoS protection, threat mitigation, and website hardening.
Premium Security 
In addition to Essential Security features, the Premium Security plan adds unlimited automated malware removal, anti-hacking protection, website audit, and blacklist prevention (Google, Yahoo, etc.).
Emergency
Emergency combines both Essential Security and Premium Security plans and adds the fastest response time for malware mitigation (within 4 hours).
Visit Quttera for additional information >> 
Site Guarding empowers you to scan your website for threats daily, mitigate malware and virus infections, and ensure your web pages are safe and secure.
It also provides 24/7 website support for any detected security vulnerability, including making immediate on-site improvements for maximum uptime.
Key features
Virus/malware monitoring – detects malware and virus infections and remove them on a daily basis.
24/7/365 threat support – tap into live support with advanced analytics, removal notifications, and security alerts.
Blocklist removal – remove your websites and apps from search engine blocklists.
Plans and pricing
Site Guarding offers three malware removal plans: Free, Malware Removal Service, and Emergency Malware Removal.
Free 
Free Malware Removal allows you to scan your website for malware for free. If the scan detects a threat, Site Guarding will assign the task to a security expert who will remove viruses, spyware, and malware from your website and provide you with a detailed report. However, free users are subject to queuing and may wait a while for Site Guarding to address their needs.
Malware Removal Service
Malware Removal Service includes the same service as the Free plan with a slight difference – it handles your malware problem within 24 hours and includes a 14-day guarantee per website.
Emergency Malware Removal
Emergency Malware Removal empowers you to eliminate viruses and malware within 1–3 hours and adds blacklist removal and a 14-day guarantee per website.
Visit Site Guarding for additional information >> 
Invicti — Great package with IAST and DAST scanning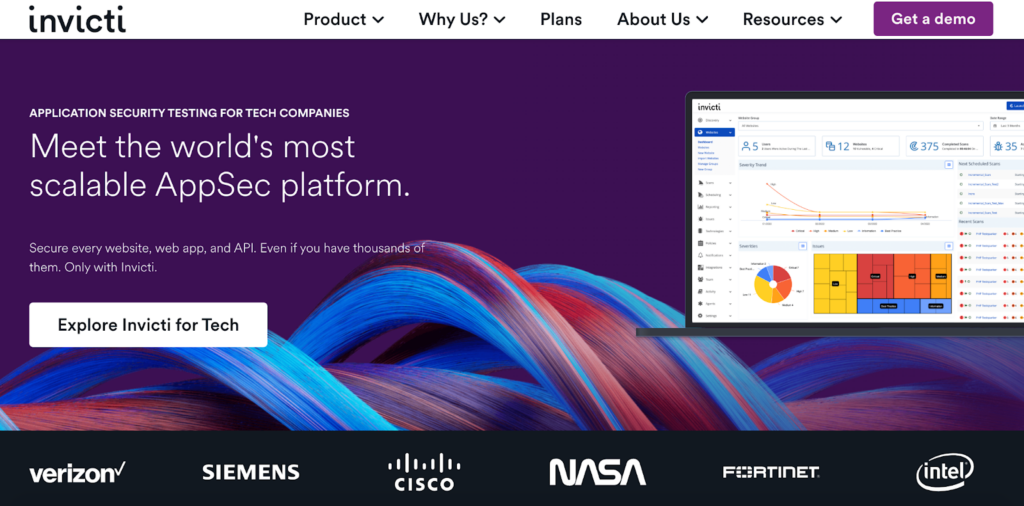 Invicti is a go-to solution when scanning APIs, web services, and applications. It provides advanced malware scanning features, such as IAST and DAST scanning, to empower you to identify security issues and weaknesses other scanners might miss.
Invicti operates using automated workflows to discover and mitigate any threats automatically. Users get a unified dashboard with advanced reports for more streamlined threat management.
Key features
Malware detection – get full transparency of your websites, apps, and APIs with combined IAST and DAST scanning.
Dashboards – manage threat reports for HIPAA, OWASP Top 10, and PCI DSS and monitor scan results from one place.
Advanced crawling – discover security threats on all web pages before they harm your website.
Plans and pricing
Invicti offers three pricing plans – Free Trial, Invicti Pro, and Invicti Enterprise.
Free Trial 
The Free Trial gives you access to basic malware scanning features, such as malware detection and reporting.
Invicti Pro 
Contact Invicti to get a quote
Invicti Pro is ideal for mid-sized businesses and includes automated workflows for malware detection, threat mitigation, API testing, software analysis, and unlimited scan engines for up to 100 APIs and applications.
Invicti Enterprise 
Contact Invicti to get a quote
Invicti Enterprise includes all Pro features and adds advanced user roles and privileges for Azure AD, SAML, Okta, Google, and more. In addition, it provides multiple integration options for CI/CD systems, issue trackers, communication systems, WAFs, project management, vulnerability, SIEM, etc.
Visit Invicti for additional information >> 
SiteLock — Automated malware removal and real-time notifications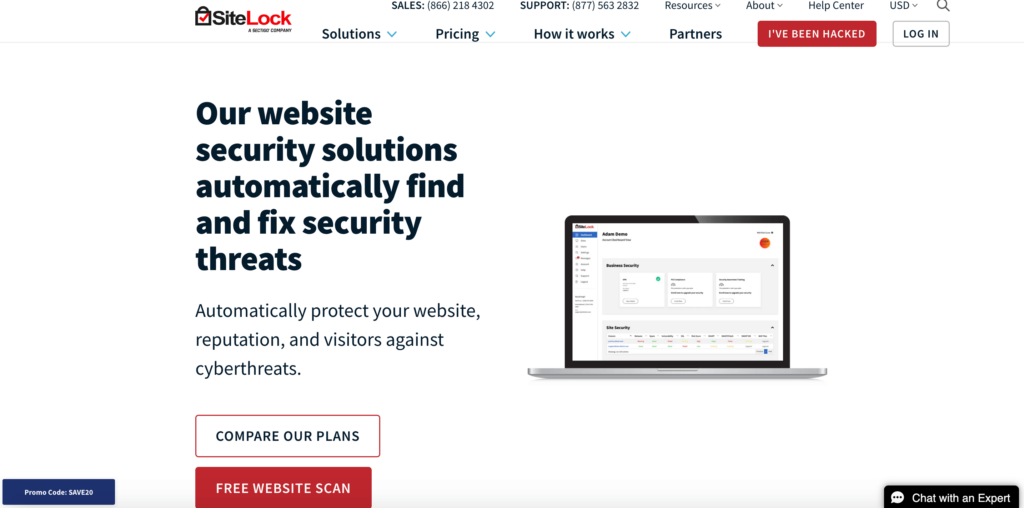 SiteLock offers cloud-based website malware removal solutions to help you improve your website security, safety, and uptime.
It provides 360-degree threat monitoring, emergency website repair, malware scanning, and automated website security solutions for mitigating cyber attacks. It can also help you ensure PCI compliance, expedite website performance, and blacklist removal.
Key features
SiteLock Content Delivery Network (CDN) – speed up your website performance by removing threats, phishing, spam, malware, etc.
DDoS protection – tap into automated threat detection to trigger DDoS prevention mechanisms.
360-degree website monitoring – scan your website and remove malware threats daily.
Plans and pricing
SiteLock offers four pricing plans: Free Website Security Scanner, Basic, Pro, and Business.
Free Website Security Scanner 
The free scanner allows you to conduct a free external scan of your website for well-known malicious code and malware threats. It also ensures your website's security is up-to-date. However, the free plan doesn't offer malware removal.
Basic 
$14.99 per month

$166 per year


(min one-year commitment)
The Basic plan includes 24/7 customer support, unlimited malware removal, website backup, and daily scanning for SSL, malware, spam, SQL injections, XSS, and CMS.
Pro 
$24.99 per month

$275.88 per year


(min one-year commitment)
In addition to Basic features, Pro adds access to CDN and WAF, including DDoS and backdoor protection and malicious bot blocking.
Business 
$34.99 per month

$376.11 per year


(min one-year commitment)
Aside from Pro features, Business includes e-commerce controls, such as an editing dashboard for setting custom WAF rules, firewall PCI reporting, and 2-factor authentication.
Visit SiteLock for additional information >> 
Acunetix — Great for development and app testing
Acunetix allows you to perform fast website and application scans and mitigate any detected security vulnerabilities.
Thanks to its advanced anti-malware infrastructure, Acuntix protects against over 7000 known cyber threats, such as OWASP Top 10, SQL injections, XSS, misconfigurations, exposed databases, malware, spyware, and ransomware.
Key features
Ultra-fast scans – schedule scans for multiple targets and get reports on high-risk vulnerabilities.
Threat remediation – detect vulnerability locations and receive actionable insights into the best remediation practices.
Automated 360-degree threat detection – run automated scans all over your websites and applications, including unlinked pages, complex paths, password-protected areas, script-heavy pages, and SPAs.
Plans and pricing
Acunetix doesn't provide information on its pricing plans. Contact the vendor to get a quote.
Visit Acunetix for additional information >> 
How to choose the best website malware scanning tool
Before you opt for any website malware scanning solutions, there are a few considerations to remember to ensure you select the right tool for your specific needs.
Pricing
Most cybersecurity service providers offer more than just a website malware scanning tool. Because of that, their services might go well beyond your budget. Pay attention to the features you get for your money.
Number of security features
A solution you opt for should be able to offer you some level of customization. We recommend choosing a website malware scanner with quick, deep, and automated scans, malware removal, antivirus protection, VPN, multi-layered cyber threat protection, anti-phishing measures, etc.
Scanning speed
Most website malware scanners are slow and can't address your immediate needs. Therefore, choose a scanning tool that can detect and remove malware instantly with utmost efficiency. In addition, it should offer daily website scans.
Malware removal capabilities
Aside from removing malware from all your websites, applications, and APIs, a website malware scanner should also offer advanced malware removal capabilities to eliminate less known malware threats that other tools can't detect.
Customer support
Look for a vendor with 24/7/ customer support across multiple communication channels, such as email, live chat, phone, etc. Ideally, look for a provider that can assign you a security professional who will give you their undivided attention.
Conclusion
This article contains information on both premium and free website malware scanning services. We recommend testing all these tools before making a decision. Malware is an ever-evolving threat that's here to stay. The sooner you start working on your anti-malware protection and cybersecurity capabilities, the better you'll be able to protect your websites, apps, and APIs.