The Best SSL Certificate Monitoring Services in 2023
FirstSiteGuide is supported by our readers. When you purchase via links on our site we may earn a commission.
Read More
The Best SSL Certificate Monitoring Services in 2023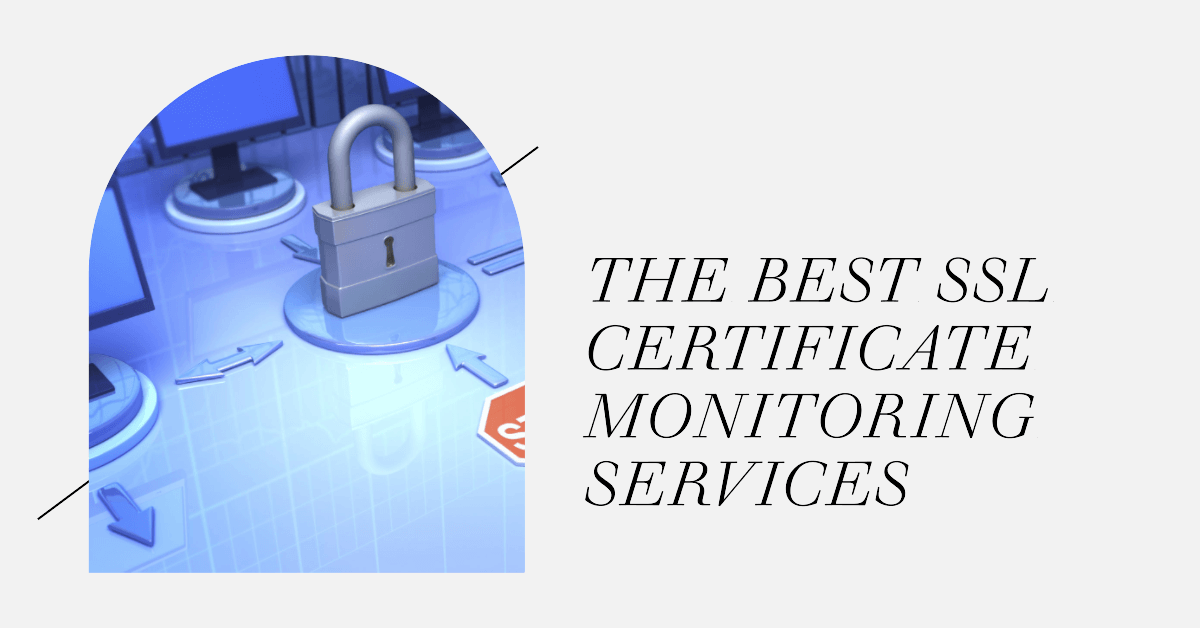 An SSL certificate plays a critical role in maintaining top-class website performance. It directly impacts customer satisfaction, search engine optimization, user experience, and website security.
Without it, you won't be able to process financial transactions and manage sensitive user data online.
SSL protects your website and visitors by encrypting all incoming and outgoing data, thus preventing hackers, cybercriminals, and third parties from accessing any information transferred. Therefore, an SSL certificate is crucial to keeping your website and customers safe and secure. 
With that in mind, we've created a list of the top five most trusted SSL certificate monitoring service providers to help you check your SSL certificates for change, expiry, compliance, and validity.
Let's delve deeper into the essentials you should know to make an informed decision.
Top 5 most popular SSL certificate monitoring services
Since SSL certificates play a vital role in keeping your business and customers secure from numerous cybersecurity threats, these five monitoring services can help you accomplish that goal:
---
Dotcom-Monitor might be the perfect solution if you need a comprehensive and easy-to-use SSL monitoring solution for one or multiple websites.
It will monitor your certificates, alert you before expiry, and spare you the trouble of dealing with losing customers, website errors, and downtime.
You get a centralized dashboard for tracking SSL certificate usage, verification monitoring, checking certificate authority, and more.
Key features
SSL certificate monitoring – manage your websites and domains, check website and server availability, monitor uptime and response time, and ensure your SSL certificates are up to date;
Alert system – receive alerts when your certificates are about to expire;
Monitoring network – configure a monitoring network around essential website functions, SSL certificate usage, website performance, content, and uptime.
Pricing and Plans
Though Dotcom-Monitor offers multiple pricing plans, only the Website Services Monitoring plan includes SSL certificate monitoring. All the pricing plans have a 30-day free trial.
Web Services Monitoring 
Web Services Monitoring allows you to monitor your SSL certificates from a unified dashboard, receive expiration reminders, renew certificates, validate and verify your SSL certificates, manage SSL usage, and prevent SSL revocation.
Visit Dotcom-Monitor for additional information >>
Better Uptime — Modern solution with many monitoring options
Aside from SSL certificate monitoring, Better Uptime provides multiple monitoring options with built-in alert systems, incident monitors, cron jobs, status page manager, and 30-second website scanning from multiple locations.
It lets you keep your SSL up-to-date and get ahead of your website with smart incident remediation.
Key features
Uptime monitoring – monitor your network, DNS, SSL, SMTP, IMAP, POP3, API, etc.;
Incident management – receive alerts when any event occurs on your website;
Status page – share threat updates with your team via branded status page.
Pricing and plans
Better Uptime offers four pricing plans: Basic, Freelancer, Small Team, and Business.
Basic 
The Basic plan offers free access to five status pages, ten monitors, 3-minute on-site checks, and free email alerts.
Freelancer 
$30.00 per month

$24.00 per month


(billed annually)
Freelancer adds a single-user account with five status pages, 50 monitors, 30-second on-site checks, email alerts, and unlimited phone calls.
Small Team  
$100.00 per month

$80.00 per month


(billed annually)
In addition to Freelancer features, Small Team adds access to give team members 100 monitors, 15 status pages, on-call scheduling, and over 200 integration options.
Business 
$200.00 per month

$160.00 per month


(billed annually)
The Business plan includes everything in Small Team and adds priority customer support, 1000 monitors, 25 status pages, 5 users per team, and an option to add additional team members to your account.
Visit Better Uptime for additional information >>
StatusCake — Many integrations & ease of use
StatusCake gives you an all-encompassing view of all incidents on your website via historical website downtime reporting. StatusCake uses an advanced SSL algorithm, real-time metrics, and analytics to monitor your SSL and alert you before your certificate expires.
It also provides server, domain, and web page speed monitoring services.
Key features
SSL score calculation – calculate your SSL score to detect any problems before they endanger your website;
Uptime monitoring – test your website automatically using ping, SSH, SMTP, DNS, HEAD, HTTP, etc.;
Page speed monitoring – ensure maximum page loading times to improve your website's performance.
Pricing and plans
StatusCake offers three pricing plans: Free, Superior, and Business. All pricing plans include a 7-day free trial.
Free 
The Free plan gives you basic monitoring features, such as 10 uptime monitors, a one-page speed monitor, one domain monitor, and one SSL monitor with expiration alerts and certificate scores.
Superior 
$24.49 per month

$20.41 per month


(billed annually)
Superior raises the bar to 100 uptime monitors, 15-page speed monitors, 50 domain and SSL monitors, 3 server monitors, email alerts, and white-label reporting.
Business 
$79.99 per month

$66.66 per month


(billed annually)
The Business option gives you full access to all StatusCake features, including 300 uptime monitors, 30-page speed monitors, 120 domain monitors, 100 SSL monitors, 10 server monitors, dashboards, and custom template emails.
Visit StatusCake for additional information >>
TrackSSL — Expiry and certificate error monitoring
TrackSSL is a user-friendly SSL certificate expiry monitoring tool that empowers you to avoid website downtime. Aside from SSL monitoring, TrackSSL also monitors your TLS certificates for fraud, suspicious changes, and expiration.
This simple tool can help business owners prevent website downtime and avoid losing revenue and customers due to security breaches.
Key features
SSL/TLS expiry alerts – receive alerts via SMS, Slack, or email when your certificates are about to expire;
SSL monitoring – track all changes related to your SSL certificates;
SSL transparency log – protect your website by tracking issuing of new SSL certificates for your domain.
Pricing and plans
TrackSSL offers five pricing plans: Free, Starter, Growth, Complete, and Scale.
Free
The Free plan offers basic SSL certificate expiration monitoring for up to two websites with Slack integration, expiration notifications, and auto-renewal alerts.
Starter 
$19.00 per month

$17.00 per month


(billed annually)
Starter includes Free monitoring for up to 20 websites with separate email accounts for each SSL certificate.
Growth 
$39.00 per month

$35.00 per month


(billed annually)
In addition to Starter monitoring, Growth adds monitoring for up to 80 websites, Microsoft Teams integration, and access to TrackSSL REST API.
Complete
$79.00 per month 

$72.00 per month


(billed annually)
Complete includes everything in Growth plus monitoring for up to 200 websites, Webhook integration, and proactive certificate transparency monitoring.
Scale
$149.00 per month

$136.00 per month


(billed annually)
Scale offers everything in Growth with monitoring for up to 500 websites.
Visit TrackSSL for additional information >>
Sucuri — Advanced solutions with machine learning
Sucuri lets you avoid changes to your TLS and SSL certificates before they happen. You can monitor certificate alterations by setting a trigger system to receive notifications via email. 
Though Sucuri provides a pretty basic SSL monitoring service, its features are geared more toward website security than certificate monitoring.
Key features
Malware removal – remove malware infections from your website and ensure maximum security and performance;
Blocklist status tracking – remove security warnings from your website and submit blocklist removal requests;
Web Application Firewall – detect and mitigate malicious traffic before it lands on your website.
Pricing and plans
Sucuri offers three pricing plans for website security: Basic, Pro, and Business.
Basic 
The Basic option ensures website security for one website with unlimited malware removal, incident reporting, advanced security scans, WAF, blocklist removal, SSL monitoring, CDN, CMS, and customer support requests.
Pro 
Pro offers everything in Basic with advanced SSL monitoring and support and priority support.
Business 
The Business plan offers Pro features and adds advanced security scans every 30 minutes, emergency response SLAs, and a dedicated support team.
Visit Sucuri for additional information >>
How to choose the best SSL certificate monitoring service
Since there are so many SSL certificate monitoring service providers, here are some key considerations to remember when choosing an SSL certificate monitoring tool.
Number of integrations
We recommend opting for SSL monitoring services encompassing many integrations to help you ensure top website performance and increase productivity. The service you choose should easily integrate with your tech stack.
Pricing plans and options
Pay attention to each pricing plan's options to avoid breaking your budget on features you won't use. Think twice before you purchase a solution that goes beyond SSL certificate monitoring.
SaaS services
Depending on the web hosting solution you're already using, you should decide whether you need cloud-based hosting services along with SSL certificate monitoring. Remember that SaaS services are usually more flexible, scalable, and highly customizable.
Number of features
Do you need basic SSL certificate monitoring or something more robust? It might be worth considering the exact features you need to narrow your selection and choose a service provider that can address your specific website security needs.
Additional website monitoring capabilities
Most SSL monitoring service providers also have additional features, such as log monitoring, infrastructure maintenance, synthetic monitoring, and additional cybersecurity options to consider. If you need these extra services, that might increase the price. 
Conclusion
The list listed here covers all the basics of SSL certificate monitoring. Since you can't afford to neglect the importance of SSL monitoring, we recommend testing all these tools to see how they stack up against each other. More importantly, that should help you find the best solution according to your specific and unique SSL monitoring needs.