The 10 Best Reputation Management Companies [I Tried 30+]
FirstSiteGuide is supported by our readers. When you purchase via links on our site we may earn a commission.
Read More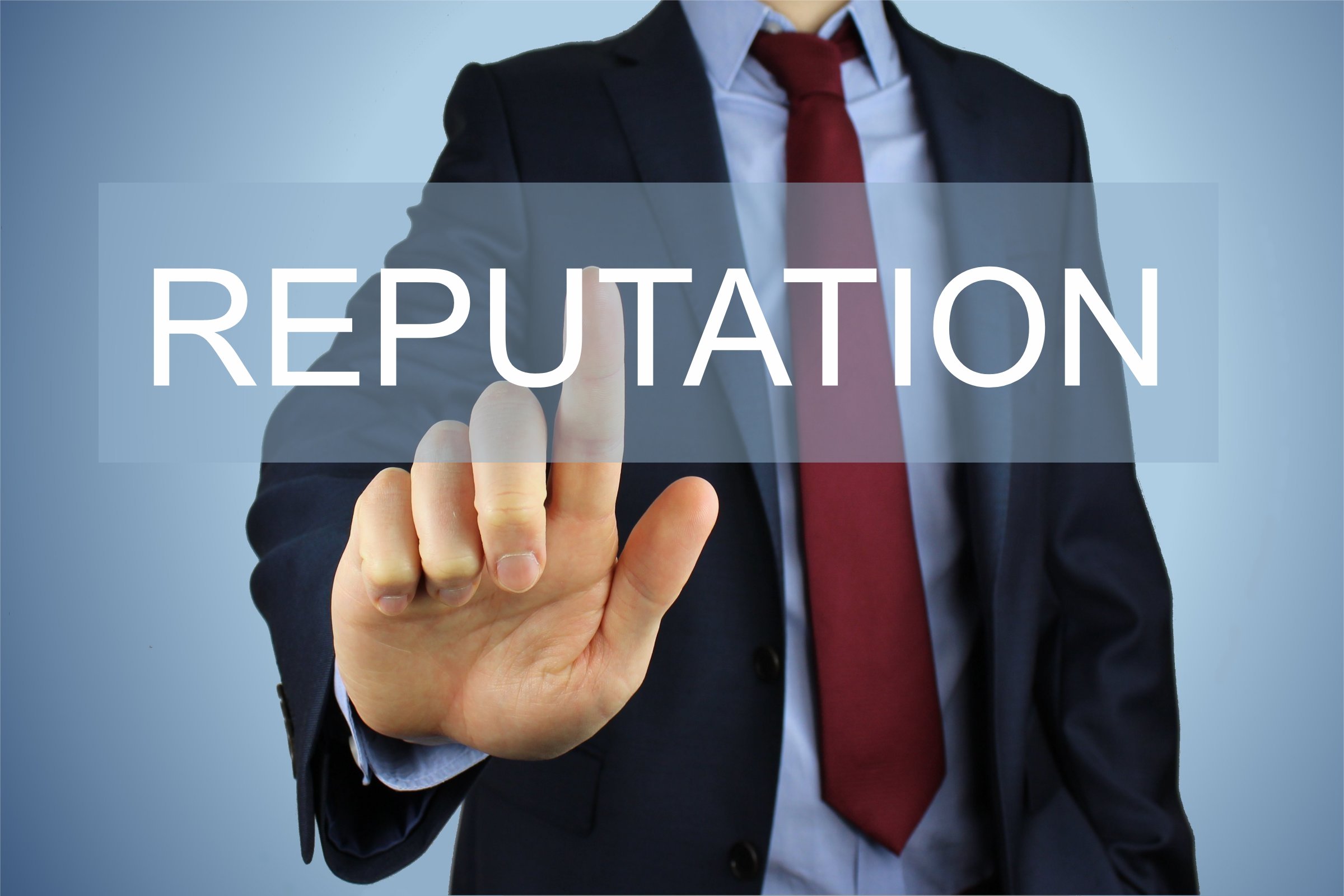 Your business's reputation counts when it comes to winning customers. Accordingly, building a positive brand image is a necessary step.
However, doing it by yourself can be tiresome and time-consuming.
The good news?
I found the best reputation management companies to help you out. You'll enjoy customized solutions that match your brand's specific needs. That way, you can save time and concentrate on growing your business.
Let's check them out.
Best reputation management companies
Below is a quick roundup of the top 10 reputation management companies.
How I chose the best reputation management companies
Choosing the top reputation management companies wasn't an easy task. But I had a plan:
I searched the web for companies that provide reputation management services.
I created a list with features to compare. These included:

Brand monitoring
Content removal and suppression
Response management
Reporting and analytics
Customer support
Pricing
I used the criteria above to narrow down the list to 30 vendors.
Then, I signed up for each to test the quality of service.
This helped me drop 20 from my selection.
Finally, I ranked the remaining ones from best to worst.
As you can see, it was both demanding and time-consuming. But I'm glad to present you with the results.
Drumroll, please!
Sitetrail — Best for clearing up your reputation fast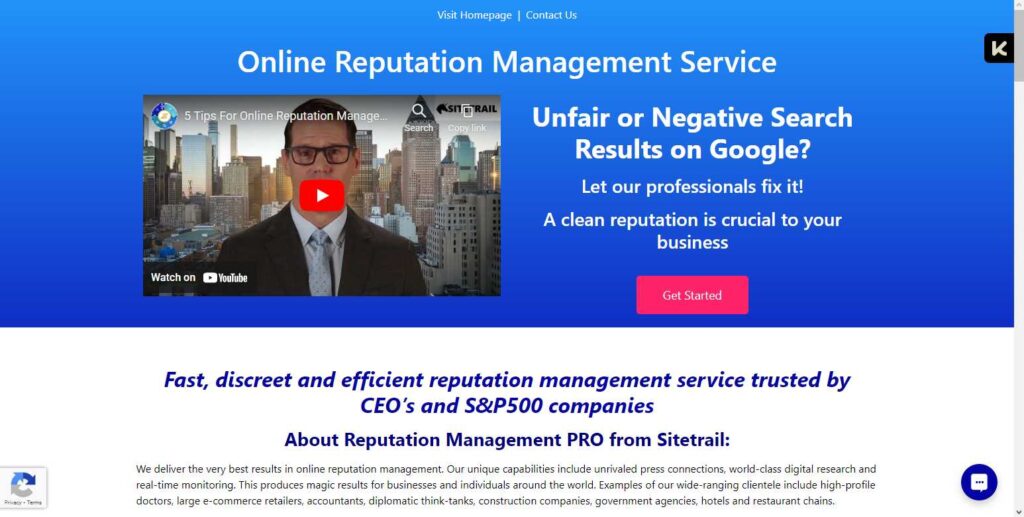 Sitetrail is a full-service reputation management company. It offers comprehensive assistance, designed to address negative publicity across the internet. This covers Google Search, social media platforms, digital press, and more.
The company provides fast and efficient solutions trusted by CEOs and major companies. Its unique approach combines top-tier research and real-time monitoring to produce outstanding results. Moreover, it can customize its services to fit your diverse needs as a client.
Sitetrail's core offering includes suppressing harmful web content with accurate/positive information. It also employs public online relations to give you some of the best press release distribution services. All this is done through upholding strict ethical and legal standards.
Key Feature:
Suppress negative results – Use authentic positive reviews to diminish damaging reviews.
Omnichannel coverage – Targets multiple online channels to build your brand's reputation.
SEO – Employs search engine optimization (SEO) to push positive content about your brand.
Press release distribution – Provides unique editorial content to boost your image on mainstream media.
Customer support – Offers 24/7 support via live chat, video call, and email.
Pricing
There are three pricing plans available on Sitetrail:
Single Newsblast
It includes basic SEO services, copywriting, and Google News coverage.
High Authority News
Covers everything in Single Newsblast, including strong SEO value and weakening negative publicity.
Authority & Volume
Includes everything under High Authority News alongside press release distribution and dominant Google News coverage.
Visit Siterail for additional information >>
WebiMax — Best for small and medium enterprises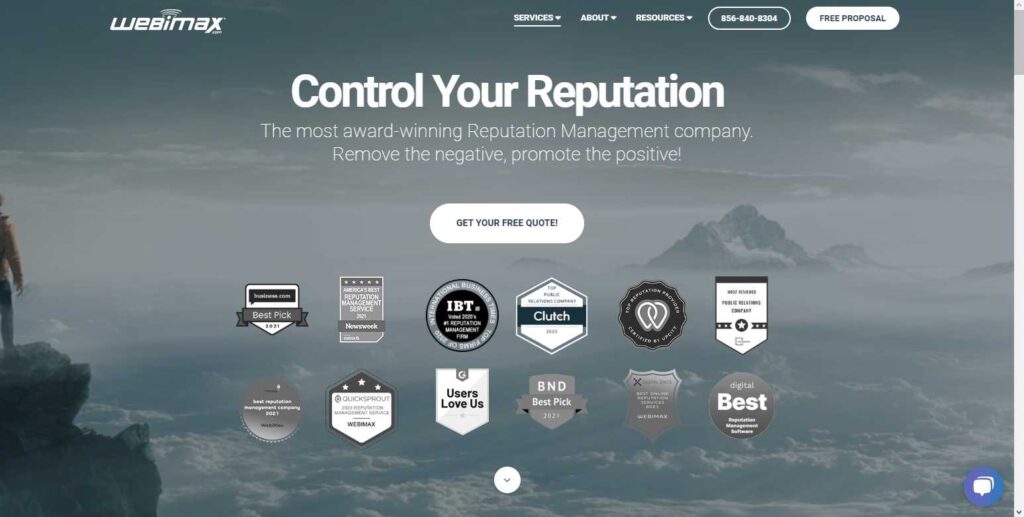 WebiMax is an award-winning reputation management company with global recognition for its excellence. It caters to businesses of all sizes, including individuals. Additionally, its free reputation analysis makes it stand out from the crowd.
The company uses a holistic approach to build or salvage your brand image. Top of the list includes using positive content to outrank negative publicity. In other situations, it gets negative information about your brand erased.
Unlike other vendors, WebiMax doesn't have fixed pricing plans. Instead, it charges customers based on the services required. This gives you a chance to build your reputation without breaking the bank.
Key Features:
Timeline management – Provides an accurate timeframe to meet your desired goals.
Suppress negative content – Uses positive content to minimize the effectiveness of damaging information.
Reporting – Provides comprehensive report detailing negative content and timeline for removal.
Press release distribution – Uses reputable networks to distribute press releases like Business.com, Newsweek, and Clutch.
Customer support – Provides round-the-clock support via phone, live chat, and email.
Pricing
As I mentioned earlier, the company lacks fixed pricing plans. It charges customers based on the services they need.
Visit WebiMax for additional information >>
NetReputation — Best for brand reputation monitoring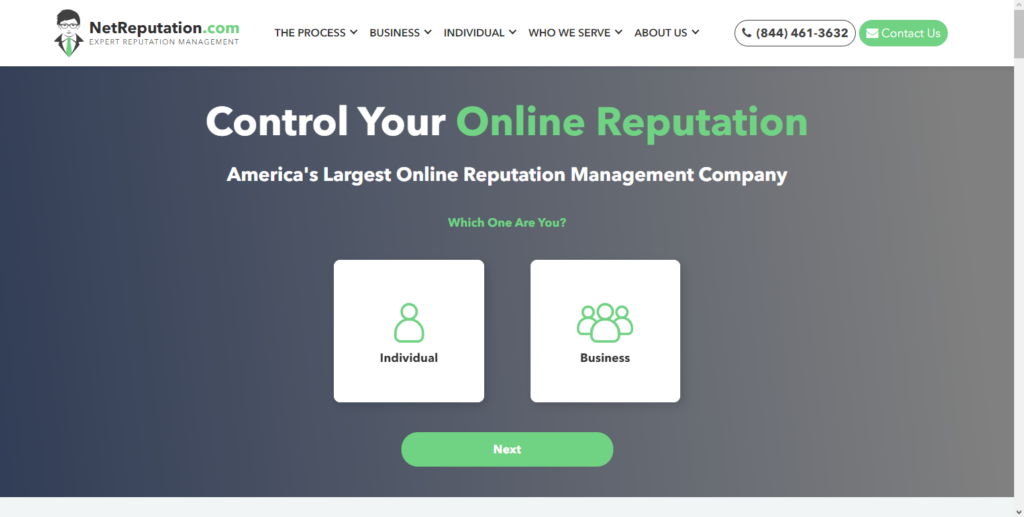 NetReputation is another top-tier reputation management service. It dedicates itself to assisting both high-profile individuals and businesses of any size. Established in 2014, it employs innovative techniques to build and restore your online image.
The company's products comprise content removal, review management, SERP monitoring, SEO, advertising, etc. Moreover, it uses content creation as a strategy for building brands. Its channels include digital press, social media, and Wikipedia.
But there's more:
NetReputation's proactive monitoring discovers problems before they harm your business. Should things get thick, count on its crisis management guide to save face. Above all, you get highlights achievements, and opportunities to grow your brand.
Key Features:
Branding – Tracks your brand growth and details recommendations for boosting its value.
Reputation monitoring – Keeps a close watch on your brand's reputation for timely alerts.
Crisis management – Offers a quick way to address threats affecting your business.
Content removal – Removes content that damages your brand from the internet.
Customer support – Provides support through chat, phone, and email.
Pricing
Consultations are entirely free. However, the prices vary depending on the specific needs of the client.
Visit NetReputation for additional information >>
InboundJunction — Best for small businesses and startups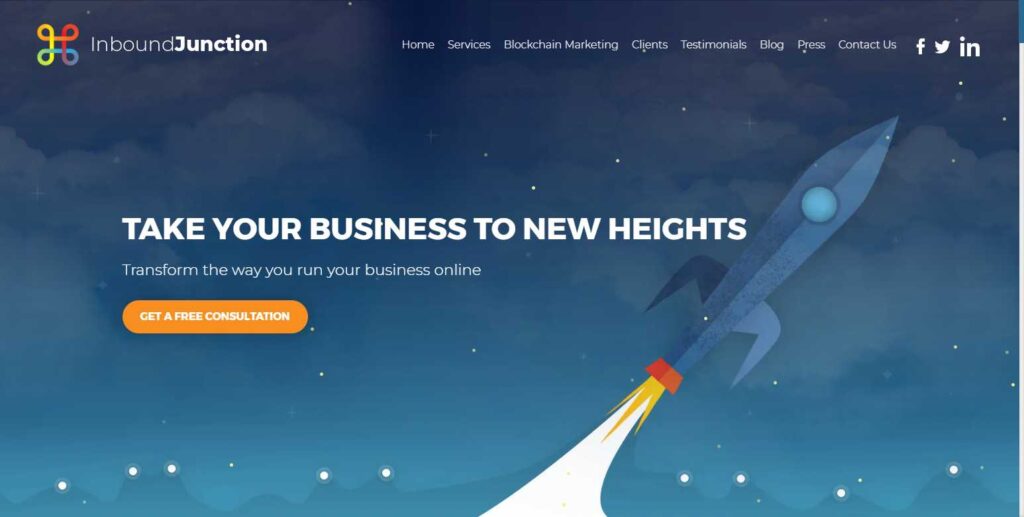 InboundJunction is a performance-driven digital marketing agency tailored for startups. It elevates businesses through content marketing, SEO, and public relations (PR). Some brands they've assisted include Zoho, Payoneer, HubSpot, and more.
The company places a strong emphasis on monitoring online mentions. Furthermore, it engages closely with your clients to help repair your reputation. At your request, it can get influencers to extend your brand's reach and credibility.
Public relations is another area where InboundJunction shines. The vendor uses renowned publications to build awareness and brand trust. Apart from that, it employs SEO to push up positive content about your business.
Key Features:
Brand management – Monitors your brand online.
SEO – Use SEO to boost your rankings on search engines.
Content amplification – Relies on multiple online channels to promote your brand.
Influencer marketing – Partners with influential people to boost your brand's trust.
Customer support – Offers customer support through phone and email.
Pricing
InboundJunction doesn't have fixed prices. Instead, it offers custom-tailored plans based on your needs.
Visit InboundJunction for additional information >>
Podium — Best for customer-driven brand management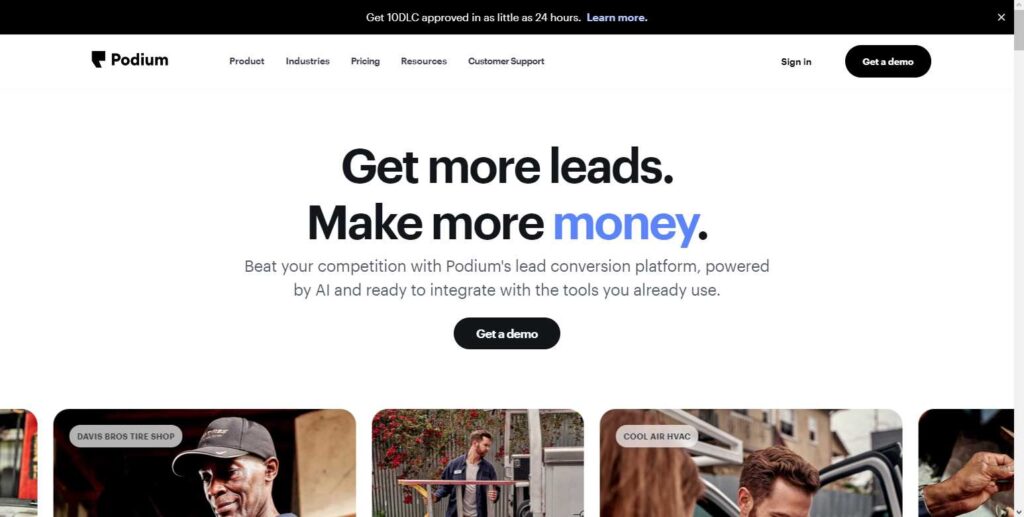 Podium is a consumer-driven brand reputation company. Unlike other services, it heavily relies on feedback to build your brand. This is possible by using its 100+ tools for promoting customer reviews.
The company offers multiple channels for managing your interactions. These include phone, text, email, and social messaging. And you get a centralized dashboard to manage everything in one place.
Podium's platform promotes conversations about your brand without breaking a sweat. All reviews are automatically published on TripAdvisor, Google, and Facebook. This improves your online image by leveraging positive customer interactions.
Key Features:
Advanced communications – Manage text and voicemail messages with the help of artificial intelligence (AI).
Customer database – Store customer information for marketing purposes.
Reviews gathering – Collect and publish reviews to build your brand image.
Marketing – Create campaigns to promote your products and services.
Customer support – Available 24/7 through chat and text messaging.
Pricing
Podium offers three pricing plans. They include:
Essentials
Capture and publish online reviews in real-time.
Standard
Includes multimedia messaging, reporting, and customized branding.
Professional
Supports automation of tasks, routing messages, and high-volume messaging.
Visit Podium for additional information >>
Rhino Reviews — Best fully managed online review reputation management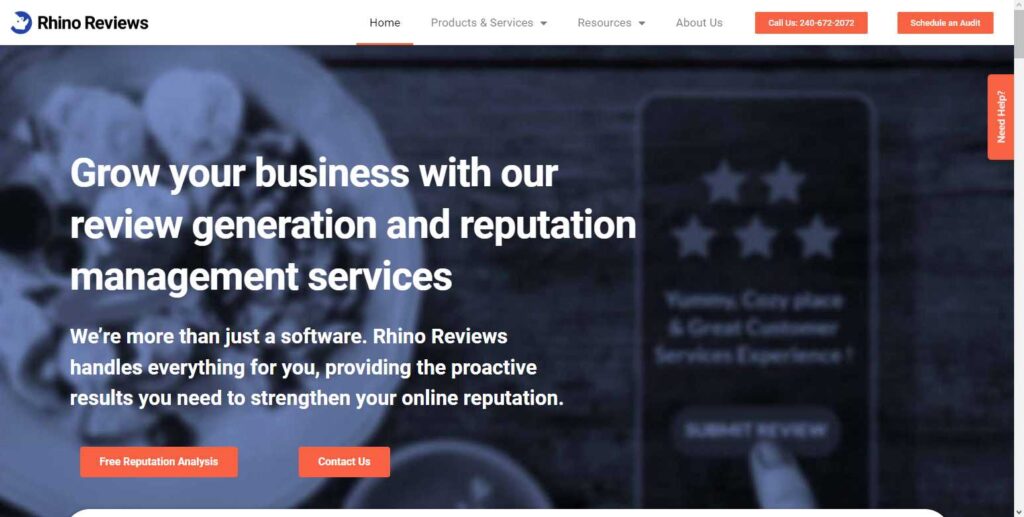 Rhino Reviews is another great customer-driven reputation management service. Unlike Podium, it creates customized campaigns to help you build your brand. This strategy prevents bad comments about your company from taking off.
The vendor integrates with 85+ business listing platforms to ensure widespread reach. These include Google, Yelp, Facebook, Better Business Bureau (BB), etc. Other core services comprise online monitoring, employee review management, and competitive analysis.
You'll also receive monthly reports detailing the performance of your brand. This comes in handy for discovering opportunities you can capitalize on. Even more, Rhino Review's customer support is available day and night to help.
Key Features:
Reviews generation – Creates custom campaigns to generate positive reviews about your brand.
Local SEO service – Offers SEO services targeting certain localities.
Online monitoring – Tracks and responds to views about your brand online.
Reports – Provides comprehensive monthly reports about your brand reputation.
Customer support – Available through the clock via phone and email.
Pricing
Pricing is available upon request.
Visit Rhino Reviews for additional information >>
Gadook — Best for brand rebuilding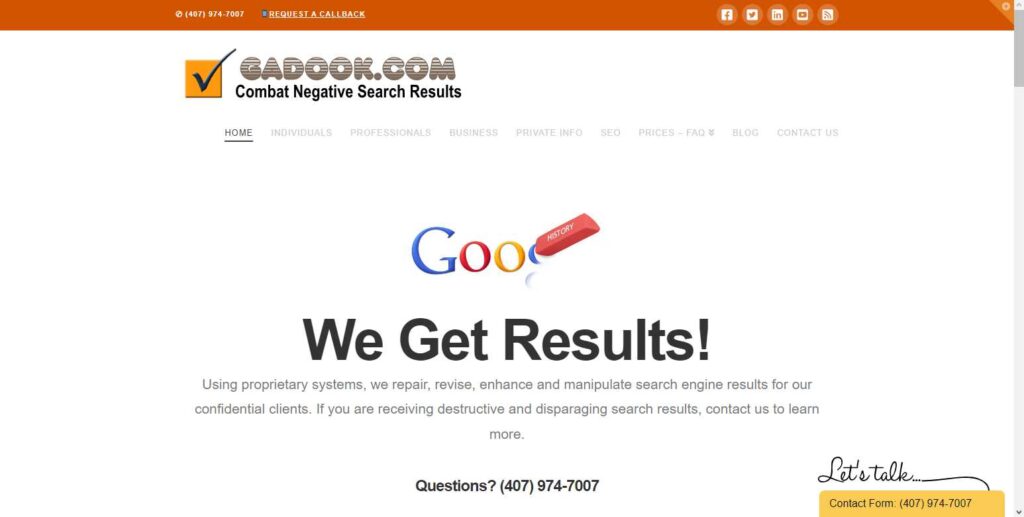 Gadook is a comprehensive brand reputation management company perfect for rebuilding your brand. It boasts proprietary technologies for reversing damage to a business's image online. Just like Sitetrail, it employs an omnichannel approach to counter bad publicity.
The company fights back against negative and false information affecting you. This includes removing such content and suppressing it with positive publications. If necessary, it can even file lawsuits.
The use of multimedia to rekindle your brand is worth appreciating. These include videos, photos, mugshots, and more to regain control of your image.
Key Features:
Online monitoring – Tracks your brand for negative publicity on the web.
Complaints management – Responds to complaints and fake information about your business.
Press release – Relies on the digital press to promote positive content about your brand.
Suppress negative content – Fights back negative content relating to your business.
Customer support – It's available via phone and email.
Pricing
Gadook's pricing plans are as follows:
Individuals
Covers Facebook and X (formerly Twitter) publishing. It also includes a free website and SEO optimization.
Professionals
Provides website hosting, social media profile creation, and SEO optimization. Additionally, you get reporting and statistics about your brand reputation.
Business
Offers article marketing, video creation/publication, and social media monitoring. You can also cross-check reviews and postings.
Corporate
Includes blogging services, complex SEO strategies, dispute resolution, etc.
Visit Gadook for additional information >>
Netmark — Best for online public relations management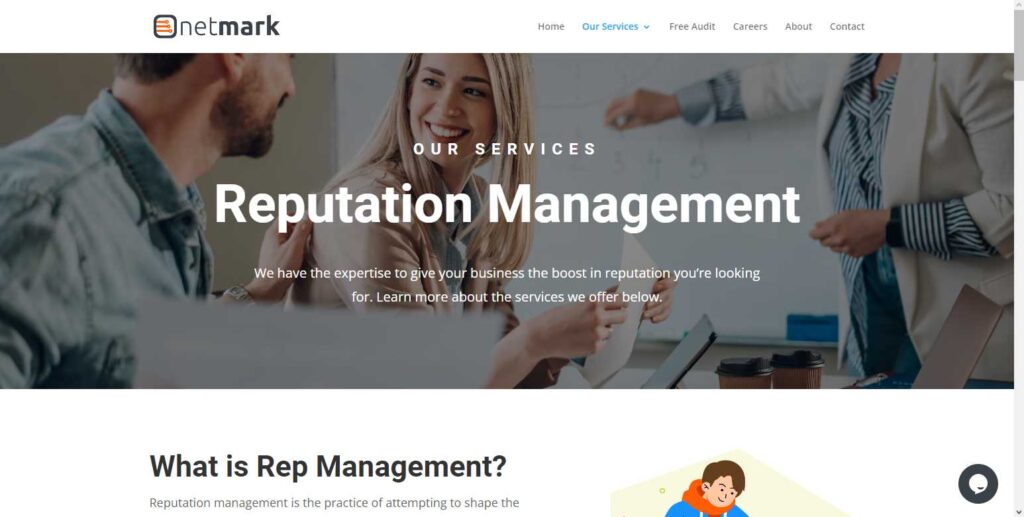 Netmark is a pioneer of reputation management solutions. Founded in 2007, it has a long history of helping businesses save their image online. It accomplishes this through monitoring online reviews and mentions about companies.
This provider doesn't fight against negative publicity like its rivals. Instead, it creates private channels where your customers can freely express themselves. Doing so allows negotiation and resolving issues before they spread on the internet.
Netmark also promotes positive PR and online reviews about your brand. This serves as a measure for countering malicious information about your бусинесс. Besides, the company will help you establish protocols for responding to issues quickly.
Key Features:
Brand monitoring – Keeps watch of your brand and alerts you about negative reviews.
Complaints management – Uses controlled channels to address customer issues.
Suppress negative content – Minimizes negative content by promoting positive customer reviews.
PR management – Uses positive public relations to enhance your brand online.
Customer support – Provides support during business hours via phone, email, and chat.
Pricing
Netmark offers custom prices based on your individual needs.
Visit Netmark for additional information >>
Reputation X — Best for SEO-based reputation management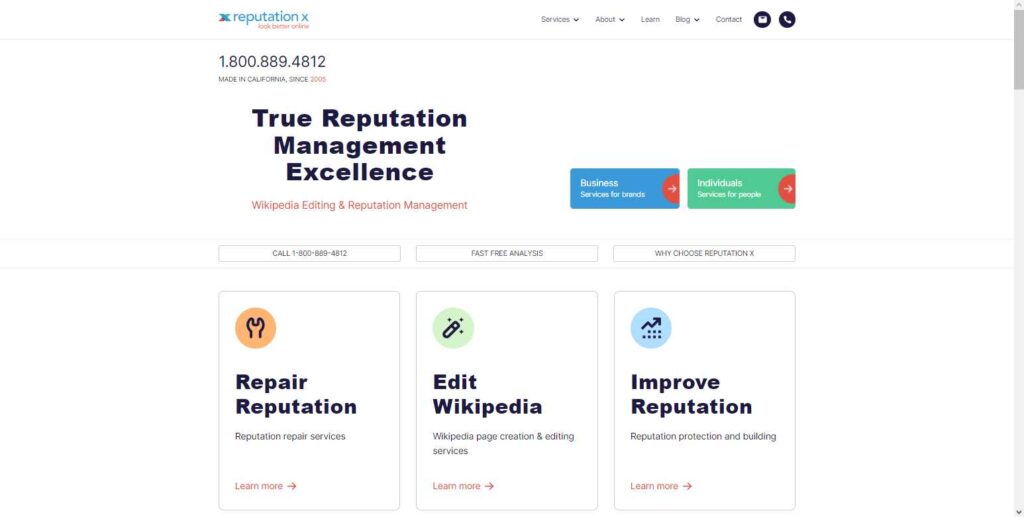 Reputation X boasts industry expertise in offering online reputation repair services. Founded in 2005, it caters to individuals and businesses of all sizes. The company's approach centers on amplifying brands through SEO.
Services offered include brand building through the creation of Wikipedia pages. Additionally, the vendor crafts a Google Knowledge Panel to boost your internet presence. It also promotes positive ratings and comments about your business on the web.
But it doesn't stop there:
Reputation X can change how artificial intelligence (AI) chatbots showcase your brand. It does this by targeting and editing all sources where AI sources data. So, users will only find positive information when engaging with such tools.
Key Features:
Reputation analysis – Performs a check on your brand image before recommending solutions.
Image rebranding – Revamp your online image through Wikipedia, LinkedIn, and social media posts.
SEO – Uses Google Knowledge Panel to create a positive outlook for your brand.
Suppress negative content – Push good content to suppress bad publicly against you.
Customer support – It's available round the clock via phone and email.
Pricing
Determines prices based on your needs.
Visit Reputation X for additional information >>
Birdeye — Best for promoting positive customer reviews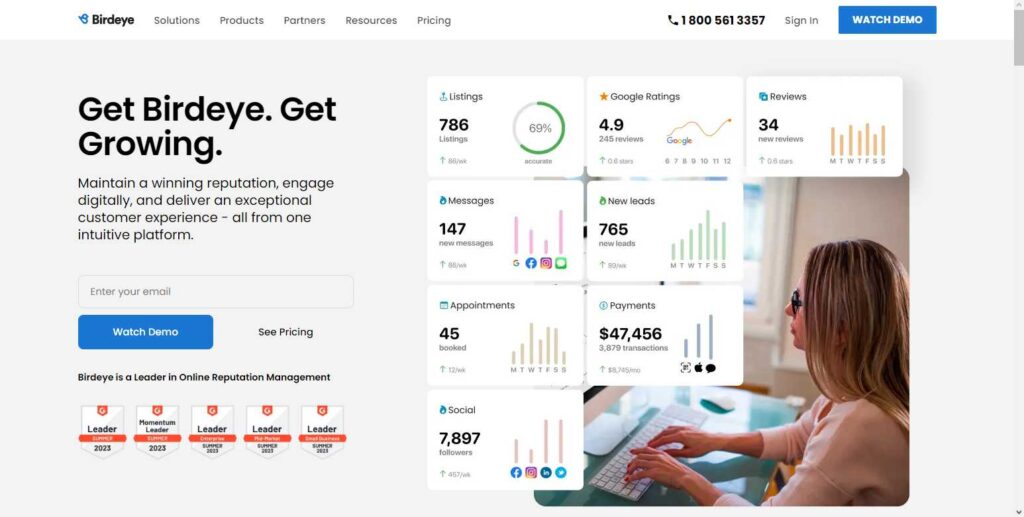 Birdeye is another award-winning company that uses consumer-driven reviews to build brands. Like Rhino Reviews, it creates campaigns to request positive feedback from your customers. Target platforms include Google, Facebook, LinkedIn, and X.
You can send messages to clients asking for their opinions about your business. This allows them to give feedback, which is automatically reposted on supported platforms. You also have a chance to review comments and address issues beforehand.
Another thing you can do is push surveys to your customers. This is vital for discovering strengths and areas that need improvement. Even better, you get intuitive reporting tools to visualize your brand's performance.
Key Features:
Review monitoring – Provides the ability to track what customers say about your business online.
Reviews generation – Uses messaging to solicit customers for positive reviews.
Surveys – You can push surveys to get valuable feedback about your business.
Reporting and analytics – Provides a dashboard to visualize your brand reputation efforts.
Customer support – Provides customer support via phone.
Pricing
Pricing depends on the individual needs of your business.
Visit Birdeye for additional information >>
Summary
A positive business image is a must-have. That's why you need the best reputation management companies to help you. They're vital for boosting and spreading awareness about your brand.
From my list above, I have covered different services and the areas they shine. That's to assist you in narrowing down the options based on your needs. All that remains now is for you to make the right choice.
Comparison Table
Brand Monitoring
Negative Content Suppression
Press Releases
Reporting & Analytics
Customer Support
Sitetrail
Real-time
Yes, Omnichannel support, Google News coverage
Yes, Unique editorial content
Basic
24/7 – Chat, Video call, Email
WebiMax
Yes, Including timeline management
Available
Yes, Unique editorial content
Comprehensive
24/7 – Phone, Chat, Email
NetReputation
Yes, SEO monitoring
Yes, Wikipedia pages, Content removal
Basic,
Social Media
Basic
Phone, Chat, Email
InboundJunction
Yes, Online monitoring
Yes, Content marketing, Public Relations (PR), Influencer marketing
Basic, SocialMedia
Basic
Phone, Email
Podium
Yes, Reviews monitoring
Yes, Customer-driven reviews, Online campaigns
Unavailable
Comprehensive
Yes, Reviews Monitoring
Rhino Reviews
Yes, Online monitoring, Reviews monitoring
Yes, Customer-driven reviews, Online campaigns, Local SEO
Unavailable
Comprehensive
24/7 – Phone, Text messaging
Gadook
Yes, Online monitoring
Yes, Omnichannel support, Responding to negative comments
Yes, Unique editorial content, Video publications
Comprehensive
Phone, Email
Netmark
Yes, Reviews monitoring
Yes, Controlled communication channels, PR management
Unavailable
Comprehensive
Business hours – Phone, Email, Chat
Reputation X
Yes, Online monitoring
Yes, Wikipedia pages, Content removal, Google Knowledge Panel, AI chatbot manipulation
Unavailable
Basic
24/7 – Phone, Email
Birdeye
Yes, Reviews monitoring
Yes, Customer-driven reviews generation, Surveys
Unavailable
Comprehensive
Phone