Email Marketing Guide for Beginners
FirstSiteGuide is supported by our readers. When you purchase via links on our site we may earn a commission.
Read More
Digital marketing is a sophisticated approach that businesses have to take into consideration to succeed online. Due to the development of different technologies, customers have shifted their attention to other devices, and to other forms of communication. It has forced businesses to rely on social media marketing, content creation, PPC campaigns, and email marketing.
Today, we are going to talk about email marketing, its popularity, and why it is still a powerful business advertising channel. You are going to learn about creating email marketing campaigns, which types exist, and what are the crucial tips that you should follow the whole process. Therefore, let's start off with an explanation of email marketing.
What is email marketing?
Email marketing involves reaching out to customers or subscribers who have decided to share their email address with you.
After acquiring their email address with their permission, you are eligible to send them different types of emails and promote your business. The whole process is continuously repeated, with the goal of reaching as many email subscribers as possible.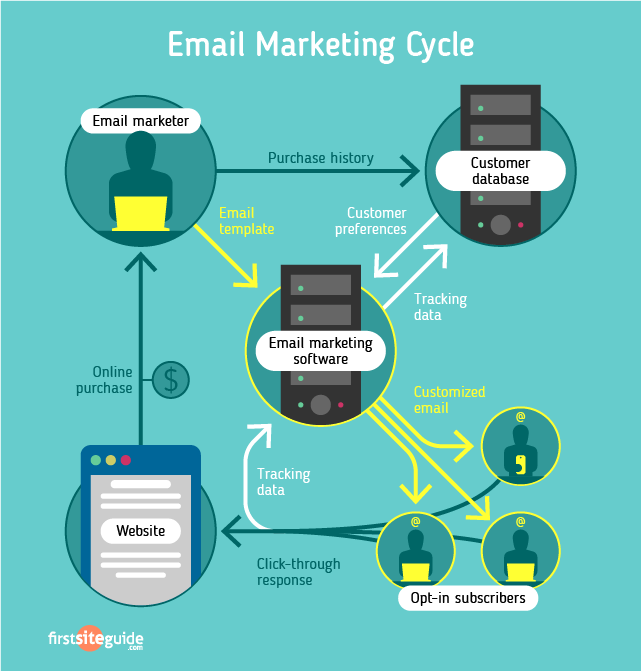 It's one of the most effective marketing approaches because a person who decides to share their information with you shows that they are interested in your blog or business and what it is offering. With this in mind, it is clear that the person is also willing to buy your products or services, explaining why email marketing has high conversion rates.
Email marketing is a compelling advertising strategy. Many businesses are using it, and so should you, no matter what is your niche.
Why do you need email marketing?
If you are wondering why email marketing is necessary for your blog or business, there are a couple of things you should immediately understand:
It is a long-term growth strategy, building a business that is perceived as a serious and influential brand is not an easy task.
If you want to achieve this goal without significant financial investment, it is going to take time and will require an immense amount of patience and dedication.
If you are looking for a way to build a band of loyal customers without spending a lot of money, building up a big email list is the first step that you should take. It will allow you to grow your business slowly, with an email list that is full of people who want to support you.
Also, this is an excellent way to increase the number of returning visitors. Building a community of supportive and returning customers is of great importance, and a big email list followed by a great marketing strategy can turn this into reality.
Email marketing is one of the highest converting marketing channels.
The reason for this lies in the fact that the person who has subscribed to your mailing list is interested in your content, service, or product. Furthermore, email communication is considered a private one, meaning that a person is holding some level of trust toward your business.
On average, every person has 1.7 email addresses. This amounts to billions of email addresses globally. By the end of 2018, there will be over 3.8 billion email users. Furthermore, people are now more easily reachable through their email accounts, as a majority of them linked to their mobile devices.
When you consider all these points, it is evident how powerful the right email marketing approach can be. Let's dig into details about how you could increase the number of subscribers on your email list.
Our recommended email marketing service:
Constant Contact – makes it easy to customize the email template of your choice to look like the business your customers know.
What are your goals?
The first thing you should think about is the purpose of your email marketing campaign. It's closely related to the options you have at your disposal, something we are going to talk about in the next section.
With an email marketing campaign, you can bring people back to your website to share content or sell more products and services, or make an invitation announcement your business is doing.
According to the needs of your business, you are going to start working on a particular email marketing campaign. Let's go in-depth about each of these types of email strategies.
Decide what your campaign strategy is
Depending on your goals, these are the types of email you can create:
Newsletter
This is a kind of email that is related to the news on your website. This approach is usually chosen by websites that primarily rely on profits from ad revenue. If you belong to this group, a newsletter is a good strategy that will let you build up stable traffic growth on your blog or website.
An offer
Businesses that choose to make email offers, usually belong to the e-commerce industry. The benefit for those who are on the mailing list is specific offers that they can get from your company. This kind of approach provides value for both parties. The business can increase the number of sold items, whereas the customer is in a special position as a result of being subscribed to your business.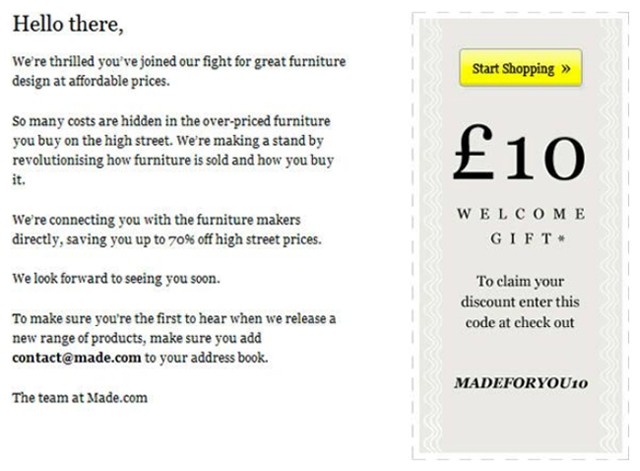 Increasing awareness
This is usually an invitation sent out to the whole mailing list. If your company is holding some event, such as a physical reveal of a product, or a webinar, this is the starting point that will significantly increase awareness. This is a mixture of a newsletter and offers email, as people are asked to participate in the event that they can either only watch, or make a purchase as well.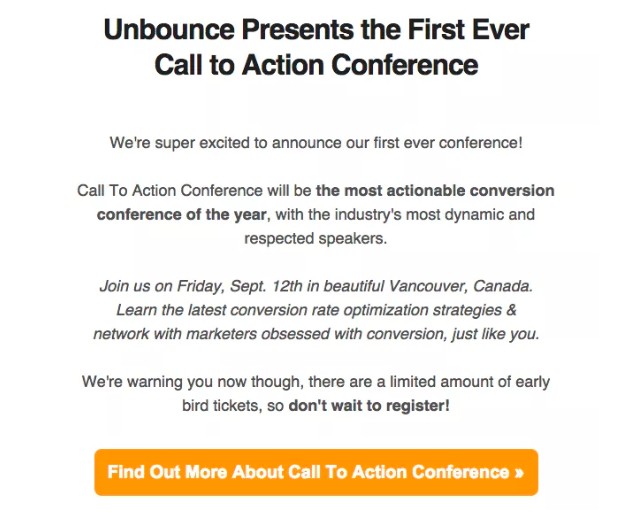 Announcement
This approach is perfect as a customer retention strategy. If you are selling a service to your subscribers, this is the best way to notify them about the new features of a product they have received. Even though showrunners primarily use this type of email, it can find a place in businesses that offer software tools to their clients.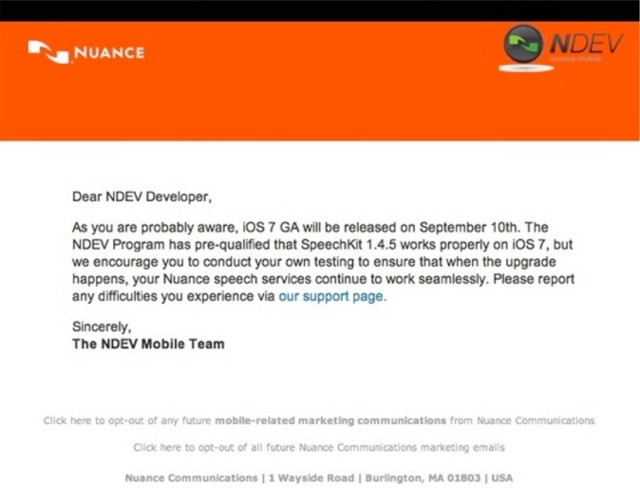 For example, you can improve the launch of a new software tool in your suite, by only announcing it through the email list.
Trigger emails
This is an excellent approach for those who decide to leave your shopping cart. Create a system that is going to remind them that they have abandoned the shopping cart and not finished the purchase. Best of all, this process can be completely automated, yet it brings an improvement in customer conversion rates.
Depending on the goals you have set for your business, you can cycle several types of emails sent to your subscribers, which will maximize the effectiveness of your email marketing. But, before we get into more details about optimization, let's go over the subscriber list growth and how it should be created.
How to collect more subscribers?
The following are some ways to help you grow your email list more efficiently.
Provide value in exchange for emails
Why should a person leave their contact information on your website? This is the first thing you should ask yourself and your marketing team. Work on creating a system that will motivate people to leave their contact details.
For example, you can give away a free ebook to your readers, in exchange for their contact email. Furthermore, you can create special offers that are only subscriber-specific. This is a great incentive that will drive a higher percentage of visitors to subscribe to your email list.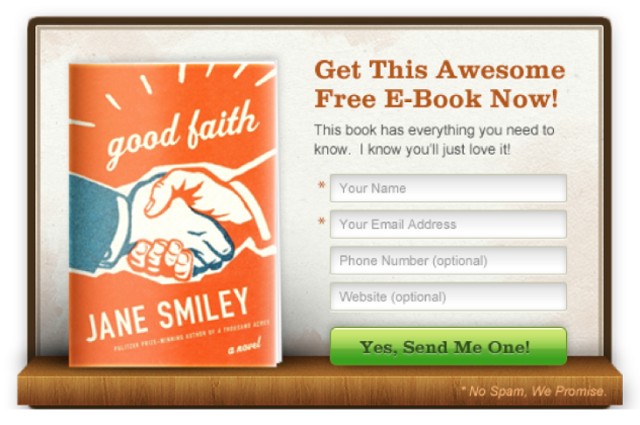 Remind users to subscribe
Having the subscribe button on a single page is not the best approach for growing your mailing list. On some pages, you can make the button more prominent, but overall, the user should be able to subscribe from any page of your website.
For example, to make this happen, it is best to periodically run a banner at the top part of your website pages, the header.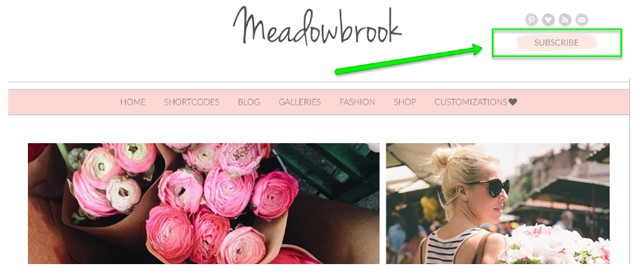 Furthermore, use other marketing channels to notify people about your email list. A social media network is a great place where you can tell your followers about it.
Make the subscribe button noticeable
Subscribers should always be able to notice the subscribe option quickly. This will increase the growth rates of your subscriber list, as a higher number of visitors will be able to see the button.
For example, if the whole website is dominant in one color, use the other color to attract the visitors' attention. They will immediately know where they need to click to subscribe, and once they make the verdict, based on the quality of your content, they will easily be able to do so.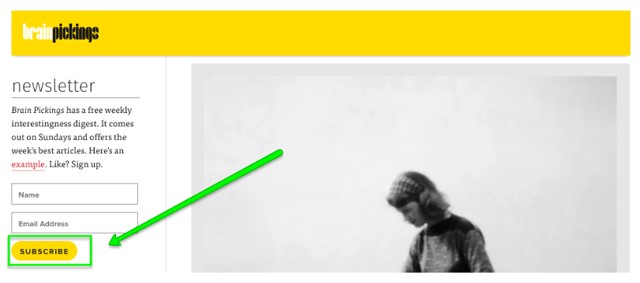 Make the opt-in as simple as possible
Subscribing to your email list should require as few steps as possible. Forget about using forms that need too many details. Always create a simple opt-in form. People hate wasting time, therefore, filling up the opt-in with their email and name is enough for you and lets them fill in the blanks quickly.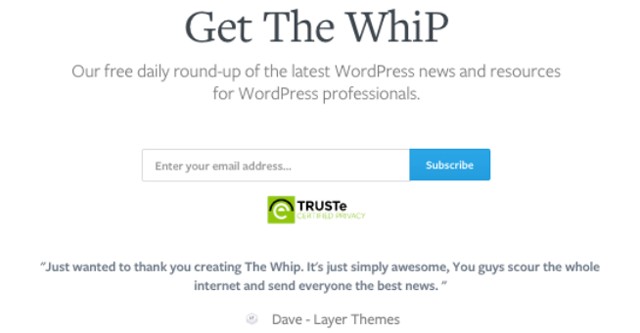 Know who you are targeting
In the whole planning process, it is essential that you think about who is joining the email list. Create a system that will allow you to determine the age and gender of the subscriber. It will make the personalization of emails a much easier task, while also improving its effectiveness.
Welcome and exit popups
These two-time frames are perfect for asking for contact information. When a user visits the website, this is a welcome message, yet when they are finished, there is no issue with a pop-up before they close the browser tab. These little steps will help you more easily grow your mailing list.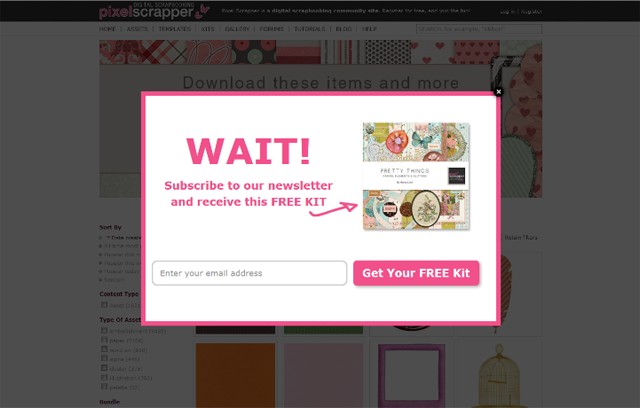 By taking these steps, you are going to ensure that a higher number of people subscribe to your email list. If you are looking for more exciting tips about attracting more subscribers, you can take a look at our other guide that covers this particular topic.
How to create your email marketing campaign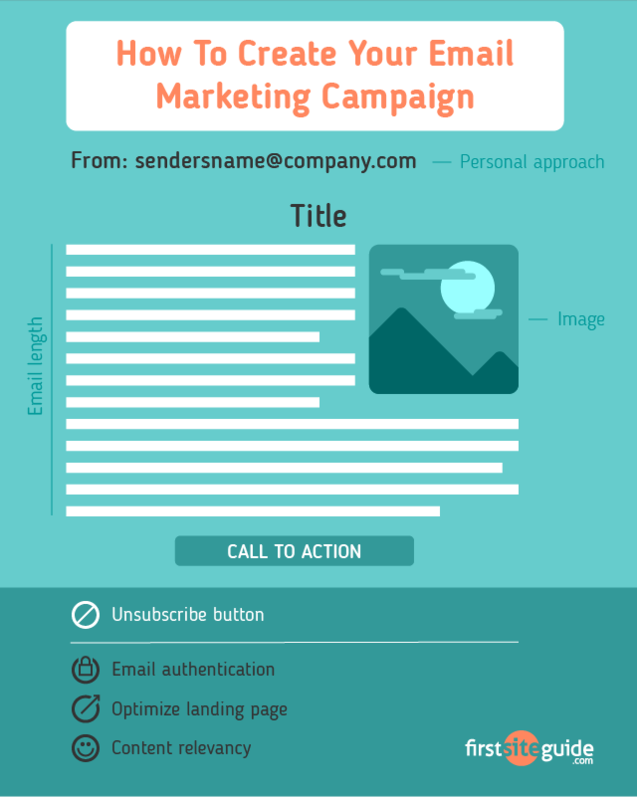 The next step is understanding how an email should look for it to be effective. Higher click-through and conversion rates are challenging to achieve, but with some optimization tips, it is doable.
Title – Creating a title is the single most important thing you should focus on. Over time, you should get as creative as possible and test various types of email titles. It is the first thing a user sees, and it should be created to engage the reader and make them open the email. The more engaging your email subject is, the higher the open rates are going to be.
Hitting the sweet spot takes time, so experiment with different title templates and see what works best.
Email length – Emails are different than the usual website content, and they should carry a clear and short message. It needs to take as little reading time as possible, so the reader can decide whether they should click on the link or not.
Language – Use simple language, as it will keep things much easier for the user. The last thing you want to do is confuse with complex sentence structures and words.
Include imagery – Images attract more attention. You can always create images that showcase the offer you are sending to your customers. Don't forget to make smaller images, as plenty of people are going to receive your email on their smartphones and tablets.
Unsubscribe button – This is the freedom of choice you are giving to your subscribers, but it is also a useful feature because it keeps you safe from being placed in the spam folder.
Include a call to action – The receiver of the email should already understand what your email is about from your email subject and a short description. He is ready to take action in only a matter of seconds, therefore, make a clear call to action in your email, and make it easy to click the link.
Email authentication – This is another safety measure that will help you stay away from the spam filter. Furthermore, this will increase the trust your customers have in your brand, as your email becomes practically impossible to replicate.
Personal approach – Avoid sending emails as a company. The person should know who the email is coming from but use an employee's mailing address in the whole process. The email recipient will feel like he or she is being contacted by a person and not the company. It will positively affect your email click-through rates.
Content relevancy – Always send content that is actually what the subscriber confuses. Taking any other step and trying to deceive people will rapidly backfire and cause a decline in your subscriber numbers.
Optimize the landing page – Always make sure that you optimize landing pages that are visited from the mailing list primarily. Not having a real page will result in negative conversion rates. Even if you build up a great email click-through rate, without a right landing page, you are not going to get good results. Just make the page easy to navigate. Make the strategy call-to-action button prominent, and provide some additional details that support the information given in the email. Don't add too many elements on the landing page, as they will distract the visitor.
By following this information, you are going to be able to create an effective email marketing strategy. The more testing you do, the better the results are going to be.
Measure the results of your campaign, optimize and improve
A good thing about email marketing is that it is completely measurable. This is important because you can perform A/B testing to determine which approach performs better.
For example, you can set up several email templates to see which one of them is going to perform best. The same goes for landing pages, that can also be optimized to perform better.
Additionally, email automation tools will help you better understand what your email open and click-through rates are. This will allow you to experiment with different images, calls to action, and email titles.
Taking this approach is necessary because it will allow you to improve your email marketing effectiveness over time. Let's take a look at a couple of tools that will help you track data and automate certain processes.
Using the right tools
Before we get into email marketing tools that are going to help you easily manage your email marketing campaigns, we want to mention a tool that can help you with email list growth.
OptinMonster – is a great tool that can be easily integrated with any website. Also, it works well with other email marketing management software, making it an excellent choice. Furthermore, it comes with an abundance of useful features that will help you more easily grow your mailing list.
Now, let's move on to a couple of tools for email marketing management.
Constant Contact – is a great piece of software that will quickly help you create amazing-looking emails. It comes with numerous templates. Additionally, it allows you to turn an email into a social media post directly.
Like the majority of email management tools, this one also includes data about the need behavior of everyone on your email list, providing you with insight into the percentage of open emails and link click-through rates.
Aweber – is another favorite tool that is aimed at small and mid-sized businesses. It also packs an enormous amount of features, making it an outstanding email management software tool. Automation, tracking and template building are all easy to perform with this tool, earning it a place on this shortlist. It can also be easily integrated into all types of websites.
Picking good email marketing management software is also important because it affects whether your email ends up in the customer's Inbox or Spam folder. Choosing one of these three will help you avoid that issue from the start.
From the moment you decide to build your email list, it is essential to use an email marketing management tool, as you want to be able to interact with your mailing list, while it grows steadily.
Conclusion
We hope that you've found this email marketing guide useful. As you can see, with a couple of smart moves, you can create a cycle in which your mailing list is continuously going to grow. As the market is constantly changing, remember to use one of the abovementioned tools, as they will make it much easier for you to test, experiment with and optimize your email strategy for the best performance.
Good luck, and stay patient – the results are going to come after a while, and you are going to love them.