Main Differences Between GoDaddy and WordPress
FirstSiteGuide is supported by our readers. When you purchase via links on our site we may earn a commission.
Read More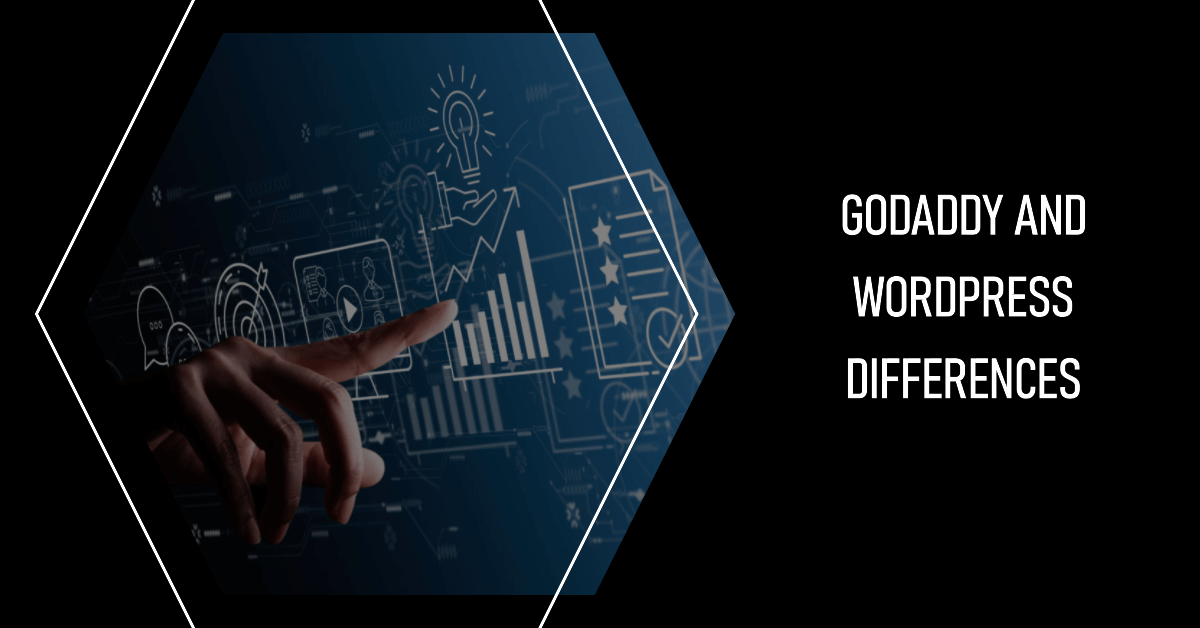 Building your website is a big deal – you must choose the right platform and hosting solutions to manage it effectively and make it accessible to everyone. However, finding the right services to build a website isn't that simple.
You must consider and go through many things before making a financial decision. If you're trying to decide between GoDaddy and WordPress, it can be challenging to find the better option. That's why we worked hard for you and compared these two platforms to help you pick.
WordPress and GoDaddy are some of the most prominent names in the website business, and many people worldwide use their services.
Key differences between GoDaddy and WordPress
GoDaddy is an all-in-one platform with web hosting and a user-friendly editor able to create simple websites that don't require much maintenance. WordPress is a free tool you can set up on your hosting account, and it offers customizability, flexibility, and hundreds of plugins you can use to build an online presence.
| | |
| --- | --- |
| GoDaddy | WordPress |
| Affordable plans have a free version. | Open-source CMS. |
| Limited customization options. | Offers customizability and flexibility. |
| Over 100 mobile design templates. | Thousands of plugins and themes. |
| Very simple to use. | Some actions require advanced knowledge. |
| Comes with a domain name and hosting. | Users need to get hosting and domain separately. |
Ease of use
Most people who want to build websites don't have development knowledge or want to spend thousands of dollars on developers building their sites. That's why ease of use is crucial when choosing a website builder.
GoDaddy
On the other hand, GoDaddy is simplified so much that everyone can use it to build a site. Some guides and wizards help you use the already pretty straightforward platform – it doesn't require any design or coding skills, just basic computer skills.
Creating a website is as simple as answering a couple of questions, and the AI editor will generate a rough design based on your answers. You can refine this design and add templates in a simple drag-and-drop system.
WordPress
Over 40% of websites today use WordPress, and one of the reasons is that it's user-friendly. However, as you go forward with learning about WordPress, you'll quickly discover there's a steep learning curve. Luckily, the WordPress community is vast and helpful.
You can always find the answers you're looking for online. It can work great for beginners but also more experienced webmasters. Building a website on WordPress is more complex, but this doesn't mean it's complicated.
Pricing plans
Let's take a look at the pricing plans of these two options.
GoDaddy
GoDaddy has four pricing plans for its website builder:
Basic
The Basic plan includes SSL security, a mobile-friendly site, a custom domain, and guidance and analytics. The only true limitation with this plan is that you'll only get one SM listing platform, up to five social posts and responses a month, and only 100 email marketing sends a month.
Standard
The Standard plan includes everything that the Basic plan does, as well as SEO tools and higher limits for social media listings, posts, and email marketing sends.
Premium
The Premium plan comes with unlimited social media listings and interactions, together with up to 25,000 email sends per month. It also has useful online-appointment tools that help you to better organize your business.

eCommerce
The E-commerce plan includes everything included in the Premium plan, plus some specialized eCommerce tools like shipping options, discount and promotion management, a product listing editor, and more.
Every plan offers different features and services, so you must consider your needs when choosing a plan. Here's a list of all the features: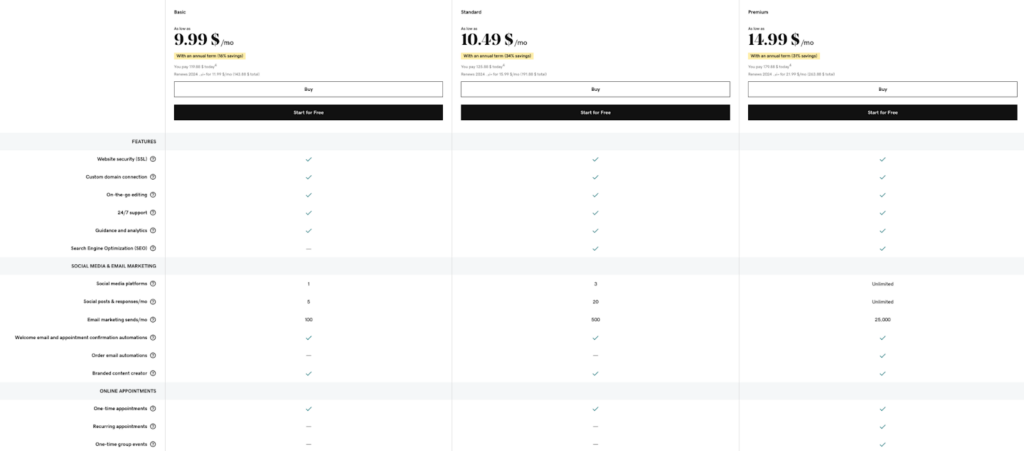 Every plan has a custom domain, non-stop support, and an SSL certificate. Remember that the basic plan is very limiting because no SEO or eCommerce tools are available. 
WordPress
WordPress is an open-source platform meaning it's completely free. However, you don't get hosting or a domain name – you must buy those separately. The prices for these services can differ due to many factors, so it's impossible to accurately estimate the costs of building a WordPress website.
Luckily, WordPress has partnerships with multiple hosting providers, like our recommended Bluehost, that can help you get hosting for a low price, including a free domain name and SSL certificate.
Setting up a simple website on WordPress is cheaper, but you don't get everything taken care of with a single click, and you will have to do manual work alone.
1st choice for new bloggers

Starting at
$8.99
$2.75/month
Free domain name
63% off regular price
30-day money-back guarantee
Set up a blog with a one-click 
Visit Bluehost website →
Flexibility and design features
Designing your website and customizing its looks and functionalities is essential. Here's what these platforms offer.
GoDaddy
GoDaddy offers over 25 different themes, far fewer than WordPress. You can use the website builder to customize every page. The editor has a section-based system, meaning you can choose layouts for different parts of the page and combine them.
Every layout can be customized regarding typography, colors, and content, but you can't just place any element wherever you want. In other words, there's no complete control over the design process.
WordPress
With WordPress, you get primary control of your site's design with the theme you're using. There are thousands of WordPress themes you can use, and every one of them has multiple varieties. Furthermore, you can manually customize each theme without any coding.
Some helpful plugins like Page Builder let you create visual changes with a drag-and-drop editor. Other plugins allow you to manipulate individual visual elements, add effects, customize buttons, and so much more.
eCommerce support
Many websites want to sell products or services online, so you need to consider features that enable eCommerce.
GoDaddy
If you plan on selling products/services or you want to accept bookings, visitors can book appointments through GoDaddy websites regardless of the plan. However, with the eCommerce plan, you can collect payments on your site. It supports credit card payments through Google Pay, Apple Pay, and PayPal.
This plan also lets you create a complete online store and create product listings. This website builder gives you several shipping options and enables you to make banners perfect for promoting special offers and sales. GoDaddy is a great eCommerce option because it has some excellent out-of-the-box features.
WordPress
There are no default eCommerce features in WordPress, but you can add many eCommerce plugins, including WooCommerce, one of the most popular plugins for this purpose.
This plugin lets you set up an online store in no time and sell affiliate products, membership plans, and physical products. Many other eCommerce plugins for WordPress can be used for any online sales.
SEO capabilities
Every website wants as much traffic as possible, so SEO is important when choosing a website builder.
GoDaddy
GoDaddy has pre-built SEO tools for identifying keywords people use to search for similar websites. This process is simple as GoDaddy asks you several questions to determine the most suitable keywords for your website.
After determining your keywords, GoDaddy helps you add them to different places on your site. The dashboard also offers some valuable suggestions on how you can improve your SEO. These tools are easy to use, and you can use them even if you have yet to gain SEO experience. You can add alt texts for images, tag blog posts, organize content categories, create permalinks, etc.
WordPress
With WordPress, you get more autonomy over your SEO, letting you make the tiniest adjustments. You can use various tools to analyze your pages, find the right keywords, add meta descriptions, add links, and improve your SEO overall.
Even without the plugins, WordPress has some advanced SEO tools, but you will sometimes have to do a bit of coding to make the necessary changes.
Publishing capabilities
Running a website means publishing new content, adding pages, and introducing new products. Here's how these two compare.
GoDaddy
GoDaddy is primarily designed for business sites and informational pages. In other words, it's great because it doesn't require frequent website maintenance after launch. It isn't the best option if you want to publish content daily. GoDaddy lets you create blank pages and add images, videos, text blocks, timers, etc.
You can also use pre-designed templates for "traditional" sections like about pages, list pages, contact pages, galleries, or storefronts. Even though there aren't any exceptional publishing capabilities, the process is straightforward.
You can use a dedicated blogging dashboard in the menu to publish posts, but overall, WordPress is a far better option for blogging.
WordPress
WordPress started as a blogging platform and transformed into a full-blown CMS. It comes with many features for adding pages and posts. You can publish any dynamic or static content and update it when needed.
Many templates exist for videos, links, photos, and audio content. These templates can be used for posts and static pages. Furthermore, you can use dozens of publishing tools to schedule, automate, edit, or customize posts.
Conclusion
Based on the reviews, research, and experience, we recommend WordPress as a better option. It offers more tools, customization, flexibility, and autonomy and costs less. However, if you're a beginner with no experience with websites or blogs, you should consider GoDaddy.
GoDaddy is a better option if you want to quickly create a simple website without worrying about things like SEO, hosting, domain names, and other elements.