NameHero vs. Namecheap: How Do They Compare?
FirstSiteGuide is supported by our readers. When you purchase via links on our site we may earn a commission.
Read More
Picking a good hosting service for your website needs isn't simple, as there are multiple factors to consider.
However, if you're debating whether NameHero or Namecheap hosting services are better, we're here to compare these two and possibly make your choice easier.
Comparing NameHero vs. Namecheap
Even if they appear similar, NameHero and Namecheap are different hosting services. On the one hand, NameHero focuses on performance and features. On the other hand, Namecheap is one of the cheapest hosting services with limited features.
Here, you can see how NameHero and Namecheap hosting services compare across six categories.
| | | |
| --- | --- | --- |
| | NameHero | Namecheap |
| Pricing | ⭐⭐⭐ One of the pricier hosting services. | ⭐⭐⭐⭐⭐ The name matches the price. |
| Customer support | ⭐⭐⭐⭐⭐ Excellent and reliable 24/7 support. | ⭐⭐⭐⭐ Lacks Business Hours support. |
| Hosting type | ⭐⭐⭐⭐⭐ Offers various hosting types. | ⭐⭐⭐⭐ Less hosting types than NameHero. |
| Server capabilities | ⭐⭐⭐⭐ Can handle up to 100,000 monthly visits but lacks. Windows-based servers. | ⭐⭐⭐ Offers Windows, Linux, and SaaS. |
| Available features | ⭐⭐⭐⭐⭐ Includes everything you'll need. | ⭐⭐ It doesn't offer as many features as NameHero. |
| Ease of use | ⭐⭐⭐⭐⭐ Easy-to-use dashboard and cPanel. | ⭐⭐⭐⭐ Easy-to-use cPanel interface. |
Read ahead to learn more about the differences between these two.
Pricing differences
Currently, NameHero's prices begin at $3.40/month for a beginner hosting service with 10,000 expected monthly visits and go up to $14.98/month for business cloud hosting, ideal for eCommerce websites with 100,000 visitors.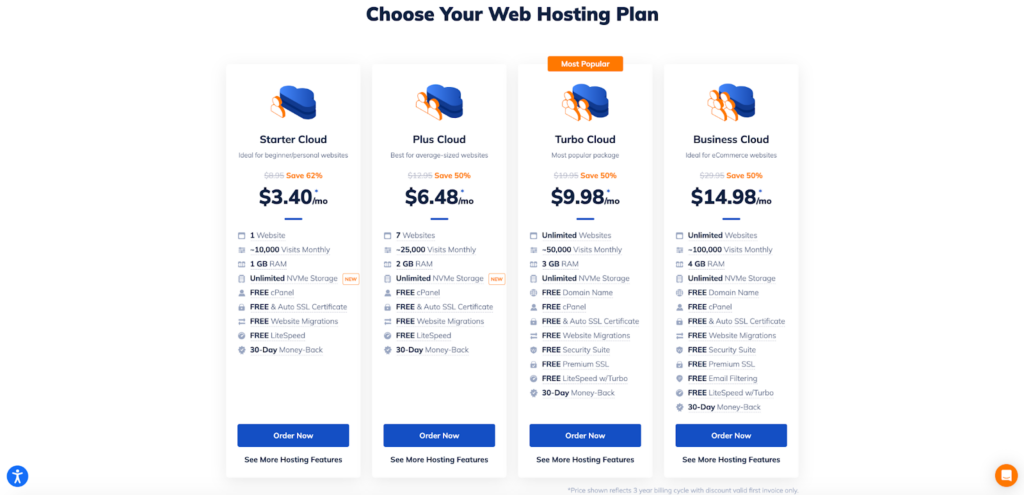 On the other hand, Namecheap hosting service is much cheaper and currently costs $1.98/month for a starter plan and goes up to $4.98/month for a business plan.
Level of customer support
NameHero's users love their customer support, as there's a 24/7/365 service where you either do a live chat with a so-called "Superhero" or open a ticket.
Similarly, Namecheap lets you open and submit tickets, talk to customer support agents, and there's also a knowledgebase of guides for their products and services. Still, it lacks Business Hours support, which NameHero does have.
Hosting type
Regarding hosting types, NameHero offers shared, VPS, dedicated, WordPress, cloud, and reseller hosting services, and it puts your websites on its Linux servers. Moreover, their servers have an uptime of 99.9%.
Similarly, Namecheap's servers have a 99.82% uptime. Namecheap also offers shared, WordPress, VPS, reseller, and dedicated hosting types.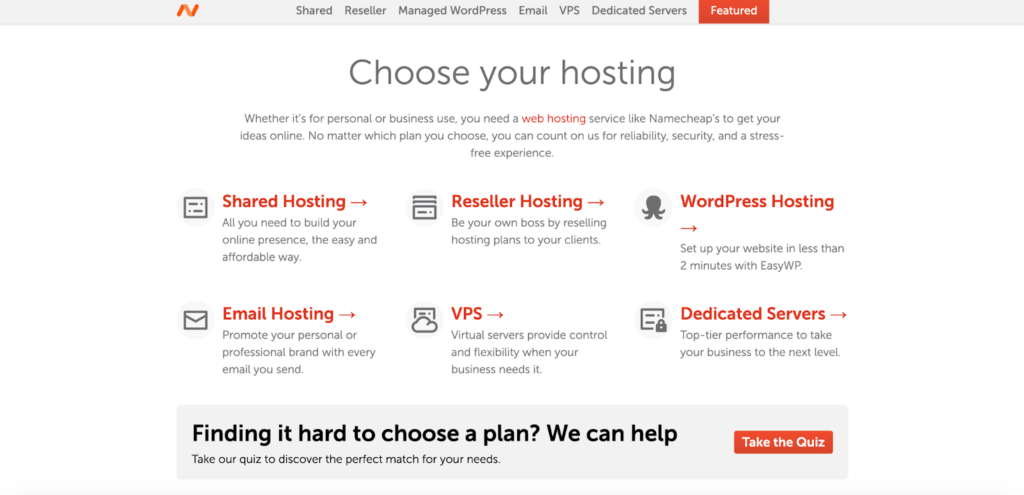 Server capabilities
NameHero's servers depend on your monthly plan. Still, if you go for the Business Cloud option, you get 4GB of RAM, unlimited storage, unlimited websites, and the server can handle up to 100,000 monthly visits.
With Namecheap, your website is hosted on shared servers with a dual-core Intel Xeon CPU, 256GB of RAM, and storage devices configured in a RAID6 configuration to prevent disasters.
Available features
NameHero gets the point when features are concerned, as incredible security features include an AI WAF, file monitoring, constant patching, and DoS attack prevention. There's also an Imunify360 security add-on.
However, Namecheap doesn't have such features. There's no free add-on to improve security. They do offer a free SSL certificate. Namecheap focuses on being one of the cheapest hosting services.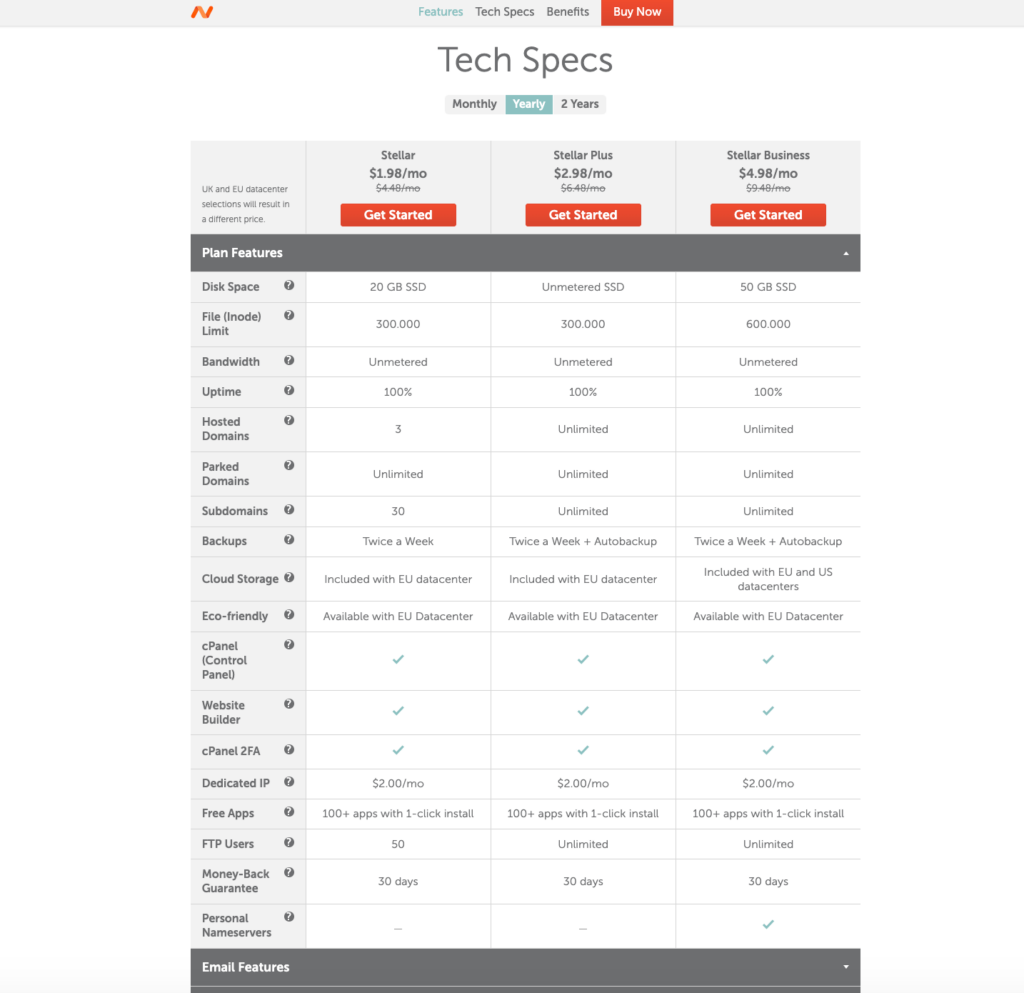 Ease of use
Regarding usability and ease of use, NameHero's interface is famous, and users love it. Both the dashboard and the cPanel are excellent and straightforward to use. However, many advanced features might make NameHero's dashboard overwhelming.
Similarly, Namecheap also has a fantastic user interface and cPanel. The lack of features means they can't overwhelm you, and the entire service is easy to use.
Conclusion
Picking the correct hosting service for your website can be challenging. However, our guide on NameHero and Namecheap hosting can shed some light and help you see the difference. Hopefully, you now know which of these two similar-sounding services is the right choice for you.