Voice Search Statistics, Facts, and Trends (2023)
FirstSiteGuide is supported by our readers. When you purchase via links on our site we may earn a commission.
Read More
Voice search has quickly become an important part of Search Engine Optimization (SEO), and it definitely won't be going away. A vast number of consumers now use voice search to look for products and services online, as it's much more convenient than typing.
But what is voice search exactly? Plainly speaking, it's speech recognition technology that enables users to search the internet by speaking their desired terms rather than typing them down. Think Amazon Alexa, Apple's Siri, or Google's voice search app. All three of them allow users to communicate with their devices through voice only.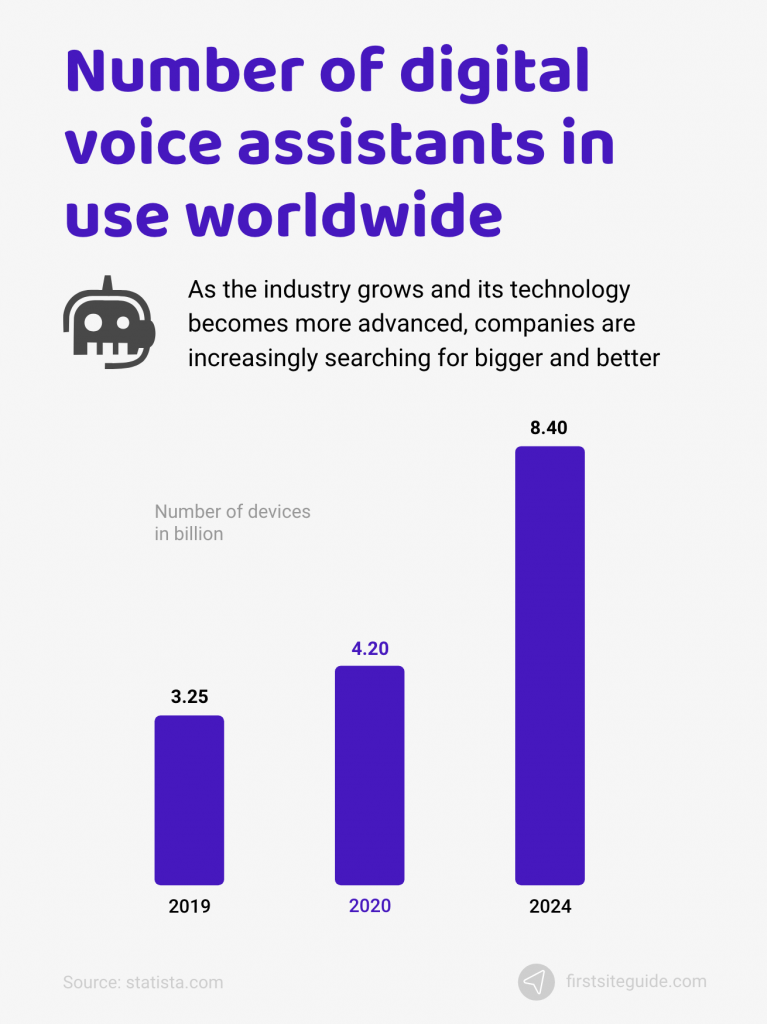 Source: Statista.com
While the technology behind voice search is rather complicated and relies on advances in Natural Language Processing (NLP), optimizing your site for voice search is just another aspect of SEO and shouldn't take too much of your time.

If you optimize your content for voice search, you'll drive more traffic to your blog or website and increase your SEO ranking to a whole new level. Not everyone is embracing voice search yet, so you will also gain a competitive edge.
Interesting Voice Search Statistics
30% of web browsing will be screenless by 2020.
Google's voice search tool supports more than 100 languages.
Google's speech recognition has a 95% accuracy rate when search queries are in English.
32% of people use voice-activated search daily instead of typing.
72% of smart speaker owners use their devices as part of a daily routine.
43% of people shop online via voice-enabled devices.
There are more than 200 million smart speakers across the globe.
Smart speaker sales will surpass tablet sales by 2021.
58% of consumers find local businesses using voice-activated search.
Voice search trends
Many emerging trends are fueling voice search, completely transforming SEO, and the way that we use the internet. The simple fact is that we speak much faster than we type. So, it's only natural that we turn to voice for efficiency.
It's faster, easier, and not to mention – more convenient. Especially now, when hands-free devices are becoming increasingly more popular.
But it's not all solely about convenience. Everyone needs to have access to new technology, including those with disabilities. Voice search enables users with visual impairments and those who lack fine-motor skills to access the internet easily. Even though voice search is still in its infancy, seeing how it offers both convenience and better accessibility, it's not surprising that its popularity is quickly skyrocketing.
So, let's take a look at a few significant voice search trends and show you just how important it is to jump on the bandwagon and join the voice search revolution as soon as possible.
1. 30% of web browsing in 2020 will be performed only by voice.
Voice search statistics show that nearly a third of all web browsing sessions across all search engines will be completely screenless by 2020.
While this may sound unrealistic at first, just consider how many people are already using Amazon Alexa, Siri, or Google voice assistant. Many people are already relying on screenless searches daily, both inside our homes and when we're out.
These voice search trends are only bound to continue.
With further advances and the greater availability of technology powering Natural Language Processing, voice searches can only become more popular.
Artificial Intelligence (AI) plays a significant part in this growth as well. With the use of AI, virtual assistants can have their own unique personalities, which appeals to end-consumers. They can be humorous, witty, and even sarcastic, which will only encourage users to interact with them more, giving rise to both virtual assistants and voice searches.
So, while the prediction is that 30% of web browsing will be performed by voice by the end of 2020, the real-life percentage will probably be much higher.
Source: Gartner.com
2. 48% of consumers are using voice technology for general search queries.
According to Searchengineland, almost half of the users utilize voice search technology to find answers quickly to general questions online. As mentioned above, speaking is often much faster than typing, so this trend is to be expected. When users are on the go or when they have limited time, they turn to voice searches for quick, simple answers.
Many users at home, for example, like looking up recipes online. When you're following a recipe and come across grams as units of measurement, it's fast, easy, and convenient to use a hands-free voice search to convert grams to cups or ounces.
However, when it comes to more serious topics that need to be studied and examined, many users will search for information manually. This gives them a chance to read and reread information, understand it thoroughly, and give it their full attention.
Source: Searchengineland.com
3. More than 50% of smartphone users now use voice search.
In 2020, the majority of smartphone users all over the globe are using search by voice technology.
Source: Comscore.com
4. Google speech recognition now supports more than 100 languages.
Google continues to bring native voice input to mobile users, enabling more and more mobile users worldwide to use voice search in their native language.

Currently, Google uses voice recognition in more than 120 languages and their variants. As voice search becomes more popular, we can expect to see this list grow exponentially. Google's speech recognition is powered by machine learning technology, meaning that the more users rely on voice searches, the more accurate the results will become. Speech recognition is currently the most reliable in the English language, but the technology is advancing, and Google is slowly becoming better at understanding other languages as well.
Users from over 120 languages can make use of Google's speech recognition technology to enable voice commands, transcribe audio, stream text results, format language, and more.
Source: Google.com
5. The English language has a 95% accuracy rate in Google's voice search.
Although Google's speech recognition technology supports multiple languages, it doesn't always provide very accurate results. Voice search users on Google get the most accurate results when they search in English.
Source: Strategyanalytics.com
6. 4.6 seconds is needed to load a voice search result page.
Voice search result pages load much faster, as opposed to the average page that takes about 8.8 seconds to load. This means that voice search result pages load 52% faster.
Source: Backlinko.com
7. 32% of consumers prefer voice search to type a search query.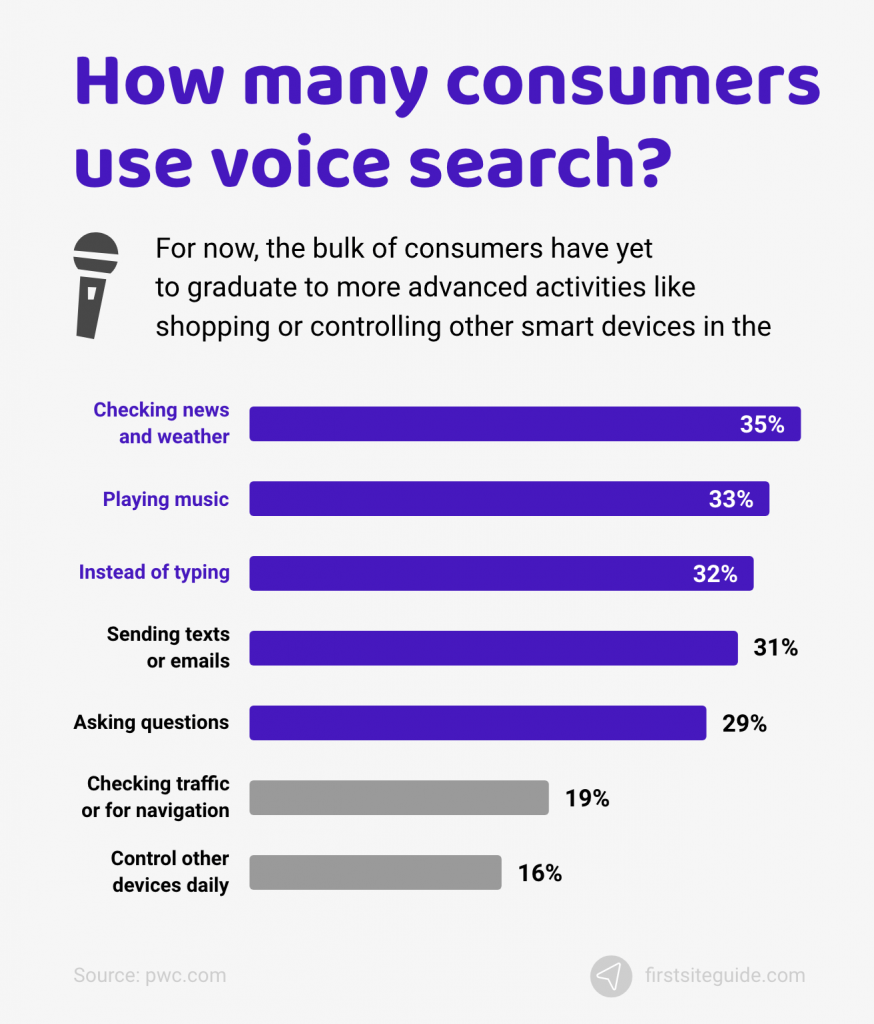 Almost a third of consumers use voice technology every day to conduct search queries that they used to type. Again, this boils down to convenience and simplicity. As long as their searches require fast, simple, and accurate responses, a large number of users will rely on voice searches, as they can save time and make it easier to multitask.
This is especially true among younger consumers who adapt to new technologies more quickly. What's interesting, however, is the fact that although young consumers are much quicker to adopt voice search technology, they are not considered to be heavy users.
Voice search trends show that a vast majority of users rely on voice search solely when they're home, as they enjoy having greater privacy when they're talking to their voice assistants. Since younger users generally spend less time at home, they're less likely to rely on voice searches daily.
So, even though most users enjoy the convenience and simplicity of using voice assistant devices, voice search has a ways to go before it becomes the preferred search method both at home and in public.
Source: Pwc.com
8. 29% of consumers leverage voice assistants to ask quick questions.
Search by voice is the preferred choice of a lot of consumers who use it daily to seek answers to quick questions.
Source: Pwc.com
9. 35% of users use voice assistants to check the weather and news.
35% of people keep up with the news and check the weather with the help of their voice assistants. 15% prefer to do it the old-fashioned way.
Source: Pwc.com
10. 54% of monthly consumers are using voice for navigation and traffic.
Voice assistants help 19% of consumers (daily), and 54% of consumers (monthly) to navigate or check traffic.
Source: Pwc.com
11. 40% of consumers use voice to order or buy something every month.
Voice assistant devices help people to make a purchase, but only 10% do it daily. 50% of consumers never place orders using a voice assistant.
Source: Pwc.com
12. 43% of voice-enabled device owners use their devices for online shopping.
Nearly half of people who own a voice-activated device use that device to make online purchases. But many users are still skeptical and are therefore very careful when using voice search for online shopping.
This is primarily because online shopping typically requires users to devote more time and effort to it. They need to examine the items they're ordering, look for reviews, compare prices, and more. It's a complex activity, and many are unaware of the full extent of voice search capabilities.
So, those who do use their voice assistant devices for online shopping do so for cheaper and more common items. They use voice search for ordering food, groceries, toilet paper, books, and similar items. At the same time, they turn to manual searches online for apparel shopping, travel reservations, and more sensitive and expensive items.
Source: Narvar.com
13. 2 in 5 adults perform a voice search once every day.
According to Edit, a lot of people use voice search only once a day.
Source: Edit.co.uk
14. 25% of younger adults aged 16-24 use mobile voice search.
Younger adults aged 16-24 (25%) use voice search on mobile monthly more than consumers aged 55-64 (9%).
Source: Globalwebindex.com
15. Men account for more monthly voice search users than women.
Voice search statistics show that in 2018, men vs women monthly voice search looked like this: 66% vs 55% (smartphone), 53% vs 30% (desktop/laptop), 49% vs 31% (tablet), and 46% vs 26% (smart speaker).
Source: Socialmediatoday.com
Voice search future
There's a huge buzz around voice search technology all over the planet, and the global voice search market is only going to continue to grow. There is no slowing it down, especially now that smart speakers are taking over the world.

While voice assistants first became popular through smartphones, it's voice-activated speakers that are taking them to the next level and pushing the voice search trends forward. Smart speakers are relative newcomers to the market, but their adoption was surprisingly fast. Millions of people all around the world have smart speakers in their homes, and while they were at first used primarily for entertainment purposes (such as asking fun questions), they're now much more practical.
Voice search statistics show that the majority of users currently rely on smart speakers for more straightforward activities such as playing music and checking the weather forecast, but general voice search is becoming increasingly more common.

Let's see what the future holds for voice search growth.
16. Buyers of voice-activated speakers will surpass 25.6 million in 2020.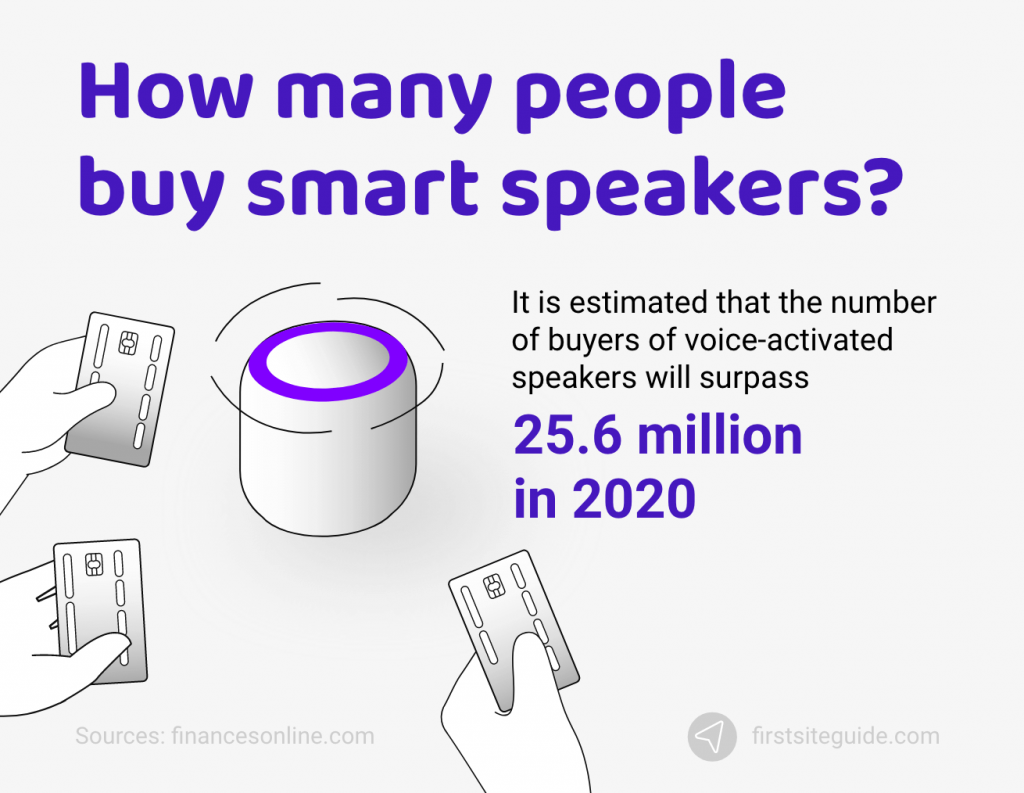 The number of buyers of voice-activated speakers keeps growing in number. By the end of 2020, it's expected that their sales will surpass 25.6 million.
Currently, Amazon Echo dominates the market, holding over two-thirds of the market share. Smart speaker and home assistant Google Home holds second place, while Apple HomePod comes in third. Many users do have more than one brand of smart speakers in their home, primarily because they have other electronic devices from different brands, each compatible with a different smart speaker.
Regardless of the brand, smart speakers will become increasingly more popular in homes across the world. This will, in turn, increase the number of daily voice searches, and require digital marketers to focus on voice search SEO.
Source: Financesonline.com
17. 16% of US citizens own a voice-activated speaker.
The number of smart speaker users in the US is rapidly increasing. In 2018, 1 in 6 US citizens (16%) owned a voice-enabled speaker, which is 128% more users than there were in 2017.
Source: Npr.org
18. 24% of US households own a smart speaker.
Household ownership of smart speakers in the US is rising. In 2018, 1 in 4 households in the US (24%) had a smart speaker. At the time, 4 out of 10 of those households owned more than one smart speaker.
Source: Nielsen.com
19. Smart speakers will outnumber tablets by 2021.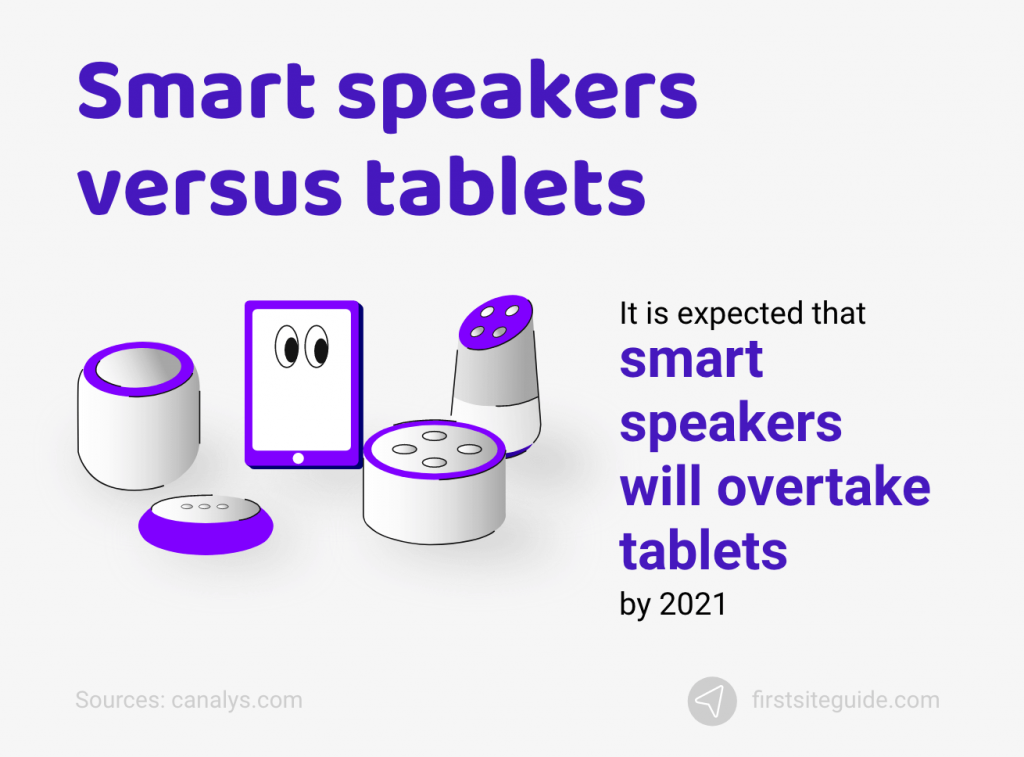 Tablet sales are slightly declining, making it easier for smart speakers to surpass them. It is expected that smart speakers will overtake tablets by 2021.

The adoption of voice-activated speakers is the greatest in countries such as the US, where 1 in 4 households already have at least one such device. However, the rising middle class in Asian countries such as China and the rising interest in new technology are pushing the sales of smart speakers (even though Google and Amazon are unavailable in China).
As opposed to this trend, the sales of tablets and traditional PCs are on the decline worldwide, even though voice assistants and voice search apps are available on both of these devices.
Source: Canalys.com
20. The smart speaker market is expected to exceed $30 billion by 2024.
The market is expected to reach exponential growth by 2024, exceeding sales levels that few other electronic products have managed to reach.
Source: Gminsights.com
21. 19% of smart speaker owners used their virtual assistants for online shopping.
19% of consumers have already used their smart home search assistants like Amazon Echo for online shopping, while 33% of them plan on following suit.
Source: Walkersands.com
22. With 42.2% of units, the US remains a global leader in the adoption of smart speakers.
Of the more than 200 million units installed worldwide in 2019, the US accounts for 42.2% of all units, which is the largest smart speaker installed base in the world.
Source: Canalys.com
23. 55% of households will use smart speakers by 2022.
The growing use of smart speakers is driving the voice shopping market growth. Only 13% of households had smart speakers in 2018.
Source: Techcrunch.com
Voice search specifics
Smart speakers are all the rage now, but other voice-activated devices aren't lagging too far behind. People use them frequently and even daily to search for brands online.
They especially use voice search to discover local businesses, which is why it's so important to optimize your site for voice search. It improves your visibility and can significantly affect your ranking on search engines, thus increasing your click-through rates and helping you to generate more leads.
With the number of voice-activated speakers and voice search assistants on the rise, and with the advancements in Natural Language Processing, Artificial Intelligence, and Machine Learning, voice searching will become ever-more popular, making voice search optimization crucial for any business's success.
So, let's dive into the specifics to get a clear insight into the trend, and see how you can use voice search to push your business forward.
24. 400 million devices now support Google Assistant.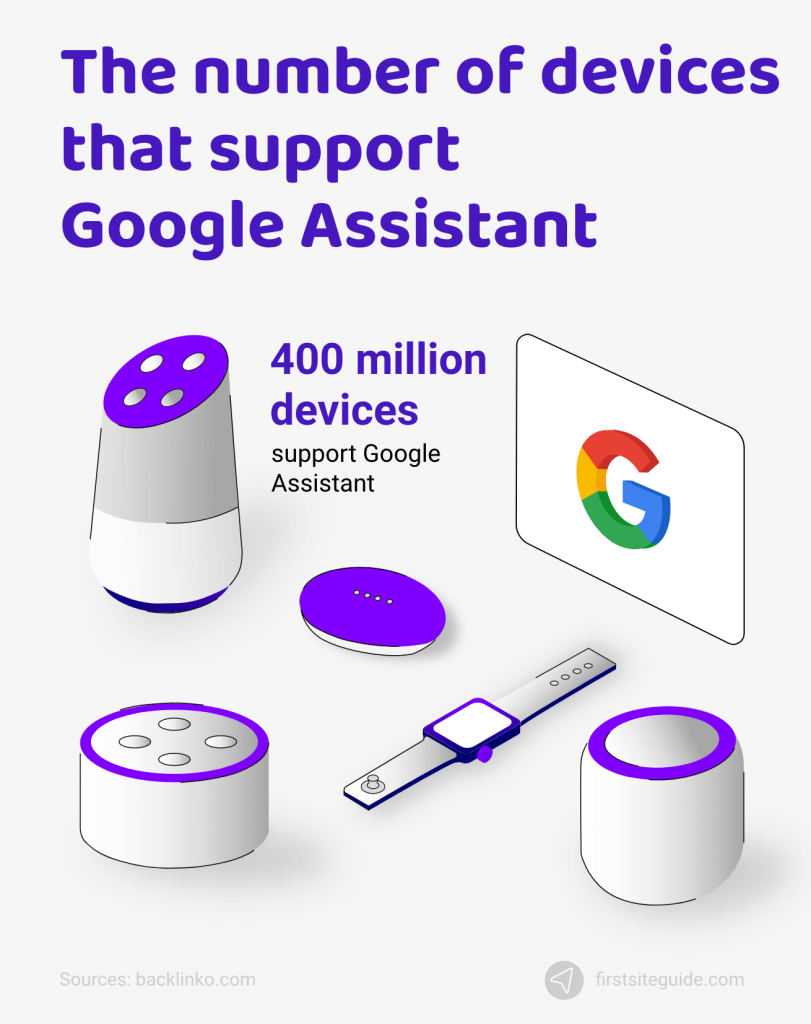 According to voice search statistics, Google Assistant has greatly extended its global reach with more than 400 million devices, making its voice assistant installed base the largest on the planet.
Source: Voicebot.ai
25. 94% of all smart speakers available in the world come from Google and Amazon.
According to TechRepublic, Google and Amazon provide almost all of the voice-activated speakers currently available.
Source: Techrepublic.com
26. Google Home has 81% accuracy when providing voice search answers.
According to voice search stats, Google Home is the winner in answering voice search queries accurately (81% accuracy), followed by Amazon Echo (64%), Harman Kardon Invoke (57%), and Apple HomePod (52.3%).
Source: Loupventures.com
27. 25% of all Windows 10 taskbar searches are voice-based.
According to Purna Virji, the Senior Manager of Global Engagement at Microsoft, a quarter of searches on the Windows 10 taskbar are voice-based.
Source: @purnavirji
28. 93% of users report being satisfied with their voice assistants.
People are generally pleased with their voice-enabled digital assistants. Their minimum criteria include accuracy (73%), saving time (59%), and making their lives easier (55%).
Source: Pwc.com
29. The average Google voice search result contains only 29 words.
After analyzing 10,000 Google Home search results, Backlinko found that the voice search results on Google are typically short and concise.
Source: Backlinko.com
30. 20% of voice searches contain a combination of the same 25 keywords.
More than a fifth of voice searches online include only 25 common keywords. The most common words are "how," "what," "best," and "easy."
Source: Seoclarity.net
31. 58% of consumers in the US have searched for local businesses using voice technology.
More than half of US consumers have performed a local business voice search.
Source: Brightlocal.com
32. 76% of smart speaker owners use local voice search at least once a week.
The majority of smart speaker users search for local businesses by voice on a weekly basis. 46% of users do the same daily.
Source: Brightlocal.com
33. 51% of local business voice searches are for restaurants and cafés.
51% of consumers use local voice search to find restaurants and cafés, followed by grocery stores (41%), food delivery (35%), clothing stores (32%), and hotels or B&B (30%).
Source: Brightlocal.com
34. Digital audio advertising may be the next big thing for businesses.
Since voice technology is driving consumers to reduce their screen time, it creates plenty of opportunities for digital audio advertising to rise.
Source: Choozle.com
35. Mobile users are 3x more likely to use voice search.
There are more voice-based than text-based local searches on mobile. When performing local searches, mobile users are three times more likely to use voice search than to type their search queries.
Source: Review42.com
Conclusion
All of these voice search statistics clearly show that voice search isn't going anywhere anytime soon, if ever. More and smarter devices will keep hitting the market, making voice search increasingly accessible. This means that more people are going to leverage this useful feature and further influence the global market growth.
Have you started optimizing your content for voice search? The time to do it is now! The sooner you begin optimizing, the sooner you can reap the fantastic benefits. Start while keeping these crucial voice search stats in mind and harness the full power of voice search!