WP Engine Hosting Review 2023
Company Overview, Pricing, and Features
FirstSiteGuide is supported by our readers. When you purchase via links on our site we may earn a commission.
Read More
WP Engine Hosting Review 2023
There are many hosting companies that place an emphasis on servicing WordPress clients. While most of them have services tailored for the popular content management system, it's rare for a hosting company to reference WordPress in their actual name as WP Engine does.
However, before you rush to get your piece of this engine, it's important to understand that better service comes with a price.
Who is it best for?
WP Engine is best for people who are certain that they will run their site with WordPress and want professionals to manage their hosting. It's also a good solution for those who understand the fine details about what they're paying for since WP Engine is more expensive than their competitors.
Table of contents
Company overview
While other companies were still quite traditional with what they were offering, Jason Cohen, the founder of WP Engine, realized that WordPress presented a growth opportunity. In 2010, Jason took a risk and started a hosting company that would host only WordPress sites. Today, this choice doesn't sound like a big deal because "everyone" is using WordPress, but eleven years ago, this was considered a bold move.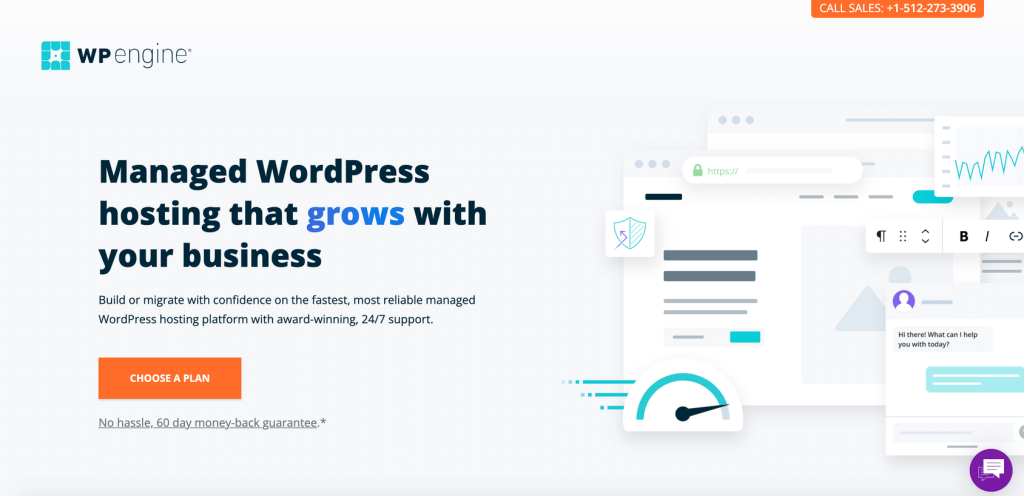 Over the years, WP Engine has grown, and are proud to say that they have more than 30,000 customers across 100 different countries. Choosing to focus only on WordPress sites proved to be a smart business move.
It is also notable that the company was backed by one of the founders of WordPress, Automattic.
WP Engine plans and pricing
If you want to be part of one of the strongest WordPress managed hosting networks, you will have to spend more money. Let's examine the options and pricing per month. Get 3 months free on annual Startup, Professional, Growth, and Scale plans when you use our coupon code WPE3FREE.
Startup
$27 per month


1-year plan billed as one payment of $270.00
One website, 25,000 visits per month, 10GB local storage, 50GB bandwidth per month, 24/7 support, 10 premium themes, free automated migrations, daily backups, free SSL and SSH, one-click staging site.
Professional
$53 per month


1-year plan billed as one payment of $531.00
3 websites, 75,000 visits per month, 15GB local storage, 125GB bandwidth per month, 24/7 support, 10 premium themes, free automated migrations, daily backups, free SSL and SSH, one-click staging site.
Growth
$104 per month


1-year plan billed as one payment of $1,035.00
10 websites, 100,000 visits per month, 20GB local storage, 200GB bandwidth per month, 24/7 support, 10 premium themes, free automated migrations, daily backups, free SSL and SSH, one-click staging site.
Scale
$261 per month


1-year plan billed as one payment of $2,610.00
30 websites, 400,000 visits per month, 50GB local storage, 500GB bandwidth per month, 24/7 support, 10 premium themes, free automated migrations, daily backups, free SSL and SSH, one-click staging site.
Custom
For those who need even stronger plans, there is a custom plan option available. This plan does not have a price, but you meet with an expert who will help you to tailor a plan to your needs.
WP Engine key features and functions
WP Engine offers everything you could need, plus extras that only a small percentage of people will ever use. Here are the key features and functions that you can expect, which could be the reason for starting your subscription.
Automatic WordPress Updates – a team of experts constantly tests new versions of WordPress, so you can automatically get the newest version without having to worry about updates.
Automated backups – your website will always have fresh backups, without you having to think about it.
Development and staging environment – whether you're building something for WordPress, or simply changing the way that your site looks, you can do it in a staging environment instead of using a live site as your playground.
Transferable sites – build sites for clients on your own hosting, which can then be easily and safely transferred to a client.
Dashboard (admin portal) overview
When you choose your plan and pay for it, you will receive access to the admin portal where you can install WordPress, get access to your sites, change personal and billing info, and more.
Installing WordPress
One of the first things to do on WordPress managed hosting should be installing your new site. With WP Engine, that's actually just naming your site. Click on the button, give a name to your new site, and select if you are about to start fresh or maybe copy your existing site as a template.
How to control your site
The production tab allows you to control your current site. Check your domain(s), content delivery network options, get access to backups, logs, find the important links, and much more.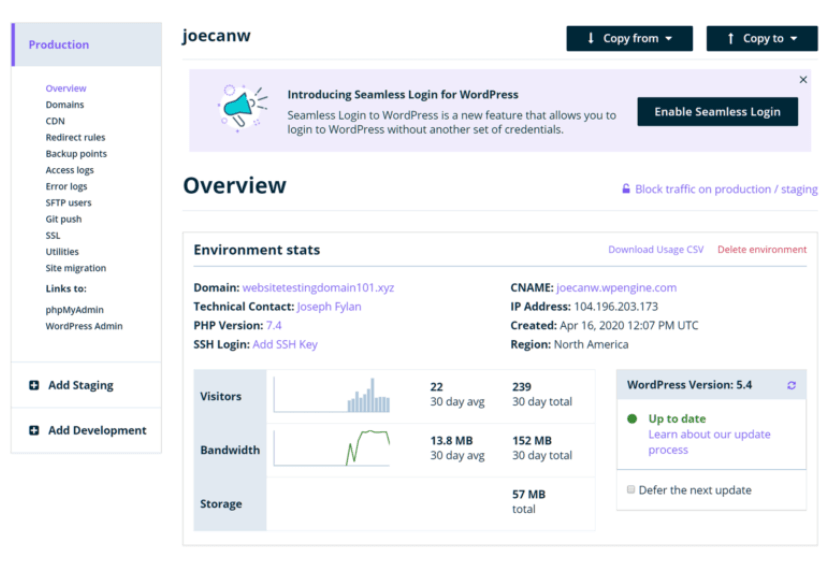 Safely edit your website
One of the most notable features you receive with WP Engine is staging. This means that you can quickly create an additional environment and actually copy your site to it. Instead of working on your live production website, you get to make changes to the staging environment so that your site visitors aren't impacted by errors if they happen.
Developers have it easy, too
If you are a WordPress developer, you will appreciate the separate development area where you can safely test new features, fix bugs, and do anything you need in order to build your new WordPress plugin or theme. You can do all of this online, without having to test things locally.
Knowledge base and support
If you happen to have any questions about the hosting options, have problems with your site, or anything else, you should know that support agents are available 24/7/365. Phone support is available for all plans except the starter one.
For those who like to search for information and possible solutions themselves before opening a chat, you will love the WP Engine's knowledge base. There are WordPress articles that will teach you more about the popular content management system, while support articles are organized into different pages. Everything looks good, and it is easy to move around the knowledge base pages.
WP Engine refund policy
To cancel any of WP Engine's plans, you just have to click a button through the admin area. Unlike other hosting companies that are quite loud and proud of their money-back guarantees, WP Engine keeps this information almost hidden.
After 5 minutes of searching and reading their pages, I was able to discover that WP Engine has a 60-day money-back guarantee, which is quite impressive.
WP Engine pros and cons
Pros
Automatic updates and backups
Expert staff
Hacked sites are fixed for free
Amazing support
60-day money-back guarantee
Cons
More expensive than competitors
Only WordPress
Specific plugins & themes are banned from use
FAQs
Does WP Engine have a trial?
Instead of a trial, WP Engine offers a 60-day money-back guarantee. This means that you do have to pay to start hosting your site on WP Engine's servers, but if you do not like their service for any reason within two months, you will get your money back.
Is WP Engine free?
No, WP Engine is not free, and you will have to pay for the service monthly or yearly. However, in mid-2021, WP Engine decided to provide their local development tool for free. This means that you can install the tool on your computer and work on your website even without an internet connection. However, if you decide to publish the website to the public, you will have to open your wallet and pay for their hosting services.
Does WP Engine provide email?
Since WP Engine manages the entire WordPress environment, they also cover some basics of email. However, since WordPress isn't reliable when it comes to emails, WP Engine recommends using a third-party email service to handle your everyday emails.
Is WP Engine only for WordPress?
Yes, as the name already suggests, WP Engine can host only WordPress sites. If you are looking for other types of hosting, you will have to search for an alternative.
Conclusion
Although it is not among the cheapest WordPress hosting available, WP Engine deserves to be considered by anyone who can afford to pay their monthly or yearly fees. This managed hosting company has it all, so if you want your WordPress site to be hosted by one of the best WordPress managed hosting companies, knowing your site is up to date, safe, and always monitored by professionals, give them a chance. You will not regret it.