WP Engine Hosting Review
Company Overview, Pricing, and Features
FirstSiteGuide is supported by our readers. When you purchase via links on our site we may earn a commission.
Read More
Introduction
If average Joe or Jane doesn't know how to handle all the ins and outs of hosting, there must be a service that will manage both for you. So in 2010, WP Engine enters the scene. Today they manage more than 80,000 customers in 140 countries. They are a company whose 56% of the leadership team is female, 30% of employees do not have a college degree, 29% of employees are non-white ethnicity and 8% of employees identify as LGBTQ. 5% of the online world visits at least one experience on WP Engine each day. They also won three gold Stevie awards back to back with an NPS of 82. So is it all a millennial's dream or it will all come down crashing into reality? Read the review and find out.
Hosting plans
There are five managed hosting plans. Three are shared hosting and two are dedicated hosting.
Shared hosting:
Startup will give you up to 25 000 visitors per month, 1 site, 10GB storage, 50GB bandwidth, global CDN and automated SSL certificate.
Growth will give you everything from Startup plus up to 100 000 visitors per month, 5 sites, 20GB storage, 200GB bandwidth, imported SSL certificate and 24/7 phone support
Scale will give you everything from Startup and Growth plus up to 400 000 visitors per month, 15 sites, 30GB storage and 400GB bandwidth
Dedicated hosting:
Premium will give you everything from shared plans plus millions of visitors per month, 25 sites, 100GB to 1TB storage, 400 to 5 000+GB bandwidth, consultative onboarding and launch readiness assessment
Enterprise will give you everything from Premium plus high availability and 24/7 ticket support
Features
When it comes to features there are multiple advantages by WP Engine, but one of the most important ones is security. They have several measures to protect your websites. They run daily malware and virus scans and have a firewall to block the latest threats that are updated daily. On the other also generous hand, even with this, they offer daily backups and one-click restore points so in case something does happen, you can restore your website to a desired point in time. Lastly, they also have a hacker cleanup guarantee so with all of this you will feel like your virtual home has a security guard, butler, and a cleanup crew.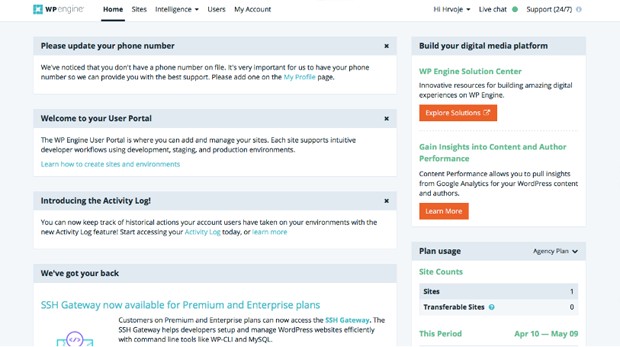 While they do offer different servers that you can host your website on, CDN is integrated only in their dedicated plans, Enterprise and Premium. Unlimited data transfers are a standard feature and there is staging site included in every plan so you can check out the final result before you actually roll it out. The same applies to their proprietary EverCache technology, which eliminates the need for third-party cache plug-ins. There is a list of certain forbidden plugins, but that is so the things can run smoothly.
If you already own a WP website you will be able to migrate it freely and easily. The only thing that some are really complaining about is limitations for visitors a month. Sure, that can be a hassle, especially when you need to pay more, but in their defense, they offer more than the competition in the managed hosting business. So, even with that said, in the end, if you are running a business and you are not sure if you can/want to do the heavy lifting in the hosting area, WP Engine will allow youth spend your time on other, more important tasks.
Control panel
The first time you arrive at your dashboard you will arrive at a buttload of messages, suggestions and a pop up for performance testing. It's a clutter that might frighten you at first, but it's a relatively good start for a beginner. You can ignore those in your settings, but it could be done a bit more elegantly. On the upper banner, you will find Home, Sites, Intelligence, Users, My Account on the left and on the right are links for your profile, live chat with a waiting time indicator and support PIN. It is neat and accessible from anywhere. If you are wondering what Intelligence actually is, it is for page and content performance so you can see how your customers are actually snooping around.
When you click on Sites, which will be the place you will spend the most time, besides the actual WP dashboard, you will see the list of your websites. When you click on each of those, you will be able to see a page with more information on our setup: domain, CNAME, IP address, PHP version and so on. There are also cute little graphs showing your visitors, bandwidth and storage usage.
On the left there will be a menu with few more things like domains, CDN, redirect rules, backup points, Git push and so on with, on the bottom, access to your phpMyAdmin and WordPress admin. While the first impression of control panel might be "iI have opened a closet and everything is falling out at once" after some cleanup you will appreciate its structure. It will just need some time getting used to it, but we like its structure.
Email
To keep this part of review short and clear, unfortunately, WP Engine does not provide email hosting. It is unfortunate and something we see is common in WordPress managed hosting business, but we can still hope that this will change one day. Especially at one of the leading managed WordPress hosting providers.
Creating and setting up your website or blog
When you pick up the right plan for you (and you can ask them to assist you with it) will get to the setup account page. It will be a bit longer than you might expect, because there will be a few more additional selling points than in the usual setup. Content performance, GeoTarget and multisite could rack up your pricing up a bit. You will also pick your desired data center and after you fill out the billing info, the creation of your website will start. Very quickly we received an email inviting us to set a password for our account. After that, it is up to you to fill it out with content.
But WP Engine is just managing your hosting, so, unfortunately, they are not a registrar nor do they have a registrar partner. So if you want your custom domain, you will have to look somewhere else and then play with your DNS settings. You can add a new domain easily, and there is a lot of easily understandable documentation for it, but to be honest, this is the step that beginners can often get stuck on. Once you get the hang of it, creating and adding new websites will be easy breezy and fast as a changing a tire on an F1 track.
Reliability and uptime
WP Engine gave us an impressive 100 percent uptime. Not even one-second downtime is always a bit surprising but in a good way. They claim 99.95% uptime, which is a bit odd since industry standard and seeking point is usually 99.99% uptime. Their explanation can be read in this blog post and we must say that it is reasonable. Often they deliver even more. Explanation or not, uptime that they delivered, even over our short two week testing time, was impressive. So far customers have nothing to say but praise about it. Uptime is really 'up' and thanks god their servers are running on electricity and not coffee, because the world would run out of coffee very soon if they were. We congratulate them on great results and hope that they will keep up the good work.
Load test
Our website has shown that WP Engine can withstand almost any number of visitors without a flinch. Using Load Impact, we tested the response times from several (international) locations. The website server itself was located in Ann Arbor, Michigan, so we mainly focused on the West Coast response times. But no matter the location, and a number of users, the response time was always a flatline. Unlike the hospital, this is something you want to see here.
The average response time for Ashburn was about 130 to 150 milliseconds, staying consistent as user volume increased. There were rarely any spikes. The worst spike we've seen was from Singapore when around 10 users from average 0.5 seconds, response time spiked to 1 second. Even with the double the time, it stayed under what industry considers a good time limit. The same flatline response happened in other cities. Some were quicker or slower and the worst was Sydney with 2 seconds response.
When it came to international response time, we were not sure why Sydney was a bit off. Usually, the international response time was under 1 second, which included Dublin and Sao Paulo while Tokyo was slightly above with about 1.2 seconds. Sure there is a big distance, but why Sydney was off we were not sure. Nevertheless, even with this, the stress test showed one big advantage of their infrastructure: it is powerful and it does not crack under the pressure.
Help and support
Their customer support is 24/7 with a ticketing system and chat support. We can't say that we are missing phone support too much, but there are probably people out there that do. As we mentioned previously, they have a little indicator how long do you need to wait for support and we've always waited under a minute. They also have extensive documentation on almost everything so if you really do not like interaction, you can avoid that too. All in all, we were impressed with what we got.
Customer support chat
Pricing
All of their plans come with 2 months free with annual prepay and 60 days money back guarantee.
Shared hosting:
Startup $35 per month
Growth $115 per month
Scale $290 per month
Dedicated hosting
Premium custom pricing
Enterprise custom pricing
Pros
daily backups
outstanding security
automatics updates
customer support
Cons
no email hosting
no domain purchase
above average pricing
they don't provide DNS nameservers
Conclusion
When it comes to managed WordPress hosting, WP Engine is equivalent to a luxury sportscar. It is not for everyone, but surely everyone will dream about, or want one. They really justify their price tag by saving you time, as you do not need to do any of the time-consuming admin tasks. In this case, time really is money, and the features they offer aren't shabby at all. While this might not be your go-to place for a beginner's blog or website, if you are racking up considerably traffic, this is a robust beast that you won't have any desire to tame. If you have deeper pockets and you are in need form some managed WP hosting, it is your go-to place. And even if it is not, with its 60 days money back guarantee, there is a plenty of time to play around and see if it is a good fit for you. As far as managed hosting goes, we give them both thumbs up.