How To Transfer Your Wix Website To WordPress
FirstSiteGuide is supported by our readers. When you purchase via links on our site we may earn a commission.
Read More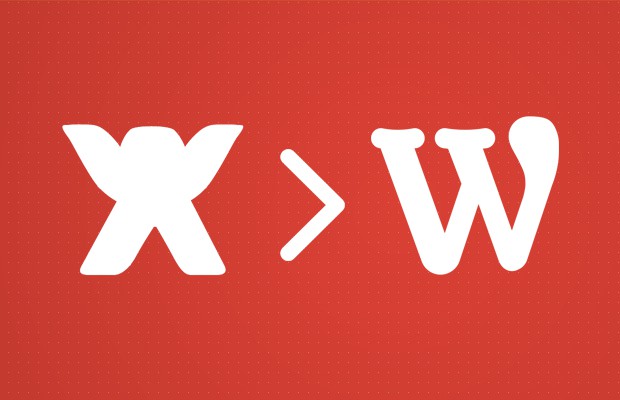 Truth to be told, Wix is a stunning website builder that seems perfectly tailored to beginners' needs. It looks beautiful, comes with some great premade designs that will help you jump start your first site, and it is actually relatively easy to handle & manage.
We are sure that you have already stumbled upon some Wix commercials and banners online, which are easy to remember by a cute logo that looks like a little yellow & white star (it is actually a combination of the letters, but who cares; for us – it's a star).
Because of all the reasons we have just mentioned, it is not uncommon that first-time bloggers decide to start with Wix instead of WordPress. You simply delegate all the technical problems to experts at Wix while you can focus on what you write and of course photos of your cat eating a cheeseburger. But after a few months or maybe even years, you might have realized that blogging is much more fun than you thought it would be. Also, you could have realized that blogging can be a source of income that may even give you the courage to drop your 9 to 5 job at the office you hate so much. If you recognize any of this, you are probably already thinking about migrating your Wix blog to WordPress.
Disclosure: FirstSiteGuide is supported by our readers. When you purchase via links on our site we may earn a commission. We test and try all the products that we recommend.
How to prepare for the migration
Unlike Wix where hosting, domains and all the technicalities you probably don't care about have been taken care of by someone else, WordPress is a different story. For starters, to be able to have a WordPress website, you will have to find a hosting company that will take care of those technicalities from now on.
When it comes to hosting WordPress sites, Bluehost is one of the leaders in the industry that will help you get a professional website at affordable prices. Just follow the link to get a discount so you can start your new blog the right way for as low as $2.75 per month.
Once you decide on the package and a domain you will use for the blog, you will have to install WordPress. If you decide to go with Bluehost as your hosting provider, you can relax and skip this part because the hosting service will automatically install WordPress for you. All you need to do in this case is prepare your username and password so you can navigate to the dashboard and log in to your new workspace.
Move your blog from Wix to WordPress
If you have ever stumbled upon an article that shows the process of migrating from one platform to another, you have probably already started worrying. But don't start pulling your hair out yet. Although other transfers aren't that technical, they do force you to put in some extra time into following each and every step to make the transfer right. Unlike transferring Tumblr to WordPress or Blogger to self-hosted WordPress, migrating Wix to WordPress is much easier to do.
Unfortunately, that also means that you get fewer options you can choose from. But let's start with an interesting part.
Choose a theme
Since you have been using Wix, you should already be aware of how templates or themes work – they allow you to quickly change the entire appearance of your blog into something you will like. WordPress themes work in a very similar way. There are tens of thousands of free & premium WordPress themes you can choose from, and there are practically no limits to them.
Although it is quite tempting to choose a free WordPress theme, please have in mind that usually, those kinds of themes require more technical knowledge. Unless you know your way around WordPress, PHP, HTML, and CSS that are required to customize a free theme, we suggest going for a premium one. Popular premium themes usually come with drag & drop builders that let you literally play around with options and colors until you get that perfect look of your blog you were going for. Instead of screaming at your computer screen for not showing the right color or not resizing a header image when viewing the site on the mobile screen, pull out those extra few bucks out of the wallet and enjoy customizing your blog.
Set up permalinks
Yeah, we know. Just like you, we would rather spend time customing a theme than tampering with settings that regular visitors won't even notice. But permalinks are an important part of your new WordPress blog and it is crucial that you set them right away.
Don't worry; although the term permalink might sound scary, it is actually quite easy to set them up. Permalinks are parts of the URLs, ie the address of each post, page, image, etc on your blog. So this is the time to decide if you want them to be simple, have a date hardcoded in, or do anything else you like.
For example, instead of www.yournewblog.com/2019/08/my-first-post you can change your permalinks to www.yournewblog.com/my-first-post. Although it might sound nice to have a date in the permalink, we recommend the second option. Shorter URLs are cleaner, easier to read & remember, and search engines like them better.
To make these changes, simply navigate to Settings -> Permalinks and choose the "Post Name" option. Save changes and reload your page to make everything work.
Export content from Wix
Unlike WordPress, Wix is a closed platform which means that you don't get to peek behind the curtains to see the code. It might sound irrelevant, but that also means that people can't create tools to help you out with certain things. Obviously, people at Wix don't want you to move away from their platform, so there are no tools that will quickly & easily export everything from Wix to WordPress.
But don't worry; you can still take your stuff by using different methods.
In order to export content from Wix, you will need to access the RSS feed. You do not actually have to know anything about the RSS feed, but if you want to learn more, learn what an RSS feed really is. There is one more downside to this. Recently, Wix decided to remove RSS feeds from their blogs, so if you have a new one, you probably won't be able to access the feed.
To access your Wix RSS feed, simply navigate to yourusername.wixsite.com/blogname/feed.xml. Username is your Wix username and "blogname" the name of your blog you run on Wix. If you have been using a custom domain name on your Wix blog, simply add feed.xml or /blog-feed.xml at the end of your custom domain to access the RSS feed.
The export should be very quick, and you should end up with a file saved somewhere on your computer (desktop is just fine). This is all it takes to export the content from Wix. We will show you how to handle images later on.
Import Wix content into WordPress
The next step requires you to import the content to your new WordPress site. Luckily, WordPress is an open-source platform, so there are tons of plugins & tools designed to help you achieve different goals. One of those tools is called RSS Importer and its entire purpose is importing information from an RSS feed file like the one you have saved in the previous step while exporting content from Wix.
Log in to your new WordPress site
Navigate to Tools -> Import
Choose RSS and click the "Install" icon below it
Wait for a few seconds for WordPress to load a new page and click on Run Importer
Click Choose File and select the RSS file you exported from Wix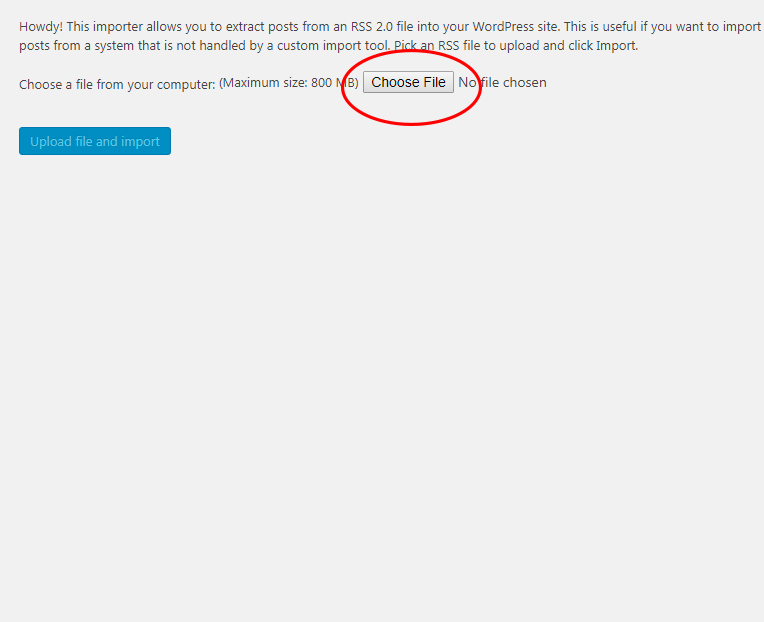 Click Upload file and import button
Depending on the size of your blog, this may take a while so don't panic if nothing happens for several minutes.
Once everything is done, you should see a message that confirms the import. To check it out, simply go to Posts -> All Posts where you should be able to see all Wix articles listed in WordPress. That's amazing; you have just successfully imported content from Wix into WordPress, but there is just one small problem. If you open any of the posts, you will notice that none of the images are there. Unfortunately, the RSS feed doesn't allow you to import images automatically, so you will have to handle this task manually.
How to import images from Wix to WordPress?
If you haven't had a lot of images in your posts you can simply go ahead, open your Wix posts and save images one by one. Then, it will suffice to upload the images into your WordPress Media Library. If you keep the image name intact, that should do the trick and all of your images should appear in posts on the exact same places you had them on Wix.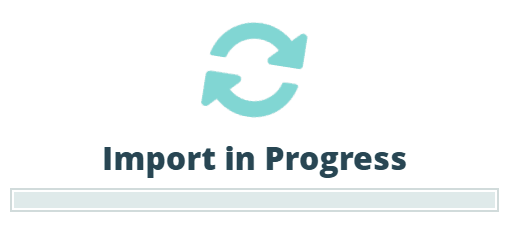 But chances are that you have more than just a few images. So, manually going one by one could be close to impossible. We have a cure for this – remember, WordPress is open-source, and there are tens of thousands of free & premium tools you can use. Luckily, a tool that will help you handle images is completely free and you can have it up & running in the next minute.
Go to Plugins -> Add new
Search for "Import External Images" by Marty Thornley
Install and activate the plugin
We usually don't recommend installing plugins older than a year or two, but this one still works without problems so you should not worry.
By default, the Import External Images plugin automatically searches through the HTML code of a post once you click the save button. Since you have already imported the content from an RSS feed, your content contains the code for the picture, but not the picture itself. Lucky you – this means that once you hit the save button, the plugin will find your post on Wix, recognize all the images and automatically download them into your library! So it does not matter if you have one or one thousand images, the plugin should transfer them all.
Good luck with your new WordPress blog!
This is it. As we have told you in the first few lines, migrating from Wix to WordPress does not take much time and skill. If you have followed all the steps, you should have ended up with a new WordPress blog that already features all your old Wix posts.
Although this is the end of your Wix blog, don't be sad about it. Consider this migration as a step forward. WordPress is much more powerful than Wix, and it will allow you to develop it further. It gives you full control over your blog and if you wish, you can make money with it.
Learning WordPress takes some time, and there's so much you can learn about it. So don't be disappointed if you can't make your blog better in one day. Take your time and develop both your knowledge and your blog and we are certain you will be happy that you have migrated your blog from Wix to WordPress today.