Sucuri.net Review – Everything You Need to Know in 2023
FirstSiteGuide is supported by our readers. When you purchase via links on our site we may earn a commission.
Read More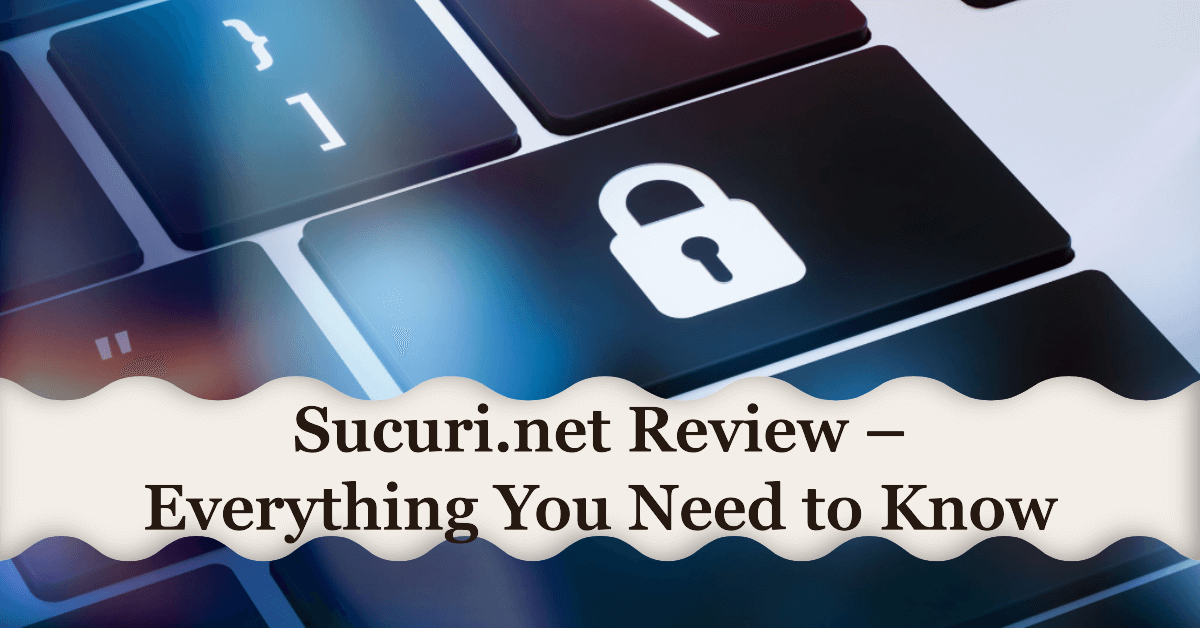 Protecting your digital assets from cyber threats is crucial when making a website or launching an eCommerce business. As the number of attacks increases daily, taking another step regarding your security and ensuring no one can bypass your measures is essential.
One of the ways you can achieve high-end security is to use authorized web-protection tools, such as Sucuri.net. If you've considered adding this tool to your existing web guards, we're here to present its features and give you an honest review.
This Sucuri.net review covers some of the most prominent features and pricing to see whether it's worth trying. Overall, it's a solid website protection solution that will give you the security you require, but it may need some upgrades (such as monitoring and customer support).
Sucuri.net – main features
Succuri.net offers various features to protect your website or online store. Some prominent features include threat detection, protection, response, backup, and performance that will keep your online environment safe while not affecting its speed.
| | |
| --- | --- |
| | Rating |
| User-interface | ⭐⭐⭐⭐⭐ User-friendly and intuitive design |
| Firewall system | ⭐⭐⭐⭐⭐ High-quality protection and early detection |
| Malware scans | ⭐⭐⭐⭐ May contain false positives |
| Malware cleanup | ⭐⭐⭐⭐⭐ Highly-effective cleanup |
| Server-side scans | ⭐⭐⭐ Cannot detect client-based issues |
| Site audit log | ⭐⭐⭐⭐ Detailed and precise |
| Pricing | ⭐⭐⭐⭐ An affordable option for all website owners |
| Customer support | ⭐⭐⭐ Needs better response time |
| Types of blocks | ⭐⭐⭐⭐⭐ Covers various block types |
| Integrity monitoring | ⭐⭐⭐ May not distinguish between authorized and unauthorized access |
| Settings changes | ⭐⭐ Cannot customize your experience |
Scan Your Website With Sucuri To Detect Viruses and Security Threats
Complete Sucuri.net review
In the text below, you'll see all the significant parts of Sucuri and how they may affect your experience.
User interface
Sucuri offers a minimalistic, user-friendly interface you can easily navigate to find the tool you need. The design is well-organized, and you won't have trouble using the solutions, even if you're a beginner in the web security game.
Thanks to Sucuri.net's intuitive design, you won't wander around to find what you need.
Firewall system
This plugin offers an advanced firewall system to detect and block suspicious behavior on your web page. Since its WAF (Web Application Firewall) is cloud-based, all the traffic directed to your website must first go through Sucuri.net before it reaches your website, providing you with extraordinary security.
The best part about the firewall system is that it can detect early threats and react accordingly to keep your website as secure as possible.
Malware scans
This plugin can detect signs of infections and suspicious behavior, making Sucuri one of the most effective guards for your website. Moreover, its advanced tools will dive deeply into your code and files to detect possibly harmful elements.
However, you may receive false positives by using these scans, leading you to believe your website isn't as safe as you want. 
Malware cleanup
Although the detection tool may not be excellent, the malware cleanup tool will remove all possible threats and propose better security measures to avoid further security problems. However, the effectiveness of the cleanup feature will depend on the task complexity.
Overall, Sucuri offers practical malware cleanup tools that will prevent potential disasters.
Server-side scans
Server-side scans will monitor your website's environment and detect possible malware and vulnerabilities. Although it can effectively detect potential threats from that environment, it may not detect client-based issues and may give you false positives or negatives.
Nonetheless, this feature is a good assessment tool but calls for improvement regarding the environment it scans.
Site audit log
Site audit logs allow you to check your website's activities and track possible vulnerabilities. Sucuri offers an advanced site audit tool that will detect suspicious behavior and allow you to control your website's traffic.
Although an excellent tool, you should combine it with other security measures to ensure high-quality protection and avoid dangerous scenarios.
Pricing
Sucuri.net offers three pricing plans. You can get the Basic Platform for $199.99, the Pro Platform for $299.99, or the Business Platform for $499.99 a year. Moreover, you can find the free version with basic features that will solidify your security.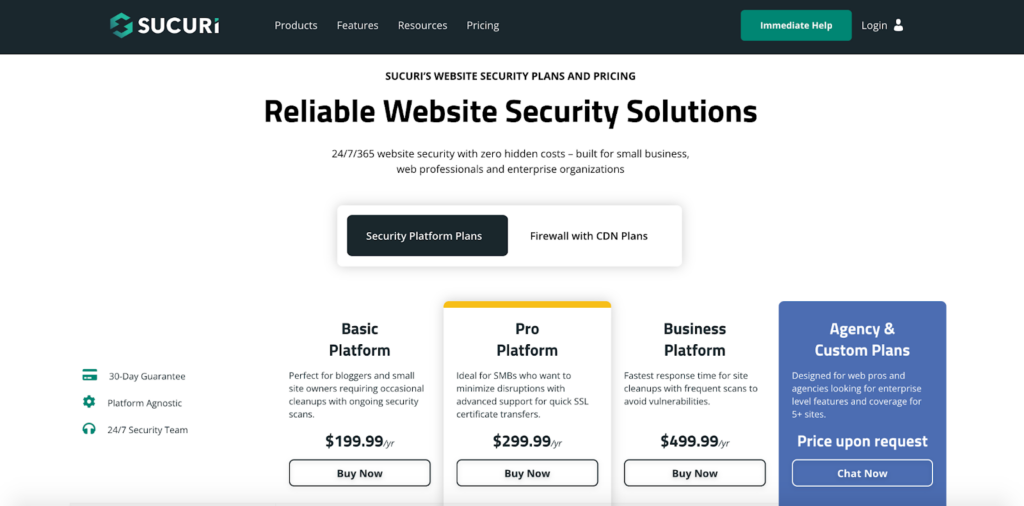 Regarding the prices, Sucuri.net is one of the most affordable options on the market. If you use its features for fewer than 30 days and don't like them, you can ask for a refund.
Customer support
This website security provider offers 24/7/365 support, so you can contact them whenever you encounter an issue with your account. However, you might need to wait a little before you receive a response and fix your problem.
Customers are generally satisfied with the customer support team but not the response time.
Types of blocks
Sucuri offers numerous block types that can keep your digital assets safe. Moreover, it's one of the most versatile protection tools available. You can find DDoS protection, IP blocking, scraping blocks, vulnerability blocks, and others, including all the possible scenarios that could be disastrous for your website.
Blocks are some of this provider's most robust features that will leave you worry-free regarding the website and eCommerce security.
Integrity monitoring
Integrity monitoring lets you see whether someone has unauthorized access to your website or changes your code. As with all other monitoring options, this one also lacks reliability and can often give you false positives or negatives.
Moreover, if you frequently change your content, the tool might not distinguish between authorized and unauthorized access and could flag you as a vulnerability.
Settings changes
Aside from the security measures you can adapt according to your needs, Sucuri doesn't offer a variety of settings changes you can make to create a unique experience. You cannot customize the program's look, which may be crucial for some users.
You can only find some basic features in the tool's settings, such as email notifications, which doesn't make it very inclusive.
Pros and cons
Now that we've covered most features, it's time to see some of Sucuri's advantages and disadvantages.
Pros
High-quality security
Easy to use
Affordable
Malware cleanup
Cons
Slow response time
Not very reliable monitoring tools
No customization
Conclusion
Sucuri.net is one of the most used web security tools to provide peace of mind. If you want a high-quality security tool, it might be your perfect choice. You'll enjoy various tools and ensure few to no safety threats for your digital assets.