Sucuri vs. MalCare – Everything You Need to Know in 2023
FirstSiteGuide is supported by our readers. When you purchase via links on our site we may earn a commission.
Read More
Owning a website comes with its advantages and disadvantages. You can enjoy the traffic and optimization but may worry about threats everywhere in the digital world. In the digital era, you must take care of your valuable assets and protect them from potential theft or misuse.
The best way to get high-end protection is to use advanced plugins with security and optimization features, such as Sucuri or MalCare.
Sucuri offers more features but with a heftier price tag, while MalCare effectively detects malware but can't protect you from other dangers. The Sucuri vs. MalCare verdict will depend on your needs, but generally, Sucuri will provide you with better security options.
Check out their essential differences, functionalities, pricing, features, strengths, and weaknesses to decide which option is better for your website.
Sucuri vs. MalCare: main differences
Although both plugins focus on website security, they differ in numerous aspects, such as pricing, features, and functionality. Check out some of the main differences between Sucuri and MalCare below.
| | | |
| --- | --- | --- |
| | Sucuri | MalCare |
| Pricing | ⭐⭐⭐ One of the most expensive options | ⭐⭐⭐ Reasonably priced but lacks customized plans |
| Functionality | ⭐⭐⭐⭐⭐ Highly-functional | ⭐⭐⭐⭐⭐ Highly-functional |
| Features | ⭐⭐⭐⭐⭐ A variety of features | ⭐⭐⭐ Needs more protection features |
Sucuri vs. MalCare pricing options
Sucuri offers four pricing options. You can get the Basic Platform for $199.99, the Pro Platform for $299.99, the Business Platform for $499.99 a year, or a custom plan with features that fit your website's needs the best.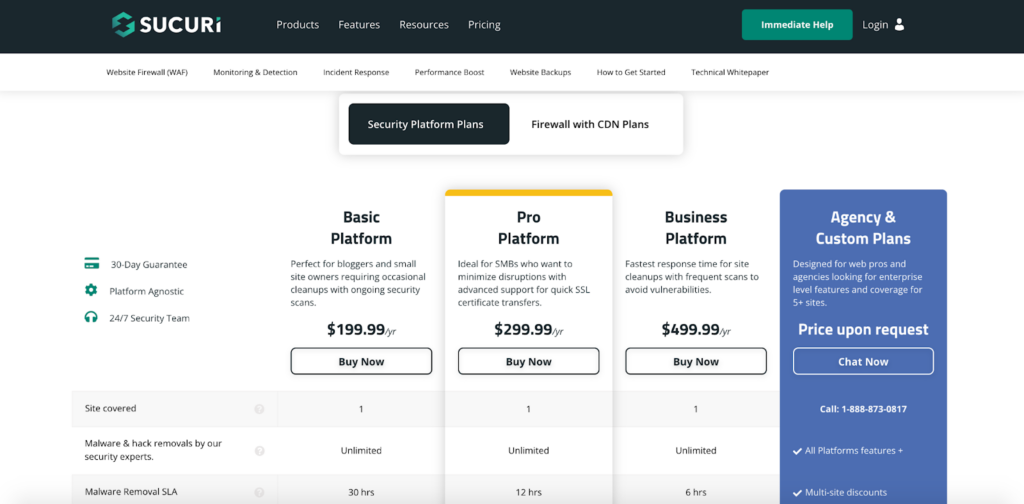 MalCare offers three pricing options: Basic for $99, Plus for $149, and Pro for $299 yearly. It also provides a free plan with some essential protection elements. You can use it if you have one website and want to add a layer of protection.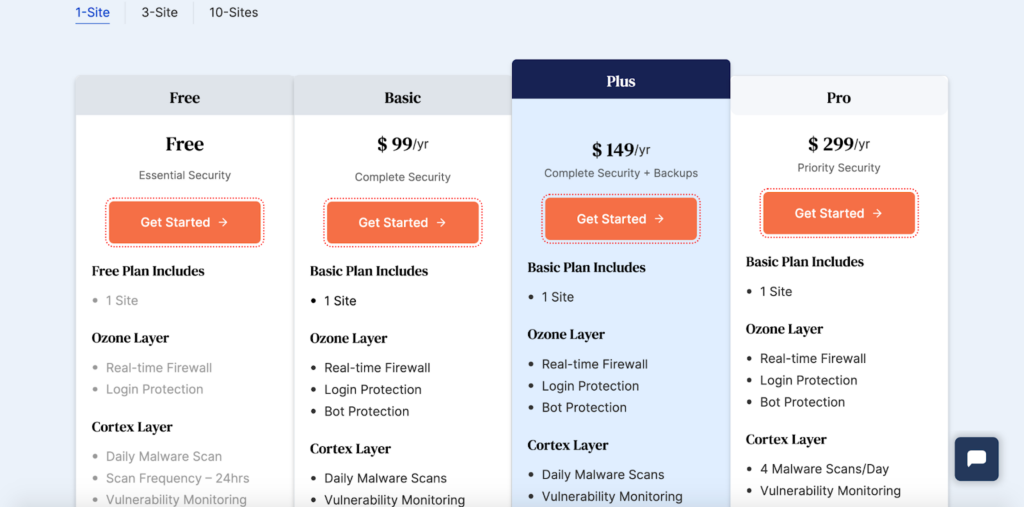 Sucuri vs. MalCare: comparing functionalities
Although similar regarding their goals, Sucuri and MalCare function differently.
Sucuri aims to completely protect your website from DDoS attacks, malware, spam, and cyberattacks and optimize your website's performance.
MalCare will only scan, detect, and remove malware from your existing web page. You can also track vulnerabilities but must protect your website using other tools. Moreover, MalCare is suitable only for WordPress websites, while Sucuri is compatible with other content management systems.
However, both plugins are highly functional and will detect and prevent possible attacks.
Feature comparison
The most notable differences between these plugins are their features.
Sucuri offers more features that deal with your website's protection. Moreover, you can perform unlimited cleanups and use SEO spam detection tools to keep your website away from potential dangers. Sucuri's customer support team will always be available to handle your complex requests.
MalCare offers efficient features but in small quantities. The plugin's primary purpose is to detect and remove malware, so its features are no exception. However, as the saying goes, "The more, the merrier." With multiple protection options, you'll be worry-free and won't have to deal with cybercrime.
Pros & cons
Here are the main strengths and weaknesses of Sucuri and MalCare.
Sucuri
Pros:
Customized plans – you can choose a plan that fits your website's needs.
Effective scanning – Sucuri will successfully detect all potential cybersecurity threats.
User interface – Sucuri's interface is well-organized and easy to navigate.
Cons:
Price – although it offers various pricing plans, Sucruri is one of the priciest options on the market.
Customer support – Sucuri support is available 24/7 but isn't as responsive as it should be.
MalCare
Pros:
Automated malware removal – you can remove all malware from your website with one click.
User interface – MalCare's interface has an intuitive and straightforward design.
Scanning for vulnerabilities – MalCare will detect your website's weak points and recommend protection tools.
Cons:
Customization – you can't create a customized plan that fits your website's needs.
Limited features – you can't expect much from MalCare regarding your security.
Conclusion
Providing your website with security is essential in the cybercrime era. If you want to add a layer of protection, you can use some available plugins to protect your valuable assets from potential dangers. Sucuri and MalCare are among the most popular options regarding security, so this comparison can help you decide which is better for you.