Every blog needs a foundation. Platforms provide that foundation and a framework that you can use to start a blog. They are what you attach both the internal workings and the public exterior. There are a number of platforms, but only some are worth considering.
This section provides a detailed overview (plus reviews from real customers) of self-hosted, freemium, and free blogging platforms available on the web today. With the help of this information, you will be able to find the best option for your needs and understand how to use it.
What are blogging platforms?
Read on to dive deeper into the matter and explore the world of blogging platforms from their early days to their rise to popularity.
Definition
A blogging platform is a type of software or service that you use to create a blog so that you can publish your content online. Creating a blog involves several steps, but the first one is choosing a system that will best fit your needs. Without it, you cannot proceed to the other steps, and you cannot start your blogging adventure.
You can safely say that a blogging platform is some CMS (Content Management System) since it enables you to easily manage your content once you have your blog up and running.
How to choose a blog site
At this stage, you'll need to determine the blog management platform/tool you want to use.
Tip 1: One of the best and most popular self-hosted content management systems (CMS) is WordPress.org, also recommended by 90 percent of blogging experts we've surveyed.
Tip 2: The blog setup is called self-hosted because you will use your own web hosting space and name for your blog. For new bloggers, we recommend Bluehost that powers over 2 million websites worldwide. You will get a Free domain name when you signup with them and if you don't like the service, they offer a 30-day money-back guarantee.
The above choices are our recommended way to setup your new blog. To convince you that you are making the right decision, let us describe all the available option below in more detail. And give you few more additional tips when you are picking the blogging platform.
When it comes to starting your blog you have the following options:
Self-hosted platforms (recommended)

Free and freemium platforms
Self-hosted platforms
(recommended)
Self-hosted platforms allow you to run a blog on your own domain. Aside from following your domain registrar and web hosting company's rules, you're fully in charge of your blog and its contents.
You have number of choices when it comes to a self-hosted blog system (also called Content Management System or CMS).
WordPress.org
What do The New Yorker, Boing Boing, the Chicago Bulls, BBC America, Beyonce, Vogue, The Rolling Stones, and thousands of other people have in common? They all made their official blogs with WordPress.org. Launched in 2003, it doesn't need any introduction except the long list of sites using it today and the fact that it powers around 25% of blogs on the web. Just don't confuse this open-source CMS and hosted blogging software WordPress.com.
WordPress.org is something you should be familiar with and at least, try it once. There are good reasons it is one of the most popular choices when it comes to managing your blog or site. It has a learning curve and it will take some time to learn it, but that is the cost of having a professional site or blog. Having said that, there is one thing that you won't get with some of the blogging platforms, and that is 100% ownership of your content. In the long run, it will probably be the biggest benefit than with free hosted solutions.
Pros
Open source and free
Professional and easily navigable dashboard
Versatile and customizable
Thousands of themes and plugins
Owning your own content
Versatile and customizable
Cons
Taking care of hosting yourself
The learning curve for installations
Price
The good news is that WordPress software is open-source and totally free, so there will be no additional costs on that side, even when there are upgrades. Yes, all upgrades are also free, so the only worry you will have is how to install it and for that, you can use our one-click instructions. But you will need to choose a domain name for your blog and use your own web hosting space.
Recommended tool:
Domain names usually cost $12 to $15 per year. But as we mentioned earlier, with Bluehost you will get a Free domain name when you signup with them and if you don't like the service, they offer a 30-day money-back guarantee.
You also need to spend $4 to $8 per month for the web space (hosting account), depending on the company you choose. Your total yearly cost for a personal blog will be lower than $100.
Recommended web hosting provider when using WordPress as your CMS
Based on our survey, a reliable hosting provider is Bluehost. It is recommended by 99% of the blogging experts and WordPress.org named it as one "of the best and brightest of the hosting world".
The best (used by 99.9% of top bloggers) way to set up a blog with step-by-step instructions
As an example, we will show you how to launch a blog with Bluehost and all of the steps are followed up with adequate screenshots that will give you further understanding of what you need to do.
If you decide to go with other web hosting provider the process might be slightly different but most steps should be similar.
Step One
Go to this link and you will go to the "Exclusive Offer" page reserved for our fans. Once you get there click on "Get Started Now".
Step Two
If this is your first hosting account ever, you should start with the basic plan, because you will need time to determine your needs and options. The basic plan has everything any beginner needs to set up a new blog. Consider other plans later when your blog takes off and your needs become greater.

Step Three
Your domain name will play a vital role in the future development of your blog and this is why it is important to take your time and figure out a good domain name. Once you've done that, enter the name in the "new domain" column and choose your Top-Level Domain.
You will instantly be notified by BlueHost if the name you've chosen is available, and if not you will get similar suggestions.
Step Four
Once you've finished setting up your domain, you will go to the registration page of BlueHost, where you will have to add personal information and your billing information. It only takes a few minutes to get through this step.
Step Five
Choosing the right hosting options is very important. The one-year package is the cheapest, but if you are looking to make a longer investment and save up money, go for one of the two other options. All of the other boxes can be unchecked if you are not sure about them, and you can add them later on if you need them.
Step Six
After setting up the payment information you will be asked to create your password, through which you will log in to your account.
Step Seven
When you finish all the steps listed above, your account will be created and you will be able to use your password to log in.
Step Eight
When logged in, you can set the default theme for your WordPress blog, which will be given to you for free by BlueHost. Remember that you can change the theme if you want by going to the WordPress.org repository.
Step Nine
Log in to your WordPress dashboard to create your blog.
Step Ten
Once you've logged in, you will be greeted with a welcome message and offered support by BlueHost to help you create your website. If you don't need any help, simply do it alone.
Step Eleven
In the left corner you will see the BlueHost button which opens up many tools that can help you customize and adjust your site. When you are ready, simply click on the "launch" button and in just couple of minutes your site will be visible online.
After launching you will only have to enter the title and description which will tell people what your website has to offer.
Congratulations, you have successfully launched your new blog! If you need more information about setting up your blog, feel free to contact us.
Recommended tutorial: The Beginner's Guide to Managing WordPress Blog (including Video Tutorials)
Free or freemium platforms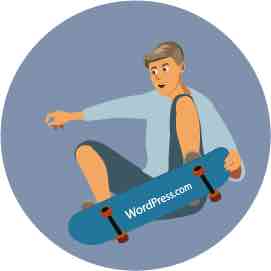 For many new bloggers, the availability of free blogging platforms such as WordPress.com, Blogger, or Tumblr is tempting. The benefits include being free and quick to start. But having a blog name in this form—yourname.wordpress.com or yourname.blogspot.com, is the sign of an inexperienced beginner who likely won't be taken seriously.
By keeping your blog on a free platform, you let the platform own your name. You'll be subject to their rules and restrictions, they may limit or prohibit ads on your blog, or they may even place their own ads on your blog. If you're serious about blogging, we recommend to move away from this option.
WordPress.com
If you spent some amount of time on the internet in the last decade then you've probably heard the name WordPress. Launched in 2005, WordPress.com (which should not be confused with similar WordPress.org) is a popular freemium blog hosting service. There are over 50 million users on this platform, or at least that many people tried to use it. It's hard to say how many people are actively using this platform, but it's definitely a popular choice. But is it all hype?
There are very few things that aren't in favor of this blogging provider. Handling is easy for everyone no matter how educated in blog hosting they are. Unlike its fraternal twin WordPress.org, this is a hosted service, so you don't have to worry about downloading and installing software. However, when it comes to hosted solutions, you don't always have a 100% control over your blog. If you want to own your content and perhaps cut down some costs, along with a custom domain, perhaps you should look into WordPress.org or other platforms.
Pros
Easy to get started and use
Hundreds of free theme designs
Cons
Don't have 100% control over your blog
Limited options to extend website functionality
Free plan is quite limiting
Price
WordPress.com is essentially a free blogging provider, but it has some limitations. The free plan gives you a blog that is restricted to yourname.wordpress.com domain with only 3GB of space, and it may show some ads. If you need a blog with a custom domain and you would want to remove those limitations. A premium plan costs $99/year and it will remove ads, give you 13 GB of space, and a custom domain, among other things. A business plan costs $299/year and it will give you unlimited space, e-commerce, and other advanced things. Depending on your needs, a free plan may seem like a good start and playground, but keep in mind all the restrictions.
Blogger.com
When it comes to blogging platforms, one of the first providers that will pop into most people's minds is Blogger. Founded in 1999, it is one of the oldest providers still active. In 2003, it was acquired by Google and that change is still shifting the way users are working with Blogger. Blogger is relatively easy to use. It is completely free and you can somewhat monetize it through ads. Customization options are limited, so in the long run, expansion is not welcomed. It's been present online for over 15 years, so many bloggers are familiar with it or already have tried it. If you want just a hobby blog, Blogger could be enough for you. If you want your blog to be taken seriously, we would not recommend it. down some costs, along with a custom domain, perhaps you should look into WordPress.org or other platforms.
Pros
Everything is free
Beginner friendly and easy to use
Unlimited bandwidth and 100% uptime supported by Google
Cons
A lot of outdated templates
Limited customizability and lack of plugin diversity
Rudimentary picture management and lack of spam filtering
Domain name with .blogspot.com extension (if not setup with custom domain)
Price
Blogger is a free platform and you will automatically get a "yourname.blogspot.com" name for you blog. If you decide to move away from that, you will have to buy your own domain with one of the domain registrar companies like GoDaddy.com or Google domains. It could be easily done with Settings in the left menu. Click Settings > Basic > Publishing and under your current domain, click set up a 3rd party URL for your blog.
Tumblr
Tumblr, or better to say, "Tumbler," is a media-rich blogging platform. Founded in 2007 as a social network and a (micro)blogging platform, it was acquired by Yahoo in 2013. It has famous active users like Taylor Swift, Grace Helbig and Tyler Oakley. However, when it comes to text-based content, you will have a serious lack of tools. It is a great start if you are a beginner and/or have an artistic side.
Pros
Adjusted to photo and media content
Free and easy to use
Social network features to connect with other users
Cons
Not for usage if your content is mostly text based
No spam or comment filtering
No easy SEO options and statistics
Price
Free setup comes with yourname.tumblr.com extension. If you want, you can buy and use your own domain. Since Yahoo owns it, your best bet is to buy a domain from Yahoo Domains since there will probably be the least amount of possible complications. They have a guide on how to setup your domain. As an option, you can buy premium themes from $9 to $49, but they are not a necessity. Plugins are free, but unfortunately besides basic things there are not too many plugins.
Blogging Platforms Reviews
This section provides a detailed overview of self-hosted, freemium, and free blogging platforms available on the web today. With the help of this information, you will be able to find the best option for your needs and understand how to use it.
Blogging platforms сomparison chart
We've compiled a list of platforms that can serve as viable candidates for your blog creation. Using the listed features and customer feedback as your guides, you'll be able to select the right tools with greater confidence.
Conclusion
Based on our knowledge and on the research we've conducted, the best blogging platform out there today is WordPress.org. Keep in mind that this platform is powering 25.4% of all websites in the world and responsible for over 76.5 million blogs.