Uptime Robot Review: Can You Rely on This Free Website Monitoring Service?
FirstSiteGuide is supported by our readers. When you purchase via links on our site we may earn a commission.
Read More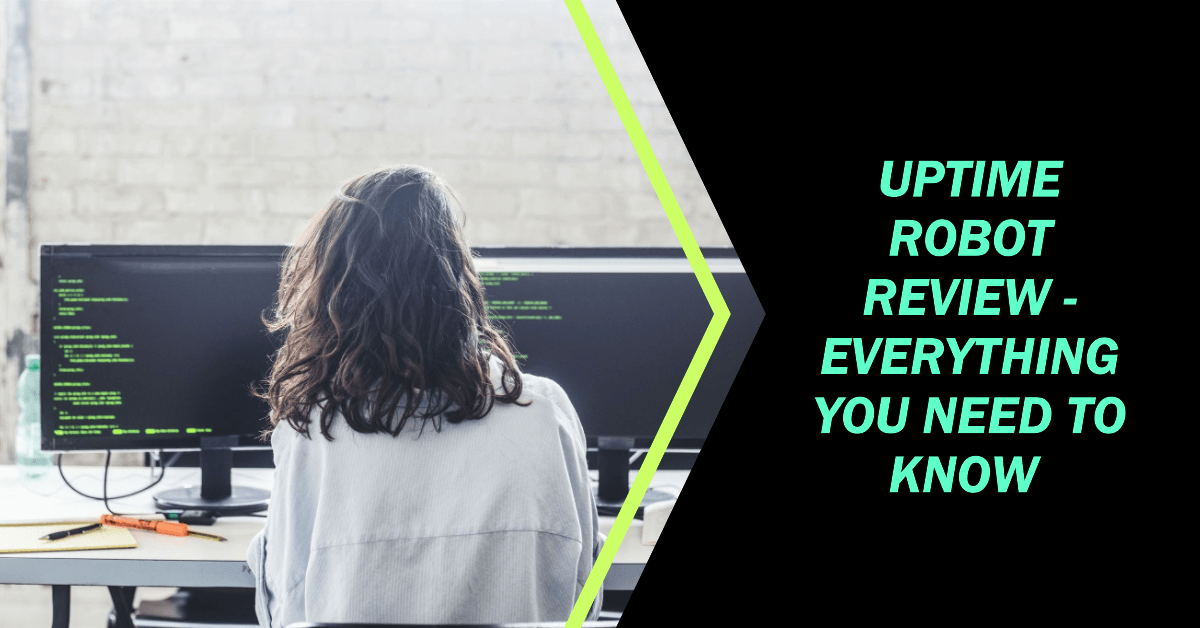 Whether you plan to make a website or an eCommerce store or already have one, it is essential to track its functionality. You must understand whether your website is available for other users 24/7 and what might cause it to crash. One of the best ways to monitor it is to use advanced, automated tools.
Uptime Robot is a tool that can track your website's uptime and detect possible code malfunctions. This free, web-based tool can help you create a status page so your users can see if your website works at any given time.
Since numerous tools offer similar services, you may wonder whether you should use Uptime Robot or continue your search for an alternative. Find the answer below.
Uptime Robot short review
Uptime Robot is a simple, user-friendly web tool that monitors your website's functionality. It focuses on multiple monitoring types to ensure high efficiency.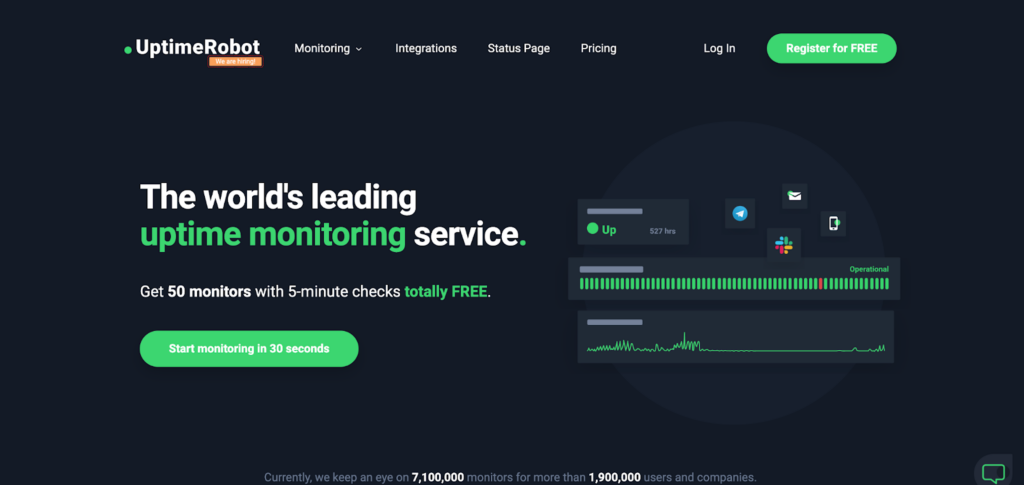 Let's see a summary of this website's review.
| | |
| --- | --- |
| Key features | ⭐⭐⭐⭐⭐ Offers all features you need to run your website smoothly |
| Pricing | ⭐⭐⭐⭐ Reasonable prices but lacks customizable plans |
| Customer support | ⭐⭐ Needs more contacting options and more efficient workflow |
| User interface | ⭐⭐⭐⭐⭐ Easy to use and beginner-friendly |
Uptime Robot key features
Uptime Robot offers six different monitoring options to ensure your website works smoothly. Here's what they are:
Website monitoring – keeping track of your website's uptime
Cron job monitoring – monitoring intranet devices
Port monitoring – taking care of services from any ports
SSL monitoring – ensuring your SSL certificates don't expire
Ping monitoring – leveraging your admin tools
Aside from monitoring, Uptime Robot lets you connect your account to various platforms (e.g., Discord, Microsoft Teams, Google Chat, Slack, Pushover, etc.), enabling you to receive notifications about your website's activity.
You can also request other app integrations if you can't find your preferred platform on the website.
Uptime Robot pricing
Uptime Robot offers four pricing plans — Free, Solo, Team, and Enterprise.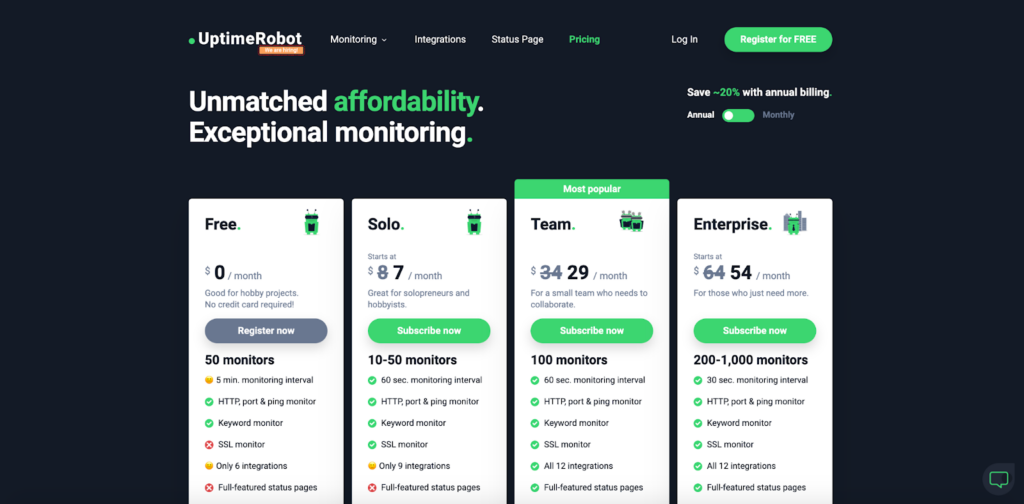 Free plan
The Free plan includes HTTP, port, keyword, ping monitoring, six integrations, and a five-minute monitoring interval. It's one of the best free versions currently available on the market.
Solo
$8 per month

$7 per month


(billed annually)
The Solo plan offers a 60-second monitoring interval, with all the monitoring types from the Free package, plus SSL monitoring. You also get nine integrations and 10–50 monitors. 
Team
$34 per month

$29 per month


(billed annually)
The Team plan also offers 60-second intervals, with all 12 integrations, full-featured status pages, three seats, and 100 monitors. This package includes all Uptime Robot's features, but you can get even more with the following pricing plan.
Enterprise
$64 per month

$54 per month


(billed annually)
The last and most expensive plan has the shortest monitoring intervals (30 seconds) with additional five seats and 200–1,000 monitors. The Enterprise plan might be your perfect choice if you need a monitoring tool for your large business.
Visit Uptime Robot for additional information >> 
Customer support
Uptime Robot understands the importance of always keeping your website up. That's why they have a customer support team available 24/7 and ready to fix all your issues. You can contact the support team via email or live chat to explain your problems.
However, if you reach out via email, your messages could go to spam or get buried in the sea of incoming emails. Although live chat may be a better solution, it won't give the team a sense of urgency, and you may not get your problem out of the way as quickly as you think.
Uptime Robot's support team should integrate phone call support to prioritize and quickly fix urgent issues. Since their mailbox is overcrowded with requests, you may not be the most satisfied regarding customer support.
Some users have even given up on Uptime Robot due to poor customer support experiences.
User interface and usability
Uptime Robot is one of the most beginner-friendly tools. Even if you have no experience regarding website monitoring, you won't have trouble navigating Uptime Robot's website. That's because it doesn't offer complex, overwhelming features; it has comprehensive tools everyone can use.
You don't have to be a software professional to understand what is happening with your website, which is perfect if you're a business owner. We can say that Uptime Robot has one of the best user-interface designs and is one of the most comprehensive monitoring tools on the market.
Pros & cons
Now that we've covered the main aspects of the Uptime Robot, it's time to see some of its advantages and disadvantages.
Pros:
Ease of use – you can use Uptime Robot even without previous monitoring experience.
A free option – if you want to run your website smoothly but don't want to overspend on advanced tools, you can opt for Uptime Robot's free version, which contains all the essential features.
Seamless integrations – Uptime Robot is one of the most versatile tools regarding integration; you can choose between some of the available platforms or add your own.
Excellent website monitoring – this tool offers all the essential monitoring options you need to run your website smoothly.
Status pages – this web tool allows you to create your status page so your users can see your website's status at any moment.
Cons:
Customer support – although they try their best, Uptime Robot's customer support team is often overwhelmed with issues and can't fix your problems as efficiently as possible.
False alerts – Uptime Robot may sometimes send false positive alerts.
Monitoring intervals – although this frequency depends on your plan, we expected more from the Solo and Team versions. Many alternatives check endpoints every 10–15 seconds.
Conclusion
Uptime Robot has advantages and disadvantages, like any other tool. However, it's an excellent, budget-friendly option for monitoring your website and receiving notifications about your website's status. Uptime Robot is your way to go if you're looking for a versatile, user-friendly tool.
However, you may not be satisfied with the customer support team as they receive many tickets daily, which makes it less responsive. Overall, Uptime Robot is one of the best tools on the market, with some improvement potential regarding support.