WP Buffs Review – Everything You Need to Know in 2023
FirstSiteGuide is supported by our readers. When you purchase via links on our site we may earn a commission.
Read More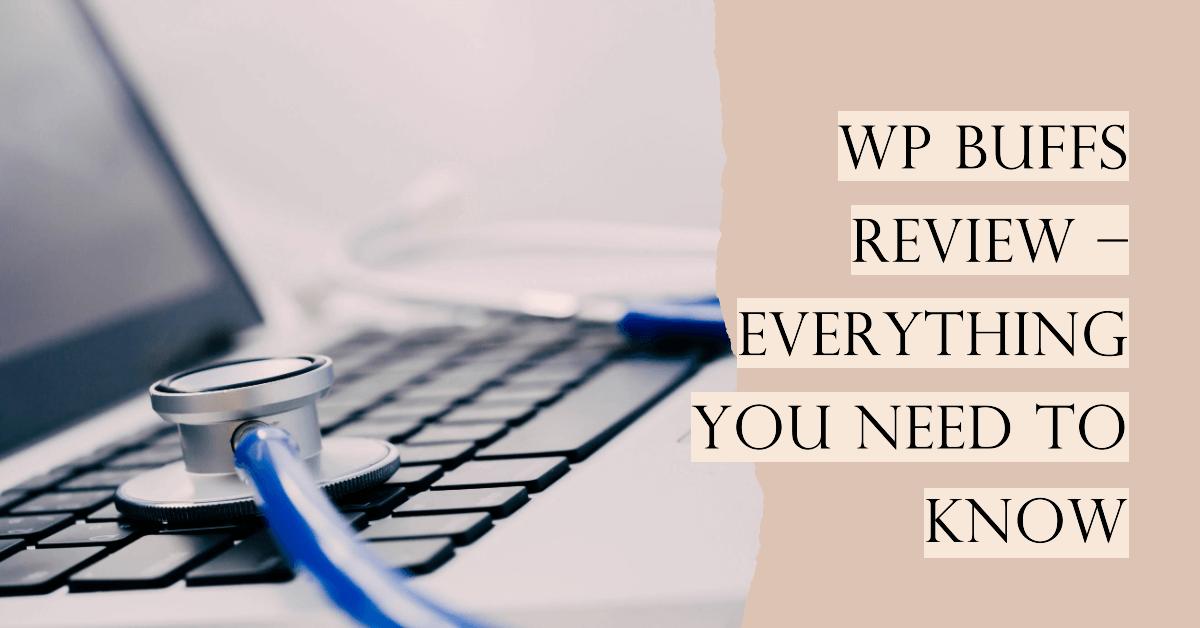 If you plan to design your new website or want to maintain your existing one, you can use advanced toolkits to take complete control. You may need help choosing the perfect option, as various tools are available.
This WP Buffs review covers one of those advanced tools that help with WordPress maintenance. We'll address WP Buffs' main features and how they function and give you an overview of its tools.
It will help you decide whether WP Buffs is your tool of choice or whether you should search for another website maintenance company.  
WP Buffs – main features
WP Buffs offers various services, from speed optimization to edits, malware removal, and emergency support. With this tool, you'll have no trouble running your WordPress website smoothly and keeping it safe from cyberattacks.
| | |
| --- | --- |
| Features | Rating |
| Price | ⭐⭐⭐⭐ Reasonably priced |
| Services | ⭐⭐⭐⭐⭐ A range of advanced services for website maintenance and security |
| Ease of use | ⭐⭐⭐ Not beginner-friendly |
| Customer support | ⭐⭐⭐ Prioritizing advanced pricing plans |
| Reliability | ⭐⭐⭐⭐⭐ Very reliable and trustworthy |
Fully Manage Your WordPress Website 24/7 with WP Buffs
Pricing options and plans
WP Buffs offers five pricing plans. Each has different features, and you can select the one that fits your website's needs best. Here are the plans and their prices:
Maintain 
 $79 per month

 $66 per month


(billed annually)
You can get emergency support, uptime monitoring, Google Analytics, and other features to run your website smoothly.
Protect 
 $159 per month

 $133 per month


(billed annually)
With this plan, you will get all features from the Maintain package, with the addition of cloud backups, security optimization, and website edits.
Perform
 $219 per month

 $183 per month


(billed annually)
This plan includes Protect services and adds speed optimization, mobile and tablet versions, malware removal, and more cloud backups.
Custom 
 $347 per month

 $290 per month


(billed annually)
Besides all Perform services, you will gain safe updates, functionality testing, code monitoring, and other features.
Custom pro 
 $447 per month

 $373 per month


(billed annually)
For a fully customizable experience, you can opt for this package with multisite, site support, git management, and other features.
Considering all these features, WP Buffs has reasonably-priced plans.
Available services
WP Buffs offers everything you need to run your website smoothly. However, the number of available services will depend on the package you go with – if you want to maintain your website, you can choose only the essential services. However, if you want a fully customized experience, you can opt for more advanced pricing plans.
Overall, WP Buffs provides hundreds of services that can solve individual problems and optimize your website, making it one of the best tools for WordPress maintenance on the market regarding service availability.
Ease of use
Although the interface may seem user-friendly, it could be more beginner-friendly. If you're creating and maintaining a website for the first time, you may have difficulty navigating WP Buffs and may need a guide to using its toolkit. However, if you have WordPress knowledge and are a professional in website development, this toolkit won't be too complex for you.
If you don't have the time to adjust to the interface, you might want to look for a more beginner-friendly option.
Customer support
WP Buffs understands the importance of running your website uninterruptedly at all times, so it offers 24/7 customer support to help you with any issues you may experience. However, some users will have priority regarding customer support. If you choose some of the custom plans, you will be the first on the customer support list and fix your problems quickly.
WP Buffs' customer support is generally very responsive and will take care of your issues as soon as possible, but prioritizing customers may not be the best brand-promoting feature.
Pros & cons
Let's review the most notable WP Buffs' advantages and disadvantages.
Pros:
Optimization – WP Buffs offers optimization services that can dramatically improve your website's performance;
Customization – you can choose advanced plans to customize your maintenance experience;
Backups – you can gain backup services and save all your valuable data to the cloud.
Cons:
User interface – if you are a beginner, you may have difficulty navigating WP Buffs;
Customer support – some clients have priority over others.
Reliability
Since WP Buffs has a team of experts who will tirelessly work on your issues, it is currently one of the most reliable WordPress tools. Throughout their work history, they have welcomed thousands of customers whose reviews are positive.
Moreover, their 24/7 monitoring services breathe trustworthiness, implying that you can always rely on this tool for maintenance, threat detection, and support.
WP Buffs outsources some crucial aspects of website maintenance, such as security, monitoring, and code tracking. Its professionals will effectively and actively work on your website's performance and underlying issues, saving you time regarding website optimization.
How it works
This tool is an excellent option for anyone with little coding and website development experience. Instead of learning the basics, you can rely on WP Buffs' services and learn simultaneously. Thanks to WP Buffs' team, you won't have to worry about your website's security and performance.
The customer support team is always available if you have questions regarding your website and will be there to explain all the processes. Although the user interface may not be beginner-friendly, the team will guide you through the features and help you learn everything you need to use WP Buffs properly.
Conclusion
Taking care of your new or existing website takes time and effort, primarily due to the number of elements you need to optimize. If you want to outsource the maintenance process without worrying about your website's security, you can use WP Buffs. It's a reliable tool that can help improve your website's performance and safety.
Overall, WP Buffs is one of the best tools for your website due to the number of services this platform offers and the solid customer support experience. If you want to take your website to the next level, WP Buffs is an excellent option that can help drive your digital growth.