Vanity Phone Numbers for Small Businesses
Everything You Need to Know
FirstSiteGuide is supported by our readers. When you purchase via links on our site we may earn a commission.
Read More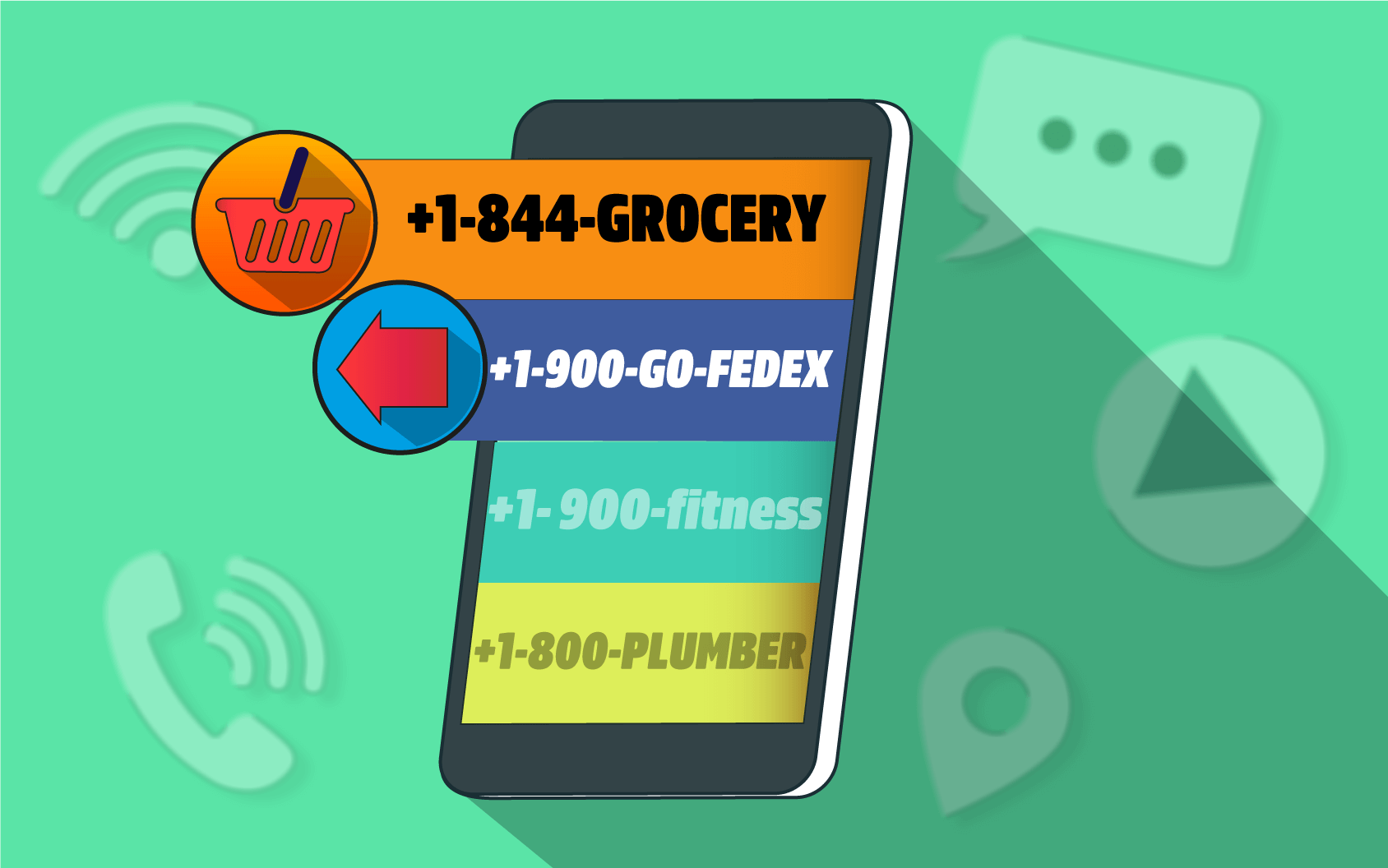 Keeping your business available to your customers at all times is one of the key ingredients to success. Your customers need to be able to reach you whenever they need and however they want – the focus being on the latter.
While it's true that many prefer reaching out to businesses and solving issues via email and digital channels, over 42% still go for their phone when things get serious. Because of this, you'll need to have a number that they can easily reach.
Before settling on any random number offered by your provider, you should consider getting a vanity phone number. Though not essential, it can offer an array of benefits for your small business.
Learn about the benefits of vanity phone numbers and how to get started.
What is a vanity phone number?
First, let's learn what vanity phone numbers are.
In a nutshell, vanity phone numbers are similar to vanity license plates – they're personalized strings of numbers and letters that allow your customers to quickly recognize and memorize how to contact you. 
Their functionality doesn't differ from any regular phone number – your customers, vendors, and suppliers can still use the vanity number to get in touch with you. The only difference is that you can choose how that number will look.
Businesses commonly use repetitive numbers such as 123-123 or 111-111 for their vanity phone numbers. After all, it's almost impossible to get the contact information wrong when it's so simple.
However, many SMBs will also include phonewords, like 1-800-TOMMYS or 1-800-TAXI.
What are the differences between a vanity and a toll-free number?
When choosing your business's phone number, you'll find that you can access vanity and toll-free numbers. Though the terms are often used interchangeably, they're not the same thing.
Toll-free numbers are precisely what their name implies – numbers that your customers can dial to reach you without paying the associated tolls and fees for placing the call. They can call for free, even if they need to make long-distance calls to reach you.
However, toll-free doesn't mean that there are no tolls whatsoever. There are – it's just your business that pays them instead of your customers.
Vanity numbers can be toll-free numbers and vice versa, but it's not a given. You have to check with your provider to see if you can set up a toll-free vanity number.
How they work
As mentioned earlier, vanity phone numbers work just like any other phone number. Whether using repetitive numbers or phonewords, your customers can easily dial it using their landline or smartphone to contact you.
However, phonewords do work somewhat uniquely.
To dial the phoneword, the customer must tap on the numeric equivalent of the letter in question. In the US, numbers from 2 to 9 represent the following letters:
2 – A, B, C;
3 – D, E, F;
4 – G, H, I;
5 – J, K, L;
6 – M, N, O;
7 – P, Q, R, S;
8 – T, U, V; and
9 – W, X, Y, Z.
For instance, to dial the number 1-800-TOMMIES, a customer would have to type in 1-800-866-6537.
Benefits of using vanity phone numbers
Vanity phone numbers are easily recognizable, and as such, they deliver an abundance of benefits. The following are just some of the advantages you'll enjoy by switching to a vanity number.
Easy to memorize
Most effective when used in traditional TV ads or digital video ads, vanity numbers are commonly combined with a recognizable jingle that has a way of getting stuck in the listener's head. Before long, you'll have many prospective customers humming along with your jingle and repeating your catchy vanity number.
The simple fact that your number is easy to memorize can have significant implications. Whenever your target audience thinks about needing products/services within your niche, they'll remember your phone number.
This means that they'll be more likely to give you a call. It's much easier than digging through stacks of phone number listings or Googling relevant businesses.
More leads
Even if they are genuinely interested in getting in touch with you, many of your qualified leads might avoid calling your SMB if it uses just a regular phone number.
Why would they want to call you, risk staying on the line too long waiting for a live agent to pick up the phone, and pay expensive tolls for placing a call with your business when they can call your competitor for free?
Offering a toll-free vanity phone number instills your leads with confidence and removes any excuses they might have for not placing the call to you.
Better advertising response rates
Vanity phone numbers can be an excellent element to include in your ads if you want to increase your advertising response rates.
You can easily use them across a variety of campaigns and channels. Whether you're creating a TV ad, a digital video ad, placing a banner ad on a third-party site, or advertising anywhere at all, you can easily include your vanity phone number.
Also, if you're using toll-free vanity numbers, you can include them in your local and national campaigns, improving your ad response rates and increasing the number of inbound calls.
More word-of-mouth referrals
A perhaps unexpected benefit of vanity phone numbers for your SMB is that they can inadvertently improve your word-of-mouth marketing. When your target audiences know your number by heart, they'll be much more likely to recommend your business to their friends and family.
They can share your number without even thinking about it, while others can memorize it without putting in too much effort.
Branding
Perhaps the most significant benefit of a simple thing such as a vanity number is that it enables you to develop a unique brand and present a unified brand identity.
With a carefully chosen vanity number, you can ensure that your target audience knows exactly who you are and what you do – even without context.
For instance, what can you conclude from a vanity number such as 1-800-TOMSBAR? Would you think that it's a number for a bakery or a software developer, or would you rightly conclude that it's a number for a bar?
A simple phone number can tell your audience exactly what your business is and share clearly what your brand is all about.
Getting a vanity number
Now that you're aware of the many benefits that you could enjoy with a vanity phone number, it's time to learn about how to access the perfect number for your business. There are a few things that you'll need to do.
Find a perfect vanity number
The first, most important thing that you'll need to do is to find the perfect number. In general, you'll want to keep it short and simple. Vanity numbers can have more than the typical seven digits, but that doesn't mean that they should. The shorter they are, the easier it will be for your target audience to memorize them.
Besides being short and simple, they should also be relevant. You can use your brand name as a part of your number, an abbreviation of your name, or a part of your slogan for the best effect.
Check availability
Once you have a number (or a few) that you'd like to use, it's time to check its availability. Even if your phoneword is unique, the number corresponding to the word may already be taken.
You can check availability the old-fashioned way by looking up the number in the yellow pages, or you can check with your chosen phone service provider.
Get it through a VoIP service
Though you can secure a vanity phone number for your SMB through any phone service provider, it's in your best interest to access it through a Voice over Internet Protocol (VoIP). 
Fully cloud-based VoIP providers don't just provide a phone number for your business. They offer an abundance of features that can help to streamline your workflows. They can help to unify all communications with phone calls, video calls, and chats.
You can integrate them with your Customer Relationship Management (CRM) solutions – VoIP providers enable conferencing and call recording, help you collect and analyze communications data, and much more.
Steps for getting a vanity phone number
Finally, it's time to get your vanity phone number.
First, choose whether you want a local or a toll-free number. Local numbers are generally preferred if you're using cold-calling campaigns and need to make outgoing calls, while toll-free numbers are better for increasing incoming calls.
Next, it's time to purchase the number. VoIP providers make it easy to acquire any vanity number as long as it's available. The required fee depends entirely on the number you want and the provider that you use.
From there, you can start using your newly created vanity phone number and add various features to it, such as call forwarding, custom greetings, and more.
Conclusion
Even though most customers today have transitioned to digital forms of communication, many of them still prefer relying on phone conversations for more essential matters. Therefore, it's critical for your business to have a functional and easily available phone number.
Instead of just using a random string of numbers, it's in your best interest to customize this small but essential element and start using a vanity phone number. It can help you improve your lead generation, enhance your advertising, boost your word-of-mouth marketing, and establish a stronger brand identity.
Vanity phone numbers are a small but essential element that can help your business establish an impeccable reputation.