Affiliate Marketing: What is It and How Does It Work?
FirstSiteGuide is supported by our readers. When you purchase via links on our site we may earn a commission.
Read More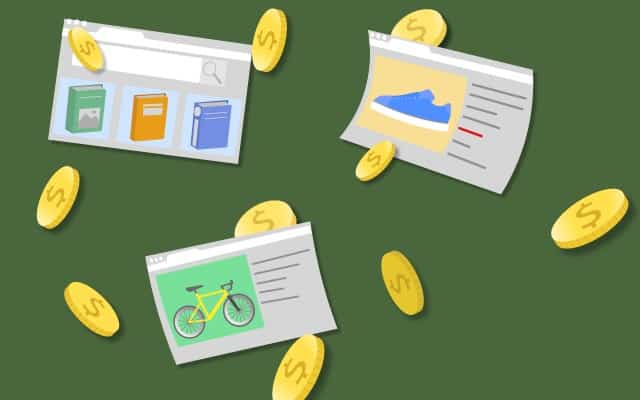 As you might already know, the digital realm offers many opportunities for making money online. One of the most attractive options is affiliate marketing. While creating passive income and making money while you sleep sounds captivating, there is a lot of groundwork involved before you can start making affiliate profits.
If you are interested in affiliate marketing, we are ready to provide you with the information that you need to get started. Here is a guide that will lead you through the process of affiliate marketing and show you how to use it to start making money as an online business.
What is affiliate marketing?
While it may sound like a relatively new form of marketing, affiliate marketing is as old as online selling itself. If you participate, you receive a commission every time a person buys an online product based on your recommendation.
Affiliate marketing definition
"Affiliate marketing is the process of earning a commission by promoting other people's or company's products."
The mechanics of this process are simple. It begins with finding an interesting product that you like, making an effort to promote it to other people, and, in the end, earning a piece of the profit (commission) from each successful sale.
As a general rule of thumb, there are three types of affiliate marketing programs that you can join:
Unattached;
Related, and;
Involved.
Although they're relatively self-explanatory, let's briefly go over each of them.
Unattached affiliate marketing
Unattached affiliate marketing is a model where the affiliate has no connection whatsoever to the brand or the type of product that they're recommending. They have no expertise in the matter, no related skills, and no authority in the niche.
The affiliate doesn't even need to have a respectable online presence – you could simply invest in Google Ads and create a Pay-Per-Click (PPC) campaign (which we'll get into a bit later) to earn a profit from unattached affiliate marketing.
Related affiliate marketing
Related affiliate marketing is slightly more "personal" and requires a bit more effort. You'll need to have an established online presence and a specific niche, then promote products or services relevant to that niche.
Mind you, you don't have to have experience with that particular product/service or even the brand, but you'll need to have some touchpoints.
For example, you could be a financial blogger who shares tips and tricks about budgeting and supercharging one's savings. You could join an affiliate program offered by a bank and promote credit cards (that you're not using) to your audiences, or simply place a banner ad by your blog post. You could also recommend a budgeting app that you've never even heard of and make money through your affiliate links.
Involved affiliate marketing
Finally, the most lucrative – and demanding – type of affiliate program is the involved one. You'll need to be a respected authority in your niche (at least among your audiences) and have a deeper connection with the brand that you're promoting.
You'll need to have a thorough understanding of the specific product/service, which means that you'll need to have used it for a while. After familiarizing yourself with the brand's offer, you can share your experiences and explain to your audiences why investing in it is a good idea. Don't forget to add your affiliate link to earn a commission when you've persuaded someone to make a purchase.
Keep in mind that you'll need to be careful here. The quality of the product/service will impact your reputation. If you're promoting low-quality goods, your audience will think less of you, and you'll lose trust and authority, which will affect your future affiliate income.
The goal of affiliate marketing
The goal of affiliate marketing is the same as any type of marketing – to increase revenue. Brands can expand their reach to wider audiences through affiliate programs, spread word about their offers, generate leads and boost conversions. Through this, affiliates can earn a passive income without worrying about anything else but getting customers to a brand's desired landing page.
Let's take a look at some of the main benefits of affiliate programs for both brands and their affiliates.
What brands get from affiliate marketing
Affiliate marketing spending is set to hit the $8.2 billion mark in the US alone by 2022. Brands large and small are focusing more and more on this type of marketing, and they wouldn't do this unless it brought some valuable benefits.
Low costs/low risk – conventional marketing efforts require a significant investment. Companies need to come up with the best strategies for success, buy ad space, develop comprehensive campaigns, and do a million little things to draw attention from consumers without any guarantees that these efforts will pay off.
With affiliate marketing, however, they don't have to worry about any of that. All they have to do is vet the affiliates and pay a small fee for their efforts. Since most affiliate marketing programs work based on the number of sales generated, brands only have to pay a commission for a successful sale. They won't lose any income if the marketing is ineffective.
Targeted traffic – most brands carefully assess every affiliate marketing candidate, examining their niche and analyzing their audiences. This gives them a deeper understanding of just how suitable a potential affiliate and their audiences are. The more relevant the affiliate is, the better it is for the brand, as they can provide highly targeted traffic that generates qualified leads and improves conversions.
High return on investment – with low cost, low risks, and targeted traffic, affiliate marketing presents brands with a high return on investment.
Affiliates held in high regard by their audiences have an incredible influence on them and shape their purchasing behaviors. Collaborating with such affiliates allows brands to enjoy a better reputation, which boosts their return on investment (ROI) and supercharges their profits.
Scalability – the most significant benefit of affiliate marketing for businesses is that it enables them to scale up or down with ease. Since the investment is minimal, any brand that wishes to expand its audiences can easily do so at a low cost. On the other hand, if the budget is getting tighter, scaling down is no problem.
What individuals get from affiliate marketing
It's not only businesses that enjoy the benefits of affiliate marketing – the affiliates do as well. Whether you're a nano influencer or an increasingly popular blogger, you can expect great things from your affiliate relationship with a brand.
Independence – the biggest draw of affiliate marketing is that it gives you complete independence – promote brands when you want to, let your affiliate links work for you while you're away, and set your own schedule.
Of course, if you're too nonchalant about affiliate marketing, you won't get as much from it as you'd like. It's in your best interests to take the job a bit more seriously, but you don't have to unless you want to.
Simplicity – as long as you have an audience online (whether that's via a blog, your own site, social media channel, or anything in between), you can become an affiliate partner. You don't need any previous experience or special training. You won't have to come up with marketing strategies or devote yourself to performance analysis. Simply start promoting a brand and reap the rewards.
Lucrative opportunities – affiliate marketing is a multi-billion-dollar industry. Virtually every brand has an affiliate program, and joining is easier than ever. You don't have to promote low-quality products or advertise a brand that you dislike. Choose businesses, products, and services that you fully support, and be as nitpicky about your partners as you want to.
There are many lucrative opportunities in this field, so affiliate marketing can pay off for you as long as you believe that you can persuade your audiences to buy a product or service.
The pillars of affiliate marketing
Most newcomers to the world of affiliate marketing see it as a simple two-sided relationship between the brand and the affiliate. However, the entire affiliate ecosystem is slightly more complicated than that, and to be successful, all of the parties involved in affiliate marketing have to actively connect and communicate.
The vital part of this connection are the relationships formed between the advertiser, the network that manages their campaign, the publisher, and the consumer.
Advertiser
Service/product providers, merchants, retailers, brands, vendors, advertisers, call them what you will – they are the reason why you can easily make money online. An advertiser in affiliate marketing can be any company that sells products (cosmetics, kitchen appliances, electronics, cloth, etc.) or services (software, cloud storage, video games, etc.).
They can be Fortune 500 companies renowned the world over, or they can be small entrepreneurs and solo retailers. Regardless of their size, they're the key to your success.
Although it may seem like partnering with more prominent advertisers would be the better option, that's not necessarily the case. As a general rule of thumb, you'll want to partner with brands whose products/services you enjoy using.
The things that you promote on your site or social media channels will have an impact on how your audiences perceive you. If you partner with a large brand whose products you simply don't enjoy, your audience will know, and you'll lose their trust.
Networks that manage advertisers
Few brands will work directly with their affiliate marketers since it can take a lot of time and effort to vet every applicant. Instead, they'll hire an affiliate network – an intermediary that connects businesses with their potential affiliates.
Although it may seem like networks are just adding complexity to the whole process, they can prove to be very beneficial if you're trying to supercharge your income from affiliate marketing. They can connect you with dozens of unique brands and products, allowing you to choose those that are most suitable for your online persona.
Commonly, you'll have the option to browse through different product categories, then make your selection to start earning an income.
The most important aspect of working with an affiliate network instead of directly with a business is that you can ensure that everything is fair and above-board. You won't have to worry about the company "forgetting" to pay you or trying to scam you. The affiliate network handles all payments, so you can work with the comfort of knowing that your earnings are safe.
Publisher
The last piece of the puzzle is the affiliate marketer (also referred to as the publisher) – an individual who promotes an advertiser's product or service. In exchange, the publisher earns a commission. Usually, there is a contract that binds a publisher and an advertiser. As part of this contract, the advertiser is the one who provides a publisher with text ads, links, and banners. The publisher then uses it on their website to promote the advertiser's products and services.
The publisher can be a solo player, like yourself, collaborating with networks or directly with brands, but they can also be an entire business – huge publishing sites that receive compensation from every link that they include in their posts.
The main job of the affiliate marketer/publisher is to connect with their audiences and establish a strong, trustworthy relationship with them. They need to build authority within their niche, establish themselves as credible sources of information, and focus on creating a positive online image. After all, the better their reputation, the more successful they'll be in nudging their audiences to make a purchase from their affiliate links.
As an affiliate, you can choose to work with a single company and promote only their products, or as a better option, you can broaden your horizons and partner with as many brands and products as possible that fit your niche.
Consumer
In the end, as the last involved party in affiliate marketing, we have the consumer. The consumer is the key to the entire affiliate marketing ecosystem. Without them, none of this would exist since there'd be no sales to speak of, making affiliates redundant.
The consumer is a person who sees the ad on a publisher's website and takes action (clicks on it, submits info), which leads them to the advertiser's website to complete an action (make a purchase, subscribe to service). This is what marketers call a conversion.
Conversion tracking is one of the most important aspects of affiliate marketing. Knowing which ads your sales came from and what triggered your visitors to purchase a product means that you can grow your business.
As the affiliate, you'd be in charge of reaching out to as many consumers as possible – the more people you reach, the higher your earnings. You can use any channel to market on – blogs, email, social media, you name it.
Keep in mind that consumers need to be aware of the affiliate relationships between you and the company you're promoting. You've likely noticed the affiliate disclaimer on many random sites you browse in your free time: "This article contains affiliate links. If you purchase items on this site, we may earn a small commission."
Whether the consumer purchases an item directly on the brand's site or through your affiliate link, their cost will be the same. It's the brand, not the consumer, that pays the affiliate marketer.
Finding the right product
In affiliate marketing, you can promote any product or service. Experienced affiliate marketers say that they have achieved the best results by selling products that they are already familiar with. If you choose to promote a product or service that you have already used and it has helped you to solve a problem or achieve something, there is a higher chance that you will succeed in promoting it.
If you are confident in a product and you can stand behind your promotional activities, you have picked the right product.
If you are clueless and not sure how to find an affiliate product that you can promote, here is how to look for one:
Check affiliate marketplaces such as ClickBank and ShareASale to find companies that offer affiliate programs.
Sign up with Amazon Associates and find millions of products that you can recommend to your audience.
Perform a Google search on "Product name + affiliate program" to see if the desired product has an affiliate program available.
If you have already created a blog, try to find products related to your niche. For instance, if you are writing about smartphones and computers, you can try to find an affiliate program for these goods. These products have a name in affiliate marketing – a niche affiliate product. If you are not sure where to start, you can also find niches using Google.
As an affiliate marketer, one of the most important things to work on is your credibility as a product reviewer. That is why we recommend first to try using a product or service before writing a review and recommending it to other people. Until you develop your skills, you may want to try promoting recognizable brand products and work your way towards reviewing and recommending products from less popular brands.
Finding the target audience
Now that you have picked a product and your niche, you have to get to know the people behind it – your target audience. Finding your target audience is important. It will allow you to find out what potential consumers viewing your brand promotions need and want.
You can start figuring out who your target audience is by focusing on reading the reviews in your niche. You can also spend some time in online forums and read the comment section from blogs that cover your niche topics. If you have noticed some unanswered questions emerging over and over again, write them down. Your audience needs them answered, and you can do that for them. Alternatively, you can do an online search for the best niche blogs and see how they are structured.
When you are scouring the web to meet your target audience, make sure to pay attention to the following:
Demographic;
Problems and concerns of the target audience; and
What your audience wants and doesn't want.
Let's go through an example to make this clear. Let's say that your niche is Protein Power Bars. After reading only a few of the reviews online, we can gather many useful information crumbs. Your target audience is mostly made up of men in their 20s and 30s. Women are also interested in this product, but your target is predominantly men in their 20s and 30s.
Here are some of the concerns and questions that men have when buying a protein bar:
How does it taste?
What is the carbs/protein ratio?
What type of protein does it contain?
When is the best time to eat it?
Knowing what is important to your target audience makes it much easier to discover what to write about and to keep your audience engaged.
Creating a website that unifies your audience and product
Once you know which product you are going to promote and who your target audience is, you have to answer one more question. What are you trying to convey about that service or product in particular? A website has to connect users more closely to the product that you are promoting. You'll need high-quality photos, reviews, tips and tricks, all that packed into an attractive design.
Fortunately, you don't need to have technical skills to create a blog or to build a website. There are many online services that can help you to have your site up and running in no time. You can also check out the most popular color palettes and designs in your niche when it comes to design. Always make sure to keep your target audience in mind.
A well-developed blog section on a website can certainly help your affiliate marketing career. You can write articles to answer your audience's questions and also include articles where you compare related products and services. If you give your audience value, they will continue returning to your website.
Promotion and growth
To reach more people from your target audience, you will need to learn some effective online marketing strategies. Here are some things that you can do that will help you to grow and earn more as an affiliate marketer:
If you are interested in running your own affiliate program, check out this partner and affiliate software.
There are two helpful ways to build up your success as an affiliate:
PPC – one of the traditional methods for promoting affiliate products is PPC. This consists of bidding on relevant keywords. To understand which keywords are related to the products that you are promoting, you will need to work on your AdWords skills and perform proper keyword research. The key is to identify the keywords that inspire conversions.
SEO – SEO is also a viable way to promote affiliate products. When you have a website established where you are promoting products or services, SEO is a smart move in the long run. It will improve your website visibility and help you to increase your website traffic.
Other channels for affiliate marketing
As an affiliate marketer, you can choose many different channels to promote the brands and products that you support. You can leverage one or even use all of the following channels to boost your affiliate marketing income.
Email
Email is one of the oldest and most popular channels for affiliate marketing. You can easily set up an email list, reach out to your audience, and include affiliate links without much effort. However, you will want to avoid "cold-calling", such as sending emails with your affiliate links to audiences who have no idea who you are. No one will click on a link in an email from a stranger.
Instead, reach out to those who are already subscribed to your newsletters or are otherwise accustomed to receiving emails from you.
Once you build a mailing list, it's time to start sending those emails. Add your affiliate links to some of your promotional emails that also offer free training, tools, or exclusive tips to get the best results.
Social media (influencers)
Social media might just be the most effective channel for affiliate marketing, especially if you fall into the "influencer" category and enjoy a significant following.
Today's consumers have immeasurable trust in influencers across all social media channels, relying on their input for many of their purchasing decisions. If you have loyal followers, chances are good that many of them will use your affiliate links to shop, so you stand to gain quite a lot from using social media.
However, you'll want to ensure that you partner with the right brands and that you only promote high-quality products/services that you truly enjoy. If you get your followers to buy something that's not worth their money, they'll stop trusting your recommendations.
Blogs
When most people hear "affiliate marketing", they think of blogs. Virtually every blog that you visit will have affiliate links. Some links will be included in the post itself, others will appear as pop-ups, and others will be placed in banner ads.
Many companies prefer partnering with bloggers because of their ability to rank higher organically on search engines. A high ranking means better visibility and better lead generation.
Of course, to make money from affiliate marketing as a blogger, you'll first need to start a blog, work on creating a following, and establish yourself as an authority in your niche. That's easier said than done, and it could be a while before affiliate income starts flowing in. Still, the more successful your blog is, the more money you'll receive from affiliate marketing, so your efforts could be worth it.
Review sites
Review sites are the perfect channel for affiliate marketing. You're already reviewing products/services, so why not add a few affiliate links to those that you enjoy the most?
You'll need to set up a website and choose your unique niche. While blogging allows you to get creative and explore loosely connected topics, running a review site requires a more narrow focus. You'll need to choose the types of products/services that you'll review and stick to that field.
However, you could go for slightly broader topics like "the best products for first-time parents". Subjects like this can give you a bit more freedom, allowing you to link to affiliates such as baby food manufacturers, clothing manufacturers, and even electronics stores that sell things like baby monitors.
You could even go for a narrower niche market and create a review site that focuses on a single brand, then offer your own reviews on every new product that they launch.
Coupon sites
Coupon sites were essentially created for the purposes of affiliate marketing. They're the ideal channel – your audience is already there to shop (albeit at discounted prices). You don't have to nudge them to buy something or try to get them to spend money on things they don't want. They've already decided to make a purchase, they just want to spend less, and you're giving them this opportunity while still getting commissions from your affiliates in the process.
As with any site, you'll first need to ensure that your coupon site is reliable and trustworthy. Improve the user experience, share relevant information, and make your visitors feel safe while browsing through your coupons. As always, the more that your site visitors trust you, the more likely they'll be to use your affiliate links.
Conclusion
Affiliate marketing is a good way to earn a living, but before you can start counting your commission earnings, there are a lot of things to be done. You need to find the product or service that you want to promote, identify your target audience's needs, and adjust your website or social media for affiliate marketing purposes.
Steady passive income only follows from well-planned and executed activities. Making substantial efforts across all channels will help you to establish yourself as a credible promoter and reviewer, a position that every affiliate marketer yearns to achieve.