The Best Online Bookkeeping Services in 2023
The Ultimate Guide to Choosing Online Bookkeeping Services for Your Company
FirstSiteGuide is supported by our readers. When you purchase via links on our site we may earn a commission.
Read More
The Best Online Bookkeeping Services in 2023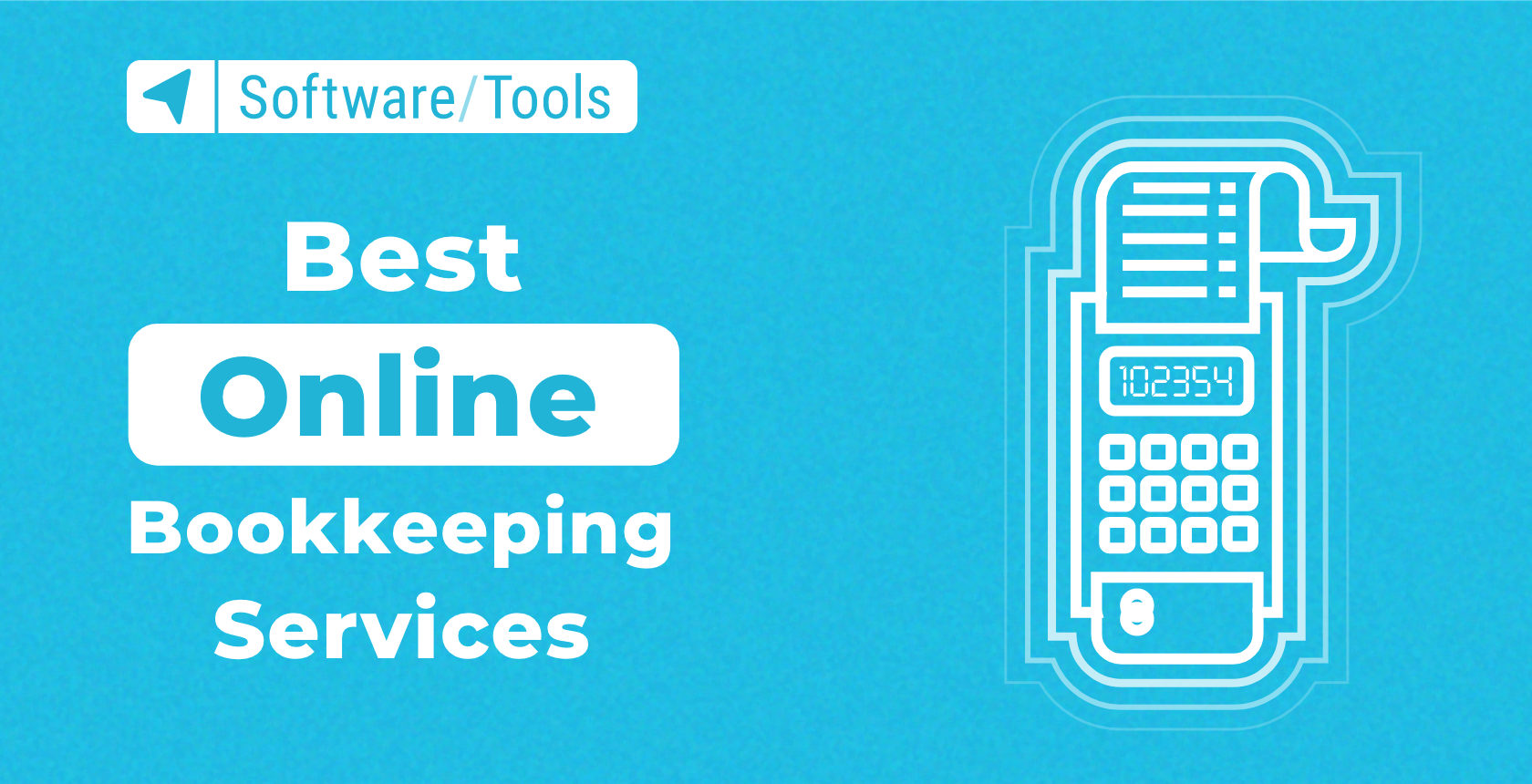 Bookkeeping is at the core of the accounting process in companies of all sizes. It involves collecting and compiling detailed financial data, ensuring compliance with the law, and streamlining audits. However, you can encounter some challenges if you transition from traditional bookkeeping services to their online counterparts.
There are thousands of online bookkeeping service providers. They all advertise as the best, most trustworthy, and most reliable. Meanwhile, not all of them are the same in terms of quality of service, features they offer, and reliability. How do you pick the right one for your business?
At FirstSiteGuide, we aim to provide unbiased reviews of many online services. After thoroughly testing various bookkeeping services, we are ready to provide you with a list of the ten best ones. 
EDITORS' CHOICE (JUNE 2023)
As a bonus, you will be able to learn how to choose the best online bookkeeping service for your business and get access to a cheat sheet to quickly pick the most suitable service for your company.
Top 10 bookkeeping services
Making a choice when you are presented with hundreds of possible options is challenging. To make the entire process easier, let's narrow down your options. Check out the top ten online bookkeeping services:
---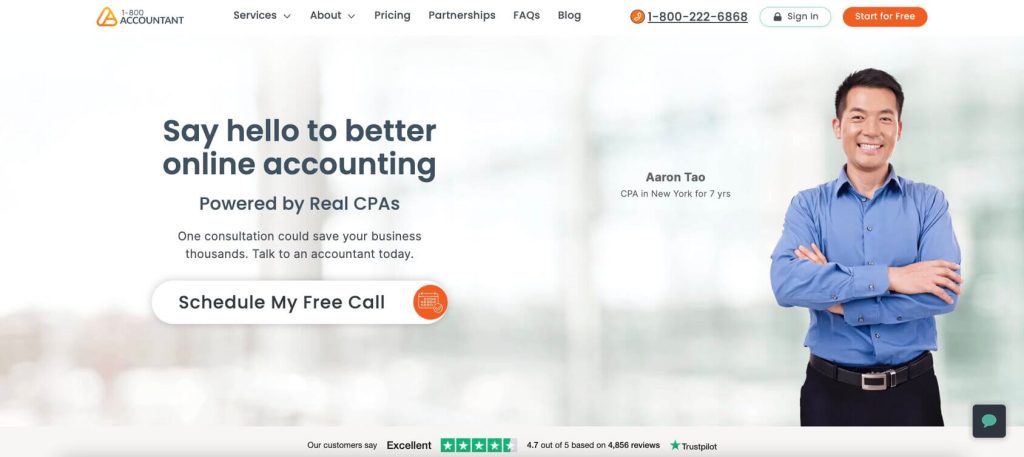 1-800 Accountant is a well-known bookkeeping service provider in the US. While this provider specializes in bookkeeping for small businesses, the abundance of features and upgrades it offers makes its services scalable. They will help you to streamline all of your back-office tasks to help you focus on more pressing matters.
The unique value that 1-800 Accountant offers its clients is access to CPAs with over 17 years of experience in the industry. They will also match you with a professional familiar with your state's laws to make sure that your company stays compliant.
Key features
Software fluency – 1-800 Accountant's team is well-versed with all bookkeeping systems, enabling them to help you as soon as you hire them.
Dedicated bookkeeper – the provider offers unlimited support to its clients and provides a bookkeeper to answer all questions and give advice.
Tax-ready financials – receive tax-ready financials before the deadlines.
Payroll specialist – deliver your payroll on time and ensure IRS compliance.
Detailed reporting – access detailed reports, including reconciled accounts and categorized transactions.
Pricing
1-800 Accountant offers four pricing plans, including Startup, Business, Corporation, and Enterprise.
Startup
$0 per month 


Plus State fee.
The Startup plan is for new businesses at the LLC filing stage. It includes customized Articles of Organization, name availability search, phone and email support, and access to your incorporation documents.
Business
$125 per month 


One-year package billed as one payment.
The Business plan caters to businesses with basic accounting needs. It includes access to the 1-800 Accountant platform, a dedicated accountant, year-round tax advice, proactive tax planning, and quarterly reviews.
Corporation
$225 per month 


One-year package billed as one payment.
The Corporation plan is for businesses with tax filing and planning needs. It comes with everything in the Business plan, plus personal and business tax preparation.
Enterprise
$375 per month 


One-year package billed as one payment.
The Enterprise plan is a complete bookkeeping service for businesses that want to outsource their bookkeeping needs. It comes with everything included with Corporation, plus bookkeeping, priority support, and financial reports.
Visit 1-800 Accountant for additional information >>
Bookkeeper — Best well-rounded accounting service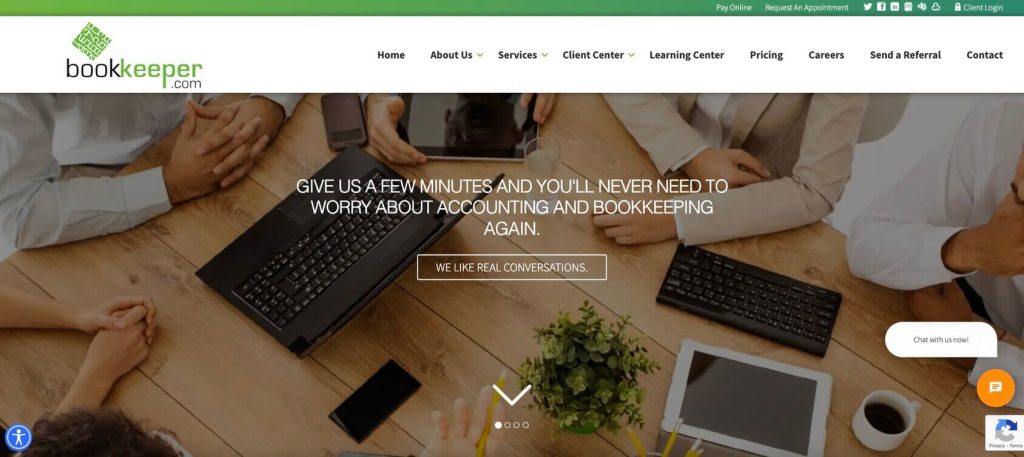 Bookkeeper is a renowned brand in the world of online bookkeeping service providers. This company has managed to create the most well-rounded accounting service platform. The user-friendly interface enables beginners and seasoned professionals to use the platform and benefit from all of its services.
The most attractive capability of the Bookkeeper platform is the support for add-ons. For instance, you can enable any of the offered add-on services to extend Bookkeeper's functionality.
Bookkeeper users have free access to tax advice and financial planning. There is also extensive support for QuickBooks Online.
Key features
Access to a dedicated team – consult with expert bookkeepers at every step of the process.
Best accounting method – receive advice on the best accounting method for your firm.
Bill payment and invoicing – benefit from an intelligent bill payment system to facilitate cash flow management.
Tax planning and preparation – stay compliant with the help of Bookkeeper's EAs and CPAs.
Reporting – understand your financial position with in-depth financial reports.
Pricing
Bookkeeper offers businesses four pricing plans: Small Business, Small Business Plus, Small Business Advanced, and Custom.
Small Business
The Small Business plan is for companies with annual gross revenue of $500,000. This package offers service at a monthly level capped at 100 monthly transactions. It includes a dedicated bookkeeper and account manager, month-end close with bank or credit card reconciliation, balance sheet and cash flow statement, and a secure portal with document storage.
Small Business Plus
The Small Business Plus plan is for companies with annual gross revenue of $750,000. It includes a semi-monthly service level capped at 200 monthly transactions. The package comes with everything in the Small Business plan, plus 20 monthly invoices, 30 minutes of meetings, and lite CFO and advisory services.
Small Business Advanced
The Small Business Advanced plan is for companies with annual gross revenue of $1 million. It's a weekly service capped at 300 monthly transactions. It comes with everything in the Small Business Plus plan, 20 additional monthly invoices, 15 extra minutes of meeting time, and separation of transactions by class, location, and department.
Custom
The Custom plan is for businesses with annual gross revenue above the $1 million mark. It comes with everything in the Small Business Advanced pricing plan while removing limitations on monthly invoices, meeting time, and the number of monthly transactions.
Visit Bookkeeper for additional information >>
Bench — Wide choice of service with excellent value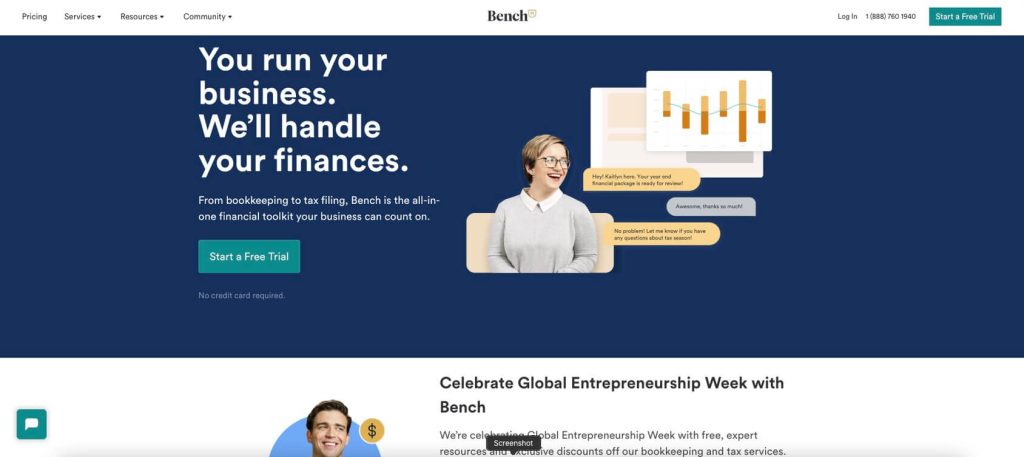 For many companies interested in versatile online bookkeeping services, Bench is a go-to choice for two reasons.
First, Bench offers a wide range of features. Second, it adds more value by providing payroll integration and additional tax assistance. This extra support for accounting software makes Bench even more attractive to companies already using online accounting.
Bench is also quite popular among business owners who are constantly on the go, thanks to its mobile app. The app enables users to receive real-time cash flow updates and access financial reports on demand.
Finally, this solution offers a catch-up service to help businesses quickly catch up if they fall behind in bookkeeping.
Key features
Insightful and easy-to-read visual reports – quickly understand detailed financial information.
Bookkeeping message feed – receive critical real-time messages and take necessary action.
On-demand cash flow reporting – access instant insights into your cash flow to truly understand your financial performance.
Catch-up bookkeeping – easily catch up with bookkeeping if you are two years or less behind.
Easy taxes – connect to the Bench team to sort out tax preparation, filling, and advisory support.
Pricing
Bench offers two premium pricing plans to businesses: Essential and Premium.
Essential
$299 per month 

$349 per month


Pay as you go.

$249 per month


One-year package billed as one payment.
The Essential plan includes monthly bookkeeping and financial statements for filing taxes. It also provides a team to handle your bookkeeping as well as direct communication with the in-house team.
Premium
$499 per month 

$399 per month


One-year package billed as one payment.
Premium includes everything in the Essential plan, plus income tax support with no limitations and assistance with filing income taxes yearly for businesses and individuals.
Visit Bench for additional information >>
Pilot — Excellent option for startups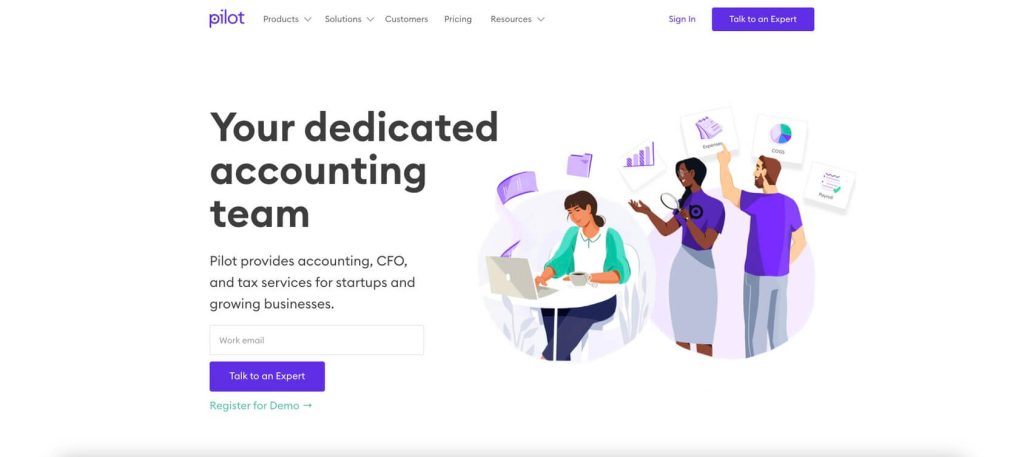 Pilot is an excellent bookkeeping service option for people starting their businesses. This service provider is a renowned financial service firm with years long experience in the industry. Pilot can also be a good fit for small businesses needing a simple but powerful platform.
Pilot's strongest suit is a comprehensive list of features for startups who stay with it once they start growing.
In other words, Pilot's services are easily scalable on demand. They even offer accrual-based accounting and custom-tailored financial reports to meet specific industries' standards.
Key features
Dedicated finance expert – access to a dedicated finance expert will help you with onboarding and provide professional advice.
Streamlined transactions – thanks to the support for integration with Quickbooks, Expensify, and Gusto, you can automate your transactions.
Detailed monthly financial report – you will have insight into your cash flow statement, balance sheet, and profit and loss. Startups have access to burn rates.
Additional services on demand – if you need services such as invoicing, tax, and budgeting, you can continue using Pilot because the provider also has these services available in its portfolio.
Pricing
Pilot offers three pricing plans to companies: Core, Select, and Plus.
Core
$599 per month


One-year package billed as one payment.
The Core plan is for pre-revenue companies with a modern tech stack. It includes access to a finance expert, accrual bookkeeping, financial reports, and support and advice.
Select
$849 per month


One-year package billed as one payment.
The Select plan is also for pre-revenue companies but comes with more hands-on experience. It includes everything in the Core plan, the industry-specific financial ratios, expedited book delivery, monthly phone reviews, and priority support.
Plus
The Plus plan is an advanced bookkeeping service for revenue-generating companies. It comes with everything included in Select and adds billable expenses, inventory tracking, a customizable chart of accounts, and support for three-way reconciliations.
*Core and Select prices depend on the selected monthly expenses. The ones we've listed above are for monthly expenditures worth $15,000.
Visit Pilot for additional information >>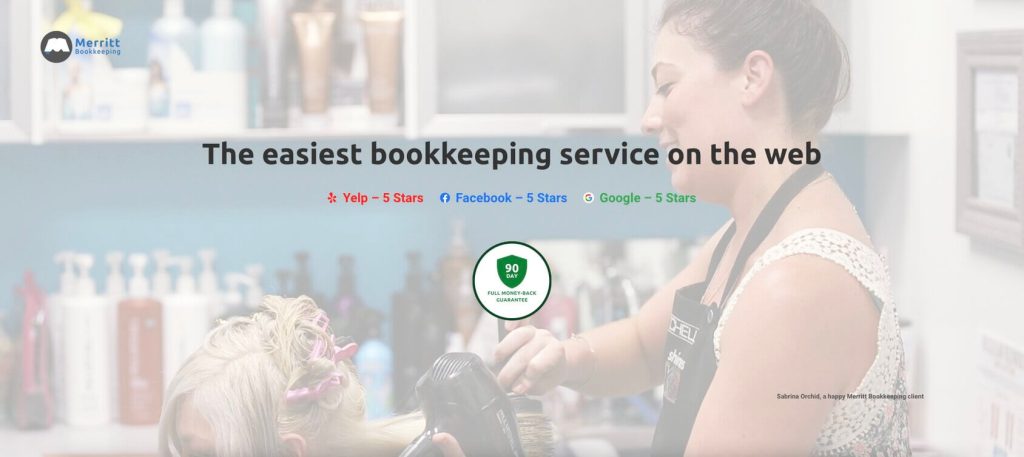 If you are interested in affordable bookkeeping services without accepting a trade-off in quality, you should check out Merritt Bookkeeping. This service provider is unique in terms of how it charges clients. It doesn't limit the number of transactions and offers services at a flat rate.
Merritt Bookkeeping encompasses all of the core services to help you streamline your business financial records and reports. The provider does offer some extras for an additional fee, such as electronic filing for contractors and simplified issuance.
Key features
Automatic statement collection – the provider uses automated software to collect your bank statements.
Financial reports – after processing data in QuickBooks, Merritt Bookkeeping will send you insightful and easy-to-read financial reports.
Customizable reports – you can edit them to customize the fields and data they contain for more insights and a better overview of financial performance.
Issues 1099s – the provider will issue 1099s for your contractors, so that you don't have to.
Same-day reply – get in touch with the Merritt Bookkeeping team and receive a response the same day.
Pricing
Merritt Bookkeeping offers services at a flat fee of $190 per month.
Visit Merritt Bookkeeping for additional information >>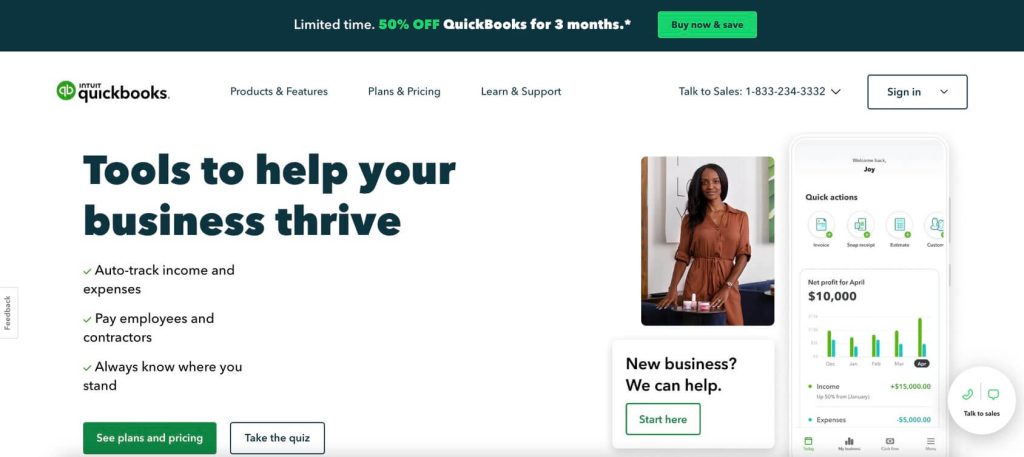 Intuit QuickBooks Online is one of the most popular solutions for small business accounting. The same software provider also offers bookkeeping services under QuickBooks Live Bookkeeping. They help simplify reconciling accounts, classifying transactions, and managing bank fees. The platform also has built-in support for printing financial statements.
The companies that select this provider will also receive access to a dedicated bookkeeper. The company offers an accuracy guarantee to ensure that clients can rely on these services. New users have the option to opt into their bookkeeping training.
Key features
Cleanup and setup – automatically bring your books up to date and organize all of your transactions correctly.
Personalized insights – access instant insight into your financial reports, including a balance sheet and a profit and loss report.
Streamlined taxes – reconcile your accounts and properly categorize transactions to be ready for tax time every year.
Online collaboration – team up with QuickBooks Live professionals to help you manage your bookkeeping.
Pricing
QuickBooks Live Bookkeeping offers four pricing tiers Simple Start, Essentials, Plus, and Advanced with an optional Payroll feature for each one of them.
Simple Start
$30 per month


$15 per month for the first 3 months
Simple Start enables you to connect 1 sales channel and comes with core features, including income and expenses, invoices and payments, tax deductions, general reports, receipt capture, cash flow, and sales tax.
Essentials
$55 per month


$27.5 per month for the first 3 months
Essentials plan enables you to connect up to 3 sales channels and comes with everything in Simple Start plus 3 users, bill management, and enter time.
Plus
$85 per month


$42.5 per month for the first 3 months
Plus enables you to connect all sales channels and comes with everything in Essentials plus 5 users, inventory, and project profitability.
Advanced
$200 per month


$100 per month for the first 3 months
Advanced comes with everything in the Plus plan plus Business analytics with Excel, Employee expenses, Batch invoices and expenses, Customized access, Exclusive Premium Apps, a Dedicated account team, On-demand training, Workflow automation, and Data restoration.
Visit Intuit QuickBooks for additional information >>
Botkeeper — Tailored to accounting firms 
If you run an accounting firm, you'll need a more comprehensive solution for your bookkeeping needs. Botkeeper is an excellent choice because it offers a wide range of features.
The services are built on machine learning (ML) and artificial intelligence (AI). Thanks to cutting-edge technologies, Botkeeper can automate many bookkeeping operations, saving you time and reducing operational costs.
Botkeeper comes with built-in support for Xero and QuickBooks. More importantly, it supports accounting for multiple accounts.
Key features
Smart connect – connect all of your client accounts and access them through a single dashboard.
Business insights – access advanced analytics to understand financial data for all of your clients.
Transaction manager – categorize your data, automate transaction categorization, and access all of your clients' transactions in a few simple clicks.
Documents – create documents in a centralized location and benefit from a version control system to stay on top of all document changes.
Collaboration – streamline collaboration for your staff, enabling them to work together in one secure place.
Pricing
Botkeeper pricing plans are entirely custom, as they depend on the number of clients for whom you do bookkeeping.
Visit Botkeeper for additional information >>
Xendoo — Best for companies with advanced bookkeeping needs
Xendoo is an online bookkeeping service provider focusing on meeting the needs of small companies. This company has recently extended its portfolio to offer bookkeeping services to ecommerce businesses as well.
Xendoo has been around since 2016. Over the past six years, the company has built a reputation as a reliable and trustworthy bookkeeping partner for small businesses.
If you choose Xendoo, you will also have the opportunity to work with a team of CPAs and bookkeepers. You can consult your dedicated team on demand and ask for advice. Tax services are also available should you decide to outsource taxes.
Key features
Weekly book reconciliation – Xendoo will always stay on top of your books and ensure that they are reconciled weekly.
Onboarding specialists – start benefiting from Xendoo services in under 60 minutes thanks to onboarding specialists and excellent integration support.
Monthly financial reports – ensure complete financial visibility with in-depth reporting.
Catch-up bookkeeping – quickly bring up-to-date financials if you are behind on your books.
Dedicated bookkeeper – schedule an appointment to receive professional advice.
Pricing
Xendoo offers three pricing plans based on your average monthly expenses, including Essential, Growth, and Scale.
Essential
$395 per month

$355 per month


One-year package billed as one payment.
The Essential plan is for businesses with average monthly expenses of $50,000. It supports up to four bank or credit card accounts and includes weekly cash-basis accounting as well as a dedicated team to handle your bookkeeping. It lets you integrate with one third-party app.
Growth
$695 per month

$625 per month


One-year package billed as one payment.
The Growth plan is for businesses with average monthly expenses of $75,000. It comes with everything included with Essential but extends bank or credit card accounts to six and adds the option of accrual accounting. It lets you integrate with two third-party apps and consult with a professional for semi-annual taxes.
Scale
$995 per month

$895 per month


One-year package billed as one payment.
The Scale plan is for businesses with minimum average monthly expenses of $125,000. Along with everything included with Growth (including accounts, which extend to 12), it offers deferred schedules, a custom account chart, and lets you integrate the platform with four third-party apps.
Visit Xendoo for additional information >>
inDinero — An ideal option for growing businesses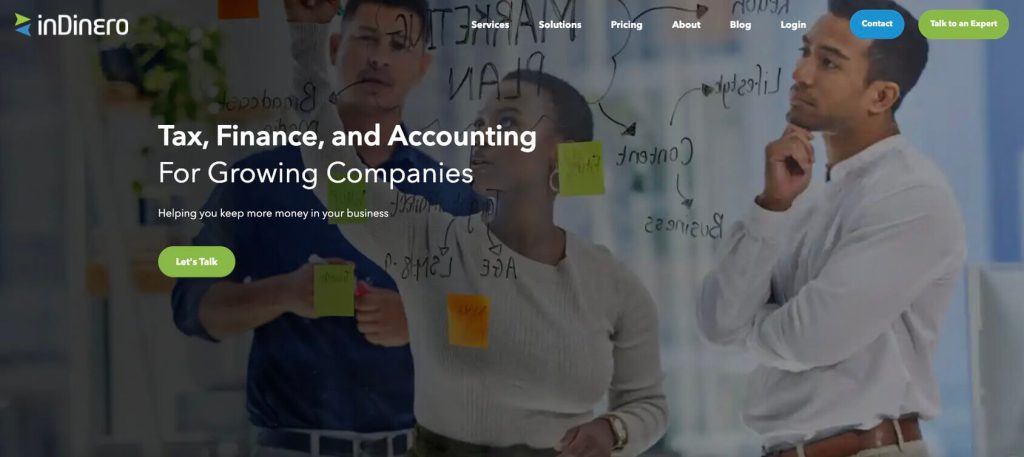 inDinero is one of the veterans in the online bookkeeping services industry. This company has been around since 2009. Years of experience and access to a variety of plans make it the perfect pick for growing businesses.
One of the unique things about inDinero is that the company has its own account software solution. It offers support for other integrations so that you can stay with the software you currently use.
Features such as automated transcription imports and document management have been developed to save you time and keep you on the right track. Thanks to many add-ons, you can access custom services to meet your company's most unique bookkeeping needs.
Key features
Real-time inventory management – receive instant insights into your inventory on demand.
Cash or accrual accounting – utilize the best accounting method for your business type.
Timely reports and analysis – access financial reporting and analysis by inDinero's team.
Decluttering account books – organize your account books and get them up to date.
Invoicing – benefit from streamlined online invoicing.
Pricing
While inDinero offers three pricing plans – Essential, Growth, and Executive – clients can also create custom plans selecting only the services they need.
Essential
The Essential plan is for companies using cash basis accounting. It includes bookkeeping software and financial reports.
Growth
The Growth plan is for companies planning to grow their operations. It includes accrual accounting, access to experienced controllers, and the ability to scale using NetSuite or QuickBooks Online.
Executive
The Executive plan is for dynamic companies needing a customized bookkeeping solution. The package includes everything in Growth, plus revenue recognition and budget analysis.
Visit inDinero for additional information >>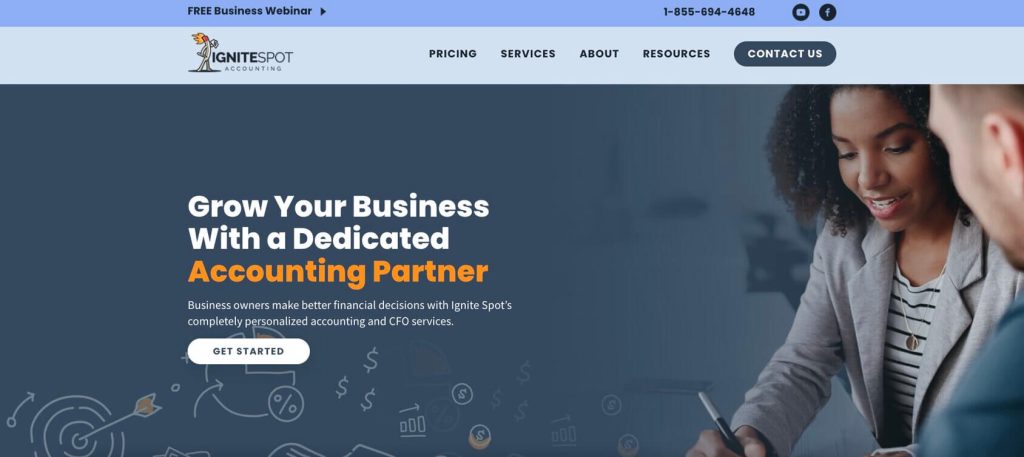 Ignite Spot Accounting offers a comprehensive list of services to companies looking to streamline their bookkeeping and keep their books in order in real-time.
There is one thing that makes this provider unique. The company's primary goal is to coach business owners and enable them to build profitable brands.
Along with the abundance of services in the Ignite Spot Accounting portfolio, this provider offers extensive reporting services. You will receive a monthly performance review for your company so that you can easily set targets and track your progress. You can also outsource the CFO position and get access to a custom financial plan.
Key features
Customer invoices and payments – send out invoices immediately to be paid as quickly as possible.
Vendor invoices and payments – easily organize vendor invoices and keep track of all scheduled payments.
Sales and income tax – streamline quarterly sales tax payments and quarterly income tax payments.
IRS forms – file your taxes ahead of deadlines while the provider takes care of the paperwork.
Tax assistance – ensure that your tax returns are free of any errors.
Pricing
Ignite Spot Accounting offers four packages: Bookkeeper, Accountant, Controller, and CFO.
Bookkeeper
The Bookkeeper plan comes with useful features such as cash reconciliations, bill payment, invoicing, optimized COA, Credit Cards, Quarterly call, and Sales tax.
Accountant
The Accountant plan comes with everything in the Bookkeeper plus Payroll support, Assets, Debt reconciliation, and monthly reporting.
Controller
The Controller plan comes with everything in Accountant plus Coaching calls, KPI tracking, Segment reporting, and Budget to actual reporting.
CFO
The CFO service includes everything from Controller plus Cashflow forecast and Semi-monthly growth session.
Visit Ignite Spot Accounting for additional information >>
How to choose the right online bookkeeping service
While online bookkeeping services can provide you with financial peace of mind, you still need to be careful during your selection process. It all boils down to choosing the right one for your needs. Here are essential tips to help you to make an informed decision.
Check qualifications
While all online bookkeeping service providers use software to deliver their services and complete tasks, they still employ people. One of the most important things you can do is to check their qualifications.
You should check the qualifications of both the bookkeepers and certified public accountants (CPAs) on their team. Working with experienced bookkeepers will help you to maintain organized records of your transactions, while CPAs will provide you with financial advice.
Good communication is vital
Communication is critical to staying on top of your books while working with an external team. Do your research to discover which pricing plan includes consultations with bookkeepers and CPAs.
You should also see if there are any time limits for direct meetings, available communication channels, and check which hours you can contact their team, your dedicated bookkeeper, or a CPA.
Check the available technology
Most online bookkeeping service providers use cloud-based software solutions to deliver their services. However, always check their available technology. If you are already using accounting software, you should ensure that their bookkeeping platform supports integration.
You should also examine how they share financial reports and whether they use ML or AI to automate specific tasks. Most importantly, ensure that you are comfortable utilizing these technologies because they will make the onboarding process easier.
Compare different services
Not all online bookkeeping service providers offer the same services. Some cater more to businesses of a specific size, while others focus on a particular industry or type of bookkeeping. The first thing you should do is to define your bookkeeping needs and goals. It will help you to find the relevant services in the providers' offers.
When shopping for specific services, you should see whether they are available in all plans or if you need to spend an additional fee to access a particular service.
Inspect the provider's level of responsiveness
Next, you should consider the provider's level of responsiveness. You will frequently have some questions to ask about your books or need help with interpreting some financial data. If you need those answers or help quickly, you should narrow your options to providers offering unlimited direct contact with a dedicated bookkeeper or CPA.
You will notice that some providers have a "same-day answer" policy. Others keep communication channels open, and some require you to schedule a meeting with your dedicated bookkeeper in advance.
Look for data interpretation
With an online bookkeeping service provider, you can receive financial reports or their interpretation with financial advice.
Speaking of reporting, you should check their reporting methodology to ensure that their reports are easy to read and understand.
Interpretation and advice are only available with providers who have CPAs on their team. If you are interested in these two, check to see whether the provider works with CPA experts and if it costs extra to access these services.
Choose a provider with extensive industry knowledge
While the core bookkeeping process is more or less the same for businesses across industries, there are still some differences. If you operate in a specific vertical and have unique bookkeeping requirements, your primary goal should be to ensure that the provider can meet them.
Some providers offer one-size-fits-all solutions, while others specialize in niche markets. Aligning with the right provider will help you to always stay on top of your books and ensure compliance with laws that specifically apply to your industry.
Consider the pricing model
Finally, as a business owner, you are operating on a budget, and the price of bookkeeping services is a critical factor. When considering the price, you should focus on three things: limitations (eligibility), value, and scalability.
As shown in the list above, many providers deploy an "average monthly expenses" limit for pricing. You should see where your company fits in and choose the provider that offers all of the services you need to streamline your bookkeeping.
Finally, growing businesses should always consider the prices of advanced plans as they will probably need to scale up to stay on top of their books.
Best options
With so many factors and your unique business goals and needs to consider, you may still find it challenging to find the best option for your company. You can discover the best choices for unique company needs below.
Best for small companies getting into accounting or bookkeeping
If you are running a small company and are just getting into accounting and bookkeeping, you need a service provider that offers a wide range of services. It enables you to start with the most basic plan, save money, and still get the job done.
Best option overall
The best option overall has to be a well-rounded bookkeeping service that can benefit businesses of all sizes and across verticals. It also has to come from a reputable provider with extensive bookkeeping knowledge and experience.
Best for companies with advanced bookkeeping needs
Companies with advanced bookkeeping needs require access to as many services as possible. They also need to work with a dedicated bookkeeper to ensure that they stay on top of their finances and remain compliant with the law. Advisors and a team of bookkeepers must also be available on demand.
Best value for money
If you are looking for an online bookkeeping service provider that offers the best value for money, it shouldn't mean that you need to make any trade-offs in terms of quality and number of services. Such a provider must have a good reputation and offer dependable services at affordable prices.
FAQs
How does online bookkeeping work?
Online bookkeeping is straightforward to understand. Once you outsource your bookkeeping to a service provider, they will gather your financial data, balance your books, and send financial reports. 
What are the benefits to outsourcing bookkeeping? 
Some of the benefits to outsourcing bookkeeping include saving time and operating costs, scaling accounting efficiently, tapping into the knowledge of expert bookkeepers, reducing errors, and having access to detailed financial reports. 
What type of online bookkeeping is there? 
The two types of online bookkeeping include cash and accrual bookkeeping, each based on the timing of recording revenue and expenses. Accrual bookkeeping is for companies that document finances when they receive or issue an invoice. Cash bookkeeping is for companies that record finances when they pay or receive money.
What are the costs of online bookkeeping? 
There is no uniform answer to this question, since online bookkeeping service providers offer their plans at different price points. You will find that some are significantly more affordable than others, primarily because of the scope of services that they include.
Are there QuickBooks alternatives? 
Yes, there are a couple of noteworthy QuickBooks alternatives on the market. The other notable accounting software solutions include Xero, Sage, FreshBooks, Wave Accounting, Zoho books Accounting, and FreeAgent.
Conclusion
Your business can significantly benefit from outsourcing bookkeeping to an online service provider.
You will save time, reduce operational costs, and minimize the risk of errors while staying compliant with local laws and regulations. In addition, you will be able to obtain valuable insights from detailed financial reports or even have your taxes sorted before the deadline.
We've personally tested numerous online bookkeeping services to identify the best providers. Feel free to try any of these providers, but only after you carefully assess their services, price points, and client base to ensure that they cater to companies in your industry.