How to Start an LLC
The Beginner's Guide to Form an LLC (Limited Liability Company)
FirstSiteGuide is supported by our readers. When you purchase via links on our site we may earn a commission.
Read More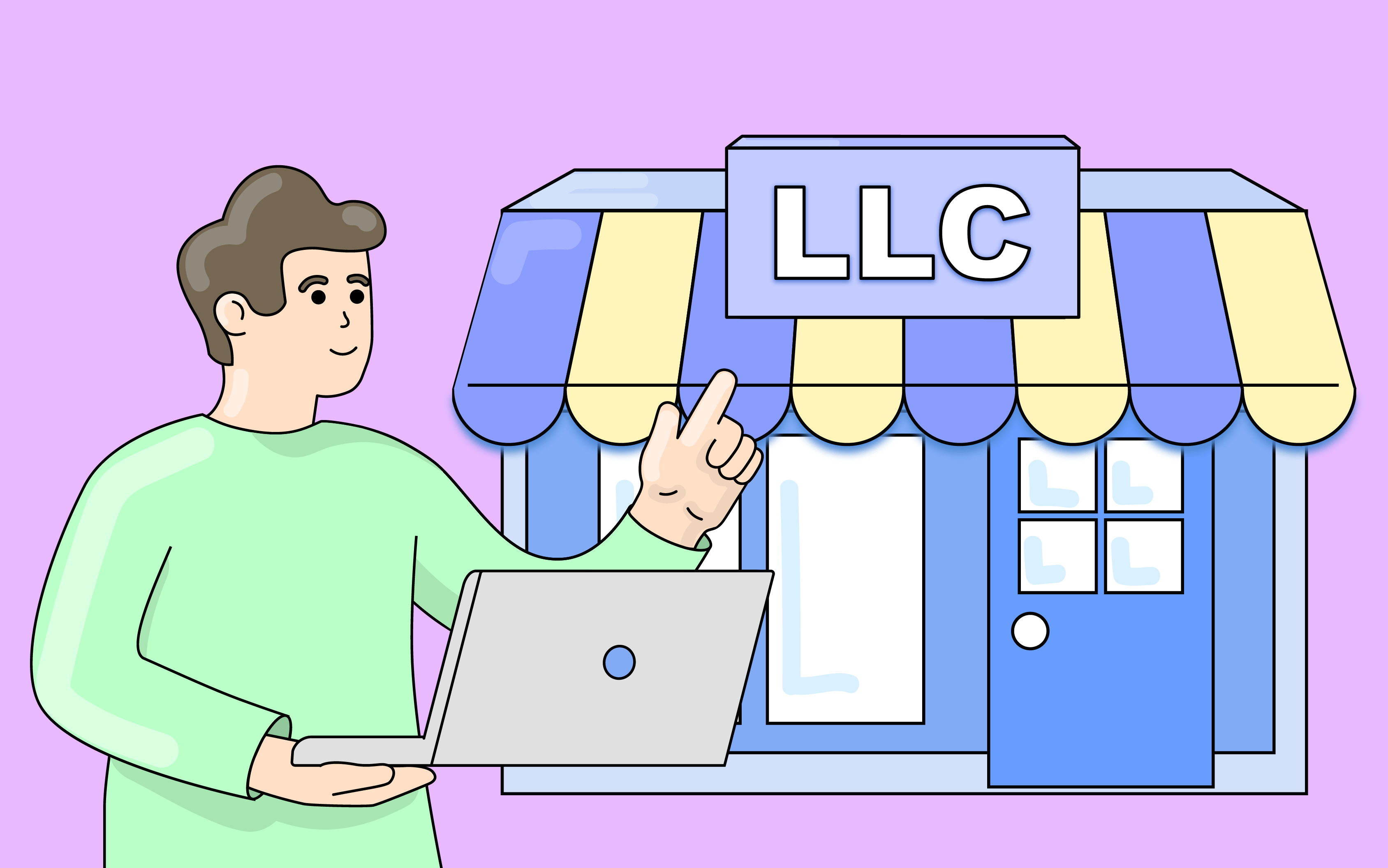 While there are several kinds of business entities, an LLC is unique and combines the best of partnership and corporation business structures. However, if you have limited experience in forming businesses, you could struggle with starting an LLC on your own.
Starting this type of company requires specific actions and requires you to proceed through several stages.
Here at Firstsiteguide, we have done thorough research about how to properly form an LLC. Below is everything that you need to do to create your first LLC.
How to Start an LLC in 7 Specific Steps
Step #1: Choose your state
This first step toward forming an LLC is to choose the home state. While this might sound like an easy step to complete, you should still take it seriously.
Choosing the right state to form an LLC is crucial because it can impact the total costs of creating an LLC.
Every state in the US is within its rights to require different fees from future LLC members. For instance, filing fees for starting an LLC in Kentucky are only $40, while they are $500 in Massachusetts.
Different states can also have unique company naming requirements and forms which you must understand before taking any concrete steps.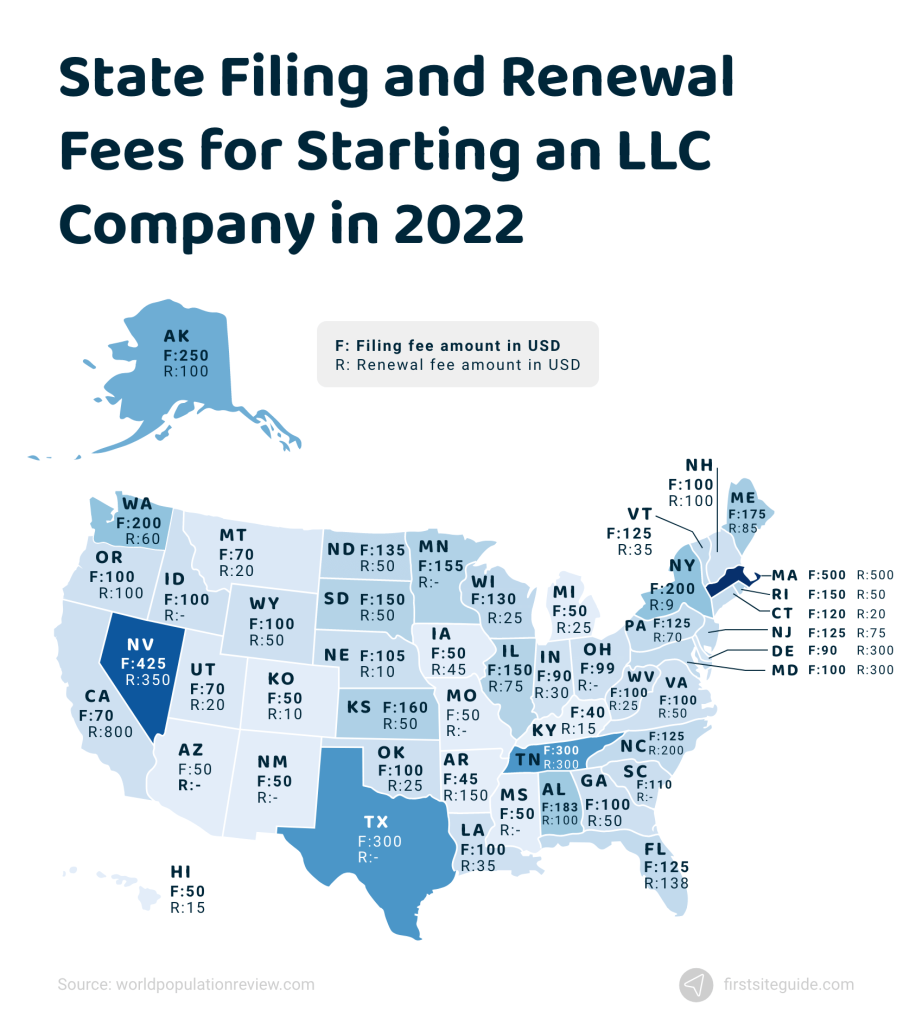 Step #2: Determine the name of your LLC
The name of your LLC should be short and easy to remember. It should make an impression on potential future business partners and consumers. While you are focusing on finding something catchy that will be easy to market across all channels, you also keep something else in mind.
There are specific state law requirements regarding LLC names. The most important one to know is that you cannot use a name that another business in the state is currently using. You will also find many states prohibiting some words that might describe the type of business that you are trying to form.
Additionally, in many states, you must include some form of "LLC" in your business name. The safest approach is to first examine the LLC naming requirements of the home state that you have chosen.
Step #3: Find a registered agent
While naming requirements and fees may vary from state to state, each state does require that an LLC have a registered agent. This person will receive important documents on behalf of your LLC.
A registered agent can be a person in charge of an LLC, one of your employees, or yourself. You can choose a registered agent service provider if you prefer to have a professional handle it. However, that choice will come with a fee.
There are specific requirements that a person or a service provider has to meet to be a registered agent for your LLC:
They must be at least 18 years old.
They must be available at an address within the state where you are filing to start an LLC.
Step #4: Find the article of organization form for your state
Next, you have to find the article of organization form that your state requires. This is a must-do because an LLC is a legal entity, and you must file relevant documentation with the state agency, most often the Secretary of State.
While you will find most of the information referring to this document as an "article of organization," some states use "certificate of formation."
Visit the official website of the Secretary of State in your state and find the correct form.
Here is an example of the article of organization form for the state of New York: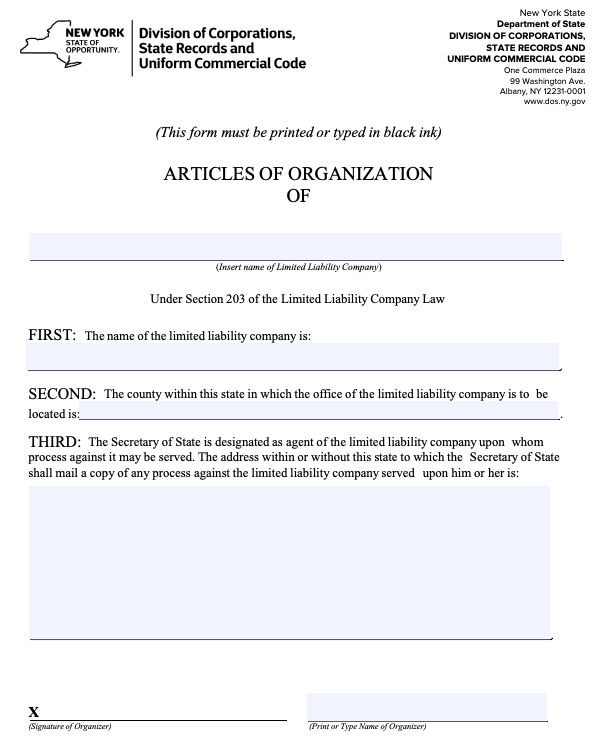 Step #5: Fill out the form
Now that you have a copy of the articles of organization form, you are ready to fill it out. It may differ from state to state, but generally speaking, you will have to provide the following details:
Business name;
Business address;
The purpose of your business;
The management structure of your LLC;
The registered agent's contact information;
The start date for the LLC; and
The names of the LLC manager(s).
All LLC members have to sign this form before you can file it. Some states have additional requirements. For instance, if you are starting an LLC in New York, you will have to go public about your intentions to register an LLC and publish it in a newspaper before submitting the article of organization form.
Again, visit the relevant Secretary of State's official website to find all requirements to ensure that your application doesn't get rejected on a technicality.
Submit the form to the state
Your form is now filled out, and you've signed it. Next, you need to file it. Before you do that, you should do one final check. Make sure that you've provided all requested information and that you didn't make any spelling errors.
You can now pay a filing fee per your state's requirements and then submit the form. The Secretary of State's website will also provide you with an address to submit the form.
Step #6: Create your operating agreement
Every LLC has to operate on some plan. This plan is called an operating agreement. It outlines details about the rights and duties of the LLC members including managerial, legal, and financial aspects. Putting your LLC's operations in writing can help to keep you on the right track. It's also a legal requirement in some states.
You have two options if you don't know how to create your operating agreement. You can look for a free template online or hire an attorney specializing in LLC operating agreements.
Step #7: Get your EIN from the IRS
All individuals in the US have a Social Security Number (SSN). Its corporate equivalent is an Employer Identification Number (EIN). Other terms for EIN are Federal Tax Identification Number (FTIN) and Federal Employer Identification Number (FEIN).
Getting your EIN is essential because you won't be able to open a business bank account or hire employees without it.
The good news is that you can obtain the EIN for free from the official IRS website, where you can find an online application form. Since you need the date of business formation to request your EIN, you should wait to form your LLC before getting an EIN from the IRS.
File for your foreign qualification (if needed)
If you form your LLC in one state and plan to conduct business in another, you must file for your foreign qualification. Registering a foreign LLC is necessary when operating in a state other than the LLC's formation state. Your LLC, in this case, is a foreign business entity.
The process is quite similar to the previous one of filling out and filing the article of organization form:
Appoint a registered agent with an address in the state;
Get a certificate of good standing;
Pay fees; and
Fill out and file foreign qualification documents.
Conclusion
If you complete all of these steps, you can start an LLC hassle-free. Since every state in the US has unique requirements and fees, the most vital step is to visit the Secretary of State's website of the state where you are forming your LLC.
The site will provide you with all of the necessary information, including the article of organization form, to help you to streamline starting your LLC.