March 8th, 2018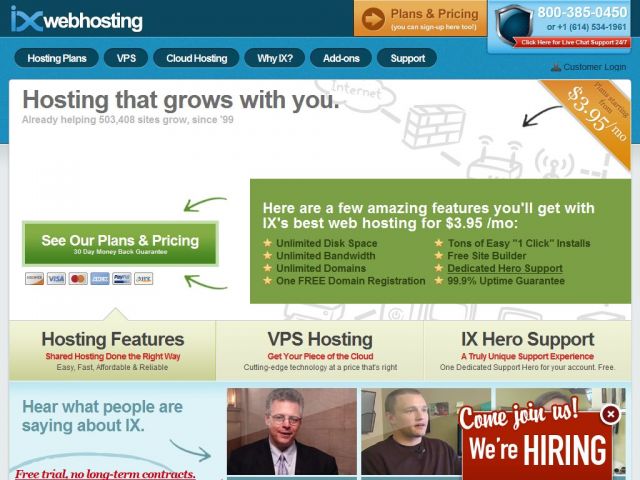 Established in 1999, IX Web Hosting is one of the most well known providers of professional web hosting services. Since then, the company has grown to have over 100,000 customers and nearly a half million domains hosted. While the firm specializes in premium services, its solutions are available at prices that can be easily afforded on most budgets.
Whether your plans call for a personal website, or one to support business endeavors, IX Web Hosting can deliver the tools you need to make it a success. But is this company really worth your time? Find out by reading this IX Web Hosting review.
Products and Services
Unlike many companies, IX Web Hosting has a wide variety of solutions to choose from, which could be a good thing if you are not quite sure what type of service you require. Its portfolio consists of traditional solutions on shared servers, as well as virtual private servers for those with more demanding needs. Recently added to the menu are cloud hosting solutions, which range from professional to enterprise level packages. These packages are ideal for customers who need the resources of a dedicated server minus all the hassle that typically comes along with it.
Basic Features
IX Web Hosting offers three levels of shared hosting and each package is loaded with useful features. Some of the basics include a free site builder, unlimited disks space, and unlimited bandwidth. You also receive at least one free domain name, and have the luxury to host an unlimited number domains on a single account. This is great if you have the need to maintain multiple websites as each site can be managed from a centralized location. Additionally, the package comes with at least one dedicated IP address, giving you a better chance of ranking high in the search results. What IX Web Hosting considers basic features is extra or nonexistent with many other hosts.
Business Features
For over a decade, IX Web Hosting has been a big hit with the online business community. Much of this has to do with all the business features it has on the menu. Every one of IX Web Hosting's shared hosting packages comes included with a nice selection of shopping carts. Each application can easily be installed with a single click, allowing you to get your store up and running quickly. You also receive an SSL certificate that is shared across the server to secure transactions and give your customers the peace of mind of knowing they can shop with you in confidence. If you need your own private certificate, it can be obtained directly through the company.
Control Panel
IX Web Hosting uses the H-Sphere software as its control panel. This application is quite similar to leading control panels such as cPanel and Plesk in terms of its ease of use. The software is essentially made of icons that provide convenient access to all the management tools. From the graphical user interface, you can perform actions such as create email accounts, manage domains, and view traffic statistics. H-Sphere may not have the fanfare of more popular control panels, but it is arguably just as easy to use and effective.
Customer Support
In the past, IX Web Hosting has take some flack in the customer support. Thankfully, the company has recently beefed up in this area and now offers what it calls "Super Hero Support." What is it exactly? Whenever an issue arises, you are assigned to your own support team, and a specific contact person who helps resolve your problems. This creates a more intimate setting and enables the support team to be more effective. IX Web Hosting's support runs on a 24/7 basis, allowing you to get the assistance you need by toll free phone, email, and live chat. Furthermore, the company has a comprehensive Help Center that is rich in articles, tutorials, and other helpful resources.
Technology
Technology is the driving force behind the web hosting business, and IX Web Hosting has plenty to offer. For starters, the company has solutions built on both Linux and Windows platforms, giving you your choice from two of the most powerful operating systems in existence. This in turns, give you access to all their complementary technologies, including MySQL, Postgre SQL, MS Access, and MS SQL databases for data storage and back-end support. For dynamic content creation, you get support for development tools such as PHP, Perl, and ASP.NET. This flexible technology makes the IX Web Hosting platform easier to use for beginners, and more fulfilling for the technically inclined.
Service Reliability
IX Web Hosting goes above and beyond to provide its customers with a highly reliable service. The commitment to reliability can be seen in its data center. Operating from a fault tolerant, fully redundant facility, the company currently houses more than 750 high performance servers and adds more on a regular basis. Additionally, the facility receives the benefit of onsite security, as well as UPS systems and generators that provide backup power should an untimely outage occur.
A state of the art data center is insufficient without a world-class network to back it up. IX Web Hosting has internet connections supplied by industry leading carriers, guaranteeing that is has the capacity to ensure the high performance and availability of your website. Coupled with Cisco routing equipment, the IX Web Hosting network makes sure you stay online.
Extras
IX Web Hosting throws in some nice bonuses to add what to is already a very appealing service. Each of its shared hosting packages come with over $100 in advertising credits. This is essentially free money that can used to market your site through Google AdWords, Yahoo, and Miva. Factor in tons of free software and you have what is easily one of the most attractive services around.
Conclusion
Very few companies in the business have the storied history of IX Web Hosting. The firm has been around the block and knows what it takes to be successful in the highly competitive hosting sector. Boasting a low price, a wealth of features, and enhanced support, it is safe to say that IX Web Hosting makes an excellent choice for a web host.
Read full article